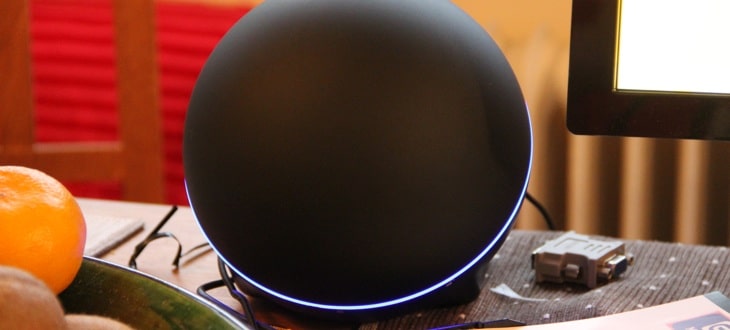 There was a time when a computer in most cases consisted of a big beige box that you certainly did not want to show off or which took up a lot of space on your desk. Those days are gone and today we have a lot more variety both how computer looks and how big they are. Zotac is a company that for quite some time have been pumping out smaller mini-PC's under their ZBox brand and today we are taking a look at their new round ZBox Sphere OI520.
FEATURES AND SPECIFICATIONS
As expected from the look of the Sphere OI520 this is not a gaming computer, instead it is a small mini-PC with surprisingly good components that should be powerful enough for a lot of users. The Sphere OI520 is not a complete computer which you can turn on and start using. There are two versions of the computer: the Sphere OI520 and the Sphere OI520 Plus. The only difference is that the Plus-version comes with 4 GB of memory and a 500 GB hard drive.
| | |
| --- | --- |
| Processor | Intel Core i5 4200U, 1.6 GHz, dual-core, 3MB L2 cache, TurboBoost up to 2.6 GHz |
| Memory | up to 16 GB DDR3 via SODIMM. Plus version comes with 4 GB |
| Graphics | Intel HD Graphics 4400 |
| Storage | Room for mSATA and 2.5″. Plus version comes with 500 GB HDD |
| Display Outputs | HDMI, DisplayPort |
| Connectors |  4 USB3.0, 3 USB 2.0, memory card reader, headphones out, microphone |
| Wireless | 802.11ac Wi-Fi & Bluetooth 4.0 |
| Ethernet | Gigabit Ethernet |
The Sphere OI520 comes with a pretty powerful processor, the Intel Core i5 4200 U. This is a mobile processor so it might not be as fast as a desktop i5 but consumes less power and thus needs less cooling. There is no distinct graphics so we have to settle with the Intel HD graphics 4400. This isn't so bad as this never was supposed to be a gaming rig and the HD4400 is good enough for light gaming.
The memory comes in form of laptop-typ SODIMM DDR3 and while the Plus-model comes with 4 GB there is two slots so you can have a maximum of 16 GB.
There is room for one 2.5" HDD or SSD as well as an mSATA-SSD. The Plus-model comes with a 500 GB disc and we would advice getting an mSATA-SSD to complement it.
CLOSER LOOK
The Sphere OI520 certainly has a interesting look.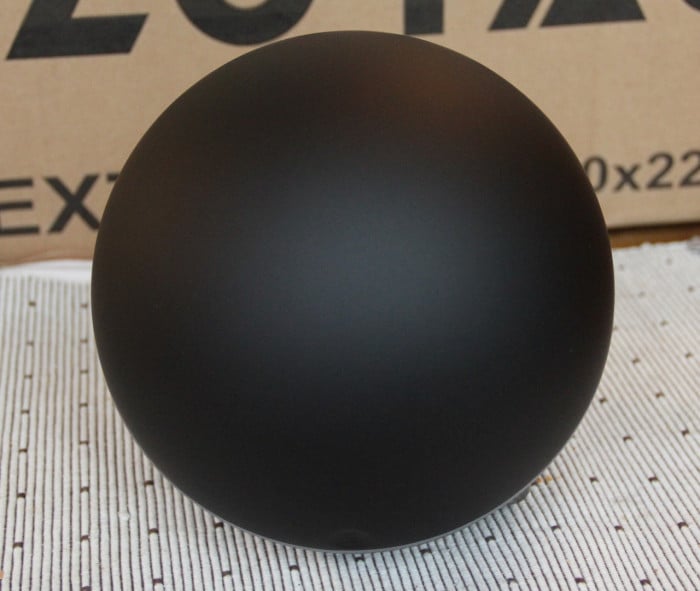 This is the view from the front. Yes, it is completely round and almost looks like a small bowling ball. It is made of plastic and the whole case is very light.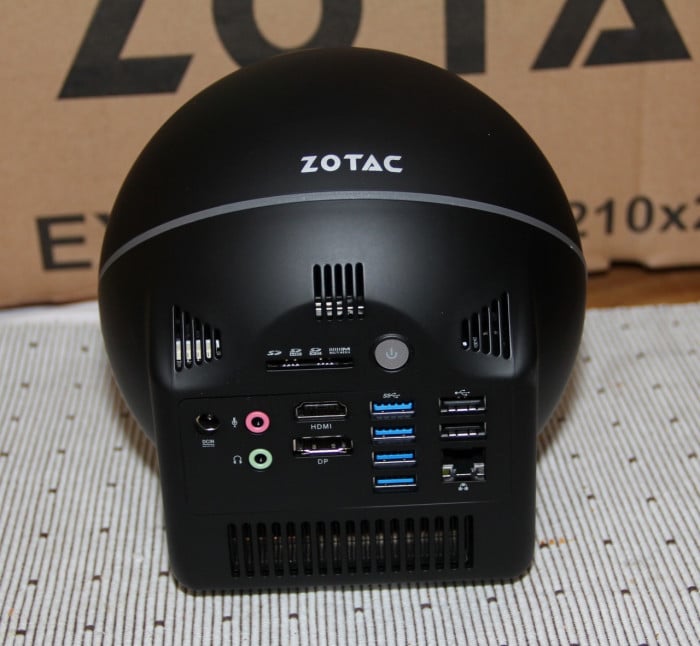 Turning it around we found all the connectors (and there are a lot of them). We get 4 USB3-ports as well as 2 USB2 ports at the back. There is also a USB2-port on the side of the case giving us a cool 7 USB-ports. We also find the ethernet port, the HDMI and DP-connectors as well as memory card reader and audio/microphone-connectors. Last but not least the on/off-button sits here.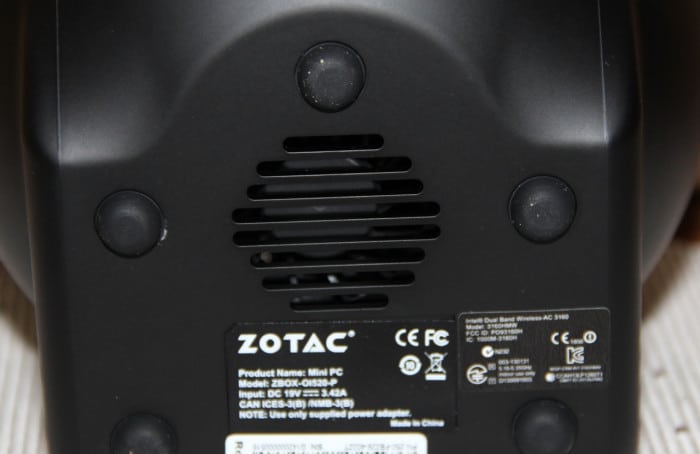 In the bottom we notice a little fan that should help keep the Sphere OI520 cool.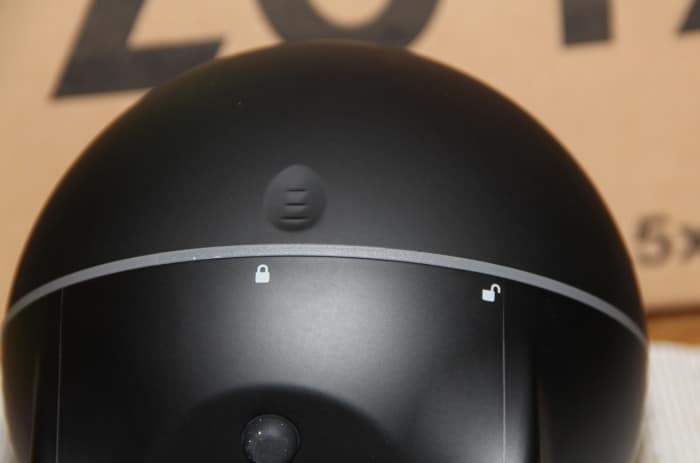 It is easy to open up the Sphere OI520. You just twist the upper part of the case and lift it off.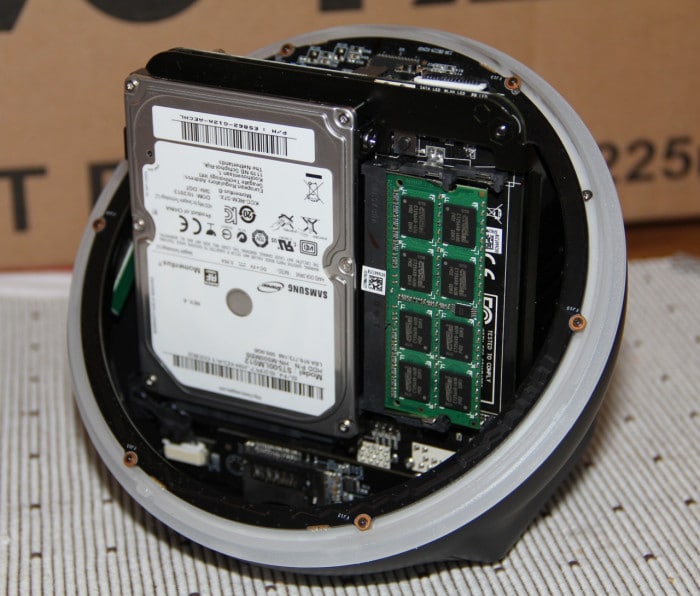 It is pretty easy to access the components in the case. The memory and the HDD is easily replaced/upgraded from this view.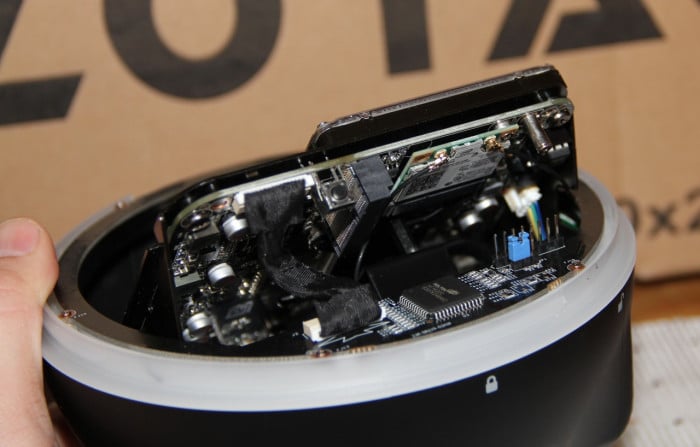 On the backside we can add a mSata-drive in a 45 degree angle.
EXTRAS
In addition to the actual Sphere OI520 we also get a few extra items.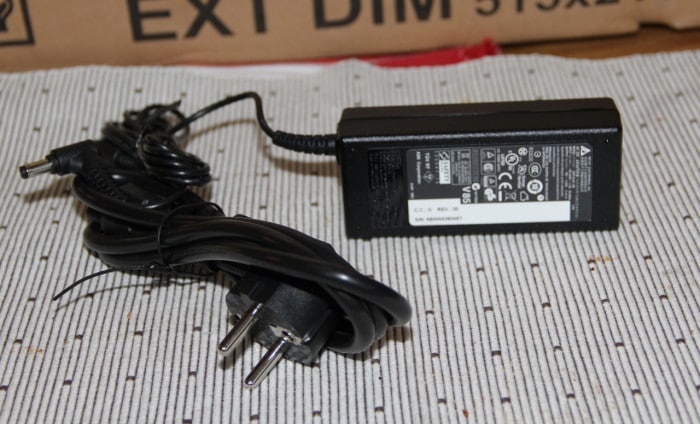 The power brick is a regular sized power brick. Since it is an external brick it does not need a fan to be kept cool.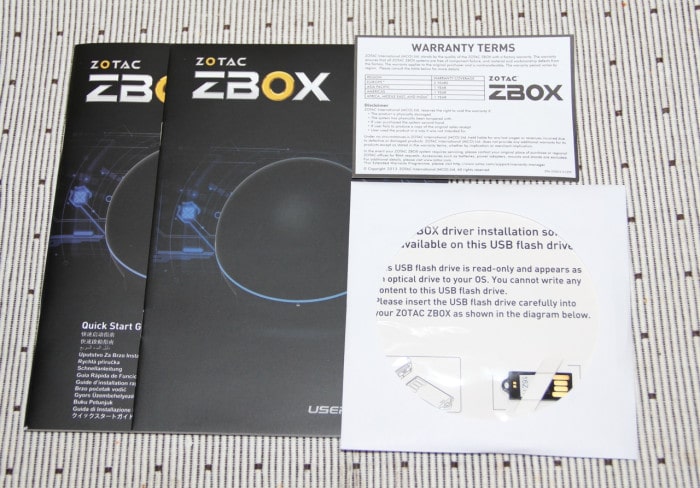 Zotac includes both a manual and a quick start guide which both do a good job describing how to change components in the case. Since the Sphere OI520 does not have an optical drive including drivers on a DVD won't make any sense. Therefore Zotac includes a read-only usb-drive with all files. To be honest we would not be against getting usb-drives for drivers for other products to.
BIOS
While the bios look like a UEFI-bios it looks like a regular old style bios with a bit nicer look. The CPU can be overclocked but this really does not feel like a machine that will be overclocked a lot.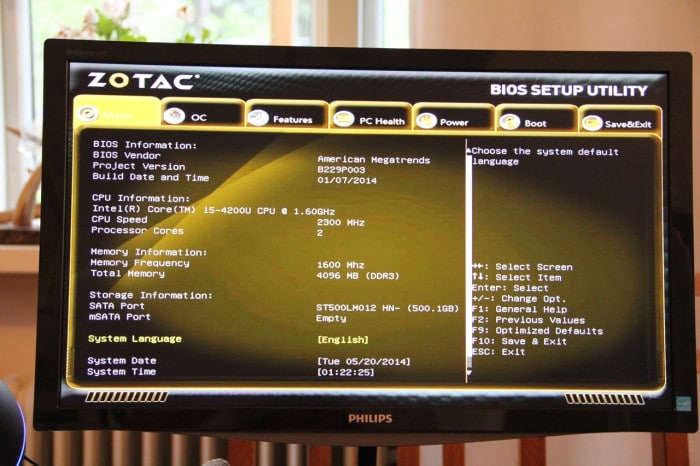 PERFORMANCE
We installed a fresh copy of Windows 8.1 on the Sphere OI520. Installation went well but we did notice that it took longer than we were used to. This is due to not having a ssd in the case. In fact, this was something we did noticed even when using the computer after the installation. Booting took a lot longer than when booting from a ssd and it really felt as "yesterdays" performance. In other words, if you buy the Plus-model also invest in a mSATA-drive. If you buy the non-Plus version either opt for a regular SSD or, if you need the space, combine a larger HDD with a mSATA.
The memory in the Plus-modell is also on the lower end but we've seen Windows 8 work fine on 4 GB on tablets so while 8 GB is preferable with a proper SSD the computer will work just fine for regular usage.
Even though the Sphere OI520 has a small fan it is actually very quiet and we had to move close to hear anything.
Gaming
As expected the Zotac Sphere OI520 really sucks for gaming. In 3DMark Firestrike it only scored around 535 while the computer could not muster more than around 26 fps at medium settings and 1280×720 in Dirt Showdown, a game that is not really that taxing. So if you plan on gaming it will be light weight games. Except …. yep. Belive it or not but there is actually now a way to game on this computer even though it is underpowered. Enter Valve and the Steam In-Home Streaming.
Basically what it does is allowing you to use a second computer as the "game server" and stream the game from that computer to the one you are sitting at. At the time of writing it only works in the local network. In our case we have a nice computer sitting in the basement with a Corei7, GTX780 Ti and 16 GB while the Sphere sat up in the livingroom. We started Steam in our main computer and fired up Bioshock Infinite. We then started Steam on the Sphere, and choose to stream the game it fired up fine on the Sphere. We then started to play and stopped an hour later. Streaming might not be perfect for all sort of games but the quality of the image was great and the gaming did not feel laggy.
So in other words, this might not be a proper gaming rig but instead a perfect little "console" to put at the TV to stream movies (Plex works great for example) and now also stream and play games.
Conclusion

So what is our verdict of the Zotac Sphere OI520? There is a lot to like with the Sphere. But let's start with the "bad" stuff so we get them out of the way.If you get the Plus-version you really need to invest in a SSD. The included hard drive simply makes the system feel less than snappy.
Ok, that's it. So now for all the good stuff. The Zotac Sphere OI520 is a cool looking computer. Even though it is made of plastic it is using matt plastic so there is not much risk of the dreaded fingerprints that you usually see on shiny plastic.This is a computer that do not have to be hidden regardless if it is sitting on the table beside your monitor or beside the TV. The performance also is good as long as you do not expect to play demanding games. For 95% of the users we are sure it is powerful enough. Adding the fact that Steam In-house Streaming works so well there still is a lot of potential for this box even if you want to play games.
Even though it has a small fan it still is virtually silent when running. Zotac has added tons of connections and ports on the case making sure that you never will run out of for example usb-ports. If we look inside the Sphere is easy to upgrade and the addition of a mSATA-slot makes it possible to both get the speed of a SSD as well as the storage space of a HDD.
Pricing is unknown at this time in the US. The Swedish pricing is 3249 SEK for the barebones-version and 3449 SEK for the Plus version (we have not seen it in any stores yet though). While this can be translated to around $460 it should be noted that it includes 25% VAT and that prices generally are higher here in Sweden. As an example the ZBox IQ01 costs about $570 at Amazon.com while costing closer to $780 here in Sweden. The difference between the barebones-version and the Plus-version is just $30 (converted from the Swedish price) and for that you get a (albeit) slow HDD and 4 GB of memory. Even though we recommend getting a mSATA-drive and some extra memory it still isn't too bad to get some starting components, especially if you want the extra space.
In the end we really like the Zotac Sphere OI520. We have no problems recommending it to anyone who wants to build a small PC with good/decent performance.
Review Overview
Performance - 7
Quality - 8.5
Features - 8
Innovation - 8.5
8
The Zotac Sphere OI520 is a great looking small PC that offers a lot of performance for its size.