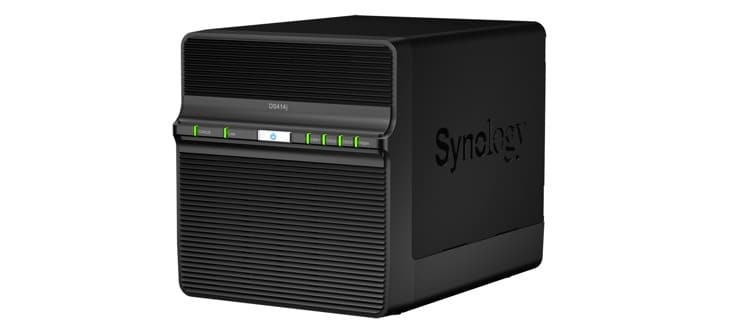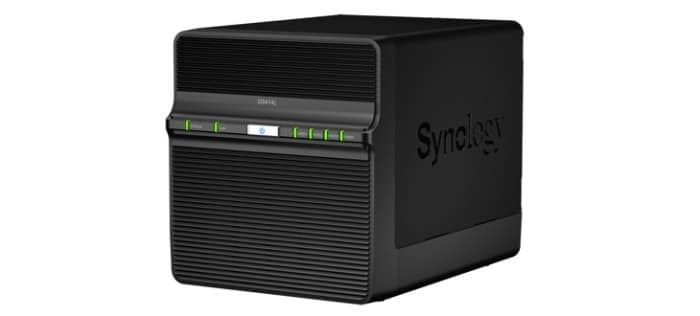 Synology has a nice wide product portfolio with products for all sorts of customers. Their j-level NAS's are the entry-level products aimed at homes and small businesses while the non-j and the +-products are for more professional home- and business users.
Today Synology is announcing and releasing the new Synology DS414j-NAS which for the first time for a Synology j-NAS comes with a dual-core CPU (MindSpeed Comcerto 2000 running at 1.2 GHz) meaning more raw power for all those cool features that you find on the NAS. The NAS comes with 512 MB of DDR-memory.
The Synology DS414j is a 4-bay NAS meaning you get room for up to 4 HDD's (or SSD if that is your fancy).
The First Synology j to Feature Dual Core CPU with Floating-Point Unit
The First Synology j to Feature USB 3.0
Over 112.28 MB/s Reading, 80.38 MB/s Writing
Only 8.5W in HDD Hibernation
Runs on Synology DiskStation Manager
The specifications are not bad at all. We get USB 3.0 as well as a decent theoretical performance for writing and reading (decent meaning about half compared to the more expensive Synology DS414). It also comes with the latest shiny DSM 5.0 which is a big upgrade to the already cool DSM 4.x-operating system on the NAS.
The recommended price for the DS414j will be around 389.99$ which is over $100 less than the Synology DS414. The NAS should be out in parts of the world already and soon be released in the US.
We here at Bjorn3d.com really like Synology NAS, in fact – I got 4 different models, so it is nice to see a bigger budget NAS with dual-core. That should hopefully make it even better for for example Plex installed.
Bellevue, Washington—March 29, 2014—Synology® is proud to announce the DS414j the latest refresh of its most affordable four-bay NAS, providing quick access to your own private cloud. The DS414j is the first product in Synology's venerable 'j' series to support a dual-core processor, and USB 3.0. Paired with the award winning DiskStation Manager OS (DSM 5.0), the DS414j is an excellent solution for small workgroups and home-media enthusiasts looking for centralized and highly accessible storage.

Budget-friendly with performance to spare: On top of the new dual-core architecture, the DS414j includes data encryption with hardware acceleration on encrypted shared folders, to address ever-growing concerns with data security. It also includes an integrated FPU, which generates photo previews quickly, for dynamic viewing in Synology's integrated Photo Station package.

Both features free up the system so it can be used for the applications that matter most; likeSynology's diverse array of media packages including: Audio Station, Video Station, and Media Server – with integrated DLNA streaming.

Easy remote access with QuickConnect: Now, all DiskStation content can be accessed easily wherever a data connection exists. No complex router configuration necessary. DSM 5.0 has brought its popular QuickConnect feature front and center. Simply create a QuickConnect ID and user credentials to make DSM, and any of the rich selection of: Android, iOS, and Windows Phone apps easily accessible.

Beyond the Public Cloud: Synology's Cloud Station has developed into a singular, truly private synchronization solution. It enables any time access to current: files, file-types, and folders. Content can be synchronized across multiple devices, multiple DiskStations, even multiple clients. Cloud Station also syncs with Dropbox and Google Drive, for a truly hybridized approach to cloud storage. It's a total cloud experience that makes access to valuable assets utterly convenient; without service fees, or conventional capacity limitations.

Centralized Backup for All Devices: With support for 5TB drives, the DS414j can support up to 20TB of raw storage. With read/write speeds above 100MB/sec and 80MB/sec, the DS414j has plenty of performance for workgroups and home enthusiasts alike. Combined with DSM 5.0 the DS414j is a convenient way to centralize backups and manage them for multiple users in a variety of styles.

On top of Native Apple® Time Machine® support, DSM 5.0 also offers local versioned backup, backup to external drives or network destination, shared folder sync. Even Cloud Station can be used as a backup solution, in addition to its ample utility as synchronized storage. 

"The DS414j is a fantastic value for home media enthusiasts, and small workgroups", said Thadd Weil, Public Relations Specialist at Synology America. "It takes features like dual-core processing and USB 3.0, and pairs them with the abundance of features in DSM 5.0. It's our most affordable, four-bay NAS, and a singular resource for storing, sharing, and accessing your data wherever you need it."
Read more about the new DS414j at http://www.synology.com/.