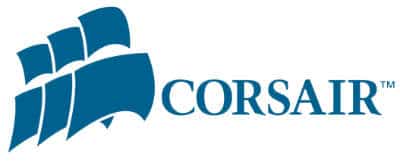 Corsair Gaming Gear From Digital Storm
Corsair is a well-known brand at this point in the PC DIY sector and as a natural progression in an attempt to meet the total solution package for end users they have started to make a move into many extra markets beyond just DRAM where they first started. As a result they have moved into things such as core components (Case, Power and Cooler) along with now progressing into gaming peripherals.
Today we have a chance to look at a full gaming gear set from the team at Digital storm which is now a partner with Corsair, so the gear you see here today are all available as accessories to the high-end systems offerings from the team at Digital Storm.
Corsair Vengeance M65 Gaming Mouse
First up is the Corsair Vengeance M65 Gaming Mouse which is not their top model so to speak but a very capable model none the less.
 Here you can see how it comes on the store shelf and it really is presented quite well as the product is prominently placed allowing for a good overview and as you can see even the rear has a nice cutout to show the sensor along with weighting locations and even the mouse feet.
After removing the mouse from its package you can see that the mouse body is made of two different plastic materials with a smooth plastic making up the top shell and button area while the sides are a more rough and porous material allowing a bit better of a grip. also note that the cable is sleeved with a fabric weave material.
The side buttons there are the standard two buttons along with a specialized red thumb button used for a "sniper mode" which offers a super low DPI for precision aiming in intense situations. All of these settings can be adjusted within the Corsair APP so if you wanted you can change the DPIU that the sniper mode enables and even the stepping for the DPI adjustments.
Speaking of DPI it has 4 steps of adjustment and the buttons near the scroll wheel adjust it while between them the 3 bars indicate the DPI level. also it is worth noting here that the scroll wheel is a solid aluminum design with a rubber band on the outer edge for grip but overall it is solid and the metal definitely adds a very nice and high-class look to it. 
On the bottom of the mouse you can see that more brushed aluminum is at work here making up the entire solid chassis of the mouse structure. large glide feet you will find as well which keep a nice controlled friction with the mouse surface for good control and smooth action. there are three small screw like circular cut outs in the mouse and when removed hold a weight in each pocket. This allows for optimal weight positioning in the mouse to allow not just overall weight adjustment but positioning or balancing of weight within the mouse.
Performance
Performance and feel for a mouse is largely based on personal feel which makes it very tough to judge. Being a gamer means you get a feel for certain things and this mouse has a very good feel and fit in the hand as normally I am  more of a claw grip gamer which can wear on you after a while but this mouse I actually feel quite natural and even comfortable with a palm grip which I can honestly say not many if any mice have ever done before.
the smoothness of the laser is very good but has a little bit of the twitchiness anyone used to high DPI capable lasers tend to be attuned to, but one thing I was very happy about is that there was no mouse drift like I have seen on so many other laser mice I have used before.
The Sniper Mode button I honestly could not find a usage for even when playing scout in BF4 or any other sniper scenario but being the fact that you can adjust this setting for the button press it is possible you could tailor it for any usage you might want, maybe even a higher DPI mode for when you need to pull a twitch turn.
Summary
Corsair made a very usable and solid mouse with a comfortable grip and a good choice in materials for the side grips as the semi porous matte plastic allows for solid gripping with minimal finger force necessary. However the smooth top feels nice but with any sort of skin oil you do get build up easily which just feels odd but being a smooth sleek finish it does clean easily.
Digital Storm offers the M65 as an additional accessory for your new gaming system at $69.00 which is the same as you could get it from popular eTailers such as Newegg.
Review Overview
Features - 8.5
Quality - 9
Value - 8
Performance - 8
8.4
The Corsair Vengeance gaming set from Digital Storm do an great job at what they are designed for during gaming sessions and it is a smart move by Digital Storm to offer such gear.