OCZ has had some bad news lately with the filing for bankruptcy but the Toshiba buyout may helped the company coming back even stronger. The bad news does not prevent the company from releasing a new product. Today, OCZ has released a new Intrepid 3000 Series enterprises SSD.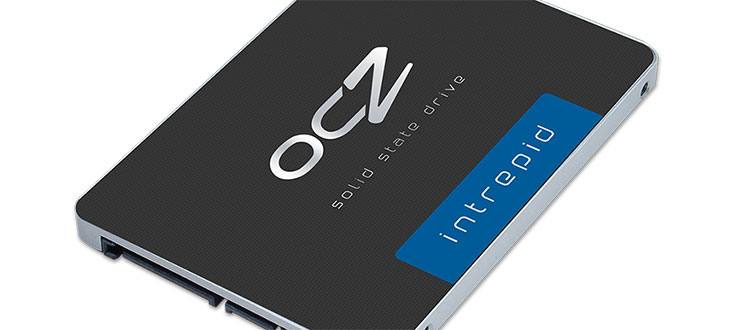 The Intrepid 3000 uses OCZ Everest controller based on Marvell 88SS9187 controller (same as in Vertex 4) paired with OCZ's own proprietary firmware. The drive has a rated 520 MB/s for sequential read (128K blocks), 470 MB/s sequential write (128K blocks), 91,000 IOPS random read and 40,000 IOPS random writes. The number reported here may seemed a bit lower than what we used to but it is based on the steady state which the drive is writing, erasing and re-writing data repeatedly over the full capacity of the rive. So these are the worst case scenario number. For the enterprise market, data integrity and steady performance out-weighs the raw absolute performance. 
OCZ has two models available: the Intrepid 3600 and the Intrepid 3800. The Intrepid 3600 uses MLC NAND for cost reason and the Intrepid 3800 uses higher endurance eMLC NAND. The 3600 is aimed primarily for read-intensive application such as online archiving, media streaming and web browsing while the 3800 is aimed for write-intensive and mixed workload environment such as servers and Virtual Desktop Infrastructure. Both drives supports 2.5" form factor, 6 Gbps SATA, 256-bit AES encryption, TRIM, garbage collection, SMART, multi-level BCH error corrction, end-to-end data path protection, power-loss protection, and in-flight data protection. There is also an internal SSD RAID redundancy to safeguard data integrity like SandForce RAISE and lower write amplification by concatenating multiple write request from the host while minimizing wasteful copy back operation of unaffected data sectors. 
Storage capacity ranges from 100GB, 200GB, 400GB, and 800GB. OCZ backed these drives for 5 year warranty. The drives will be available on Q1 of 2014. No pricing information is released today.