Overclocking

The new Kepler Architecture with GPU boost has been a bit of a bear when it comes to pushing the clocks. This is due to the throttling mechanisms put in place and the fact that it dynamically clocks. Unlike 500 series where we could set a static clock and it just applied the card, Kepler clocks according to many variables, which means that much more care must be shown when applying overclock settings and even monitoring it during the run.
Things such as the thermal target can play a big role in stone walling your performance during an overclock session as everything has to be adjusted accordingly to ensure expected performance levels are met.
The MSI Gaming 780 Ti was able to be clocked quite affectively via the included Afterburner software which is also one of the top used enthusiasts graphics tuning software.
The GPU starts at a boost clock of 1085 and we were able to shore it up to an even 1200MHz boost which is a gain of 115MHz which is not bad really at all and a overclock of almost 10%
The memory was no slouch either hitting 7300 which is about the same as we saw with the Gigabyte GTX 780 Ti GHz edition we had tested and this comes down to about 5% approximately.
Overall the GPU definitely had some headroom to play in but the memory is either a model which needs more volts or simply does not have much room as it simply could not move as much as what we saw with the reference card.
TEMPERATURES

To measure the temperature of the video card, we used MSI Afterburner and ran Heaven Benchmark in a loop to find the Load temperatures for the video cards. The highest temperature was recorded. After looping for 10 minutes, Heaven was turned off and we let the computer sit at the desktop for another 10 minutes before we measured the idle temperatures.
| | |
| --- | --- |
| GPU Temperatures | Temperature (Idle/Load) |
| Nvidia GTX 690 | 32C/81C |
| Nvidia GTX TITAN | 31C/67C |
| Nvidia GTX 780 Ti | 31C/72C |
| Nvidia GTX 780 | 30C/65C |
| Nvidia GTX 770 | 34C/79C |
| MSI GTX 780 Ti Gaming | 32C/68C |
The Gaming edition Ti definitely kept the GPU cool not even breaking past 68C and hanging more constant around 67C during fully loaded runs. This speaks very well to the Twin Frozr IV design and its ability to keep the GPU cool while staying relatively quiet.
POWER CONSUMPTION

To get our power consumption numbers, we plugged in our Kill A Watt power measurement device and took the Idle reading at the desktop during our temperature readings. We left it at the desktop for about 15 minutes and took the idle reading. Then we ran Heaven Benchmark for a few minutes minutes and recorded the highest power usage.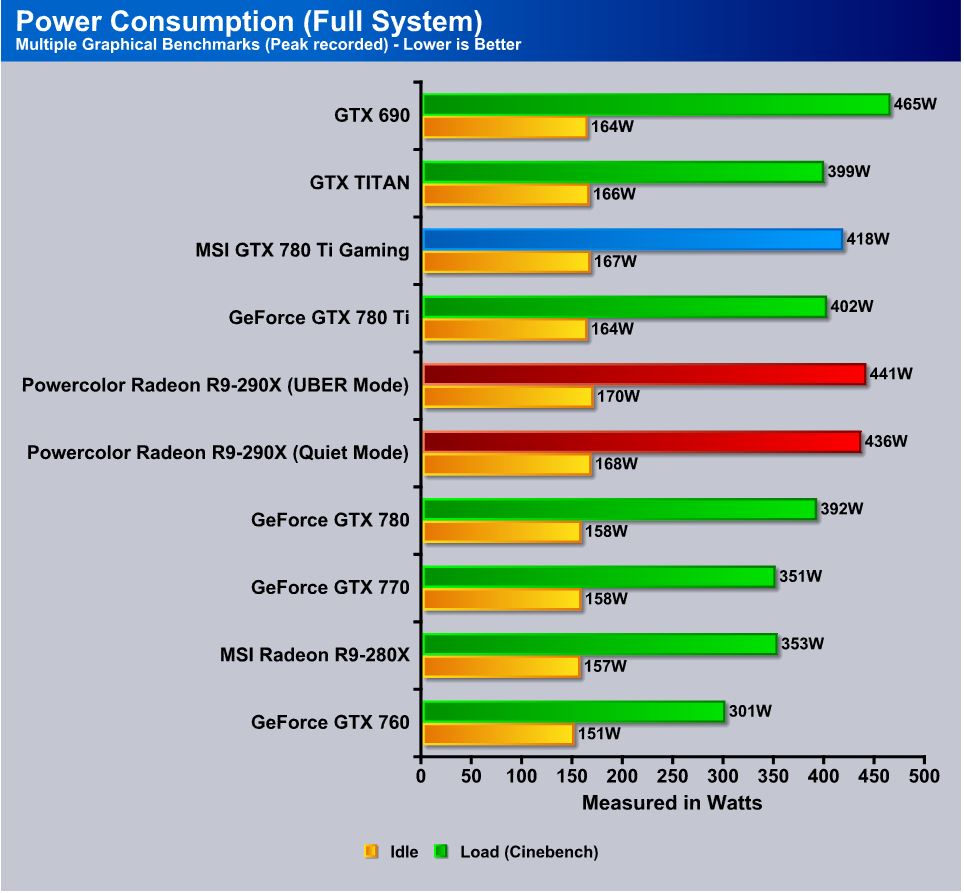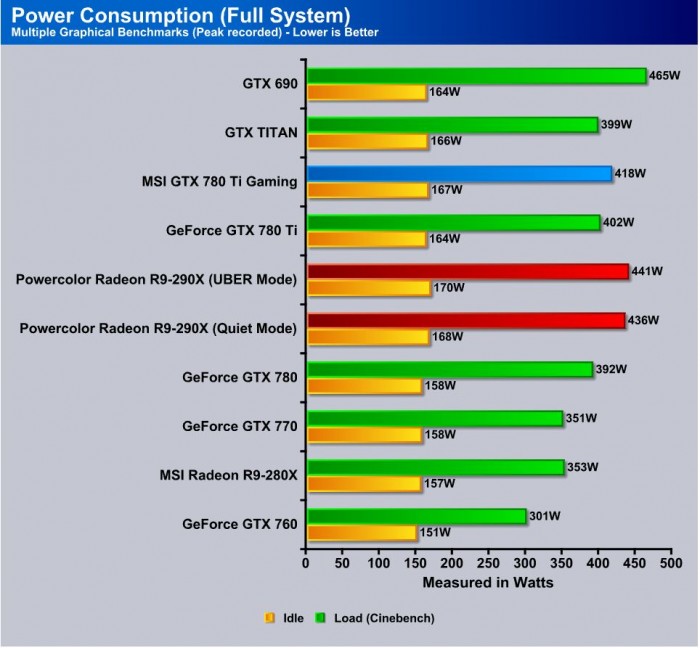 Here the MSI GTX 780 Ti pulls a bit more juice than we saw on the reference model Ti but it still delivers close to or over 690 performance at less power which is great!
Review Overview
Performance - 9.5
Value - 9.5
Quality - 9
Features - 8.5
Innovation - 8.5
9
MSI employs a reference design with some minor tweaks which shapes up to be one very powerful performer at a nice value for the enthusiasts gamer in all of us.