MSI GeForce GTX 780 Ti Gaming
MSI has always entered the graphics game with some excellent twin Frozr based models and even a lightning here and there to really spice it up! If I had to sum up MSI's specialty it would be making graphics models with a better cooling solution and also boosting the VRM a tick to ensure it can withstand loading if they find a weakness in the stock design.
However in the case of the 780 Ti we know that the reference model was obscenely capable with massive overclocking potential with its stock components, well apparently MSI noticed that as well and with that they passed us one of their GTX 780 Ti Gaming model cards which is based on the reference PCB.
The Card is not completely stock though as it employs a Twin Frozr IV cooler to ensure that the new GPU boost algorithm will have plenty of headroom in regard to thermals thanks to the cooler installed.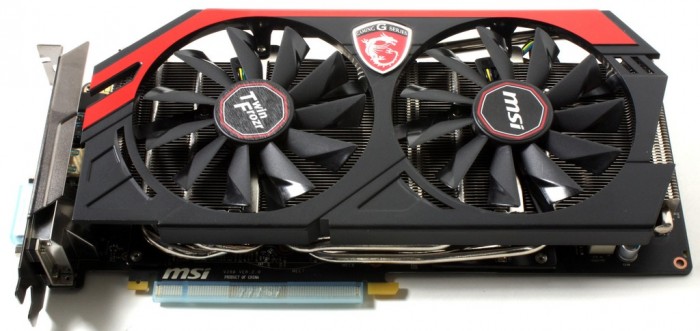 The MSI Gaming card comes to market with an expected MSRP of $699.99 which is right inline with the other competitors for the GTX 780 Ti Crown, so lets see what this card can do to earn your need to purchase.
Key Features
Advanced Twin Frozr IV Cooler
MSI introduced the Twin Frozr cooler quite some time ago. The Twin Frozr is MSI's version of the custom cooler to keep the GPU and components cool on the card.
Here we see some advantages of the cooler design, including the dual propeller blade fans which work in tandem to ensure plenty of air is moved through the fin array for a cooler running GPU and also onboard components.
The propeller blade design is made to offer some serious airflow without the fan noise we had heard before and compared to the MSI 660 Ti we had tested previously it definitely sounds like they got the fan noise down quite a bit.
The complete cover heatsink is a nice dual purpose design as it works as a heatspreader for the VRM/memory components but also it helps stiffen the PCB quite a bit which makes for a much stronger and more durable card.
MSI Afterburner
MSI offers its own software utility. MSI Afterburner is co-developed with Rivatuner which is very similar to what the other top manufacturers are offering.

There we see it above with multiple options including voltage control and power limit controls to ensure our overclock ceiling is just a little bit higher. Do note that some options may not show up right away and need to be enabled in settings otherwise they will be hidden.
MSI Gaming App
The Gaming app is a cool design as it offers a simple to use interface where users can quickly set a overclock or even Eco setting without having to work with the Afterburner app which for some can be a bit confusing especially for a newer or inexperienced user
Above you can see with a single click how each setting changed the card and with the accompanying GPUz screen to show how it was set accordingly.
Review Overview
Performance - 9.5
Value - 9.5
Quality - 9
Features - 8.5
Innovation - 8.5
9
MSI employs a reference design with some minor tweaks which shapes up to be one very powerful performer at a nice value for the enthusiasts gamer in all of us.