Overclocking

Overclocking on AMD was fairly straightforward previously but now that so much has been included into the throttling algorithm it has become a bit of a pain to overclock as well.
Your biggest enemy for overclocking the 290X will be the heat because as the cooling sits it pegs the thermal target already which means that overclocking is all for loss as the times I tried to push the clocks It usually netted a mediocre result or even worse a drop inpoints as throttling simply kicked in sooner.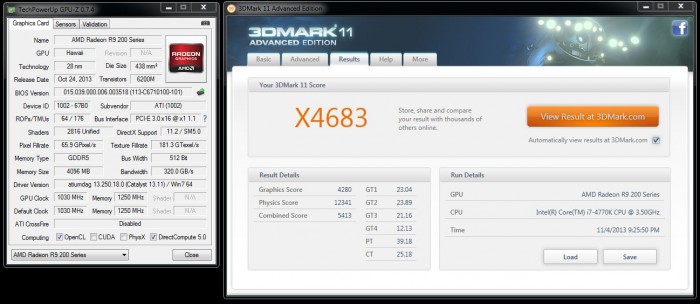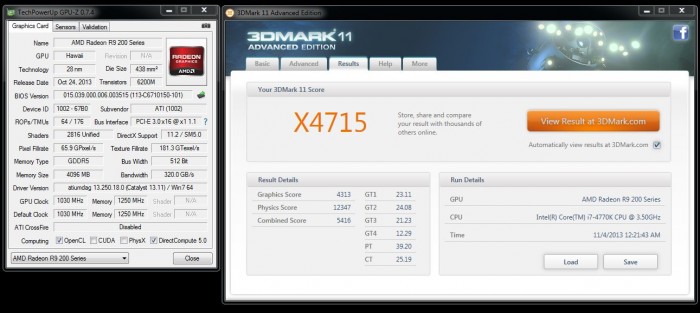 The 290X as you see above the top result being quiet mode and the bottom being Uber you can see there are measurable gains by allowing the fan to spin higher speeds however at least for the sample I received the overclocking simply was a mess as I found myself at the preset overclock to be at the thermal target and throttling.
This means I will have to wait for better cooling solutions as the overclock while the number may be there you dont actually get performance gains as the card is downclocking due to the temps.
I think the AMD card is a great card with great potential that simply got los on teh cooling and therefore as for now simple overclocking without maybe forced AC induction is not going to happen with any level of reliable results.
TEMPERATURES

To measure the temperature of the video card, we used MSI Afterburner and ran Heaven Benchmark in a loop to find the Load temperatures for the video cards. The highest temperature was recorded. After looping for 10 minutes, Heaven was turned off and we let the computer sit at the desktop for another 10 minutes before we measured the idle temperatures.
| | |
| --- | --- |
| GPU Temperatures | Temperature (Idle/Load) |
| Nvidia GTX 690 | 32C/81C |
| Nvidia GTX TITAN | 31C/67C |
| Nvidia GTX 780 | 30C/65C |
| Nvidia GTX 770 | 34C/79C |
| Nvidia GTX 760 | 31C/67C |
| Powercolor R9-290X  | 39C/95C |
The new GPU can pump some heat and AMD's decision to stick an older Vapor Chamber cooler which obviously was not meant to serve this level of service is a bit puzzling to me and my only assumption can be that they spent a decent amount if not all of the budget building a kick ass GPU and when it came to cooling they had to trim some spending to meet the target MSRP.
The card does work but the temps it sees on a consistent basis while gaming are troubling, and yes I do know the line that "It's designed to run at that" but I feel like this in my mind is AMD's version of the GTX 480, a great GPU that just could not be kept cool. I think the best bet is for AMD partners to offer a LCS option which will really show what this card has to offer, although many users do not liquid cool their cards and therefore I am very excited to see what the likes of Sapphire, ASUS and Powercolor can come up with on their custom cooling side to keep the 290X at a much more manageable and awesome level.
POWER CONSUMPTION

To get our power consumption numbers, we plugged in our Kill A Watt power measurement device and took the Idle reading at the desktop during our temperature readings. We left it at the desktop for about 15 minutes and took the idle reading. Then we ran Heaven Benchmark for a few minutes minutes and recorded the highest power usage.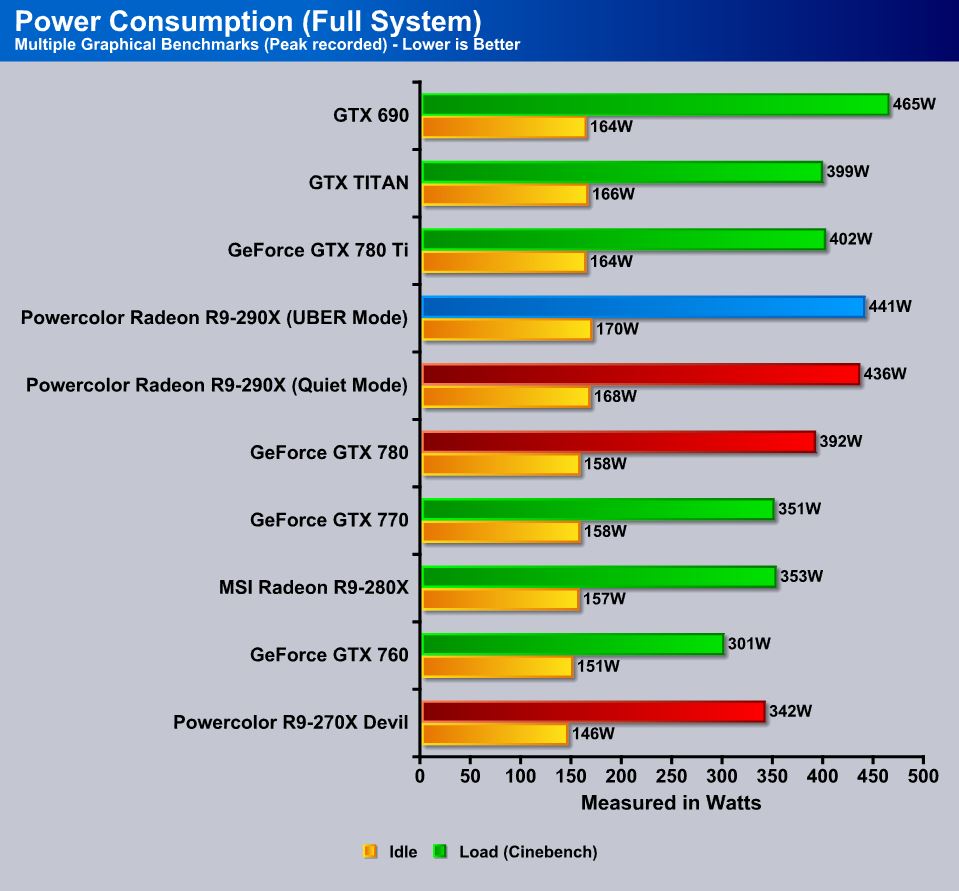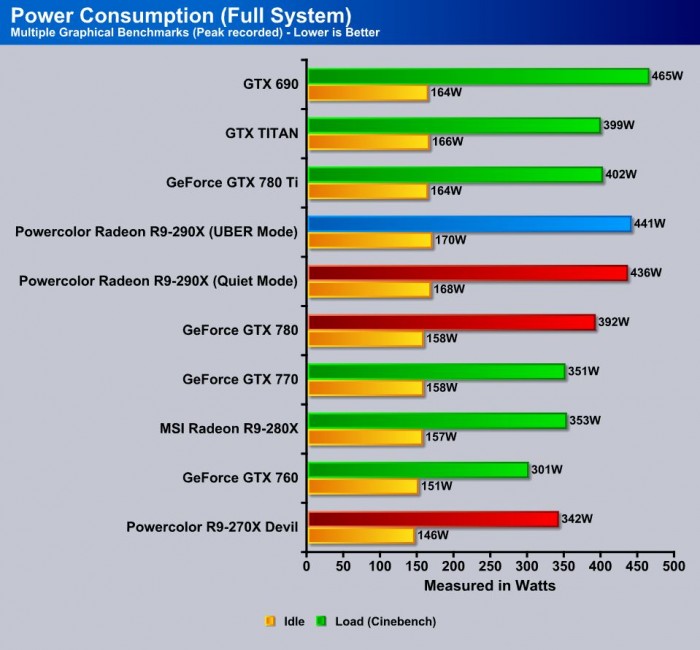 The 290X at idle pulls similar to a flagship card such as 780 Ti, TITAN etc would pull but under load it eclipses the 780 and TITAN and gets within reach of the 690 in power consumption, this is pretty high and tells me that AMD still has some work to do to reign in things such as this.
Review Overview
Performance - 9
Value - 9
Quality - 9
Features - 8.5
Innovation - 9
8.9
The new R9-290X is a very powerful card and Powercolor added a bit more to the stack with a factor OC, now just waiting for adequate cooler and this can be a real monster