A Closer Look at the Powercolor Radeon R9-290X
Click Images to Enlarge
The packaging for the Powercolor OC card shows the Battlefield 4 scenes as this is a BF4 edition card but overall expect that the frontage to carry similar signing even in the standard cards which includes mostly a graphic with some small feature icons across the bottom.
The rear carries gey spec info as expected.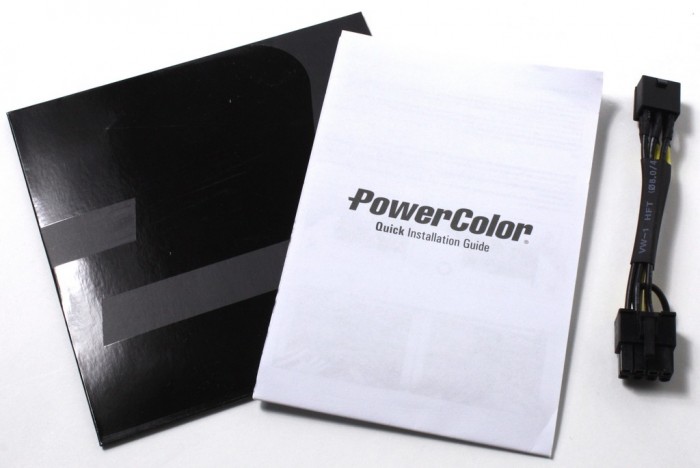 Click Images to Enlarge
Here we see the accessory pack which is surprisingly scant for a flagship card, it has a Driver disc, Quick install guide and a power adapter. Other than this are just the game coupons which are not included in media samples.
Overall being a flagship card you should have pretty much the necessary connection on your PSU but in case you dont they do include a 6pin > 8pin adapter to allow connectivity although I would always recommend using the proper direct connector from the PSU itself.
Click Images to Enlarge
The card is a reference design, and it is pretty cool looking as AMD definitely gets style points here fro making the cooler cover simply look awesome although I do wish that somehow they could make the red portions of the cooler illuminate as that would have sent it over the top.
The rear of the card is just PCB and SMD components nothing really special here, although I have heard from partners that custom 290X boards and coolers are on the way so you can imagine my excitement for this.

Click Images to Enlarge
The display connectivity is about standard for what we have seen on the Kepler based lineup
2x DVI
1x HDMI
1x Displayport
This all digital connector arrangement allows for a multitude of displays in pretty much any connector mix you could chose to employ, one thing to note is that the DVI ports do not support analog adapters so VGA needs to go away as this card technically cannot run it unless you were to somehow get a DP to VGA or HDMI to VGA to work. But now thinking about it if you're buying this level card you are most likely not going to be using a VGA display.
Click Images to Enlarge
Here you see the 290X uses a 6pin/8pin arrangement to deliver the power to the hungry 290X and well this is a reference card so no surprises here.
One major change here is the fact that the 290X does away with Crossfire connectors in favor of transfer directly via PCIe which allows the cards to link and communicate directly without the need for a bridge connector. I do like this as it just makes life easier and also means I dont have to keep track of bridges.
Click Images to Enlarge
Stripping the cooler from the 290X you can see it uses a large copper base directly to the GPU and the surrounding black frame is used to cool the VRM and memory components.
The large fin array is a somewhat simple design and I think that had AMD wanted to take a little time and give a little more thought to the cooler design this card could have been accepted much more positively as this cooler design simply is dated.
Click Images to Enlarge
Here you can see the cooler/plate combo disconnected from the card and on its own, and it consists of the cooler fin array with copper baseplate, the black frame/heatsink and a red colored blower style fan. 
The PCB is all reference all the time, this is simply a stock Radeon build which is not a surprise as I have not seen a single custom PCB 290X yet.
Click Images to Enlarge
The VRM of the card is made of some good quality components with metal cased super FETs in place and solid quality inductors and solid state caps at play.
The memory is Elpida branded W2032BBBG-6A-F model memory IC's are similar to ones we have seen and even the same model we saw on the 270X devil card. They are spec'd for 6GHz operation at 1.5V as opposed to previous model 60-F which were rated at 1.6V. This reduction in voltage did not seem to help the IC's as much like the Devil card this memory seems to stop up around 5600-6000MHz so I guess sometimes the progression toward low voltage is not always a good one.
As stated before if at some point changing memory voltage is possible I would like to see what these memory IC's can really do when pushed past the 1.5V settings.
Review Overview
Performance - 9
Value - 9
Quality - 9
Features - 8.5
Innovation - 9
8.9
The new R9-290X is a very powerful card and Powercolor added a bit more to the stack with a factor OC, now just waiting for adequate cooler and this can be a real monster