Overclocking

Overclocking on Nvidia is somewhat troublesome as you never have a solid figure of your clock due to the GPU Boost technology but this has improved quite a lot with the GPU Boost 2.0 technology which really added some necessary parts to the algorithm used to modulate clocks. Now with so many factors it makes life a bit easier as an overclocker to get good consistent clocks. That being said lets take a look at how it performed.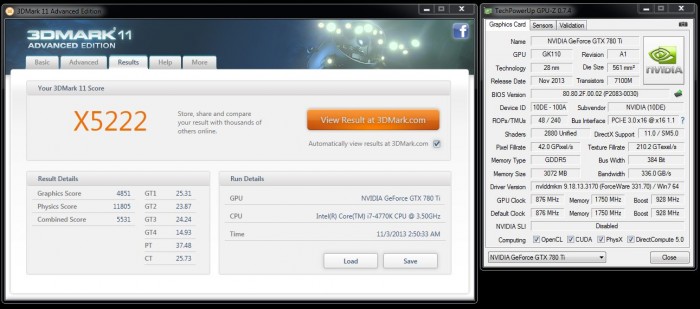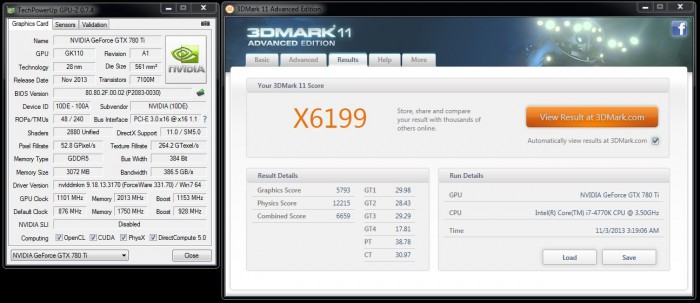 The 780 Ti overclocks very well as you can see and performance on Xtreme preset jumps by almost 1000 points which is extremely good. The fact that with this overclock it now outperforms a GTX690 is just mindblowing and gives you a very good idea of just how serious this card is about raw performance.
The GPU Clock rose from a base of 876 to a base of 1101 which is a 225MHz increase, and do keep in mind the card can go higher to about 250 MHz for short bench sessions but I am focusing on complete stable overclocks which are game-steady. So if benchmarking do know there is more room here and also do keep in mind that the fan was kept at auto to show what can be done without creating an unlivable experience.
The memory was no slouch either hitting just above 8GHz to 8052MHz which is awesome and allows just that much more memory bandwidth for your GPU to use up.
The total overclock ability is as seen here.
| | | |
| --- | --- | --- |
|   | GPU | Memory    |
| Stock | 876 | 1750 |
| Overclock | 1101    | 2013 |
| Percent increase     | 26% | 16% |
Here you can see that the GPU clock breaks 25% and when speaking to Nvidia about this they are explaining that due to the new power balancing and just sheer capability of these models that these kind of results are not super special and are actually quite expected as the card simply has a huge amount of headroom in it just waiting for those willing to spend the time to tap its potential.
I must note that to see my once mighty dual GPU 690 dethroned by the 780 Ti both shocks me and makes me excited for the fact that one day maybe we could have a dual 780 Ti model which would just destroy some frames in gaming. (We hope Nvidia is listening here).
TEMPERATURES

To measure the temperature of the video card, we used MSI Afterburner and ran Heaven Benchmark in a loop to find the Load temperatures for the video cards. The highest temperature was recorded. After looping for 10 minutes, Heaven was turned off and we let the computer sit at the desktop for another 10 minutes before we measured the idle temperatures.
| | |
| --- | --- |
| GPU Temperatures | Temperature (Idle/Load) |
| Nvidia GTX 690 | 32C/81C |
| Nvidia GTX TITAN | 31C/67C |
| Nvidia GTX 780 Ti | 31C/72C |
| Nvidia GTX 780 | 30C/65C |
| Nvidia GTX 770 | 34C/79C |
| Nvidia GTX 760 | 31C/67C |
| AMD R9-290X | 38C/95C |
| MSI R9-280X Gaming | 31C/66C |
The 780 Ti as you can see here even with all of its crazy performance number never breaks past 72C under load and this is inside of a chassis, now do keep in mind that the chassis used does have a decent amount of airflow so a simpler lower flowing chassis your results may vary a bit but overall this is what you can see in my setup. 
I would actually be very interested to see what a 3 way or even 4 way setup would run in terms of thermals should I find a time at which I have such a setup on the bench believe me I will report the findings.
POWER CONSUMPTION

To get our power consumption numbers, we plugged in our Kill A Watt power measurement device and took the Idle reading at the desktop during our temperature readings. We left it at the desktop for about 15 minutes and took the idle reading. Then we ran Heaven Benchmark for a few minutes minutes and recorded the highest power usage.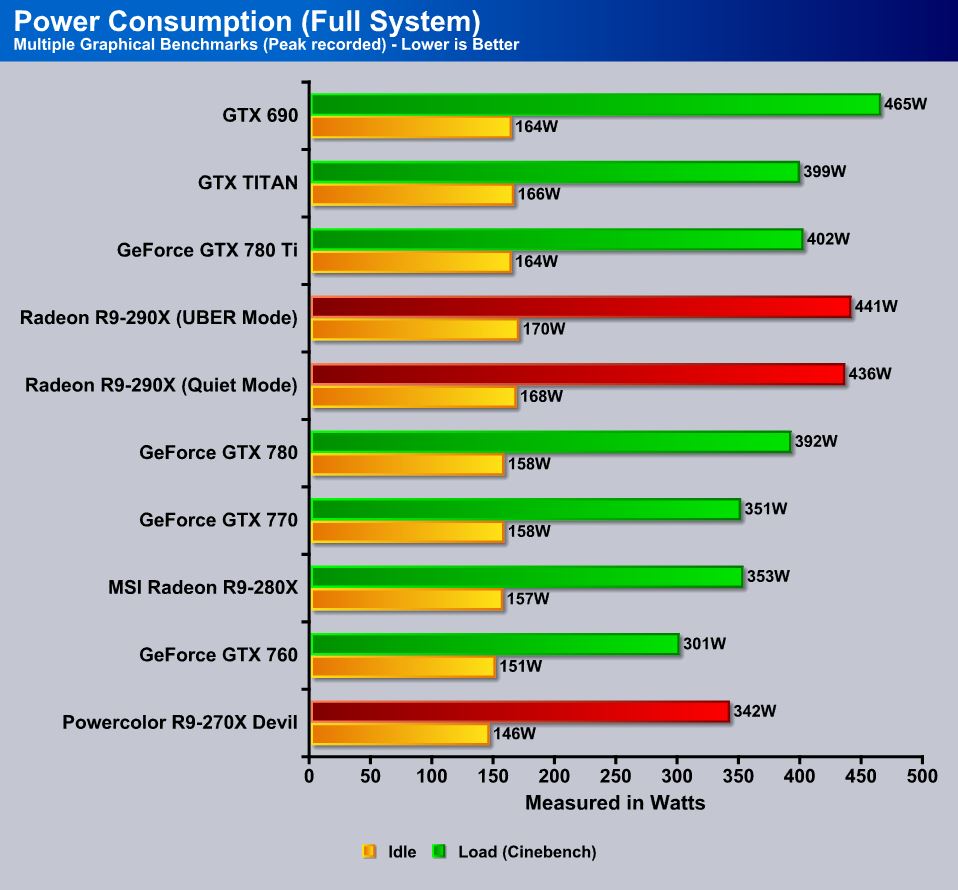 Here the 780 Ti you can see is right around the TITAN in terms of power pull under load and at idle its a couple Watts less. This is very good as its much less than the 290X which is technically supposed to be a contender in terms of performance.
Review Overview
Performance - 95%
Value - 90%
Quality - 95%
Features - 95%
Innovation - 90%
The 780 Ti has proven to be an obscenely powerful performer with ability to spare, all while staying cool and quiet.