When compare the drive in RAID 0, we see it definitely offers some nice performance improvement especially at higher queue depth. As manufacturing process improves, we are going to see 128Gb die to become a standard pretty soon in many SSDs. The larger capacity NAND means that SSDs would need less NAND for the same capacity as current drives that uses 64Gb die, which would mean that it would leads to lower performance due to the number of available channels are not being maximized. Putting two drives can improves on the shortcomings but ultimately, it can only do so much. As our data shows that write performance is one area that suffered the most with drives without maximizing its memory channels and having two drives in RAID would offer about 15~30% improvement. On some area, this would make the drive just as fast or faster as the drive with maximum number of NAND but on some area, especially at low queue depth writes, it is still not able to catch up with larger drives.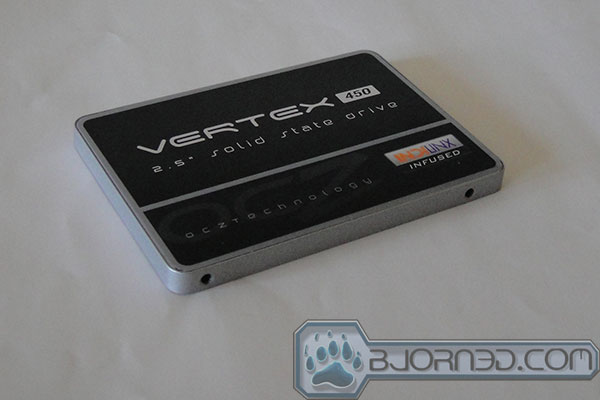 For about $1 per gigabyte, the Vertex 450 128GB certainly offers a very good performance. The drive performs well in the read area but suffered in the write due to the fact that it does not saturate the NAND that the controller can handle. What this translates to is that when you are creating files or installation applications, it can feel a bit slower or takes a bit longer than the larger capacity drives on the market. Still, even with this minor shortcoming, it is still significantly than any mechanical drives. For those who are looking for a budget SSD, it certainly would serve well for a boot drive. The 128GB capacity is plenty for OS and commonly used application. Given to the fact that most desktop workloads are primarily read, the slower write may not even be as big of a deal. If we look at the performance of the drive, we can see it is actually able to deliver respectable performance compare to the older 240GB from a couple of years ago. Obviously, if you are looking for the best performance, we still recommend go with the 240GB model for the absolute best and balanced performance. If budget is a concern and you need to replace your aging SSD or old mechanical hard drive, the 120GB Vertex 450 is certainly a viable option.
Pros
Cons
Good price to performance ratio

3 year warranty

Good read performance

Good performance at high queue depth

Good bundle with Acronis True Image

Scales well with RAID 0

Heavy case

Write performance of a single drive lags behind the 240GB drives
Review Overview
Perforamnce - 8
Value - 9
Quality - 8.5
Features - 8.3
Innovation - 8.5
8.5
OCZ Vertex 450 128GB RAID 0
The OCZ Vertex 128GB offers good price and performance ratio. It is a good drive for those who are looking to replace their aging SSD or HDD.