Overclocking

Overclocking on AMD is fairly straight forward as unlike Kepler there is no crazy algorithms to worry about which sometimes plagues power users as the Nvidia GPU boost utilizes many factors to calculate how it throttles.
AMD just lets you set the clock and power target percentage and your off to the races. MSIs innovation in the overclocking department by offering the Afterburner app has really changed the landscape and is probably one of the most used GPU tweaking tools on the market.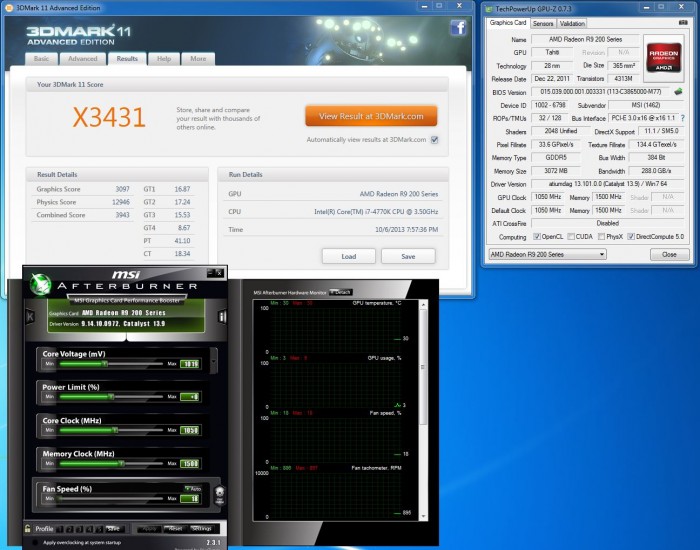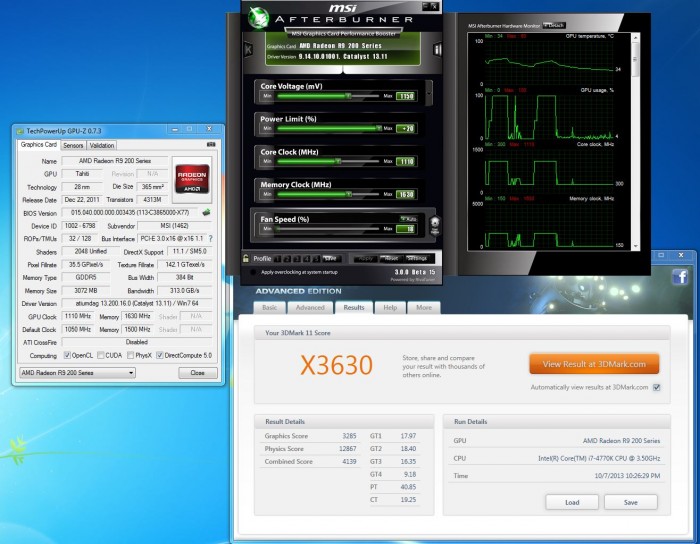 The MSI Radeon R9-280X is stock clocked at 1050MHz GPU and 6000MHz memory. As we started to push we eclipsed 1100 easily but found the limit at 1115MHz, but that was not completely stable so I wound up backing it down to 1110 which was stable for all of my testing.
The memory which is at 6GHz to begin with was able to reach 6520MHz before we lost stability, in all actuality you can do 6600 for benching purposes but it simply is not stable upon long gaming sessions as about 20 minutes of gaming caused a driver crash.
Total overclock for the MSI Radeon R9-280X is 6% on the GPU and 8% on the memory which is nice clocks but I have seen some 7970 GPUs do better so I am assuming this sample might just be a weaker one as I know the components and VRM should be up to the task for a much higher clock but that's the way the GPU lottery goes.
TEMPERATURES

To measure the temperature of the video card, we used MSI Afterburner and ran Heaven Benchmark in a loop to find the Load temperatures for the video cards. The highest temperature was recorded. After looping for 10 minutes, Heaven was turned off and we let the computer sit at the desktop for another 10 minutes before we measured the idle temperatures.
| | |
| --- | --- |
| GPU Temperatures | Temperature (Idle/Load) |
| Nvidia GTX 690 | 32C/81C |
| Nvidia GTX TITAN | 31C/67C |
| Nvidia GTX 780 | 30C/65C |
| Nvidia GTX 770 | 34C/79C |
| Nvidia GTX 760 | 31C/67C |
| MSI R9-280X Gaming | 31C/66C |
The Tahiti GPU is definitely a powerful GPU and it can put some heat out but honestly with the Twin Frozr cooler it really does a good job of keeping thermals at bay even at full load as it never once broke 70C and actually we only saw a stable max of about 66C. Also it is worth noting that the cooler was quiet even under load however if you do decide to ramp the fans to full speed they can make some noise but being that they stay this cool on auto fan I really don't see the need to push the fan to full speed unless your benching it.
POWER CONSUMPTION

To get our power consumption numbers, we plugged in our Kill A Watt power measurement device and took the Idle reading at the desktop during our temperature readings. We left it at the desktop for about 15 minutes and took the idle reading. Then we ran Heaven Benchmark for a few minutes minutes and recorded the highest power usage.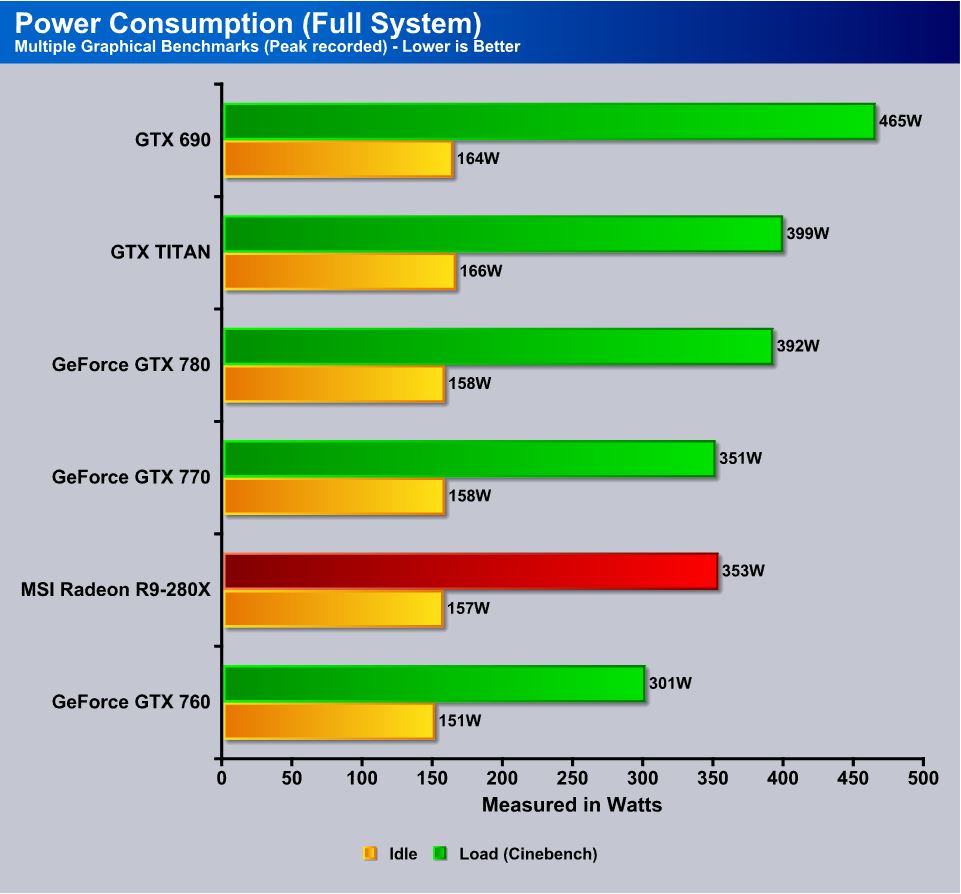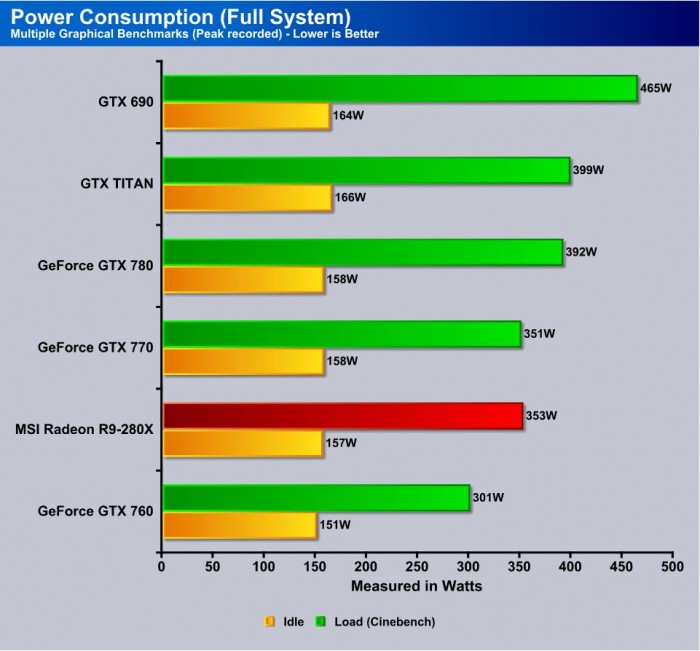 Here the MSI R9-280X Gaming pulls just under the GTX 770 at idle and under load it jumps just a few watts above which is quite good considering this is a top end GPU
Review Overview
Performance - 8.5
Value - 9.5
Quality - 9.5
Features - 9
Innovation - 9
9.1
The new MSI Radeon R9-280X is a powerful, capable and affordable card ready to take gamers to the next level and beyond.