Closer Look
When we first took on the Dynatron coolers honestly one of the most excited I was to work with was this one and that's because I feel a bit more at home working on a tower cooler like this as the small flat coolers you get with servers just do not seem right after working as an enthusiast for so long. The small coolers have their place and they are usually in noisy large thin blade servers but big towers like this are more akin to what you see in a desktop rig and well this one happens to be spec'd as a 3U Server or desktop workstation so its a bit more up my alley when in terms of testing and familiarity.
Dynatron is one of those companies that has been around for coming up on 20 years now as it started in 1991 and has been a major player in the cooling solution market it is just that most of you readers likely may not have heard of them as they make solutions for datacenter servers and workstation solutions. These sort of solutions tend to come in a brown box as seen below and have a simple spec meant to done one thing and that's control thermals.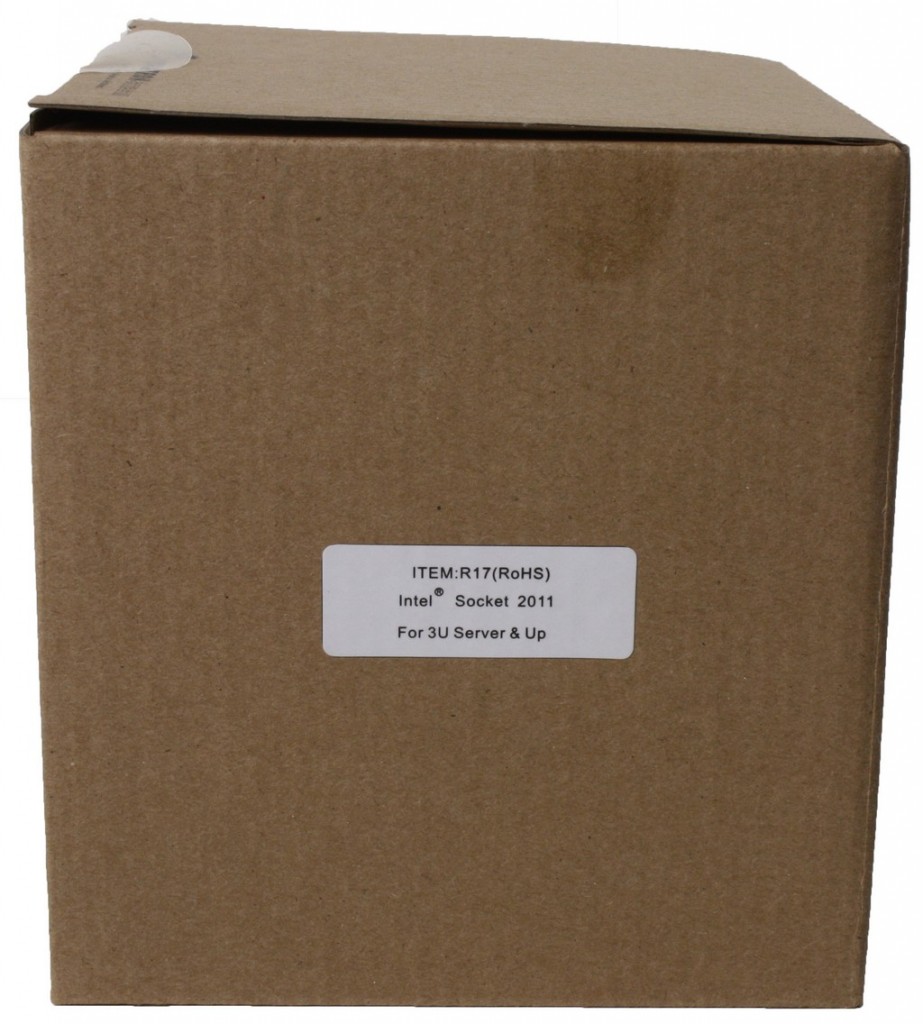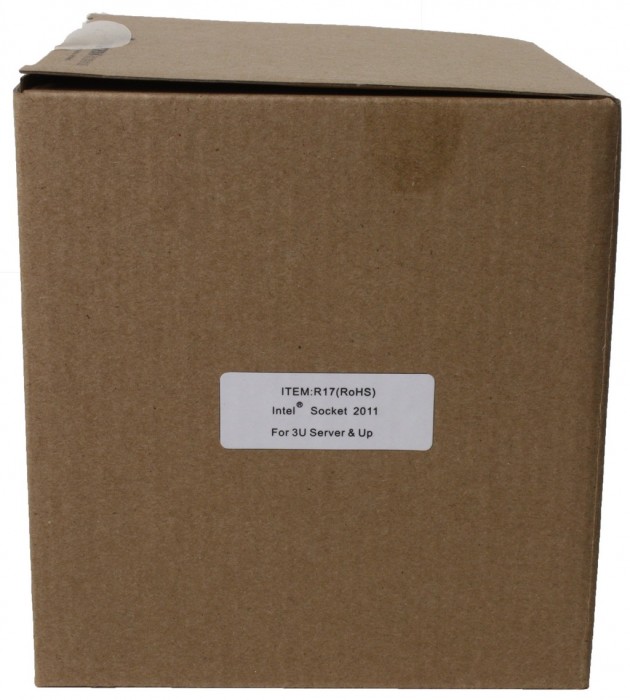 The R17 was the last of the three models that Dynatron sent us and the only cooler sent that is above 1U fitment size. Actually this unit is specified as 3U+ server or desktop tower/workstation which means that it would have to be a pretty quiet cooler to be used regularly near a user in a workstation so this might have hopes for even standard desktop users looking for a good professional grade cooling solution.
The Dynatron R17 comes in at around $29.90 from Amazon at the time of writing which puts it in a quite low but competitive price point as many midrange coolers are to be found around this area.
First impressions of the R17 leaves me feeling quite confident in its capabilities as it reminds me of many more expensive tower coolers with its four heatpipes breaching the tips through the top most fin on the cooler. the fans mount on anti vibration rubber pull through mounts which securely hold the fan to the cooler while absorbing vibrations from the fan operation to reduce unnecessary noise.
The cooler fin array itself has a interesting front and rear pattern within it designed to maximize cooling performance while offering minimum airflow noise.
The closed ends on most of the fin array helps to direct airflow through the whole length of fin surface area to ensure optimum thermal transfer with a minimum of wasted fan airflow.
This cooler base you can see is a Direct Touch heatpipe design and like we have seen before has a square matrix of pre-applied thermal paste. The Direct touch design is nice as it allows the heatpipes to have a direct interface to the IHS and therefore very fast transfer of heat away from the CPU up into the cooling fins.
The fan is a 92mm design with a maximum speed of 2500RPM producing up to 43.36 CFM at 31.92dBA and a static pressure of 3.0mm-H20.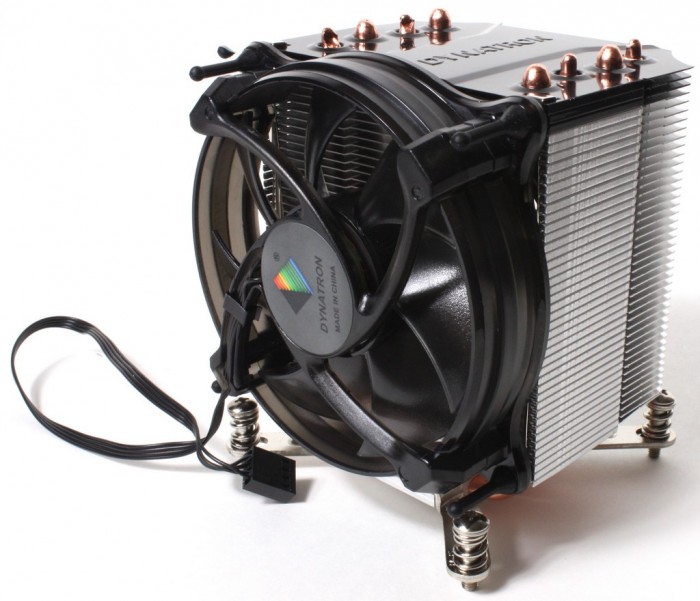 Here you see the cooler with the  fans mounted up and ready to run. You will notice that this looks very much like a standard midrange desktop cooler that you might see from a major player such as Cooler Master or Thermaltake which speaks well to what this cooler may be capable of.
The standard mounting screws you can see are captured so in normal installation you would want to mount this cooler to the board/CPU before you install the fan as the fan does cover the screws when installed.
Installation
As mentioned previously most LGA2011 boards have the square pattern mounting with even spacing between all mounting holes, whereas some server boards have the "Slim ILM" design which has mounting holes much closer together as you see compared in the images above.
The ILM carries the threaded holes so that no backplate is necessary and the cooler can be fixed directly to the board without removing the board or anything. This is a very nice design as it gives a solid cooler mounting without all of the extra fidgeting with backplates and the hassle that can be sometimes
Installation of the R17 was straight forward as the screws are spring loaded and captured to the mounting bracket with e-clips which means you can simply hold the tower up to the CPU and attach it with the screws to ensure a solid mount. After mounting is complete then you could fix the fan onto the cooler and plug it into the boards CPU Fan port to allow full PWM control of the fan which will allow for a good balance between cooling performance and quiet operation.
Performance
We tested the Dynatron R17 with a E5-2687W which is a 150W TDP CPU.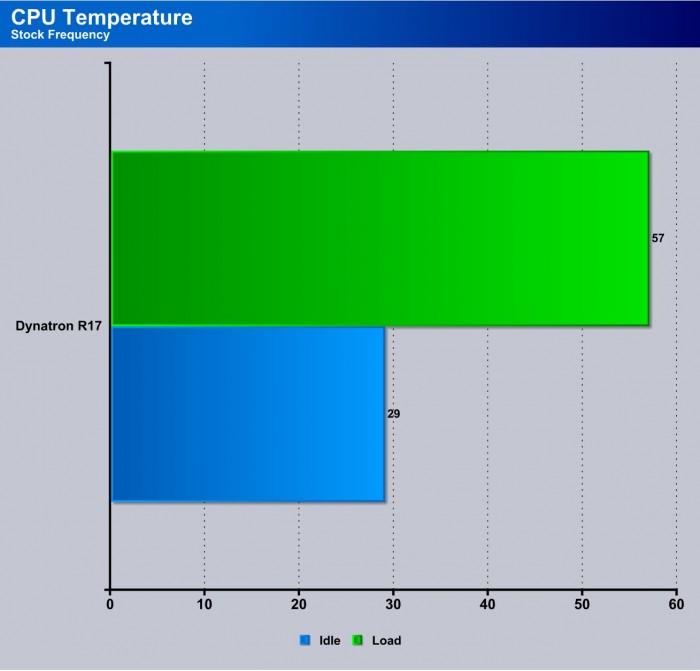 The installation was simple as noted above and upon testing I found the R17 to be very nice and effective topping out at short peaks of 57C under heavy loading. The PWM control allowed for slower and silent fan operation under idle and low load operation and even under heavy loading I can say that the fan was not overly loud and probably not even up to the noise of normal chassis fans found in a workstation desktop.
Our Final Thoughts
The last of the three Dynatron coolers was definitely a winner for me as it offers great performance on a top TDP chip and it did so with little to no noise output which is a major plus if you have to be sitting next to the system running all day long.
As CPUs are becoming more efficient all the time the performance negates the need to overclock them for better performance and many simply do not gain much in standard applications when overclocking.
As long as you are not planning to overclock and just want a great performing tower cooler designed for heavy loading and a long lifespan in a professional application I think the Dynatron R17 is definitely worth a look.
Pros:
Cons

Cools Well
Easy Installation
Pre Applied Thermal Paste
Quiet operation
Review Overview
Performance - 9
Value - 9
Quality - 9
Features - 8.5
Innovation - 8.5
8.8
The Dynatron is a professional level tower cooler which could make a great fit in any workstation and probably even a nice gaming rig cooler.