Closer Look
Previously we had taken a look at a unit from Dynatron for the LGA 2011 server side application utilizing the Slim ILM design and active cooling for a really thin 1U blade server application. Well today we have a similar unit in appearance but its application is quite different as this is more targeted at mini ITX systems which is basically a polar opposite from a large heavy load server. but upon checking out where this product was placed it is still found in their server category although the selected application is targeted at Mini ITX based systems so I can only assume it is made for the more compact home file servers or even media servers.
Being that Dynatron has never really been in the consumer market very heavily and only recently really started offering anything resembling possible competition for the desktop market honestly so to see anything that may help bring some of the innovations they have made in the professional cooling designs to possibly increase cooling products for desktop consumers we are always welcoming this.
Dynatron is one of those companies that has been around for coming up on 20 years now as it started in 1991 and has been a major player in the cooling solution market it is just that most of you readers likely may not have heard of them as they make solutions for datacenter servers and workstation solutions. These sort of solutions tend to come in a brown box as seen below and have a simple spec meant to done one thing and that's control thermals.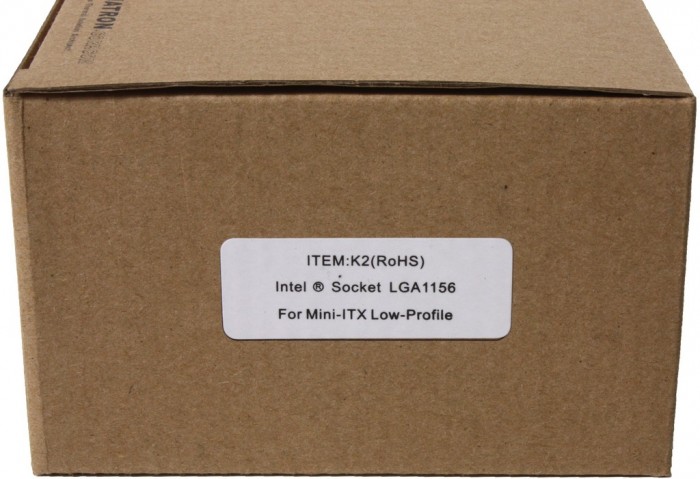 this is the second of the three models Dynatron sent us to check out and it is for LGA 1156 technically and has a rating of 73Watts but since I have not had a 1156 board in who knows how long and the 1156, 1155 and 1150 all use the same mounting pattern I just stepped it up to a IVY bridge board which I did have so that we could get this thing running and see exactly what it could do. The Dynatron K2 sits in a price point of around $26.99 from Amazon at the time of this writing, this is not necessarily bad but there are comparable coolers with similar cooling capacities for a bit less but they are standard desktop style coolers with a much less reliable standard blade fan design which could make for a decent reasoning as to why this would be worth your money for the application.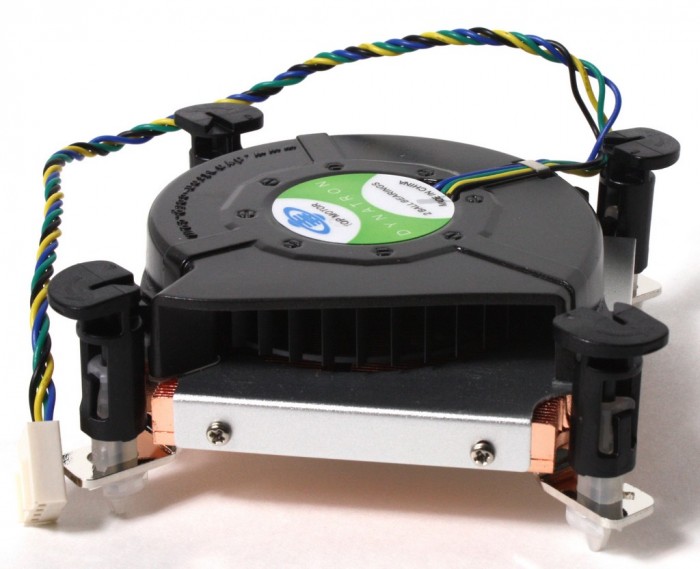 You will notice right away that this cooler resembles very much the Server cooler we looked at before but a bit smaller and it has the standard push pin mounts like we have seen on Intel stock coolers for many years. Now one thing to get out of the way right off the bat is that I am not and have never been a huge fan of these push pin mounting systems as all it takes is a slight mis-alignment and the expandable pin ends will bend over causing the mounting even when corrected to be much weaker are more prone to breakage. Is it a deal breaker? No not at all and actually they are very easy to use for installation as installs can be done in seconds with this solution but when we are talking anything which is labeled server I hold the durability to a much higher standard. One thing I'm sure you have noticed already is that the cooling fan is a blower style much like on the previous server cooler we covered which raises a bit of a concern on my part as I know from experience these blower designs on coolers like these are not exactly the quietest solution but for server applications once again I will admit they do tend to hold up quite better than a standard blade fan.
The K2 has a quite dense copper fin array mounted to a solid copper base which is a very good thing as many coolers in the budget space employ a lot of aluminum due to the higher cost of copper but to see a pretty much all copper cooler in place at this price point makes me truly believe that quality is one of the primary goals coming from Dynatron on this solution.
At the bottom or base of the cooler the pre applied thermal paste once again carries the squared array which allows for a very nice spread on the CPU IHS with very little excess overflow like you see on some applications.
Installation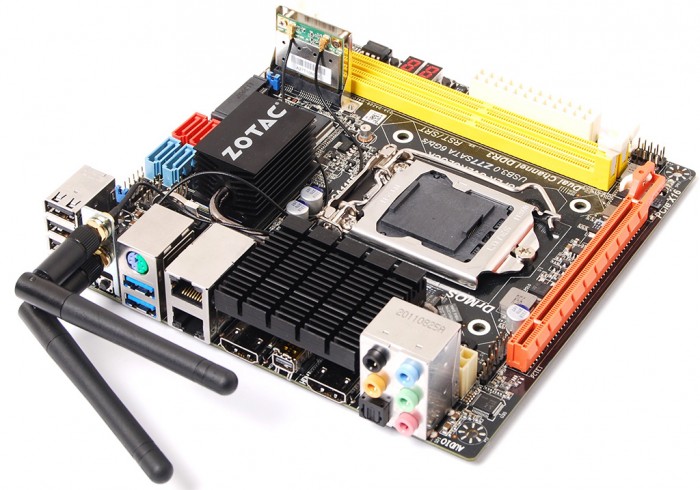 Here you can see the board used for the install, since Dynatron specifies this as for Mini ITX usage I wanted to give it the best chance for a good representation which is why I selected a Zotac Mini ITZ Z77 based motherboard with 16GB DDR3 1600MHz and a i5 3550S CPU rated at 65W TDP ready to put the cooler to work and see just how well it keeps temps at bay.
The installation of teh cooler can be performed on a fully built and installed motherboard as the push pin mounting design simply places the cooler in place and then snaps on, so there is no need for backplates or removing the board to hassle with tougher mounting mechanisms.
Performance
We tested the Dynatron R25 with a i5 3550S which is a 65W TDP CPU This puts us close to the coolers stated limit of 73 Watts and also is a pretty high end chip at a maximum turbo frequency throttling between 3GHz and up to a maximum Turbo speed of 3.7GHz so very high end for any small media machine which is where we see the most likely application.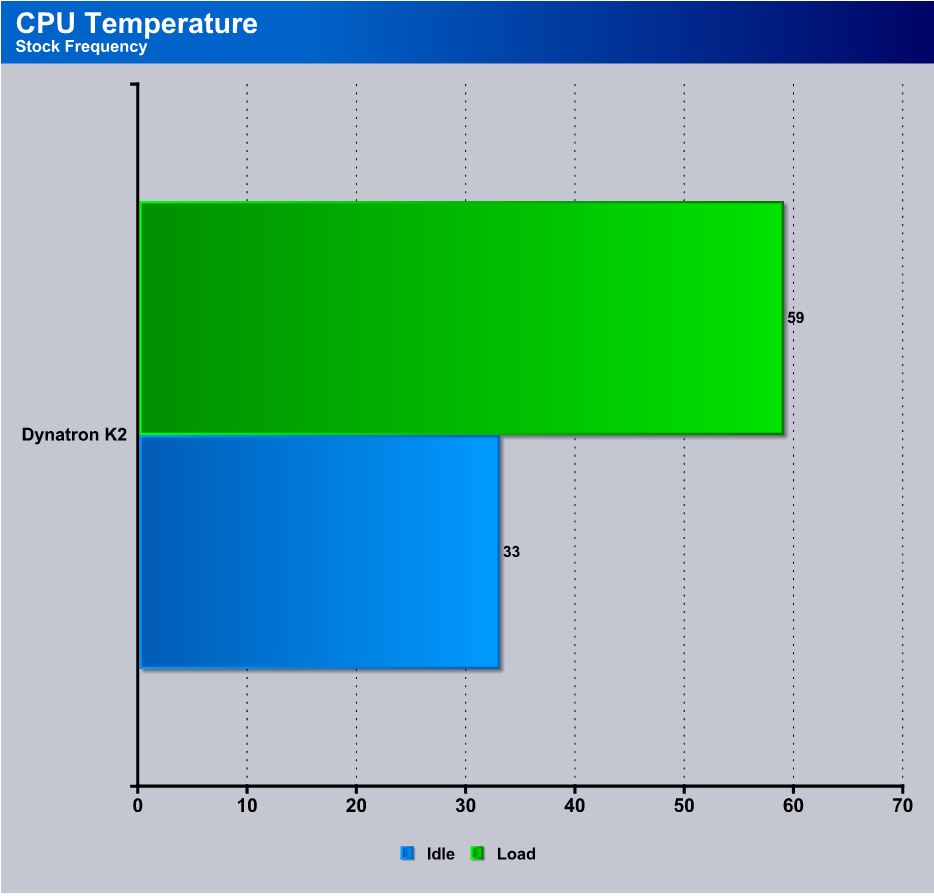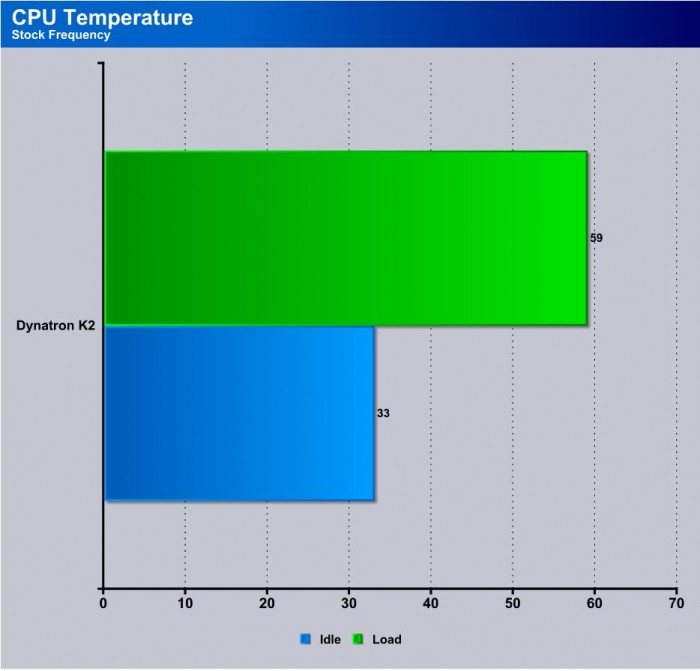 The K2 shows to be a capable cooler with idle staying in the low 30's and under full real world load from rendering apps to even prime calculation benchmarks the cooler simply kept going. The top we saw was 59C which is actually quite good and a bit better than the stock Intel designed cooler I had on hand but this cooling did not come without some things I didn't care for.
The blower style fan being much like the server cooler I tested before I can say is not quiet so depending upon your application this can be a great cooler or not so great. For a file server or something off in an IT room where nobody will be sitting next to it I think this cooler will do just fine in for instance a home or small business file server or even a larger deployment file server but if its something you will be sitting next to on a regular basis the fan is simply a bit too loud for what I would consider acceptable if this was used to be used as a local workstation. It drones with a fan noise almost resembling a hair dryer or I guess you could simply say a blower fan which is what it is but there is no escaping the fan can get annoying sitting with it churning along especially if it will be under a decent load for any extended period.
Our Final Thoughts
I like to see diversity coming from Dynatron and given the proper application this cooler shows real promise for stated applications such as small form factor servers or media systems but for anything sitting on your desk I would definitely be sourcing a different solution.
The mounting system while can be fragile is super easy to install and holds the cooler tight with no issues during installation and even a few remounts just to test.
The cooling performance of this unit was very nice never even seeing 60C under full load
The build quality with a full copper design is excellent.
Overall if you are looking to build a super small remote media or file server based on the LGA1156/1155/1150 socket type I can definitely recommend this cooler as the blower style fan design should offer plenty of clearance for any size enclosure and also a nice long lifespan.
Pros:
Cons

Cools Well
Easy Installation
Pre Applied Thermal Paste
Ready to drop in

Noise from fan would prohibit this from being in a "Quiet" based PC
Push pin design while easy for install can easily be damaged during install
Review Overview
Performance - 0.9
Value - 0.8
Quality - 0.85
Features - 0.85
Innovation - 0.8
0.8
The Dynatron K2 is a solid little cooler that will make for an excellent small form factor server as long as some fan noise will not be a concern.