Introduction – ASUS X79 Deluxe

We recently looked at the X79 refresh from the ROG line newly optimized for top tier performance with the new Ivy-E chips and well not everyone needs that level of extreme feature set and compatibility so ASUS stepped it down a notch in some of the more extreme LN2 and overclock areas to offer a more sensible board for enthusiasts users and arrives at our test bench today with the new X79 Deluxe. One thing to note is that while this is not an ROG board and may not have all of the LN2 bells and whistles straight on paper as you will see coming up this board is still very much packed to the gills with some pretty awesome features.
One thing you will notice right off the bat is that ASUS basically now EOL the P9X79 Deluxe board in favor of ushering in this new model and with it comes the "Gold Standard" color scheme for the board which is a give or take for many users. As of now I have not heard of any other Ivy-E based models coming as the X79 is already begging long in the tooth so I think these two refreshes will cover the majority of the market except maybe a mATX variant but I have not heard anything on that front as of the time of writing.
The X79 Deluxe has many feature improvements which we will cover soon but just as a quick summary ASUS has adopted as many of the improvemnets from the Z77 and Z87 series they have discovered and packed any that could apply into these boards such as some very nice 802.11 AC WiFi which is some super fast wireless connectivity, new software suite, new and better laid our UEFI and even T Topology for optimized memory trace layouts.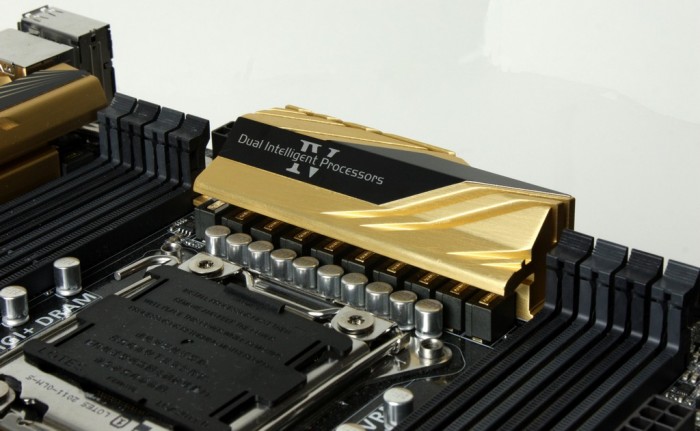 The X79-Deluxe comes in at a street price of $349.99 directly from Newegg at the time of writing which is quite a bit less than what the Rampage IV Black edition is asking it is still a bit on the high side for a board. But with the feature set I see listed I think we will review some details further to see if it passes muster as the board of choice for our next upgrade recommendation.
Key Features
Main Features
Here you can see a quick overlook of many of the boards main features. This shows everything this board has to offer and also shows many of the supported items as well. Especially things such as the WiFi inclusion which is a huge plus in the modern wireless culture.
4 Way Optimization
ASUS has implemented a new "4 Way Optimization" feature in many of the new series motherboards.
The 4 way optimization refers to the complete support structure within the board in relation to all around tuning, not just performance or power savings but now a complete package.
With a single click the 4 way optimization will kick in and optimize the entire cooling/power/overclock and VRM tuning for the ultimate solution without a lot of overclocking or tuning knowledge. This is a plus for most users as I myself can tune a system very well but many users simply want a solution they can plug in and game or do whatever they may do from surfing YouTube to Facebook and candy crush. But if you're getting a board why would you not tune it up to be the best it can be including optimizations to power savings since that's free money-saving from your electric bill monthly which in this tight economy I cannot see as being a bad feature.
Also improvement to the TPU unit with a two-step switch now in place to allow standard mode, then step one is a ratio boost and step two would be a BCLK plus ratio boost for even better OC improvement up to 5+GHz
Power savings come by way of power optimizations but also cutting power to unused ports to allow even more power savings.
As you can see the Fan Xpert 2 utility is back and it is still an amazing application with now even a better cleaner interface within the AISuite Utilities. The ability to auto tune (No not like T-Pain) the fans by running through a test ramping each fan to its maximum to find where each fan can go and then it automatically profiles each fan to allow for optimized noise/airflow conditions based on thermals within the case.
ASUS 5X Protection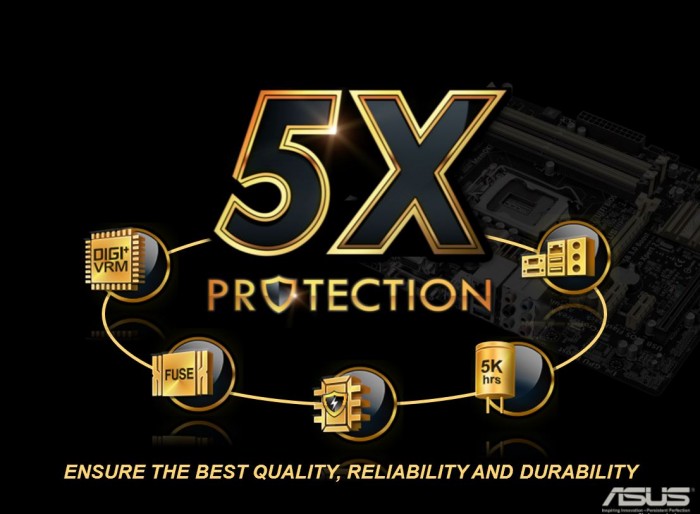 ASUS always adds new and interesting features with each new board/chipset launch. The Z87 brought on the 5X protection and like I said before ASUS then adopted it to the new X79 offerings.
On the above you can see some of the key features of the 5X protection features.
Dram Overcurrent Protection – This is an inclusion of a fuse inline for the DRAM to allow overcurrent spikes to not reach the DIMMS and cause costly system damage which could otherwise take your system down for an extended time and even have costly replacement results.
ASUS Digital Power Design – This includes the ASUS DIGI+ design which as we have seen before is a very stable and efficient power solution as you will notice it has not changed a whole lot over many generations now except the necessary changes to be better compatible or perform better with specific platform architecture changes.
ASUS ESD Guards – ASUS has included special ESD circuits in the ASUS boards which help ensure that when stray static shocks reach the board they can be absorbed with a lesser chance of damaging critical components.
Stainless Steel Back I/O – The stainless steel back IO is the boxes which hold the rear I/O component ports and employing a corrosion free stainless steel material means that the IO portion will stay corrosion free and in much better working condition for much longer than a standard steel components which when in the harsher climates can definitely be having a bad day very quickly and when rusted or corroded can cause failures of the ports or components.
ASUS 5K Hour Caps – This stands for the uptime you can expect from these specially made caps at 105C, and we all know that your PC will not see 105C very often or ever so with a more realistic but still very extreme temp figure the rating will jump up to an expected 50,000 hours and since most chassis temps see around 30-35C figure that time will even be longer. And that means you can expect the components and board life to be very long, probably longer than you would ever use it.
ASUS SSD Caching II
 ASUS SSD Caching has always been very cool as it utilizes the four darker brown SATA ports which are pulling from a Marvell 9230 PCIe controller to allow for a very interesting feature. As most know the standard Intel Smart Response feature is limited to 64GB for a caching SSD so ASUS decided they wanted to do this but the ASUS way which means pulling all of the stops and going balls to the walls in terms of capability.
Normally when running a cached HDD you have a smaller super fast HDD which is used for commonly accessed applications or files called "Hot" data, while the other standard data which is less used would be cold data and stored only on the HDD. This is great but the amount of hot data can quickly surpass the limitations of the Intel solution so ASUS first introduced their version of SSD Caching and it allowed pairing a single SSD to a HDD but without a size restriction so that you can boost the performance of a HDD with a quite large or as large as your wallet can afford SSD.
Now lets meet ASUS SSD Caching II which allows for using up to 3x SSD's to boost the performance of a single HDD and this means now you can use three 240GB cheaper fast SSD drives to boost a single high-capacity platter drive for a total of 750GB or even more depending on your SSD sizes and all will be actively managed by the ASUS algorithm to keep your most common used data quickly usable on the SSDs. This solutions usability is very much based on the total size of your data and dependent on how much data you use consistently but as I have seen many times you may start with only a certain amount of data or lets say games this can quickly grow. and having a large caching volume means lets say you play BF4 a lot all of that level data and things that normally may take much longer to load up can now do so a lot quicker with the aid of the SSD caching.
Yes I do know I am making it kind of simple sounding but this capability to use multiple SSDs to boost a single HDD actually is a really cool feature especially since larger SSDs are still quite expensive so caching across multiple drives not only allows for the larger capacity on the cache volume but also a much higher speed as well.
WiFi GO!
WiFi GO! has been something that ASUS has had for some time and has refined it as time has gone on from just DLNA media streaming among other features to now being a very extensive and capable suite allowing better utilization of your digital home experience. Now with WiFi GO! you can see remote file transfers within your WiFi network, DLNA media hub functionality, cloud based application and data along with Remote desktop control with KB/Mouse controls directly from even smartphone or tablet devices. the cloud storage ability to sync directly with cloud based services such as Google Drive/Docs, Dropbox and even ASUS Webstorage means that integration of your network into the could have never been easier. Even the ability to use the gyro sensor with your phone or tablet as intuitive controls in some gaming environments via the remote desktop control function adds yet another layer to the capability of the WiFi GO! functionality.
USB BIOS Flashback
ASUS offers the BIOS Flashback utility which is actually a multi-facet tool and has many capabilities which some may not be aware of. we have had many times where a motherboard did not support a CPU and a frantic search for a supported CPU just to flash the BIOS (ex. Gulftown CPU support on X58). ASUS has eliminated the worry of these kinds of issues by allowing the BIOS flashback procedure which does not require a CPU or memory or GPU to flash the BIOS. All that is needed in order to flash the BIOS is to have the desired firmware ROM file on a USB thumb drive and insert that into the BIOS Flashback USB port.
then depressing the BIOS Flashback button (At the bottom of the boards edge) for 5 seconds will start a flashing LED which indicates the firmware is being updated and once the update is complete the flashing will stop. It really is that easy and ensures no matter the condition the firmware can be flashed even if the newest CPU is not supported without the previously mentioned hunt for a compatible CPU.
This may seem like an odd feature but many may buy the newest and greatest CPU on the market while the board could have been shipped with the older firmware which in most cases would leave the user stuck without an option. As for our usage we have found this useful in quite a few experiences where running a LN2 cooled system not necessarily in the most stable conditions and a BIOS had gotten corrupt, but with the BIOS flashback it was remedied as quickly as we could copy the Rom file from our laptop to the flash drive and get it flashing.
New UEFI BIOS
The Z87 boards also ushered in some new tweaks to the UEFI which are adopted into the new X79's and definitely can be seen as a good move with some very neat small improvements in the features front but also some great performance tweaks as well.
Quicknote – Quicknote is used to allow notations within the BIOS that will be saved so that if you had something you were working on while tweaking you can always go back to these digital notes as a reference point.
Last Modified – This is a button you can click on which brings up a box showing all setting changes within the UEFI so that you can retrace steps back to change something should the overclock or performance go awry.
UEFI Shortcuts & My Favorites – This allows you to choose specific settings as shortcuts or favorites and at that point you will have a main screen with just the shortcuts you selected so that you don't have to dig through all of the menus to get to all of the various settings you may use most prominently.
EZ Mode – This is the simple graphical interface which is super easy to navigate yet offers most of the basic tuning and functionality of the main BIOS without all of the separate tabs in the Advanced section.
SATA Port Renaming – This is a pretty neat feature as you can rename SATA ports to whatever you need them to be to make them easier to identify with a quick glance.
Review Overview
Performance - 9.5
Value - 9
Quality - 9.5
Features - 9
Innovation - 9.5
9.3
The X79 Deluxe aims to breathe new life into the aging enthusiasts platform and with its optimizations and feature set it really makes a difference!