MSI GeForce GTX 760 HAWK

MSI with the introduction of the Gaming series set a whole new category for the MSI brand in the marketplace and a very necessary one at that. However there is still a gap to fill when it comes to extreme performance and that is where the GTX 760 HAWK that we are looking at today comes in. Must like the bigger brother "Lightning" model cards the hawk series is the mainstream performance equivalent for top end OC board offerings. Now with the GTX 760 is uses a GK104 GPU cut down to GTX 760 spec just like any other GTX760 you will find on that market but this is where the similarities end and the fun begins.

Here as you can see the spec has a very respectable overclock to it right out of the box and you cant help but notice that the cooler design is definitely beefy along with the larger custom PCB and dual 8 Pin PCIe connections feeding the more than capable VRM for the overclocked model card.
The MSI GTX 760 HAWS comes in at a price of $ 289.99 directly from Newegg at the time of writing. This price point puts it a bit above the competition at almost at the 4GB card level but now begs the question of what exactly is there to this card what secrets does it carry to validate the higher cost OCer its competitors outside of just the out of the box clock? Lets take a look below and see what other goodies are hiding below the surface of the new MSI GTX 760 HAWK.
Key Features
Military Class 4 Components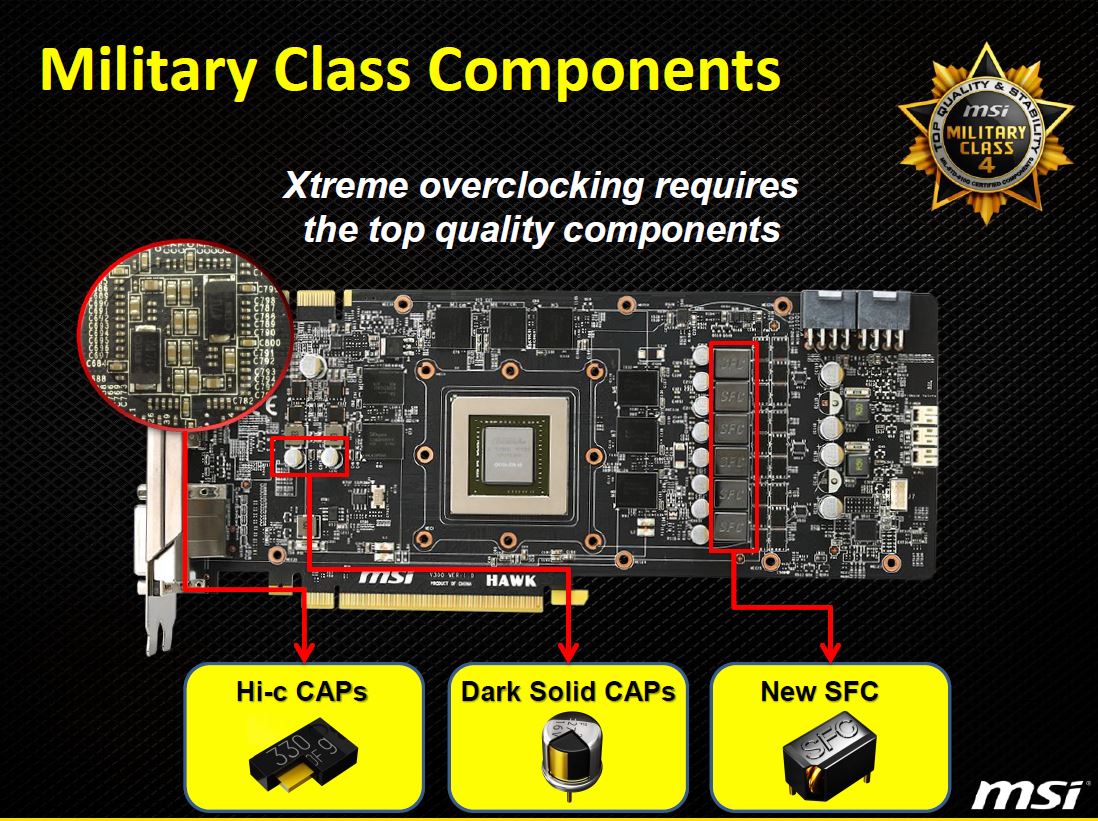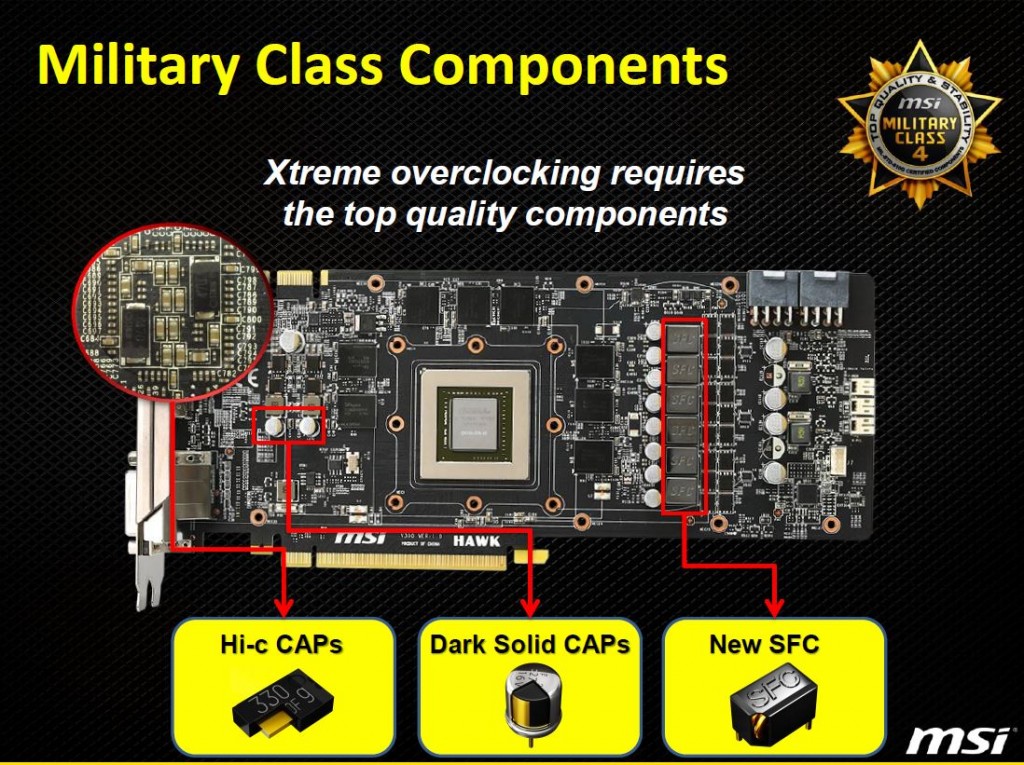 MSI has long touted the Military Class components on their cards due to the fact that they are specially tested components, not just by them but by a third party testing center according to the enclosed certificate. "Military Class components" sounds nice, but are they really necessary on a card or motherboard? Honestly, no as most times the reference components are good enough to do their job. However, they are not designed to push the limits to the extreme. The answer is better and stronger components. Most manufacturers worth their salt will use better components, so in order to try and stand out, MSI uses "Military Class" components in an attempt to ensure better hardware reliability.
Military Class Component Testing
When MSI puts military class components to the fire they are not joking as they come to the table claiming to have passed multiple tests following Mil spec (MIL-STD-810G) Tests including:
Temperature Shock testing: Sudden thermal changes which can normally wreak havoc on electrical components are fully tested on these components to ensure they can last through some of the worst conditions like lets say what the extreme enthusiasts community may employ them for. Although I'm sure the Lightning card will be more in that category its still nice to know its there.

Humidity Testing: Testing of components in different humidity conditions can make a big difference as to the capabilities of the cards as different areas can have much different environments and not every deployment will be like a sterile lab and knowing they can take that kind of abuse once again is a major plus.
Vibration tests: This one is a little nuts but being in California I guess if I have an earthquake I can ensure the shaking wont affect the components.
Low Pressure Testing: This once again is a little extreme as deployment for different elevations especially extreme enough to require low pressure testing is gonna be extremely rare if ever but it will handle it.
High Temperature Testing: This one should be a standard for every component in a high end PC as thermals are the enemy of every enthusiasts rig so I like to see such attention paid here.
Low Temperature Testing: Once again I think something more targeted at the Lightning model, but the fact that they test these cards to withstand LN2 benchmarking temperatures tells me that under standard gaming stresses this card is gonna run and keep on running.
Shock Testing: This is once again more extreme as these are similar to drop or rough impact testing which well even if the card survives I'm sure other components may not fare so well in this kind of scenario.
So what we can take from this is that this card may survive the nuclear apocalypse or even a Zombie infestation but well in the case of a nuclear apocalypse this card looks like it could probably take it, and with The North Korea situation maybe you can hide behind a stack of these cards.
Enhanced Power Design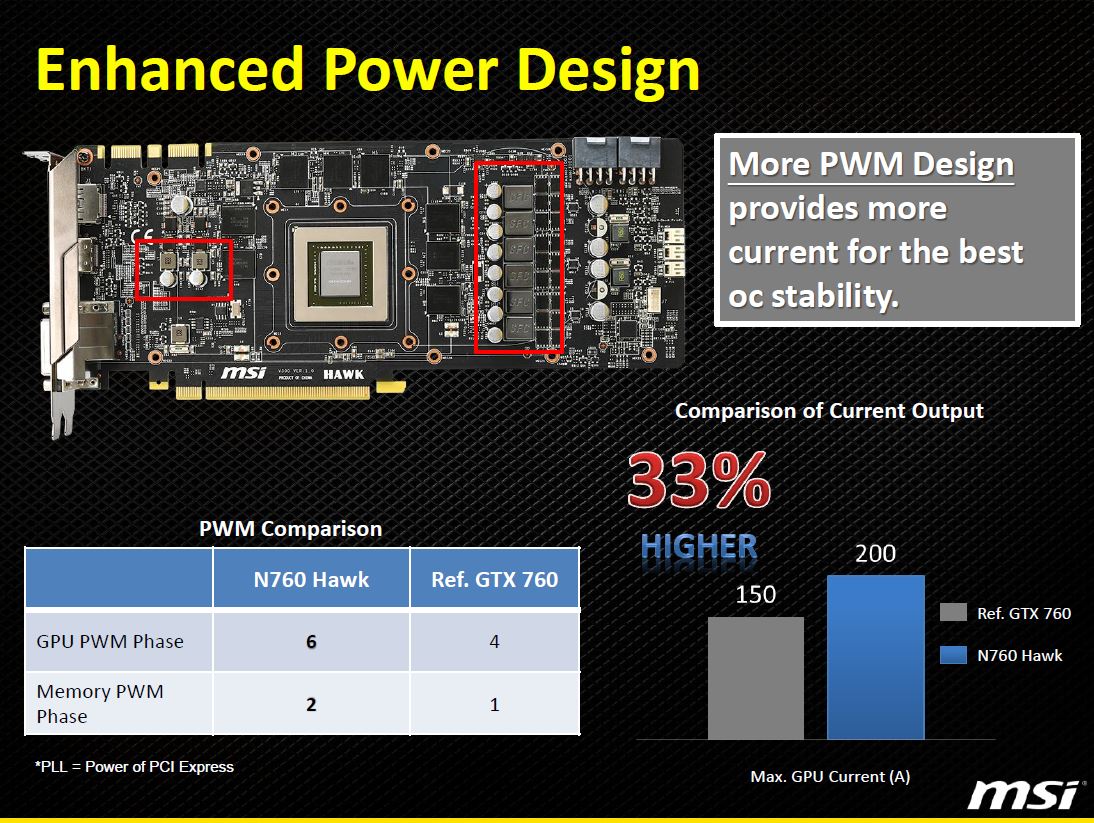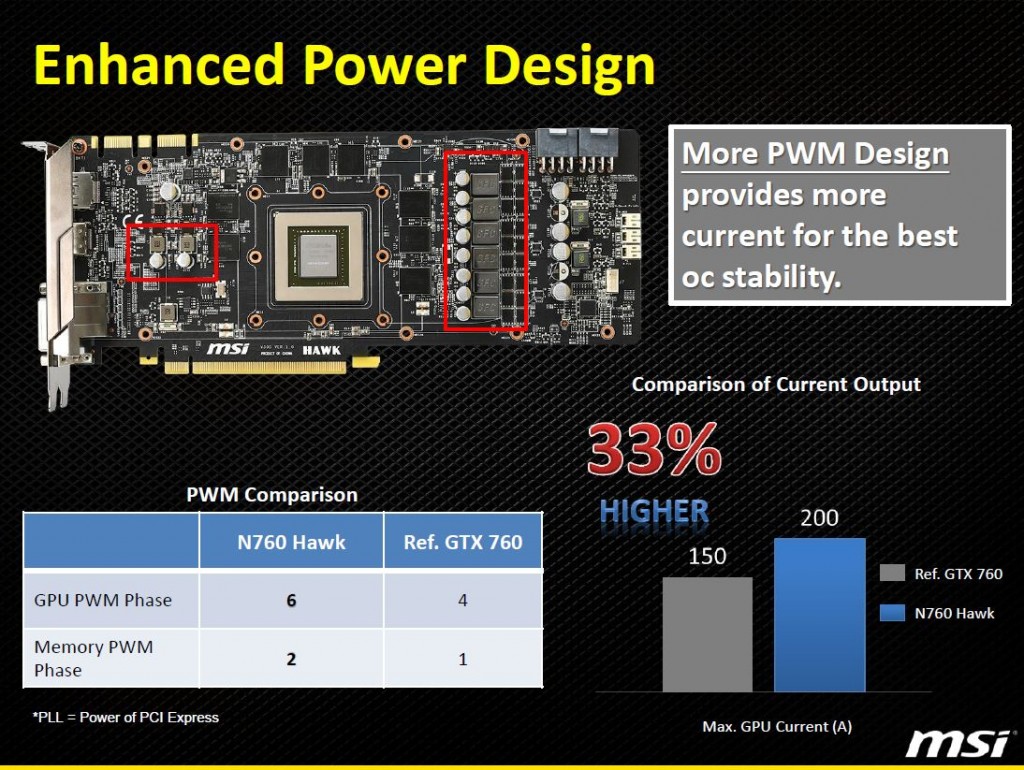 MSI Offers a higher end power solution via a larger VRM feeding both the GPU and memory components by increasing the Memory VRM by 100% or double the phase count to two and increasing the phase count for the GPU by 50% or two extra phases for a total of 6 phases to ensure more than enough power delivery can be pushed to the GPU for even better overclockability and more importantly better overclock stability.
Advanced Twin Frozr IV Cooler
MSI introduced the Twin Frozr cooler quite some time ago. The Twin Frozr is MSI's version of the custom cooler to keep the GPU and components cool on the card.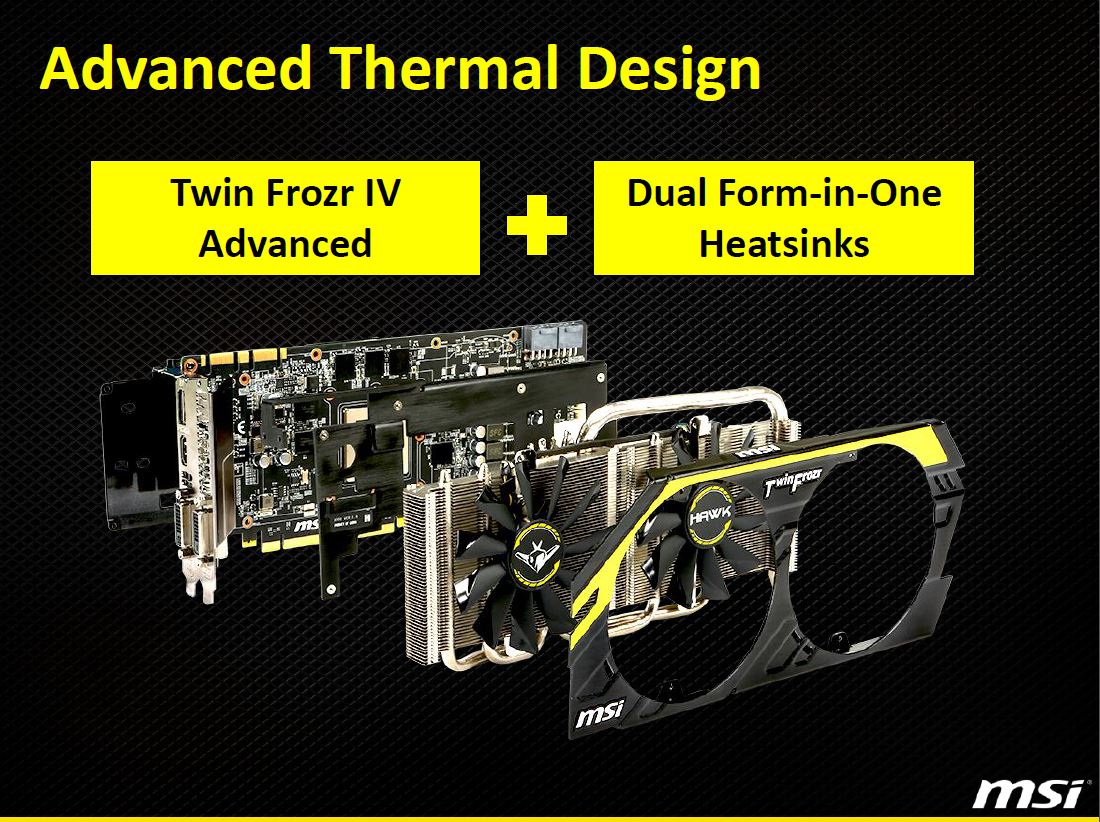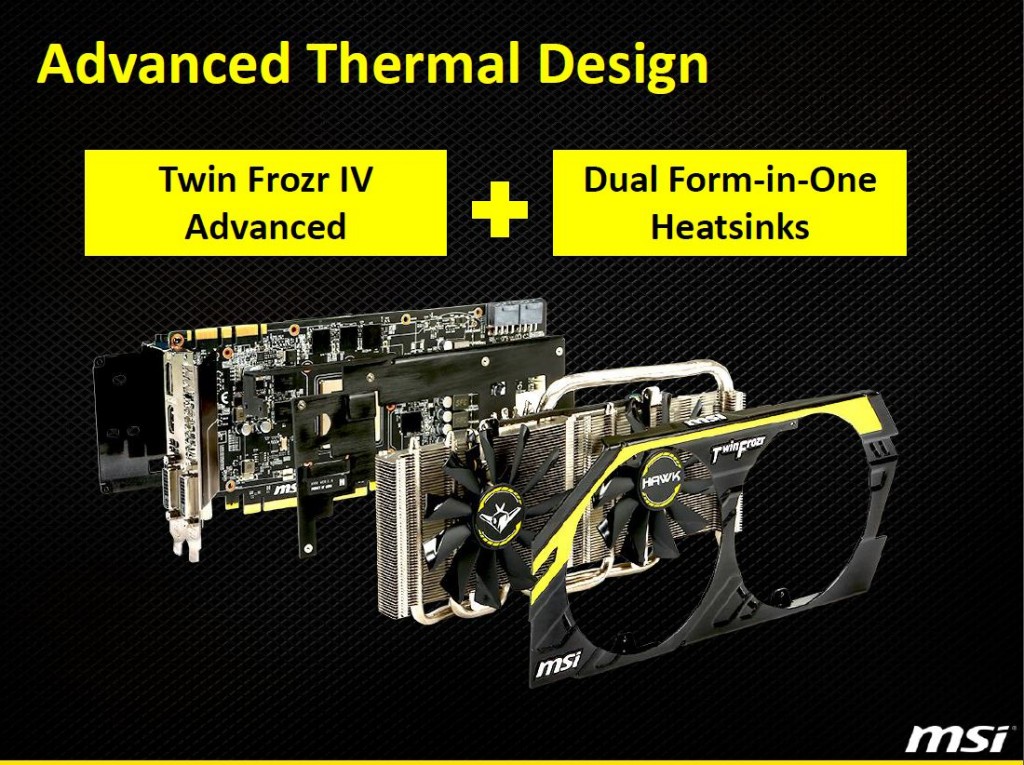 Here you can see a break down of all of the Twin Frozr Advanced components that make up the full cooling solution on the GTX 760 HAWK card.
Here we see some advantages of the cooler design, including the dual propeller blade fans which work in tandem to ensure plenty of air is moved through the fin array for a cooler running GPU and also onboard components.
The Airflow control internal fins built into the cooling fins allows channeling the cooling airflow over the heatpipes along with around the fins for an even better cooling performance result which in the end helps the card stay cooler and boost stronger.
The propeller blade design is made to offer some serious airflow without the fan noise we had heard before and compared to the MSI 660 Ti we had tested previously it definitely sounds like they got the fan noise down quite a bit.
The propeller blade fans on the HAWK have been increased to 100mm or 10CM which allows for a slower rotation speed with similar airflow results allowing for optimum cooling with a lesser noise value added to the equation.
The complete cover heatsink is a nice dual purpose design as it works as a heatspreader for the VRM/memory components but also it helps stiffen the PCB quite a bit which makes for a much stronger and more durable card.
OC Enhancements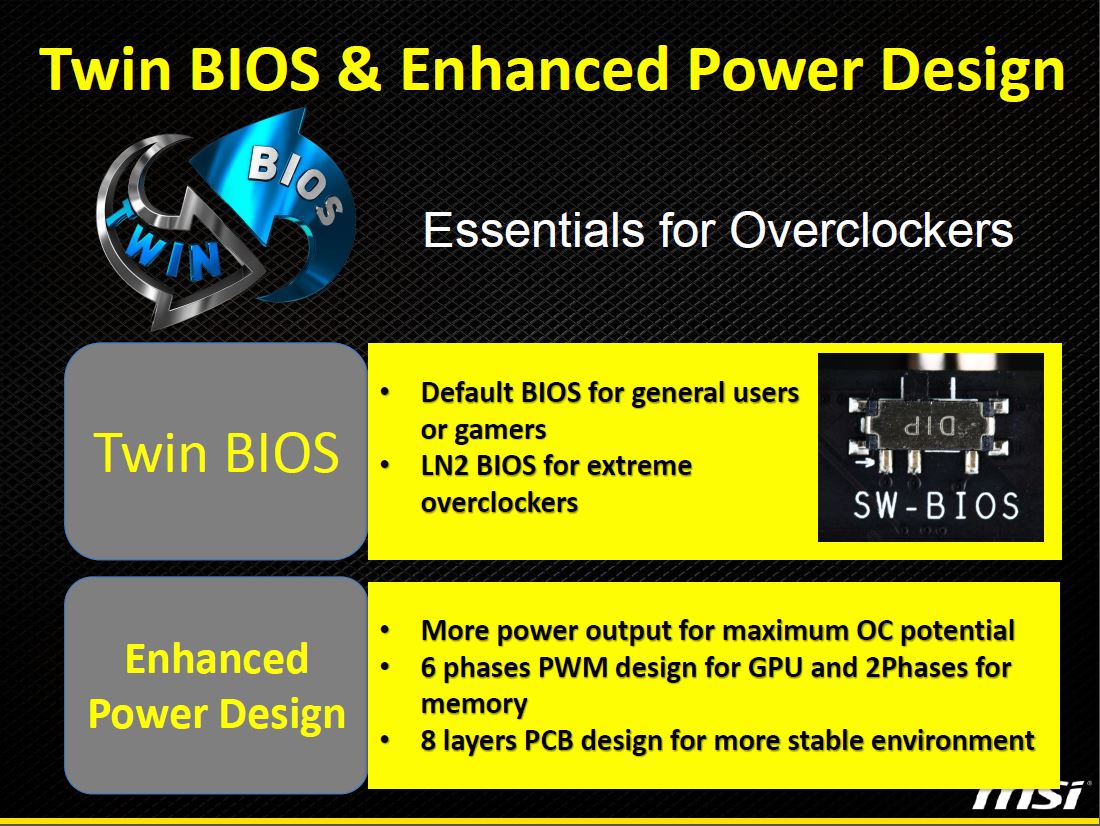 Here you can see one of the key components that makes the HAWK special which is the VRM we already discussed but also the Dip switch used to switch between the standard high performance VBios which allows excellent air cooled gaming and performance overclocking while the flip of a switch enables the LN2 VBios which allows for elimination of many of the GPU protections that normally would hamper overclocking performance in  extreme overclocking subzero cooled situations.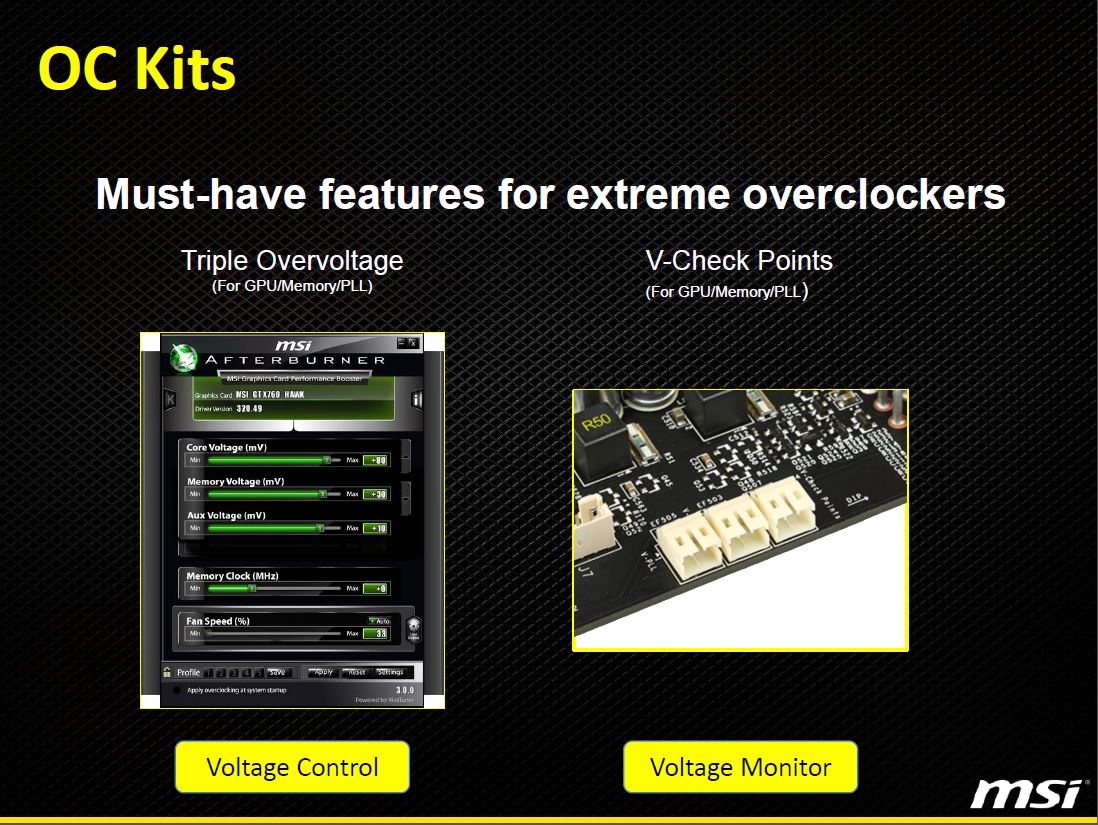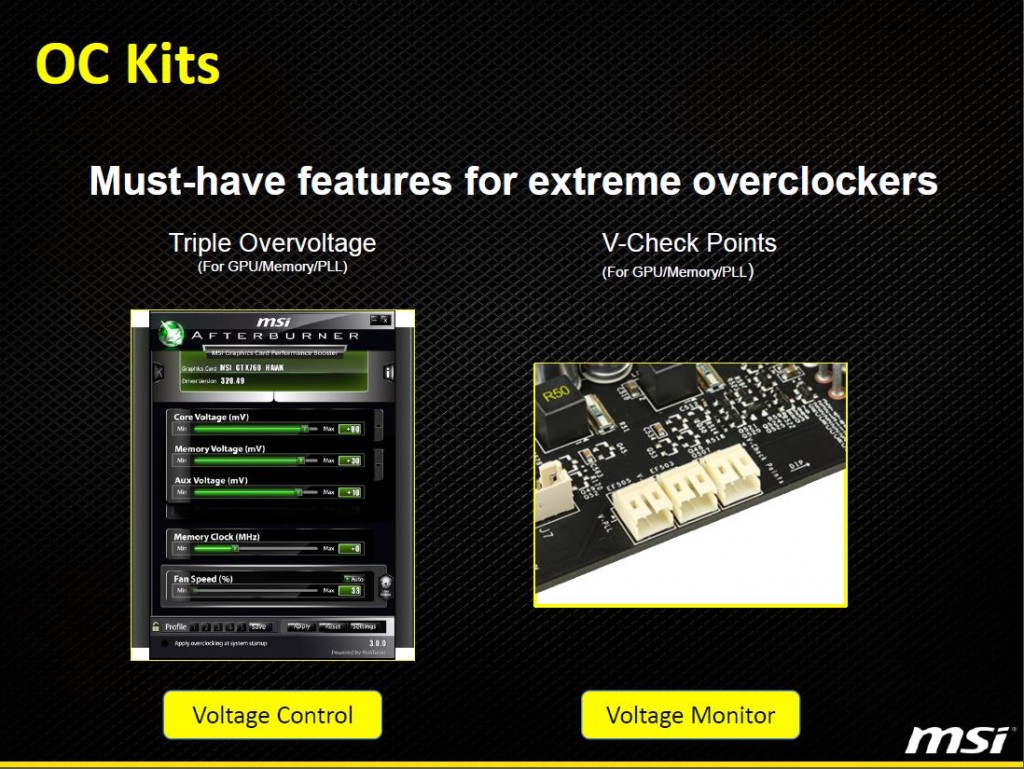 The OC Kits as MSI calls them have to do with special features which further help with the overclocking expedition. Firstly would be the "Triple Overvoltage" from within the MSI Afterburner program. This allows for full tuning of GPU Voltage, Memory Voltage and even AUX voltages to better squeeze every bit of performance from your GPU.
Also V-Check points allows for attachment of probes to allow real time monitoring of set voltages directly at the card hardware level. This ensures you can see any fluctuation or even voltage not being applied properly in loaded scenarios to help diagnose issues while benchmarking.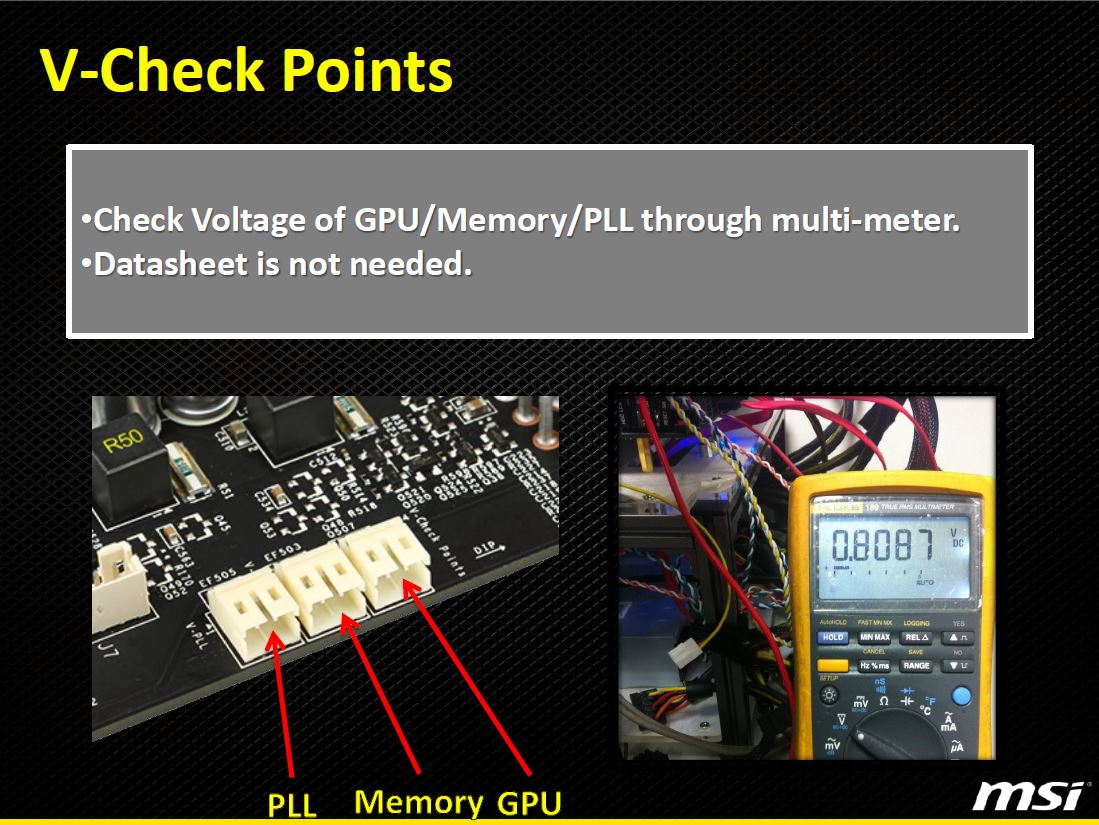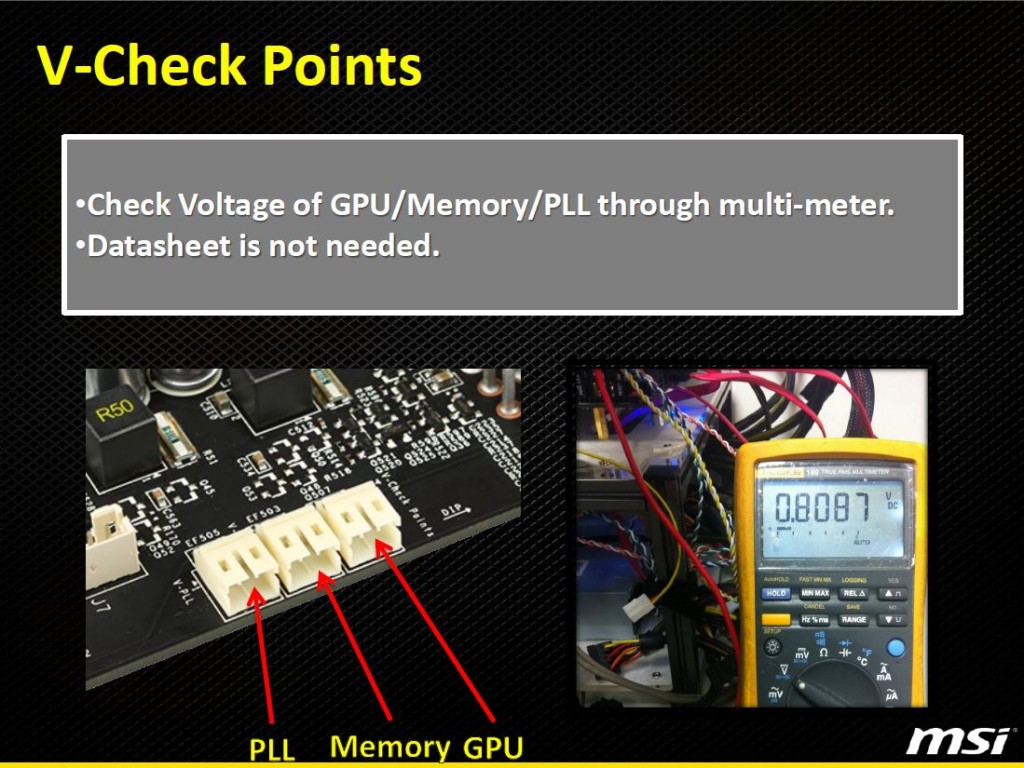 Here you can see the V-Check points which when the supplied lead is attached allows direct voltage readings from the GPU even during benchmark runs without the need for software.
MSI Afterburner
MSI offers its own software utility. MSI Afterburner is co-developed with Rivatuner which is very similar to what the other top manufacturers are offering.

There we see it above with multiple options including voltage control and power limit controls to ensure our overclock ceiling is just a little bit higher. Do note that some options may not show up right away and need to be enabled in settings otherwise they will be hidden.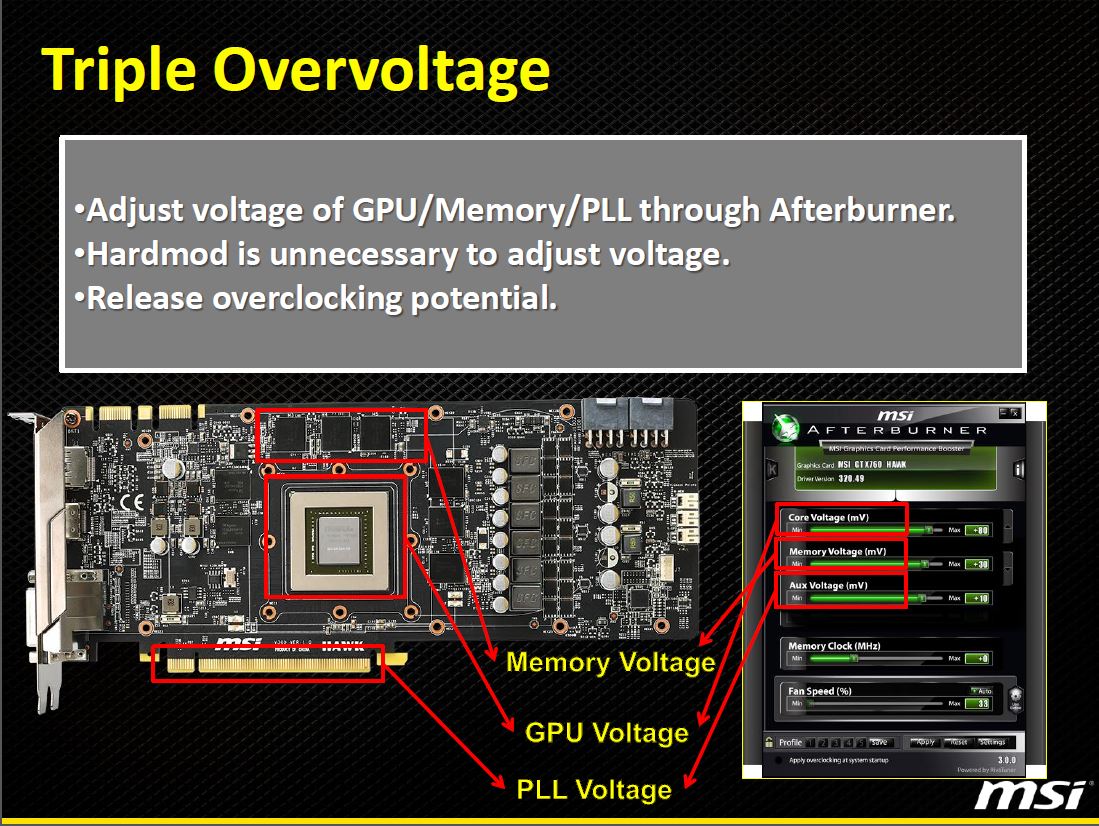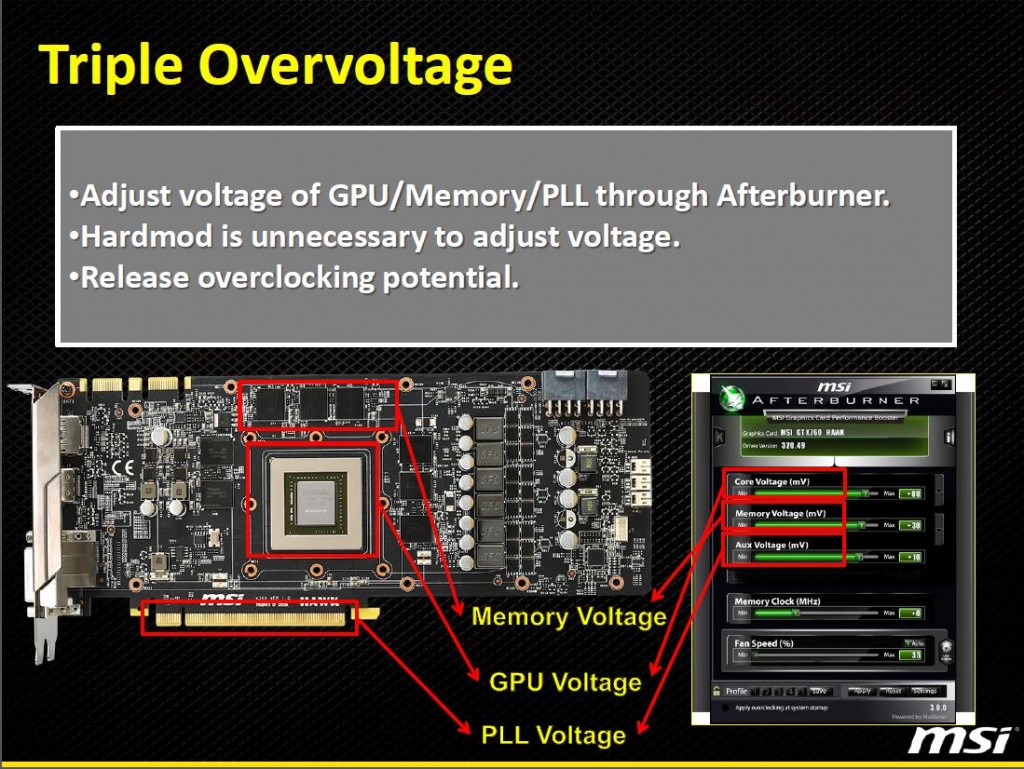 here is the area where afterburner and the MSI cards can gain some definite lead is the ability to adjust the three voltages or "Triple Overvoltage" options which allows for real time adjustment and tuning of key voltages to really push the limits of your card.
Review Overview
Performance - 10
Value - 8.5
Quality - 9
Features - 9.5
Innovation - 9
9.2
The MSi GTX 760 HAWK offers Extreme Overclocking class features on a super strong design. For this it earns the Bjorn3D Golden Bear Award