Overview of the ASUS Z87-PRO
Click Image For a Larger One
The packaging is standard ASUS with a techie look with a large naming on the front panel but also large icons covering some of the key features. The rear is where you get really indepth on what the features offer and what the platform can do.
Click Image For a Larger One
Here we see the complete accessories included.
SATA Cables
WiFi/BT 4.0 Antennae
Qconnect front panel connectors
IO Shield
SLI Ribbon Cable
Installation disc
Owners Manual
The accessories are more than enough to get you moving without too much hassle including the WiFI Antennae to handle the wireless duties quite nicely. Also I will take this time to note that I do like the new Wifi Antennae design much better than the dual antennae version used previously.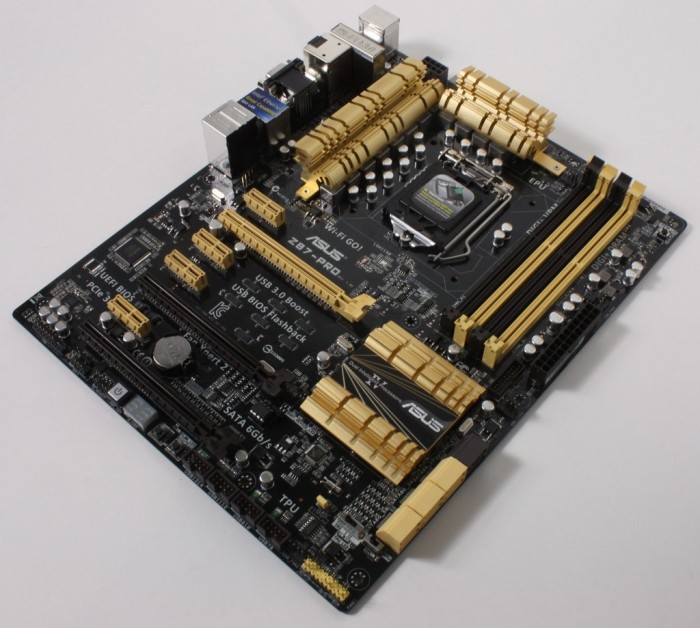 Click Image For a Larger One
Here you can see the full board top top down and once again ASUS does a great job of keeping connectors at the boards edge.once again I think the Plastic components did not really pull off the gold color as I feel like it has almost a mustard yellow color. but overall the layout is good and actually strikes a similarity to the Z87-A in relation to GPU fitment the difference being more features are present.

Click Image For a Larger One
Looking at the IO it as well as the board is stuffed quite well with features.
WiFi/BT4.0 Card
Intel Gigabit (10/100/1000) LAN Port
6x USB 3.0 ports (4x Asmedia, 2x Intel Z87)
Optical S/PDIF Port
D-Sub connector
DVI Connector
HDMI Connector
Displayport Connector
PS2 Combo KB/Mouse port
8 channel Realtek ALC 1150 powered audio connections
Here you can see that while similar to the Z87-A the PRO actually offers WiFi and also a ALC 1150 audio solution which tends to be included in many higher end solutions from various manufacturers.
Click Image For a Larger One
Here we have the memory slots which support up to 32GB Tested and even up to 64GB per ASUS confirmation and speeds up to 3000MHz + but that all depends on the components at play and also the strength of the IMC on the chip you have. I have seen some which pull 3GHz with ease while others have had a bit of a struggle to get there and also the quality of memory IC has a huge impact on capabilities here as well.
The slot layout is great for running two Triple slot cooled cards or even dual slot cards with a nice single slot air gap in place, Also having a full X16 slot running from the PCH at up to x4 lane width for expansion cards but do keep in mind that this slot shares bandwidth with the X1 slots so in a theoretical situation where all of the X1 slots were used the X16_3 slot would run at PCIe 2.0 X1 speeds but since that is normally not going to happen figure this would be a nice slot for a HBA ot other media card as needed such as lets say an ASUS RAIDR PCIe SSD.
The onboard SATA solution has the standard PCH six ports capable of up to 6Gbps speeds and also two ports being fed by an ASMedia ASM 1061 controller which do not support any sort of RAID but are perfect for extra storage drives.
Click Image For a Larger One
Here you can see the socket area which ASUS always tends to do very well with the selection of DIGI+ components the socket is super clean and overall usually just a nice layout. There is one thing I think needs to be cleared up here as the comment flies around all too often about using flat caps or "POSCAPS" in the socket area to make insulation or installation in the socket easier and at first I agreed with this until I looked at the reality of the situation. POSCAPS simply do not have the same capability especially in terms of capacitance that the larger barrel caps have so in reality while it may look cleaner or be easier to insulate to some degree you do have to ask yourself what are you giving up in terms of capability for that pretty look because in the end I want the best possible delivery for my components and if that means dealing with barrel caps then so be it and after such research I did confirm with ASUS and that is the very same reason they choose to employ such a solution.
The PCH sink is simple and gold employing the DIP IV logo foen the center on an adhesive metal strip. It does its job of keeping the PCH cool even with dual GPU's sitting above it.
The MemOK button is placed at the top right of the board and used for safely booting the board should memory settings go wonky and cause a failed boot attempt.
Click Image For a Larger One
The lower edge has many controls including the power switch, BIOS Flashback control and the DirectKey used for quickly entering the UEFI from boot. Also at the bottom you will see the LCD poster which displays the appropriate codes during the posting.
The WiFi GO! metal box you see houses the WiFi/BT 4.0 card inside which allows for the full wireless experienced as explained previously.
The ALC 1150 Chipset from realtek is a high quality audio solution designed for usage on high end gaming baords and such so it is nice to see it on the Z87-Pro which is a very reasonable value for its feature set.
Software Overview
AISuiteIII

ASUS has completely redesigned the AISuite Software with the AISuite III software. A completely new user interface is now available and with that comes a much smoother function.
Overall the AISuite III software has been completely reworked for a cleaner looking interface. As you can see there is alot more information available in each section as the upper screen gives you the controls of the section you are in and the bottom area can be tabbed through and has a load of different monitoring areas to cycle through and help you see exactly how your board is behaving in real time. Also this is a significant change so it may take you a few minutes to figure out where everything is at but in the end it is quite easy once you get the hang of it as the system has changed from a selector bar or taskbar driven software to a larger screen driven software.
TurboV Core
Turbo VCore is a super lite program made for quick and easy board tuning within the OS. We have seen many companies starting to realize that their included software is a bit too much or a bit too heavy for users who need a super light easy to load program that also loads quickly as being on the ragged edge overclocking you cannot wait for a huge program to load just to make a quick change.
The Turbo VCore program is just this and it fits the bill nicely as it loads very fast and load or overhead on the system is very small which is exactly what you need when running in such extreme conditions.
BIOS Overview
The BIOS of the ASUS Z87's still carries the same fluidity that the Z77 and Z68's carried as ASUS has done very well on the overall UEFI code which means the only think they have really needed to add was updates based on features or tuning of the board. Well all of that aside ASUS did add some very interesting features which we think will help some users especially those who like to tweak their boards and try to squeeze a bit more performance from them. The ability to take notes within the BIOS is very cool although I am old school and always keep pen and paper near by, we guess you could call this a "Green" alternative as you take notes on adjustments, although I would still keep a paper backup of any notes or at least a screenshot (F12) of the notes before flashing the BIOS as a bios update that goes deep enough could clear those notes and they would be gone forever.
Another neat feature would be the Last modified section which basically just logs any changes you made in the BIOS so that if you run into an issue you can go back and look at what your changes were all dated and with a timestamp so that you can revert changes and test again without starting over. This is a interesting feature and I am not saying everyone will use it but well for the target audience of this board (Extreme enthusiasts and overclockers) we think it could ultimately be very useful.
Another cool addition is the my favorites page which allows you to earmark certain settings within the bios to be placed on this page where you can go to and have access to your most commonly used settings without having to go through all of the other settings as there are quite a lot on this board.
The ability to rename SATA ports is also a huge plus here as it allows quick easy reference to which port you are using rather than going by a port number which could be much harder to distinguish.
Review Overview
Performance - 9.5
Value - 9
Quality - 9.5
Features - 9
Innovation - 9
9.2
The ASUS Z87-PRO takes all of the performance of the higher end series and adds it to a more value package. For this it earns the Bjorn3D Golden Bear Award