Overview of the ASUS Z87-A
Click Image For a Larger One
The packaging is fairly docile but eye catching as it has a techie feel to it but otherwise like most ASUS boards most of the front is taken by the product name and an array of feature icons to show what the board supports.
The rear of the package has more extensive details of supported features and benefits they offer.
 Click Image For a Larger One
Here we see the complete accessories included.
SATA Cables
Qconnect front panel connectors
IO Shield
SLI Ribbon Cable
Installation disc
Owners Manual
The accessories for this board are basic and get the job done for getting everything connected and running. For a board of this value you really cannot expect a huge accessory package as that would only increase costs.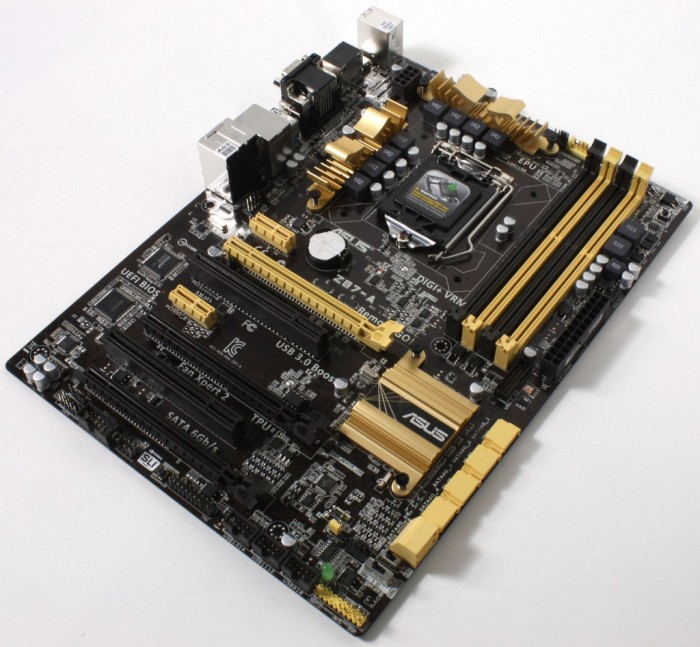 Click Image For a Larger One
Here we see the full board and you can easily see that being a value board its not carrying many of the extra frills of the much more expensive brothers. Also this is our first look at the gold color scheme ASUS has chosen and we don't know how to feel about it as it almost feels more of a dull yellow than a gold. The same goes for the SATA ports and DIMM slots. ASUS has always been known for its sleek looking boards. In this case, we know they are trying to convey a marketing message of "Gold Standard", but in our opinion, it comes out looking more like "Mustard Standard". Now the appearance does not affect fucntion but it will make a bit of a difference if a windowed case is used, and in terms of overall system color scheme, this could be a love or hate scenario.

Click Image For a Larger One
Looking at the IO it as well as the board is stuffed quite well with features.
2x USB 2.0 Ports
PS2 Combo Port
Mini Displayport
Optical SPDIF Connector
HDMI Port
D-Sub Connector
DVI Connector
4x USB 3.0 ports
Realtek Gigabit (10/100/1000) LAN Port
8 channel Realtek ALC 892 powered audio connections 
The rear IO Connectivity is nice and offers an array of display connectivity options along with high Speed USB 3.0 and pretty much covers all of the bases here.
Click Image For a Larger One
This board has multiple PCIe slot options
2 x PCIe 3.0/2.0 x16 (x16 or dual x8) 

1 x PCIe 2.0 x16 (x2 mode) 

2 x PCIe 2.0 x1 


2 x PCI
This allows for dual cards at x8 for SLI or crossfire at x8 PCIe Gen 3 from the CPU while also offering 4 more PCIe Gen 2 lanes with two x1 slots and another mechanical x16 slot that offers x2 PCIe lanes electrically which would be good for such things like HBAs or audio cards which is fed directly from the PCH.
Memory support is standard for Z87 with four slots supporting up to a tested 32 and even up to 64GB should you find 16GB DIMMS and speeds in excess of 3000MHz shoudl you feel the need to tweak and do some overclocking.
SATA support is Z87 all the way with six total SATA ports from the PCH all of which support up to 6G SATA speeds. We did find it kind of strange that instead of going with three sets of dual SATA ports instead ASUS opted for a single block of dual SATA ports and four individual ports mounted on the board. This actually might be a neat idea as anyone who has had a large GPU installed and trying to install a SATA cable in the ports below.
Click Image For a Larger One
Here  you can see the DirectKey button which allows direct single push access to the BIOS withouty needing to spam the DEL key just to get into the UEFI.
The TPU and EPU switches make it into the show here as they sit directly below the SATA ports. These allow for instant optimizations of the system performance. The EPU switch allows enabling of extreme power savings  while the TPU switch ramps the system up a bit for a quick speed boost easily with single move of a switch.
The MemOK button is used to allow quick safe booting easily should memory settings go awry while tuning so that you do not have to do a full CMOS clear.
Click Image For a Larger One
The audio solution on the Z87-A is the ALC892 which supplies up to 8 channel audio which is very good for those looking for a nice gamer solution without breaking the bank.
The VRM is powered by a single 8 pin which shoudl be more than enough for anything you wanna do on this board including some nice overclocks.
Software Overview
AISuiteIII

ASUS has completely redesigned the AISuite Software with the AISuite III software. A completely new user interface is now available and with that comes a much smoother function.
 Overall the AISuite III software has been completely reworked for a cleaner looking interface. As you can see there is a lot more information available in each section as the upper screen gives you the controls of the section you are in, and the bottom area can be tabbed through. At the bottom, you also have a load of different monitoring areas to cycle through and help you see exactly how your board is behaving in real time. Also this is a significant change so it may take you a few minutes to figure out where everything is at but in the end it is quite easy once you get the hang of it as the system has changed from a selector bar or taskbar driven software to a larger screen driven software.
TurboV Core 
 Turbo VCore is a super lite program made for quick and easy board tuning within the OS. We have seen many companies starting to realize that their included software is a bit too much or a bit too heavy for users who need a super light easy to load program that also loads quickly as being on the ragged edge overclocking you cannot wait for a huge program to load just to make a quick change.
The Turbo VCore program is just this and it fits the bill nicely as it loads very fast and load or overhead on the system is very small which is exactly what you need when running in such extreme conditions.
BIOS Overview
The BIOS of the ASUS Z87's still carries the same fluidity that the Z77 and Z68's carried as ASUS has done very well on the overall UEFI code which means the only think they have really needed to add was updates based on features or tuning of the board. ASUS did add some very interesting features which we think will help some users especially those who like to tweak their boards and try to squeeze a bit more performance from them. The ability to take notes within the BIOS is very cool, although we just use a pen and paper. One bit of advice–always be sure to back up your notes with screenshots (F12) or a hard copy on paper, as a BIOS update that goes deep enough could clear those notes, and all your information would be lost.
Another neat feature would be the Last Modified section which basically just logs any changes you made in the BIOS so that if you run into an issue you can go back and look at what your changes were all dated and with a timestamp so that you can revert changes and test again without starting over. This is an interesting feature and we are not saying everyone will use it, but for the target audience of this board (enthusiasts and overclockers) we think it could ultimately be very useful.
Another cool addition is the My Favorites page which allows you to earmark certain settings within the BIOS to be placed on this page where you can go to and have access to your most commonly used settings without having to go through all of the other settings as there are quite a lot on this board.
Review Overview
Performance - 9
Value - 9.5
Quality - 9
Features - 8.5
Innovation - 9.5
9.1
The Z87 -A board is a excellent accomplishment by the ASUS design team as it is super simple and while it may lack some bells and whistles it puts down some excellent performance at a great price point.