Introduction – ASUS Z87-A

When new chipset launches happen all of the attention is given to the big boys of the group or the high end behemoth that is the top clocking boards. All the while, there is a whole bunch of other boards that may not have all of the bells and whistles or the LN2 overclocking trickery, but are just as capable when being put to the test in a high end gaming rig. Many enthusiasts can be some what snobbish when it comes to hardware, us included. We want the biggest, the baddest, and the best. The only problem is that the best comes with a hefty price tag, so we like to look at what mainstream performers can offer. Some of these boards hold huge promise for even a nice overclocked rig. Today we are looking at the ASUS Z87-A board which is one of the most mainstream and basic boards that ASUS offers for the Z87 stack. However, that doesn't mean it is any less capable, as it has plenty of the same features and functionality of boards priced significantly higher.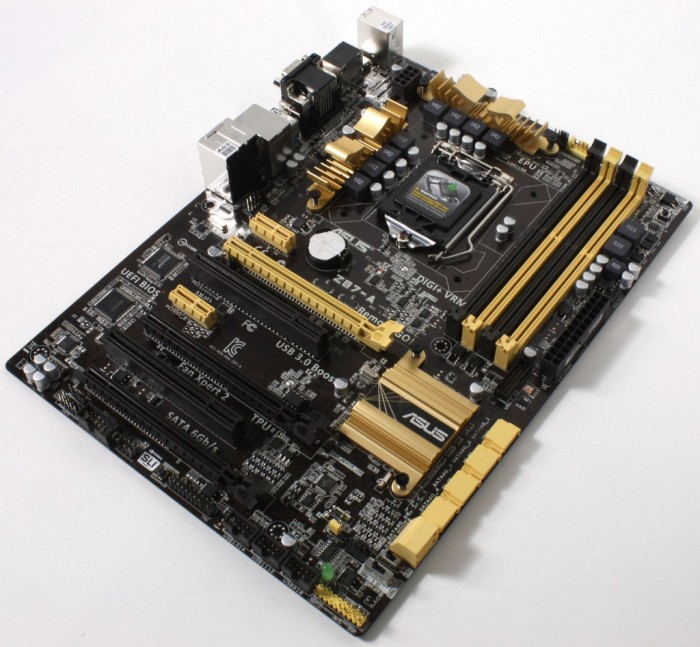 The Z87-A comes to market with a street price of $144.99 directly from Newegg at the time of writing. This places it at a super competitive segment of the market for boards that support dual SLI or CrossfireX, with most boards being right around the same price. Now let's see what the Z87-A offers that makes it worth your purchase over the others in this price category.
Key Features
Main Features 
Here you can see the general overlay of the board and all of the different features it offers. One thing about ASUS boards is that sometimes all of the features cannot be expressed visually as it all will come down to tuning and the real feel you get when using the board, so we will cover that more in the performance/conclusion area. 
ASUS 5X Protection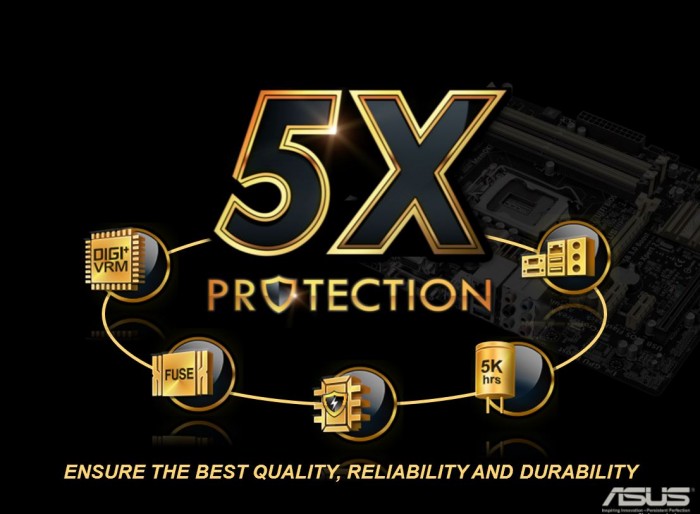 ASUS always adds new and interesting features with each new board/chipset launch. The Z87 is no different and with the Z87 mainstream lineup they include what is referred to as 5x protection.
 On the above you can see some of the key features of the 5X protection features.
DRAM Overcurrent Protection – This is an inclusion of a fuse inline for the DRAM to prevent overcurrent spikes from reaching the DIMMs, which can cause costly system damage and downtime.
ASUS Digital Power Design – This includes the ASUS DIGI+ design which as we have seen before is a very stable and efficient power solution as you will notice it has not changed a whole lot over many generations (except changes necessary for architecture compatibility).
ASUS ESD Guards – ASUS has included special ESD circuits in the ASUS boards which help ensure that when stray static shocks reach the board they can be absorbed with a lesser chance of damaging critical components.
Stainless Steel Back I/O – The stainless steel back IO is the boxes which hold the rear I/O component ports and employing a corrosion free stainless steel material means that the IO portion will stay corrosion free and in much better working condition for much longer than standard steel.
ASUS 5K Hour Caps – This stands for the uptime you can expect from these specially made caps at 105C, and we all know that your PC will not see 105C very often (if ever) so with a more realistic but still very extreme temp figure the rating will jump up to an expected 50,000 hours and since most chassis temps see around 30-35C figure that time will even be longer. That means you can expect the components and board life to be very long, probably longer than you would ever use it.
Network iControl
 Here you can see the Network iControl software which is part of the ASUS Suite which allows you to monitor and even allocate bandwidth or even automatically allocate bandwidth with an automatic algorithm designed to give priority to key applications and tasks to ensure your downloads and other tasks are not slowed down by other non essential network traffic.
ASUS Fan Xpert 2
As you can see the Fan Xpert 2 utility is back and it is still an amazing application with now even a better cleaner interface within the AISuite Utilities. The ability to auto tune the fans by running through a test ramping each fan to its maximum to find where each fan can go and then it automatically profiles each fan to allow for optimized noise/airflow conditions based on thermals within the case.
New UEFI BIOS
The Z87 boards also ushered in some new tweaks to the UEFI which definitely can be seen as a good move with some very neat small improvements in the features front but also some great performance tweaks as well.
Quicknote – Quicknote is used to allow notations within the BIOS that will be saved so that if you had something you were working on while tweaking you can always go back to these digital notes as a reference point.

Last Modified – This is a button you can click on which brings up a box showing all setting changes within the UEFI so that you can retrace steps back to change something should the overclock or performance go awry.
UEFI Shortcuts & My Favorites – This allows you to choose specific settings as shortcuts or favorites and at that point you will have a main screen with just the shortcuts you selected so that you don't have to dig through all of the menus to get to all of the various settings you may use most prominently.
EZ Mode – This is the simple graphical interface which is super easy to navigate yet offers most of the basic tuning and functionality of the main BIOS without all of the separate tabs in the Advanced section.
SATA Port Renaming – This is a pretty neat feature as you can rename SATA ports to whatever you need them to be to make them easier to identify with a quick glance.
NFC Express
The new NFC protocol definitely has been getting some attention as of late due to the easy touchless syncing mainly among audio devices and the sort with mobile phones. 
Well ASUS saw some potential in NFC and they made a NFC pod usable to allow easy PC login, file transfer or even RDC with a mobile device by simply tapping a NFC enabled device to the NFC pod which will be connected to the ASUS Motherboard.
 The NFC Express accessory pod can be purchased separately to use with any 8 series board but if you happen to pick up the Z87 Deluxe Dual board it will come pre bundled with it.
Review Overview
Performance - 9
Value - 9.5
Quality - 9
Features - 8.5
Innovation - 9.5
9.1
The Z87 -A board is a excellent accomplishment by the ASUS design team as it is super simple and while it may lack some bells and whistles it puts down some excellent performance at a great price point.