We live in exciting times when it comes to PC's. It seems that each day we see new mutations of the classic PC. We have Chromebooks, small USB-sticks with Android and now soon also a ARM-based mini-PC running Ubuntu.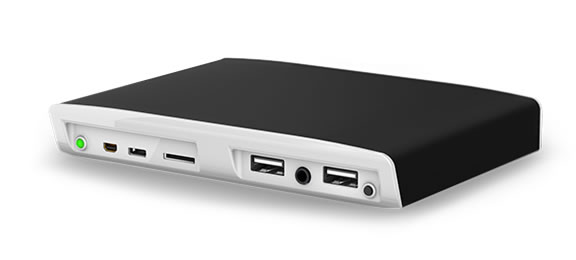 The Utilite from Compulab is a small ARM-based PC which will be running Ubuntu (although they also mention Android, it might be able to dualboot). It will be available with single, dual and quad-core-CPU and the price starts at just $99. 
This is of course not a gaming-PC, instead it should work well as a simple home-PC for surfing the web and doing simpler stuff as well as most probably a nice media-PC. 
The Utilite will come with 4 GB DDR3-1066 memory and also supports mSATA SSD up to 512 GB and also Micro-SD SDXC up to 128GB. It uses a Freescale i.MX6 single / dual / quad core Cortex-A9 MPCore which is clocked up to 1.2 GHz.
Here are the complete specs:
Freescale i.MX6 single / dual / quad core Cortex-A9 MPCore, up to 1.2GHz
Ubuntu / Android options
Up to 4GB DDR3-1066
mSATA SSD, up to 512GB
Micro-SD SDXC, up to 128GB
Supports OpenGL ES 1.1 and 2.0, OpenVG 1.1 and OpenCL EP
Supports multi-stream 1080p H.264, VC1, RV10, DivX HW decoding
HDMI 1.4 up to 1920 x 1200 @ 60Hz
DVI-D up to 1920 x 1200 @ 60Hz
Two 1000 BaseT Ethernet
802.11b/g/n Wi-Fi
Bluetooth 3.0
S/PDIF 5.1 (electrical through 3.5mm jack) 
Stereo line-out, Stereo line-in
4 x USB 2.0
USB OTG (micro-USB connector)
Two RS232 serial ports (ultra mini serial connector)
5.3″ x 3.9″ x 0.8″ 135mm x 100mm x 21mm
Unregulated 10 to 16 volt input Power
3W – 8W power consumption (depending on system configuration and load)
Does it sound interesting? Then wait until next month and one of them could be yours.