Do you think the regular NVIDIA GeForce GTX Titan is too slow? Need a bit more speed in that delicious expensive single-GPU package? Then Zotac has just the products for you. The ZOTAC GeForce GTX TITAN AMP! Edition is, according to Zotac at least, the fastest single GPU card and the fastest GTX Titan available right now. While we can't vouch for that we can tell you that it is a GeForce GTX Titan that has been overclocked almost 10% right out of the box. What does that mean for performance? Well, read on to find out!
SPECIFICATIONS
Before we get into the benchmarking let us take a moment to enjoy what the NVIDIA GeForce GTX Titan has under its hood.
| | | | | |
| --- | --- | --- | --- | --- |
|         | GTX 690       | GTX TITAN    | GTX 680    | Zotac GTX Titan AMP! Edition |
| Stream Processors | 1536 x 2 | 2688 | 1536 | 2688 |
| Texture Units | 128 x 2 | 224 | 128 | 224 |
| ROP's | 32 x 2 | 48 | 32 | 48 |
| Base Core Clock | 915MHz | 837MHz | 1006MHz | 902MHz |
| Boost Clock | 1019MHz | 876MHz | 1058MHz | 954MHz |
| Memory Clock | 6008MHz | 6008MHz | 6008MHz | 6608MHz |
| Memory Interface | 256-bit x 2 | 384-bit | 256-bit | 384-bit |
| Memory Qty | 2GB x 2 | 6GB | 2GB | 6GB |
Yes, this is a beast. Remember that this is a single-GPU-card, not a dual-GPU card like the GTX690. We cannot wait to put one of these in a system that streams games to a NVIDIA Shields game console.
Compared to a stock GTX Titan we see an increase in the stock clock from 837 MHz to 902 MHz (~8%) and an increase in boost clock speed from 876 MHz to 954 MHz (a cool ~9% increase). Other than that this is "just another" GTX Titan without any special thrills or features.
We won't bore you with the full run down on the features of the GTX Titan. You can read all about them in our article here. We all are pretty familiar what the NVIDIA GPU's can deliver when it comes to physics, 3D-vision and other cool features. The main feature of the GTX Titan still is the raw speed that you get in this single-GPU package (and the price).
CLOSER LOOK
If you expected something special with this card when it comes to cooling or the outer shell of the card you might as well stop reading now as this looks as reference looking as it can. In fact, when benchmarking it and comparing it to a ASUS GTX Titan we actually almost put back the wrong card in the wrong box as they look exactly the same.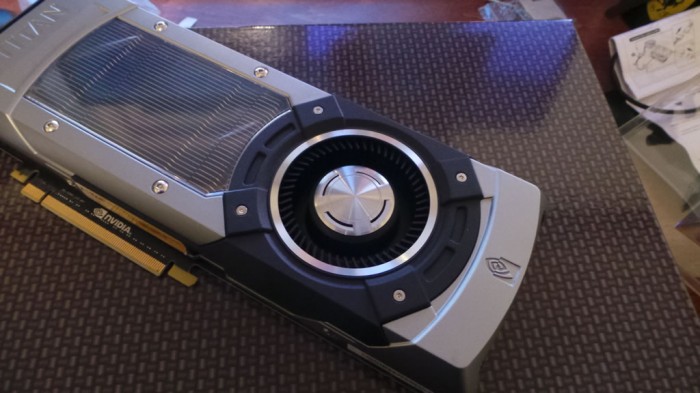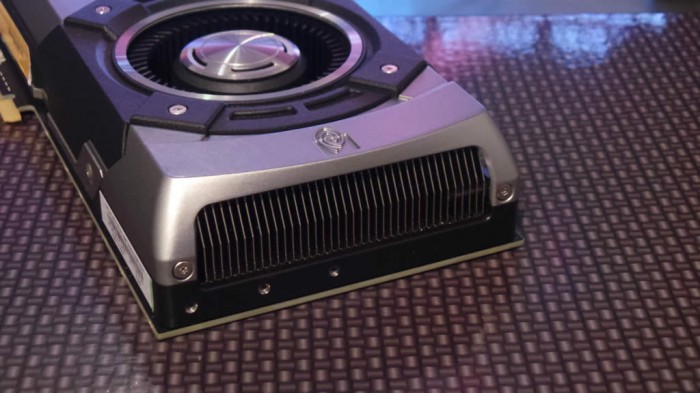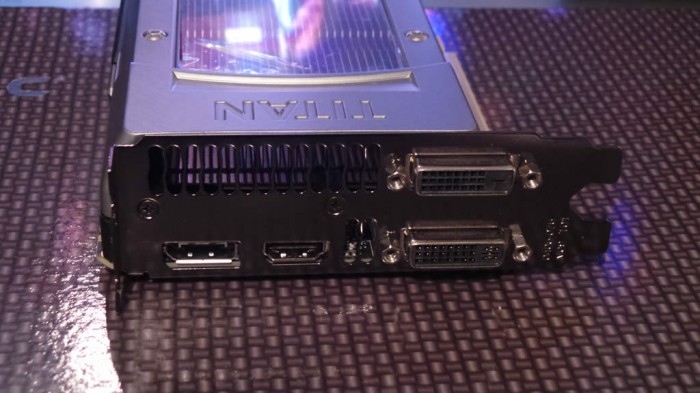 There are no markings on the card indicating this is a Zotac card, no stickers and no special cooling. For better or worse, this has the same look as a reference GTX Titan.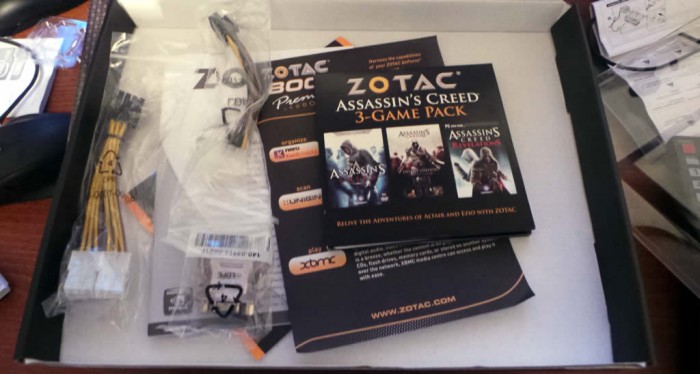 Zotac includes the Assasin's Creed 3-Game pack which gives us 3 cool games as well as XBMC (Xbox Media Center – using a GTX Titan in a media PC though is overkill), Nero KwikMedia and Unigine Heaven Benchmark. It is a decent bundle.
Performance
Test Rig
Test Rig
Case
Thermaltake Level 10
CPU
Intel Core i7-3930 @3.2 Ghz
Motherboard
ASUS P79X Deluxe

Ram
32GB
CPU Cooler
Antec 
GPU

Asus GeForce GTX Titan

Zotac GeForce GTX titan AMP

Zotac GeForce GTX 680
Test Suite
We will use the following applications to test the performance of the graphics card.
Synthetic Benchmarks & Games
Benchmarks
3DMark11
3DMark Firestrike & Firestrike Extreme
Unigine Heaven Benchmark 4.0
Unigine Valley benchmark
Catzilla Benchmark
Crysis 3
Bioshock Infinite
3Dmark 11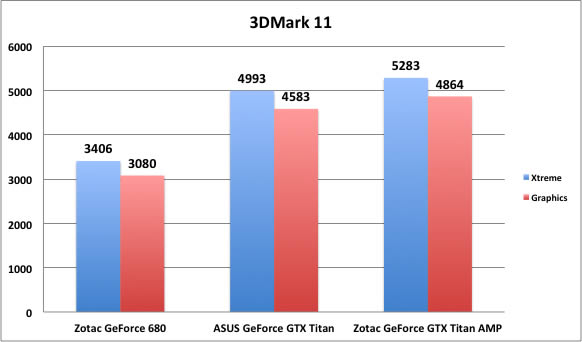 We start off with the old and trusted 3DMark 11. We of course use the Extreme-setting. The Zotac-card right away gets about 6% better performance than the regular Asus Titan.
3DMark Firestrike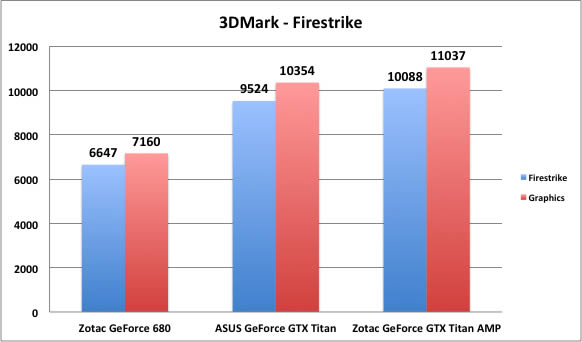 The latest 3DMark has the Firestrike-benchmark which is meant to be used for high-end cards like the Titan. This time we see about 9% better performance for the AMP-edition card.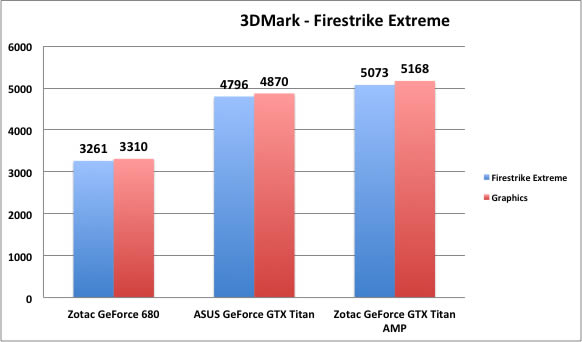 The Extreme-setting of the Firestrike-benchmark pushes the whole system and now the difference is less than 2% indicating that there might be a bottleneck somewhere else. 
Unigine Heaven 4.0 and Valley 
Setting: 8xAA, Ultra
Again we see a ~9% difference between the regular and the AMP'ed GTX Titan.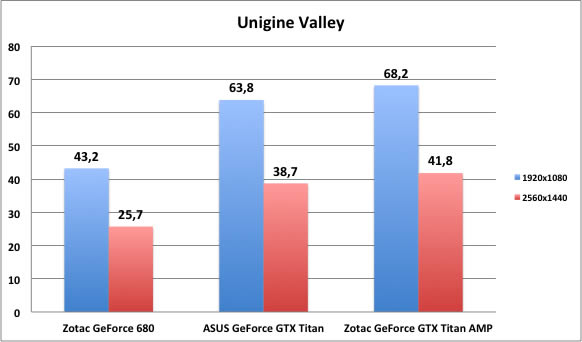 Setting: 8xAA, Ultra
And the pattern continues with the new Valley-benchmark. 
Catzilla
This is a new benchmark that looks nice and is quite fun to watch. You can find it at http://www.allbenchmark.com/.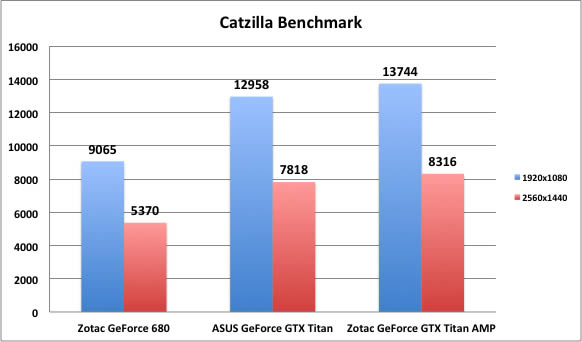 Yup, the AMP Edition-card is faster. 
Crysis 3
We used Fraps to record the framerate while running through the ship in the beginning of the game fighting a few guys, blowing up a crate and some other action.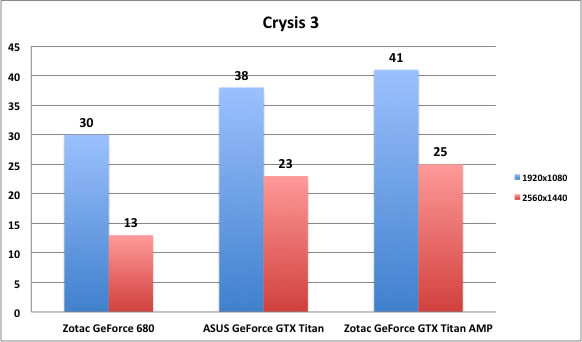 Setting: 8xAA, 16xAF, Very High Texture resolution, Very High all other settings
Crysis lives up to its reputation of needing a killer-system to run well at the highest settings. When we crank it up to 2560×1440 with 8xAA, 16xAF and the other settings set to Very High then even the GTX Titan cannot perform well enough to offer average 30+ fps. 
Bioshock Infinite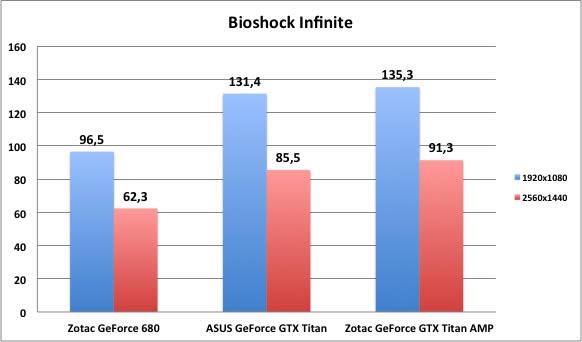 Setting: Using Adrenaline Benchmark Tool: Ultra, 16xAF
Even though it is a new game it runs well on the NVIDIa cards. The Zotac GTX Titan AMP Edition manages almost 6 frames per second more in average at 2560×1440.
Overclocking
We of course tried some overclocking using the MSI Afterburner program. We managed to add 75 Mhz to the core clock before 3DMark Firestrike stopped working. We did not play with voltage so there might be some more headroom for those who have more time. This meant we arrived around 1029 MHz when turbo boost kicked in.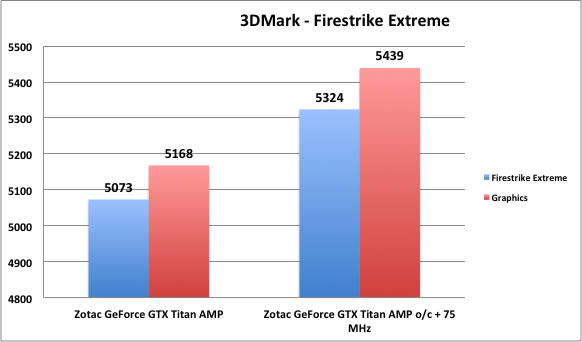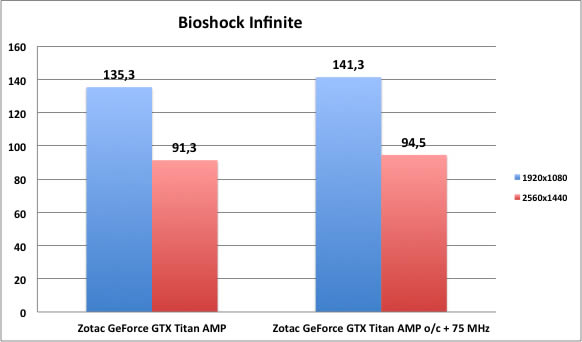 In both our benchmarks we see a marked improvement in performance when overclocking. 
Summary
While we have not tried every GeForce GTX Titan available it is clear that the Zotac GTX Titan AMP! Edition is one of the fastest cards available right now. It offers a definite increase in performance over a regular Titan. 
Should you get a Titan instead of a GTX 690, two GTX 680 in SLI or even an AMD 7990? In the end the price will be pretty similar and we like the idea of having one GPU do the job better than any multi-GPU solution that may or may not work 
Speaking of pricing we know that the card is about $100 more expensive than the regular Zotac GTX Titan here in Sweden and we expect that this will be pretty similar in other markets too.  
OUR VERDICT: Zotac GTX Titan AMP! Edition
| | |
| --- | --- |
| Performance | 9.5 |
| Value | 7.5 |
| Quality | 10 |
| Features | 9.5 |
| Innovation | 10 |

We are using a new addition to our scoring system to provide additional feedback beyond a flat score. Please note that the final score isn't an aggregate average of the new rating system.

Pros
Cons

Huge full GK110 GPU

6GB Framebuffer

Surround + Accessory displays

Super quiet cooling solution

Stays cool even under heavy loading

More headroom for overclocking

Highest performance single GPU

Adjustable thermal target increases headroom

Future-proof

Already overclocked and thus fastest GTX Titan right now

Price is very high

Limited voltage could limit overclock
Summary: Yes, this is an expensive card and yes, you might not really need it but if you want the absolute top performance from one card today then this is what you should get. We gave the original NVIDIA GeForce GTX Titan two awards and there is no reason to take one away for this card. It receives The Bjorn3D Golden Bear Award and the Bjorn3D Seal of Approval.