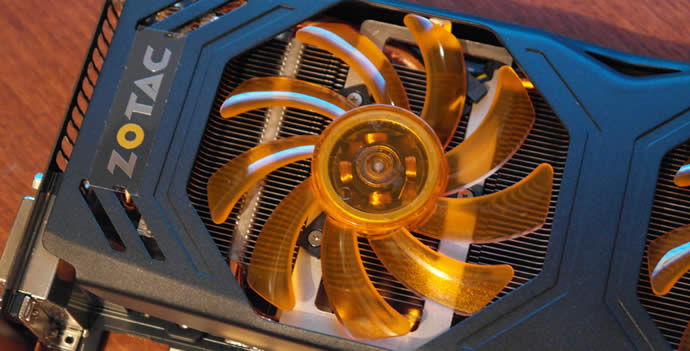 Hot on the heels of the GeForce GTX 780 Nvidia has released a "new" GPU, the GeForce GTX 770. While sharing the name of the GTX 780 it is more of a refresh of the GTX 680 with higher clocks and a lower price. Zotac of course have several GeForce GTX 770-cards ready and in this review we take a look at the Zotac GeForce GTX 770.
Nvidia GeForce GTX 770
Even though the GeForce GTX 770 is a GPU in the GeForce 700 series it actually just as well could be called GTX 680 v2 as it shares a lot of hardware and features with the GTX 680. The GTX 770 is based on the same Kepler GK104 GPU as the GTX 680 uses and comes with 2 GB VRAM as default although you should see models with 4 GB later. The thing that distinguishes the GTX 770 from the GTX 680 is the memory that is much faster.
| | | | | | | |
| --- | --- | --- | --- | --- | --- | --- |
| | GTX 690 | GTX TITAN | GTX 680 | GTX 780 | reference GTX 770 | Zotac GTX 770 |
| Stream Processors | 1536 x 2 | 2688 | 1536 | 2304 | 1536 | 1536 |
| Texture Units | 128 x 2 | 224 | 128 | 192 | 128 | 128 |
| ROP's | 32 x 2 | 48 | 32 | 48 | 32 | 32 |
| Base Core Clock | 915MHz | 837MHz | 1006MHz | 863MHz | 1046MHz | 1059MHz |
| Boost Clock | 1019MHz | 876MHz | 1058MHz | 900MHz | 1085MHz | 1098MHz |
| Memory Clock | 6008MHz | 6008MHz | 6008MHz | 6008MHz | 7010MHz | 7010MHz |
| Memory Interface | 256-bit x 2 | 384-bit | 256-bit | 384-Bit | 256-bit | 256-bit |
| Memory Qty | 2GB x 2 | 6GB | 2GB | 3GB | 2GB or 4GB | 2 GB |
| TDP | 300W | 250W | 195W | 250W | 230W | 230W |
| Transistors | 3.5B x 2 | 7.1B | 3.5B | 7.1B | 3.54B | 3.54B |
| Manufacturing process | 28nm | 28nm | 28nm | 28nm | 28nm | 28nm |
| Price | $999 | $999 | $499 | $649 | $399 | |
In addition to the increased memory speed we also see the same features like on the GTX 780 like Boost 2.0, Adaptive V-Sync and Nvidia Display Overclocking. We have posted a article about the reference GTX 770 where you can read more about these and other features.
The Zotac GeForce GTX 770
So what makes the Zotac GeForce GTX 770 different from the reference GTX 770? Well, first of all as you saw from the specifications table above it has a slightly higher clockspeed than the reference card. It also comes with a different cooler. Considering how nice the stock cooler is on the GTX 780 and the GTX Titan it is odd that it is not used on the GTX 770 even though the reference GTX 770 has it. From what we have seen none of the OEM's use the reference design, instead opting to use their own cooling. While the card is available in both 2 GB and 4 GB versions it is the 2 GB version we are testing today.
Let us take a closer look at the card.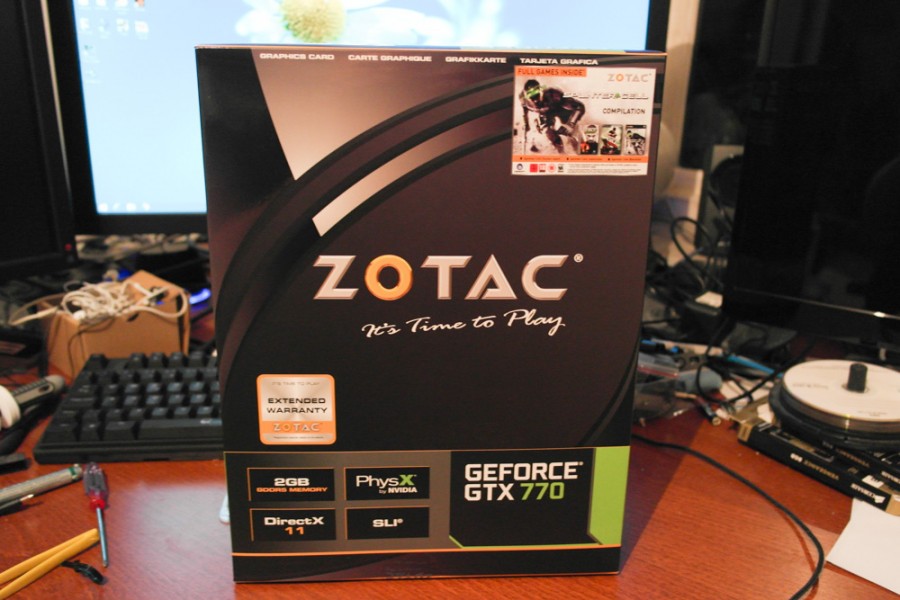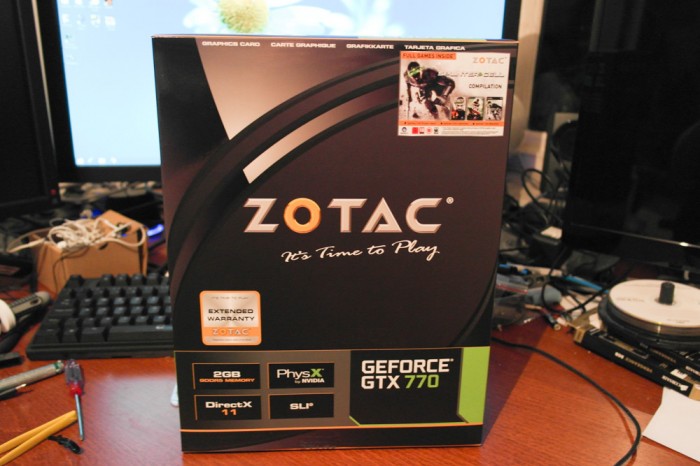 The card comes in the signature Zotac-box. Just like the Zotac GTX 780 this comes with a Splinter Cell game-pack. The games included are Splinter Cell Double Agent, Splinter Cell Conviction and Splinter Cell Blacklist (downloadable summer 2013).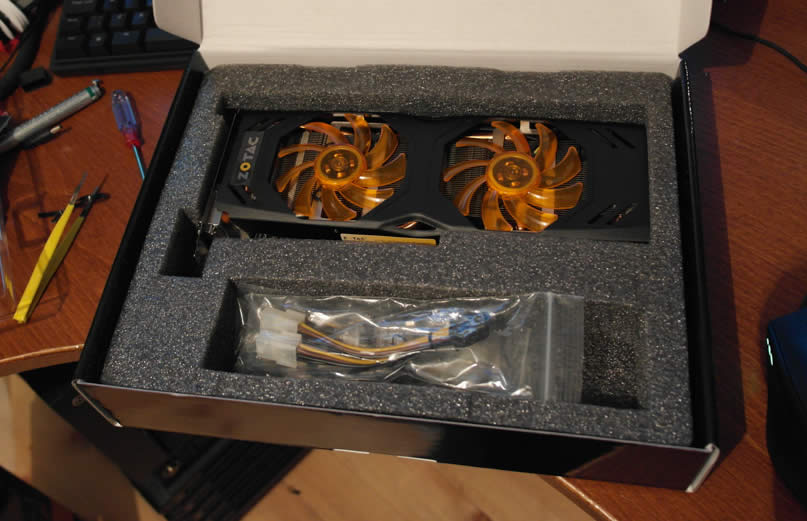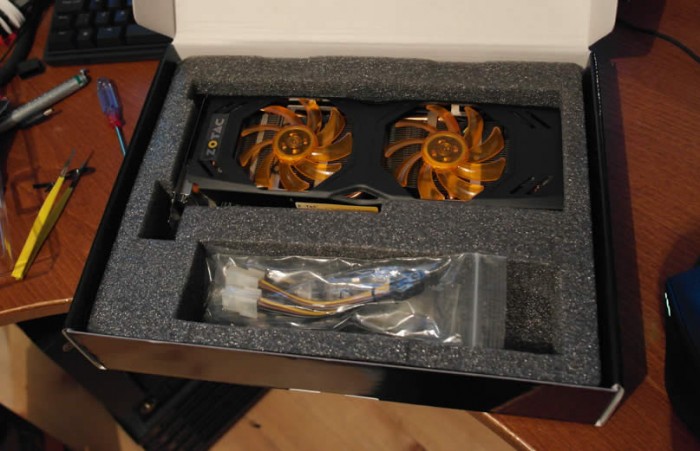 The card is well packed inside the box and should have no problems surviving a trip through the postal service. In addition to the card we also get power-adapter cables as well as a CD with driver (320.08), the Zotac Firestorm-software and some more software like xbmc.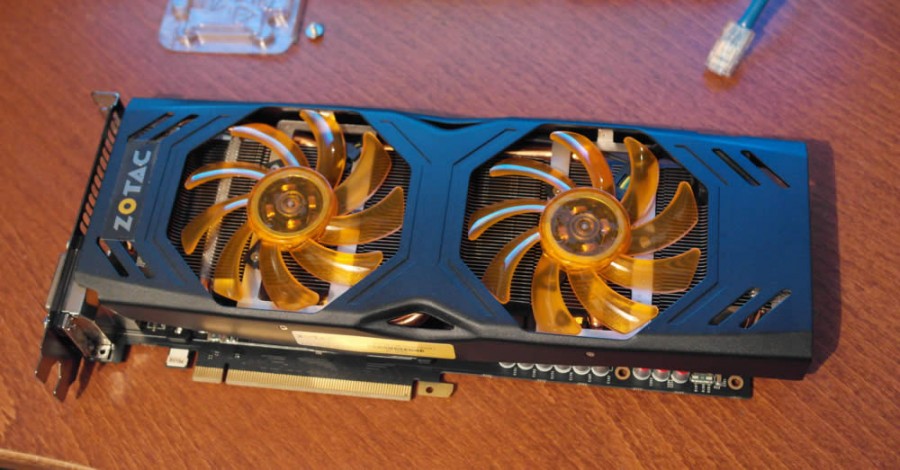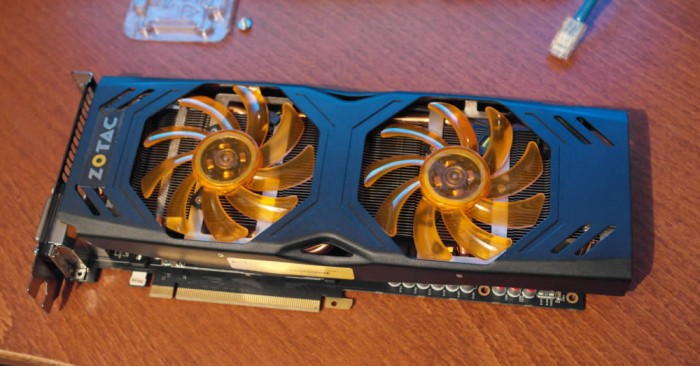 It is immediately obvious that this card does not use the reference cooler instead using a "dual-silencer" cooler. We found the name apt as it was very quiet while gaming.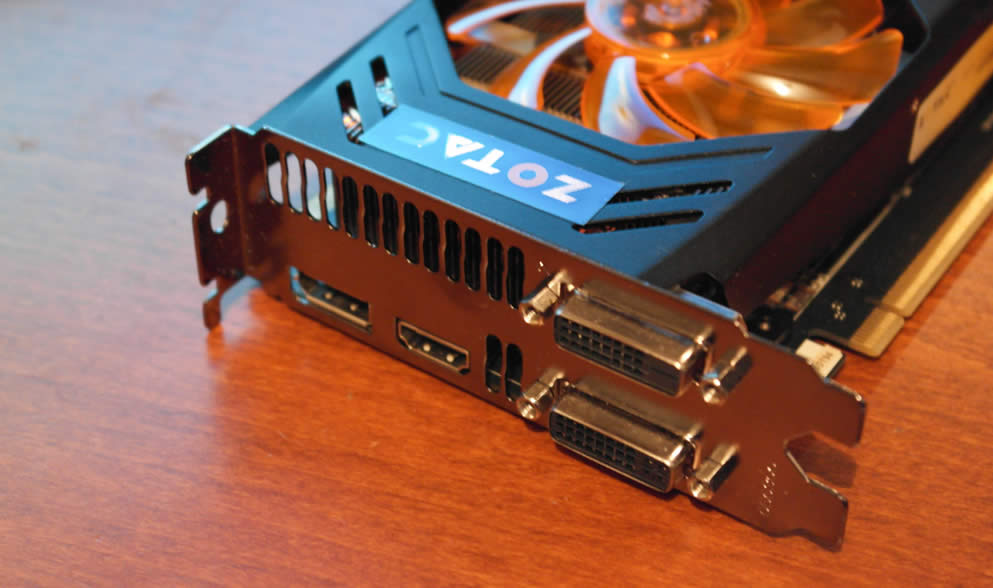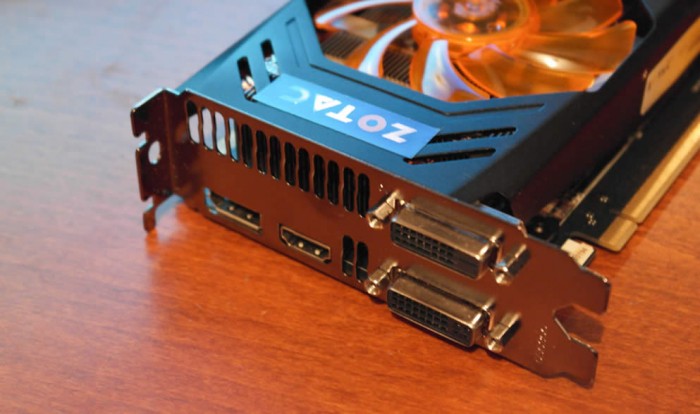 We get 2 DVI, 1 HDMI and 1 DisplayPort-connectors on the card.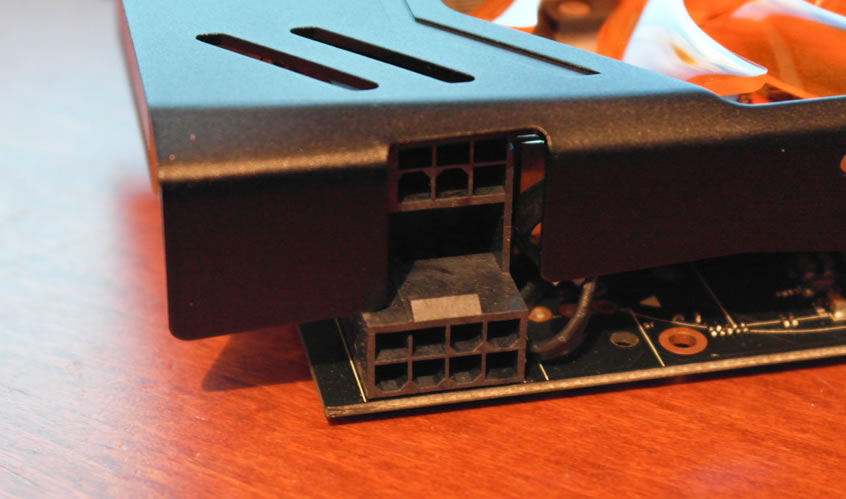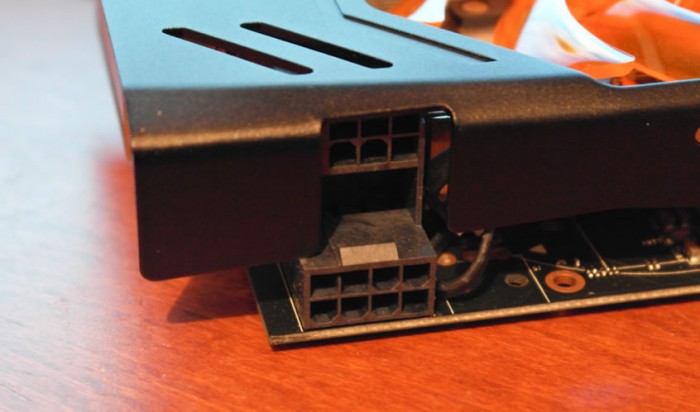 A 6-pin and a 8-pin power connector is necessary to power the card. Zotac includes molex-to-pci-e-power adapters if needed.
Testing Methodology
The OS we use is Windows 8 Pro 64bit with all patches and updates applied. We also use the latest drivers available for the motherboard and any devices attached to the computer. We do not disable background tasks or tweak the OS or system in any way. We turn off drive indexing and daily defragging. We also turn off Prefetch and Superfetch. This is not an attempt to produce bigger benchmark numbers. Drive indexing and defragging can interfere with testing and produce confusing numbers. If a test were to be run while a drive was being indexed or defragged, and then the same test was later run when these processes were off, the two results would be contradictory and erroneous. As we cannot control when defragging and indexing occur precisely enough to guarantee that they won't interfere with testing, we opt to disable the features entirely.
Prefetch tries to predict what users will load the next time they boot the machine by caching the relevant files and storing them for later use. We want to learn how the program runs without any of the files being cached, and we disable it so that each test run we do not have to clear pre-fetch to get accurate numbers. Lastly we disable Superfetch. Superfetch loads often-used programs into the memory. It is one of the reasons that Windows Vista occupies so much memory. Vista fills the memory in an attempt to predict what users will load. Having one test run with files cached, and another test run with the files un-cached would result in inaccurate numbers. Again, since we can't control its timings so precisely, it we turn it off. Because these four features can potentially interfere with benchmarking, and and are out of our control, we disable them. We do not disable anything else.
We ran each test a total of 3 times, and reported the average score from all three scores. Benchmark screenshots are of the median result. Anomalous results were discounted and the benchmarks were rerun.
Test Rig
Test Rig
Case
Thermaltake Level 10
CPUs
Intel Core i7-3930 @3.2 Ghz
Motherboards
ASUS P79X Deluxe
Ram
32 GB
CPU Cooler
Corsair H100
GPU
Zotac GeForce GTX 770

Zotac GeForce GTX 780

Asus GeForce GTX Titan

Zotac GeForce GTX Titan AMP!

Zotac GeForce GTX 680

GeForce Drivers
320.14 (GTX 680, 690 and TITAN)  

320.18 (GTX 780)

320.08 (GTX 770) – This is the version included on the CD, none of the downloadable worked.
Synthetic Benchmarks & Games
We will use the following applications to benchmark the performance of the Zotac GeForce GTX 770 video card.
Synthetic Benchmarks & Games
Benchmarks
3DMark11
3DMark Firestrike & Firestrike Extreme
Unigine Valley benchmark
Crysis 3
Bioshock Infinite
3DMark 11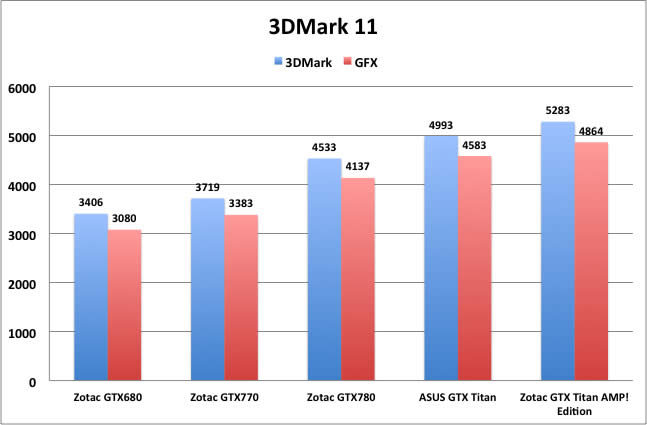 The new Zotac GTX 770 narrowly beats the GTX 680. Considering that the GTX 770 is supposed to replace the GTX 670 it is a nice result.
 3DMark 2013 – Firestrike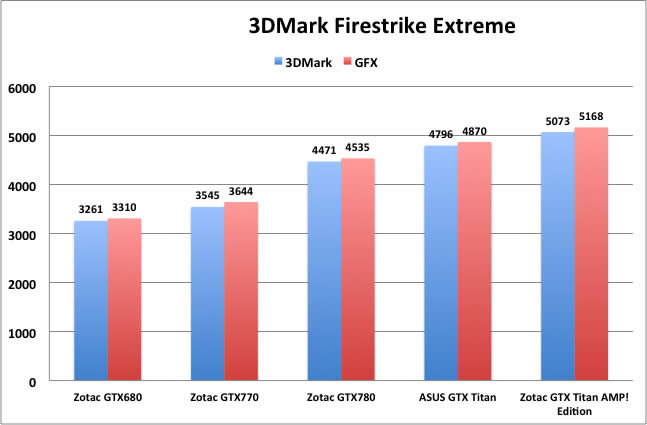 Again the GTX 770 just beats the GTX 680.
Unigine Valley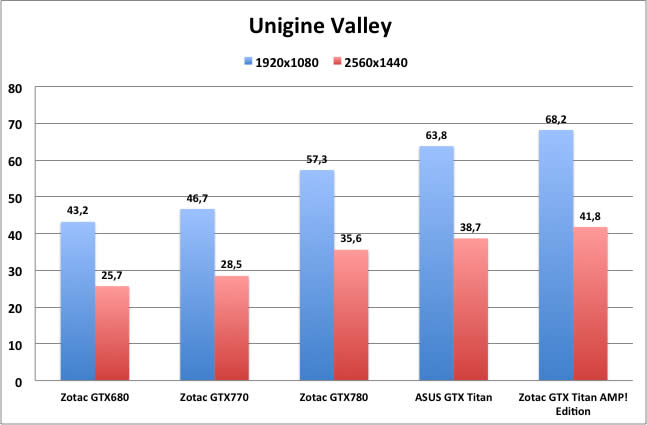 Setting: 8xAA, Ultra
In the new Unigine Valley-benchmark the GTX770 scoresa bout 8% better than the GTX680.
 Crysis 3
We used Fraps to record the framerate while running through the ship in the beginning of the game fighting a few guys, blowing up a crate and some other action.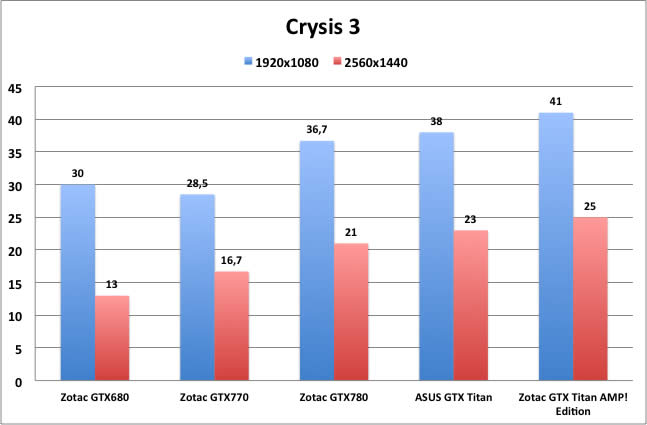 Setting: 8xAA, 16xAF, Very High Texture resolution, Very High all other settings
It would not be a Crysis-game if it did not tax the system a lot. As evident from the scores neither card really is playable at these settings and we would need to turn off/down a few settings to use it in the game. At 1920×1080 we actually see a slight decrease in framerate compared t the GTX680 but we almost chalk that up as a outlier as every other benchmark shows the GTX 770 beating the GTX 680. There is a almost 30% difference at 2560×1440 between the GTX 770 and the GTX 680 but at those low framerates even 1 fps difference means a lot of % change so it is not as much as it sounds.
Bioshock Infinite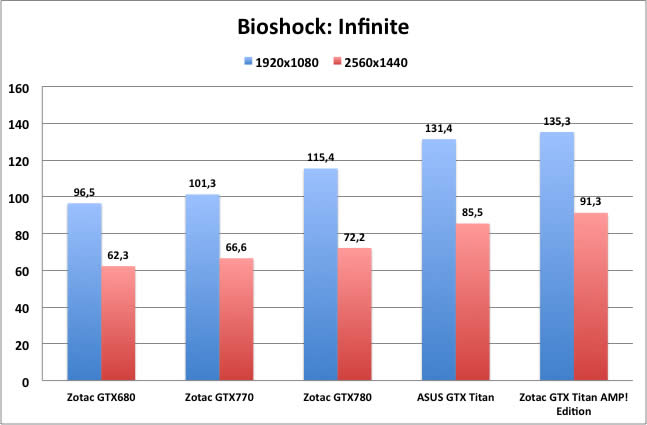 Setting: Using Adrenaline Benchmark Tool: Ultra, 16xAF
In Bioshock: Infinite the difference to the GTX 680 is just around 5 %.
Overclocking
Overclocking the GTX 770 is just as weird as the GTX 780 and the GTX Titan. Since the card already is overclocking itself dynamically via NVIDIA Boost 2 you never are sure what you will end up with when setting a target clock in MSI Afterburner or Zotac Firestorm. We did a quick test to overclock this card and increased the target temperature to around 85C and allowed the card to use 105% if the power draw.
The best overclock we achieved in our limited time with the card was 1162 MHz for the core (up from 1059 MHz, ~+9.8%) and 7600 MHz for the memory (up from 7010 MHz, +8.4%). This resulted in around 8% better results in 3DMark Firestorm Extreme and Bioshock Infinite. We had no problems with instability at these levels and we are actually sure we could have pushed the card up even higher given time to experiment a bit.
Summary

The Zotac GTX 770 is a great card. True, it really feels like an GTX 680 on steroids and some might feel it is deception from Nvidia to call it GTX 770 since it is so similar to the GTX 680. But if we are honest there is not much to complain about. What Nvidia has done is to take the top single-GPU card of the previous generation, added some more performance, updated it with new features and then rebranded it as a mid-end card in the new series. And we should be fine with that because it offers us consumers a lot of value.
Even though we might have preferred the stock cooler of the GTX Titan and GTX 780, which is used on the reference GTX 770, we can't deny that the "dual-silencer" cooler works well and keeps the card cool without making much noise. The included Splinter Cell-bundle is also nice. What impresses us even more is that the price of the Zotac GTX 770 is around $399 while a Zotac GTX 680 from the same e-tailer (Newegg) cost $460 or even more. So basically we get more features, more performance for a lower price.  We of course do not think anyone with a GTX 680 would like to upgrade, the difference is not big enough – that is what the GTX 780 is for, but for GTX 670-owners this card is a great upgrade.
Pros
Cons
Good price compared to GTX 680

Overclocks well

Silent and effective cooler

Great game-bundle

It still is a updated GTX 680 and not a cut down GTX 780.

We would have loved the GTX Titan-cooler