Hot on the heels of the zenith of the GeForce 700 series, Nvidia is releasing the GTX 770. As the next-most powerful card in the 700 series lineup, it needs very little introduction. Let's see what it has to offer!
Nvidia GeForce GTX 770
Just one short week ago the GTX 780 cropped up, and now Nvidia has released the GTX 770 model. This model seems to carry close ties to the outgoing GTX 680, sporting a GK104 GPU and 2GB VRAM at default. There will be models also supporting 4GB of VRAM but the reference carries just the 2GB.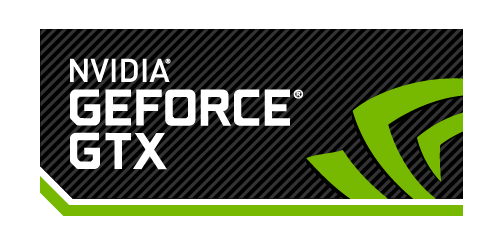 The GK104 Kepler Architecture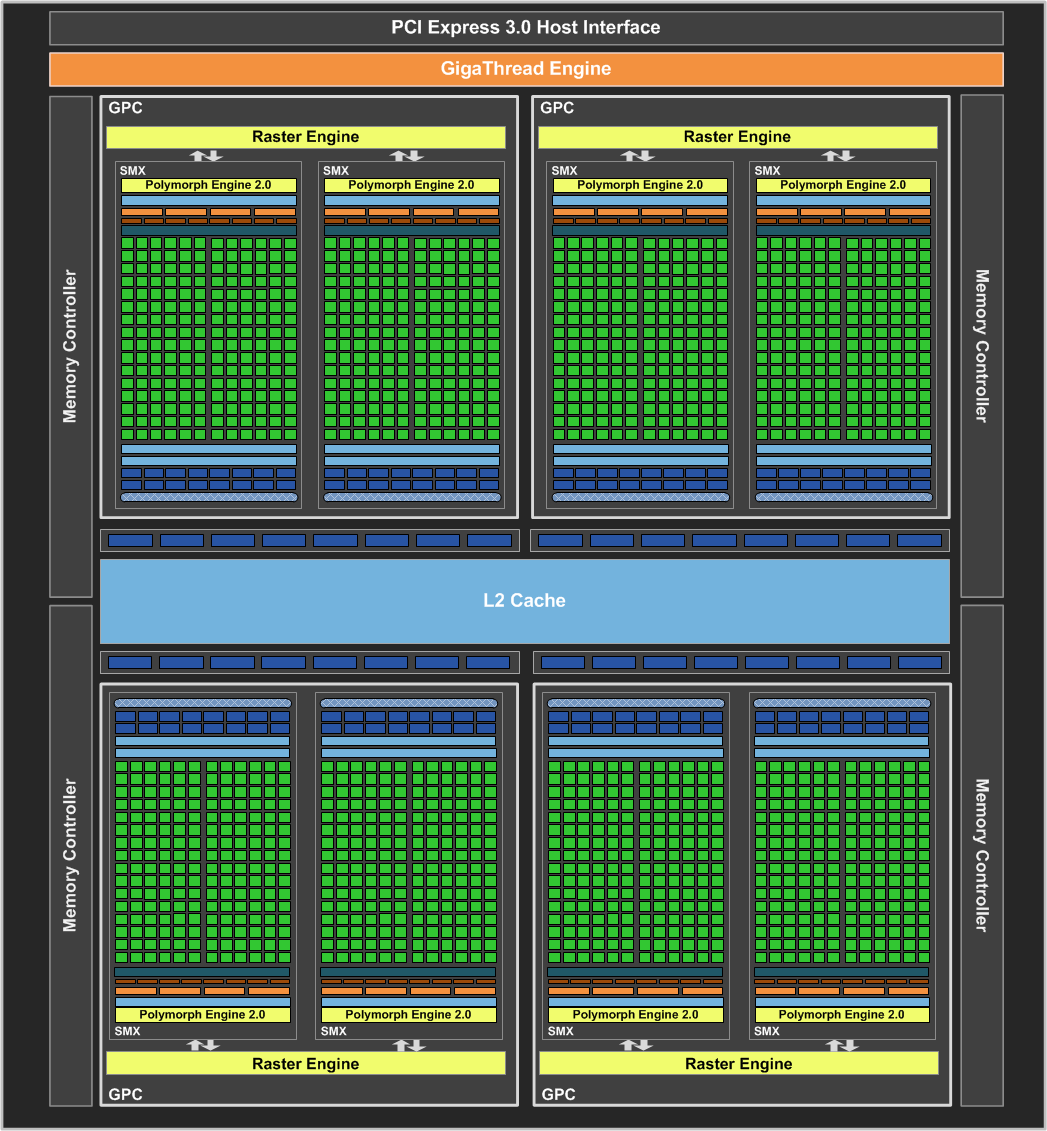 When we look at the GTX 770 we see a very powerful and familiar GPU in the GK104, which is the exact chip and spec that we saw in the GTX 680 model cards. Carrying the full 1536 CUDA cores and 256-bit memory, bus you can bet that this thing is packing what it takes to give the $399 price range a pounding.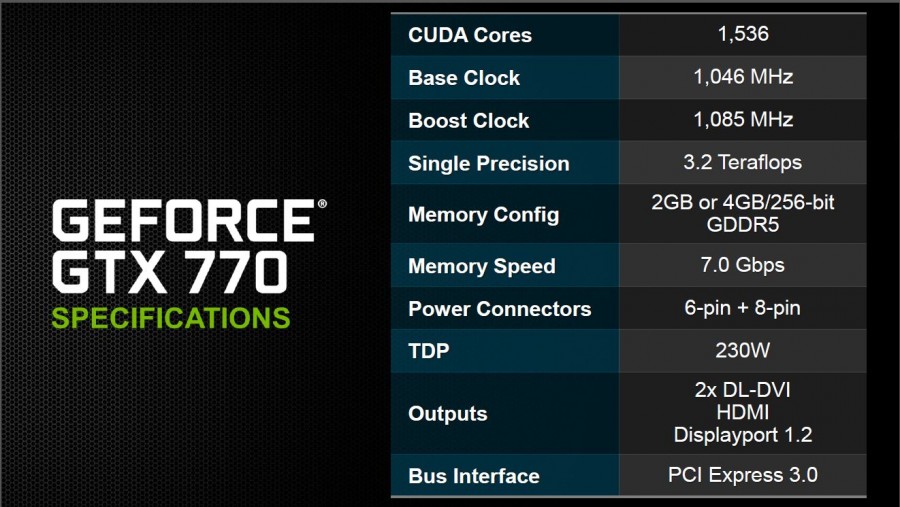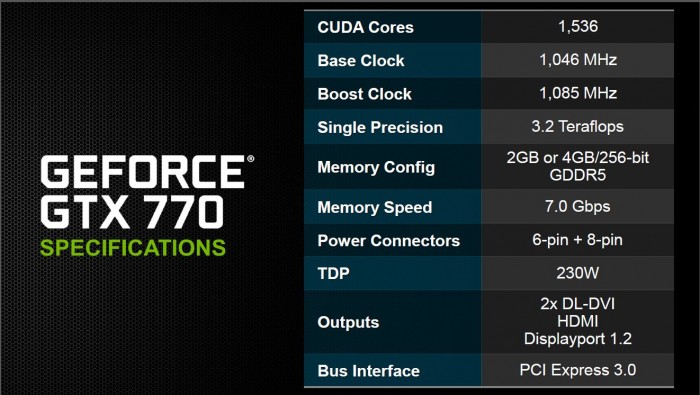 The GTX 770 does offer something that is pretty awesome and that is 7GHz memory speeds right out of the box, and with that an insane amount of bandwidth. Now that makes us wonder what we can do when pushing the clocks on these chips.
Here you can see some of the specs of the card compared to what is offered presently from the Kepler lineup.
| | | | | | |
| --- | --- | --- | --- | --- | --- |
|         | GTX 690       | GTX TITAN    | GTX 680    | GTX 780 | GTX 770 |
| Stream Processors | 1536 x 2 | 2688 | 1536 | 2304 | 1536 |
| Texture Units | 128 x 2 | 224 | 128 | 192 | 128 |
| ROP's | 32 x 2 | 48 | 32 | 48 | 32 |
| Base Core Clock | 915MHz | 837MHz | 1006MHz | 863MHz | 1046MHz |
| Boost Clock | 1019MHz | 876MHz | 1058MHz | 900MHz | 1085MHz |
| Memory Clock | 6008MHz | 6008MHz | 6008MHz | 6008MHz | 7010MHz |
| Memory Interface | 256-bit x 2 | 384-bit | 256-bit | 384-Bit | 256-bit |
| Memory Qty | 2GB x 2 | 6GB | 2GB | 3GB | 2GB or 4GB |
| TDP | 300W | 250W | 195W | 250W | 230W |
| Transistors | 3.5B x 2 | 7.1B | 3.5B | 7.1B | 3.54B |
| Manufacturing process | 28nm | 28nm | 28nm | 28nm | 28nm |
| Price | $999 | $999 | $499 | $649 | $399 |
When looking at the specs it is worth noting that while the GTX 780 was slated to replace the 680, the GTX 770 incoming has the specs and raw harsepower to easily sweep the GTX 680 away as well.
Cooler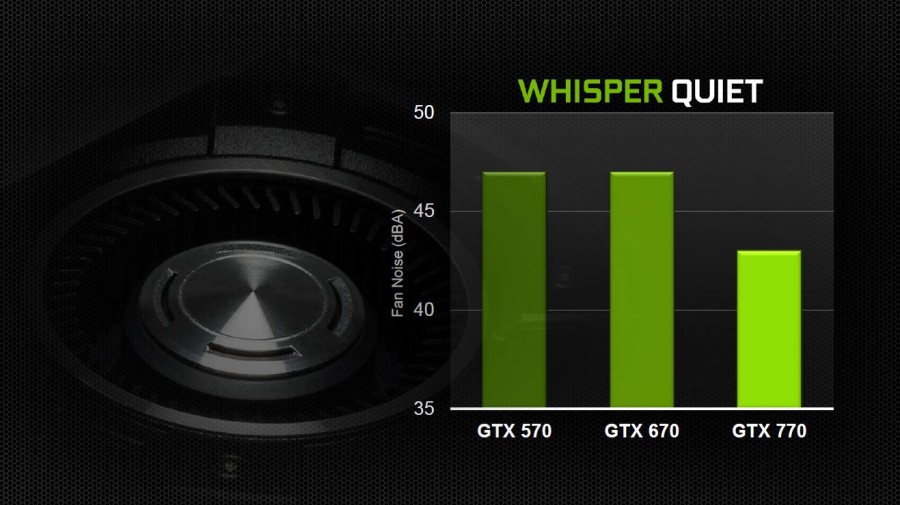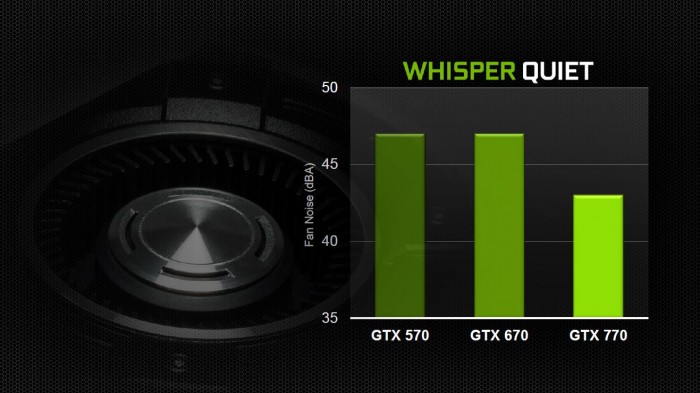 Source: Nvidia
We all know that Kepler introduced a whole new set of cards that ran faster and quieter than before. With the introduction of the TITAN and its new style cooler things got even better as cooling efficiency is very good while the fan design and fan control algorithm makes for a card you can rarely ever hear, even in the most strenuous situations.
Here you can see how with the new cooler and also the new fan control implimentation Nvidia is setting this up to be a real quiet ultra gaming card. The ability to avoid the constant ramping of the fan drastically lowers the noise level of the fan, is which is what this is all about. Nvidia wants these cards to be able to play in any system, even in a bedroom with the bare minimum of noise while still offering class leading performance.
Faster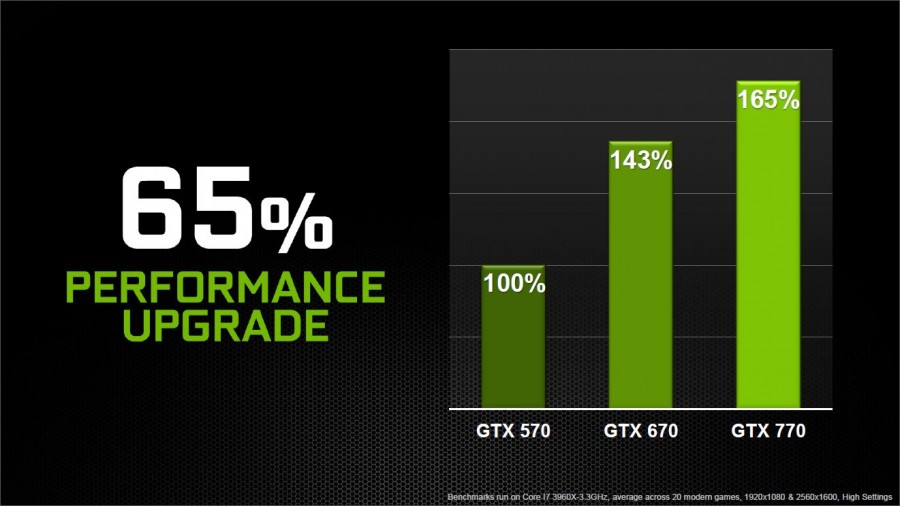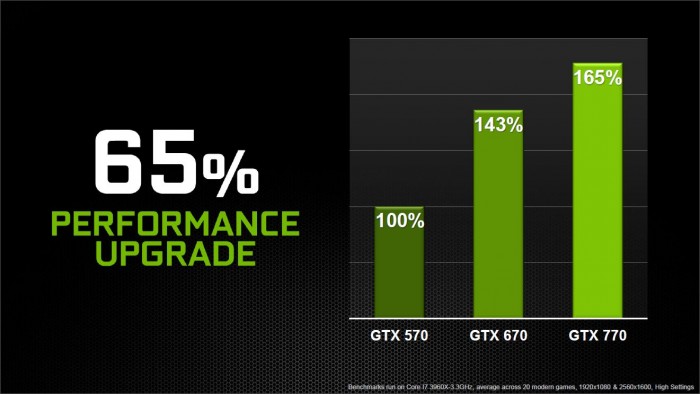 Source: Nvidia
As I have already stated the GTX 770 can easily sweep away the 680 and as you can see from these notes supplied by Nvidia the GTX 770 is up to 65% faster than the GTX 570 and 22% average faster than the outgoing 670 card. This is something to notice as this is not just a GTX 680 GPU but also built upon a respectable PCB and even some insane memory capability combine to make for a very favorable enthusiasts level card.
Existing and improved Kepler features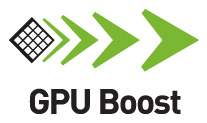 GPU Boost 2.0 -Thermals
Just as we saw on the TITAN then 780, the 700 series cards carry the new GPU Boost 2.0 which offers even more flexibility in overclocking  and even more control over how your card runs. If you want it to only run at a max of a certain temp you simply set that in the thermal target of the EVGA precision utility and the card does the rest. However if you can live with some more heat there is potential for more performance by simply adjusting the frequency and thermal target up a little.
The GPU boosting function is controlled largely by the GPU temps, which by default means the GPU will boost volts and clocks up until the thermal target of 80 C is reached. What is nice about this is that the user can control the thermal target, so if you are fine with your card loading up to 90C, you can raise the target temp to allow for even more overclock and even voltage headroom. 
GPU Boost 2.0 – Voltage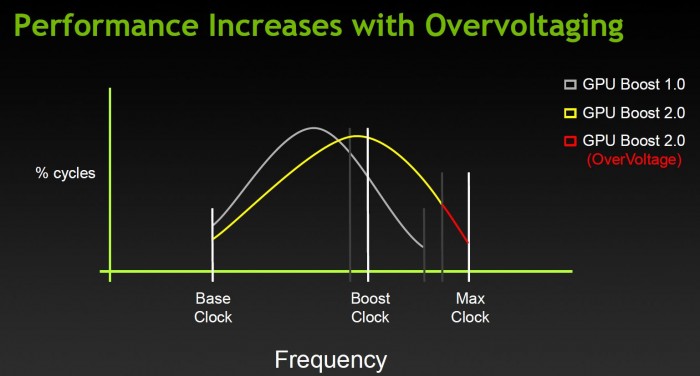 Nvidia has employed GPU boost for some time and in simple terms it allows the GPU to overclock itself in situations where there is extra thermal and voltage headroom to spare. This was quite a good feature, but clocks could in some cases be rather erratic and varied greatly depending upon operating environment. Nvidia introduced the newest iteration of the GPU boost feature in TITAN, including a new way to control your card. In the new version, boost clock and voltage levels are directly tied to GPU temps, and therefore voltages can be pushed higher than before. Previously, some GTX680 models did not have a lot of voltage control options. Nvidia corrected this oversight by opening up the GPU Boost 2.0 to enable higher overvoltage options. As you can see, you have the standard boost clock which can already go higher with the sliding scale of the thermal targets, and then you factor in the higher level overvoltage, leading to an amazing amount of headroom.
Nvidia Display Overclocking
Another cool feature from Nvidia is the ability to overclock the display, which means you can push your display to higher refresh rates for even smoother performance from a display that normally may only be at 60Hz. One word of caution: not all displays will support the overclock, and there will likely be a limit as to how far they can be pushed so it will take a bit of trial and error to find where your display is happy at. 
Video Encoding
Kepler features a dedicated H.264 video encoder called NVENC. Fermi's video encoding was handled by the GPU's array of CUDA cores. By having dedicated H.264 encoding circuitry, Kepler is able to reduce power consumption compared to Fermi. This is an important step for Nvidia as Intel's Quick Sync has proven to be quite efficient at video encoding and the latest AMD HD 7000 Radeon cards also feature a new Video Codec Engine.
Nvidia lets the software manufacturers implement support for their new NVENC engine if they wish to. They can even choose to encode using both NVENC and CUDA in parallel. This is very similar to what AMD has done with the Video Codec Engine in Hybrid mode. By combining the dedicated engine with GPU, the NVENC should be much faster than CUDA and possibly even Quick Sync.
Can encode full HD resolution (1080p) video up to 8x faster than real-time
Support for H.264 Base, Main, and High Profile Level 4.1 (Blu-ray standard)
Supports MVC (multiview Video Coding) for stereoscopic video
Up to 4096×4096 encoding
According to NVIDIA, besides transcoding, NVENC will also be used in video editing, wireless display, and videoconferencing applications. NVIDIA has been working with the software manufacturers to provide the software support for NVENC. At launch, Cyberlink MediaExpresso will support NVENC, and Cyberlink PowerDirector and Arcsoft MediaConverter will also add support for NVENC later.
Adaptive VSync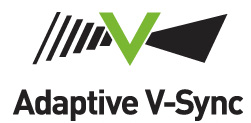 Adaptive VSync is Nvidia's way of providing a smooth game playability even when the frame rates falls below 60 fps. VSync is designed to eliminate screen tearing in games when the video feed from the graphic card is not in sync with the display's refresh rate. Traditionally, when a game's FPS falls below the monitor's refresh rate, the frame rate will fall to the lower refresh rate the monitor supports. With a default refresh rate of 60Hz, and a commonly supported lower rate of 30Hz, players can see a big drop in games Frame Rate. These switches can lead to stuttering, which in a first-person shooter can be a matter of life and death.
Click on the Images to View a Larger Version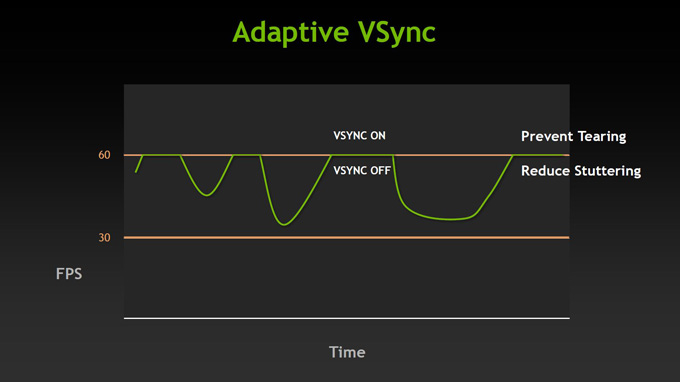 The Adaptive VSync is NVIDIA's answer to provide the best of both worlds. With the Adaptive VSync, the FPS no longer drops to the lower refresh rate that the monitor supports. Instead the VSync will automatically be turned on and off depending on the on the frame rate. When the FPS dips below 60Hz, VSync will be turned off and when the FPS recovers to 60 FPS, VSync will once again be enabled.
Improved Software Experience
Nvidia supplied us with some really cool software and also showed us some cool stuff that we can now show off to all of you!
GeForce Experience
Here you can see the GeForce Experience program, which is actually a very cool free software for GeForce users. Once you install the program it will scan your system hardware and all installed games, and then optimize your game settings for the best experience.
This may not seem like much, but think of it this way: When you go in and just crank up the settings, are you really running the game the best that your system can? Most likely not. The GeForce Experience program is a better alternative to guessing which settings will provide a balance of performance and eye-candy. This automatically sets up your system to run well, so you don't have to.
Do note that the GeForce Experience software has been out for BETA for some time, but as of now is moving into full user ready state.
GeForce Experience – Shadowplay


 Many of us have used various different forms of recording software such as FRAPS to show our gameplay to the world. But anyone who has done this knows the limitations, as the files quickly get huge and can take up a lot of disk space very quickly.
Nvidia will be adding a feature to the GeForce Experience called ShadowPlay which is a game recording software but with a very special capability. It uses the NVENC native H.264 encoder on the Kepler based GPUs to encode the gameplay footage in real time so that the files are smaller right from the start and quality remains excellent. 
The Shadowplay software is expected to be publicly available around summer 2013, so we figure a few months and we can give this thing a run.
A Closer Look at the GTX 770
Click Images to Enlarge
Much like the 780, the GTX 770 carries the TITAN cooler which makes it tough to distinguish at a glance. This makes us look twice when swapping cards into our test system, as the lettering can easily play tricks on you.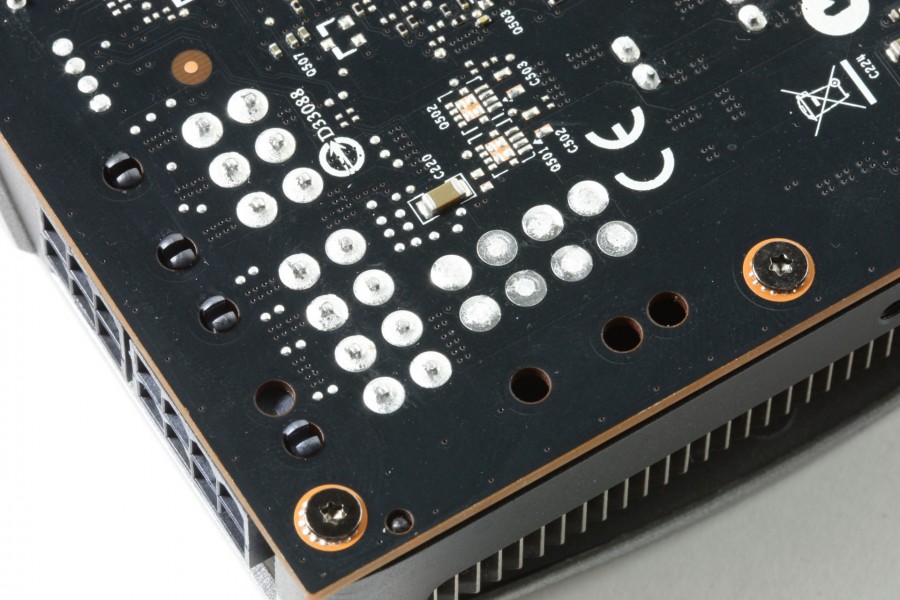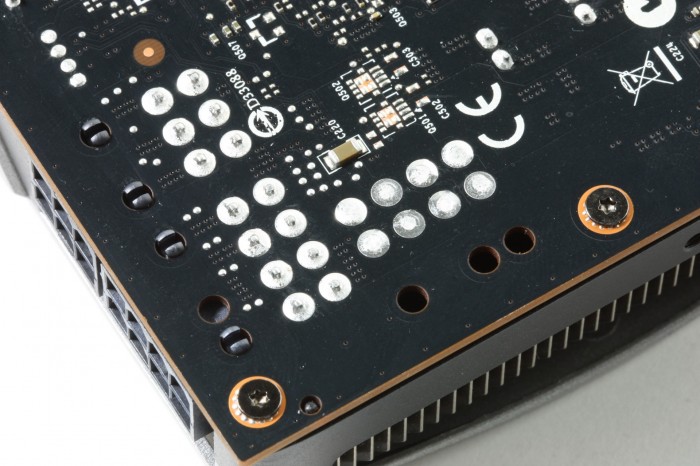 Click Images to Enlarge
Once again similar to what we saw on the 780, the 770 has the solder pad for an extra 8 pin power connector.  We have only seen this positioning on higher end workstation cards before. We like this as those higher end workstation cards tend to be made super solid, which bodes well for this card.
Click Images to Enlarge
The top of the card houses the all too familiar dual SLI bridge connectors which allow for full 3-Way or even 4-Way SLI functionality. These would permit a system to scale well beyond a single GPU's performance potential, should a game require it (Crysis 3 and Metro: Last Light come to mind here).
The display connectivity is about standard for what we have seen on the Kepler based lineup:
2x DVI
1x HDMI
1x Displayport
This all digital connector arrangement allows for maxing out the GPU with up to 4 displays and even a surround plus accessory display array should the need arise.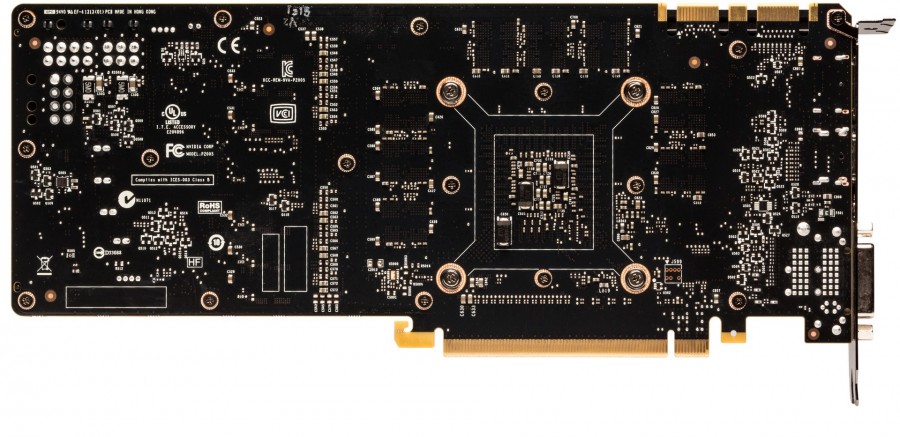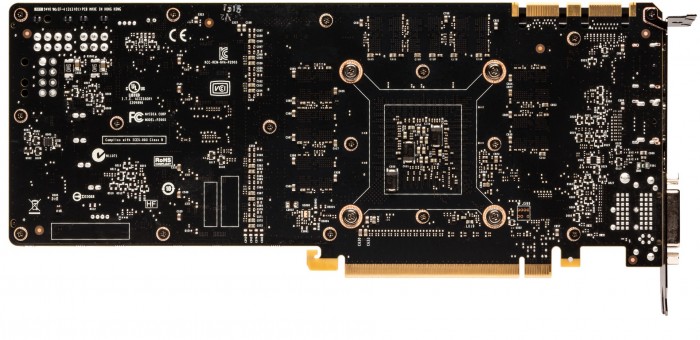 Click Images to Enlarge
Like the GTX 780, the GTX 770 shows an absence of memory IC's on the rear of the PCB. This card only has 2GB of framebuffer so there will be a couple empty pads in the front as well, but either way, 2GB should be enough in most situations.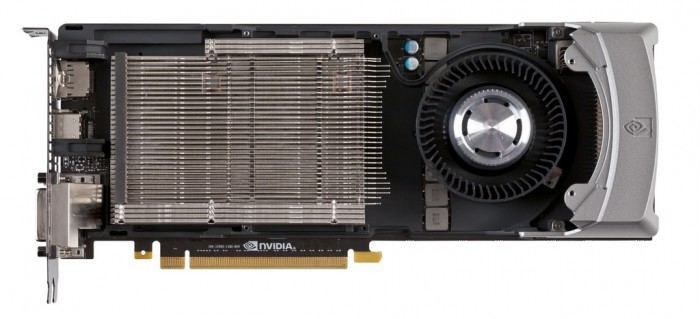 Click Images to Enlarge
And here after popping the top we get a nice look at the stripped down cooler, which is a very solid and dense fin array behind that sight window. the fan is free floating and not in contact with the shroud, which means very little chance of noise which is likely why the card runs so quiet.
Testing Methodology
The OS we use is Windows 8 Pro 64bit with all patches and updates applied. We also use the latest drivers available for the motherboard and any devices attached to the computer. We do not disable background tasks or tweak the OS or system in any way. We turn off drive indexing and daily defragging. We also turn off Prefetch and Superfetch. This is not an attempt to produce bigger benchmark numbers. Drive indexing and defragging can interfere with testing and produce confusing numbers. If a test were to be run while a drive was being indexed or defragged, and then the same test was later run when these processes were off, the two results would be contradictory and erroneous. As we cannot control when defragging and indexing occur precisely enough to guarantee that they won't interfere with testing, we opt to disable the features entirely.
Prefetch tries to predict what users will load the next time they boot the machine by caching the relevant files and storing them for later use. We want to learn how the program runs without any of the files being cached, and we disable it so that each test run we do not have to clear pre-fetch to get accurate numbers. Lastly we disable Superfetch. Superfetch loads often-used programs into the memory. It is one of the reasons that Windows Vista occupies so much memory. Vista fills the memory in an attempt to predict what users will load. Having one test run with files cached, and another test run with the files un-cached would result in inaccurate numbers. Again, since we can't control its timings so precisely, it we turn it off. Because these four features can potentially interfere with benchmarking, and and are out of our control, we disable them. We do not disable anything else.
We ran each test a total of 3 times, and reported the average score from all three scores. Benchmark screenshots are of the median result. Anomalous results were discounted and the benchmarks were rerun.
Please note that due to new driver releases with performance improvements, we rebenched every card shown in the results section. The results here will be different than previous reviews due to the performance increases in drivers.
Test Rig
Test Rig
Case
Test Bench
CPUs
Intel XEON E5-2687W
Motherboards
ASUS Rampage IV Extreme
Ram
Kingston HyperX Beast 64GB (8x8GB) 2133Mhz 11-12-11 Quad-Channel Kit
CPU Cooler
Custom Liquid Cooling
Hard Drives
8x Western Digital RE4 2TB 7200RPM 3Gb/s Hard Drives (Raid 5)
SSD
3x Kingston HyperX 240GB SATA III 6Gb/s SSD
Optical
ASUS DVD-Burner
GPU
Nvidia GeForce GTX 780 3GB Video Card

Nvidia GeForce GTX 680 2GB Video Card

Nvidia GeForce GTX TITAN 6GB Video Card

Nvidia GeForce GTX 690 4GB Video Card

GeForce Drivers

320.14 (GTX 680, 690 and TITAN)  

320.18 (GTX 780, 770)

PSU
Thermaltake Toughpower XT 1475W Gold
Mouse
Tt eSPORTS Theron Gaming Mouse
Keyboard
Tt eSPORTS Meks G1 Illuminated
Synthetic Benchmarks & Games
We will use the following applications to benchmark the performance of the Nvidia GeForce GTX 770 video card.
Benchmarks
3DMark 11
3Dmark 2013
Crysis 3
Far Cry 3
Metro 2033
Unigine Heaven 4.0
Batman Arkham City
Dirt 3 Showdown
Metro Last Light
Sniper Elite V2
3DMark 11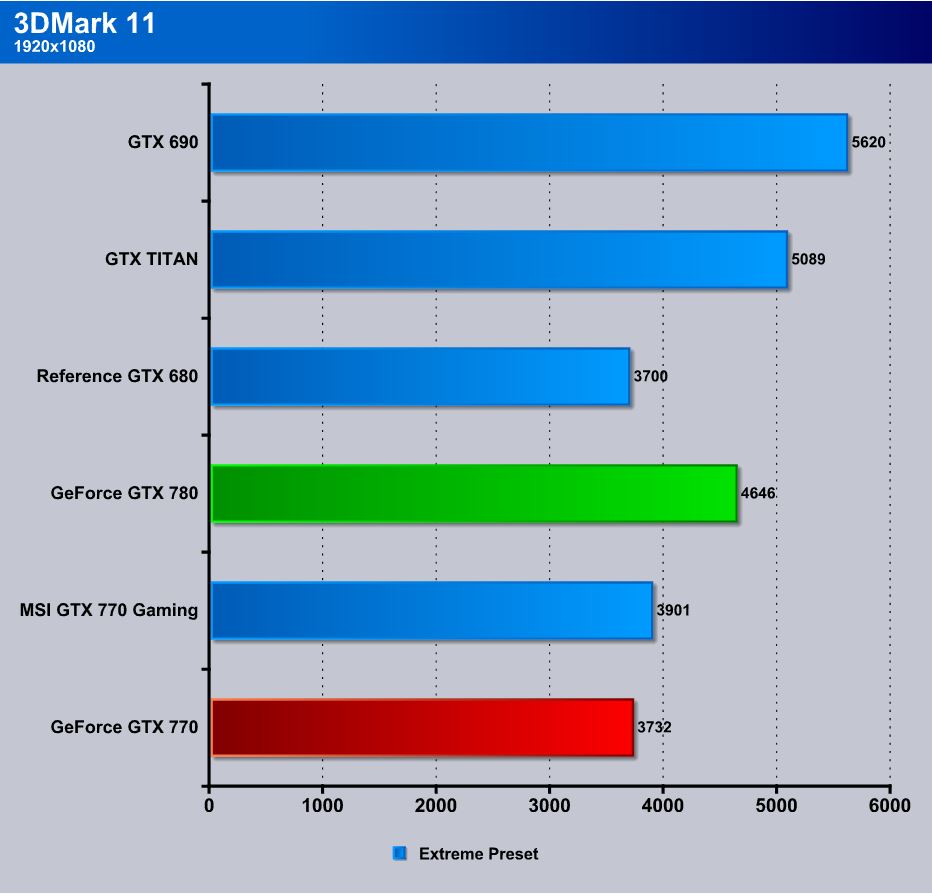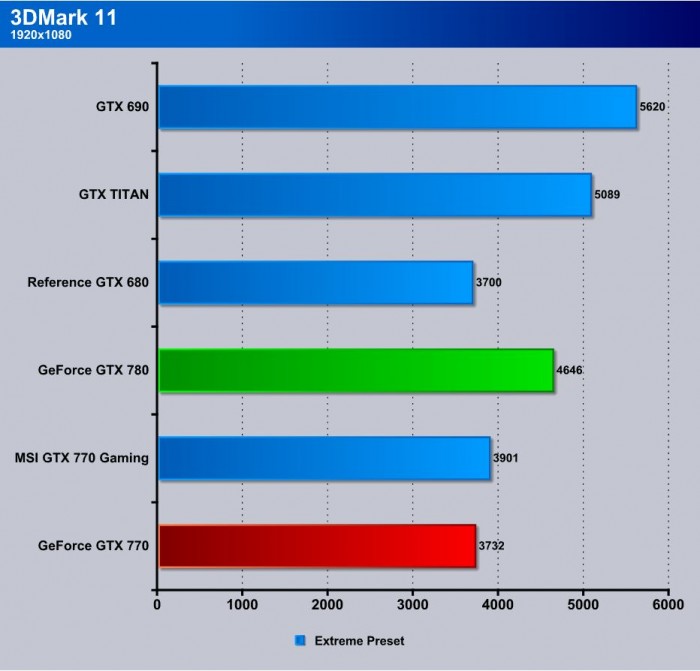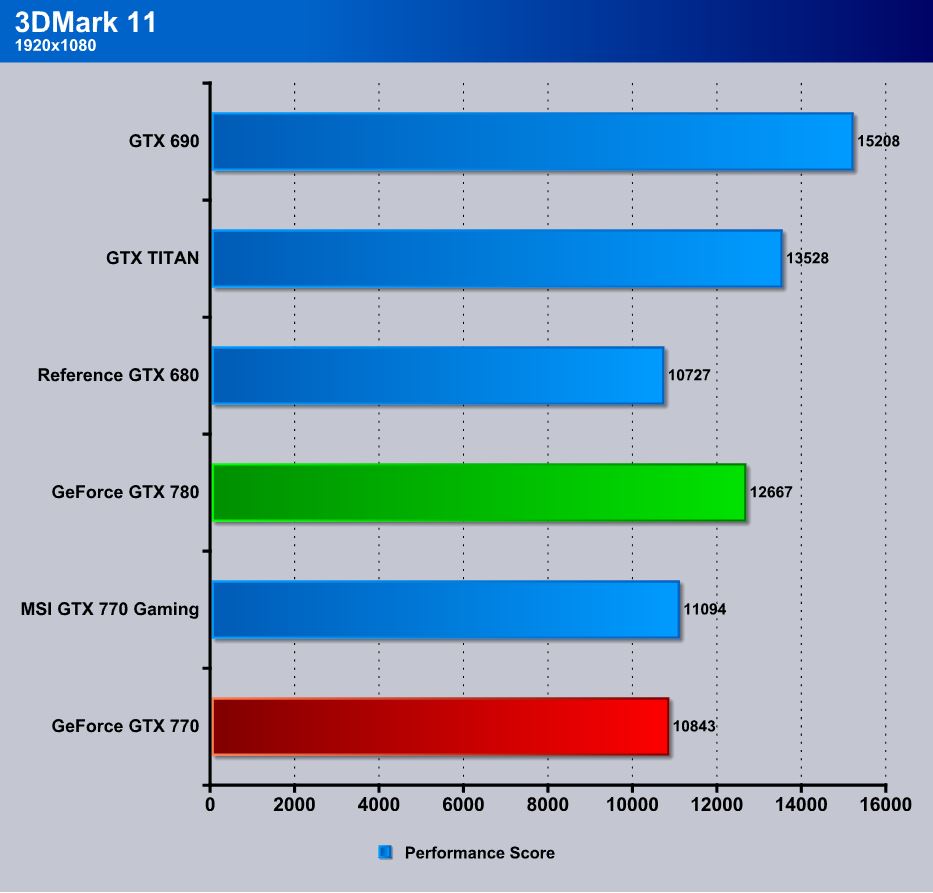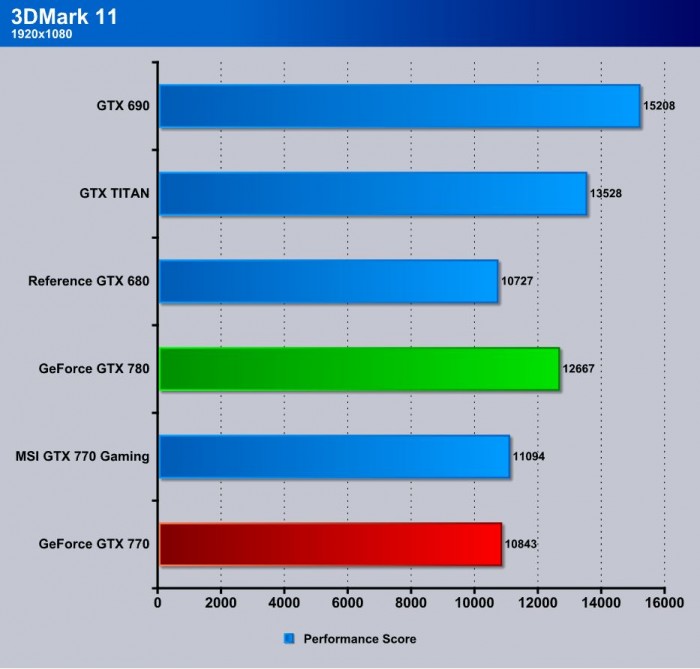 Here you can see in 3DMark 11 the GTX 770 pulls a nice little lead over the 680, slotting it a bit behind the GTX 780.
3DMark 2013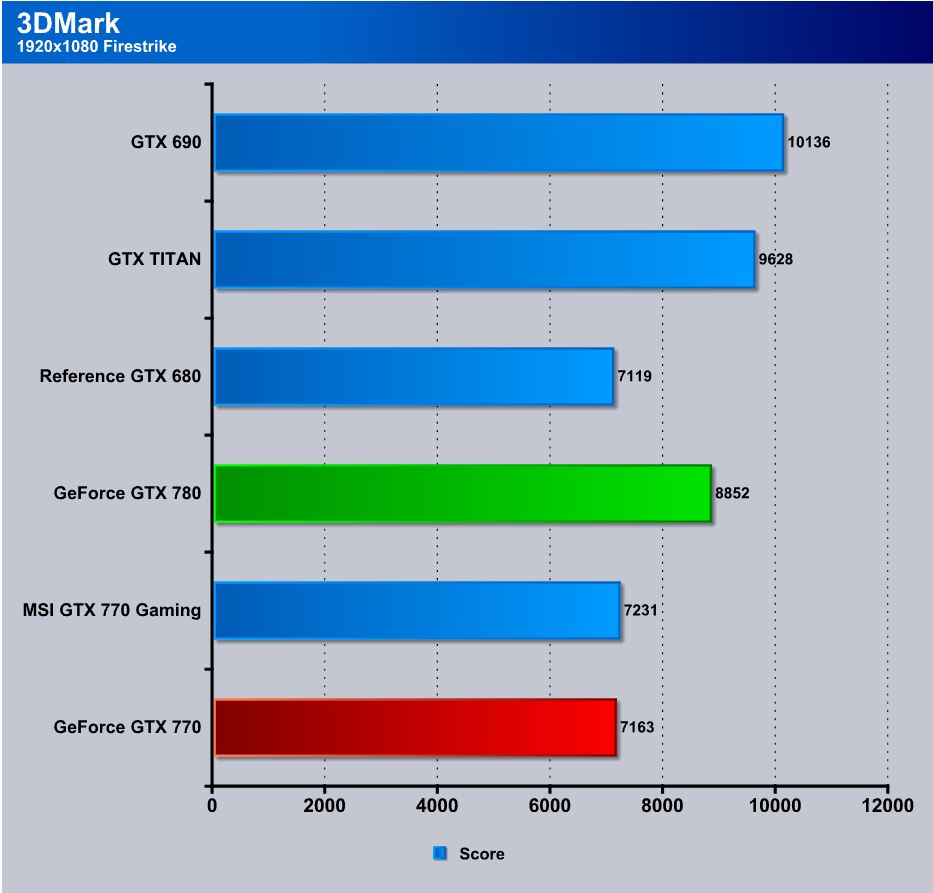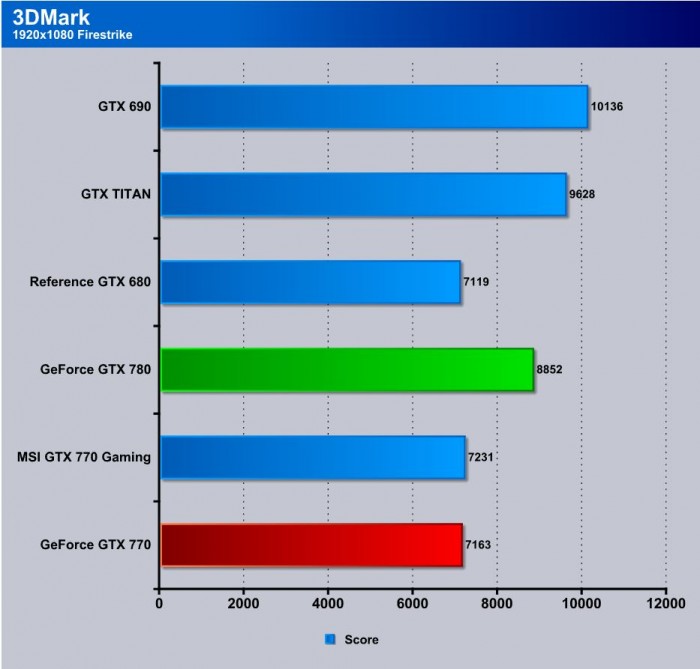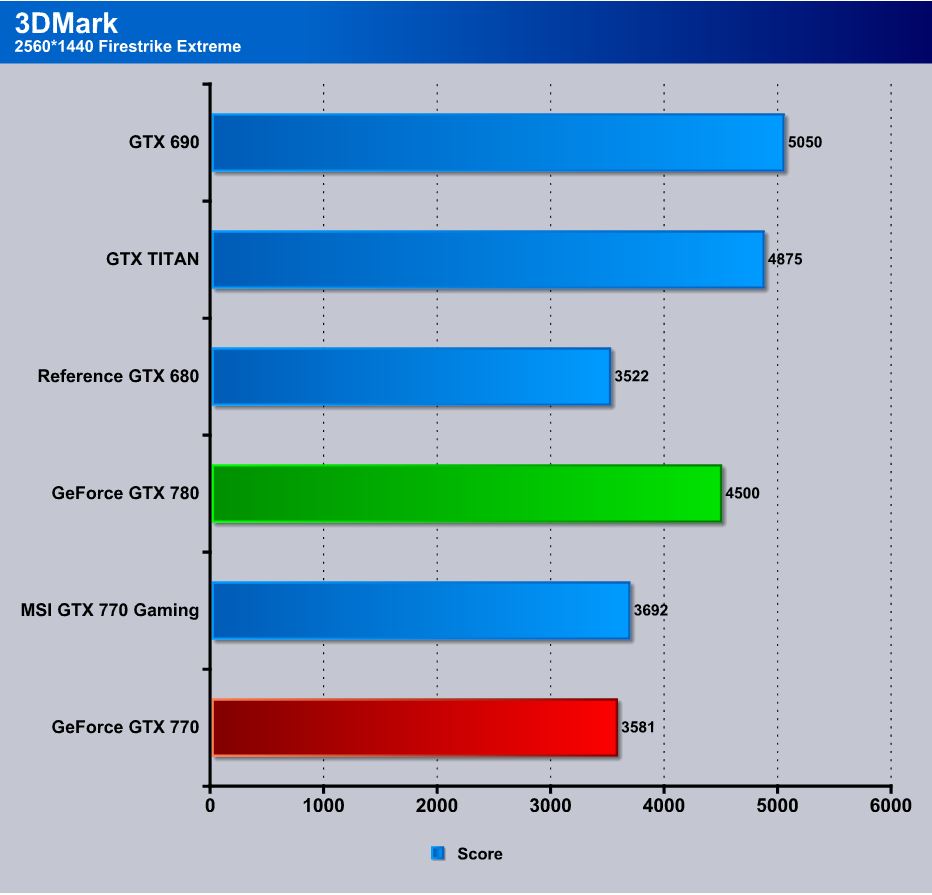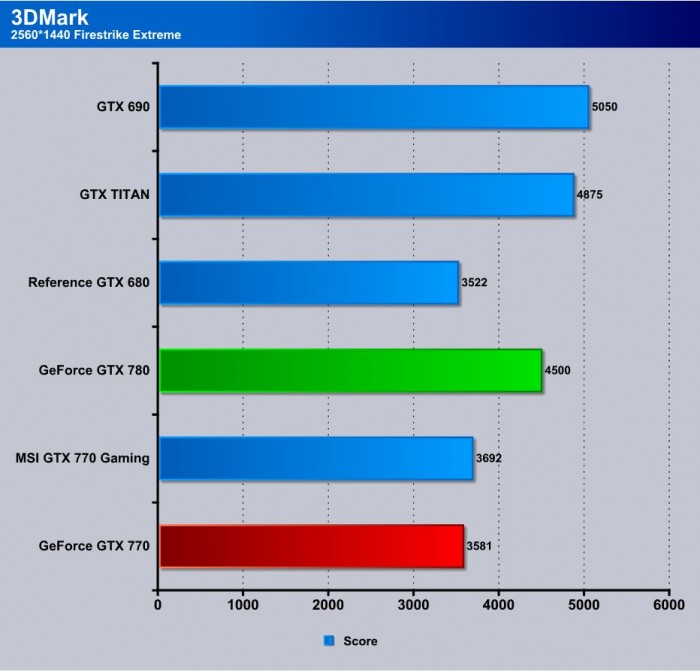 In 3DMark Firestrike and Extreme, the 770 just ever so slightly nudges out the 680, which tells us this card was fit to be king as it tramples the former flagship single GPU model.
Unigine Heaven 4.0

Unigine Heaven is a benchmark program based on Unigine Corp's latest engine, Unigine. The engine features DirectX 11, Hardware tessellation, DirectCompute, and Shader Model 5.0. All of these new technologies combined with the ability to run each card through the same exact test means this benchmark should be in our arsenal for a long time.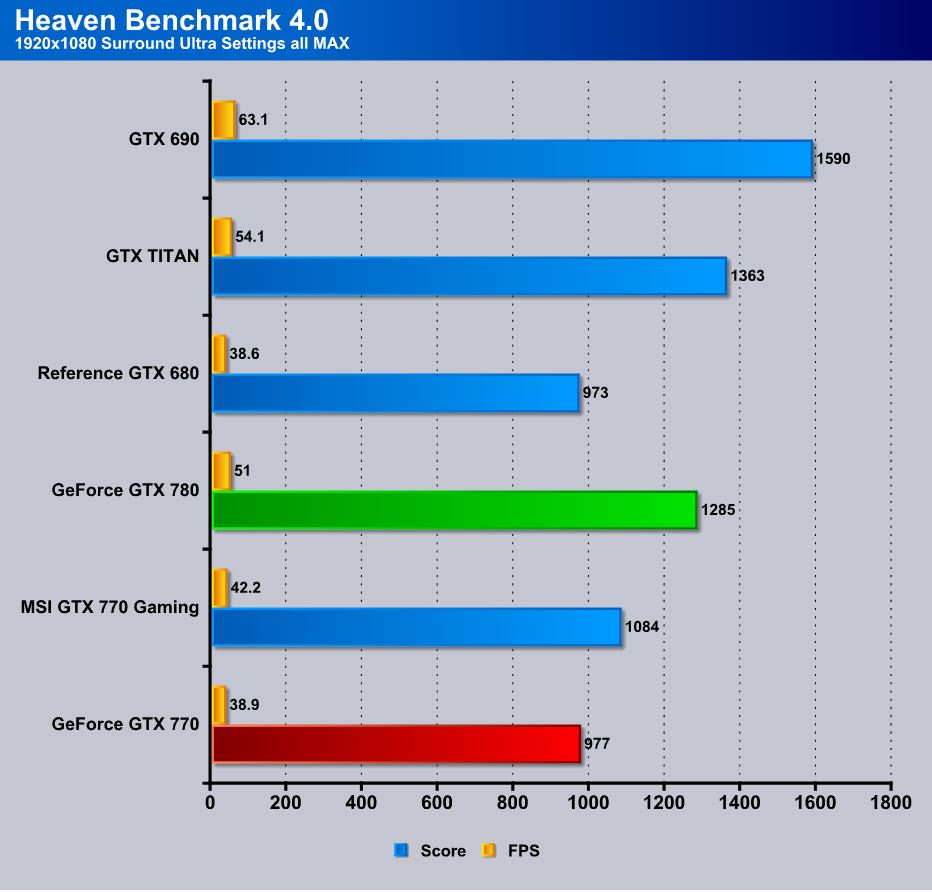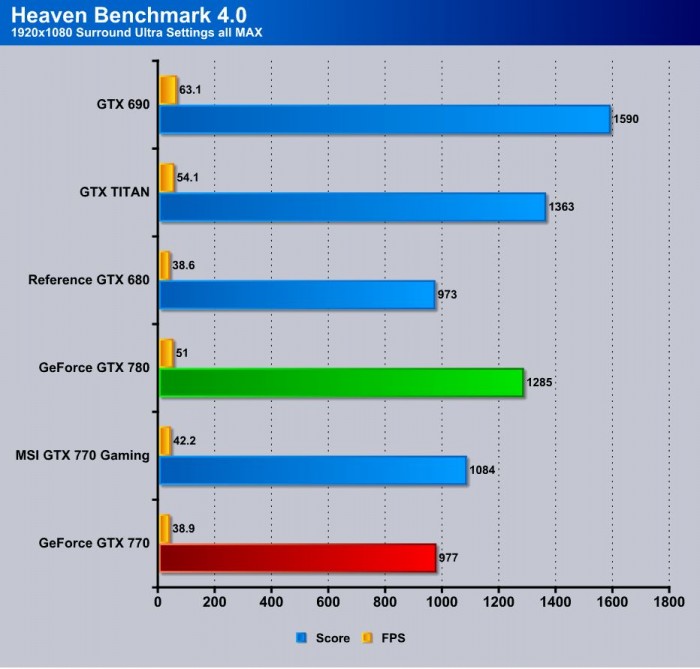 Heaven shows that the 680 is not a dead model by any means, as the 770 barely beats it by a very few points (less than 0.3 FPS).
Far Cry 3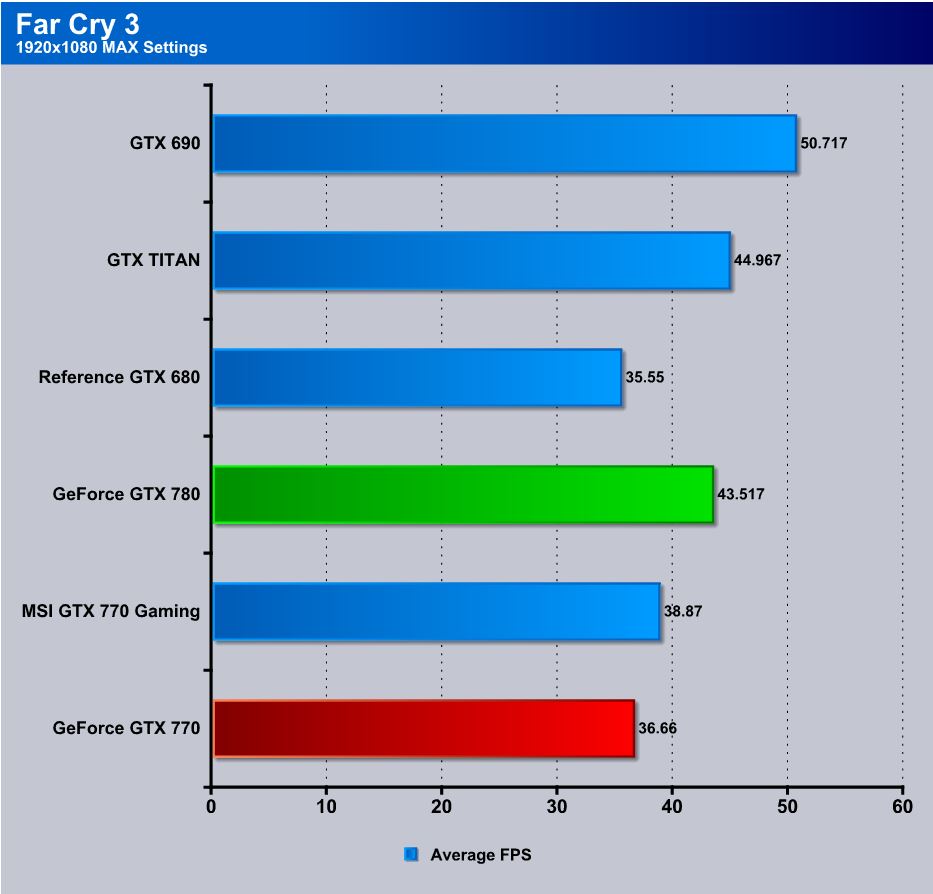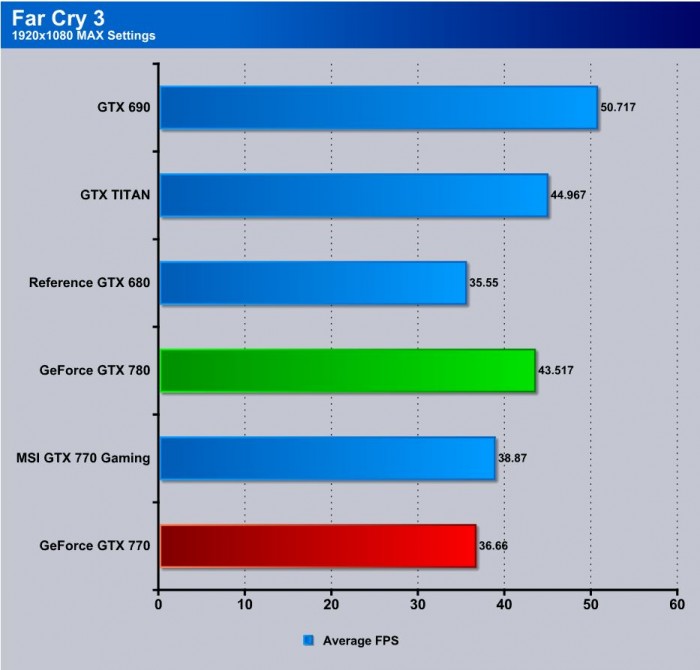 Moving over to Far Cry 3, we used a pre determined path and re-ran each card to monitor average FPS across the complete run. Each run was completed multiple times to ensure continuity and accuracy. Here the 770 ekes out a single FPS more than the previous gen 680.
Metro 2033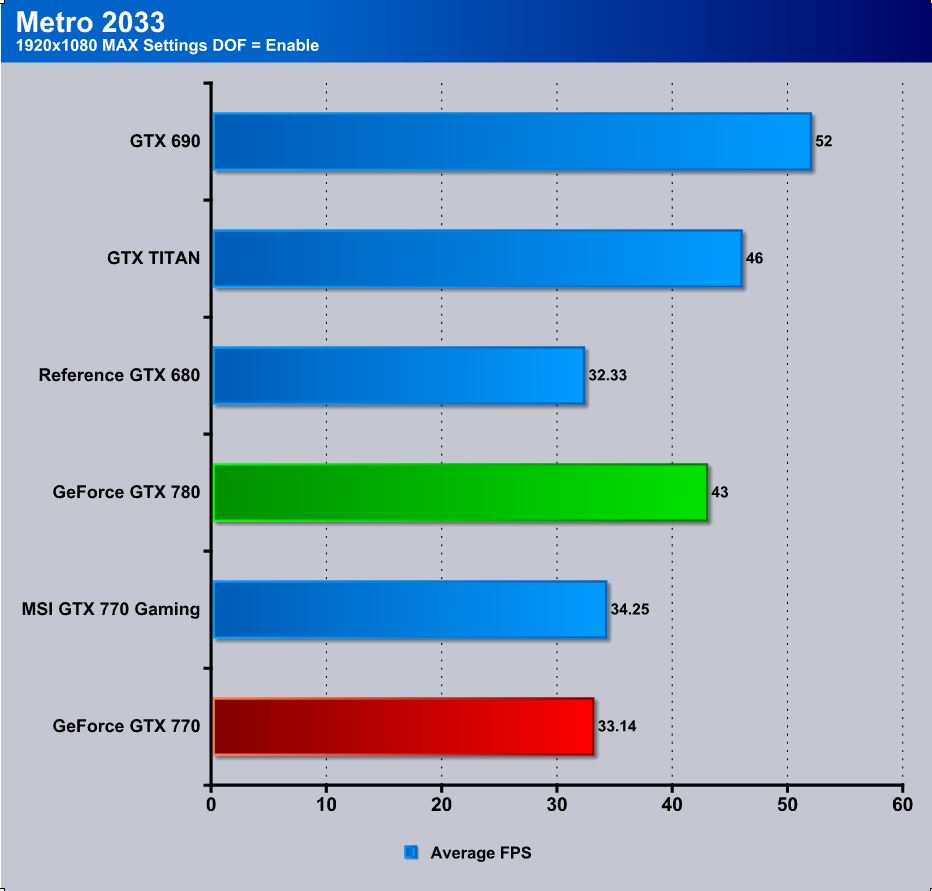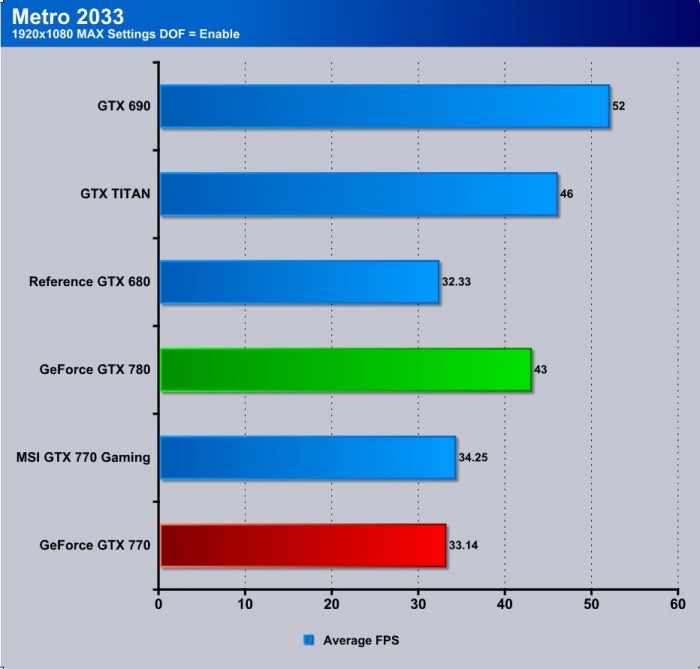 Even after many years, Metro 2033 is still one of the most demanding DX11 video games available to really push the limits of your system. Here it shows that with the newer generation, even the second place card can once again trounce the previous big boy of the group.
Batman Arkham City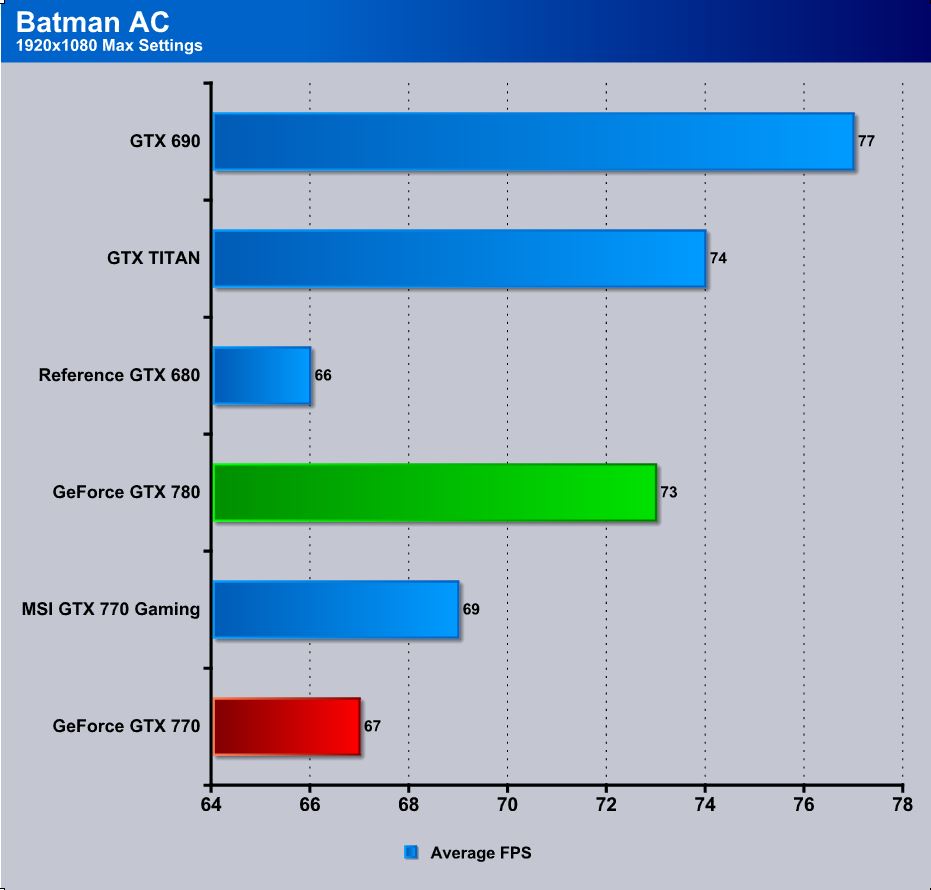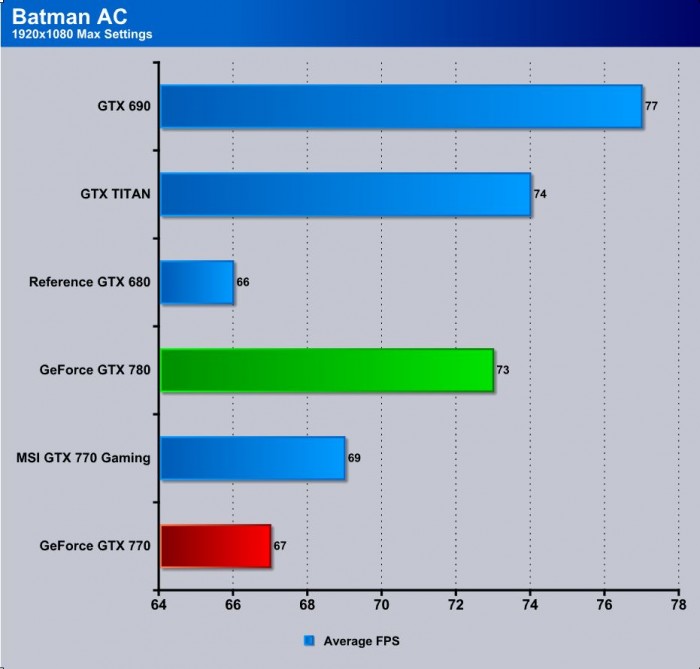 Batman Arkham City is a fun game and utilizes FXAA fully. It is nice to see the full screen anti-aliasing getting picked up by popular titles. When it comes to performance, the 770 pulls fully playable runs at max settings, but as expected, falls a bit short of the horsepower like power of the GK110-equipped 780.
Crysis 3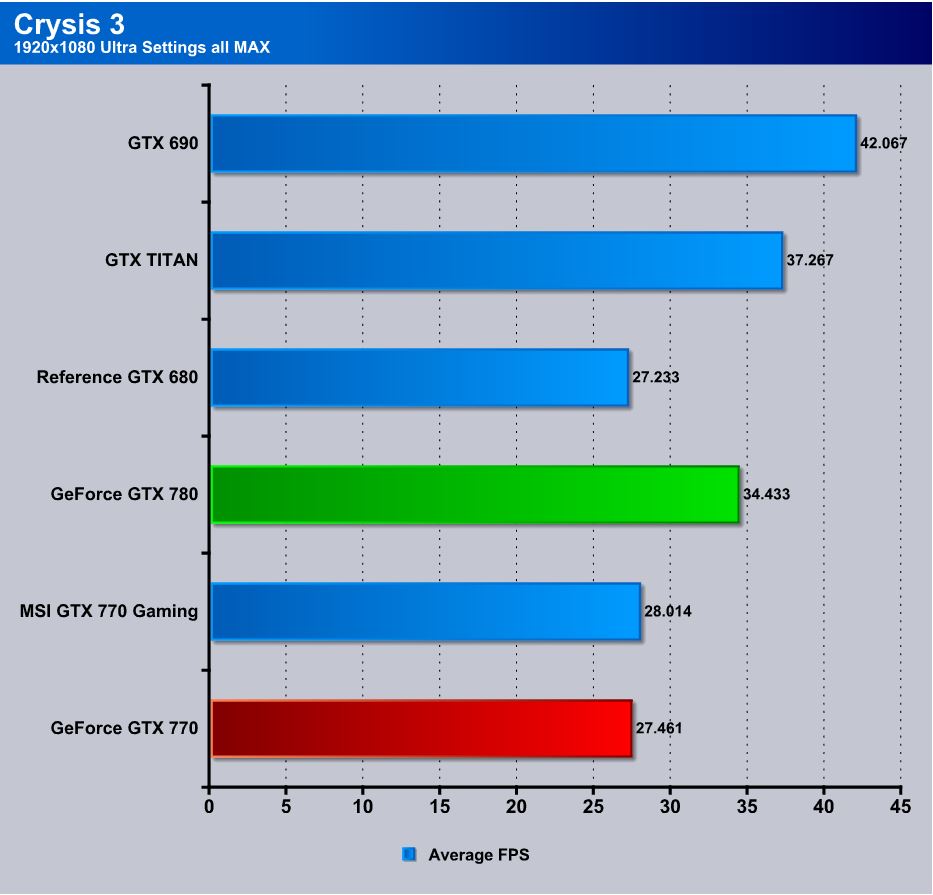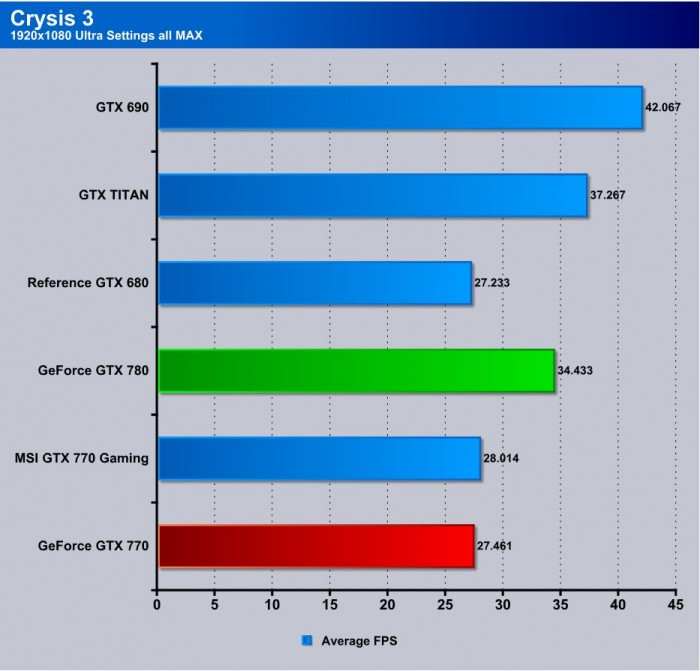 Crysis 3 is much like the original Crysis in that playing it at max settings is painful for even the highest end hardware. The GTX 770 sees quite capable performance but falls a bit short of at least 30 FPS with everything cranked up. Crysis is a tough nut to crack in the 30FPS market, but 770 gives a valiant effort here.
Metro Last Light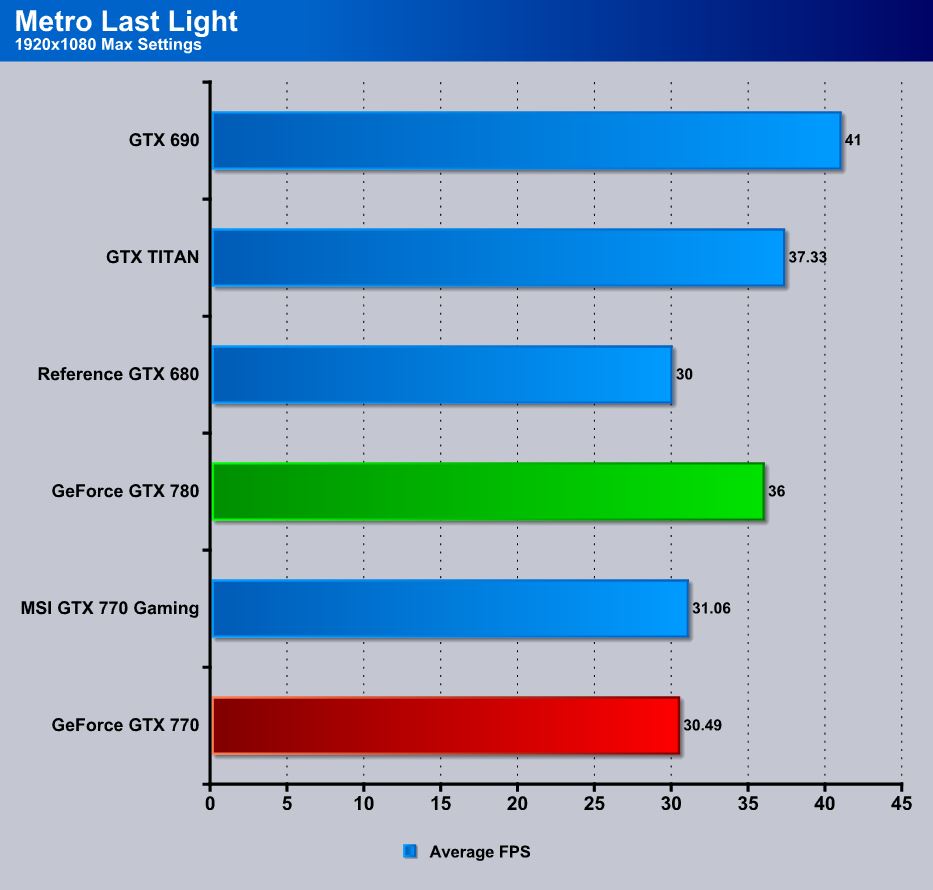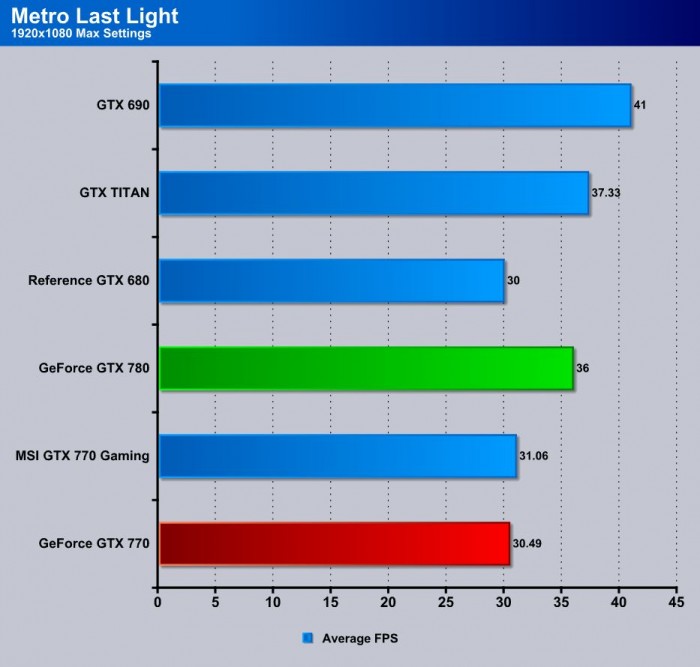 Here we have Metro Last Light which is a brand new game added to our testing platform as it just came out. If you thought Metro 2033 was stressful, you have seen nothing yet. The particles and lighting, as well as the PhysX effects all add up to an amazing looking game that can put a stun even the most powerful system in its tracks. Here the GTX 770 averages just above 30 FPS which is mostly enough for smooth gameplay. However, we would still prefer better performance with slightly lower graphics versus worse performance with the game maxed out.
Sniper Elite V2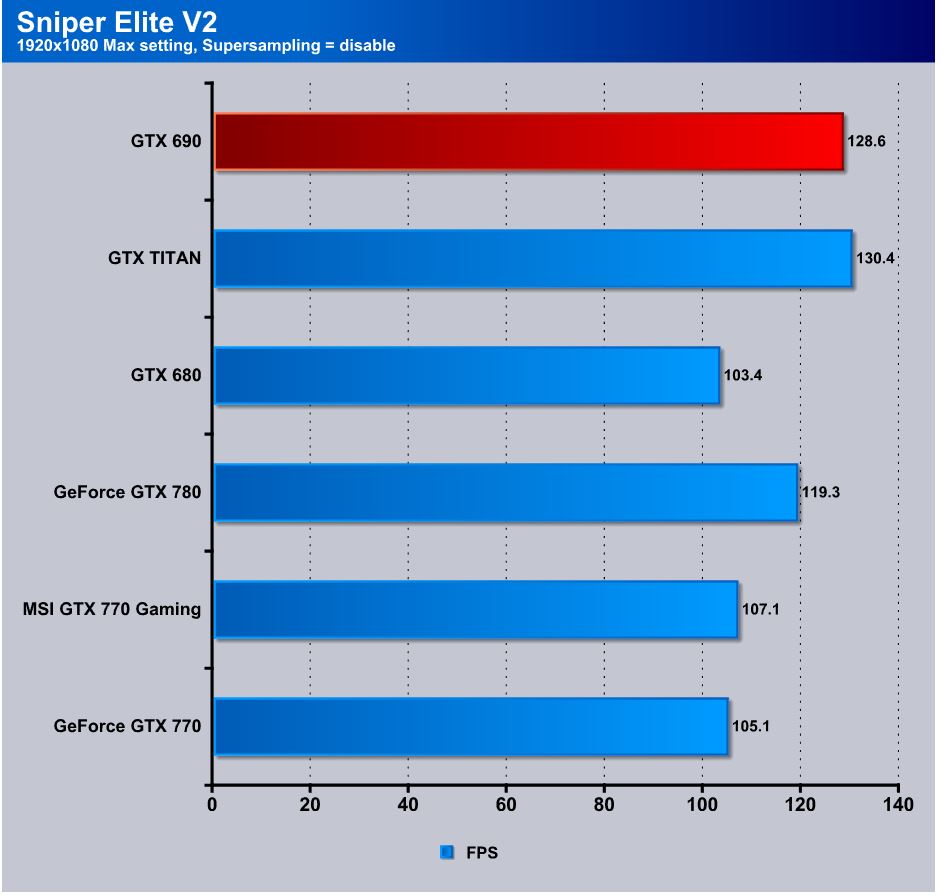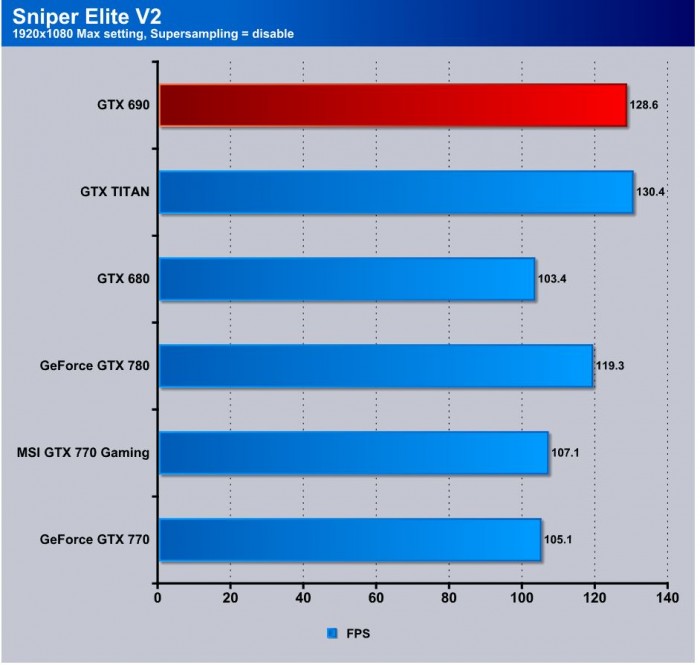 Sniper Elite V2 is a fun game which, when first released, was quite stressful but still playable on most higher end cards. By now, most cards have surpassed it, and all of the cards we are testing here today break the 100 FPS mark. The 770 pulls again a few FPS lead over the 680 and is well playable even at maximum settings.
Dirt 3 Showdown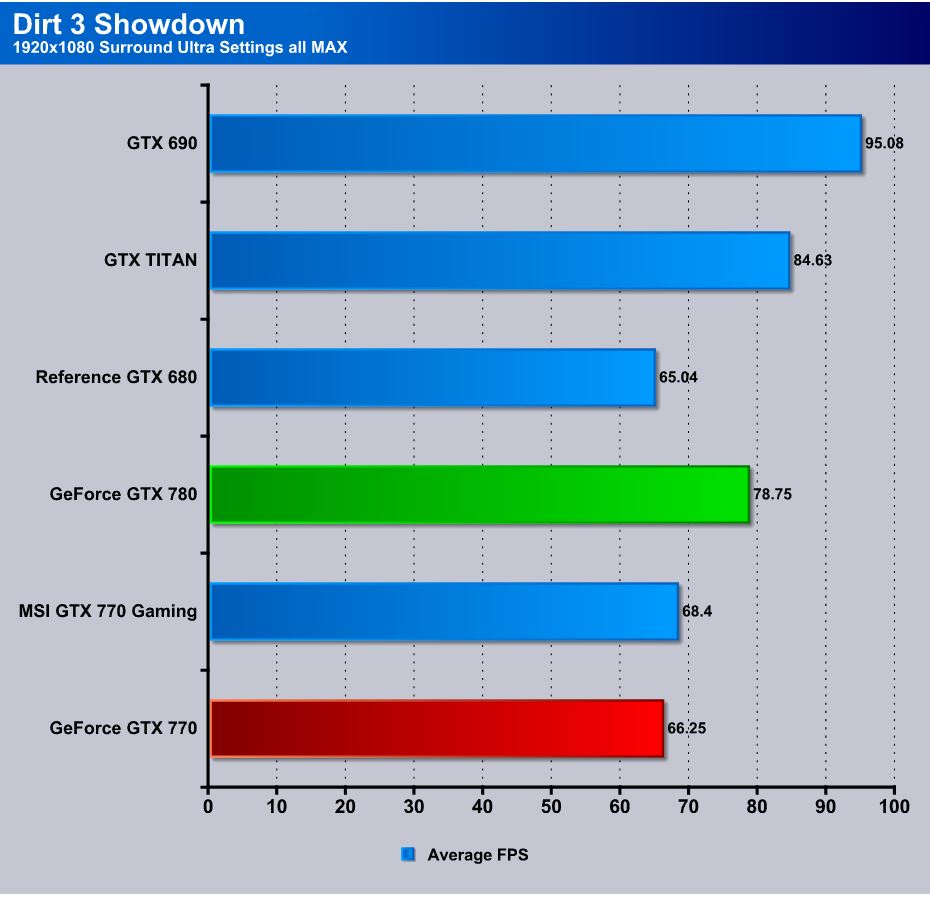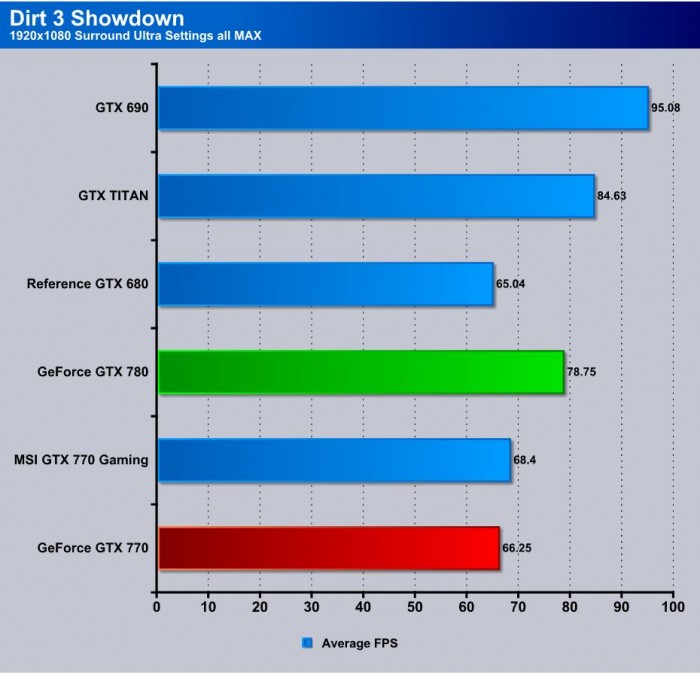 Dirt 3 Showdown is a visually beautiful game with excellent lighting and overall motion blurring creating a real visual spectacle of a game. The 770 pulls well over 60FPS average and overall gameplay during the timed run was very smooth even during some of the heavier lighting effects and other scenes. Overall this card runs this game excellently at max details.
Overclocking

The new Kepler Architecture with GPU boost has been a bit of a bear when it comes to pushing the clocks. This is due to the throttling mechanisms put in place and the fact that it dynamically clocks. Unlike 500 series where we could set a static clock and it just applied the card, Kepler clocks according to many variables, which means that much more care must be shown when applying overclock settings and even monitoring it during the run.
Things such as the thermal target can play a big role in stonewalling your performance during an overclock session, as everything has to be adjusted accordingly to ensure expected performance levels are met.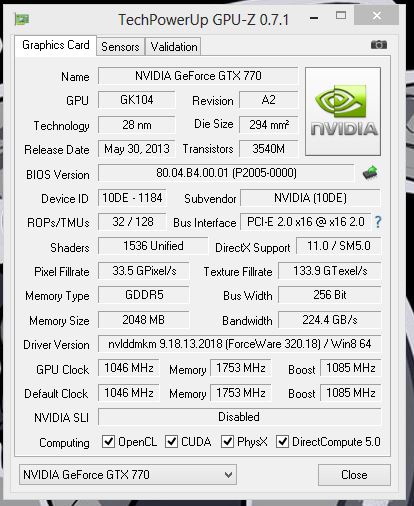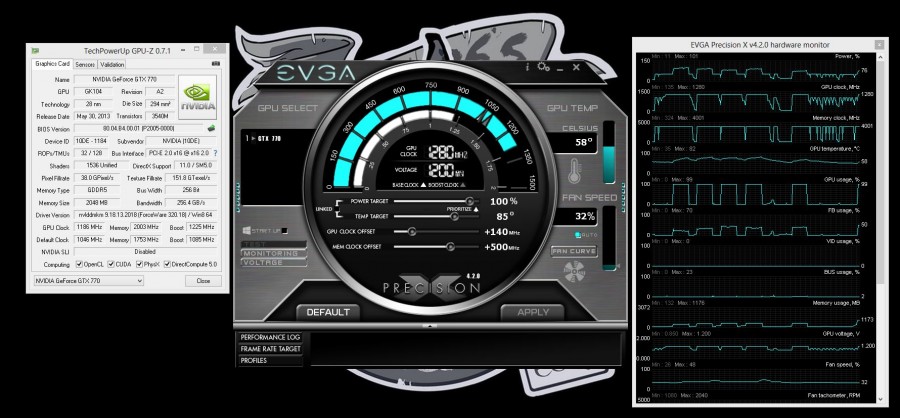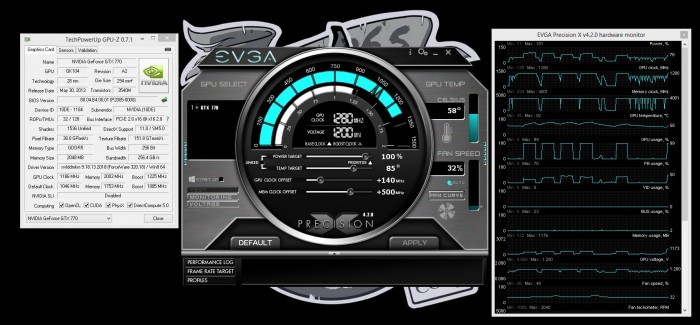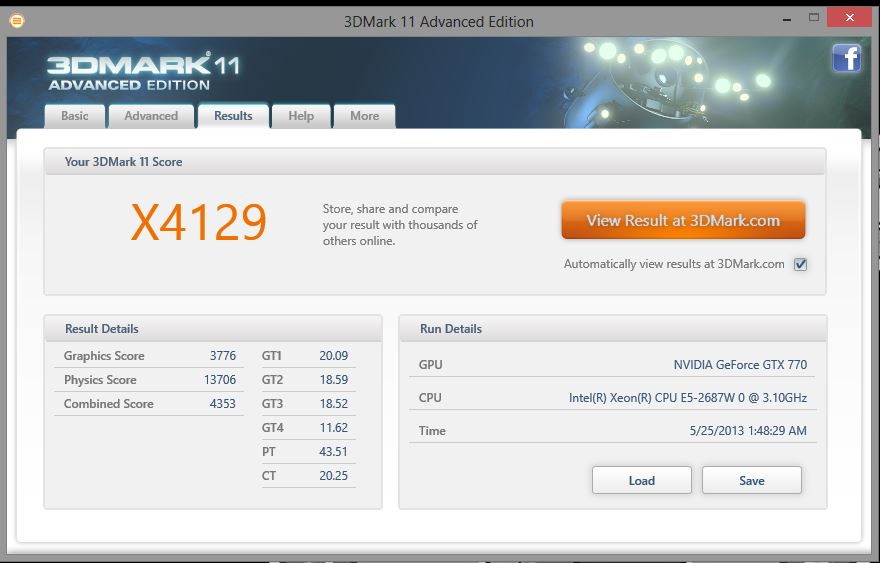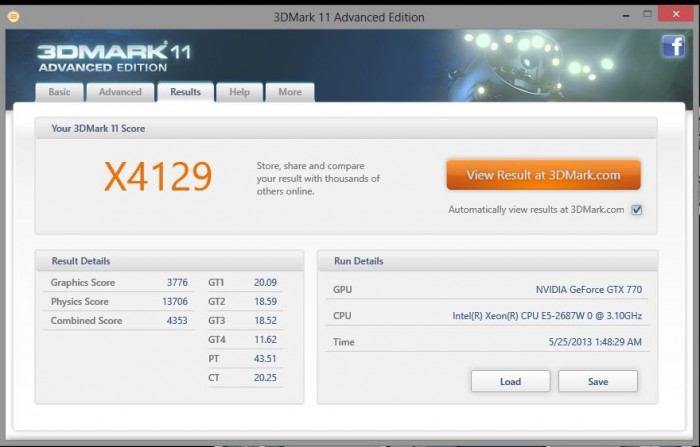 The 770 turned out to be one hell of an overclocker, taking the GPU from 1085 Boost clock to 1280 Boost clock. This was just shy of 1300MHz GPU, a speed we achieved simply by setting the thermal target to 85C. There were no voltage adjustments, as we try to keep our overclocking protocols simple and similar to what most users can do at home.
Memory took off like a rocket from its 7GHz default setting to over 8GHz and was fully stable. For those of you who do not believe overclocking GPU memory is worth it, take a look at the score above. The GPU only overclock netted a 3DMark 11 Xtreme score of X4001, but upping the memory to 8GHz jumped the score to X4129, which is a very good gain for just VRAM clocking.
This are excellent results. The design and implementation of features like the fan control, GPU Boost 2.0, and the card overall have been well thought out. To have a card run at 1.2+GHz core and barely break into the 80C range and with no voltage adjustment is truly a
great result.
TEMPERATURES

To measure the temperature of the video card, we used EVGA Precision X and ran Heaven Benchmark in a loop to find the Load temperatures for the video cards. The highest temperature was recorded. After looping for 10 minutes, Heaven was turned off and we let the computer sit at the desktop for another 10 minutes before we measured the idle temperatures.
| | |
| --- | --- |
| GPU Temperatures | Temperature (Idle/Load) |
| Nvidia GTX 690 | 32C/81C |
| Nvidia GTX TITAN | 31C/67C |
| Nvidia GTX 680 | 31C/72C |
| Nvidia GTX 780 | 30C/65C |
| Nvidia GTX 770 | 34C/79C |
The new TITAN style cooler keeps things very cool and even under extended testing was never really audible over standard system fans at all. The 680 based GK104 definitely shot for the thermal target and reached it, which found strange. The GK110 based TITAN and 780 were a bit cooler but we can only assume it is a property of the GK104 GPU that it runs a bit warmer. However, as you can see, while it may be a bit cooler it definitely can clock something fierce at those same thermals.
POWER CONSUMPTION

To get our power consumption numbers, we plugged in our Kill A Watt power measurement device and took the Idle reading at the desktop during our temperature readings. We left it at the desktop for about 15 minutes and took the idle reading. Then we ran Heaven Benchmark for a few minutes minutes and recorded the highest power usage.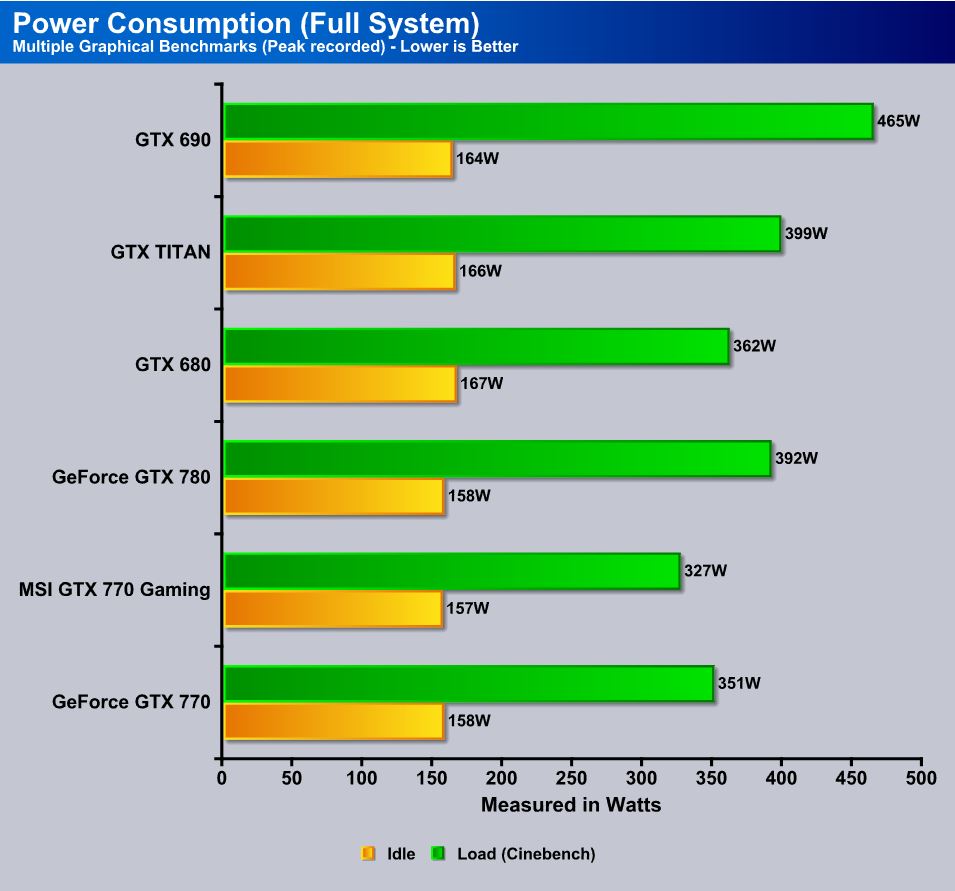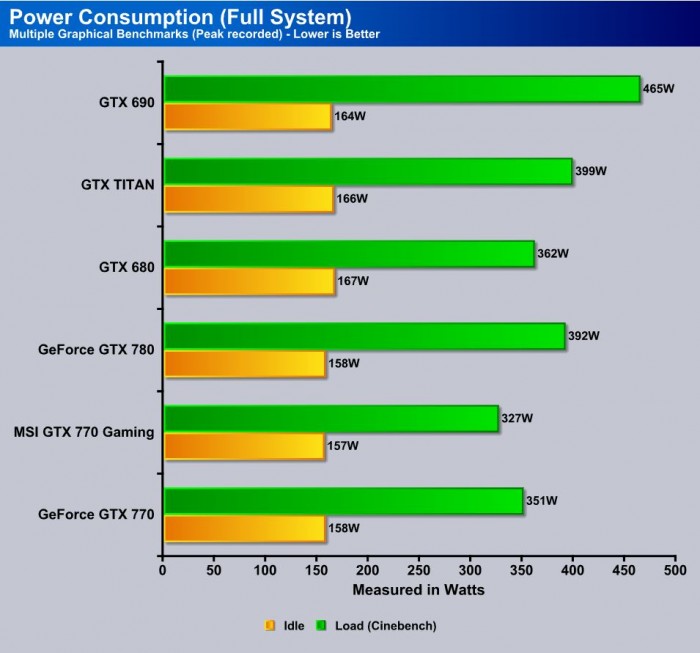 Here you can see that the GTX 770 idles at about the same power as the 780 and even loads up a bit below, likely due to the less powerful GK104 GPU. It does shave about 10 watts off of the previous gen 680, which was a bit of a surprise.
Our Final Thoughts
Following the powerful mini-TITAN GTX 780, Nvidia's GTX 770 is quite the showman with some damn good performance. It's capable of beating out even the previous gen GTX 680, while offering some of the fastest default memory we have seen to date.
The overclocking of the GTX 770 is amazing, almost hitting 1300MHz on the core and 8GHz on the memory, which is no easy task at all. We do have to wonder how they took the GK104 GPU (which is the same used on the GTX 680) and made this possible, especially with less power draw and such a good memory controller.
However, the hardware does not tell the whole story, as Nvidia has gone about releasing many new software packages to complement its outstanding hardware. The aptly named GeForce Experience software improves not just the gameplay, but the overall gaming experience. This software drastically simplifies in-game graphics tuning for the best possible experience during gameplay. This may not seem like much help, but setting each game up correctly for your hardware is harder and more time consuming that it seems. It is very easy to set things up incorrectly, causing suboptimal gameplay experience, which is what Nvidia is trying to help gamers avoid.
Supplementing the GeForce Experience is also the new Shadowplay feature, which gamers should see popping up in the coming months. It allows gameplay recording at HD quality while using the embedded H.264 encoder within the Kepler GPU to allow real-time encoding operations for smaller file sizes and less overall system load during gameplay. This is a really cool feature, as disk space is at a premium for those gamers running a smaller SSD. Having a fast drive to constantly write video data to is a must, so if you use a standard option such as FRAPS, you know how quickly those video files can eat up space.
The GTX 770 comes in at an MSRP of $399, which makes it a good buy for any enthusiast gamer looking for an awesome upgrade in a sub-$500 price point. Don't forget that with this you can have two in SLI for around $800, and have performance that is above TITAN with plenty of framebuffer, if you can get your hands on some 4GB cards.