Today we look at the new V300 Drive from Kingston which is a Sandforce based drive pointed at the value segment to get a sub $1/GB drive to the masses, now lets see what this drive has to offer.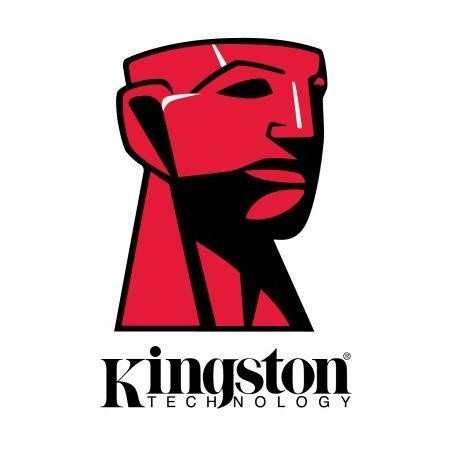 INTRODUCTION
The world of SSD's is constantly advancing and with that the price has also began to fall as more and more units are manufactured and NAND prices drop making them cheaper to produce. Well Kingston is taking direct aim at the value market with the new V300 series which is below the $1/GB mark and also a great performing drive to top it off. Kingston has taken the reigns with the manufacturing effort as well when it comes to packaging the 19nm NAND and even the SF-2281 controller from Sandforce/LSI. Kingston has also worked directly with Sandforce/LSI on some special modifications to ensure the controller meets the performance and functionality they want to see from the drive.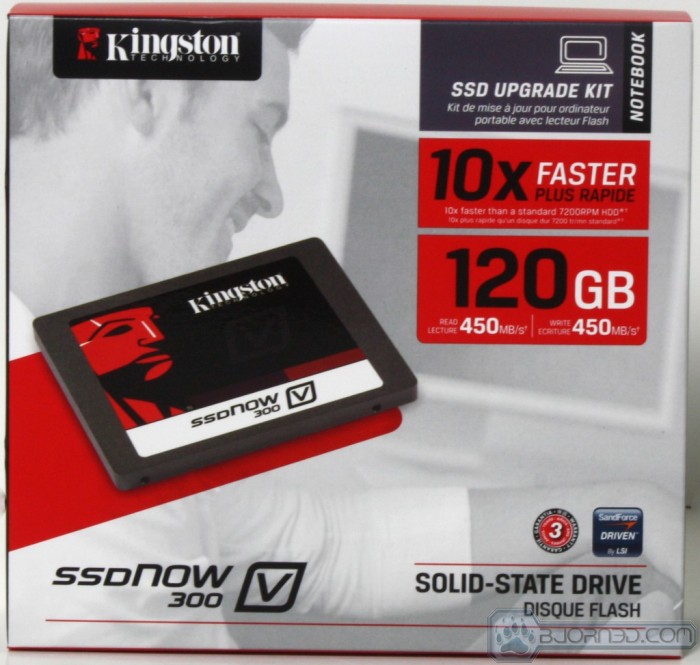 Present market price for this drive is $109.99 directly from Newegg. This places it at well below the $1/GB mark like I said before and places it right in the ballpark with other drives of the category.
Specifications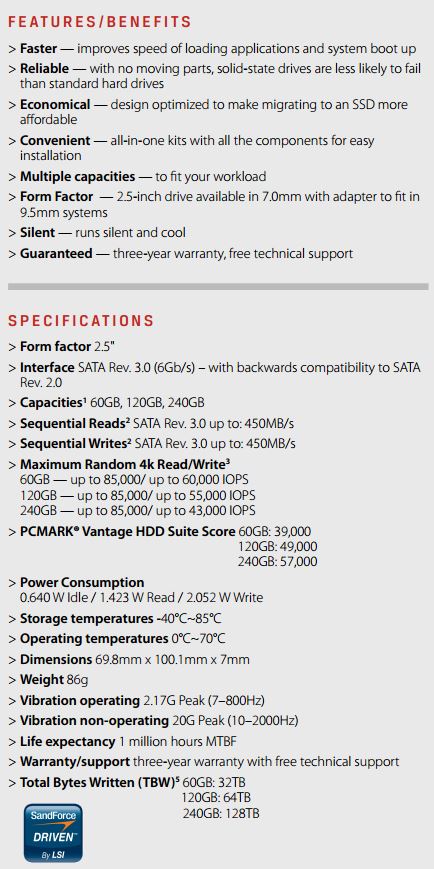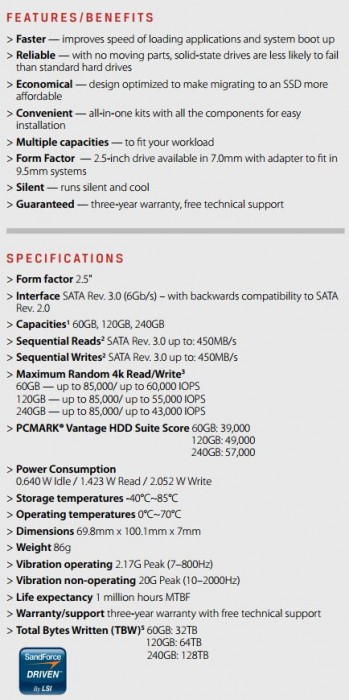 Pictures & Impressions  
Click Image to Enlarge
The V300 comes in a very standard consumer box package with some minor detailing of spec but mostly just notables about transfer speed and advertising being 10X faster than standard desktop HDD.
The rear has some detailing as to what is included in the packaging along with detailing about the 3 Year warranty which is nice, although some of the industry is heading for 5 year so this is something Kingston may want to address.
Click Image to Enlarge
Here we see what comes in the box. The contents are held within another eggcrate style recycled box (I do like the environmental responsibility shown here). Within this you can see the bundle includes two DVDs, one including instructional and manual materials while the other is bootable with a HDD cloning software to make transitioning from an old HDD to the new V300 super easy.
Also included in the bundle is an external USB enclosure for the SSD which can be connected to the host computer to easily image the HDD data to the SSD so that all you have to do is swap it in and power it on.
Click Image to Enlarge
Here you can see that the V300 being 7mm thickness is 2mm thinner than the standard SSD you normally get, and this is nice as this can be dropped into an ultrabook which is very tight on space for a nice upgrade if your ultrabook happen to have a slower HDD installed, which many do. Also in case this is going into a notebook that uses standard thickness drives you can also use the plastic rectangle you see here next to the drive which makes it thicker so that it will not be loose in a bigger drive cavity should it be replacing a 9mm+ thickness drive. It is simple to use as it just sticks on with double sided adhesive.
Click Image to Enlarge
Here we get a look inside. Straight away there are 16 total NAND chips which one is reserved for provisioning to allow for better wear leveling and basically spare NAND as the controller needs it. These NAND chips are branded Kingston but are actually 19nm Toshiba toggle NAND, and do note that I have not seen or used these units yet so this will definitely be a new one to me as well as all of you most likely.
The controller is also marked Kingston but is a custom tuned SF-2281 controller which I have seen and tested in many drives, which now days it is almost hard to find a drive that doesn't use this controller, as it is a very popular controller for its performance and efficiency.
Testing & Methodology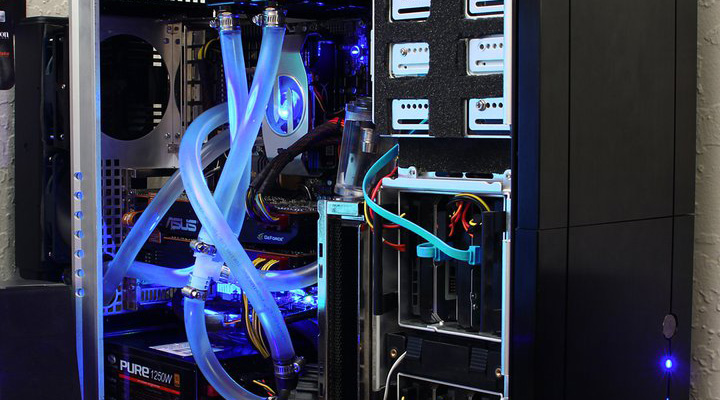 SSD testing can be a bit subjective as a lot of times they are not tested on similar components or at different times. We test our drives as the boot drive with a fresh OS image to ensure all the same drivers updates and OS conditions are observed. Testing with the drive as the boot drive with the OS residing on it will result in a much more realistic experience for the end user as just using it as a secondary drive and running benches on an empty drive will likely skew results and deliver different performance than you will see when using it in your system.
Every effort has been made to ensure that the tests are done on as clean of an OS as possible as a Secure erase was performed before installation.
Test Rig
Test Rig
Case
Thermaltake Level 10 GT
CPU
Intel Core i7-3770K/Intel Core i7-2600K
Motherboard
ASUS Maximus V Formula

Ram
16GbpsB Patriot Viper Xtreme 2400MHz +
CPU Cooler
Swiftech H20-220 Edge
SSD
Kingston V300 120 GB SSD
Optical
ASUS BD-ROM
GPU
ASUS GTX 680 DirectCU II TOP
Additional Cards

N/A
PSU
Thermaltake Toughpower XT 1275W Platinum
Mouse
Tt eSPORTS Black gaming mouse
Keyboard
Tt eSPORTS Meka G1 mechanical gaming keyboard
Test Suite
We will use the following applications to test the performance of the SSD. Benchmarks
Benchmarks
PCMark Vantage
ATTO
Crystaldiskmark
Startup/Shutdown
PCMark  Vantage 
PCMark Vantage is a viable full spectrum system test utility. However due to the fact that today I am testing this SSD I have omitted the other system tests in favor of the drive testing to see exactly how it performs.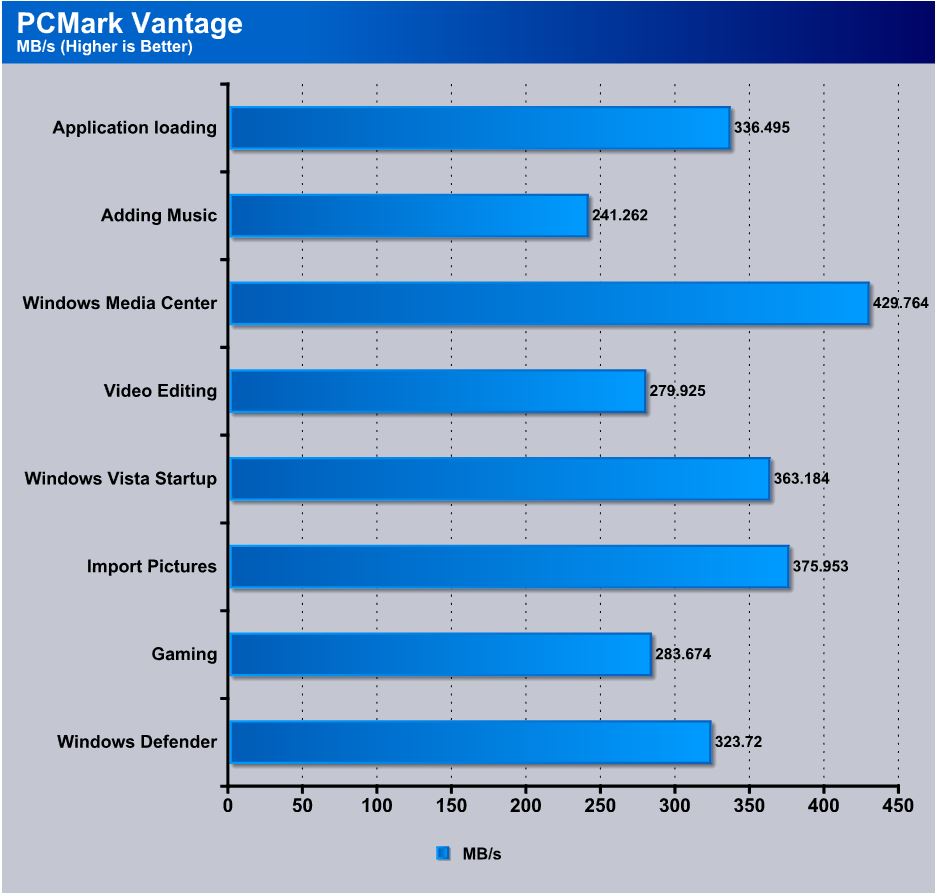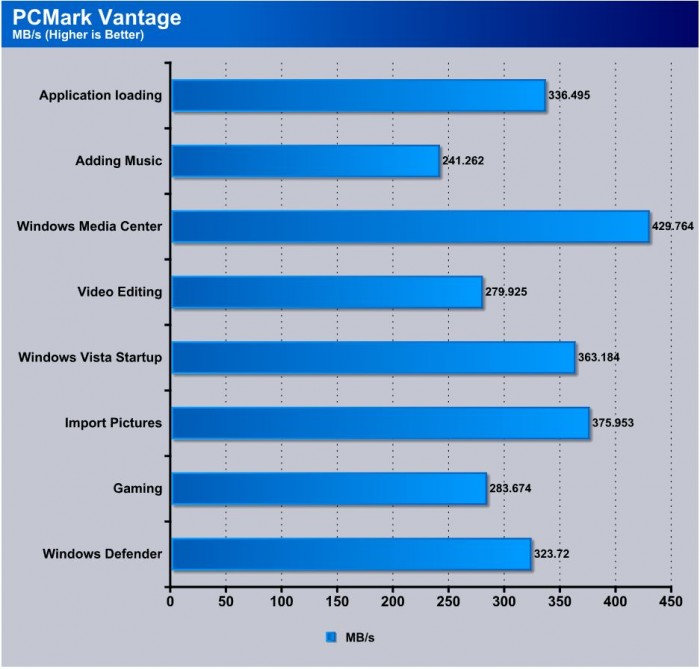 Here PCMark offers separate scores for different drive loads. As you can see the V300 SSD offers very good performance for anyone jumping from a HDD based system and shows as a very worthy upgrade for anyone looking to get a quick speed up of their system. 
CrystalDiskMark benchmark
CrystalDiskMark is a good performance gauge used commonly to check I/O performance for storage drives by testing multiple sizes from 4k and up along with pure sequential speeds as well.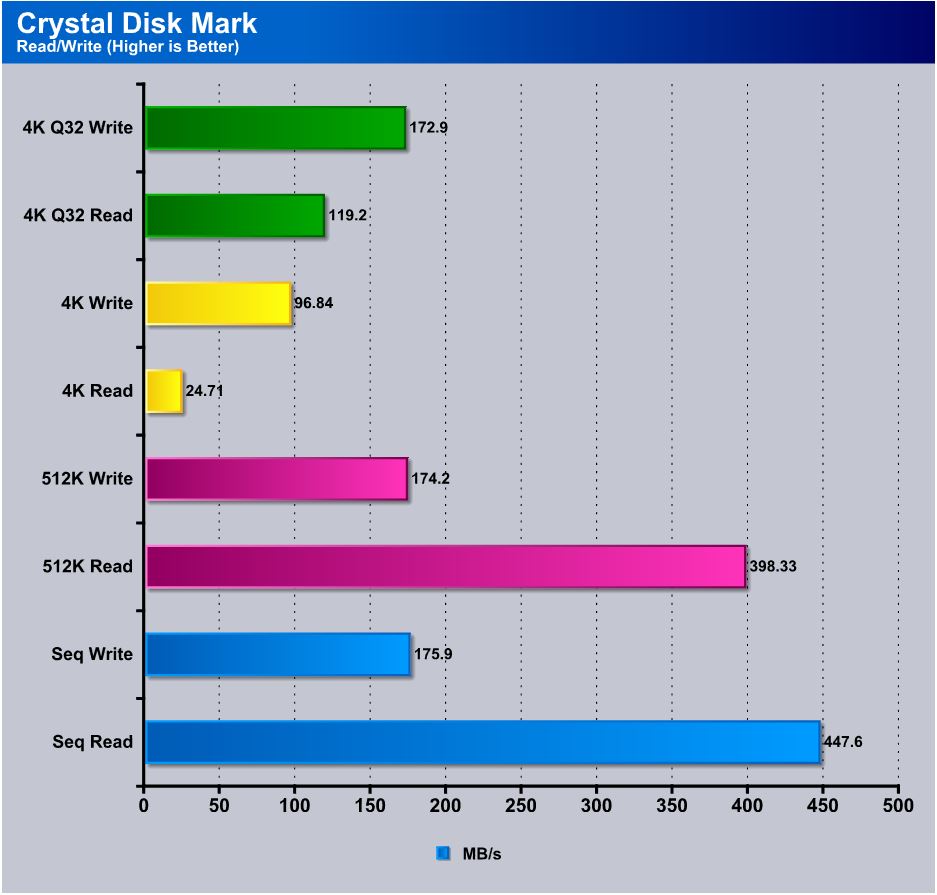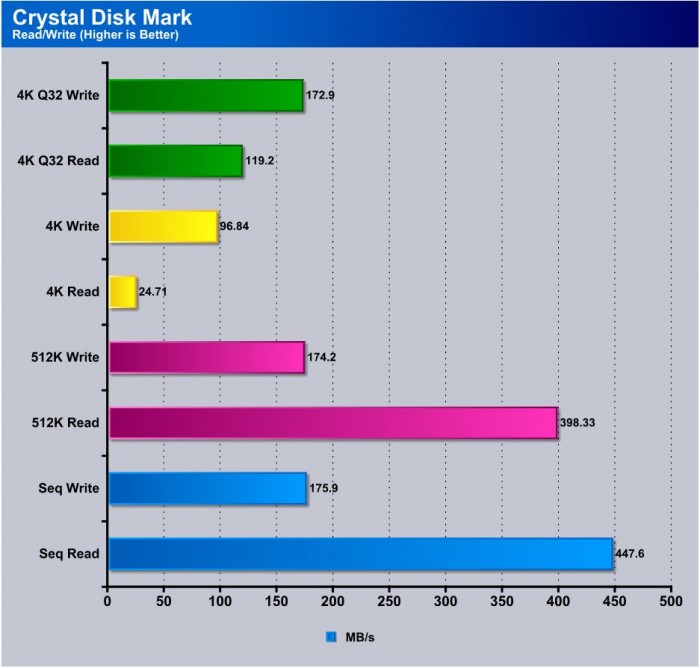 Here CrystalDiskMark shows some very high numbers with even 4k's pulling a decent result compared to many I have seen previously.
One thing to note is that CrystalDiskMark uses incompressible data which is handled differently at the controller level as it is a larger file size that would have to be written whereas compressible data is compressed at the controller which means a smaller file size has to be written and is therefore faster.
ATTO drive benchmark
The ATTO Benchmark will show the raw numbers and for this we ran the drives in a secondary state with a 600GB Velociraptor as the boot drive so that the drives could be tested with the full available capacity.

ATTO is one of those tools that most SSD manufacturers use to show the maximum throughput which may not necessarily be obtainable in real world usage but it does show the drives capabilities and possible bottlenecks as well.
Here you can see the drive simply flies even hitting well past the advertised spec which is awesome as sometimes drives get close but do not achieve such speeds.
Startup/Shutdown times 
Startup and shutdown times are probably some of the most noticed differences with a SSD upgrade.  When you start your system getting it to the boot screen as quickly as possible is the goal of most users and overclocking has always increased productivity and even some boot speed for a long time now but there has always been the old platter drive which was the big bottleneck. With SSD's this has all changed as we have seen some systems that can now power up from a resume state in a matter of seconds thanks to a super fast SSD.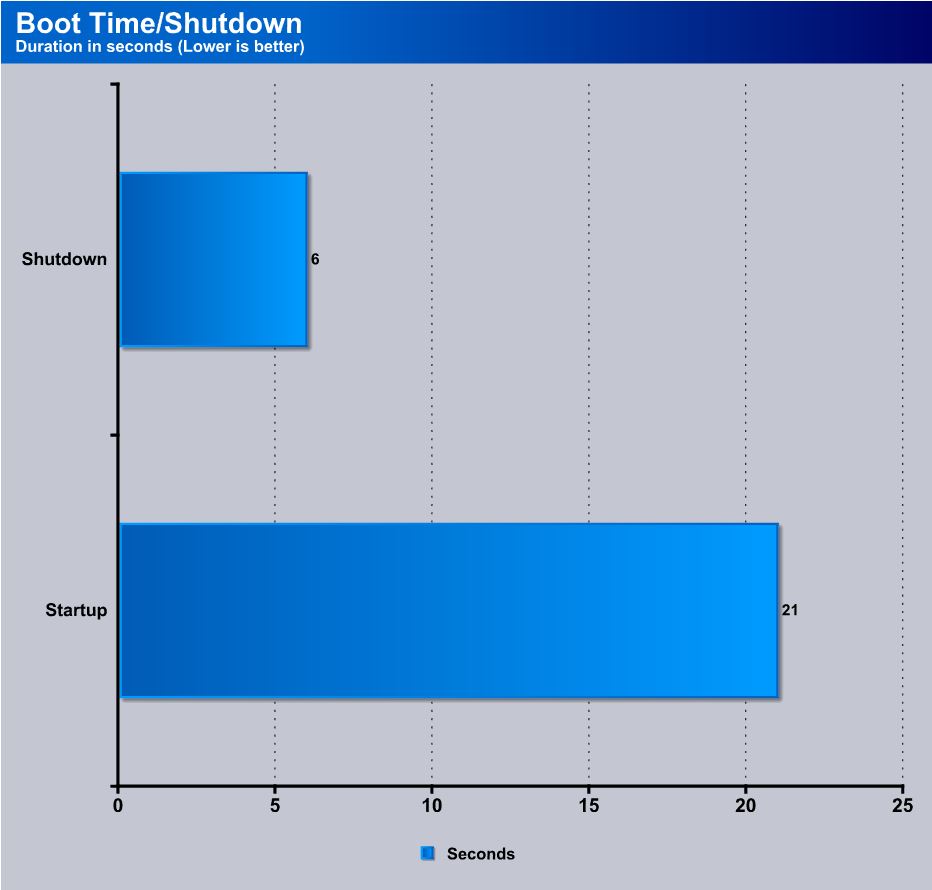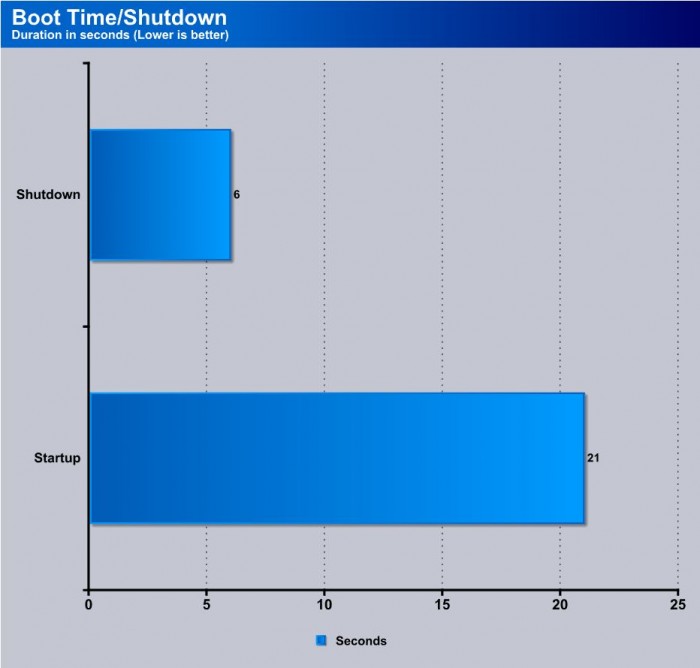 Here you can see that the start up time which was timed with a digital stopwatch app on my phone from the time I pressed the power button to the time it was at the desktop and nothing else was loading. Now mind you this is a fresh OS with no other programs such as Steam or anything else loaded, so your results may be slightly longer but I can only imagine that time difference would be marginal and completely dependent on programs you have running at start up. Shut down time is extremely fast as all services are stopped and system, is powered off. I used the same method to test which was starting a timer from the time I pressed the Shutdown icon to the time the system powers off. as you can see this is extremely fast. 
CONCLUSION
The Kingston V300 is aimed at the value mainstream market and I think they hit it dead on, as the V300 is a snappy and very fast drive. Are there faster, yes, but are you going to see that different in everyday usage I would say no. Unless you are sitting rewriting to your drive non stop or enjoy running SSD benchmarks back to back all day this SSD is going to serve you very well with amazing speed and responsiveness for your everyday tasks.
Being below $1/GB is a big deal but many are moving that direction now, and seeing Kingston take on much of the manufacturing to further reduce costs tells me they are serious about positioning themselves in every level of the market much like they have done in memory.
The slim design with included adapter means you can fit this in virtually any configuration including Ultrabooks although Kingston does sell a separate version of this same model which utilizes slightly different accessories for Notebook upgrades and the one we have today was specifically provisioned for desktops. When looking at what I received I think it could easily drop into a Notebook all the same.
Anybody looking to upgrade from a mechanical drive to a cheap fast SSD should look at the V300 as it will likely fit the bill for what you need. Even if the 120GB I have here is not right for you they go up to 240GB if you need more capacity and for most people that will be more than enough. 
OUR VERDICT: Kingston V300 120GB SSD
| | |
| --- | --- |
| Performance | 9 |
| Value | 9.5 |
| Quality | 9 |
| Features | 9 |
| Innovation | 9 |

We are using a new addition to our scoring system to provide additional feedback beyond a flat score. Please note that the final score isn't an aggregate average of the new rating system.

Pros
Cons

Excellent sequential performance

Great 4K performance

Potential for 85K IOPS

Special tuned controller/firmware between Kingston & LSI/Sandforce

Super Fast Read/Write

Under $1/GB

Uncompressible data performance takes a hit (SF-2281 issue Not independent to this model)
Summary: The Kingston V300 aims and hits the mark on a value based SSD which also offers sub dollar per Gigabyte pricing and for this, it earns the Bjorn3D Golden Bear Award.