At CES 2013, AMD introduces their first true system-on-chip APUs, codenamed "Kabini" and "Temash", while Vizio gets in a partnership with AMD for the next generation AMD APU powered All-in-One Desktop Systems, and tablets.

The "Kabini" and "Temash" APU Family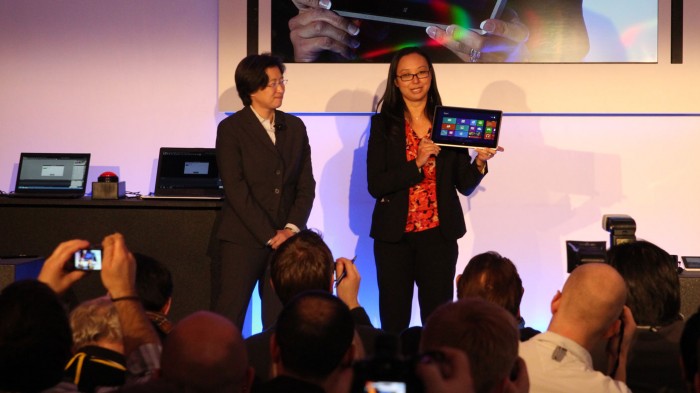 We just finished checking out AMD's Press Conference in Las Vegas at CES 2013, and AMD has quite a few new APUs up their sleeves for the following months of 2013. We've heard a few rumors about the codenamed "Temash" and "Kabini" APUs, and now we can confirm that AMD is going to release their first true system-on-chip APUs sometime during first half of 2013. These APUs will be the industry's first quad-core x86 SoCs powering the next-generation VIZIO tablets and All-in-One systems and ultrabooks. While performance numbers were not yet revealed, "Kabini" look like very promising APU compared to Intel's Core i3-3217U ultrabook processor.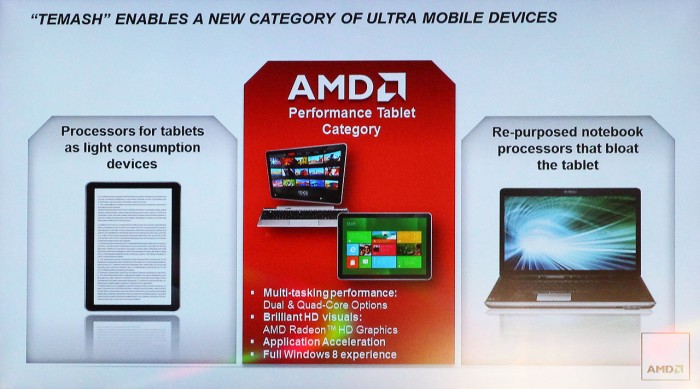 "Richland", another APU, which is currently already being shipped to OEMs are also told to have a nice 20 to 40 percent performance increase from previous generation of AMD A-Series APUs. Soon we'll find out exactly how these numbers translate into actual application performance.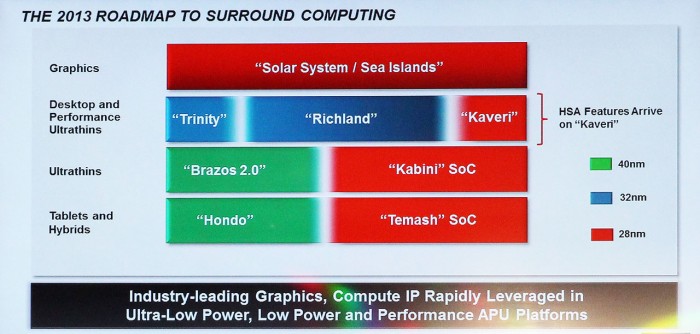 The "Richland" and "Temash" Experience
The "Richland" and "Temash" experience is AMD's new way to build in new elite user experience into their upcoming APUs, including AMD Face Login, AMD Screen Mirror, and AMD Gesture Control. While we think this is somewhat silly, it could bring some neat little gestures to how we can operate our systems. We've seen similar Face Login features on earlier ASUS and other model ultrabooks already available on market, and we are pleased to say that it works very well. Let's hope we'll see more goodies coming as we progress through 2013.
Some of the first systems we'll see these features on will be VIZIO's latest tablets, ultrabooks and All-in-One systems along with some other AMD partners. Earlier last year AMD and VIZIO partnered up to bring AMD APU powered systems to the market. Let's hope for the best.