Overview of the ASUS GeForce GTX 660 DirectCU II
This packaging is something I have seen on many cards now from the GTX600 series lineup. The gray metallic looking finish with tearing claw marks represents something powerful inside trying to claw its way out. This may actually be the perfect representation for this card as it is a decent mid range performance model that looks to have some real promise at a good value. The front is similar to what I have seen before with some simple wordage covering a few key features and a small breakdown image of the DirectCU II thermal design. The rear covers many details about specifications, including an IO shot showing the connectivity of the card and what features it supports. Also included here are some key words about the SAP DIGI+ solution and even the GPU Tweak utility.
Upon opening the box I find the card packaged much like the GTX 660 Ti model I covered previously which folds up and is held in place with a tight plastic wrap once the cardboard surround is folded correctly.
Here is what you get once you remove the GPU and foam and expose the accessories section.
Installation Disc
Instruction Manual
DVI>VGA Adapter
The accessory package is basic and covers connection to pretty much anything from legacy to newer displays. One thing to note is that there is no included power adapter but with the cards single 6 pin most modern PSUs have at least one PCIe 6 pin cable.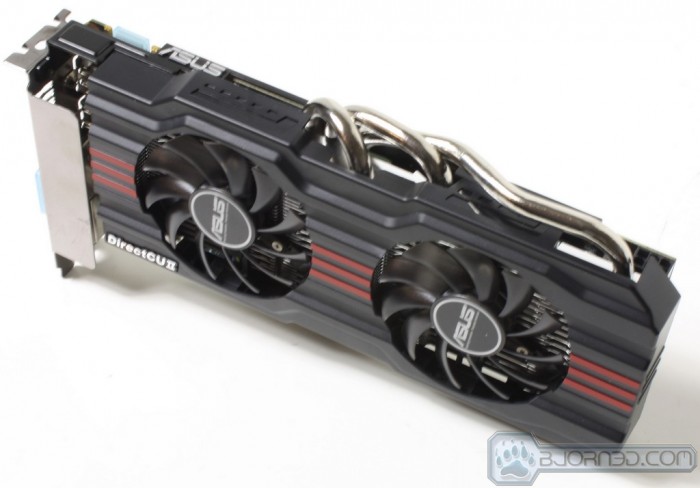 Click Images to Enlarge
Here is the card unboxed and ready to shine. it is a dual slot design which means that it will fit in most all motherboards without worry of multi card fitment or any other issues. The top shows off triple heat pipes protruding through emphasizing that this cooler means business. The dual fans work in tandem to ensure that things stay nice and cool and operate in such a way that you can barely hear them if at all even under load.
Click Images to Enlarge
Here we see the thin profile of the card, it is a nice relief to see a dual slot card again as I got so used to all of the triple slot cards out there that I forget how much easier it can be to work with and around a card that is slimmer dual slot profile. This is nice because it allows better fitment in some cases and motherboards which may have limited space especially such as mATX variants where you may want a SLI setup but can only fit dual slot cards.

Click Images to Enlarge
The I/O side has enough connectors to allow for the full 4 displays as supported with the following connections:
DVI-I
DVI-D
HDMI
Displayport
Standard Analog VGA is supported via the included adapter but otherwise this card is ready to rock with 4 displays at any time.
Popping the Top
Click Images to Enlarge
The heatsink comes off easily as it is held on with 4 screw surrounding the GPU. once removed the GPU and VRM is exposed for our viewing. The VRM and layout looks pretty standard from what I have seen before especially on ASUS cards with the all SAP components which make for a clean and neat looking but powerful VRM.
The cooler has 3 heatpipes all coming across the GPU directly to allow fast pickup of heat and quick transfer to the cooling fin array for maximum cooling capability of the GPU. Also notice that the fin array is not extremely dense which allows for more free airflow which helps reduce fan noise along with allowing cool air to reach the VRM easily keeping things nice and cool.
Click Images to Enlarge
Here you can see the VRM components neatly laid out and ready for some extreme loading. This may be a standard clock card but it still carries the same VRM components just minus the higher screened GPU so it is built and ready for some overclocking and heavy loading action.
The DIGI+ controller we are all familiar with and it allows full precise digital VRM control. Besides being precise the DIGI+ controller also offers very efficient operation which allows for much cooler operating performance, along with heavier loading conditions with better performance.
Click Images to Enlarge
The power  being fed to the card is simple with a single 6 pin which means even some of the most basic supplies will have no issue feeding this card and also means this card is quite efficient for the performance you get.
The card employs a single SLI connector for up to 2 Way SLI unlike the Ti Version which can support up to 3 Way SLI. For most games and gamers this should still make for a very potent setup.