Corsair has recently extended its grasp into the PC market into so many different areas, its almost hard to fathom. With this, they have not forgotten what made the company which is memory, and more importantly high performance DIMMs. Today we have the Dominator Platinum series coming in at a blazing fast 2800MHz. Read on to see what these things can do!
Introduction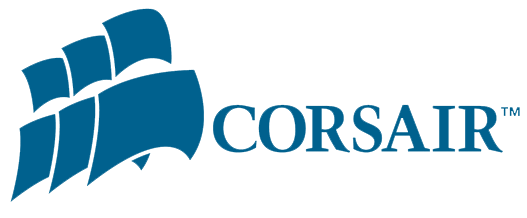 Corsair has been hard at work really pushing the Dominator lineup even further than they have before. Corsair has so many product lines nowadays its almost insane as they have expanded their reach from just memory modules to just about every facet of the PC market you can find. Well going back to the roots of PC and enthusiasts memory is something they do all the time to ensure that even though they have so many new lines to carry them, they never let a line go stagnant. The Dominator Platinum line like we have in front of us today is truly something special as it encompasses not just the idea of high performance at its 2800MHz XMP profiled speed, but also some cool factor with customizable lighting options.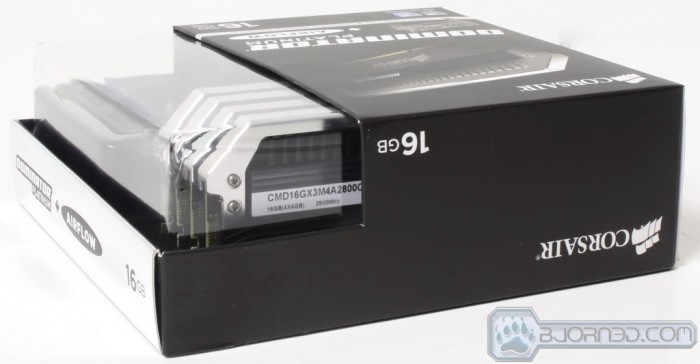 These are extreme enthusiasts modules and I feel this is very important to note as such extreme speed modules will not show their true performance without some CPU overclocking in place. The new Ivy Bridge platform is so efficient that at stock CPU frequencies any memory speed above 1600 MHz starts to return marginal to little gains and you start to see a turning point where the higher timings necessary to run the top speeds actually return lower performance numbers.
This being noted these modules carry a extreme enthusiasts price tag which is currently $599.99 directly from Newegg.
Another thing to consider is that with modules this highly binned they are harder to produce and therefore may not always be the easiest to purchase, but Corsair offers a full line of Dominator Platinum modules to fit every performance need and budget. Lastly, there is also a consideration to be made as many IMC's or CPUs simply might not run the 2800MHz frequency as it took quite a few CPUs to find one that could run reliably 24/7 on 2800 MHz, and even harder to find one that could overclock past that frequency with any level of reliability.
Pictures & Impressions
Click Image to Enlarge
This module kit arrived in a mix between paper board box and blister pack, but it really does provide quite the show as you can see exposing just enough of the modules and included fan to leave you wanting more.
Click Image to Enlarge
Once the blister pack was unsheathed and the top removed we get a true look at what we have in our hands and I can definitely say that the Dominator Platinums are a sight to behold. The modules all are arranged in a removable tray insert with a special cutout for the included cooling fan.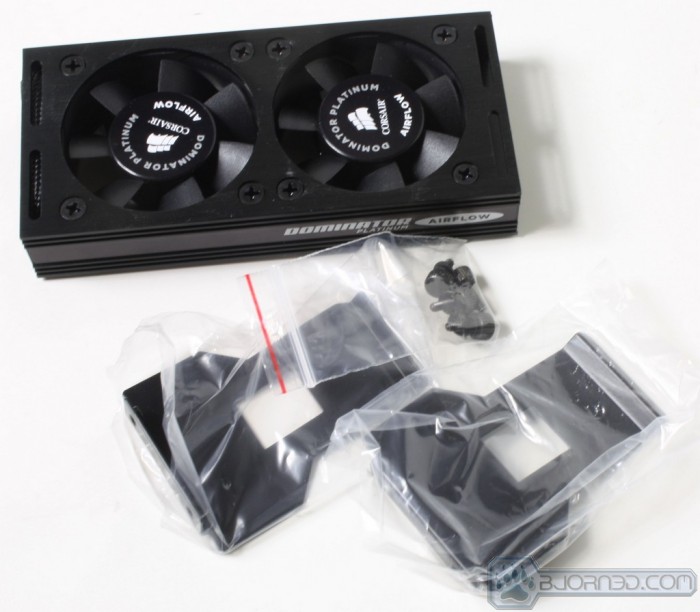 Click Image to Enlarge
The Dominator airflow fan is the standard design I have seen before and works very well at keeping the DIMMs much cooler than left alone with normal chassis airflow.
Click Image to Enlarge
Here you get a good look at the heatsink design of the Dominator Platinums. The heatsink consists of the standard module cover heatspeaders along with a aluminum upper bar adorning each module which also hides a customizable light pipe design that adds a very cool lighting effect when the modules are running. The top aluminum bar can be removed by simply unscrewing the 4 torx screw & retainers which hold the bar in place. Also do note the pin header connector on each DIMM which allows Corsair Link connectivity for easy monitoring and to help adjust airflow and settings accordingly.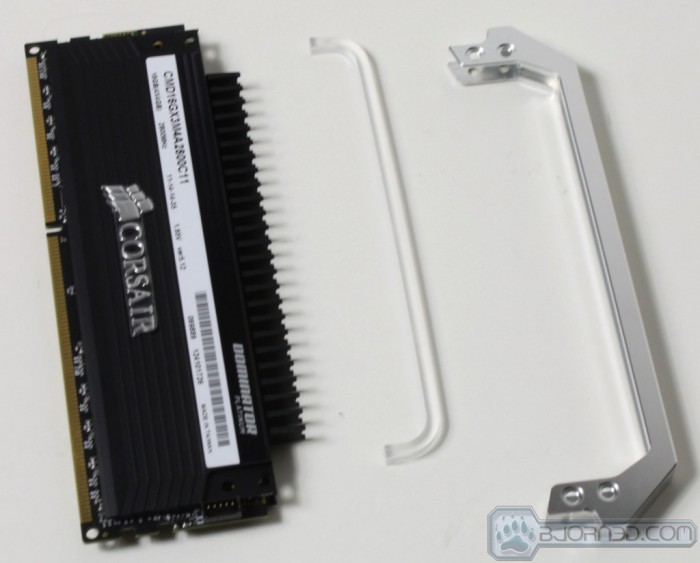 Click Image to Enlarge
Here is the Aluminum bar removed and the enclosed light bar which resides within the bar and illuminates with a white glow when the modules are installed and running. One thing to note is that the Corsair website lists that these can be replaced with different color light bars so probably something cool to look for in the future which will allow accent lighting to your custom rig that better matches your theme. Default color for the modules as shipped is white accent lighting.
| | |
| --- | --- |
| M/B Chipset | Intel Z77, X79, Z68 and P67 |
| CAS Latency | 11-14-14-35 |
| Capacity | 16GB (4GB x 4) |
| Speed | DDR3-2800 (PC3 22400) |
| Test Voltage | 1.65 Volts |
| Height | 50.8 mm / 2 inch |
| Registered/Unbuffered | Unbuffered |
| Error Checking | Non-ECC |
| Type | 240-pin DIMM |
| Warranty | Lifetime |
| Features | Intel XMP 1.3 (Extreme Memory Profile) |
These modules as you can see are XMP profiled for 2800MHz albeit with some looser timings but that kind of comes with the territory in some of these higher end speeds. These modules use Hynix IC's, which though are capable of such speeds it is still not easy to do especially running CAS 11. With this noted it is also tough once again to find a CPU/IMC that can run these speeds so be ready for some fine tuning if your chip is not up to the task.
Testing & Methodology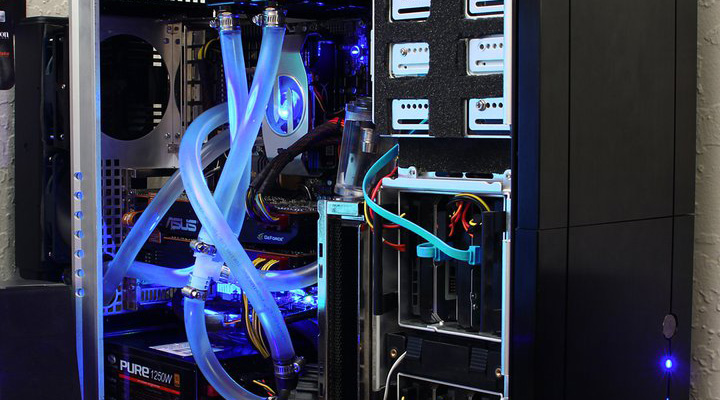 Memory testing can be tough at times as most look at a number (the frequency) and think the higher the better, but in our testing experience we do know that many times there are other numbers at play such as the timings and subtimings which can have anywhere from a minimal to drastic affect on what kind of performance we see from the system when tweaked to the max. Also price can be a determining factor as well and this is why we will run through a few benchmarks to see how this kit affects system performance running at SPD, XMP and custom tweaking to ensure we get a good idea of exactly what kind of value the end consumer can expect for their money.
Overclocking
One thing to note right off the bat is that anything past 1600MHz-1866MHz will not net you much if anything on a stock clocked 3770K. The architecture is just too efficient and therefore the higher memory frequency simply cannot be seen without the CPU moving a bit faster. In order to make this a simple play for anyone who might try this, we did the simple (or EZ) overclock supplied by the ASUS Maximus V Extreme, labeled "Gamers Overclock". This placed the CPU at a nominal frequency of 4.8GHz. The first tests were run at default SPD which was from a fresh clear CMOS setting to give a baseline for comparison.
The memory is already binned very high and therefore the only option for overclocking was to start stepping up the BCLK to see how far we could get it. The memory could pull a little in excess of 2900MHz which may have actually been my ICM/CPU limit as well it is tough to say at this point as I do not have much in terms of memory capable of such speeds that I can compare to. Above and beyond 2875MHz got very unstable no matter voltages or timings used so I am pretty sure it could very well be my IMC as normally you can get a bit more from memory by loosening it up a little. but full stability was achieved at 2868MHz while still maintaining default timings of 11-14-14-35 and 1.65VDIMM
Trying to tighten timings worked a bit on stock 2800MHz frequency and even a bit more if lowering speeds but at 2800MHz I was able to get the timings squeezed down to 11-13-13-34 but the performance difference was marginal and really depends on teh app used as to which setting would net an improvement so we stuck to the Overclocked speed of 2868MHz with the XMP timings to better ensure continuity among testing.
CAUTION: Overclocking can damage components, void warranties and cause all kinds of other unforeseen issues.  Perform at your own risk and understand the settings I may list are from my own testing risking my own hardware so it is in no way a guide on how you should overclock your system or components.  (silly I know but I don't want someone jumping up and down on my head because they messed something up)
Test Rig
Test Rig
Case
Open Air Test Bench
CPU

Intel Core i7-3770K

Motherboard
ASUS Maximus V Extreme
RAM

16GB Corsair Dominator Platinum 2800MHz (4x4GB)

CPU Cooler

Swiftech H20-320 Edge HD

Hard Drive
Western Digital Velociraptor 300GB
SSD

Kingston HyperX 240GB SSD

Optical
ASUS BD-ROM
GPU

Intel HD 4000

Additional Cards

N/A
PSU

Thermaltake Toughpower XT 1475W Gold

Mouse
Tt eSPORTS Black gaming mouse
Keyboard
Tt eSPORTS Meka G1 mechanical gaming keyboard
Test Suite
We will use the following applications to test the performance of the memory. Benchmarks
SiSoft Sandra 2011
AIDA64 Extreme
Superpi
3DMark 11
Sniper Elite V2
SiSoft Sandra 2011
"SiSoftware Sandra (the System Analyzer, Diagnostic and Reporting Assistant) is an information & diagnostic utility. It should provide most of the information (including undocumented) you need to know about your hardware, software and other devices whether hardware or software. It works along the lines of other Windows utilities, however it tries to go beyond them and show you more of what's really going on. Giving the user the ability to draw comparisons at both a high and low-level. You can get information about the CPU, chipset, video adapter, ports, printers, sound card, memory, network, Windows internals, AGP, PCI, PCI-X, PCIe (PCI Express), database, USB, USB2, 1394/Firewire, etc."
Here we see that going from the 1333MHz SPD default to XMP gives a sizable gain. Raising the speed the small amount we could above the extreme XMP speed we see small improvements which in the end work out to some efficiency improvements overall.
AIDA64 Extreme
"AIDA64 Extreme is about one of the most comprehensive system information utilities I have used. The integrated memory benchmark is aso very cool as it gives me a repeatable bandwidth and latency result which can then be used for comparison."
AIDA64 shows similar results as the jump is huge from the SPD default to XMP profile. Moving past XMP latency along with all read, write and copy all see improvements with the slight increase in frequency. This should net us that edge that could be needed during extreme benchmark runs.
Superpi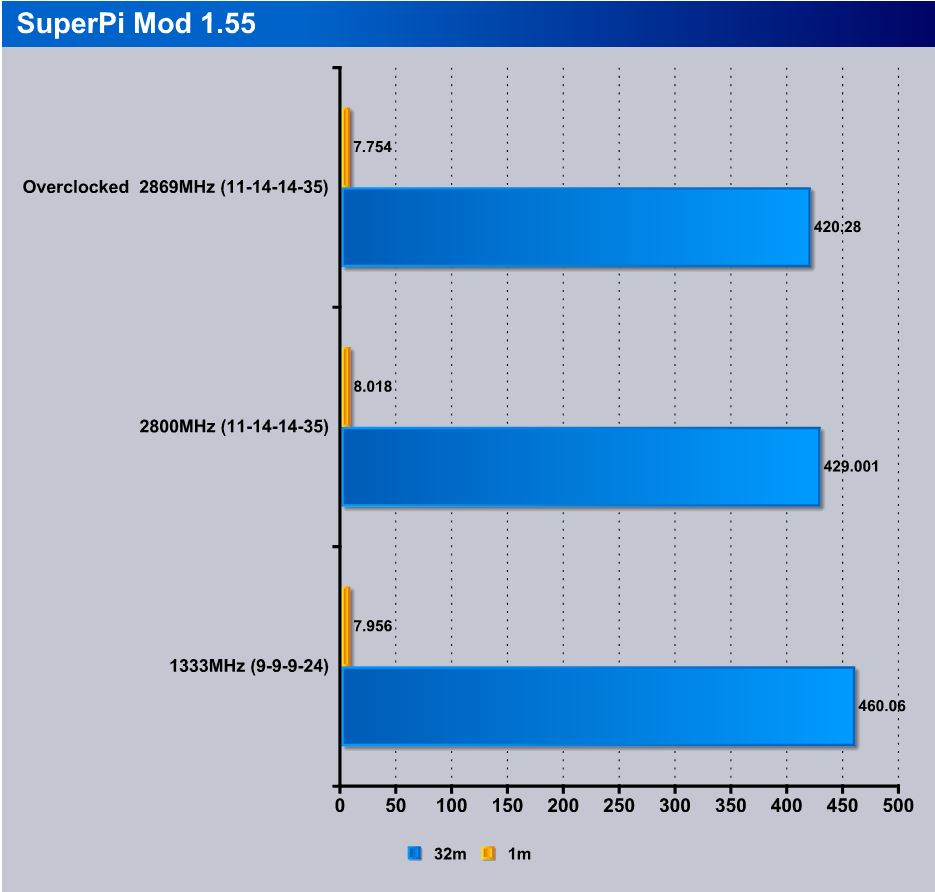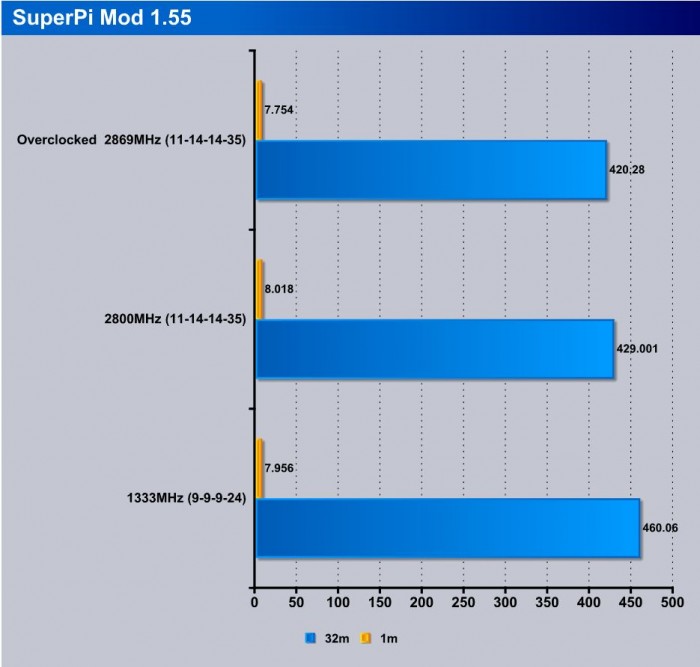 Here we have SuperPi which does very well for testing efficiencies and also stability of a platform. The 1M quick test shows a jump that may seem small from SPD to XMP but it is a very quick test so the smaller improvements actually are quite large. Moving to the 32M long test we see a much more sizable improvement which tells us that the overall system efficiency has been improved and workloads can be completed much quicker at the higher speed and lower latency.
3DMARK 11

3DMark 11 is the newest in futuremark's suite of benchmarking utilities. Its a fully capable DirectX11 benchmark which also stresses and analyzes the system performance as a whole to simulate a heavy rendering environment such as a high end game or other app the end user may run. This benchmark was run with Performance settings 5 times and all runs were averaged for the result below.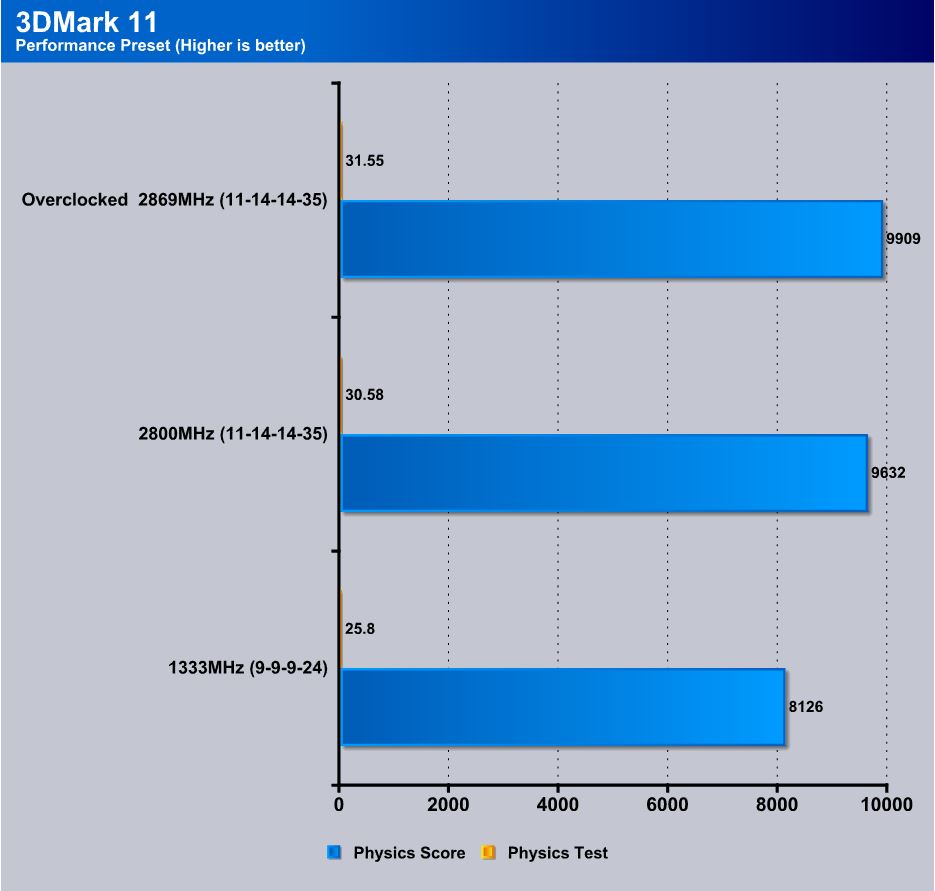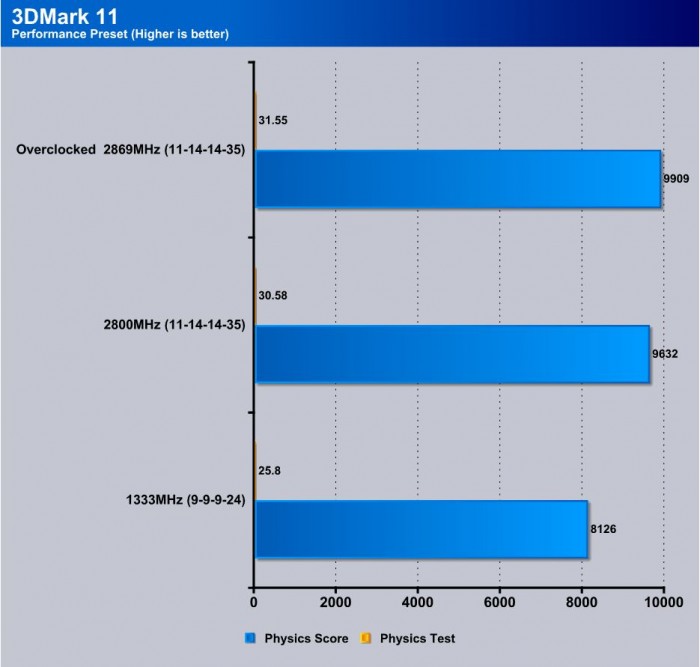 3DMark 11 is a nice synthetic benchmark which represents 3D gameplay. For this we am using the integrated HD4000 running at performance preset and I am only interested in the Physics score and test results. This is a CPU bound test and as you see the jump is quite nice from the small frequency boost when I overclocked it over the standard XMP Settings.
Sniper Elite V2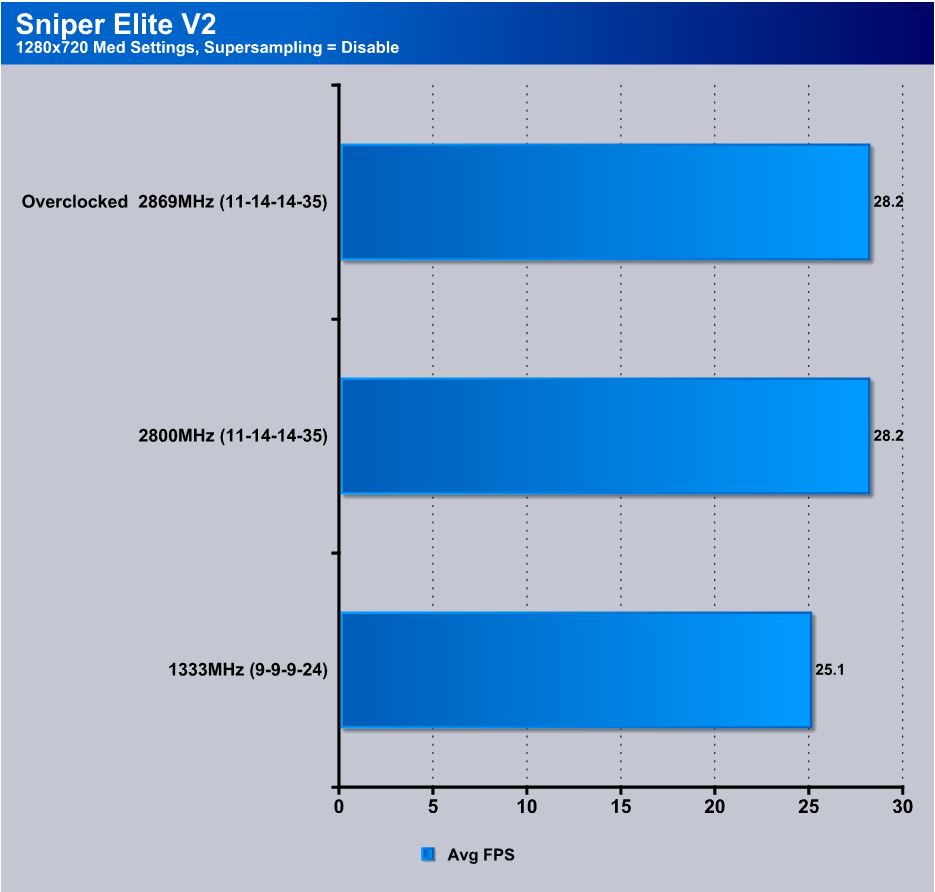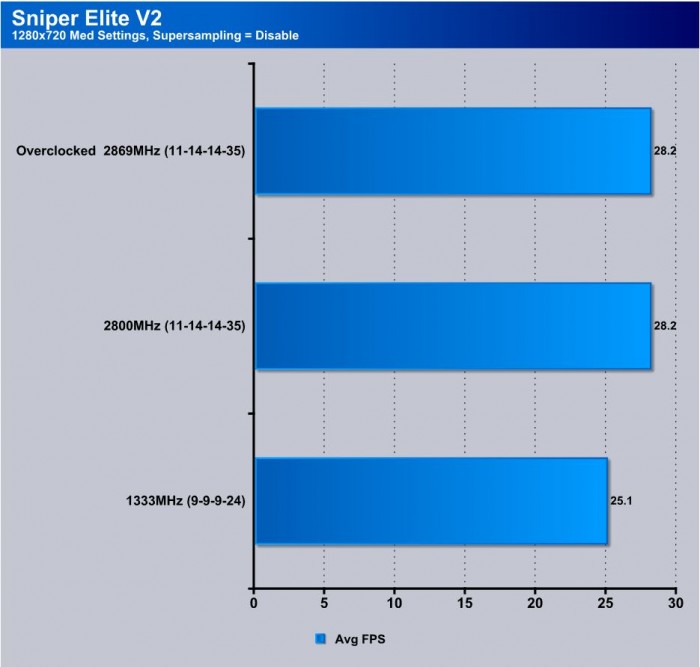 Sniper Elite V2 is a newer game we just recently added to my testing, so we went ahead and threw it in here just to see if it added any performance in real world gameplay. As you see here switching to XMP does make a difference and the FPS gain is quite good with a little over 3FPS gained just from a memory frequency change. Keep in mind that this is using the default integrated HD4000 GPU which also uses some of teh system memory and therefore will see a nice performance bump from the super speed modules.
CONCLUSION
When I first received the Dominator Platinums, I was in awe of the appearance, but much like any super high speed kit I always wonder whether it will net any real world gains. Also add to that the fact that most super high bin kits have no headroom for adjustment as they are already limit overclocked with no headroom or adjustability left on the table.
Needless to say, I was delighted to find that depending upon your workload there is headroom in both directions to either tighten down timings or to raise frequency pending your IMC can pull the frequency to best match your task. I do like that Corsair kept with the Dominator tradition of offering sticks that can not only run their rated speed, but you know there will be headroom to clock even on their top binned units.
The value is a bit tough as they come in right under 600 dollars but with the stringent binning and how hard these kits are to make, it really does give some good reasons as to why somebody would drop this level of cash on these top bin units. Pending you overclock and can use what these modules offer you really cannot find much of a faster kit on the market as these are right at the top with a select few kits out there and these modules run quad DIMMs at rated speed which is even harder to come by. Add to this the fact that the modules support Corsair link connectivity for hardware level monitoring, which can help with tuning of cooling and other settings, this adds just a bit more to the value components of the Dominator Platinum modules.
All things considered if you have a CPU that can push these modules, they have the headroom in place and they not only work as directed but even better if you take the time to really put the screws to them and overclock them to the limit of your chip. Corsair did an amazing job with the Dominator Platinums as they are everything they promise with a little extra waiting to be discovered.
OUR VERDICT: Corsair Dominator Platinuim 2800 16GB
| | |
| --- | --- |
| Performance | 10 |
| Value | 9.5 |
| Quality | 10 |
| Features | 10 |
| Innovation | 9 |

We are using a new addition to our scoring system to provide additional feedback beyond a flat score. Please note that the final score isn't an aggregate average of the new rating system.

Pros
Cons

Excellent Performance

Simple XMP setting for 2800MHz

Modules look awesome

Top binned/screened IC's

Can be tightened up a bit or overclocked for even better performance

Customizable Light Pipe design

Corsair Link Compatible

Taller modules can interfere with larger coolers

Price is a bit steep
Summary: The Corsair Dominator Platinum modules offer insane performance with a single click along with excellent styling and even further overclocking performance. For this it earns the Bjorn3D Golden Bear Award.