If you own a tablet, smart phone, a computer, or even just an MP3 player, Diamond Multimedia got you covered for this cold but cozy winter Holiday Giveaway! Enter to have a chance at putting one of these great prizes under your Christmas tree!
That's right! Bjorn3D just teamed up with Diamond Multimedia to bring you yet another fantastic Holiday Giveaway! This cold winter, Diamond Multimedia and Bjorn3D would like to warm up your Holiday season with one of these great multimedia prizes! The good news is, it's super easy to enter, and it only takes a minute or two.
We have tons of prizes to give out, which include: a Portable Wireless Bluetooth Speaker for your multimedia devices, a USB External Video Display Adapter, a Universal Racing Gaming Wheel Stand for your favorite tablet, and a Wireless Repeated/Range Extender for your wireless router.
Contest Rules
We're making this contest as simple as we can. To be eligible, all you have to do is go to our FORUM and register. If you're already registered, then you're good to go, no need to register again. Then go to our CONTEST THREAD AT THE FORUM, and reply by filling in the blank: "This Holiday season, I'd really love to win a prize from Diamond Multimedia, because __________." This will get you 1 entry into the contest.
If you want to have a better chance of winning, all you have to do is stay active in our forums and get noticed, and you'll automatically have a 2nd entry in the basket. Easy right!?
Contest is open to all residents of the United States and Canada! Sorry, we don't make this rule, so please don't be mad at us. We will try be more inclusive in the future
Winners will be chosen randomly.
If you are chosen, your name will be posted on this thread so please check back to see if you are the lucky one. If you are one of the lucky winners, please send us an email with your name, address, and phone number to contest1(at)bjorn3d(dot)com.
The contest will run from Nov 19th to Dec 17th, 2012.
Bjorn3D reserves the right to modify the rules.
Prizes will be shipped by Kingston before or after the holidays.
If chosen as a winner, email us within 7 days, otherwise you might forfeit your prize. In case of no reply another winner is chosen from the list of active forum members. 
Prize Pool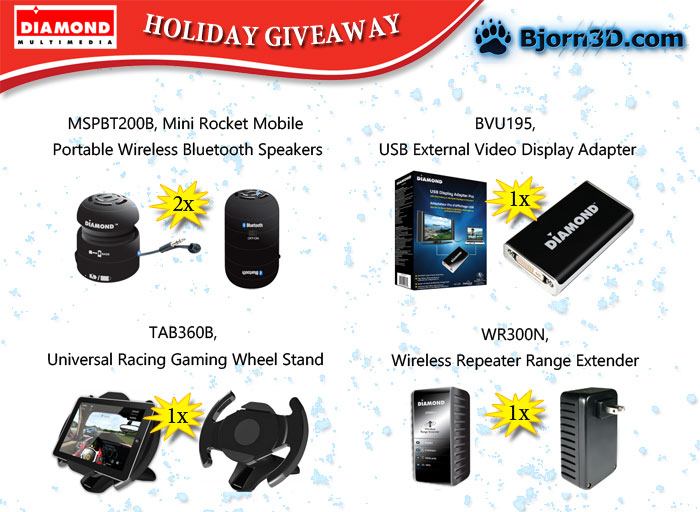 Giveaway Days:
November 27th: 2 x  MSPBT200B, Portable Wireless Bluetooth Speakers (Two winners will be chosen)
Winners: Sifter and Adrail
December 4th: 1 x BVU195, USB External Video Display Adapter
Winner: TehYoyo
December 10th: 1 x TAB360B, Universal Racing Gaming Wheel Stand
Winner: James86
December 17th: 1 x WR300N, Wireless Repeater Range Extender
Winner: Najiro
Now Head on over to the FORUMS and register! 🙂
Good Luck!
Bjorn3D and Diamond Multimedia wishes you a Happy Holiday Season!