Testing & Methodology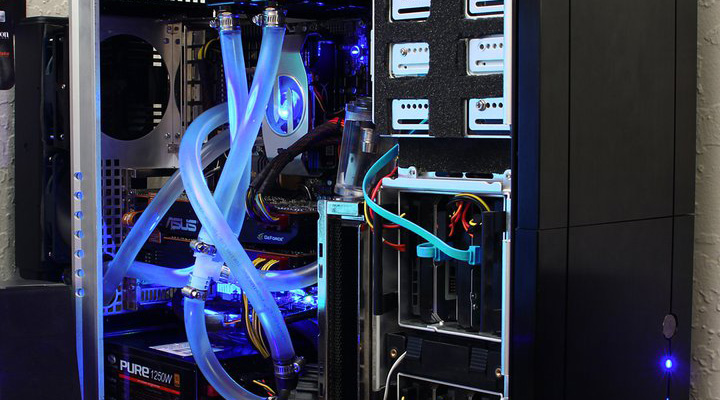 We've expanded our testing suite considerably since the X79 chipset release, and will continue to use the same methods for most of the motherboards and CPU's we test. In the interests of thoroughness and accurate results, we run each test at least three times, and some tests more than that. We average the total of all the tests from each benchmark then report the average here.
The OS we use is Windows 7 Pro 64bit with all patches and updates applied. We also use the latest drivers available for the motherboard and any devices attached to the computer. We do not disable background tasks or tweak the OS or system in any way. We turn off drive indexing and daily defragging. We also turn off Prefetch and Superfetch. This is not an attempt to produce bigger benchmark numbers. Drive indexing and defragging can interfere with testing and produce confusing numbers. If a test were to be run while a drive was being indexed or defragged, and then the same test was later run when these processes were off, the two results would be contradictory and erroneous. As we cannot control when defragging and indexing occur precisely enough to guarantee that they won't interfere with testing, we opt to disable the features entirely.
Prefetch tries to predict what users will load the next time they boot the machine by caching the relevant files and storing them for later use. We want to learn how the program runs without any of the files being cached, and we disable it so that each test run we do not have to clear pre-fetch to get accurate numbers. Lastly we disable Superfetch. Superfetch loads often-used programs into the memory. It is one of the reasons that Windows occupies so much memory. Vista fills the memory in an attempt to predict what users will load. Having one test run with files cached, and another test run with the files un-cached would result in inaccurate numbers. Again, since we can't control its timings so precisely, it we turn it off. Because these four features can potentially interfere with benchmarking, and and are out of our control, we disable them. We do not disable anything else.
One thing to note is that we are revamping our testing method in order to better represent motherboard performance and offering to you guys the consumer. Also we want to make it an easier read for you without miles of endless charts. Please feel free to provide feedback on what you think as many benchmarks will be shuffled or removed completely.
Test Rig
Test Rig
Case
Thermaltake Level 10 GT
CPU
AMD 8-Core FX-8150 (Bulldozer)/FX-8350 (Piledriver)
Motherboard
ASUS Crosshair V Formula-Z
Ram
16GB Patriot  Viper Xtreme 2400MHz +
CPU Cooler
Swiftech H20-220 Edge
Hard Drive
Western Digital Velociraptor 300GB
SSD
Intel 510 series SATA III 120GB
Optical
ASUS BD-ROM
GPU
Asus GTX680 Top/GTX 580
Additional Cards
N/A
PSU
Thermaltake Toughpower XT 1475 Gold
Mouse
Tt eSPORTS Black gaming mouse
Keyboard
Tt eSPORTS Meka G1 mechanical gaming keyboard
Test Suite
We will use the following applications to test the performance of the Motherboard and installed components.
Benchmarks
PCMark 7
Heaven benchmark 3.0
Cinebench R11.5
3DMark 11
SuperPi
Metro 2033
SiSoft Sandra 2011b
X264HD
Overclocking

The 990FX chipset is the newest from AMD and designed around overclocking its Black Edition or newer FX series processors. Overclocking the AMD platform is quite a bit different than what many of us have gotten used to with the X79/Z77 chipsets of present from the Intel side. There is much more to deal with in terms of settinsg such as NB frequencies, HTT, CPU ratio among so much else including dividers all which if set incorrectly could range from degraded performance to just flat out not working.
We tried to keep it simple by finding a clock frequency that worked and adjusting CPU ratio to get the clock speed we desired. Reaching 4.6GHz took a bit more work than it does on the Intel counterparts but we could get there without too much trouble nonetheless. 4.6GHz is about our standard for testing as it gives continuity among our platforms and overall on recent platforms we have found it to be obtainable without resorting to extreme or exotic cooling methods. Mind you this is not something we would try with the stock boxed cooler or a cheap aftermarket. AMD chips can definitely eat some voltage so expect to pair a very good air or liquid cooler to obtain clock speeds in excess of 4.5GHz
Being that we had the great opportunity to test 2 different generations of chips this time around we had a FX-8150 (Bulldozer) core chip and also a FX-8350 (Piledriver) core ship we can attest to the overclocking ability of this board under a liquid cooler. 
The FX-8350 certainly is a bit easier to clock than the 8150 as we found both 8 cores could reach my 4.6GHz testing speed rather easily the 8350 simply took less time tweaking to get there. This could be as simple as a not so great 8150 sample and a better 8350 sample but nonetheless it is what we observed. The voltage we was a little shocked as we had not used AMD in awhile so we had forgotten that 1.45V was rather common at such clocks and the accompanying temps are as well.
The chips are capable of so much more but it is all dependent upon cooling at this point, and with that we try to stick to cooling that is reasonable for most users and expectations just the same.
Important note: Overclocking can cause component failure.  Please exercise caution when attempting any level of overclock on system components.
Temperatures

The temperatures were recorded with AMD Overdrive and Coretemp while running wPrime 1024 right before the end of the 5th run. The results were recorded carefully. After the results were recorded, we waited for 30 minutes before taking Idle temperature measurements. The results were as follows:
| | |
| --- | --- |
| CPU Temperatures | Temperature (Idle/Load) |
| ASUS Crosshair V Formula-Z OC (4.6GHz) | 33C/62C |
| ASUS Crosshair V Formula-Z | 24C/51C |
| Chipset Temperatures | Temperature (Idle/Load) |
| ASUS Crosshair V Formula-Z OC (4.6GHz) | 44C/56C |
| ASUS Crosshair V Formula-Z | 36C/47C |
The reason temps may look a little lower than seen elsewhere online is that we are using a custom liquid cooling loop compliments of Swiftech which helps us reach an area of much higher headroom for overclocking and performance testing.
Power Consumption

The power consumption was tested while running Wprime 1024 for a few minutes at stock settings. The results were recorded carefully with a Kill-A-Watt power consumption measuring tool at the wall. After the results were recorded, we waited for yet another few minutes minutes before taking Idle power consumption measurements.
| | |
| --- | --- |
| Configuration | Power Consumption (Idle/Load) |
| ASUS Crosshair V Formula-Z FX-8350 OC | 155W/326W |
| ASUS Crosshair V Formula-Z FX-8350 | 147W/289W |
The power consumption is measured with a GPU installed but is not with GPU load. This is with CPU/system loading but nothing graphically intensive in order to provide the most accurate results by not ramping up the GPU, which will pull significantly more power.
Performance Benchmarks
SiSoft sandra 2011
"SiSoftware Sandra (the System Analyzer, Diagnostic and Reporting Assistant) is an information & diagnostic utility. It should provide most of the information (including undocumented) you need to know about your hardware, software and other devices whether hardware or software. It works along the lines of other Windows utilities, however it tries to go beyond them and show you more of what's really going on. Giving the user the ability to draw comparisons at both a high and low-level. You can get information about the CPU, chipset, video adapter, ports, printers, sound card, memory, network, Windows internals, AGP, PCI, PCI-X, PCI-E (PCI Express), database, USB, USB2, 1394/Firewire, etc."
First up we have SiSoft Sandra which is an excellent synthetic benchmark which gives an idea of system performance while completing various real world simulated workloads. Across the board the newer Piledriver sees an improvement even into the IMC with better memory bandwidth results. This shows that the new CPU has some definite improvements in the architecture as the overclock testing was done at similar frequencies.
Superpi
SuperPi is a single threaded benchmark which measures efficiency and is heavily influenced by architectural changes as much as it is by clockspeeds.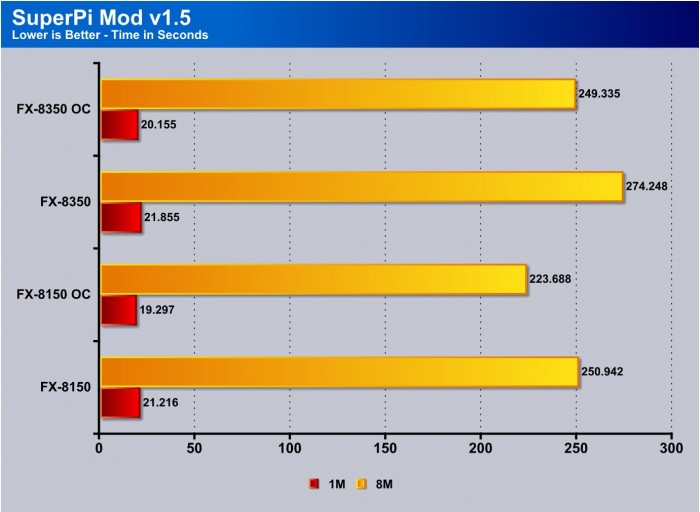 Superpi is a great efficiency benchmark and one we always use just because its simple and it shows improvements when they exist. These results cannot be compared with the likes of the Intel CPU's as the efficiency of the units are simply not comparable. The efficiency difference between the two CPUs were quite surprising as the newer FX-8350 was actually shown to complete this single threaded task slower than the lower clocked 8150 at stock and also at comparable speed overclock.
X264HD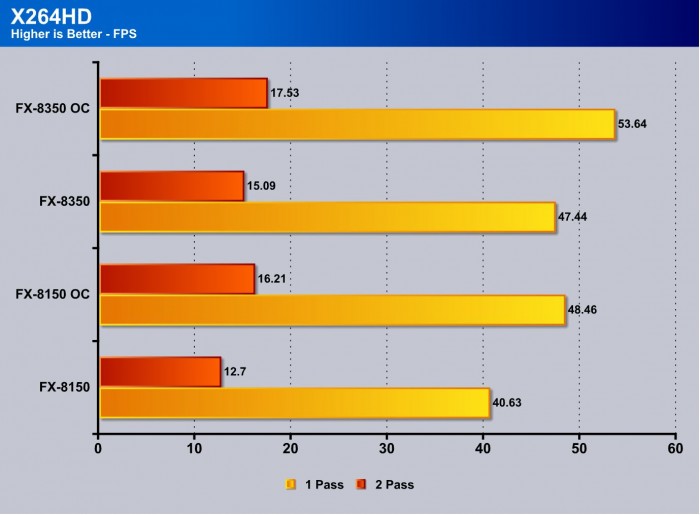 The X264 benchmark is all about encoding and how well your CPU can do it. We all know the story here as the benchmarks are pretty well known at this point. The FX Series 8 core processors crunch away quite well at the video benchmark and all 8 cores definitely can be seen and utilized to some extent by this bench which helps boost its performance. Overall the stock speed Piledriver comes almost to thesame performance as the overclocked 8150 Bulldozer.
3DMARK 11

3DMark 11 is the newest in Futuremark's suite of benchmarking utilities.  Its a fully capable Directx11 benchmark which also stresses and analyzes the system performance as a whole to simulate a heavy rendering environment such as a high end game or other app the end user may run.  This benchmark was run with Performance settings 5 times and all runs were averaged for the result below.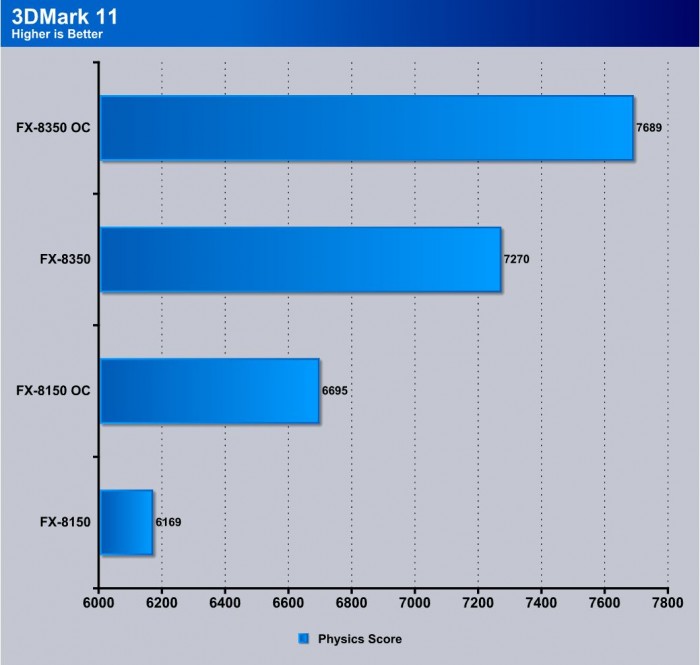 3DMark 11 Physics test shows scaled difference with overclocking and in this case the 8350 beating out the 4.6GHz overclocked 8150 which speaks well to its ability.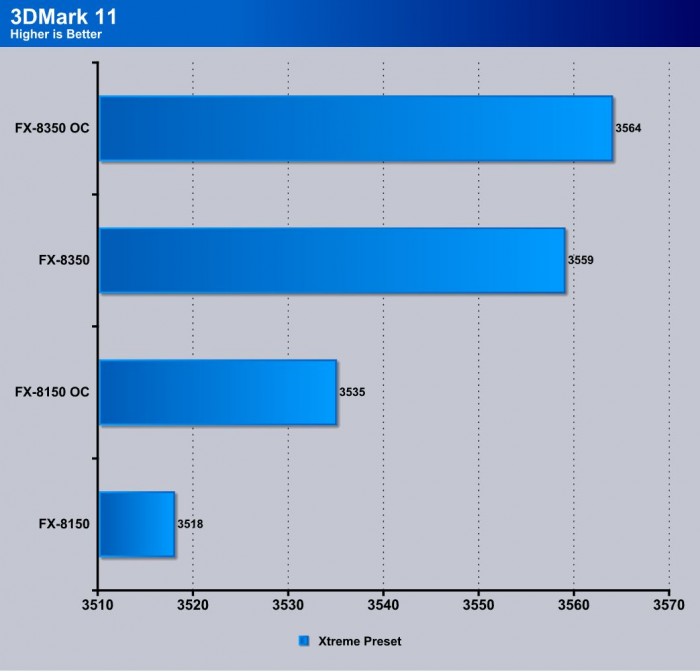 Here we look at how the system scores with an ASUS GTX680 installed in the system. Under Xtreme preset you can see that the scaling moves ahead for the8350 again meaning this should be a great gaming chip.
Unigine Heaven 3.0

Unigine Heaven is a benchmark program based on Unigine Corp's latest engine, Unigine. The engine features DirectX 11, Hardware tessellation, DirectCompute, and Shader Model 5.0. All of these new technologies combined with the ability to run each card through the same exact test means this benchmark should be in our arsenal for a long time.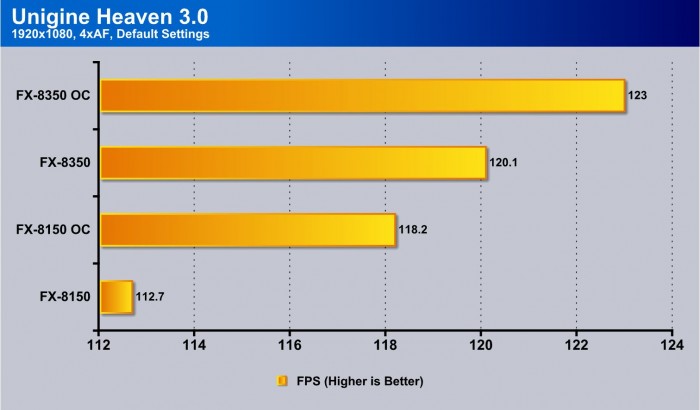 The Heaven benchmark shows similar scaling with the FX-8350 and this just goes to show that in gaming or graphically based tasks this chip really excels.
Metro 2033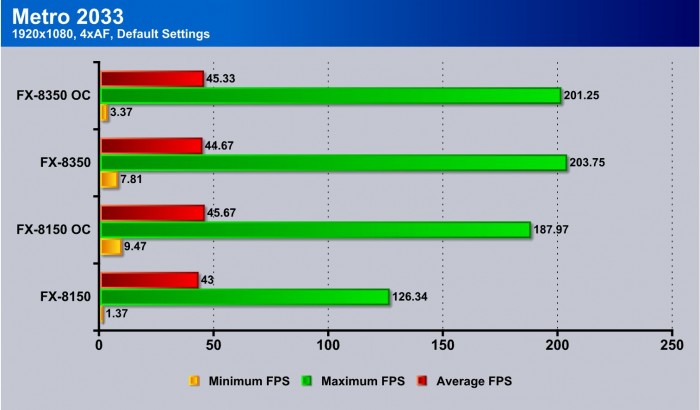 The Metro 2033 test shows excellent performance again but to our surprise, the FX-8350 did well at default but actually lost FPS when overclocked. We're honestly not sure as to why the gain in clcokspeed netted a loss in performance, albeit very slight.
Just Cause 2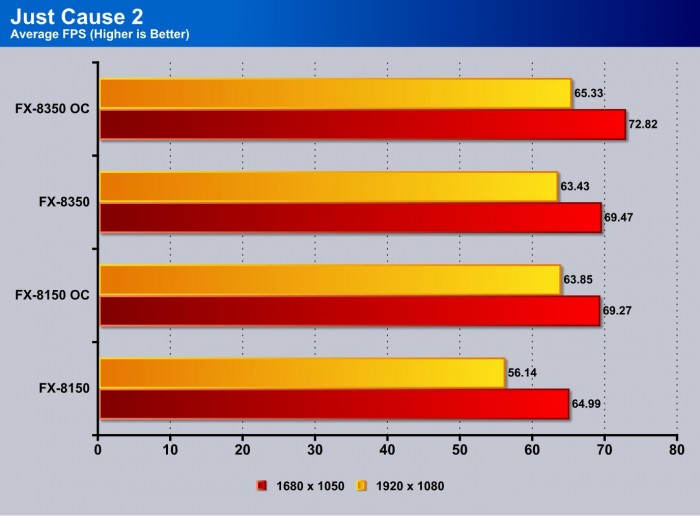 The game testing continues with Just Cause 2, and you can see that once again the performance scales like it did previously with the overclock and standard clock 8350 beating out the 8150 at all levels.
Lost Planet 2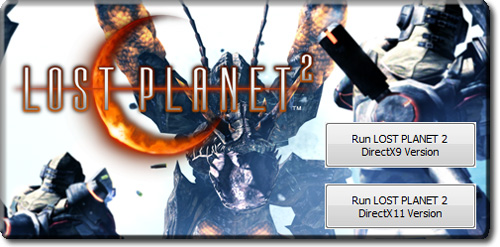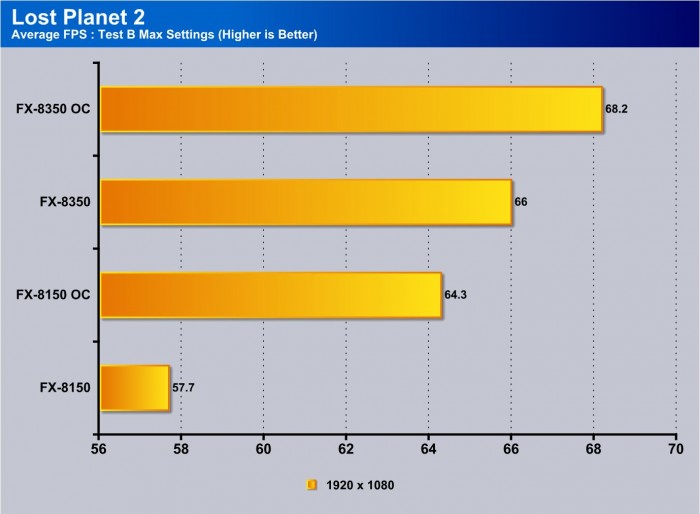 Lost Planet 2 shows similar scaling with the 8150 scaling well when clocked and likewise scaling with the 8350. 
PCMark 7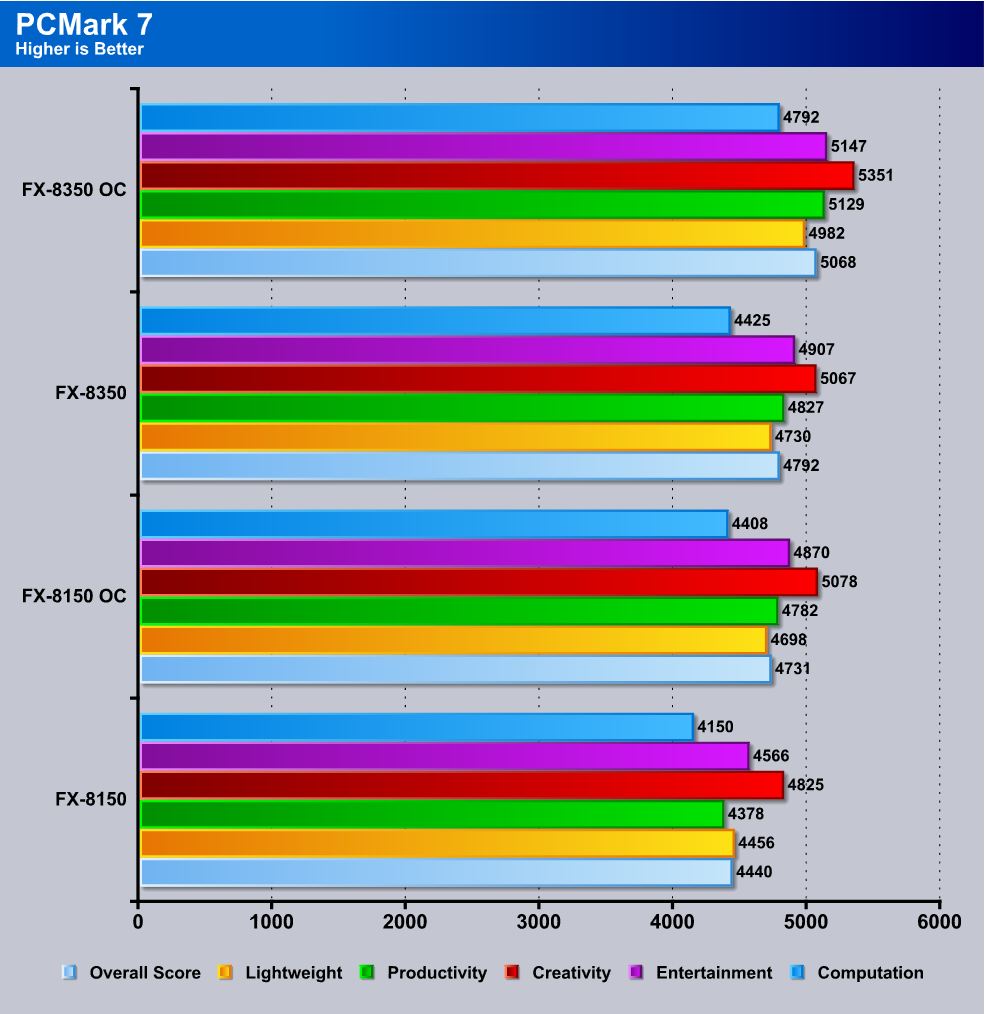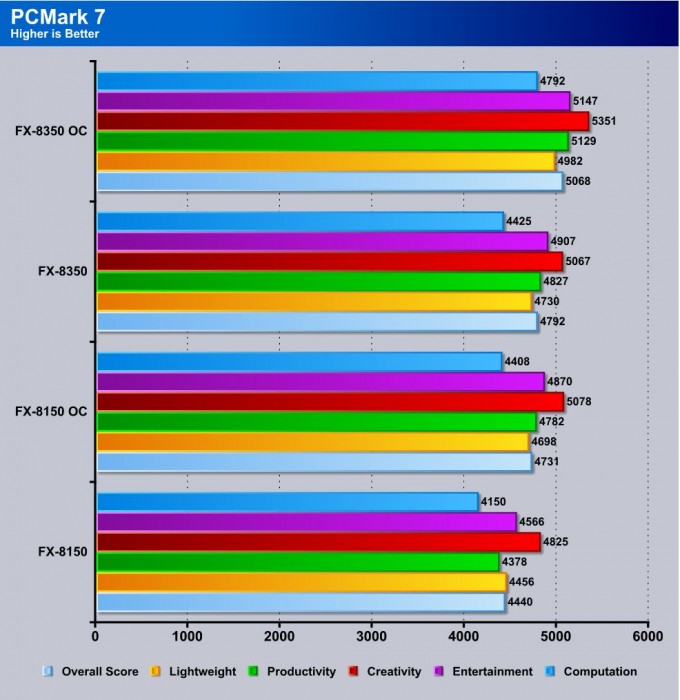 PCMark 7 is a pretty good synthetic benchmark that mixes many everyday tasks to give a good representation of what kind of relative performance to expect from platform to platform. The AMD platform scales about the same here as well with the 8350 outpacing the previous gen 8150 and overall being quite efficient at its own rite while also gaining some speed from the overclock as well.
CONCLUSION
AMD may not be as efficient as Intel processors but at the end of theday they have proven to be more than worthy at gaming and everyday computing or at least doing what most of us do daily. After using the FX-8150 & FX-8350 for a little while we would see no reason why any gamer looking for a decent build on a budget couldnt snag one up and have a very potent machine.
The Crosshair V Formula-Z is a great board as we have seen from so many ROG boards before it. ASUS truly has taken what they have learned from other platforms and added the best of the best including board level tuning to give this board a real edge both in gaming and in the overclocking side of things.
Items such as the T-Topology memory design, SupremeFX III Audio, Special Windows 8 features and overall BIOS/UEFI enhancements and Extreme Engine DIGI+ II components all culminate to make an amazing board that is more than capable of making any AMD gaming rig really spring to life.
To the credit of the ASUS team, they took an already powerful Crosshair V Formula board and breathed new life into it. Now it's just a matter of time to tell how much farther these boards/chips can go with the right user and cooling. Stay tuned to Bjorn3D, as we have another article coming up with some extreme overclocking on this board!
OUR VERDICT: Crosshair V Formula-Z
| | |
| --- | --- |
| Performance | 9 |
| Value | 9 |
| Quality | 10 |
| Features | 9.5 |
| Innovation | 9.5 |

We are using a new addition to our scoring system to provide additional feedback beyond a flat score. Please note that the final score isn't an aggregate average of the new rating system.

Pros
Cons

SupremeFX III

SLI Support

Directkey button

Large SATA 6G offering

DIGI+ Extreme Engine II

GameFirst 2 

Extensive UEFI overclocking tuning

T-Topology memory design

ROG Connect capable

Included Kapersky and Daemon tools bundle

Molex supplemental power connector could be placed better
Summary: The Crosshair V Formula-Z is a great refresh with all the right new parts to make it a great gaming and performance option. For this it earns the Bjorn3D Golden Bear Award.