Sapphire HD 7950 Vapor-X
Testing & Methodology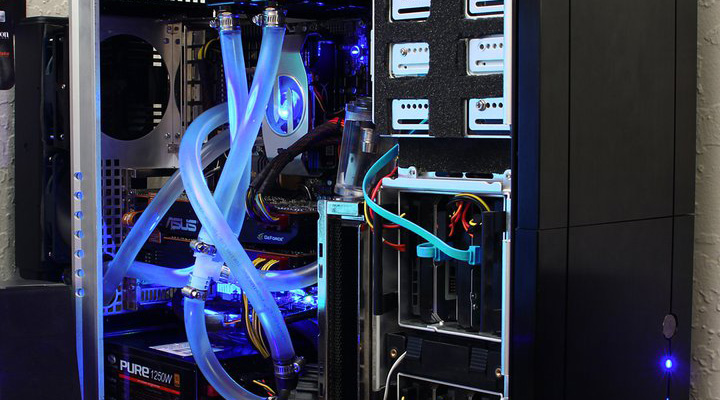 We've expanded our testing suite considerably since the X79 chipset release, and will continue to use the same methods for most of the motherboards and CPU's we test. In the interests of thoroughness and accurate results, we run each test at least three times, and some tests more than that. We average the total of all the tests from each benchmark then report the average here.
The OS we use is Windows 7 Pro 64bit with all patches and updates applied. We also use the latest drivers available for the motherboard and any devices attached to the computer. We do not disable background tasks or tweak the OS or system in any way. We turn off drive indexing and daily defragging. We also turn off Prefetch and Superfetch. This is not an attempt to produce bigger benchmark numbers. Drive indexing and defragging can interfere with testing and produce confusing numbers. If a test were to be run while a drive was being indexed or defragged, and then the same test was later run when these processes were off, the two results would be contradictory and erroneous. As we cannot control when defragging and indexing occur precisely enough to guarantee that they won't interfere with testing, we opt to disable the features entirely.
Prefetch tries to predict what users will load the next time they boot the machine by caching the relevant files and storing them for later use. We want to learn how the program runs without any of the files being cached, and we disable it so that each test run we do not have to clear Prefetch to get accurate numbers. Lastly we disable Superfetch. Superfetch loads often-used programs into the memory. It is one of the reasons that Windows occupies so much memory. Vista fills the memory in an attempt to predict what users will load. Having one test run with files cached, and another test run with the files un-cached would result in inaccurate numbers. Again, since we can't control its timings so precisely, it we turn it off. Because these four features can potentially interfere with benchmarking, and and are out of our control, we disable them. We do not disable anything else.
We are revamping our testing method in order to better represent motherboard performance and offering to the consumer. Also we want to make it an easier read for you without miles of endless charts. We ask that you provide feedback in an effort to help us deliver better reviews for you.
Test Rig
Test Rig

Case
Open Air Test Bench
CPU
Intel Core i7-3770K
Motherboard
Gigabyte Z77X-UP5 TH

Ram
16GB Patriot Viper Xtreme 2400MHz +
CPU Cooler
Swiftech H20-320 Edge
Hard Drive
Western Digital Velociraptor 300GB
SSD
Intel 510 series SATA III 120GB
Optical
ASUS BD-ROM
GPU
Sapphire HD 7950 Vapor-X
Additional Cards

N/A
PSU
Thermaltake Toughpower Grand 1200W
Mouse
Tt eSPORTS Black gaming mouse
Keyboard
Tt eSPORTS Meka G1 mechanical gaming keyboard
Test Suite
We will use the following applications to test the performance of the graphics card.
Synthetic Benchmarks & Games
Benchmarks
3DMark11
Aliens vs. Predator
Batman: Arkham City
Dirt 3
Metro 2033

Overclocking

The Sapphire HD 7950 Vapor-X overclocks much like other HD 7000 series cards I have tested. Simply set the clock and run with it.
The first thing I adjust is the GPU to find the maximum stable frequency which I found to be 1128MHz. 1130 was stable for the most part with only minor artifacts very rare but any artifacts or strange issues is enough for me not to let it pass as I want to represent something that can actually be used. Memory overclocking was equally as impressive pulling over 1650MHz settling in around 1655MHz (6620MHz Effective) which is a huge overclock well over 30% on both the GPU and memory and to me this level of free performance is huge for a gamer looking to gain some extra speed.
| | | | |
| --- | --- | --- | --- |
| Clock | Stock Frequency | Max stable MHz | OC Percent |
| GPU Base clock | 850MHz | 1128MHz | 32%+ |
| Memory clock | 1250MHz (5000MHz) | 1655MHz (6620MHz) | 32%+ |
In order to ensure no system bottleneck we clocked the CPU to 4.6GHz to ensure there is no reason the system will slow down the card's performance at all.
Some may ask why we chose the mainstream Z77 system, and we can explain. Up until recent the X79 enthusiasts platform did not really support PCI-E Gen 3 on the Nvidia 600 series GPU's. Because of the inherent instability many have seen with the X79 platform with Gen 3 products, Nvidia has been hesitant to enable it, and now there is a workaround via registry to get it working. However, in order to ensure the most consistent testing possible, we have stuck to the natively supported Z77 platform.
Important note: Overclocking can cause component failure. Please exercise caution when attempting any level of overclock on system components.
Temperatures

The temperatures were recorded with full loaded Heaven benchmark looping for over 30 minutes or longer depending how long it took for the card to level out in temps and sat at a plateau for more than 10 minutes.
| | |
| --- | --- |
| GPU Temperatures | Temperature (Idle/Load) |
| Sapphire HD 7950 Vapor-X OC | 42C/66C |
| Sapphire HD 7950 Vapor-X | 40C/64C |
The Vapor-X cooler definitely earns some kudos here as even with a clock of over 30% increase the card never even saw 70C. This cooler is quite nice and stays very quiet which is another plus as some gamers use speakers and not a headset so the last thing you want is a cards fans screaming in the background.
Real world/Gaming Benchmarks
3DMARK 11

3DMark 11 is the newest in Futuremark's suite of benchmarking utilities. Its a fully capable DirectX11 benchmark which also stresses and analyzes the system performance as a whole to simulate a heavy rendering environment such as a high end game or other app the end user may run. This benchmark was run with Performance settings 5 times and all runs were averaged for the result below.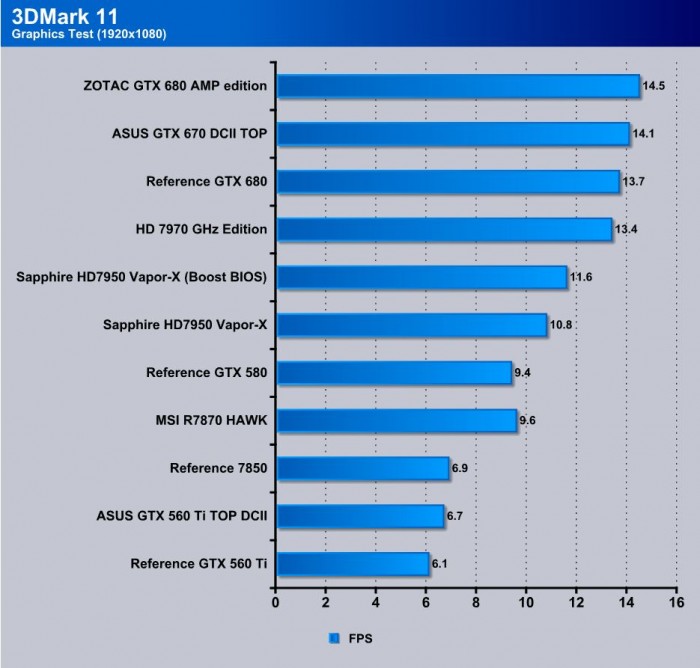 Here the HD7950 Vapor-X pulls some good numbers and the boost BIOS pulls almost another full FPS with just the press of a button. Do note that 1 FPS gain in this test is actually a pretty big gain.
Aliens Vs Predator
Aliens Vs Predator is a quite demanding game and overall just a cool title so we had some fun running this one through its paces.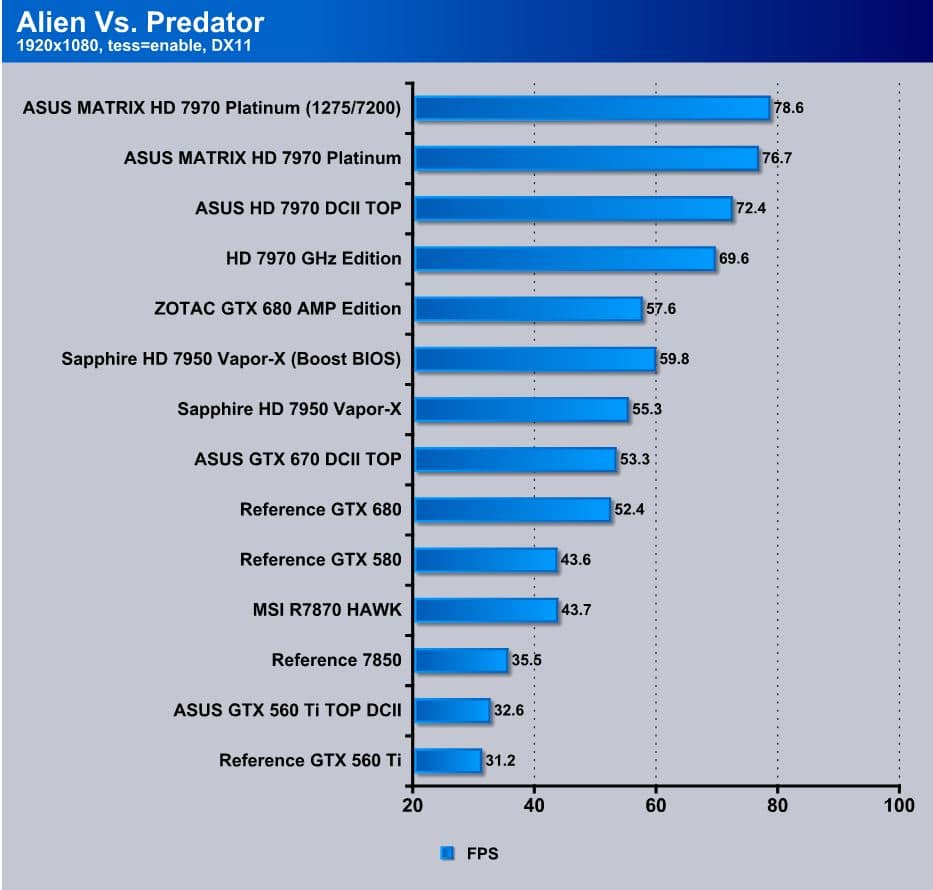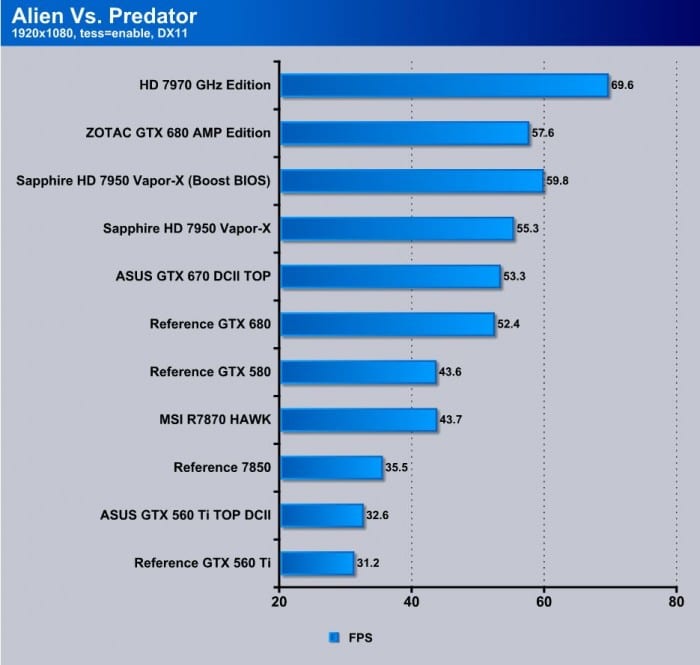 In Alien vs Predator The 7950 Rockets ahead even beating the AMP edition 680 we tested previously, and the press button boost BIOS gave an almost 5 FPS jump for a quick and easy performance boost.
Metro 2033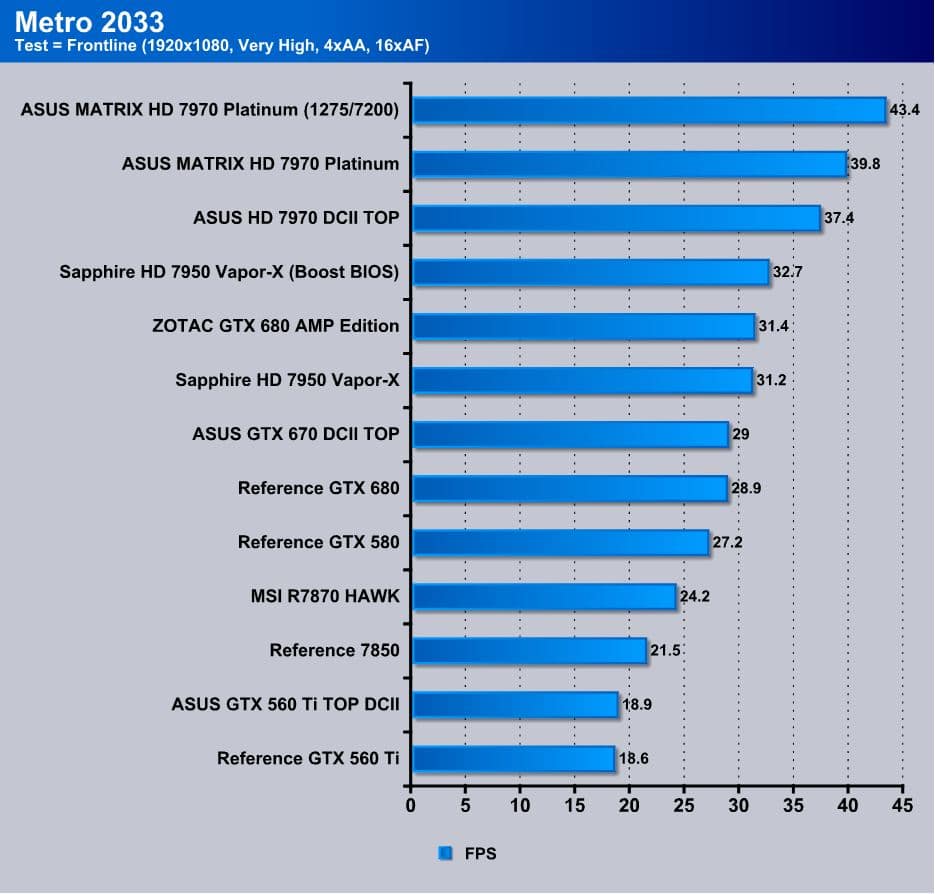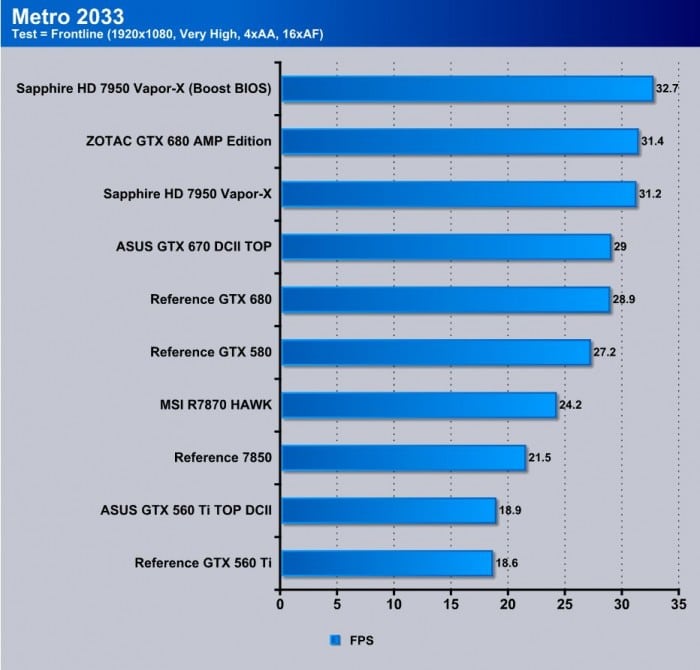 Metro 2033 likely one of the most demanding games that we have tested with, as it brings virtually every GPU to its knees. The HD7950 Vapor-X does quite well here as at standard clocks it is slightly below the AMP edition 680 and with the help from the boost BIOS it takes a clear lead over the 680 by over 1 FPS, so this card definitely responds well to frequency adjustments.
Batman: Arkham City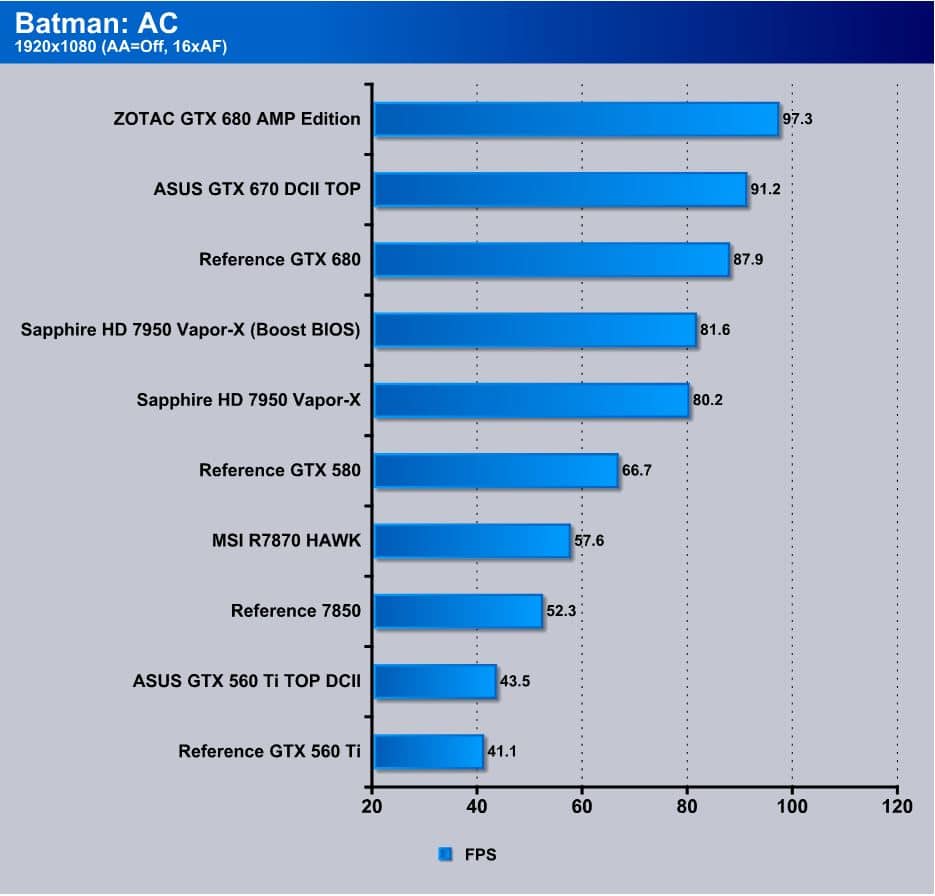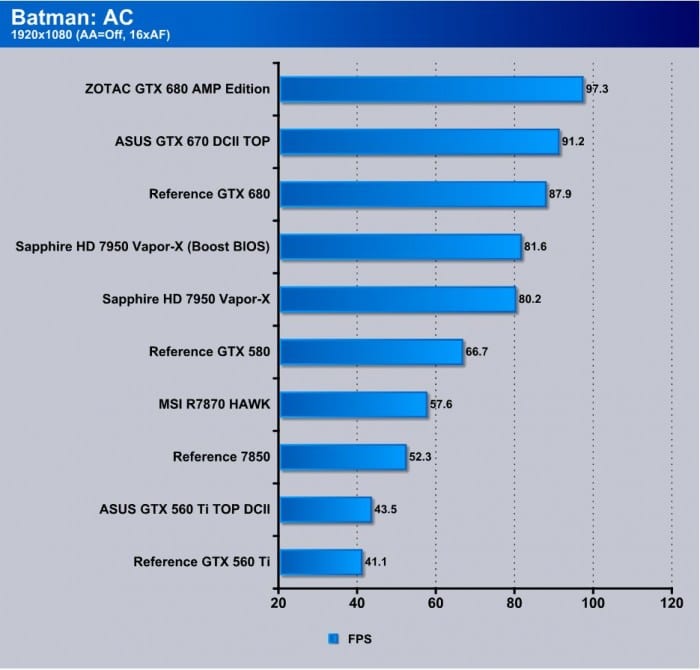 Batman is a popular game, which is why we include it. The game is a Nvidia "Way it's meant to be played" title so I'm not really surprised to see the Nvidia cards rule the roost on this one. The 7950 Vapor-X is not far behind but this game does not see as drastic of performance gains from the boost clock as it saw just a little over 1 FPS boost which is still a gain but just goes to show that software optimization plays a role here as well.
Dirt 3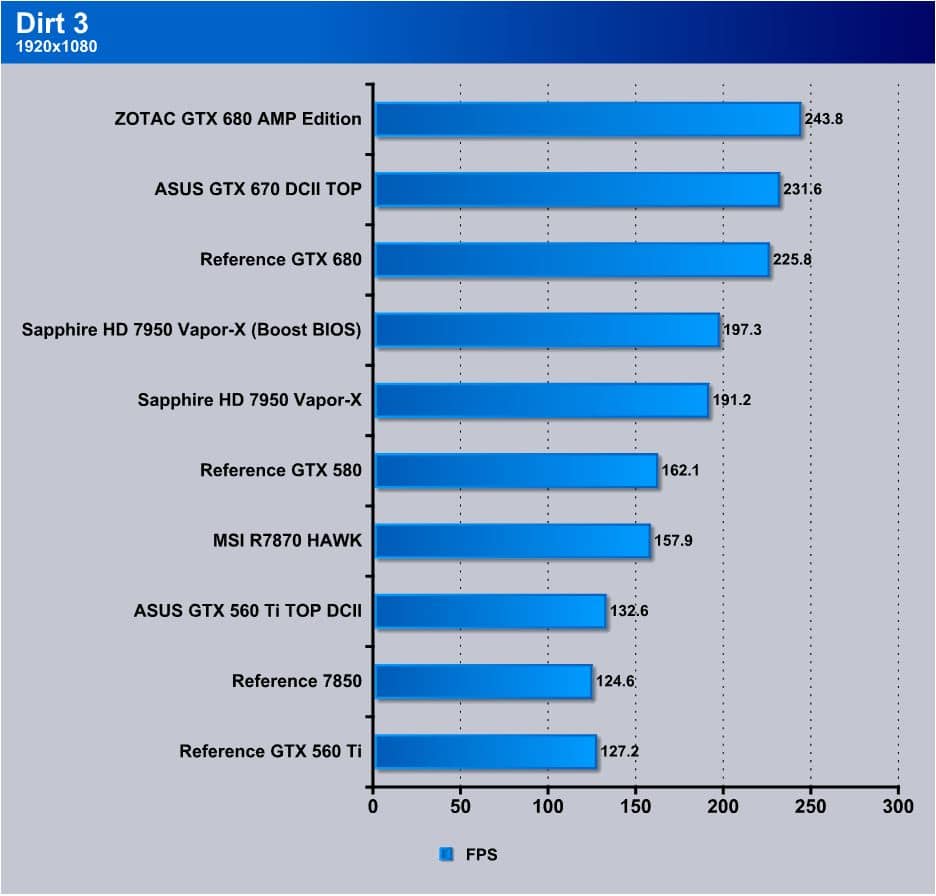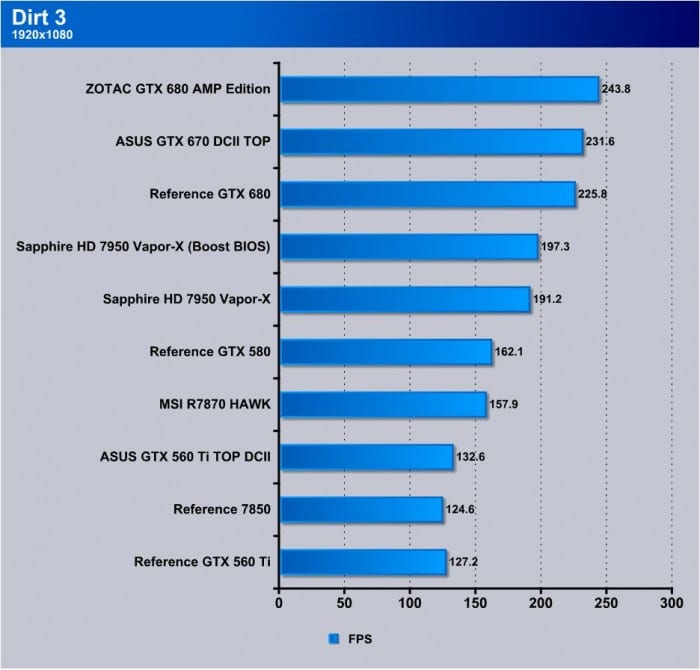 Dirt 3 was highly marketed by AMD, so I was a little surprised to see it trail behind the 680 and 670 models but then again they are very powerful cards. The 7950 holds its own and turns in some super high numbers and once again the boost BIOS gives us a solid 6 FPS jump which is not really needed at almost 2 FPS but it shows that when the software is optimized for it, the performance will show.