ASUS GTX 650 Ti DirectCU II TOP Edition Review
Testing & Methodology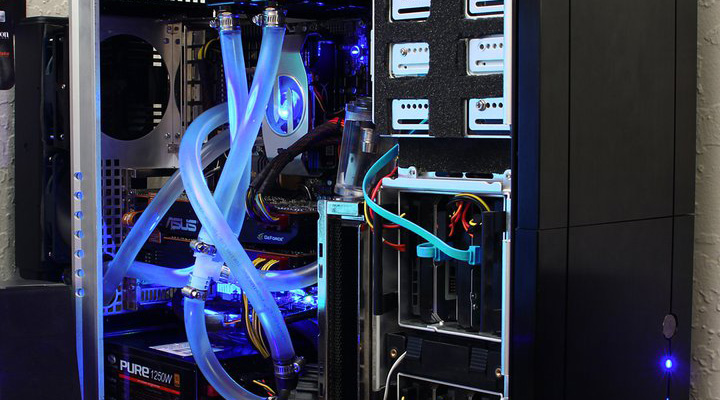 We've expanded our testing suite considerably since the X79 chipset release, and will continue to use the same methods for most of the motherboards and CPU's we test. In the interests of thoroughness and accurate results, we run each test at least three times, and some tests more than that. We average the total of all the tests from each benchmark then report the average here.
The OS we use is Windows 7 Pro 64bit with all patches and updates applied. We also use the latest drivers available for the motherboard and any devices attached to the computer. We do not disable background tasks or tweak the OS or system in any way. We turn off drive indexing and daily defragging. We also turn off Prefetch and Superfetch. This is not an attempt to produce bigger benchmark numbers. Drive indexing and defragging can interfere with testing and produce confusing numbers. If a test were to be run while a drive was being indexed or defragged, and then the same test was later run when these processes were off, the two results would be contradictory and erroneous. As we cannot control when defragging and indexing occur precisely enough to guarantee that they won't interfere with testing, we opt to disable the features entirely.
Prefetch tries to predict what users will load the next time they boot the machine by caching the relevant files and storing them for later use. We want to learn how the program runs without any of the files being cached, and we disable it so that each test run we do not have to clear Prefetch to get accurate numbers. Lastly we disable Superfetch. Superfetch loads often-used programs into the memory. It is one of the reasons that Windows occupies so much memory. Vista fills the memory in an attempt to predict what users will load. Having one test run with files cached, and another test run with the files un-cached would result in inaccurate numbers. Again, since we can't control its timings so precisely, it we turn it off. Because these four features can potentially interfere with benchmarking, and and are out of our control, we disable them. We do not disable anything else.
Test Rig
Test Rig

Case
Thermaltake Level 10 GT
CPU
Intel Core i7-3770K/Intel Core i7-2600K
Motherboard
ASUS Maximus V Gene

Ram
16GbpsB Patriot Viper Xtreme 2400MHz +
CPU Cooler
Swiftech H20-220 Edge
Hard Drive
Western Digital Velociraptor 300GB
SSD
Intel 510 series SATA III 120GB
Optical
ASUS BD-ROM
GPU
ASUS GTX 650 Ti DCII 1GB
Additional Cards

N/A
PSU
Thermaltake Toughpower Grand 1200W
Mouse
Tt eSPORTS Black gaming mouse
Keyboard
Tt eSPORTS Meka G1 mechanical gaming keyboard
Test Suite
We will use the following applications to test the performance of the graphics card.
Synthetic Benchmarks & Games
Benchmarks
3DMark11
Aliens vs. Predator
Batman: Arkham City
Battlefield 3
Dirt 3
Heaven Benchmark
Just Cause 2
Lost Planet 2
Metro 2033

Overclocking

The GTX 650 Ti is an interesting card to clock as it does not have the GPU Boost feature as the higher model 6 series cards employ.  This almost harkens back to previosu gen cards in terms of overclock as you simply set it and go.
 
Starting with the GPU we found the card may start at 1033 MHz but we were able to get it up to 1220 MHz before losing stability. This was the limit as we could get further but stability was not 100% as extended testing found it slightly unstable.  The memory climbed to just under 6GHz at 5920 MHz effective memory clock.  This equals a 18% increase for the GPU and a little over 9% on the memory.
| | |
| --- | --- |
| Clock | Max stable MHz |
| GPU Base clock |  1220 |
| Memory clock |  1480 (5920) |
In order to ensure no system bottleneck we clocked the CPU to 4.6GHz to ensure there is no reason the system will slow down the cards performance at all.
Some may ask why we chose the mainstream Z77 system and we can explain. Up until recent the X79 enthusiasts platform does not really support PCIe Gen 3 on the Nvidia 600 series GPU's and come to find out it is due to the inherent instability many have seen with the X79 platform with Gen 3 products. This is why Nvidia has been hesitant to enable it, and now there is a workaround via registry to get it working but in order to ensure best possible testing scenarios we have stuck to the natively supported Z77 platform.
Important note: Overclocking can cause component failure. Please exercise caution when attempting any level of overclock on system components.
Temperatures

The temperatures were recorded with full loaded Metro 2033 benchmark looping for over 10 minutes or longer depending how long it took for the card to level out in temps and sat at a plateau.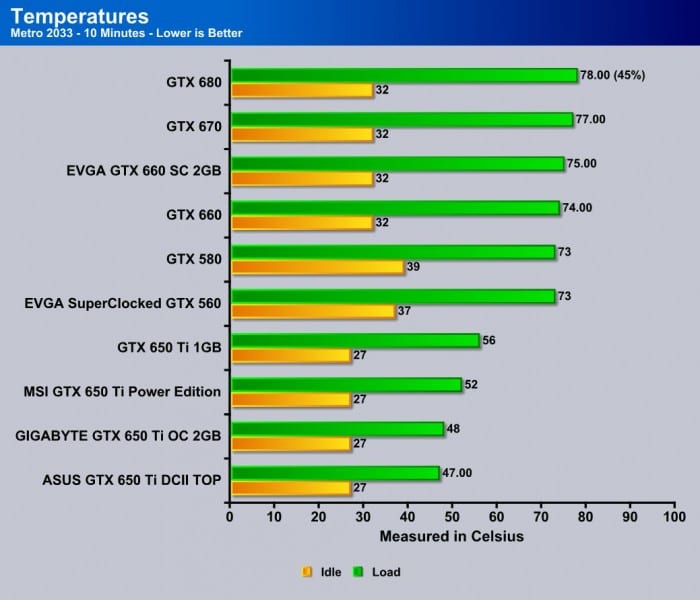 | | |
| --- | --- |
| GPU Temperatures | Temperature (Idle/Load) |
| ASUS GTX560 Ti DCII TOP | 27C/47C |
The DirectCU II Cooler cannot be denied here as it was extremely cool even though the low thermal of the chip doesn't hurt either. The fans if manually setting them to max fan speed can definitely put out some noise but with the thermal properties of this card we see no reason why you would need to.
Benchmarks
3DMark 11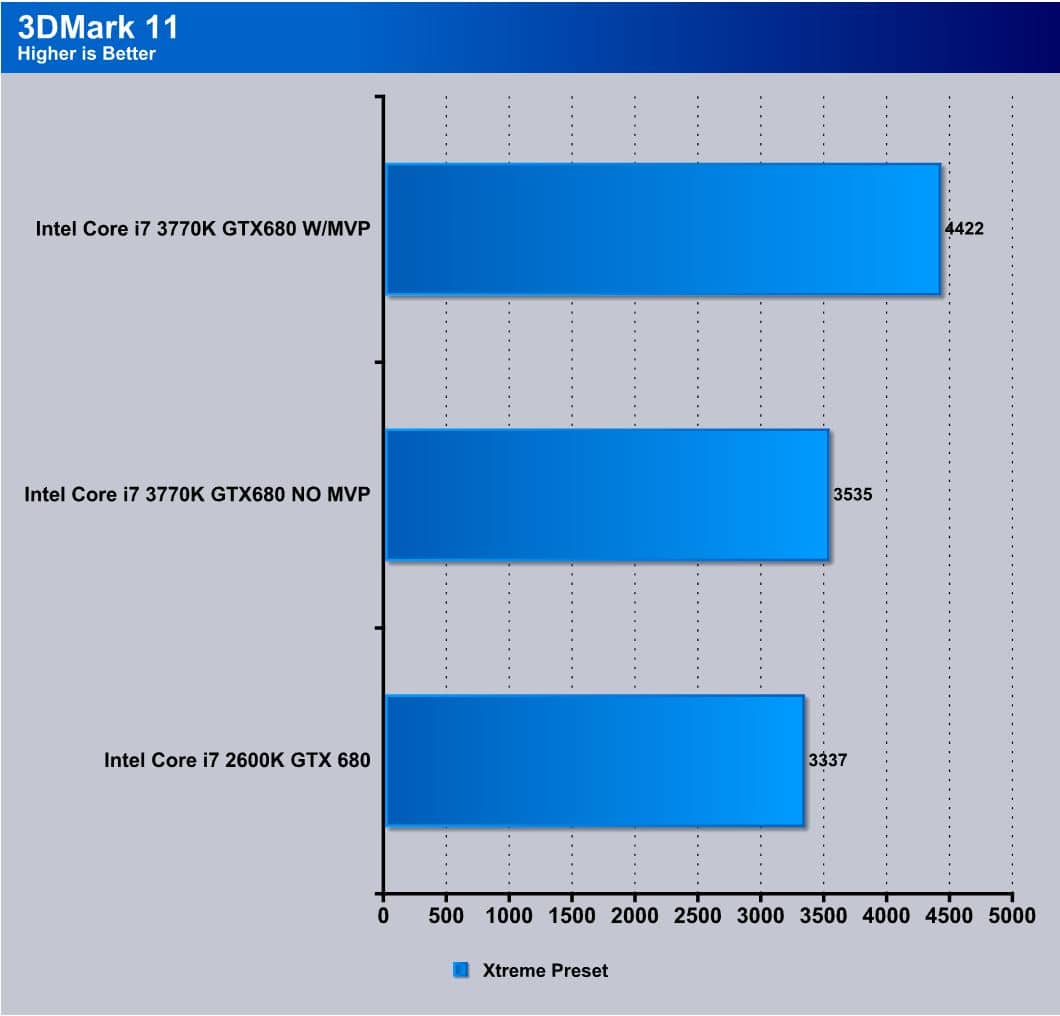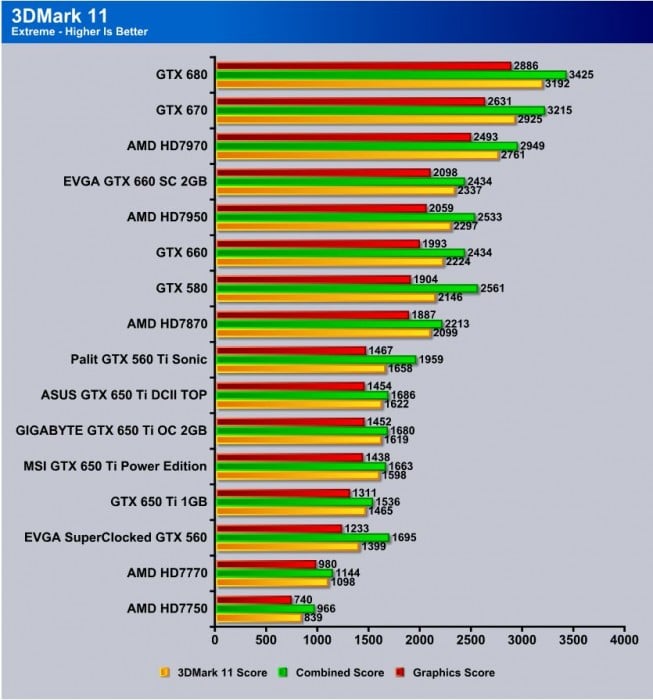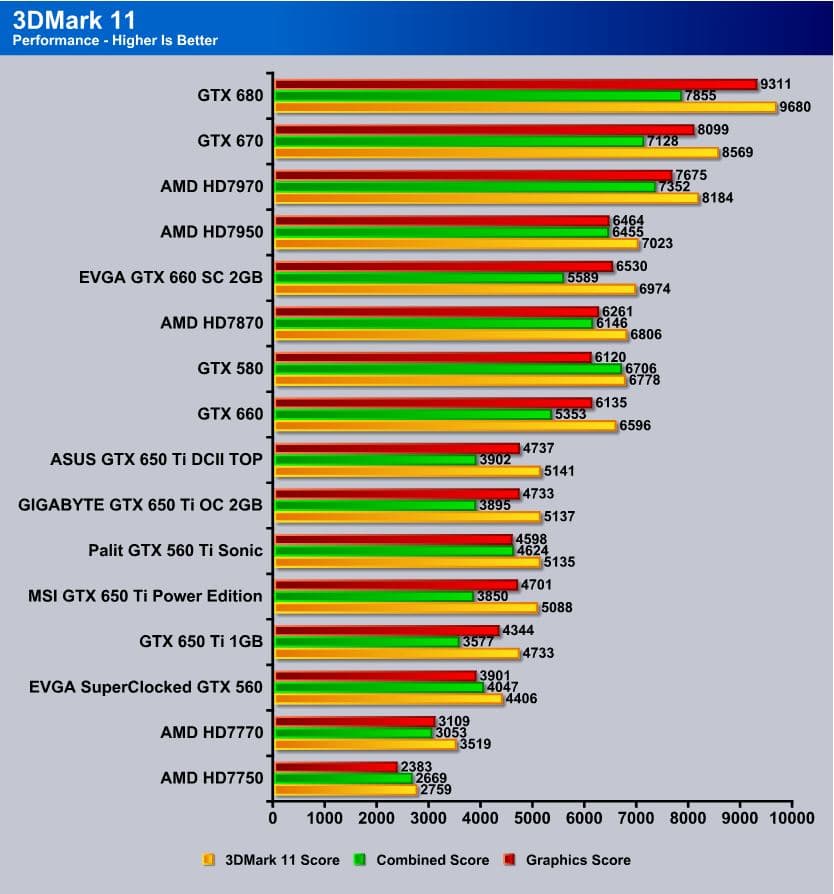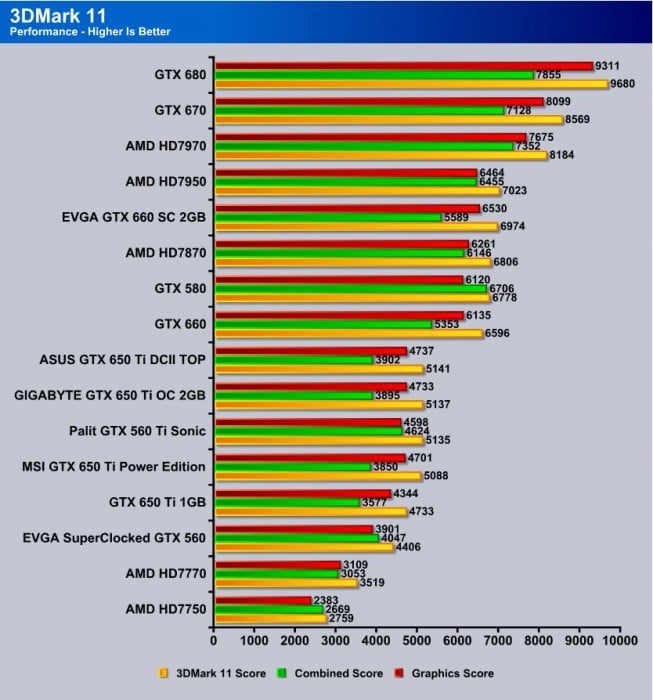 As we expected the ASUS 650 Ti is running neck and neck with the Gigabyte model as the clock speeds are similar this is not really a surprise. One thing that is a surprise is that the extra memory does not really help the Gigabyte card like we expected in this test in the Xtreme preset.
Unigine Heaven 3.0

Unigine Heaven is a benchmark program based on Unigine Corp's latest engine, Unigine. The engine features DirectX 11, Hardware tessellation, DirectCompute, and Shader Model 5.0. All of these new technologies combined with the ability to run each card through the same exact test means this benchmark should be in our arsenal for a long time.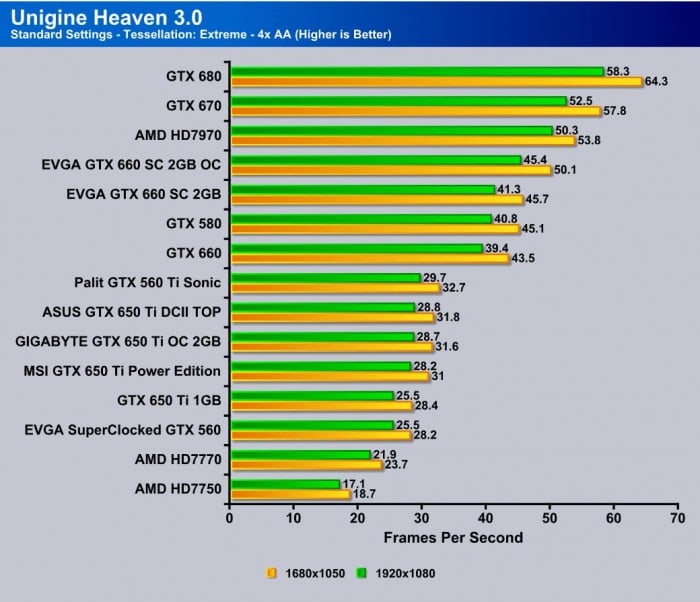 Here the ASUS and Gigabyte lead the 650 Ti field again with marginal difference between the two and actually so small it is within the margin for error.
Game Benchmarks
Battlefield 3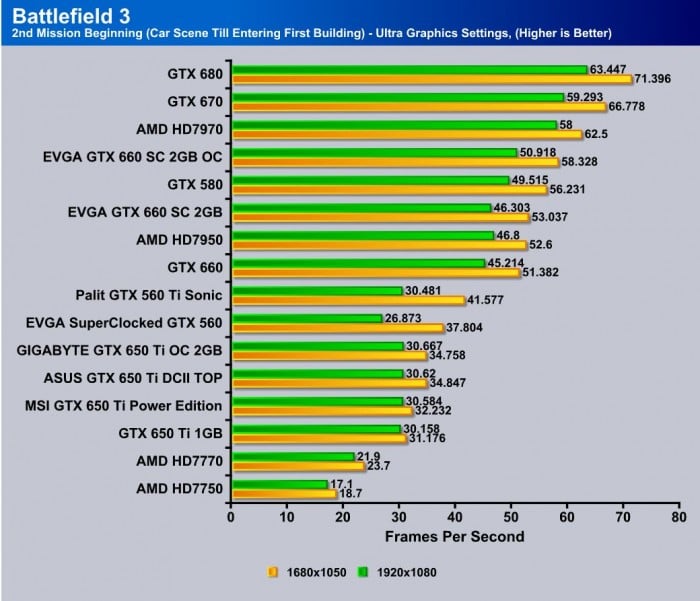 In Battlefield 3, the Gigabyte card picks up a minor boost at the 1080 resolution, but otherwise the ASUS cards hangs in tough thanks to its out of the box overclock.
Metro 2033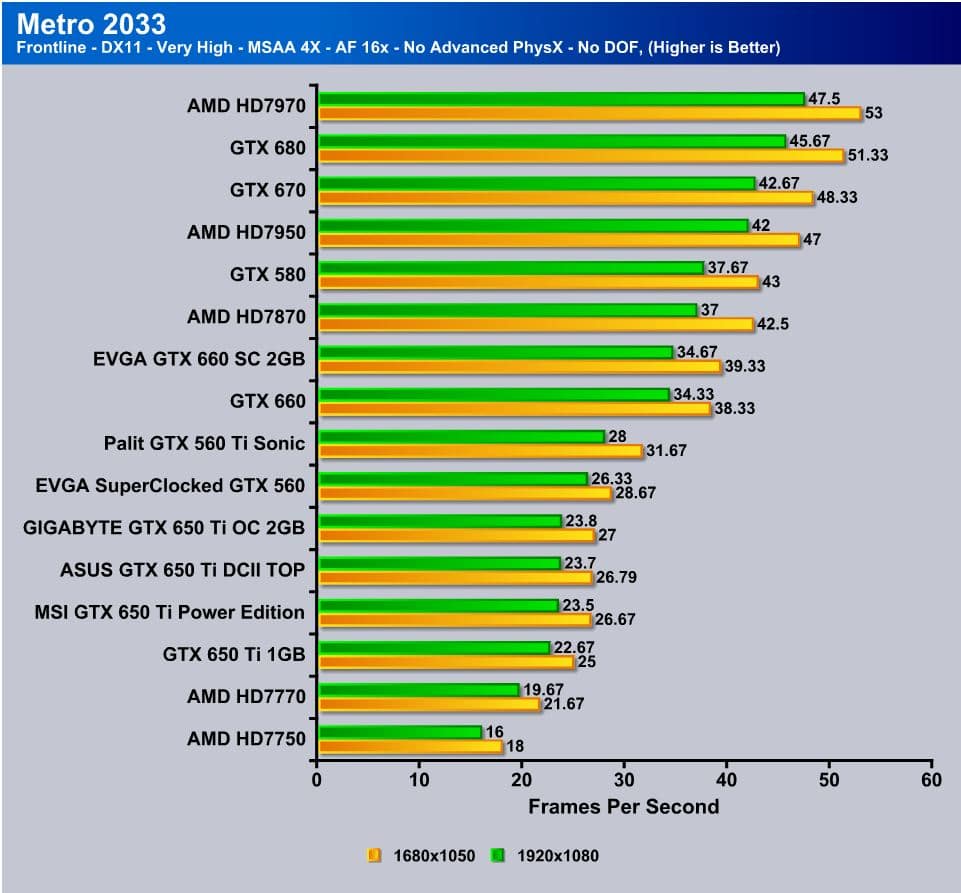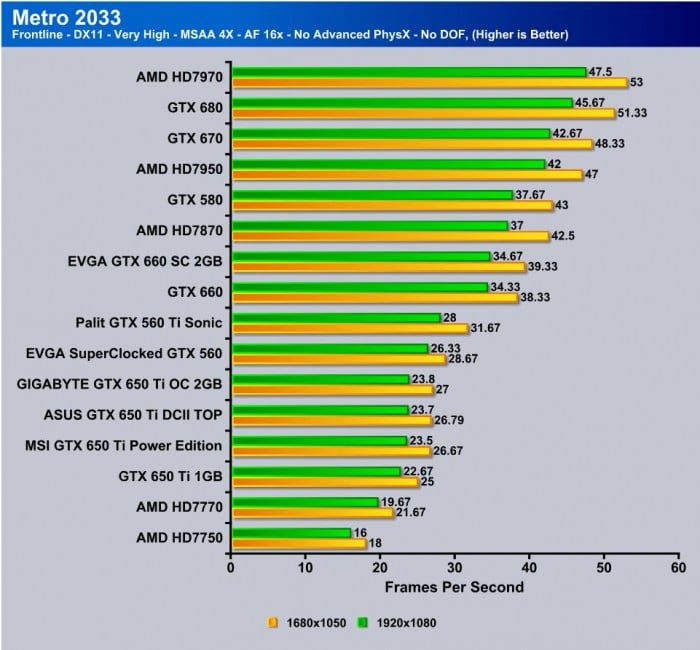 Metro 2033 is a demanding game: the Crysis of today's benchmarking. Very few single GPU cards can handle it, and the mid-level GTX 650 Ti predictably fails to keep up at very high settings. However, keep in mind that this card isn't meant to handle this level of gaming.
Batman Arkham City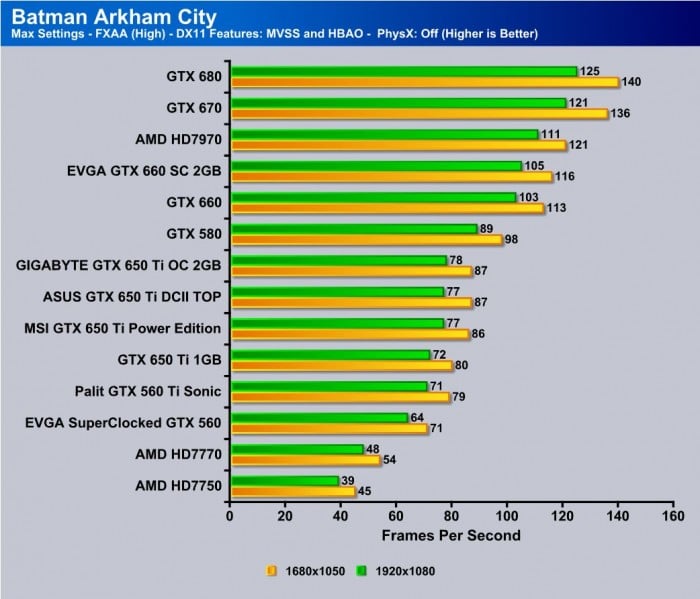 The card does very well in Batman: Arkham City, beating both 560's and the reference card. The ASUS card once again hangs very close to the Gigabyte but the 2GB card at higher res pulled off 1 FPS higher.
Just Cause 2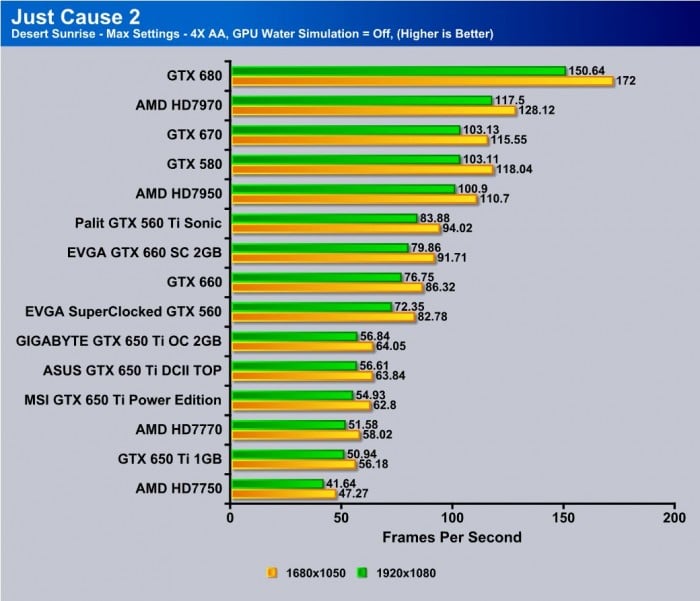 The 650 Ti models perform nicely in Just Cause 2 and the overclocks on these cards help it perform just that much better.
Lost Planet 2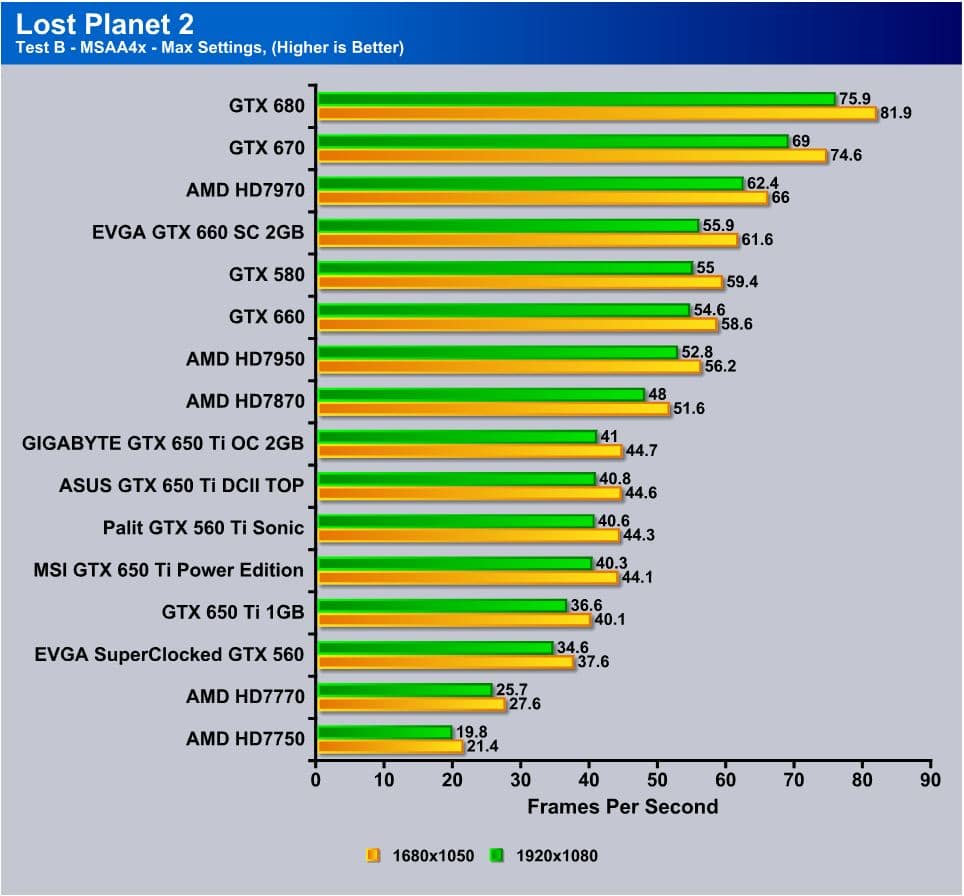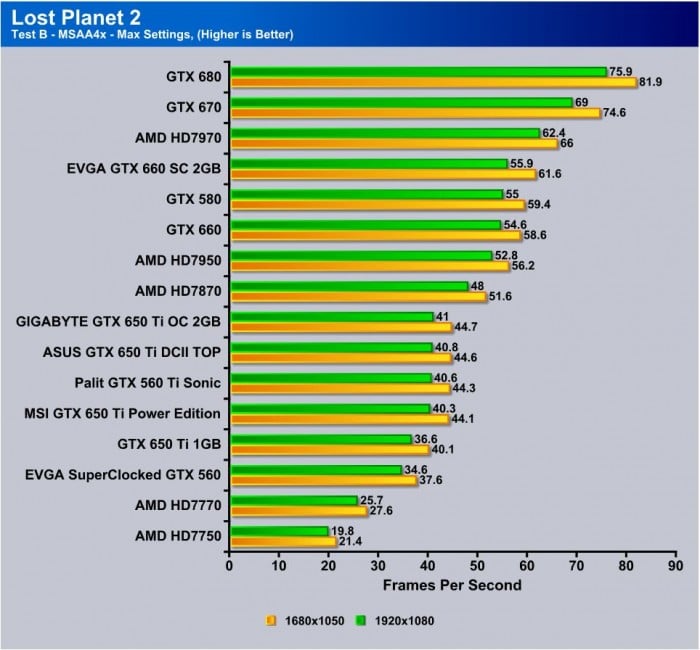 Lost Planet 2 finds the 650 Ti models well within playable framerates and the ASUS card is only ever so slightly behind the Gigabyte 2GB model.
Dirt 3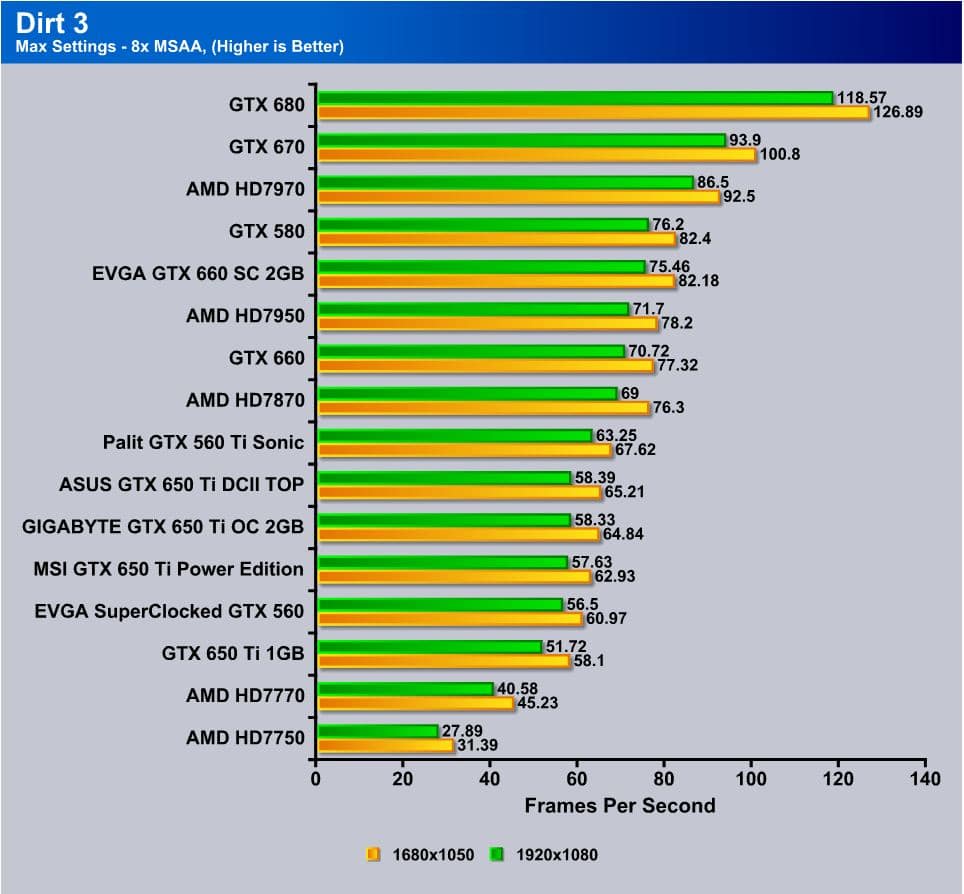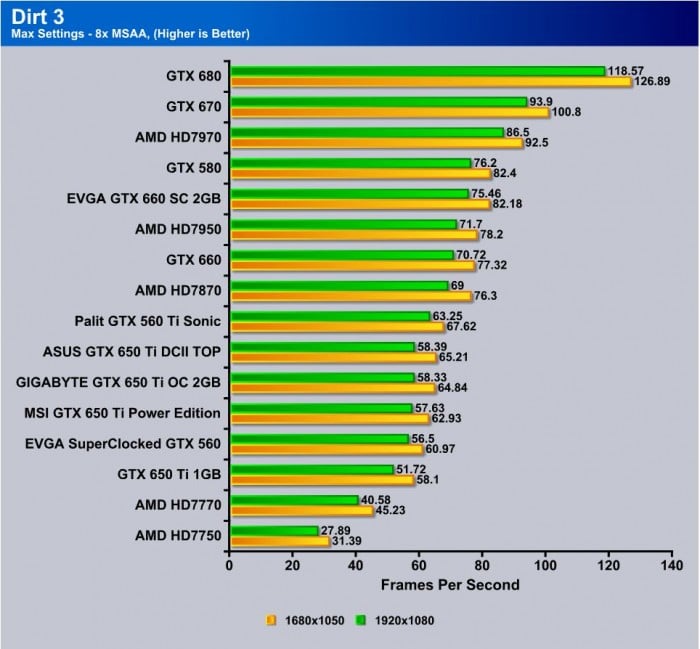 Dirt 3 has not shown to be the most stressful benchmark in our suite but it is a pretty game and does show the performance a card has to offer. The 650 Ti's make easy work of it and the ASUS card pulls slightly ahead of the other models in this test.