The Edimax N300 Universal Wi-Fi Extender helps you boost your wireless signal in your home to additional rooms that might have bad signal reception. Is a very easy to set up and once it is done, you're ready to go.
Introduction
Having network cables installed in your walls might be an excellent option if you own the house you are living in, and you need the best possible throughput and network speed straight from your router. However, this is not always possible, and having network cables running through your home can look very messy at times. Wireless is the only other option here, but a wireless connection brings its own problems:
1). Your wireless router might not be able to provide you with 5 bars in all of your rooms
2). Performance decreases if you're too far from your wireless router
3). You would need to buy a wireless card or USB wireless adapter to connect your system to the router
4). Components that allow great wireless connection take up space in your system that could be used for other hardware.
This is where Edimax's N300 Universal Wi-Fi Extender (EW-7438RPN) comes into play, allowing you the option of extending the wireless signal in your rooms. Extending the wireless signal throughout your house helps eliminate at least the first two problems we have listed above. But as we look more into what the EW-7438RPN can do, we'll notice that we can also eliminate the other two. Continue reading to find out how this is be possible.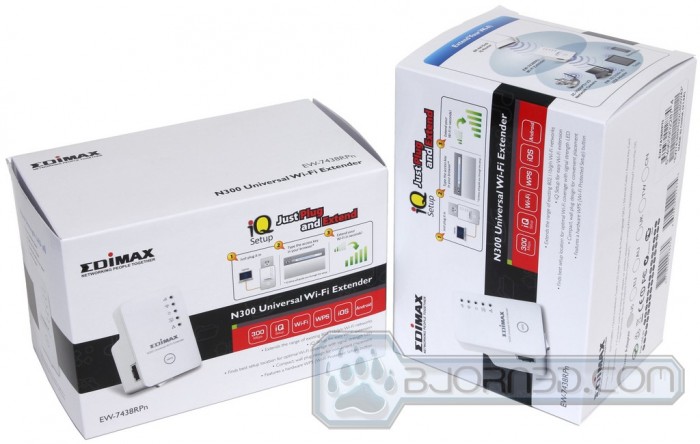 The Edimax N300 Universal Wi-Fi Extender can be purchased online for roughly between $40-$50, which makes it a very inexpensive method of boosting the signal of your original router to the rest of the house. In this review we'll also take a closer look at how we can use two of these extenders to extend a wireless signal across multiple houses in the  neighborhood, especially if you need your network connection at your community pool or perhaps in another house that you might own. We'll also examine how we can share a single Internet connection across two houses, saving on additional monthly network expenses.
Features & Specifications
Extends the range of existing 802.11b/g/n Wi-Fi networks
iQ Setup for easy Wi-Fi extension
Finds best setup location for optimal Wi-Fi coverage with signal strength LED
Compact, wall plug design for convenient placement
Features a hardware WPS (Wi-Fi Protected Setup) button
Hardware

Standards

Data Rates

1 x 10/100Mbps Ethernet LAN port
WPS button
Power switch
2 x internal antenna (2T2R)

IEEE 802.11b
IEEE 802.11g
IEEE 802.11n

11b: 1/2/5.5/11Mbps
11g: 6/9/12/24/36/
48/54Mbps
11n (20MHz): MCS0-15, up to 144Mbps
11n (40MHz): MCS0-15, up to 300Mbps

Frequency Band

Output Power

Temperature

2.4000 – 2.4835GHz (industrial scientific medical band)

11b: 17±1.5dBm
11g: 15±1.5dBm
11n (20MHz): 14±1.5dBm
11n (40MHz): 13±1.5dBm

Operating temperature:
0 – 40°C
Storage temperature:
-20 – 60°C

Memory

Sensitivity

Humidity

11b @ 11Mbps: -84±2dbm
11g @ 54Mbps: -71±2dbm
11n (20MHz) @ MCS15: -68±2dbm
11n (40MHz) @ MCS15: -64±2dbm

Operating humidity: 10 – 90%
(non-condensing)
Storage humidity: max. 95%
(non-condensing)

Power

Built-in 5V, 1A power module

76 (H) x 47 (W) x 41 (L) mm
A Closer Look
Click Images to Enlarge
Let's take a closer look at what we receive with the Edimax N300 Universal Wi-Fi Extender. Do note that you will only get one box with your purchase, unless you order two units, but we will be showing two extenders just because of the way we will be testing this Wi-Fi extender. The box is quite small, and fits nicely in your hands. The outside cover takes a look at all the features and specifications. For example we can see right off the bat that this extender can offer up to 300Mbps throughput speeds, it comes with easy iQ Setup, the possibility to easily make a wireless connection between your router and extender just by clicking the built in WPS (Wi-Fi Protected Setup) on both your router and the extender, and of course iOS and Android support. Do remember that this extender also works on Windows based systems.
Click Images to Enlarge
This particular extender is called the "Universal Wi-Fi Extender" for a reason, and that's because this extender should be compatible with just about any device that can connect to a wireless network, like:
Desktops & Laptops
Printers
Webcams
Surveillance Systems
Tablets
Wi-Fi Enabled Phones
The back of the box has some more information in different languages about the Edimax EW-7438RPN. Opening up the white box reveals another cardboard box, which includes the extender and some accessories. Lets take a look at that.
Click Images to Enlarge
Inside the box you'll find the Edimax N300 Universal Wi-Fi Extender, along with some documentation and other accessories. You'll find a User's Manual, a Installation Guide for WPS setup, a business card with the URL for configuring your extender through your web browser, and a small CD for a electronic version of your User's Manual and Installation Guide.
Click Images to Enlarge
A 3 foot long CAT5E network cable is also included with the EW-7438RPN for the initial configuration and to allow for a direct LAN connection between the extender and the system that needs the network connection. Finally, we have the actual extender. It's small, much like a cell phone charger, or a power adapter for certain electronic devices like the Apple Macbook Air model power adapters. The front WPS button allows for easy connection between a WPS enabled Router for initial installation. This means that the user could potentially setup their extender without the user of the network cable. Additional LED indicators are present on the front of the extender. We have a quick explanation of each LED and their meanings below: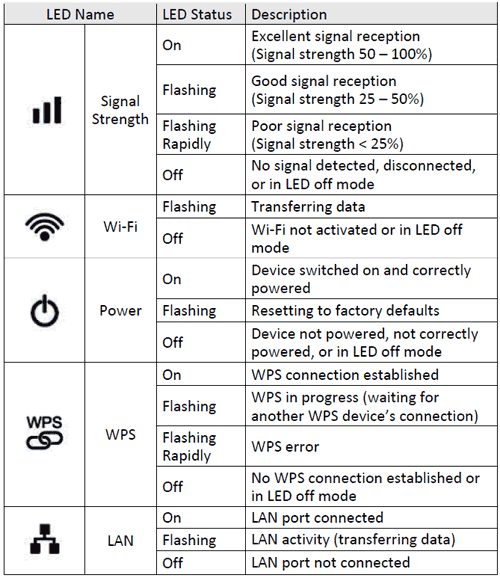 Click Images to Enlarge
On the side of the extender we have the network cable connection. The Extender has the option to run a network cable straight to your system for those that don't have a wireless adapter installed in their systems. This makes it possible for users with limited space to also have a wired connection, though do keep in mind that the extender still acts as a wireless adapter, so therefore the speeds won't be as good as a network cable coming straight from the router to your system.
Click Images to Enlarge
The bottom of the extender, or in case the extender is already plugged into the wall, then the left of right side of the extender has the On/Off switch. This is just a simple On/Off switch that will completely shut off the extender, or turn it on when it's needed. Finally our last picture shows the extender plugged into the power on our wall socket.
Initial Setup
Home
To configure your Edimax N300 Universal Wi-Fi Extender, you first need to connect the extender to your system with the provided network cable. Make sure both your main Wi-Fi router and the Edimax Wi-Fi Extender are both turned on. Now take a look at the little business card you received with the extender, which should have the URL to access your Extender Admin Preferences. If you got the URL correct, it will ask you to enter a username and password. This will be set to Admin and 1234 respectively, if the factory settings have not yet been changed.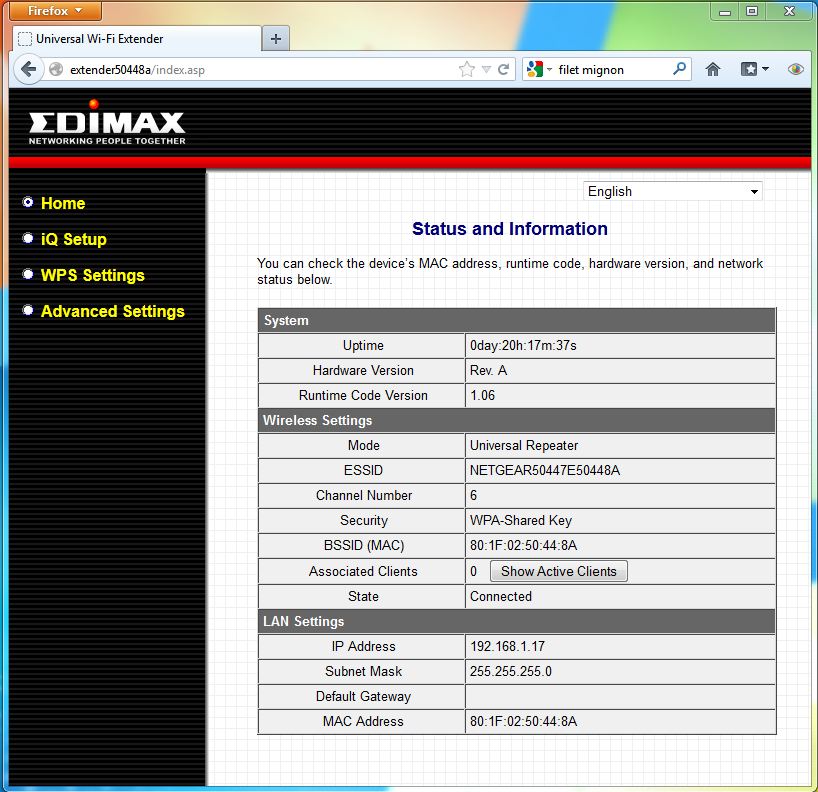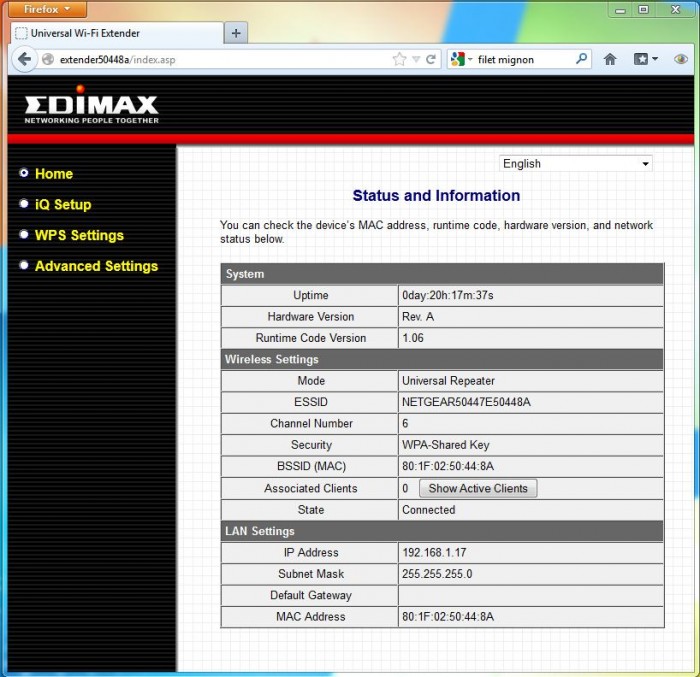 The Home page in the Admin Preferences will display all the main information about your extender, including the type of security you are using, the channel the signal is being transmitted on, along with the name of the Extender that other devices will see and the LAN Settings information.
iQ Setup
The iQ Setup tab is where we will be setting up our extender to work with our main Wi-Fi Router.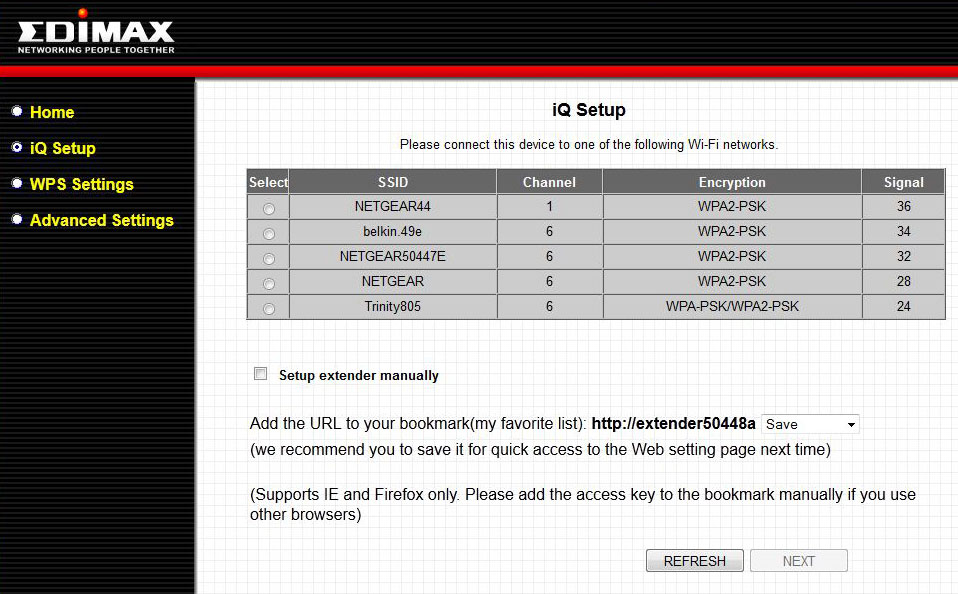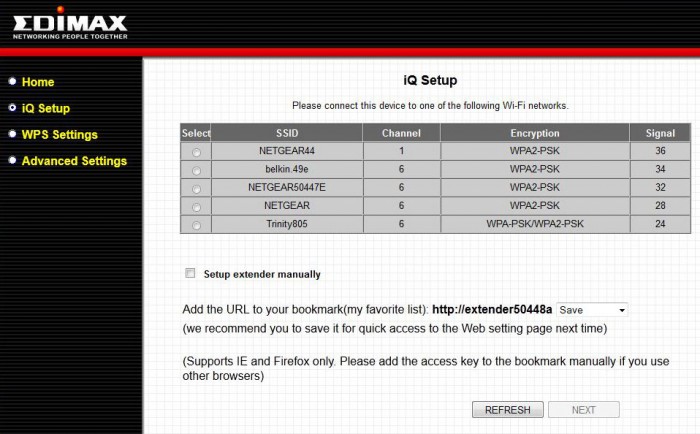 The first thing we need to choose is the router that we own. In this case, the router under the SSID name of  "NETGEAR".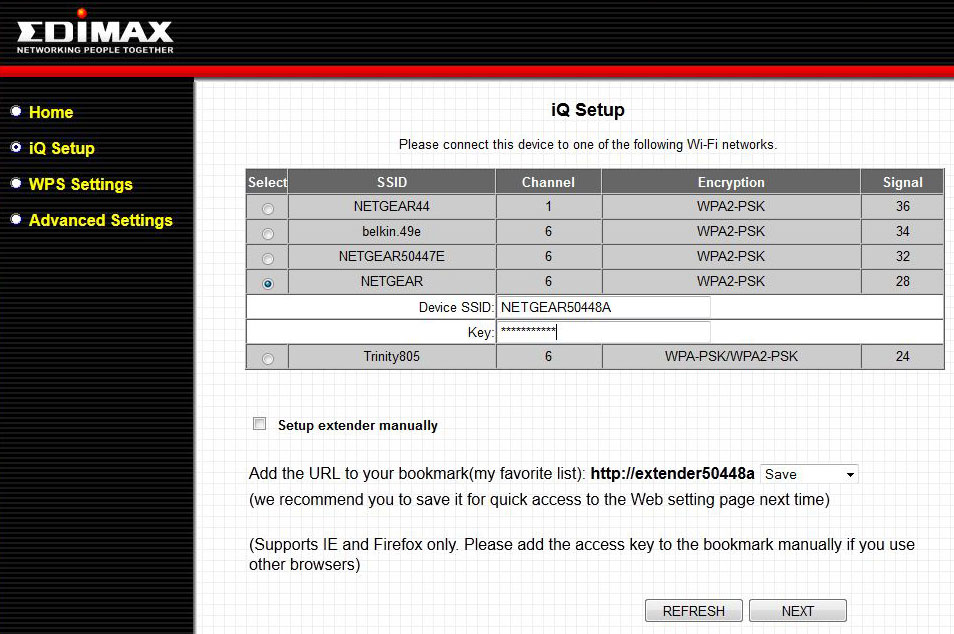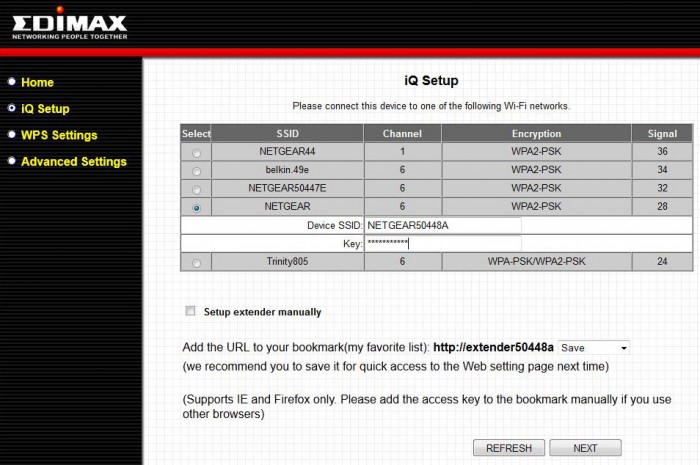 We'll enter the name of the Extender that we'd like to see show up as the SSID for the Edimax extender. We chose the name "NETGEAR50448A", but you can name it just about anything. You'll have to also come up with a key when configuring the Edimax extender, but do keep in mind that your written key will be visible to people sitting next to you during the configuration.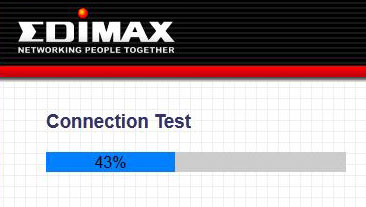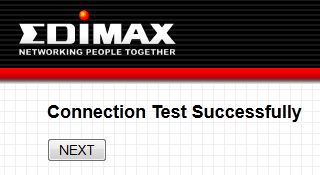 If the connection to your router is successful, the setup process will give you a "Connection Test Successfully" message after about 1 minute of testing the connection.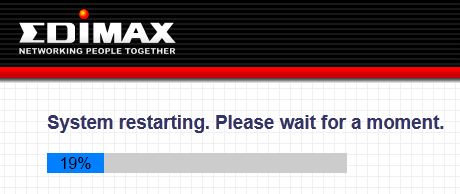 The Edimax N300 Universal Wi-Fi Extender will have to restart after the configuration. This could take 2-3 minutes. Be patient and wait for the process to finish. If everything went fine, the Extender should now be usable to any device compatible with a 802.11b/g/n Wi-Fi connection.
WPS Settings
The WPS (Wi-Fi Protected Setup) Settings allows you to provide WPS connection methods to other devices. If you have a device that has a WPS type connection, its a matter of just pressing the button and the device will be connected to the Extender without any other configuration, or vice versa.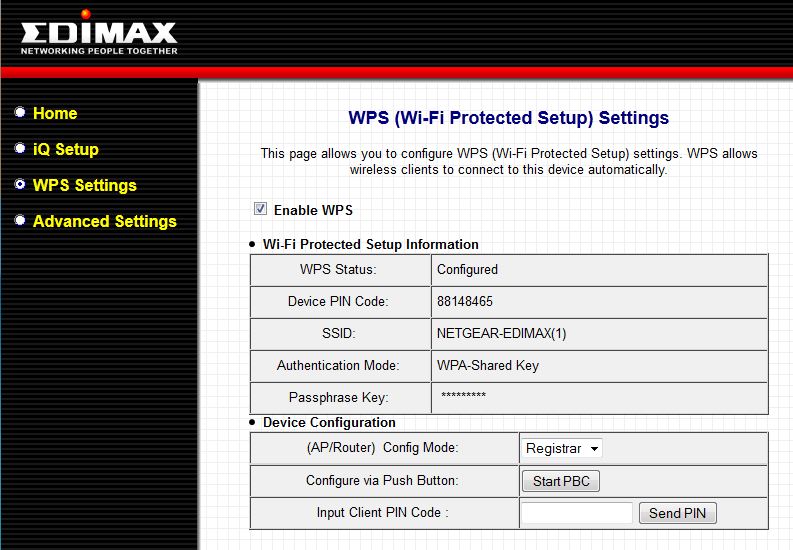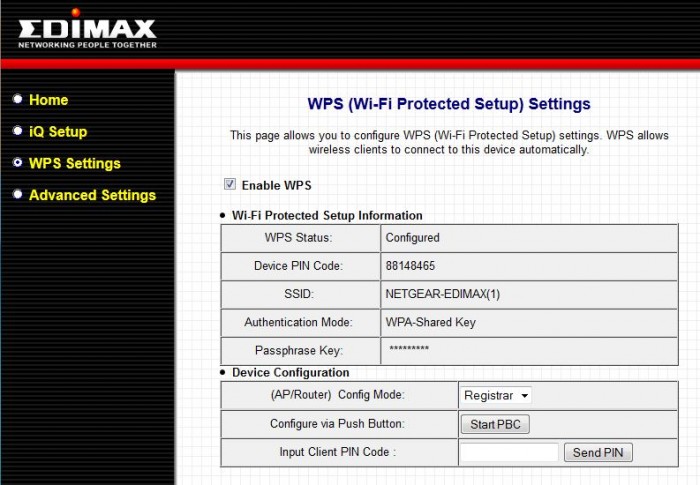 Advanced Settings
More advanced options are also available to more experienced users.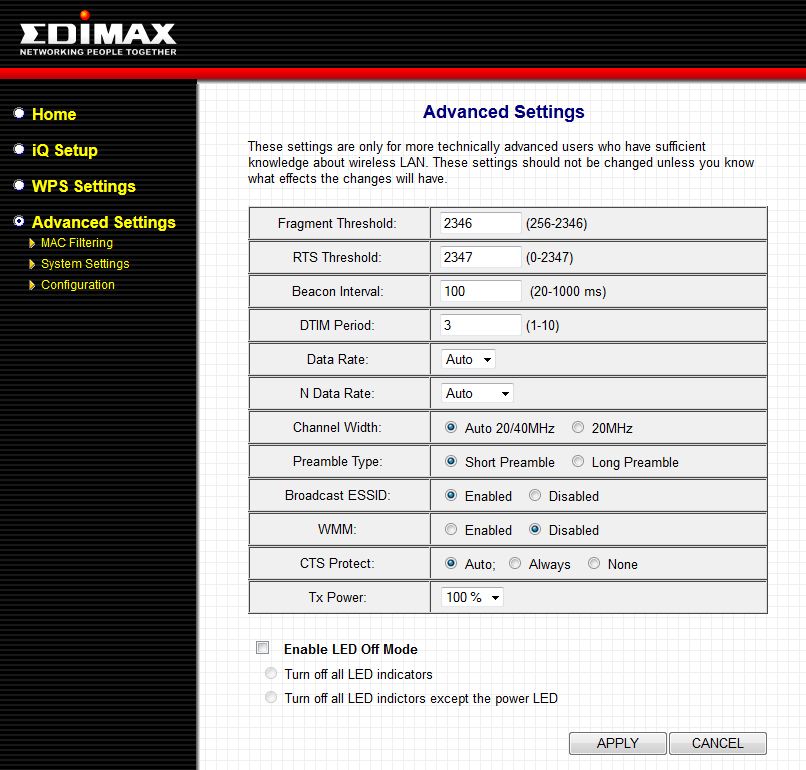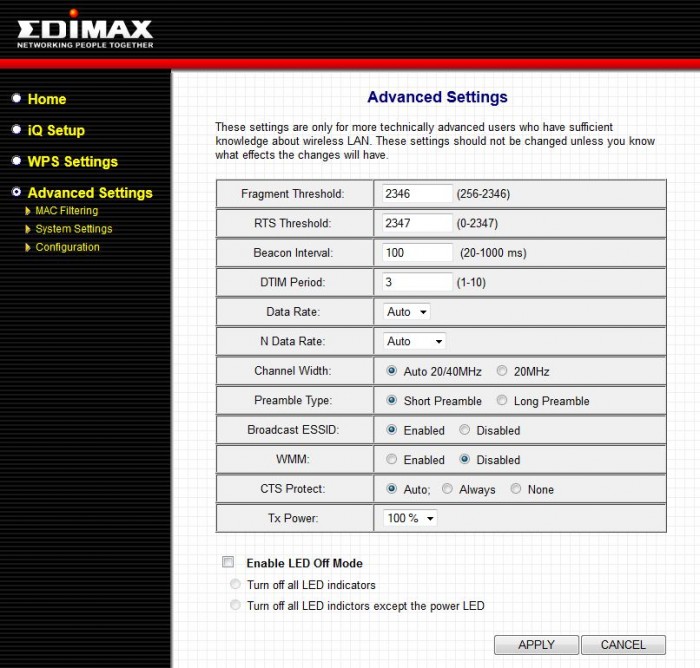 MAC Address Filtering allows you to enter the MAC addresses of certain devices to protect yourself from outside invaders or people that might want to connect to your Wi-Fi Extender.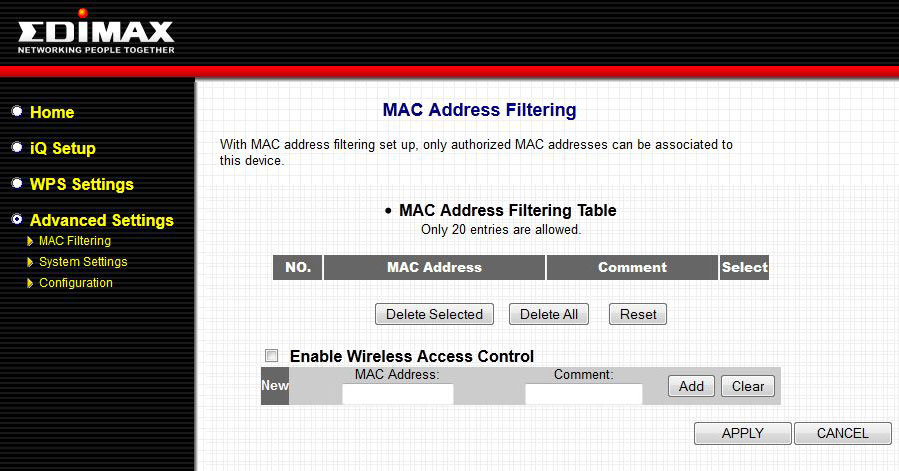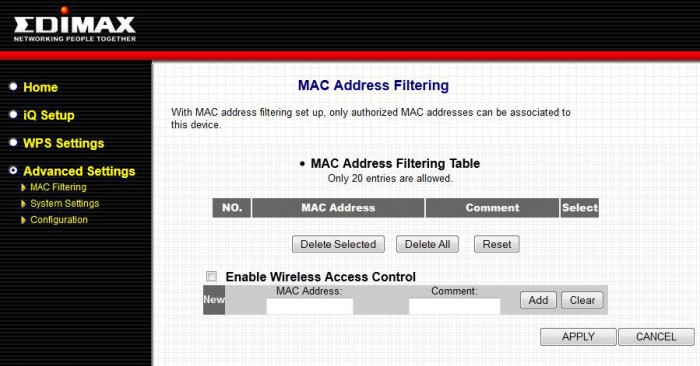 System Settings allow you to easily change the login password for your extender, and also for setting up the IP and DHCP Server configurations manually or automatically.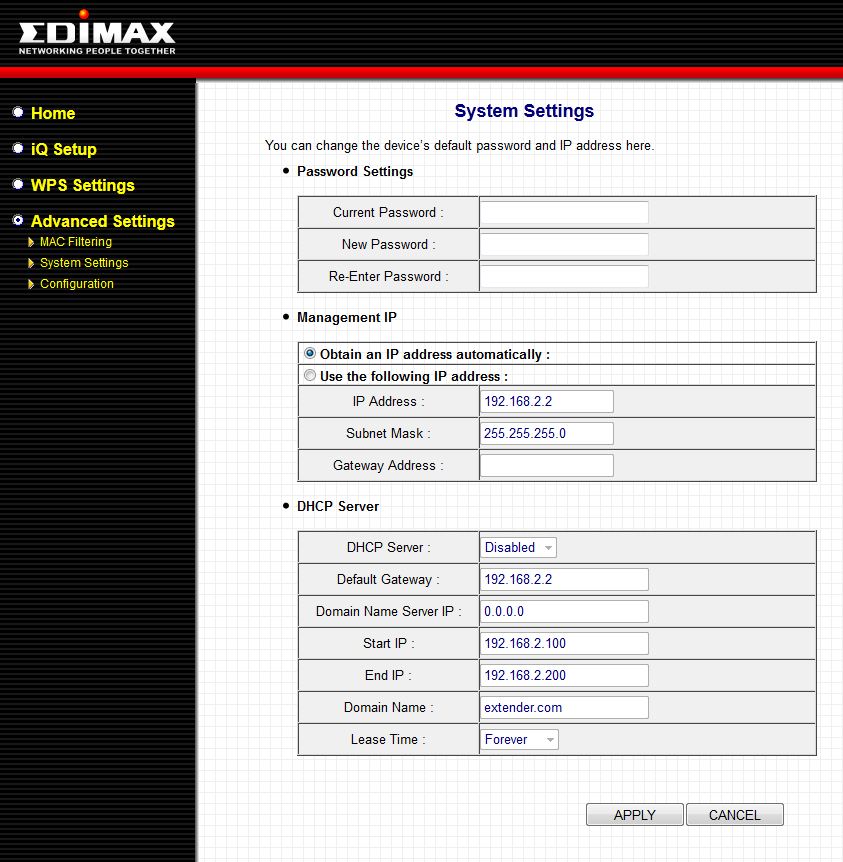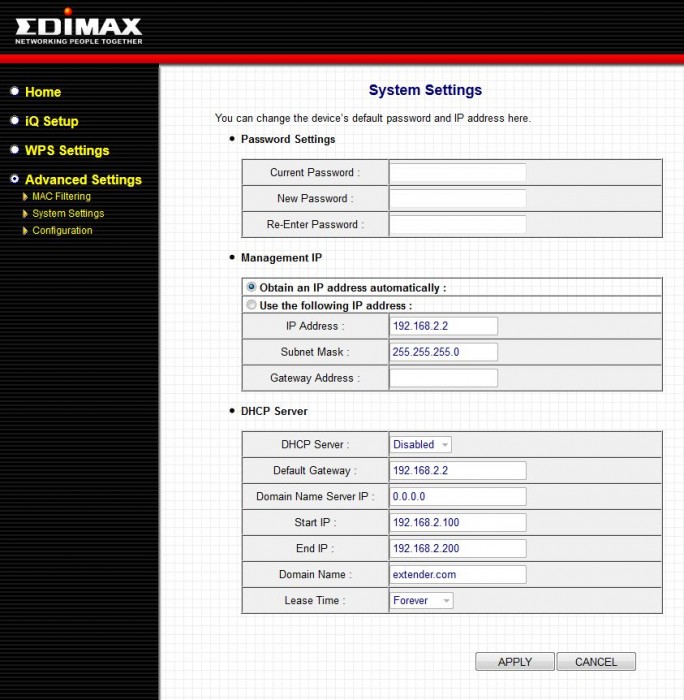 Finally, this last section allows the system to create backup files in case settings have been manipulated with and the extender doesn't seem to work for any particular reason. These backups can be restored at any time, or you can also restore your extender to factory settings. Upgrading the firmware on your extender is also very easy. You can download new firmware from Edimax's website for your extender or repeater, and use the upgrade browse section to select the firmware for your particular extender.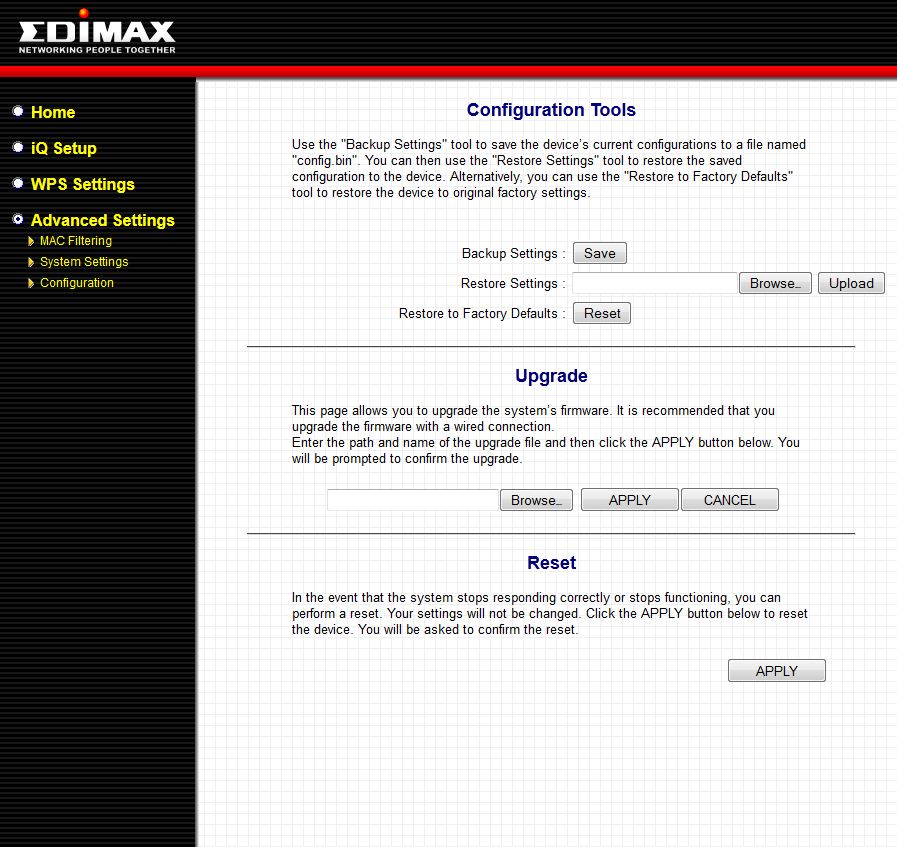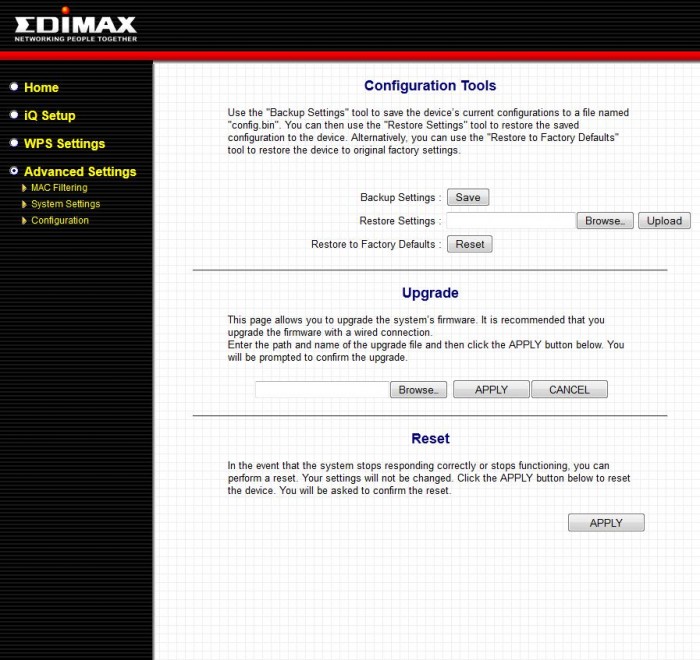 Testing & Methodology
To test the performance of the Edimax N300 Wi-Fi Extenders, we'll be trying to get our main Internet connection from our first house to our second house with the use of two Wi-Fi Extenders. The reason why we need two Wi-Fi extenders is because while we can use the first extender to extend our Wi-Fi network to the other house (across the street), roughly 55 feet away, we do not get a good signal all throughout the second house. This is why we use another Edimax N300 Wi-Fi Extender to boost the signal to all the rooms in the 2nd house. In our test we'll be testing the PING, and the Internet throughput for downloading and uploading.
Internet Connection Information:
30Mbps Download
1Mbps Upload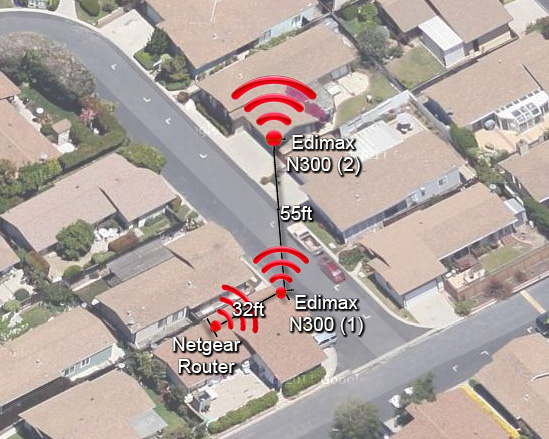 Test Rigs
Test Setup – Mac
Model
MacBook Pro, 15-inch, Early 2011
CPU
Intel Core i7-2720QM 2.2GHz Processor (3.3GHz Max Turbo Freq)
Ram
Kingston HyperX Plug-n-Play 8GB (2x4GB) 1600MHz Memory
Storage Drives

Zalman N Series 128GB SATA II SSD (Main SATA)
Hitachi 7200RPM 500GB 2.5″ SATA II Hard Drive (Secondary SATA)

Optical
N/A
GPU

AMD Radeon HD 6750M 1024MB
Intel HD Graphics 3000

OS

OS X Mountain Lion v.10.8.1
Windows 7 Professional (Used for Testing)
Router Information
Netgear N600 Dual-Band Wireless Router (WNDR3400)
Results
Direct Cat6 Network Cable Connection (Netgear Router)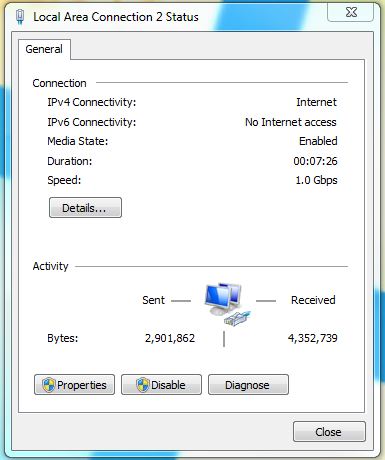 Here we are checking out a setup where we have a direct network cable connection between our WNDR3400 Netgear router and our PC. We can see our network speed is 1.0 Gbps, which is 1000 Mbps. With this type of connection, you should have the lowest PING and highest network throughput. Now we'll check out how fast our Internet connection is with this configuration.


We received a very nice 10 ms ping, which is only a 0.01 second delay before we can send and receive information. Our download speed almost hit our Internet connection speed, which is at 30Mbps. We got a 28.96 Mbps download speed and 0.97 Mbps upload speed. Now let's check out how moving to a wireless setup can change the network throughput and PING. 
Wi-Fi Connection in Main House (Close – Netgear Router)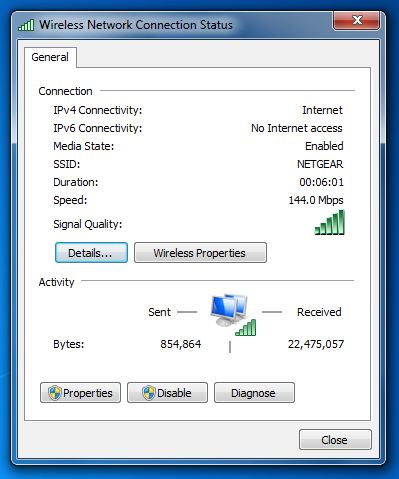 Now with this setup, we are roughly about 5 feet away from our wireless router, which yields a 144 Mbps wireless connection with 5/5 signal bars. This is as good as it will get with the wireless router we're using.


The PING is still 10 ms, which is not surprising because we are very close to the router, but our download speed has dropped to 20.15 Mbp. This is a pretty big hit in speed, but for an Internet connection it should be good enough for online streaming and downloading larger files. Do keep in mind that Wireless signal can deteriorate depending on the amount of outside wireless noise that might be surrounding your Wireless Router.
Wi-Fi Connection in Main House (Far – Netgear Router)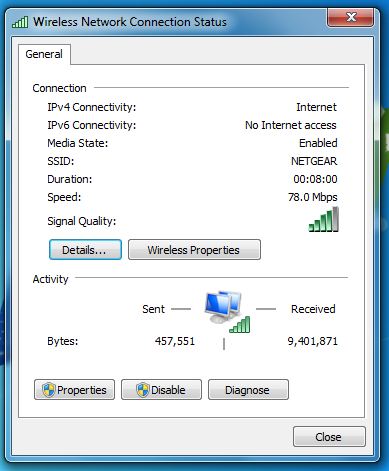 Moving across our main house still maintains a fairly good signal of 4/5 bars, but the throughput drops to 78 Mbps according to Windows. This particular house is not too big, but houses with multiple stairs and larger sq. feet coverage could have a much worse signal. That's where the Edimax N300 Wi-Fi Extender could come into play.


Being on the other side of the house, we get a 2 ms slower PING, putting it at 12 ms total. The download speed has also dropped to 19.50 Mbps, but the Upload speed is still maintained at 0.97 Mbps.
Wi-Fi Connection in 2nd House Down the Street (Netgear Router)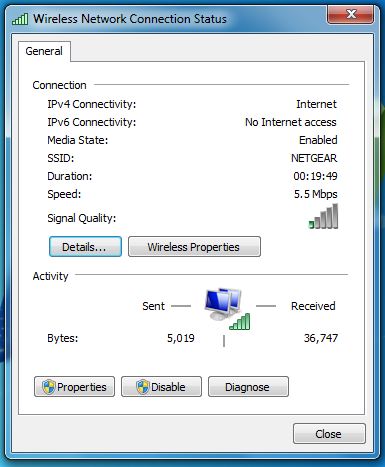 Now we can examine what happens when we move over to the other house across the street with a neighbors house in between. This time, it is extremely difficult to get a good Wi-Fi connection from the main house that has the Internet connection. Because of this, there are many dropouts, and file transfers can be accidentally cancelled because of this. This is because there is only 1/5 bars available, and even the throughput of the wireless connection drops down to 5.5 Mbps.


When we check out the Internet connection, we are only able to get a 1.65 Mbps download speed and a 0.54 Mbps upload speed. This is equivalent to a mediocre basic DSL connection.
Wi-Fi Connection in 2nd House Down the Street (Edimax N300 Universal Wi-Fi Extender)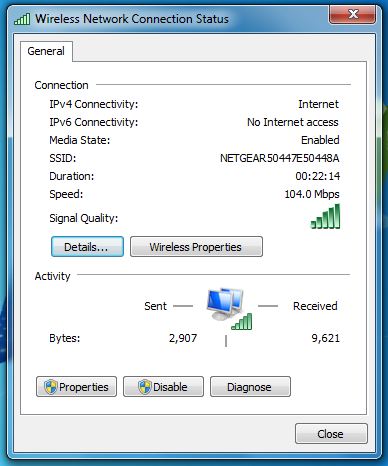 Now we're testing the Edimax N300 Universal Wi-Fi Extender in the 2nd house at the farthest point away from the extender. Even as far as 40-50 feet away from the extender with multiple walls in the way, we're still getting a 104 Mbps throughput speeds with the signal quality being 5/5 bars. Let's check out the Internet connection speed.


Considering that we're roughly about 100-120 feet away from the main router where our cable Internet connection is connected to, we're still getting a 14.88 Mbps download speed, and 0.97 Mbps upload speed with a great PING of 15 ms. This is excellent considering that a 5 Mbps connection is recommended for online HD streaming from Netflix. This means that two houses could easily be connected to a fast cable connection just with Wi-Fi extenders.
Conclusion
There are many types of Wi-Fi Extenders, repeaters, and signal boosters out on the market, but they also come in many shapes and different specifications. The Edimax N300 Universal Wi-Fi Extender that connects straight to your wall power outlet is definitely something to consider, knowing that it supports 802.11 b/g/n network connections, and up to 300 Mbps throughput speeds. Its iQ setup configuration and WPS possibility makes it super easy to configure with your current wireless router, and get you up and running within minutes. Once configuration has been done, the extender can be placed in any outlet within the house. Its LEDs give you a great overview of how good of a signal your extender is getting from the main wireless router, and it makes it easy to connect to an outlet that provides still good connection between the main router and the extender for best possible signal boost. Its small size makes it easy to hide in smaller locations and its white covering makes it look aesthetically appealing to the eye. Finally the Ethernet LAN network cable connection on the Edimax N300 makes it an excellent choice for users that don't have Wi-Fi adapters inside their system, making it possible to directly connect the extender to their system with a network cable.
OUR VERDICT: Edimax N300 Universal Wi-Fi Extender
| | |
| --- | --- |
| Performance | 8 |
| Value | 10 |
| Quality | 9 |
| Features | 9 |
| Innovation | 10 |

We are using a new addition to our scoring system to provide additional feedback beyond a flat score. Please note that the final score isn't an aggregate average of the new rating system.

Pros
Cons

Super easy Manual or WPS setup.
Extends signal with full bars on a 3 bedroom house.
By using two, you can extend the Wi-Fi signal across two houses separated by another house with full 5 bars.
Additional Advanced Settings
Low Ping Increase across two extenders
Network Cable LAN (CAT5/5E/6) connector available

Occasional dropouts of the internet (not Wi-Fi), however, could be the problem of the main router, not the Extender.
Summary: The Edimax N300 Universal Wi-Fi Extender's pricing of around $40 – $50 makes this wireless extender an excellent low-budget signal booster. Its easy to set up configuration, and great performance earns it the Bjorn3D Golden Bear Award.