The GIGABYTE GTX 670 OC is a veritable force to be reckoned with not only for price versus performance, but in quality thermal design. Read on to find out!
Introduction
With the advent of the Kepler architecture there has been a rather wide price gap in dollar-versus-performance on the market. Hot on the heels of the GTX 680, GIGABYTE used NVIDIA's GTX 670 reference design and boosted it with not only a factory overclock, but gave it a complete redesign in thermal and power management. The GIGABYTE GTX 670 OC sells for approximately $415. Let's see how the latest competes with the other high-rolling single-core GPU's on the market.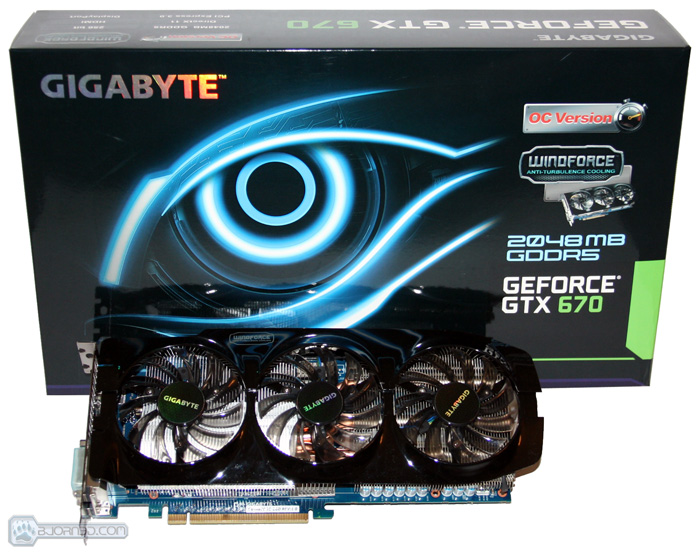 Clarifying the main differences in the GIGABYTE's OC version of the GTX 670, there is a modest 10% factory overclock across the board. Noticeable differences right away are the cooling solution and slightly higher power requirements. Even though it shares more common characteristics of its older sibling, the GTX 680, one of the SMX processors is still disabled like the reference GTX 670. Below is the chart where GIGABYTE's video card is highlighted in gold, while NVIDIA's reference board line-up is highlighted in black.
Specifications
GTX 680
GIGABYTE GTX 670 OC
GTX 670
GTX 580

CUDA Cores

(Stream Processors)

1536(GK104)
1344(GK104)
1344(GK104)
512(GF110)
SMX
8
7
7
16

Texture Units

128
112
112
64

ROPs

32
32
32
48

Base Clock

1006 MHz
980 MHz
915 MHz
772 MHz

Shader Clock

N/A
N/A
950 MHz
1544 MHz

Boost Clock

1058 MHz
1200 MHz
980 MHz
N/A

Memory Clock

6008 MHz GDDR5
6008 MHz GDDR5
6008 MHz GDDR5
4008 MHz GDDR5
L2 Cache Size
512KB
512KB
512KB
768KB

Memory Bus Width

256-bit
256-bit
256-bit
384-bit
Memory Bandwidth
192.2GB/s
192.3GB/s
192.2GB/s
192.4GB/s
Texture Filter Rate
128.8 GigaTexels/s
109.8 GigaTexels/s
102.5 GigaTexels/s
49.4 GigaTexels/s

VRAM

2GB
2GB
2GB
1.5GB

TDP

195W
180W
170W
244W
Recommended Power
550W
550W
500W
700W
Power Connectors
2×6-Pin
1×6-Pin, 1×8-Pin
2×6-Pin
1×6-Pin, 1×8-Pin

Transistor Count

3.5B
3.5B
3.5B
3B

Manufacturing

TSMC 28nm
TSMC 28nm
TSMC 28nm
TSMC 40nm
Thermal Threshold
98C
98C
98C
97C

Launch Price

$499
$415
$399
$499
The benefits and differences between the Kepler and Fermi architectures has already been well covered and if so inclined, details can be found here. For now the focus is what differentiates the GIGABYTE GTX 670 OC and NVIDIA's GTX 670 reference card. A three-step approach encompasses GIGABYTE's patented cooling technology called Windforce 3X. Components such as the fans, heatsink block, and direct heat pipe touch technology are explored in finer detail below:
| | |
| --- | --- |
| | Three ultra-quite PWM fans provide excellent air flow even when the card is under full load. The unique design combines the fins with a clip module providing an anti-turbulent shroud- housing. On the bottom is a special RAM heatsink optimized for heat transfer. |
| | The triangle design of the heatsink block further minimizes the flow of air turbulence between the fans and also provides the system with efficient air flow. |
| | Three 8mm pure copper heat pipes make direct contact with the GPU through direct heat pipe touch technology. A solder free process increases heat dissipation drastically. |
You can also find our reference design NVIDIA GTX 670 review here to have a direct comparison with the GIGABYTE GeForce GTX 670 OC 2GB video card.