The EC01+ is a USB 3.0 adaptor card which claims an increase in speeds over the previous generation of cards from silverstone. Today we take a look at it.
Introduction
SliverStone has been quietly building a reputation for products that fill certain niches. They offer everything from hardware mounting solutions, including cases, to ad-in hardware for a variety of purposes.
A short while back we examined the Silverstone EC03 USB 3.0 expansion card w/ front USB3.0 ports (fits in the 3.5 inch bay). We found it to be quite a handy device for adding USB 3.0 ports to a system that doesn't have them, it can be used to add extras to a system that does have them also.
 Since then we have discovered that Silverstone has released the EC01+ (EC01-P) which claims a 10% increase in performance over the pervious generation of USB 3.0 solutions. So today we are taking them to task and giving this product the chance to prove it's claims or fail horribly. This particular product is just the card without the front ports.
Now, without further delay, we present the SilverStone EC01+ USB 3.0 expansion card. Let's see what it does.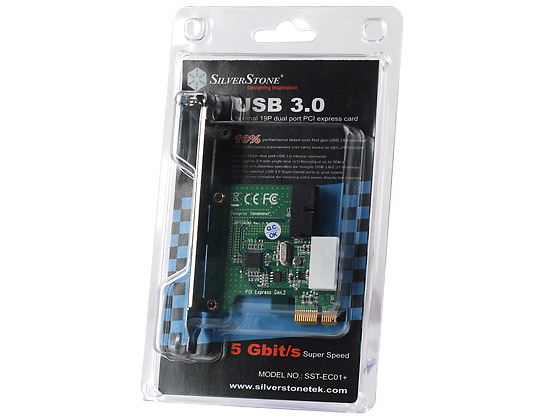 The SilverStone SST-EC01-P USB 3.0 expansion card is available from a wide range of online retailers with prices from $23 – $32 USD.
Features
Unique 19-pin dual port USB 3.0 internal connector
PCI Express 2.0 with single lane(x1) throughput 5Gbit/s
Supports simultaneous operation of multiple USB 3.0/2.0/1.1 devices
Adds two external USB 3.0 SuperSpeed ports to your system
Built-in power connector to receiving extra power from system
SPECIFICATIONS
| | |
| --- | --- |
| Model No. | SST-EC01-P(EC01+) |
| Power requirement | 5Vdc via peripheral 4pin power connector |
| Form factor | Single lane(x1) PCIe gen 2.0 |
| USB 3.0 controller | NEC uPD720202 |
| USB Ports | Dual port USB 3.0 support (one internal connector) |
| USB bus power output | 5Vdc / unlimited current |
| Drive Support | Windows XP, Vista, 7(32bit/64bit) |
| Transmitting Speed | USB 3.0(5Gbit/s), USB 2.0(480Mbit/s), USB 1.1(12Mbit/s) |
| USB host interface | USB3.0 (Max. 5Gbps) compatible with USB 2.0 |
This card works with the same connection as an internal 19-pin M/B connection making it compatible with most modern cases. It is an x1 card but can be used in any PCI-E slot, and may see a performance gain from an x4, x8 or x16 slot depending on the interface speed.
Pictures and Impressions
The EC01+, also known as the EC01-P, is a PCI-E x1 expansion card  though it can be used in any PCI-E slot. It is a rather simple looking PCB with a Molex power connector, allowing full power to the port without drawing it from the motherboard. It is equipped with a 19 pin connector for the USB 3.0 ports to hook up rather than using a type A USB slot. The external shield for the PCI slot is a blank with no ports.
 Designed to add USB 3.0 to a PC, this product uses a Renesas USB 3.0 host controller, and includes a mini disk with the required driver.  This particular model claims a 10% speed increase over the previous models. We will be investigating that.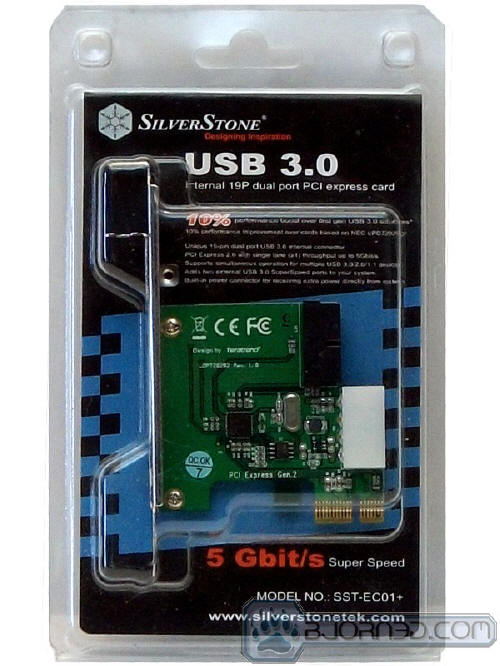 The Packaging is a simple plastic clamshell that is held closed by the "buttons" pressed into it. It is easy to open and close, allowing consumers to keep it to store the item if they so choose. It allows a view of the unit itself as well as the insert which gives the pertinent information concerning this product.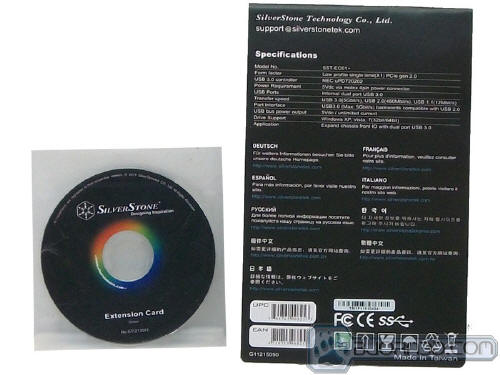 The insert hides the driver disk, and on the backside lists the manufacturer, their support site web address, the specifications, and in nine different languages the message " For more information visit the homepage" followed by the appropriate web address.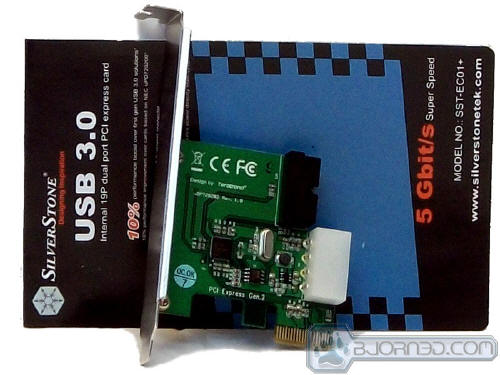 Here we see the EC01+ out of it's package. As can be seen it is a relatively small item, no bigger than was absolutely necessary.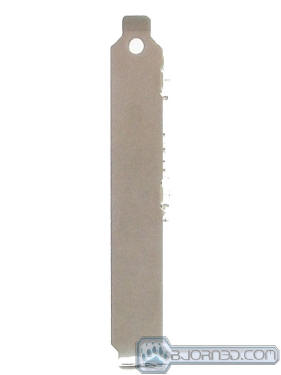 This is the external shield for the PCI slot.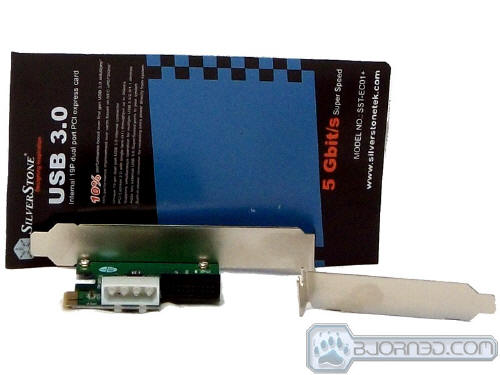 The connectors are forward facing once installed. SilverStone also includes a shorter PCI bracket for small form factor chassis.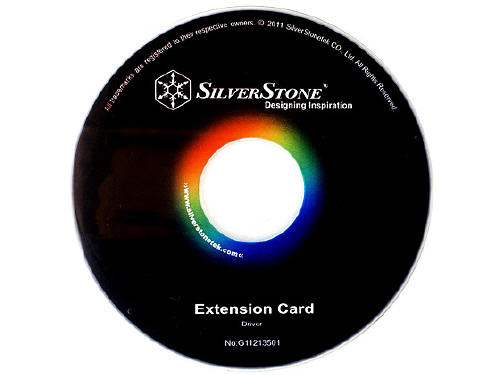 The driver disk is a "mini-disk" containing the drivers and manuals for this and several similar products.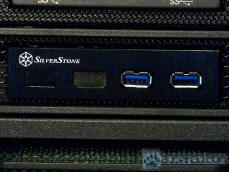 This same card is included in the EC03+ kit which comes with a "Free bonus USB 3.0 font IO" 3.5 inch bay accessory for adding the ports to the front bezel of a system which needs them. This was NOT included in the product we are reviewing today.
Installation
Installing the EC01 is simple, install the PCB into a PCI-E slot and connect the power and 19 pin cables.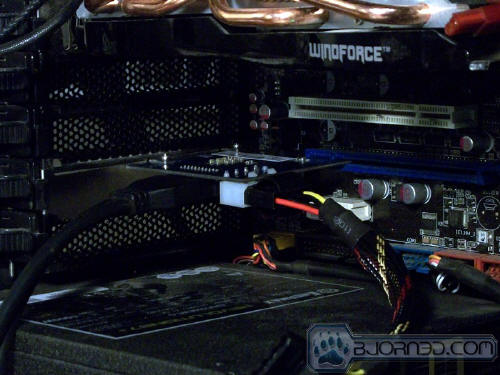 The image above is the EC03, though it is extremely similar to the EC01+
Now let's move on to how well it works.
Testing and Methodology
We tested the SilverStone SST-EC01-P USB 3.0 adaptor using a  Zalman 3.5 inch external HDD enclosure (ZM-HE350U3). The drive used for these tests was a Western Digital Caviar Blue, WD5000AAKX SATA III (6GB/s) 500GB, 3.5 inch. Results posted include both the USB 3.0 and 2.0 buses. We also ran this drive installed in the system listed below and posted those results as well.
Test System
Case
Cooler Master HAF XM

Processor

AMD Phenom II X4 9500 (Agena)

Motherboard

Asus M3N-HT Deluxe (bios 3401)
 

Memory

4 GB Patriot 8500EL series PC2-6400

Drive(s)

Maxtor 7H500F0, WDC WD 1600BEVT

Graphics

Dual GTX 480 in SLI

Power Supply

Enermax Revolution87+ 1000w SLI

Operating System
Windows 7 Ultimate 64bit
CPU cooler
Cooler Master TCP 812
USB 3.0 Adapter
SilverStone EC01+
HDD used for testing
Western Digital WD WD5000AAKX SATA III (6GB/s) 500GB, 3.5 inch
WD 500GB Drive specs;
| | |
| --- | --- |
| Performance Specifications |   |
| Rotational Speed | 7,200 RPM (nominal) |
| Buffer Size | 16 MB |
| Load/unload Cycles | 300,000 minimum |
Transfer Rates
Transfer Rate (Buffer To Disk)
126 MB/s (Max)
| | |
| --- | --- |
| Physical Specifications |   |
| Formatted Capacity | 500,107 MB |
| Capacity | 500 GB |
| Interface | SATA 6 Gb/s |
| User Sectors Per Drive | 976,773,168 |
 Superfetch, Prefetch, and Indexing were disabled so as not to interfere with the tests. Any background applications and/or processes that could interfere with testing were similarly disabled. Crystal Disk Mark was run 3 times per unit and then averaged for the posted result. Both HD Tune and ATTO gave far more consistent results so screen shots were used.
Software Testing Suite
ATTO
CrystalDiskMark
HD Tune
ATTO
The enclosure in a USB 2.0 port
This gives us a comparison for the USB 3.0 speeds.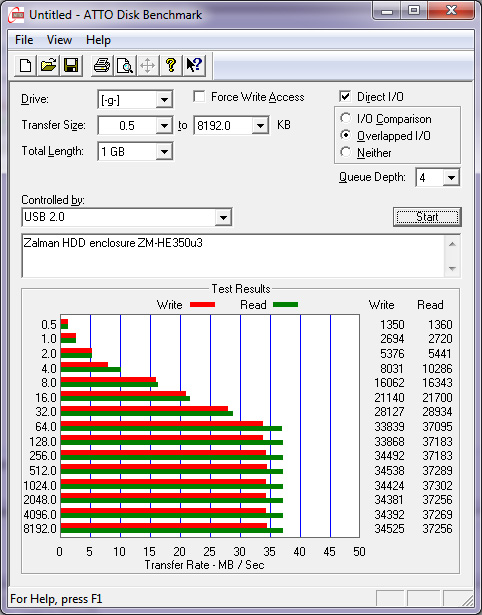 As with any USB 3.0 device on the USB 2.0 interface our enclosure is bottlenecked by the 480Mb/s available here.
The enclosure with the EC03 USB 3.0 adaptor @ 2.5Gb/s.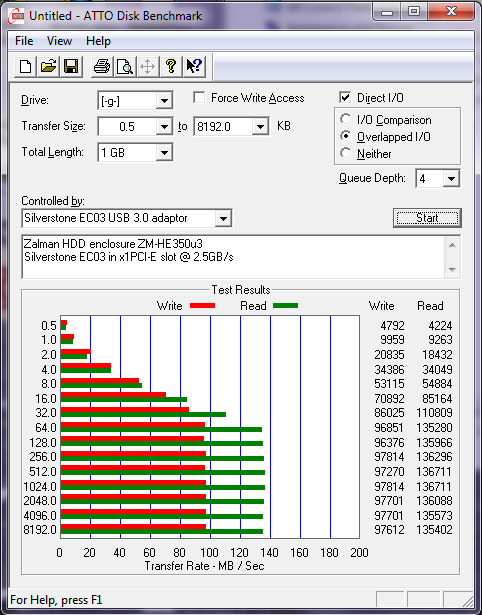 With the enclosure connected it to the EC03 USB 3.0 adaptor, even at 2.5Gb/s we see a big jump in the write speeds and a huge one in the read speeds. Please excuse the typo in the above image it should read Gb/s not GB/s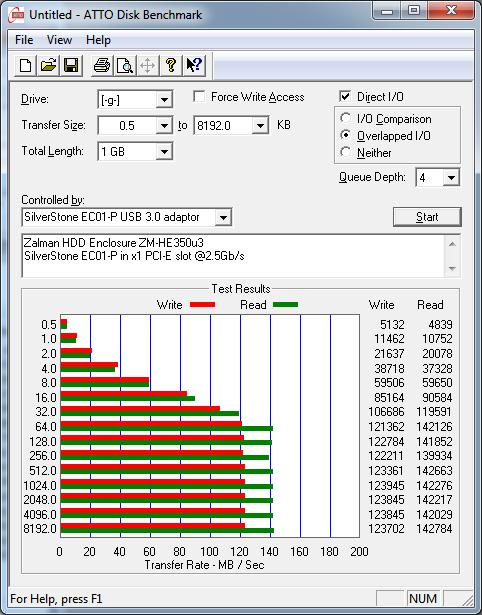 When Silverstone told us the ECO1-P gave a 10% increase in speed our response was "That's nice." while thinking "Yeah, right. We'll believe it when we see it." After running our first benchmark here and doing a little math we find that some of these results are a bit less than 10%, some are a bit more. Which ever side of the line they fall on, these results are a definite increase.
The enclosure with the EC03 USB 3.0 adaptor @ 5Gb/s.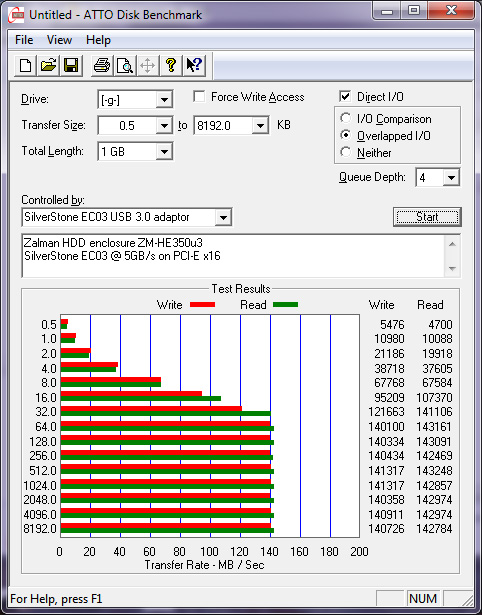 Opening that bottleneck further the EC03 USB 3.0 adaptor @ 5Gb/s lets the installed drive open up and hit much higher speeds. And again please excuse the same typo here.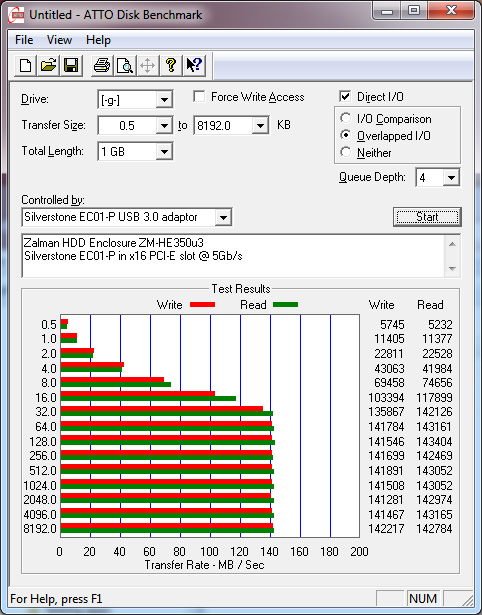 We find that as we speed up the connection we see less difference with this drive. Based on the higher write speeds we believe it is the WD 500GB drive that is the limiting factor but have no way to verify that at the moment. In short we think the drive is hitting it's limit here. There is a slight improvement overall using the EC01-P.
The WD drive on the motherboard SATA bus.
The SATA results are put here so that we have a benchmark to compare to.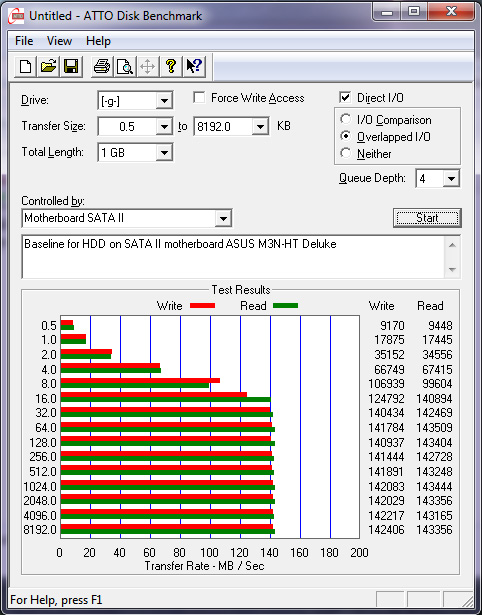 As we can see The ECO1+ allows access to drives at speeds that make it feel like it's installed in the system. Far superior to the USB 2.0 standard.
CrystalDiskMark
All test runs used the following settings; 1000 MB test size  (x5) # of test runs
Using the now dated USB 2.0 interface we see the results we expect, slow but functional. Let's face it, even though they have always called this "high speed" it has never been anything like that.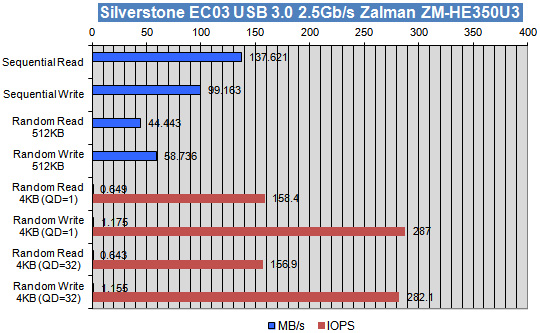 Moving the enclosure to the EC03 USB 3.0 adaptor @ 2.5 Gb/s, we see a major increase to the write and read speed as well as a boost in the IOPS (In Out operations Per Second).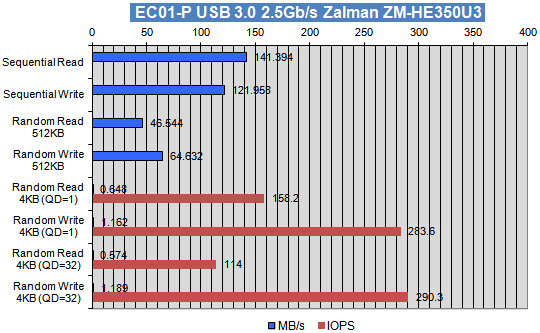 The EC01+ brings us mixed results. some better some not. We are at a loss to explain this.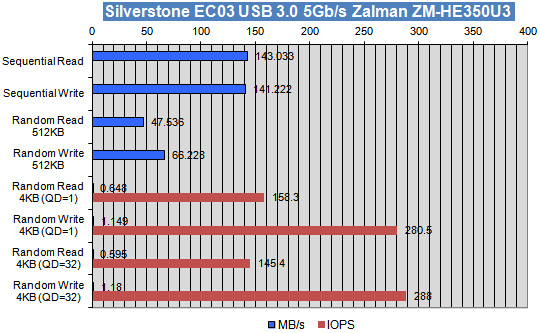 On  the EC03 USB 3.0 adaptor @  5Gb/s mark we see even better results, more than tripling from the USB 2.0 port on sequential reads and writes. The IOPS see even more of an increase here.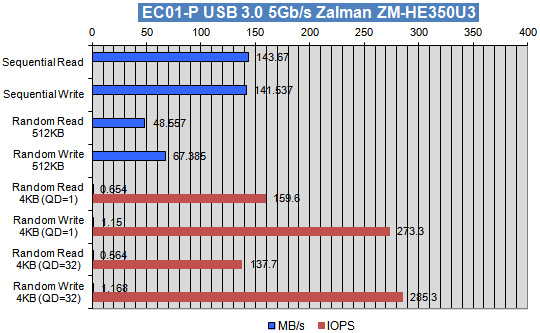 Moving to the EC01-P we see a slight increase in the sequential and random read and writes, but then we find a major discrepancy in the bottom 4 catagories. Over all our speeds dropped on this connection using CrystalDiskMark. We have no explanation for this, and are doing a diagnostic on the test system.
Again we present the SATA bus results as a benchmark.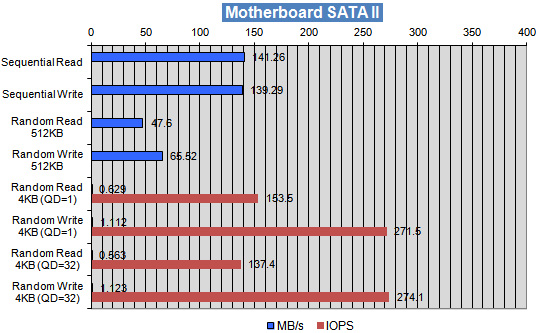 The WD 500GB drive used seems to have run slower on the SATA bus than it did on the EC03 adaptor, with the exception of the random read @ 512k. And that one is so close as to not make a difference users will notice
HD Tune
HD Tune was set to accurate, with a 1MB Block size for all testing. For most results Higher is better with the exception of access time where lower is better. We have never seen the CPU usage go any higher than the  reading shown. We still wonder how the CPU can be used at -1%
The enclosure in a USB 2.0 port
 As we expected the USB 2.0 bus holds the HDD back, giving poor results for a drive that has the potential to run much faster.
The  enclosure on the EC03 @ 2.5Gb/s.
At 2.5Gb/s on the EC03 USB 3.0 adaptor we see a nice increase in minimum, maximum and average transfer rates. with a good sized jump in the burst rate.
The  enclosure on the EC01-P @ 2.5Gb/s.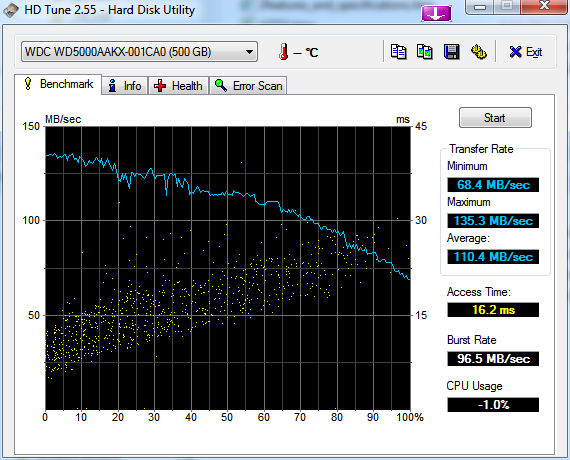 While the minimum rate held steady, maximum transfer rate with the EC01-P is just under the stated 10% increase. We would expect the average to be 118.8, so it falls short here also.
The  enclosure on the EC03 @ 5Gb/s.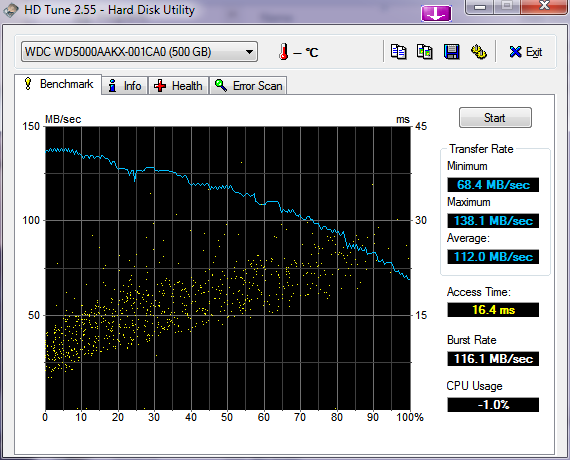 The  the EC03 USB 3.0 adaptor @ 5Gb/s  sees the minimum staying the same, while the maximum and average both get an increase.
The  enclosure on the EC01-P @ 5Gb/s.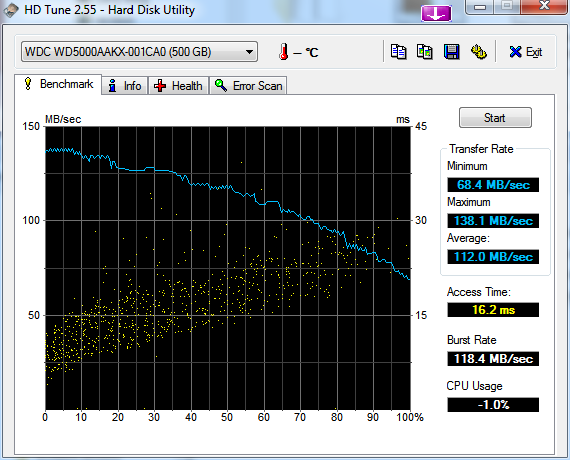 Here we find the EC01-p giving us a better access time and burst rate. with all else being equal. At this point we are wishing we had a Velociraptor drive available for testing just to see if it is the drive or not.
The WD drive on the motherboard SATA bus.
Again the SATA results are here for comparative purposes.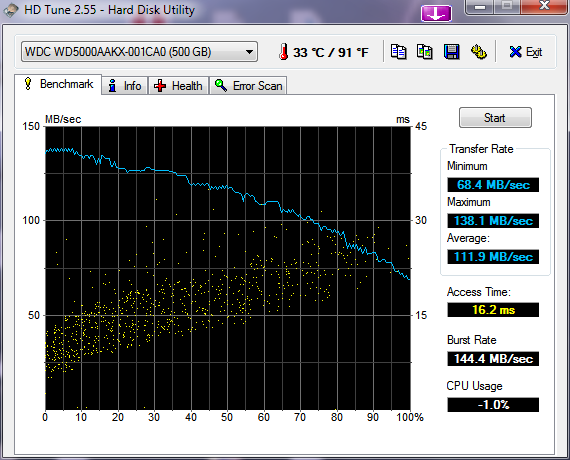 Again we see results so similar that there isin't enough difference to complain about.
Conclusion
For those with older systems or those that wish to add additional USB 3.0 ports to a newer system, the EC01+ is well worth considering. It is a simple to install and use product that does what it's supposed to, and with the number of USB 3.0 products on the market, there is a definite purpose in this upgrade. The use of the 19 pin standard instead of the type A ports we see on most other products is a nice touch making this card compatible with modern cases. Being backward compatible with both USB 2.0 and 1.1 means that users can plug in any USB device they choose and have it function.
We aren't sure if it can get the full ten percent increase in speed over the previous model, it may have been our system, or maybe just our math, but we did see a definite improvement over the EC03 that we tested awhile back, and it blows the USB 2.0 interface right off the map. With speeds virtually matching the SATA II interface using external storage through the EC03 is like having additional HDD's added to the motherboard.
With a reasonable price and a one year warranty, consumers can feel secure about their purchase. http://www.silverstonetek.com/downloads/USA_case_accessories_warranty.pdf
The EC01_P is built to fit an x1 slot, but can be used in any PCI-E slot. The speed of the link is determined by the slot it is installed in. To reach the full potential of the card it must be installed in a 5Gb/s slot. With the average HDD even the 2.5Gb/s slots will perform well enough to make the purchase of this product a viable option, and in either it is faster the the 2.0 interface.
OUR VERDICT: The SilverStone SST-EC01-P
| | |
| --- | --- |
| Performance | 10 |
| Value | 10 |
| Quality | 10 |
| Features | 10 |
| Innovation | 10 |

We are using a new addition to our scoring system to provide additional feedback beyond a flat score. Please note that the final score isn't an aggregate average of the new rating system.

Pros
Cons

Ease of installation
Price point
Speed of interface
Slightly faster than previous models.
 

None

 

 
Summary: The SilverStone EC01+ is an easy, inexpensive, effective upgrade path to USB 3.0. It is simple to install, adding a very fast interface for high speed external connections such as HDD enclosures. As the only adaptors on the market to use the 19 pin standard the Silverstone USB 3.0 cards would seem  to be the obvious choice. This product meets all of the manufactures claims with ease, add that to it's features, quality, and value, and it easily earns the Bjorn3D Seal of Approval.