The Roccat Kone+ excels not only in precision and tracking at unprecedented levels, but takes a synergistic approach to form-factor and ergonomics. Read on to discover why.
Introduction
It's becoming increasingly difficult to differentiate a new mouse product on the market — only so much can be done with increases in dpi and sensors. Roccat, who specializes in high performance peripherals, has brought forth a new line of mice that breaks the mold by not only adding previously unheard of features (such as voice feedback), but a way to enhance precision to unprecedented levels by self-calibrating on any surface. Roccat's Kone+ retails at $79.99 and is available at online retailers now. 
Features and Specifications

6000dpi in 100dpi steps
10.5 megapixel sensor
up to 1000Hz polling rate
1 ms response time
acceleration of up to 30G
72MHz TurboCore Processor

Tracking Distance and Control Unit (TDCU) calibrates the sensor to the characteristics of your preferred mousing surface. This not only enhances the tracking performance but minimizes any possible pick-up-flight effects.
The reassignable EasyShift button grants the ability to map all other buttons to multi-media functions, commands, or macros. 
Four full-spectrum leds are positioned at the ends of each light bar that can be controlled independently. Special effects may also be applied or the leds can be  deactivated entirely.
576KB of internal memory and five profiles are available to store individual settings and macros directly on the mouse.
A Closer Look
The Roccat Kone+ box puts on quite a presentation with it's magnetic-locking front panel and surprising heft. The inside panel describes in finer details the EasyShift button macro system and all of the default keys.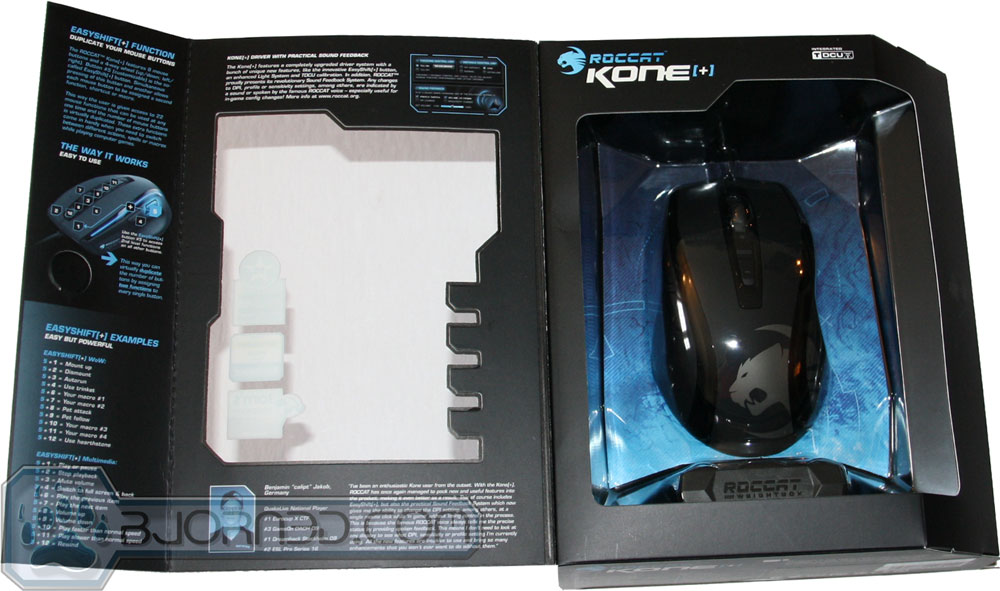 Click on images for larger view.
The form-factor of the Kone+ is pleasingly large, accommodating middle to large hands. One thing to notice right away is the mouse wheel is the type with horizontal scrolling (referred to as tilt). The primary mouse buttons are seamless and can be activated all the way up to the base of the minus toggling button. The case is coated with a synthetic material that is smooth like plastic yet completely non-slip like rubber.
Click on images for larger view.
A large thumb depression for support with raised side buttons create a perfect ergonomic scenario. The right side swoops in slightly and if holding the mouse in a standard grip (with first joint of middle finger resting on middle of wheel) the pinky finger does not come into contact with the mat surface.
Click on images for larger view.
Here is the bottom of the Roccat Kone+:  a small hatch firmly rotates to lock or unlock; the chamber beneath is for the four 5 gram weights.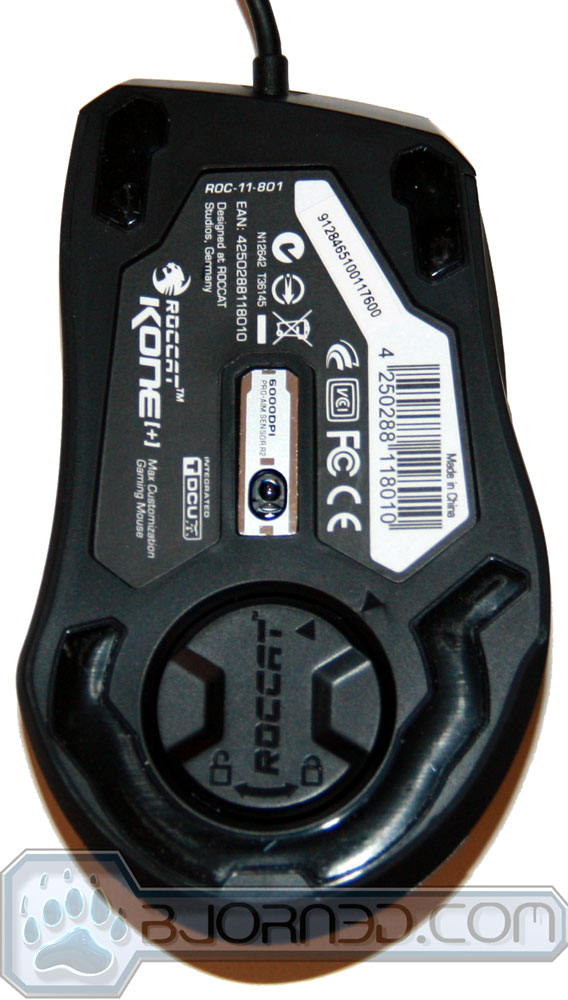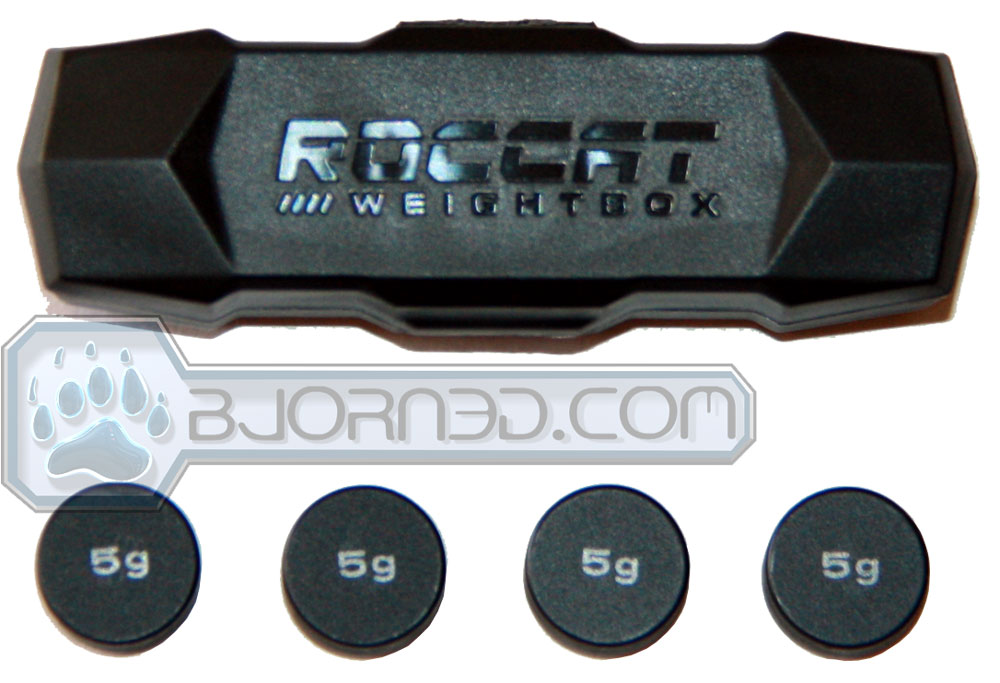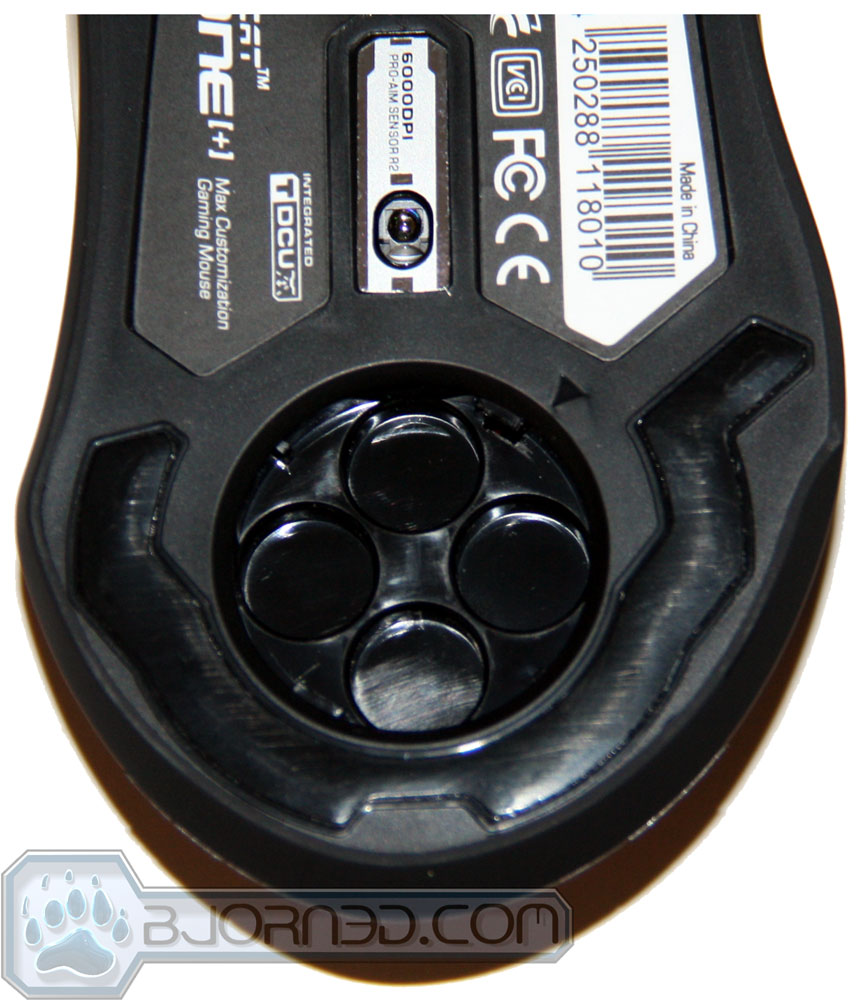 Click on images for larger view.
Roccat has done some impressive work with lighting effects on the Kone+. These macro shots represent only 6 of 33 total colors the Kone+ cycles through on one of it's many customizable presets.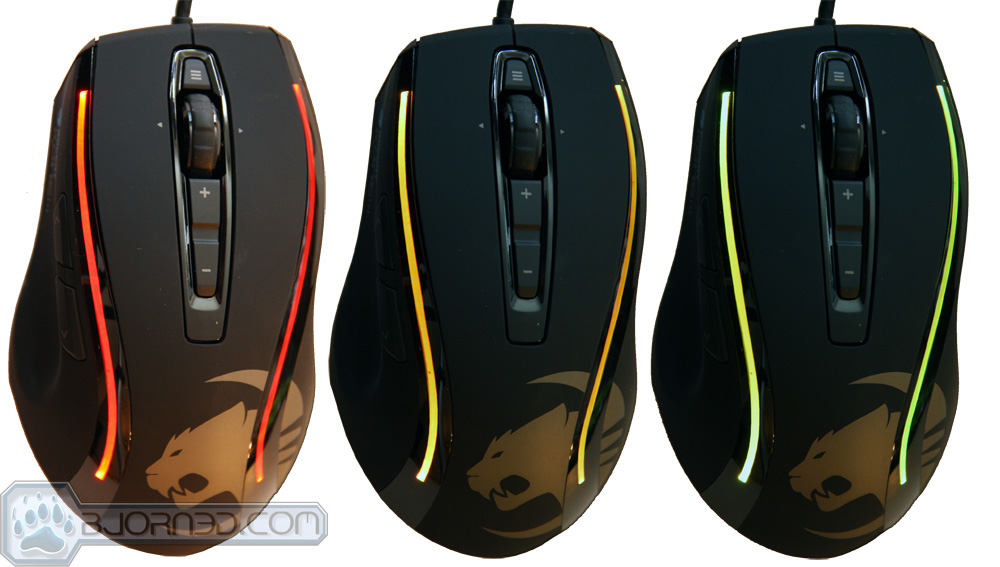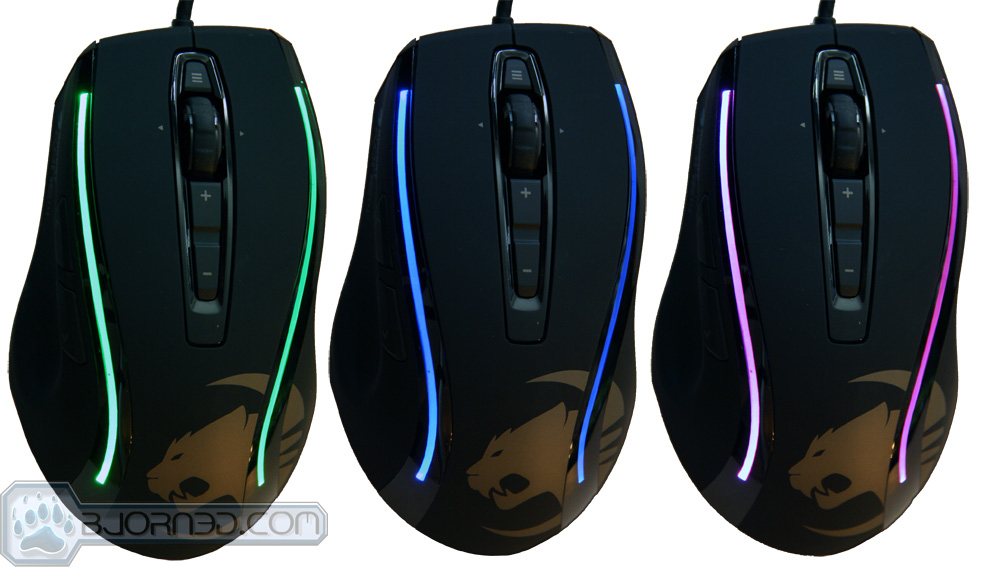 Click on images for larger view.
Drivers and Profiler
Roccat has a streamlined driver interface, considering how many options are available. When core changes are made here they will be automatically carried over to the windows control panel. Sensitivities for both wheel axis is found here as well as five user preset dpi toggle settings.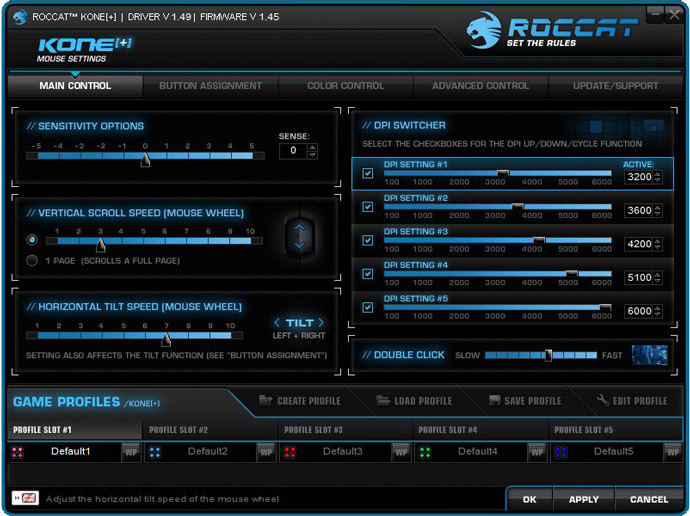 All buttons on the mouse are easily reassigned with drop-down boxes on the standard configuration and EasyShift panels. At default settings the thumb "back" key momentarily activates all of the EasyShift buttons displayed below in the right panel (keep in mind that the thumb buttons are the only hotkeys EasyShift may be assigned too).  The white Macro Manager button brings up a basic screen for recording and editing input for macros. An unexpected bonus discovery found in the drop box labeled Macro & Preset Compilation was a cornucopia of presets for common games and applications.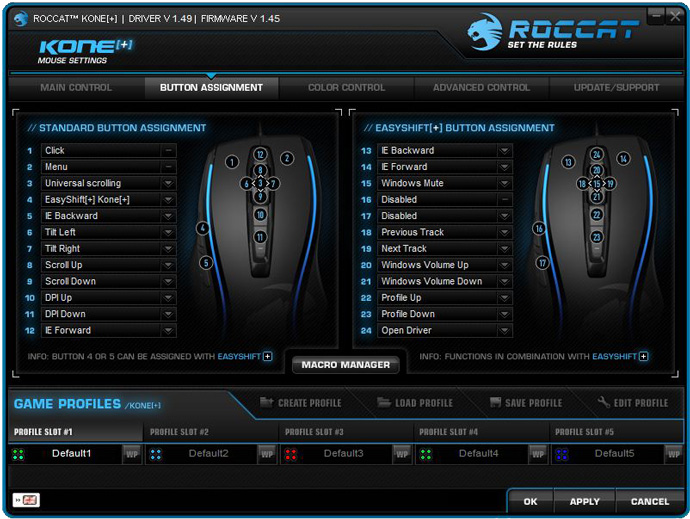 Four points of color customization can be had here with five different effects.  One may even change the direction of the spectrum cycling . A very subtle yet impressive effect.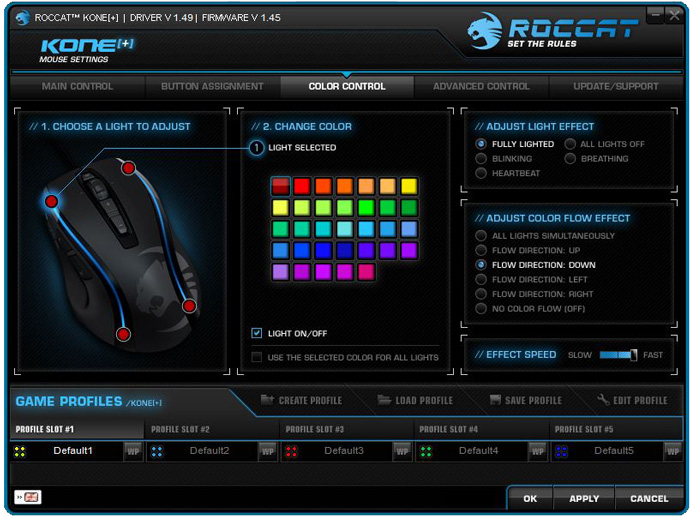 Here are some interesting features brewing under the hood: A way to self-calibrate the mouse for the users' preferred surface and lift-off distance control; in addition, (and rarely seen in mouse drivers) to sound feedback, where a disembodied voice boldly proclaims any dpi changes (in numerical values), profile switching, sensitivities, or volume changes. The default volume is rather booming, so it's recommended to turn the slider volume down.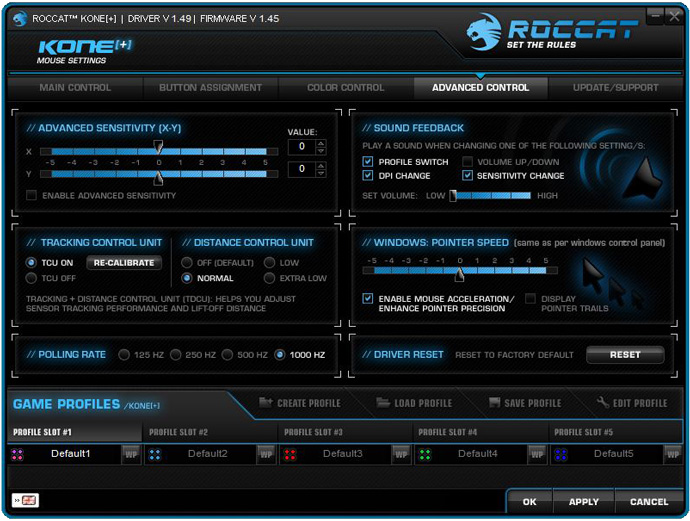 The last tab gives online links to the site and a way to check the Kone+'s firmware and drivers to validate they are up to date.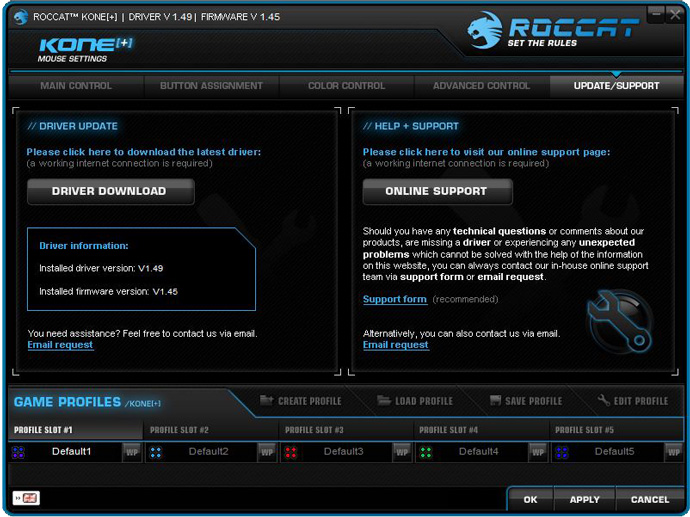 Testing and Methodology
A higher end system is being used for testing to ensure the 1000MHz polling can be utilized; some older motherboards sometimes have issues with this due to USB port configuration (this can introduce artificial lag into an application or game, making the mouse feel unresponsive). Listed below is the relevant testing gear specifications:  
Roccat Kone+ Test Rig

CPU

Intel Sandy Bridge i5 2500k @ 4.40Ghz

Motherboard

Gigabyte GA-Z68XP-UD5

Memory

Corsair Dominator @ 1866 (8 gigs dual channel)

GPU

MSI GTX 560 Ti Twin Frozr II

Monitor

Dell U2410 IPS (1920×1200)

Power

Cooler Master Silent Pro Gold 800
Applications and games were rigorously tested over a two week period to get an overall feel for the Kone+'s performance. The software chosen was intended to give a maximum range of movement in the following categories: precision graphics work; hyper-reflexive aiming; tracking; and skilled firing on all buttons (to test physical button flex and accessibility). Here is the list of applications used: 
Software Tested
 Multimedia O.S. Commands
 Adobe Photoshop CS5
 StarCraft II: Wings of Liberty 
 Crysis 2 
Since the Roccat Kone+ is a self-calibrating mouse, just a standard mouse mat was used as a testing surface: standard defined as a rubber mat with a tight synthetic weave on top and of single uniform color.  The distance control unit was set to "extra-low" prior to calibration.
Results
Let's begin by examining the ergonomic characteristics of the Kone+: Borrowing winning attributes from other highly recognized mice, it has the physical grip of the the Mionix Naos 5000 (minus full pinky support) and combines the seamless primary mouse buttons of the Razer Lachesis. Due to the larger form-factor the weight is decent and solid feeling (with all the weights in for a total of 20 extra grams). The mouse wheel has a notched rubber surface for added grip and a plastic radial hub for horizontal axis support. Due to the nature of the 4-way scrolling on the mouse, the wheel feels a bit loose; however, normal vertical scrolling has definite, firm clicks.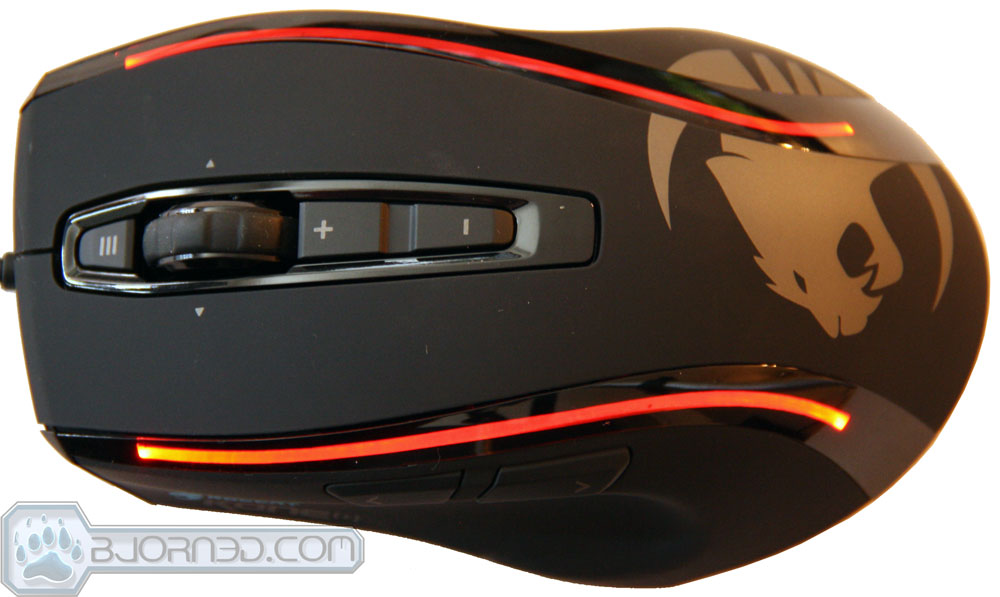 Click on image for larger view. 
On-the-fly DPI settings are possible via the EasyShift key in 100 dpi increments (initiating the voice feedback). The voice feedback is a unique added touch, but the voice quality is slightly rough sounding (like a commando barking out orders for volume up/down, to a synthesized voice addressing the dpi settings). Keep in mind, the actual usefulness of this feature far outweighs any niggles with voice quality and the volume can be adjusted independently. Perhaps Roccat will mod their drivers to provide a choice of more soothing voices. Concerning the lift-off distance, set to normal it was still quite high (approximately 4mm). When set to extra-low and recalibrated, the lift-off distance decreased to 1mm — about as good as it's going to get.

The default EasyShift profile is a real treat to use with any multimedia player, whether iTunes or the Windows standard. EasyShift plus wheel up or down controls volume while the tilt is track control. For standard windows applications the horizontal scrolling worked, yet it seemed slightly lagging in operation at times. In Photoshop CS5 the horizontal scrolling didn't function at all, in spite of having predefined toggles in the drop down menu for other Photoshop commands. Otherwise there was zero jitter at the medium-high range dpi's (3000-4400). For doing finer, detailed work in Photoshop CS5, a thumb button was set to lower the dpi to 1000 momentarily, much like a sniper hot-key in fps games.

To test how responsive the EasyShift system works in game, the Kone+ sacrificed one of it's five memory profiles for the task in StarcCraft II: Wings of Liberty. Patrol and attack were mapped to the virtual primary mouse buttons and the factory, barracks, starport, and command center were mapped to the 4-axis mouse wheel. In about 15 minutes it was evident that this was a much superior and efficient setup compared to the normal scroll and hunt for the building scenario (unless of course one has already memorized all the keyboard shortcuts). Being able to set up a patrol on the fly or immediately center on a structure to que up an army trimmed crucial seconds off of the opening stages of the game. A positive experience but take note the "macro preset compilation" includes only 20 games and 10 applications. There is always the option of creating your own custom macro of course.

The high resolution texture option was used with Crysis 2 and all advanced options set to very high to strain the test system. This title was chosen to test for tracking, precision, and lag. One of the characteristics that is well pronounced in this title is that when zooming in with your weapon (or using iron-sites), the aiming sensitivity can be overwhelming (especially at higher dpi). With a setting of 3000 dpi (the same setting used in the desktop environment) shifting zoom-focus did not have such a pronounced effect. There was even a prepared EasyShift-key set to drop the dpi to 1000 specifically for zooming; but alas, it was not even needed. Zero lag, fantastic tracking (with a bonus of zero pick-up flight effects), and precision to such a level that a warm sense of satisfaction massaged the synapses as the enemies fell like ragdolls amongst the ravaged landscape.
Conclusion

This is one of the few mouse products that has completely dominated our scoring categories. Performance was amazing due to the fact that there was zero discrepancies in sensitivity between applications and DirectX games and it was even possible to use one dpi setting for everything (in this case 3000 dpi using a monitor resolution of 1920×1200). One may argue that this should be the case with any mouse, but experience and testing has shown that this only happens under ideal circumstances. This type of performance is partially attributed to the superior self-calibrating tracking distance and control unit. Listing at approximately $80, it is a slightly higher priced peripheral, but one is getting a lot of bleeding-edge features not found elsewhere, especially the dazzling cyclic color spectrum show (which really makes this product unique). The build quality is top-notch, with a heavier feel and all parts of the hand and fingers are supported. It was obvious that the Roccat R&D team clearly spent some quality time with this product and it reflects in its' innovation and presentation. 
OUR VERDICT: Roccat Kone[+]
| | |
| --- | --- |
| Performance | 9 |
| Value | 8 |
| Quality | 9 |
| Features | 8 |
| Innovation | 9 |

We are using a new addition to our scoring system to provide additional feedback beyond a flat score. Please note that the final score isn't an aggregate average of the new rating system.

Pros
Cons

Winning ergonomic characteristics.

Self-calibration for any surface.

EasyShift on-the-fly macro system.

Voice feedback for (some) of the features is a definite plus.

None.

The only minor issue that did not reflect on the final scoring is the startling quality of the voice feedback.

 

 

 
Summary: The Roccat Kone+ excels not only in precision and tracking at unprecedented levels, but takes a synergistic approach to form-factor and ergonomics. It is proudly awarded the coveted Bjorn3D Golden Bear Award.