Can two ZOTAC GTX 680s in 2-Way SLI outperform three Nvidia GTX 580s in a 3-way SLI configuration? Read more to find out!
The Beast is Unleashed
We have been experimenting with extreme systems lately, including a gaming system with three Nvidia GTX 580s in a 3-way SLI configuration, and one with AMD's HD6970s in CrossFireX. We've received many comments and questions like: "Why do you need such a powerful system? Games don't need that much performance". In most cases, those claims are true, but it really depends on the graphics settings in the game and the monitor configuration you're running. It also depends on how future-proof you want your system to be. However, the biggest performance hit comes when users start playing games on high resolutions, or turn up the graphics settings along with high Anti-Aliasing. We have also noticed that budget gamers lean towards buying mid-range graphics cards, and do not think there is a big difference in the gaming experience from the video cards that get you about 20-40FPS to cards that can get frame rates in the 100+ range. Some might also argue that the extra money spent on an expensive graphics card configuration is not worth the extra FPS, but in our opinion there is nothing better than perfectly smooth gameplay even in the latest titles out there like Battlefield 3, Deus Ex: Human Revolution, or Metro 2033. While a single GTX 560 Ti might cut it in most cases, it does limit the gamer to lower graphics and prevents them from using newer technologies like Nvidia 3D Vision or Nvidia Surround without spending extra money on an upgrade.
To be clear, we have nothing against gamers that don't have the money to spend on enthusiast gaming hardware. We've been in their shoes at some point in our life, and getting something that would get us by for the time was good enough for us. This article is mainly for those that do not have a problem spending more than the average on hardware or for those interested in checking out today's latest and fastest gaming configurations.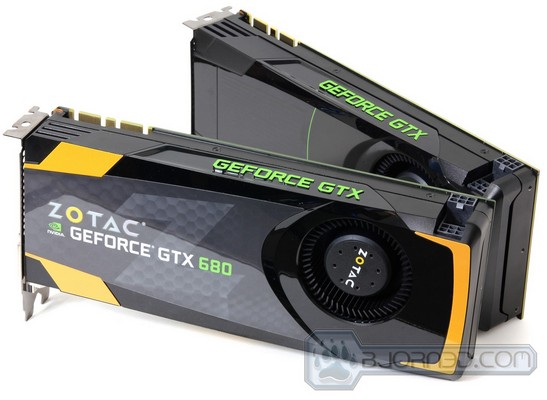 Click Images to Enlarge
Today's crazy configuration is all about future-proofing our system, creating a setup for games that might strain our video cards more than we initially expected, or perhaps moving up to a larger monitor running at 2560 x 1440 or a triple monitor setup at 5760 x 1080, which requires a considerable amount of GPU horsepower. This is where Nvidia's recently released fastest and most powerful single-GPU graphics card comes into play. We're going to use two GeForce GTX 680s in a 2-way SLI configuration kindly provided to us for testing by our friends at ZOTAC.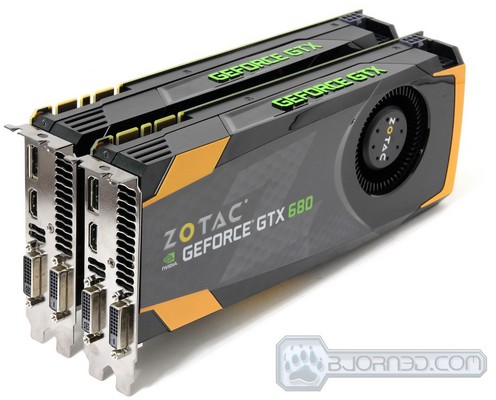 Click Images to Enlarge
In this article we'll check out the true performance of two ZOTAC GeForce GTX 680s in a 2-way SLI configuration versus three Nivida GTX 580s in 2-way and 3-way SLI configuration. We'll also throw in many single GPU graphics cards to have a better overview of overall performance compared to two ZOTAC GTX 680s. If you know us well, however, you know we won't stop there. We'll also overclock both cards to see how they will perform with the standard stock reference cooler that the GeForce GTX 680 comes with. Note that ZOTAC's GeForce GTX 680 has the original Nvidia reference design. If you haven't had the chance to read about the new GTX 680, you can find out more about it here. New non-reference designs are tentatively scheduled to launch some time around May this year. Without further ado, let's just jump straight into overclocking and check out the potential of two ZOTAC GTX 680s in 2-way SLI overclocked.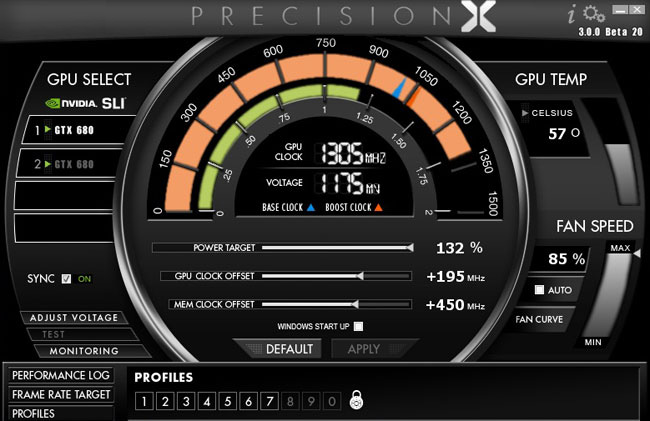 The image above is from the Precision X overclocking utility. Before we go into explaining what it shows, let's set out the baselines we'll be working with: a single ZOTAC GTX 680 has a GPU clock of 1006MHz, which is automatically throttled up to about 1100MHz if the game does not fully utilize the power configuration that the card was designed to run at. The default memory clock is 3004MHz, with a 0.98V default voltage for the GPU.
The image above shows an overclock of 299MHz, resulting in a GPU clock of 1305MHz. The memory was also overclocked by 450MHz, resulting in a memory clock of 3454MHz. The GPU voltage was set to 1.175V. This is a pretty extreme overclock, considering that even with these settings the card barely gets hot when the fan speed is set to 85%. We'll have temperature and power consumption results later on in this article.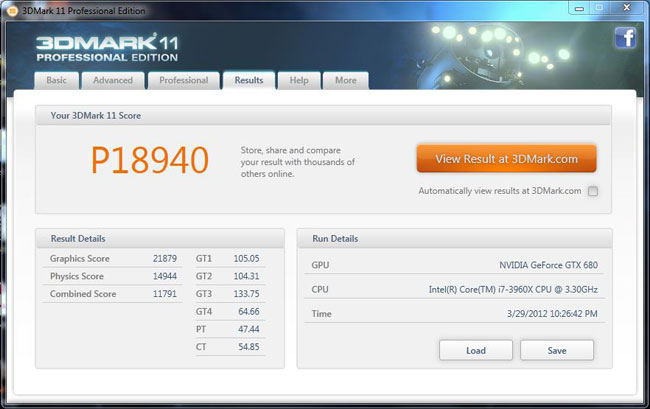 .
So what does this overclock compare to in synthetic benchmarks for GPUs? In 3DMark11, one stock ZOTAC GTX 680 scores P9680, and two GTX 680s in 2-way SLI at stock speeds score at P16625. The two ZOTAC GTX 680s overclocked got an additional 2315 points and scored at P18940, which is completely mind blowing considering we didn't even have to spend extra money for the overclocked settings.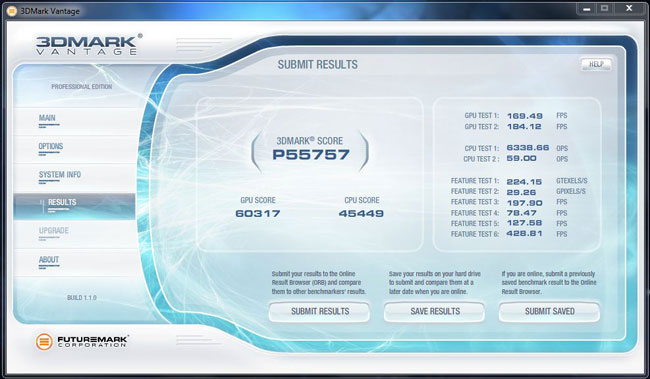 In 3DMark Vantage, the score jumped a whopping 3818 points from P51939 to P55757 when we compare a stock 2-Way SLI configuration with an overclocked GTX 680 2-Way SLI configuration. Two GeForce GTX 580s on the other hand only managed to score P46054 points while three GTX 580s in 3-way SLI configuration scored P53876 points. It is somewhat mind-boggling knowing that two ZOTAC GTX 680s can easily outperform three GTX 580s in these tests. Check out the following pages to see just how well two ZOTAC GTX 680s perform against other cards in some of the latest and most demanding games out there.
Testing Methodology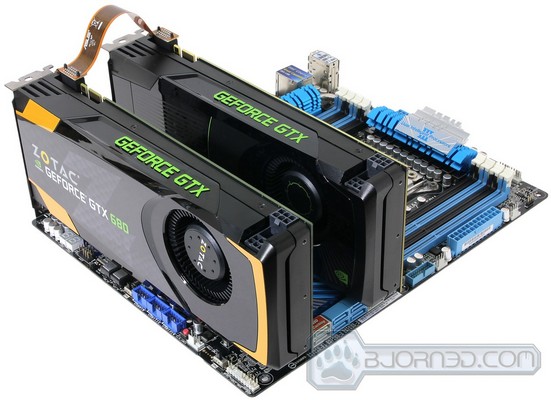 The OS we use is Windows 7 Pro 64bit with all patches and updates applied. We also use the latest drivers available for the motherboard and any devices attached to the computer. We do not disable background tasks or tweak the OS or system in any way. We turn off drive indexing and daily defragging. We also turn off Prefetch and Superfetch. This is not an attempt to produce bigger benchmark numbers. Drive indexing and defragging can interfere with testing and produce confusing numbers. If a test were to be run while a drive was being indexed or defragged, and then the same test was later run when these processes were off, the two results would be contradictory and erroneous. As we cannot control when defragging and indexing occur precisely enough to guarantee that they won't interfere with testing, we opt to disable the features entirely.
Prefetch tries to predict what users will load the next time they boot the machine by caching the relevant files and storing them for later use. We want to learn how the program runs without any of the files being cached, and we disable it so that each test run we do not have to clear pre-fetch to get accurate numbers. Lastly we disable Superfetch. Superfetch loads often-used programs into the memory. It is one of the reasons that Windows Vista occupies so much memory. Vista fills the memory in an attempt to predict what users will load. Having one test run with files cached, and another test run with the files un-cached would result in inaccurate numbers. Again, since we can't control its timings so precisely, it we turn it off. Because these four features can potentially interfere with benchmarking, and and are out of our control, we disable them. We do not disable anything else.
We ran each test a total of 3 times, and reported the average score from all three scores. Benchmark screenshots are of the median result. Anomalous results were discounted and the benchmarks were rerun.
Please note that due to new driver releases with performance improvements, we rebenched every card shown in the results section. The results here will be different than previous reviews due to the performance increases in drivers.
Test Rig
Test Rig
Case
Cooler Master Storm Trooper
CPUs
Intel Core i7 3960X (Sandy Bridge-E) @ 4.6GHz
Motherboards
GIGABYTE X79-UD5 X79 Chipset Motherboard
Ram
Kingston HyperX Genesis 32GB (8x4GB) 1600Mhz 9-9-11-27 Quad-Channel Kit
CPU Cooler
Noctua NH-D14 Air Cooler
Hard Drives
2x Western Digital RE3 1TB 7200RPM 3Gb/s Hard Drives
SSD
1x Kingston HyperX 240GB SATA III 6Gb/s SSD
Optical
ASUS DVD-Burner
GPU
2x ZOTAC GeForce GTX 680 2GB Video Card (Reference Design)Nvidia GeForce GTX 680 2GB Video Card3x Nvidia GeForce GTX 580 1.5GB Video Cards

AMD HD7970 3GB Video Card

AMD HD6990 4GB Video Card

PSU
Cooler Master Silent Pro Gold 1200W PSU
Mouse
Razer Imperator Battlefield 3 Edition
Keyboard
Razer Blackwidow Ultimate Battlefield 3 Edition
Synthetic Benchmarks & Games
We will use the following applications to benchmark the performance of the Nvidia GeForce GTX 680 video card.
Benchmarks
3DMark Vantage
3DMark 11
Crysis 2
Just Cause 2
Lost Planet 2
Metro 2033
Battlefield 3
Unigine Heaven 3.0
Batman Arkham City
Dirt 3
H.A.W.X. 2
Temperatures
Power Consumption
3DMark 11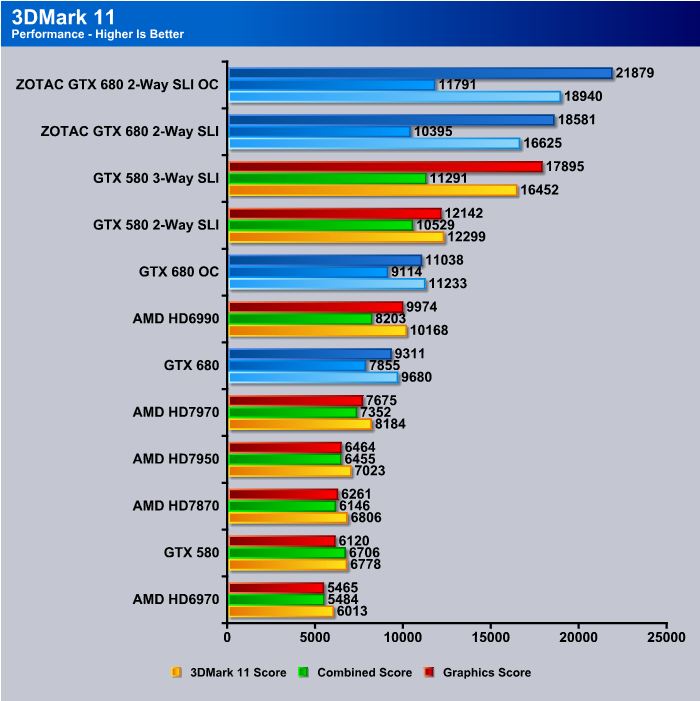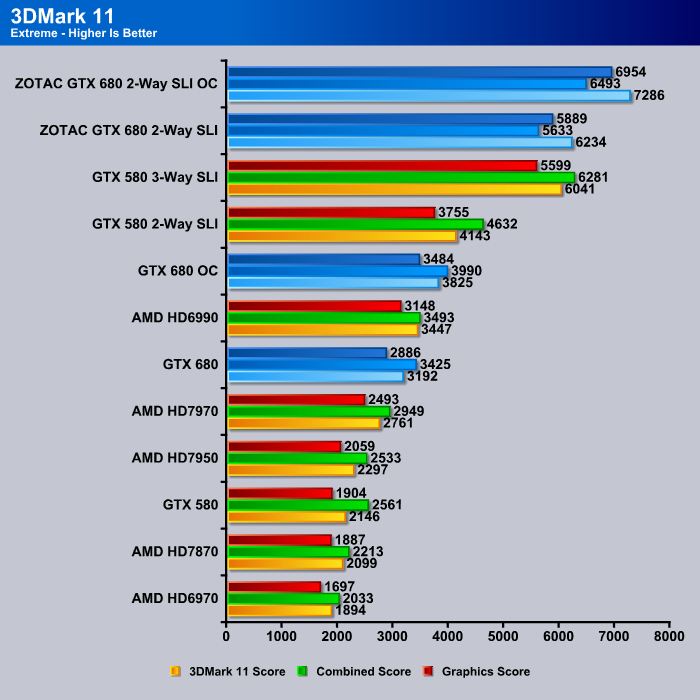 While we've seen some screenshots of the results we got in 3DMark 11 and Vantage on the front page, here we have a clear comparison between the cards. We've included some older single GPU video cards as well for reference. If you're not up to date with the latest hardware, the included results of older cards and how they compare to a single or two GTX 680s could be interesting. Unfortunately we did not have two AMD 7970s for testing, but from the tested cards we can see that the ZOTAC GTX 680s in SLI prove to be the fastest configuration.
3DMark Vantage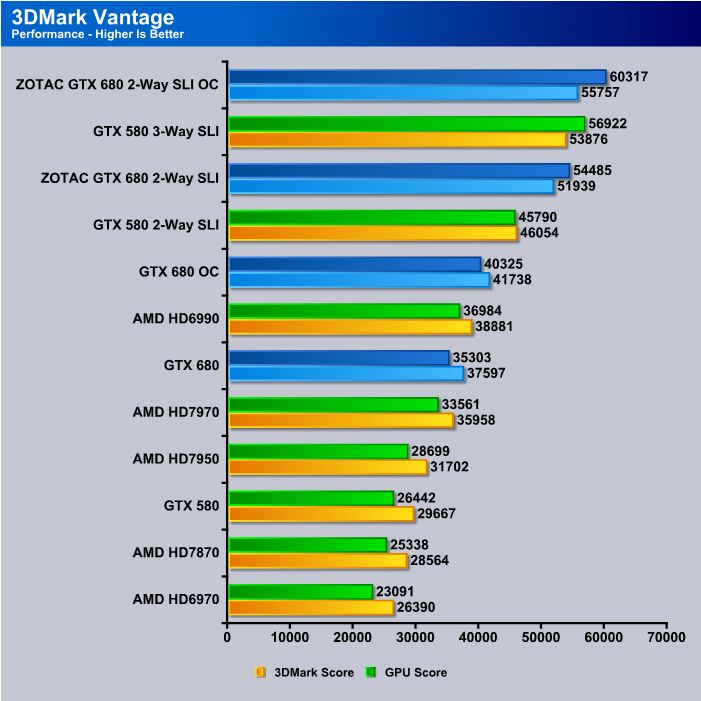 If we take a closer look at the results on 3DMark Vantage, we can see that the three GTX 580s had a lead over two GTX 680s in SLI. However, if we compare the SLI configurations to the single GPU configurations in the Extreme benchmark, we can clearly see where SLI really has a lead in overall performance: at higher resolutions and AA settings. If we compare the Performance benchmark to the Extreme, we can see that the Performance benchmark had a linear performance gain depending on the GPU configuration while the Extreme had more of an exponential gain in performance as more cards were used during the benchmark.
Unigine Heaven 3.0

Unigine Heaven is a benchmark program based on Unigine Corp's latest engine, Unigine. The engine features DirectX 11, Hardware tessellation, DirectCompute, and Shader Model 5.0. All of these new technologies combined with the ability to run each card through the same exact test means this benchmark should be in our arsenal for a long time.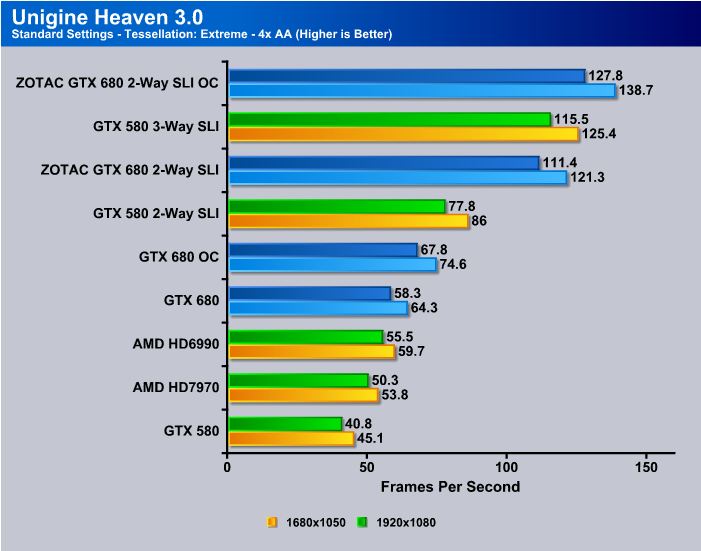 There is one clear thing we can see from the Unigine Heaven 3.0 benchmark. AMD's cards fell quite behind, even the HD6990, which is a dual GPU video card. This is most likely because the tessellation settings in Heaven were set to Extreme and AMD's tessellation engine is not as advanced as Nvidia's. Especially with the latest Kepler architecture (GTX 680s), Nvidia has surged ahead, improving their already powerful tessellation engine. Two ZOTAC GTX 680s in 2-Way SLI got extremely close to the performance of three GTX 580s, but once we overclocked the cards, the Kepler 2-Way SLI setup jumped quite a bit ahead of the 3-Way SLI setup. Quite impressive!
Battlefield 3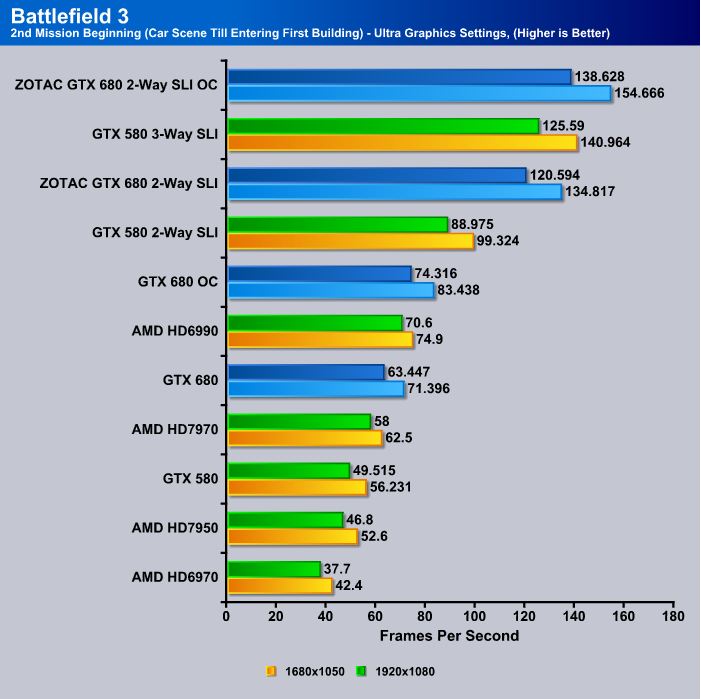 If you have a 120Hz monitor, playing Battlefield 3 at 120Hz will feel amazing. While 60FPS is nice already and the game is very smooth and playable, 120FPS on 120Hz monitors will feel even smoother and very responsive. This is excellent for multiplayer, because the user will see every little detail without any jumps or glitches during gameplay. Now as we have seen in our Surround Article, while a single GTX 680 can handle resolutions like 5760 x 1080 without any AA, adding an additional GTX 680 in 2-Way SLI would make gameplay even smoother and more responsive. Once the 4GB GTX 680s come out, the users will be able to enable 4x AA as well due to the larger frame buffer. 3D Vision is another option where having 120+ FPS is a great. In 3D Mode the GPU will render twice the amount of information at 60FPS exactly. This is because in 3D mode VSync is automatically enabled. The gamer should be assured that 3D gameplay should be just as smooth in a 2-Way SLI setup, while a single GPU setup might be pushing it a little.
Metro 2033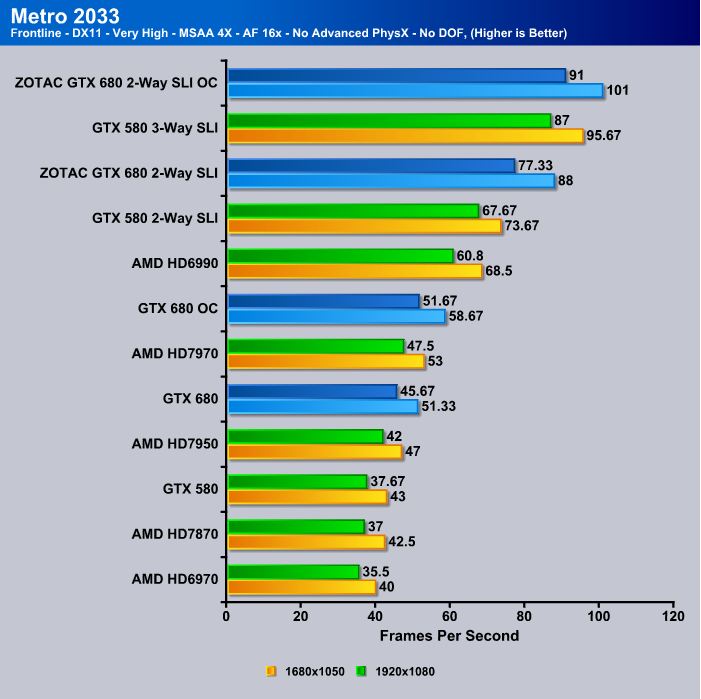 As we can see, Metro 2033 is still very GPU heavy even 2 years after its released. Running a single GTX 680 at 1920 x 1080 without Advanced PhysX and Depth of Field gets us 45.67FPS. While this is average frames per second, some particularly intensive scenes could prove too much for a single card, and quality would drop unless the graphical settings were lowered. With two GTX 680s, users would get close to the performance of three GTX 580s, allowing gamers to increase graphics to the maximum setting. Amazingly, once the GTX 680s were overclocked, they came in as the fastest cards tested on our system, at 91FPS average.
Batman Arkham City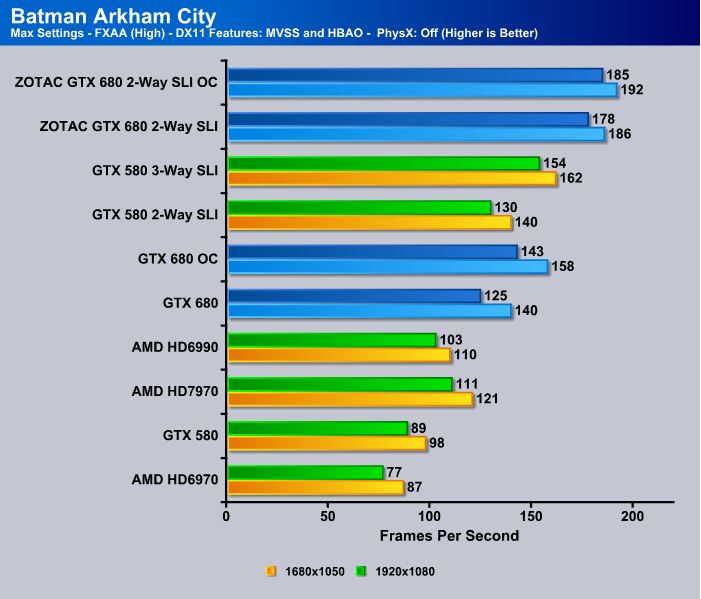 Let's take a look at Batman Arkhman City. Once again these results do not necessarily show the need for multiple video cards in an SLI configuration, because a single GTX 680 already yields 125FPS at 1920 x 1080, but do note that PhysX was disabled. PhysX has such a big impact in performance that when we tested two GTX 580s with high PhysX settings, our performance dropped to 46FPS at 1920 x 1080. This means that a single GTX 680 might be in the 40-43FPS range with high PhysX. This could lead to slower performance in action scenes, or during scenes where characters interact with smoke and paper or breaking objects which are all rendered on the GPU with PhysX. Having a second video card that would render just PhysX would considerably mitigate the performance loss from the first GTX 680 and would make the game perfectly smooth and playable even during very detailed PhysX scenes.
Crysis 2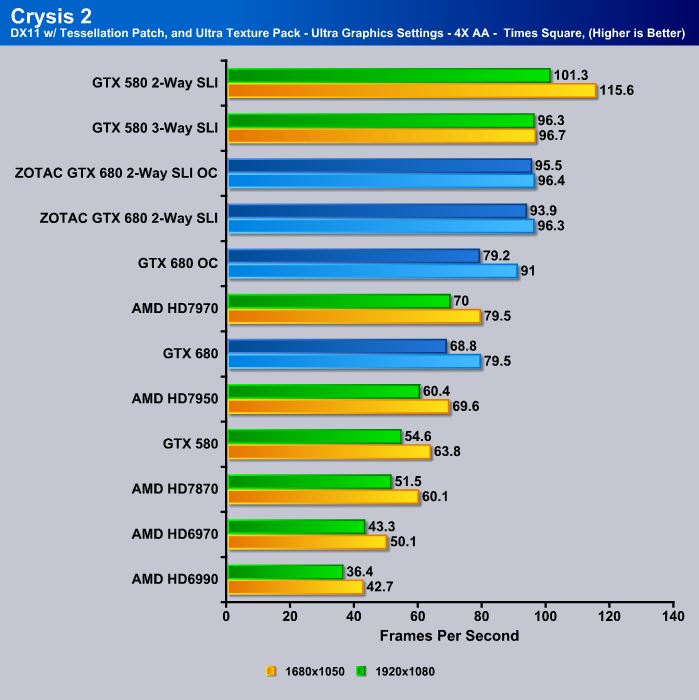 Crysis 2 netted us some strange results including a very strange glitch as well. For some reason during the run the cards would hit a "cap" and not exceed low 90's and would seem to be stuck there for a consistent period. This may be a driver issue which will easily be corrected via a future software update or possibly even a game issue requiring a patch. regardless we represent the performance as it stands to date and therefore for Crysis 2 the 680's in sli lose out by a  large margin to the GTX 580 SLI pair and a smaller margin to the three way SLI 580's which tells us something is amiss with SLI and this game.
Just Cause 2

Just Cause 2 showed a really big performance gain for the ZOTAC GTX 680s even over the Nvidia GeForce GTX 580s in a 3-way SLI configuration. Even a single GTX 680 already had a big lead over the HD7970 and even AMD's Dual-GPU HD6990. Just Cause 2 seems to be in favor of the new Kepler architecture.
Lost Planet 2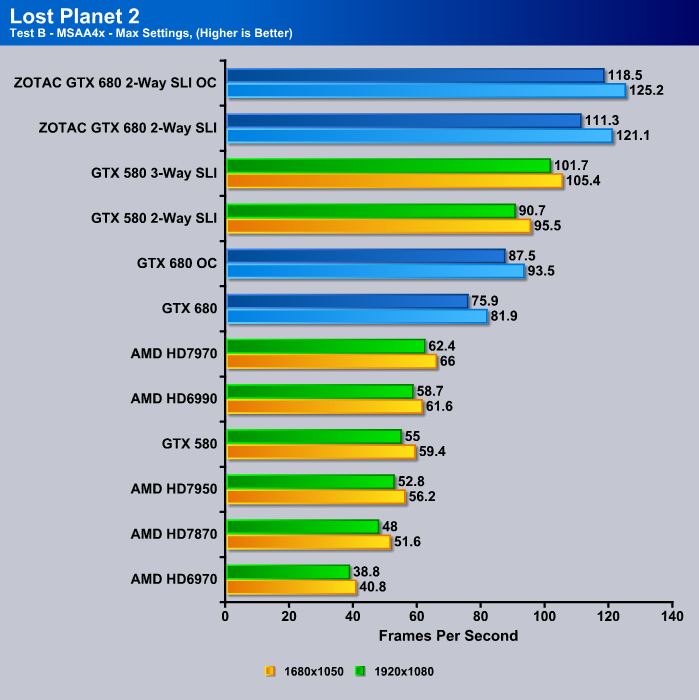 Same interesting pattern in Lost Plant 2 as well. But in this case the AMD HD 7970 did slightly better than the HD6990. Nonetheless, no other video card configuration that we have tested managed to outperform two GTX 680s in 2-way SLI. The performance of the GTX 680s is just phenomenal at this point in time, and we can't wait till drivers will mature and provide even more performance gains in games.
Dirt 3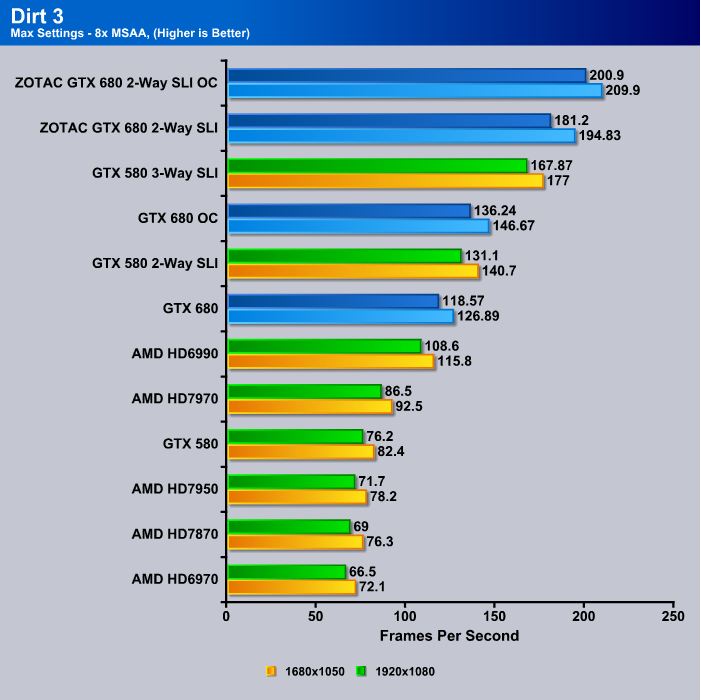 Dirt 3 is a fantastic game to play on an Nvidia Surround configuration. While our tests do not show 5760 x 1080 resolutions tested, we can guarantee that even a single GTX 680 will be able to perform quite well at that resolution. Having two of them will of course allow you to turn on VSync and have the smoothest possible gaming experience, which will just blow your mind. 200.9FPS while overclocked at 1920×1080 is crazy fast, and it is also crazy to see how two ZOTAC GTX 680s at stock settings outperformed 3 GTX 580s in a 3-way SLI.
H.A.W.X 2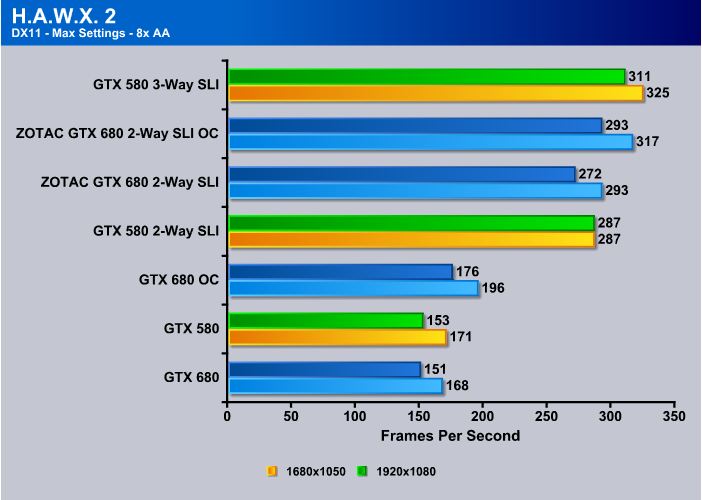 H.A.W.X. 2 has some interesting results. With the new Kepler architecture, H.A.W.X. 2 showed some performance loss even compared to a single GTX 680. The same results were observed at higher resolutions in a 2-Way SLI system, and even an overclock on the GTX 680s could not beat Nvidia's GeForce GTX 580 in a 3-Way SLI configuration. On the other hand, the frame rate in H.A.W.X. 2 is extremely high, so the difference in performance even from a single GTX 680 to multiple GTX 680s would not be noticeable.
TEMPERATURES

To measure the temperature of the video card, we used Precision X and ran Metro 2033 benchmark in a loop to find the Load temperatures for the video cards. The highest temperature was recorded. After looping for 10 minutes, Metro 2033 was turned off and we let the computer sit at the desktop for another 10 minutes before we measured the idle temperatures.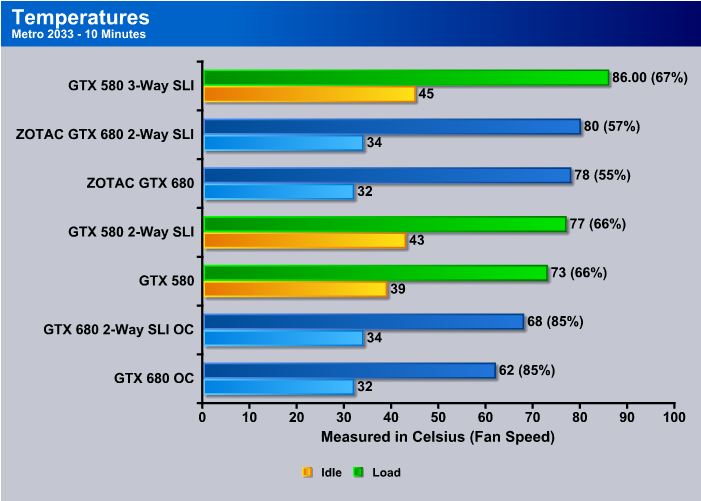 Temperatures are interesting on the new Kepler architecture. They are definitely slightly higher than on the last Fermi GF110 GPUs. This is most likely due to the lower acoustic levels on the GTX 680s. However, there is nothing to be worried about. Even in a 2-way SLI configuration, the GTX 680s were only 3C higher than the 580s in 2-Way SLI. These cards are designed to work up in the high 90s before they start giving the user problems with driver crashes, black screens or artifacts. Looking at the results we have also included the fan speeds in percentages. We can see that the Fermi architecture used a higher fan speed than the Kepler. When we were first testing the GTX 580s, we already thought that it was a quiet card. With the ZOTAC GTX 680s, even in 2-Way SLI, we can see that the card is actually running quieter and at a lower fan RPM than a single GTX 580. During gameplay we couldn't even hear the fans ramp up and the system sounded like as if it was still idling.
POWER CONSUMPTION

To get our power consumption numbers, we plugged in our Kill A Watt power measurement device and took the Idle reading at the desktop during our temperature readings. We left it at the desktop for about 15 minutes and took the idle reading. Then we ran Metro 2033 for a few minutes minutes and recorded the highest power usage.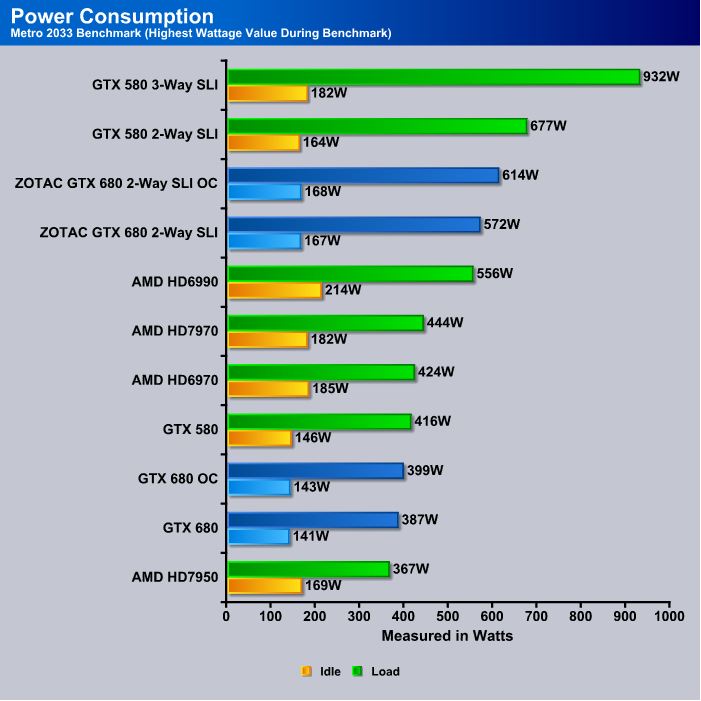 Power consumption is very interesting as well. If you remember seeing the results we got in our testing, in some games, two GTX 680s outperformed a 3-way SLI setup. If we compare the results in this chart, we can see that even overclocked GTX 680s in SLI only got 614W of power consumption at full load in Metro 2033, compared to 932W on a 3-Way SLI setup. That's an over 300W difference in power consumption while an overclocked GTX 680 almost in all cases outperformed three GTX 580s by quite a bit.
Performance Comparison in Games
Apples – to – Apples
We have something interesting to take a look at in this article. This is something new we're trying, and hopefully it will be helpful to you readers to see a more concise version of the results we got in our games. These charts should not be too hard to understand. We decided to pick a card, which in this case is the GTX 580 as our base card for comparison. We set the GTX 580 at 100% performance and we did some calculations to figure out how much faster or slower other cards were compared to the GTX 580. So for example if we look at Crysis 2, the GTX 680 got a score of 1.21, meaning the GTX 680 is 21% faster than a GTX 580 in Crysis 2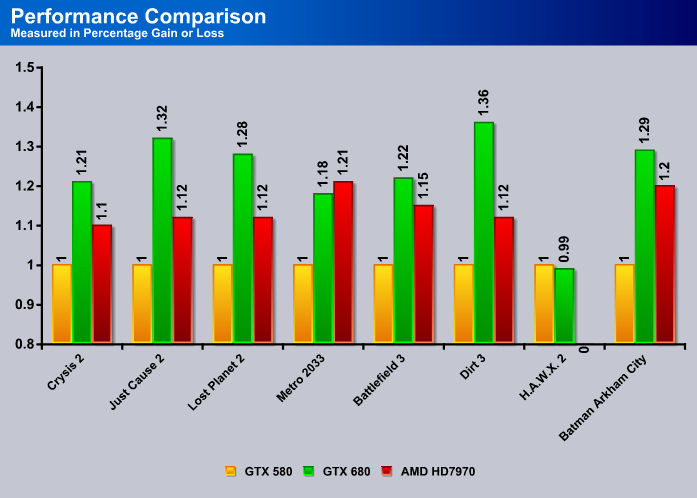 We decided to compare three of the major high-end enthusiast video cards: the GTX 580, GTX 680, and AMD's HD7970. As we can see, AMD's 7970 only took the lead in the single GPU configuration in Metro 2033, and even then only by 4 percent compared to the GTX 680. In the other games the GTX 680 was the winner in pure performance compared to the GTX 580, with up to a 36% performance gain in Dirt 3. Do note that H.A.W.X. 2 was the only game that showed a 1% decrease in performance, and we don't have results for the AMD HD7970.
In this last chart, we spiced things up a little. Instead of just comparing two GTX 580s to two GTX 680s, we also threw in the results for a 3-Way SLI setup with three GTX 580s. Please note, that these results were from the non-overclocked cards. This is by far the fairest comparison we could find without needing to do something extra, like overclocking that many gamers would not experiment with. Interestingly, we can see that the stock ZOTAC GTX 680s in 2-way SLI were able to outperform a 3-Way GTX 580 setup in Just Cause 2, Lost Planet 2, Dirt 3 and even Batman Arkham City by quite a bit. In the other games such as Metro 2033, and Battlefield 3, a 3-way SLI setup was still a clear winner. Finally interestingly, Crysis 2 and H.A.W.X. 2 showed a significant performance drop compared to two GTX 580s.
Final Thoughts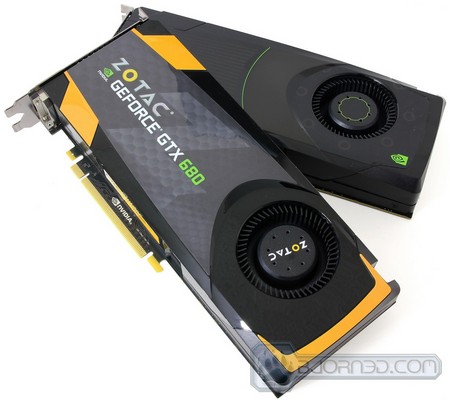 So what's our bottom line for the two ZOTAC GTX 680s in an SLI configuration? If you are a gaming enthusiast and you need the best eye candy the game offers, along with the best possible gaming experience, there is no question about buying two GTX 680s for your next gaming system. Keep in mind that some of the games we have tested were not maxed out in graphics. This was done to perform a fair comparison against AMD's graphics cards. We have intentionally disabled PhysX and lowered the AA settings to 8x max, because AMD's cards do not support advanced PhysX options, and also won't support high anti-aliasing settings. Because Nvidia provides their users with even higher graphics settings than the games come with, there is a possibility to use two GTX 680s with 32x or even 64x AA configuration. Also, if you are a gamer thinking about a 3D Vision Surround setup, remember that the gaming performance will drop drastically in such setup. For example, Battlefield 3 scored an average FPS of 120.6 at 1920 x 1080 resolution on Ultra settings. With 3D Vision enabled, the frame rates could likely drop to about 60FPS average. This means that in graphics intensive parts of the game, the game is likely to dip in frame rates causing a slightly laggy feel. Also keep in mind that for perfectly smooth gameplay, you are looking at staying around 60+ FPS so you could enable VSync and get a constant 60FPS during gameplay.
As for purchase recommendations, if you were planning on buying three GTX 580s for a 3-way SLI configuration, that option is no longer worth it. You would be spending about $380 on the cards each, which would come out to be about $1140 + tax and shipping, and you would be running louder and much more power hungry graphics cards in your system, while getting lower performance than two GTX 680s in SLI. Two ZOTAC GTX 680s will cost you about $499 each, so that's a total cost of about $1000 + tax and shipping. This is a way better option.
With that said, if you are looking for having the best possible gaming experience, look no further than two GTX 680s in 2-Way SLI configuration.
OUR VERDICT: ZOTAC GeForce GTX 680s in 2-Way SLI
| | |
| --- | --- |
| Performance | 10 |
| Value | 9.5 |
| Quality | 10 |
| Features | 10 |
| Innovation | 9.5 |

We are using a new addition to our scoring system to provide additional feedback beyond a flat score. Please note that the final score isn't an aggregate average of the new rating system.

Pros
Cons
Powerful stock and overclocked graphics performance.Amazing overclocking potential even with stock cooler.

Performs faster than three GTX 580s in 3-way SLI with much lower power consumption and heat output.

While a GTX 580 was already pretty quite, the ZOTAC GTX 680 has even lower acoustic levels at load

None
Summary: If you're looking for the best, and thinking about upgrading your current gaming system, look no further than two ZOTAC GTX 680s in an SLI configuration. For their phenomenal performance (especially under overclocked settings), the ZOTAC GTX 680s in SLI have earned the Bjorn3D Golden Bear Award.