The Arctic Freezer i30 CPU cooler has some great features, including "direct-contact heatpipe technology". It sounds fancy, but does it get the job done? Keep reading to find out.
Introduction
With computer enthusiasts becoming more demanding, the heat is on to produce chips that are faster and more capable. However, faster and more capable chips also give off more heat, and so more and more coolers are also being thrown into the mix. Today we're looking at one from Arctic Cooling: the Freezer i30. This cooler is versatile, fitting LGA 1156 (P55), LGA 1155 (P67/Z68), and LGA 2011 (X79) systems, allowing gamers of all stripes and with all systems to use it.
The cooler is huge, and has an interesting construction, like direct-contact heatpipes and 48 fins for heat dissipation.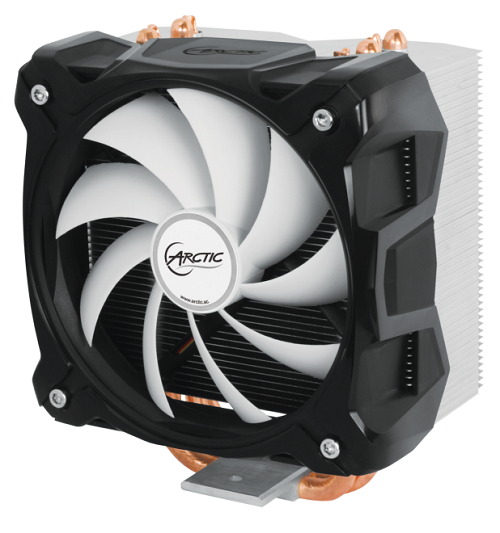 The cooler has a comfortable 6-year warranty, and currently retails on Arctic's website for $50. They claim that with 320W of cooling power, it performs well across the board. Let's put their contentions to the test.
Features
The Freezer i30 is an enthusiast-grade CPU cooler for the latest Intel socket 2011, as well as socket 1155 and 1156. Patented technologies, direct touch heatpipes, precision machining, a fan vibration absorption and a brand new mounting system offers you plenty of overclocking headroom at a minimal noise level.

Direct Touch Heatpipe Heatsink

The Freezer i30 heatsink consists of 4 double-sided direct touch heatpipes, 8mm in diameter. A patented process (20 2011 000 71.8) allows us to pack the heatpipes without gaps and thus increase the contact surface and achieve better flatness by precision machining – both leading to an improved heat transfer.

 

Efficient Heat Dissipation

As a combined result of the 4 direct touch heatpipes, 48 Aluminum fins, an interchangeable 120 mm PWM Fan (ARCTIC F12 PWM), and the famous ARCTIC MX-4 thermal compound (included), the Freezer i30 offers superior cooling performance with a maximum cooling capacity of 320 Watts and lots of headroom for overclocking.

Airflow Direction

Cooling Performance at Intel Core i7-3960X (overclocked)

Freezer i30 (at 1,350 RPM)

 44.8 oC*

Boxed Cooler (at 2,020 RPM)

 73.4

o

C*

 Better

Ambient temperature: 25

o

C | *Heat spreader temperature

 

Virtually Silent

Due to the low-noise impeller of the ARCTIC F12 PWM fan and the rubber vibration absorbers, the Freezer i30 generates a negligible noise level of only 0.3 Sone even at full speed (1,350 RPM). Furthermore, as controlled by PWM signal, this fan runs only at the optimized speed based on actual needs, which in turns minimizes the noise level further.

Rubber Vibration Absorbers

Noise Level at Intel Core i7-3960X

Freezer i30 (at 1,350 RPM)

 0.3 Sone

Boxed Cooler (at 2,020 RPM)

 1 Sone

 Better

 

4 Mounting Directions

The Freezer i30 can be mounted in all 4 directions in order to satisfy different air flow preferences due to various PC case and hard ware configurations.

 

Sturdy Mounting Mechanism

There is no need to worry about the weight of this muscular, yet gentle cooler. The Freezer i30 applies a durable steel mounting clip and a back-plate*. As a result it has an excellent mounting stability and is fully transport-proof.

*

Socket 2011: Back-plate is integrated in original Intel socket already.
Socket 1155, 1156: Additional back-plate is bundled with product.

 

Interchangeable Fan

Not that you have to replace the fan, but that flexibility is offered!
specifications
Max. Cooling Capacity
320 Watts
Heatpipe
Direct-Touch Ø 8 mm x 4 (double-sided)
Heatsink Material
Aluminum fins x 48, thickness: 0.5 mm

Fan (mm)

ARCTIC F12 PWM:
120 mm, 400 – 1,350 RPM (PWM controlled)

Airflow

74 CFM / 125.7 m³/h
Bearing
Fluid Dynamic Bearing
Noise Level
0.3 Sone (@1,350 RPM)
Current, Voltage
0.22A / 3.5 – 12V
Dimensions (Product)
100 (L) x 139 (W) x 161 (H) mm
Dimensions (Packaging)
123 (L) x 161 (W) x 187 (H) mm
Net Weight
0.9 kg

Limited Warranty

6

years

itemnumber

UCACO-FI30001-GB

UPC

0872767005051

Gross Weight

1.4 kg
Pictures & Impressions
The cooler comes in a pearly (almost blinding) white box, with a nice graphic of the product. A sticker on the front highlights the compatibility with three different types of CPU socket. As we said before, this cooler is very versatile. The rear of the box shows off some of the main features, such as the direct-contact heatpipes, the cooling power, the fact that it can be mounted in multiple directions, and the warranty.
The two sides of the box have the standard litany of features and specifications in multiple languages. There is also a graphic showing the pattern of airflow and the construction of the cooler itself.
The cooler comes with a backplate, a paper detailing instructions, and a little bag containing the "sturdy mounting system" and screws for mounting on all three types of socket. Using a hex key, we removed the fan shroud and fan from the heatsink. The fan shroud is very large, and it contains rubber vibration dampers on the inside to reduce noise from the fan. The heatpipes run all the way through the cooler, coming into contact with each of the 48 fins. The fan is a standard 120mm fan with a 4-pin PWM connection. The cable is fully sleeved, so it does not get tangled over the motherboard's component heatsinks.
In the first picture we can see the cooler's direct-contact heatpipe technology that Arctic takes such pains to describe in the features. Rather than have a single copper plate that touches the four heatpipes, Arctic has removed the intermediary and ensured that the CPU cover will touch the heatpipes themselves. We will see how well this method of contact works compared with a standard plate-contact cooler.
Installation
Installing the Arctic Freezer i30 took a few minutes to figure out, was not too difficult, overall. After pushing the backplate into the holes for the socket, we had to install plastic standoffs for the mounting plates. Users must affix adhesive tape to the standoffs so that the hole in the circular tape is lined up perfectly with the hole on the standoff. The sticky standoff must then be pushed onto the motherboard in line with the backplate. This is somewhat difficult to do inside of a case, so we recommend installing the cooler with the motherboard outside of the system, as inconvenient as that may be.
After the four standoffs are stuck to the motherboard, users can then put the mounting plates on and screw them down, all the way to the backplate. After that, it's a simple matter of screwing the cooler onto the mounting plate with two screws.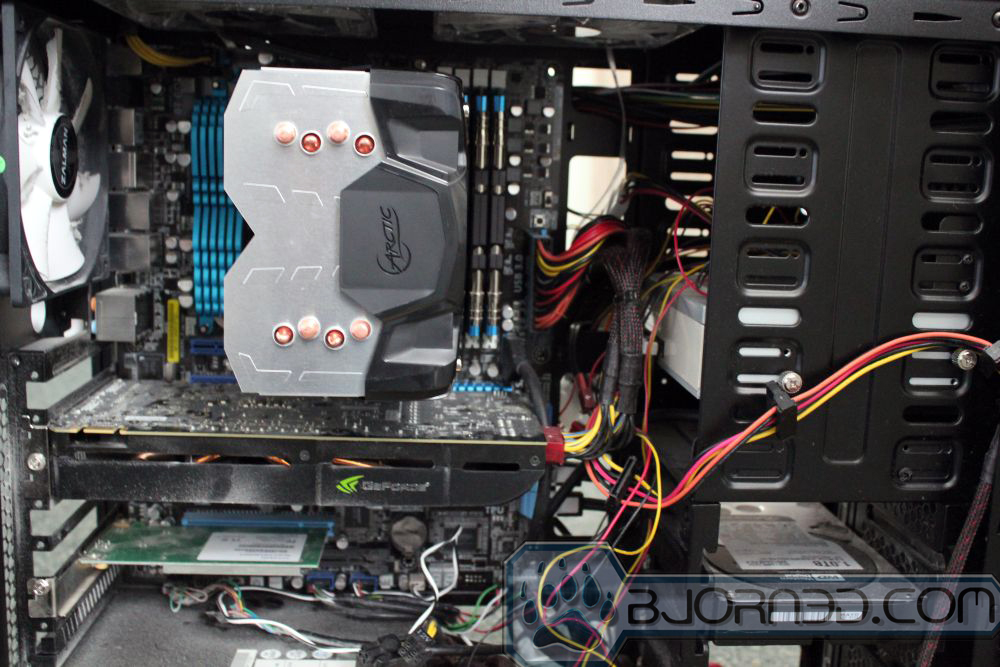 The cooler can be installed in different directions depending on which way the mounting plates are placed. Placing them parallel to the bottom of the case will result in the cooler pointing up or down; placing them parallel to the sides and front of the case will result in the cooler pointing towards either the front or back of the case.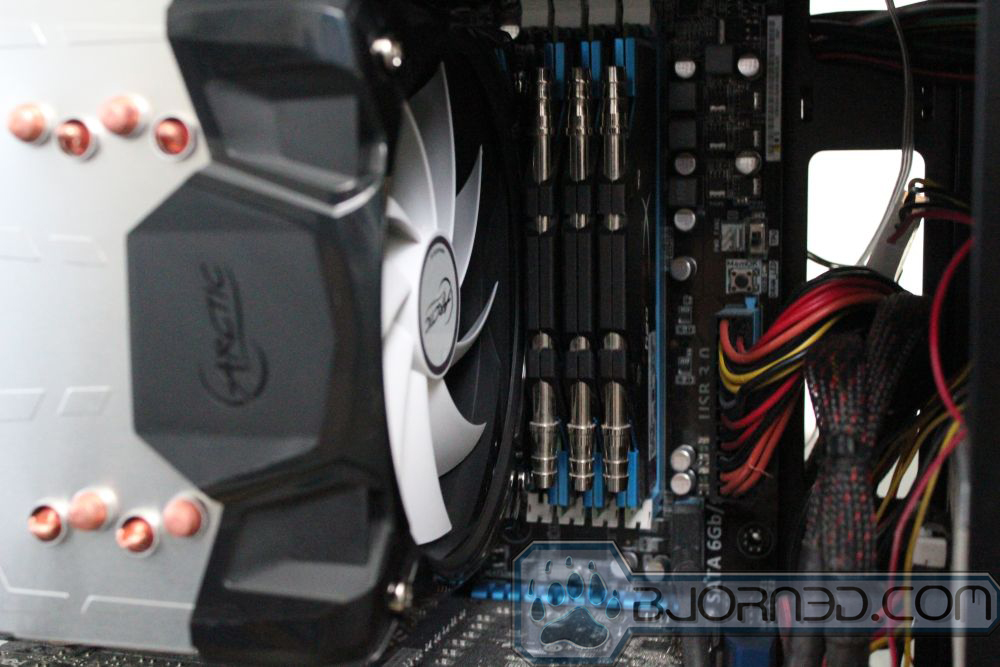 One more point to note is that when placed in all but one configuration, the cooler will occlude memory slots. With the fan pointing towards the front of our case (as shown in all pictures), the fan shroud occludes one memory slot. When rotated 90 degrees (with the fan facing up or down), the cooler's heatsink occludes two memory slots. The only way we could leave all slots free was to install the cooler with the fan facing the back of the case. Users should take this into consideration when planning their system's airflow. Having the cooler face the back of the case would mean that the case's rear fan would have to be intake rather than exhaust, as is commonly found on many systems.
This is something we would like to see improved, as many gamers have high-clearance memory. The fan shroud, though a nice accessory, could be replaced by metal clips which would not obstruct memory slots and could hold the fan in equally securely.
Testing & Methodology
For the purpose of accuracy, all our testing runs were carried out three times. This ensures that we don't have any random error in our results. Idle temperatures were taken with the system running on Windows for 15 minutes. For load temperatures, we let the system sit idle for 10 minutes, then ran Prime95 for 15 minutes, testing for maximum heat and power consumption. All temperatures were measured with AIDA64 monitoring tool.
Test Rig
Case
Zalman Z9 Plus Mid-Tower Case
CPU

Intel Core i5-2500K @ 3.4GHz

Motherboard
ASUS P8P67 Deluxe LGA 1155
Ram

Kingston H2O 8GB (4x2GB) DDR3 2133MHz 9-9-9-27

CPU Cooler

Arctic Freezer i30 CPU Cooler

Intel XTS100H Destkop Thermal Solution

Storage
1x OCZ Synapse Cache 64GB SSD
1x WD Caviar Black 1TB 7200RPM
Optical
ASUS DVD Burner
GPU

1x Nvidia GeForce GTX 560 Ti

Fans
1x 120mm (bottom left side panel)
1x 120mm (rear panel)
1x 120mm (bottom front panel)
1x 120mm (rear top panel)
PSU

Corsair HX Series 750W Modular Power Supply

Mouse
Razer Lachesis
Keyboard
Very Generic Microsoft Keyboard
Results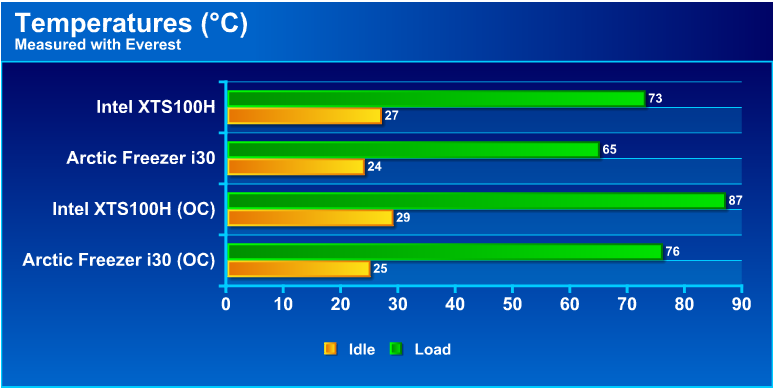 The Arctic Freezer i30 performed very well during testing. We tested it under both stock speed and overclocked settings for our CPU, and were happy with the results. The large heatsink clearly does its job, and the direct-contact method of construction seems to provide good heat transfer between the CPU cover and the heatpipes. We were a little skeptical of this method, as during installation, we only applied thermal compound linearly along the four flat surfaces of the heatpipes, as opposed to uniformly over the CPU cover. However, despite this, the thermal paste seems to have settled nicely, and the cooler has good heat transfer spread uniformly over the contact surface.
Conclusion
Overall, the Arctic Freezer i30 CPU cooler is a great product, and it gets the job done. It is a very versatile product, fitting three different types of socket, and countless types of CPU's. The direct-contact heatpipe technology does the job well, and is a great method of heat-transfer. The mounting system is also very secure and sturdy, and we had no problems with the cooler after we installed it.
There were a couple points on which we would like to see improvement: firstly, the fan shroud is large, and in our opinion, slightly unnecessary. Replacing it with metal clips would free up RAM slots for users. Also, the use of the adhesive tape system is slightly confusing, and difficult when the cooler is installed in a case. A method of screw-on standoffs would be better.
The Freezer i30 is great for those who want a quiet, reliable cooler that performs well. Its direct-contact technology means it is great for overclocking, and it is, in our opinion, well worth the $50 it currently retails for.
OUR VERDICT: Arctic Freezer i30 CPU Cooler
| | |
| --- | --- |
| Performance | 9 |
| Value | 8.5 |
| Quality | 8 |
| Features | 8 |
| Innovation | 9 |

We are using a new addition to our scoring system to provide additional feedback beyond a flat score. Please note that the final score isn't an aggregate average of the new rating system.

Pros
Cons

Good for overclocking

Direct-contact technology enhances heat transfer

Versatile: fits three different socket types

Quiet

Sleeved cable prevents entanglements

4-pin PWM header allows fan control

Fan shroud is large, and obstructs RAM slots

Installation with adhesive tape is difficult inside case

 
Summary: The Arctic Freezer i30 has great performance, good quality, and is a good value. A great choice for overclockers, its versatility and innovation in the use of direct-contact heatpipe technology earn it the Bjorn3D Seal of Approval.