The OCZ Revodrive Hybrid is the combination of a 120GB Revodrive and a 1TB HArd drive for the ultimate in speed and capacity. Here we will test the real potential of this unit.
Introduction –
OCZ Revodrive hybrid

Today we are taking a look at one of OCZ's most innovative solutions: the RevoDrive Hybrid. With the rising popularity of SSD caching technologies, OCZ decided it was time to pair up a drive with their Revodrive unit to provide an excellent performing high capacity solution. This seems to be a very capable solution on paper but real performance will require some testing and performance analysis to see what this unit can really do and if it has any place in the world of high performance systems.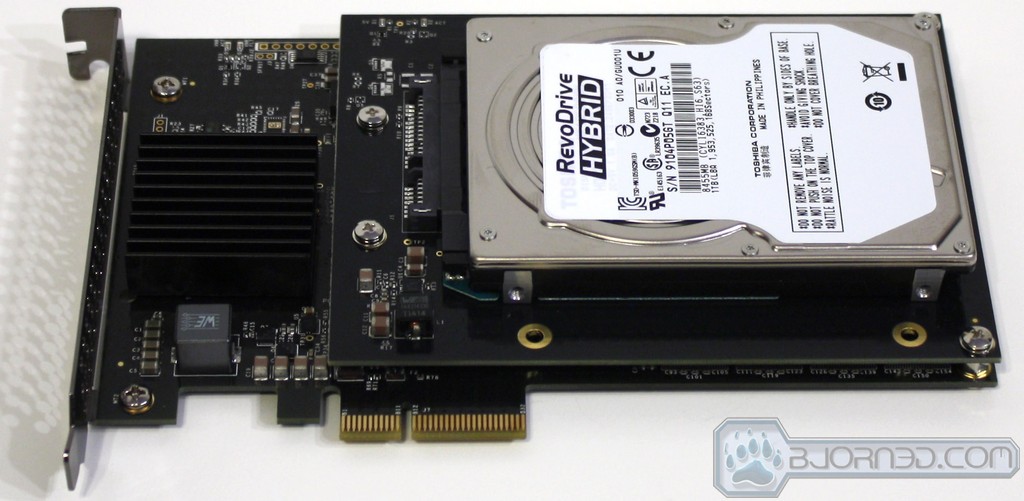 In this review we will be taking a look at how the RevoDrive Hybrid performs and what benefits it offers. If it performs as well as other drive caching offerings we have used this could be an amazing solution. One thing to note is that the current retail price is $329.99 for a 1TB drive with a 100GB high speed caching solution, all in a single PCI-E package carrying a 3 year warranty.
PCI-E Drive / Intelligent Caching / 120,000 IOPS / 1TB Capacity



Innovative Drive Combines Incredible SSD Performance and HDD Capacity

RevoDrive Hybrid PCI Express (PCIe) storage solution is designed to dramatically accelerate applications and system responsiveness by providing the best of both worlds, a superior combination of SSD and hard disk drive (HDD) technology for high-performance yet economical storage.



Highest Performing Hybrid Drive on the Market

Eliminating the SATA bottleneck, the PCIe-based RevoDrive Hybrid unleashes ground-breaking bandwidth up to 910MB/s and features up to 120,000 IOPS (4K random write) for high transactional workloads to truly provide SSD-like performance.



Intelligent Caching Software

For optimal caching, the Revo Hybrid comes bundled with intelligent caching software that dynamically manages the use of the entire drive capacity for superior overall storage performance, where the most frequently/recently used "hot" data is cached for ultra-fast access, while the "cold" data remains on the primary storage partition. Advanced caching algorithms learn user behavior and adapt storage policies to ensure exceptional performance for each individual user, maximizing productivity for the most demanded programs and applications.
Features VCA 2.0 with SuperScale
VCA 2.0 flash virtualization software allows certain direct memory access (DMA) and data management functions. Included in this feature-set are OCZ's exclusive command queuing and queue balancing algorithms, which can be handled by the onboard processing core for higher performance and reduced burden on the host resources. VCA 2.0 is also the only virtualization layer in the industry with TRIM and SCSI unmap support to enhance sustained performance and provide greater endurance by significantly reducing the overhead associated with garbage collection. Furthermore, VCA also offers consolidated SMART support and provides system administrators with advanced features for monitoring, analyzing, and reporting device attributes.
Available in 1TB Capacity
100GB Dedicated Cache
PCI-Express Gen. 2 x4 Interface
Full height form factor
OCZ SuperScale Storage Controller
Virtualized Controller Architecture 2.0
Included Caching Software Key
ECC, Encryption
SMART monitoring
167.64 (L) x 98.42 (W) x 22.15mm (H)
Weight: 289g
Operating Temp: 5°C ~ 50°C
Storage Temp: 0°C ~ 60°C
Power Consumption: 8.1W idle, 10W active
MTBF: 600,000 hours
3-Year Warranty
Compatible with Windows 7 32-bit and 64-bit
Max Performance
Read: Up to 910 MB/s
Write: Up to 810 MB/s
Max Random Write 4KB: 120,000 IOPS
Average Write: 65,000 IOPS
Pictures & Impressions
Click Image to Enlarge
The packaging that holds the RevoDrive Hybrid seems like a standard thin box at the first look, but after removing the inner box we see things change quite a bit here as there is a solid inner box with a drawer style enclosure. Once the inner drawer style box is removed we see the foam which holds the RevoDrive Hybrid in place and also keeps it safe during shipping. This packaging is quite nice and not really what we were expecting since the outer box was a more flimsy thin material, but it is always better to add the quality where it counts if we had to choose.
Click Image to Enlarge
Here we have the unit held in the packaging, along with the instruction manual. Once removed we see the basic layout of the RevoDrive Hybrid, which is a PCI-E based card similar to what we have seen on the regular RevoDrive models. However, the Hybrid has a 2.5" 5400RPM Toshiba Enterprise HDD bolted to the unit via an attached PCB. This configuration seems to be basically like a standard RevoDrive unit with the add on board attached; this is exciting for us as we see many possibilities for more models to be offered with more cache memory, or even a higher capacity or performance based HDD, which could help keep the cold data more quickly accessible when needed.
Click Image to Enlarge
Looking at the PCB of the SSD itself, we get a better idea of what we are dealing with. One thing we notice right away is the fact that half of the NAND solder pads are empty, which tells us that these units have much room to grow, and at the least can have another 100GB of NAND attached to make an even more powerful and robust caching structure. We really hope that the RevoDrive Hybrid is the first of many drives of this type which can package inexpensive or even high performance HDD's with an adjustable amount of onboard NAND, so that there are performance levels for every price point. Some may question why anyone would bother with a more expensive RevoDrive Hybrid if they could get a SSD for the same price? The answer is size: when it comes to storage, size does matter.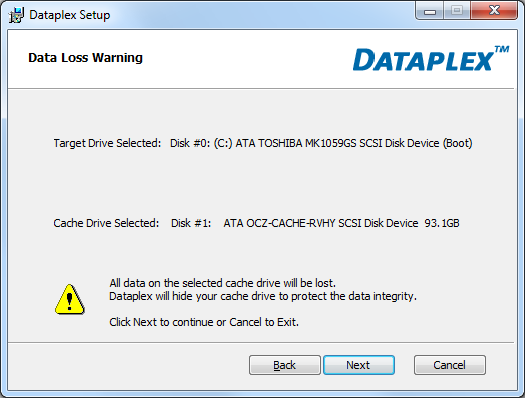 Here is what we see when setting up the Dataplex software. This software requires a key to register which is located on the rear of the PCB. When setting up the software it warns that the cache drive will be completely erased and the drive will also be hidden so it cannot be accessed directly from Windows; this is to prevent the user from storing data on the SSD which can negatively affect caching performance. This may seem silly but when saving files one can easily click the wrong drive if it was not hidden, and possibly corrupt the whole caching partition. This system of hiding the drive makes it more error-proof.
One thing to note is that the RevoDrive Hybrid must be used as the primary install drive, else the software will attempt to implement caching on the main system drive, and not the RevoDrive.
Testing & Methodology
SSD testing is something that can either be made very confusing or problematic. For us we try to make it simple for you users to give an adequate idea of what it will be like to use this drive in comparison to other popular units on the market.
We will keep testing short and sweet to give some clear and concise results on total throughput and how the unit will perform in everyday tasks, although you may notice we chose not to include a HDD in the test with the exception of the cached HDD from the Revodrive Hybrid, as the design of this kind of solution should be far superior to any stand alone HDD as we have seen with our other SRT and OCZ Synapse testing previously and it would be a waste of time and space to show off numbers significantly lower as we already know that the caching solutions as a whole are proven to be great performers.
One thig to note is that we want to set the expectations up front here. This unit is not meant to blow away a stand alone SSD system but more be a Compromise of space and performance which gives us HDD capacity but with a speed boost to get near SSD level speeds. with the design of the Revodrive hybrid pending the data being used is on the SSD portion this unit could show real potential to beat out even some of the best SSD's out there but for the most part figure it should hit a spot between SSD and HDD performance even though our hope is that it will be closer to SSD performance.
Test Rig
Test Rig
Case
Thermaltake Level 10 GT
CPU

Intel Core i7-3960X

Motherboard
ASUS Rampage IV Extreme
RAM
16GB Gskill F3-17000CL9Q-16GBZH (4x4GB)
CPU Cooler

Swiftech H20-220 Edge

Hard Drive
Revo Hybrid HDD
SSD

OCZ Vertex 3 SATA III

RevoDrive Hybrid

Microcenter (ADATA) SATA II SSD

Intel SATA II SSD

Optical
ASUS BD-ROM
GPU

2x GTX 580 SLI

Case Fans

Front (intake): 200 x 200 x 20 mm ColorShift Fan x 1 (600~800RPM, 13~15dBA)

Rear (exhaust): 140 x 140 x 25 mm Turbo Fan (1000PRM, 16 dBA)

Top (exhaust): 2x120mm fans mounted to Radiator for Swiftech H20-220 Edge kit

Side (intake): 200 x 200 x 30 ColorShift Fan (600~800RPM), 13~15dBA)

Additional Cards
N/A
PSU

Thermaltake Toughpower Grand 1200W

Mouse
Tt eSPORTS Black gaming mouse
Keyboard
Tt eSPORTS Meka G1 mechanical gaming keyboard
Test Suite
We will use the following applications to test the performance of the RevoDrive Hybrid. Benchmarks
Benchmarks
ATTO
Boot Time
PCMark 7
AS SSD Benchmark
ATTO
Storage manufacturers often use ATTO to rate their drives. ATTO is designed primarily for mechanical drives, not for SSDs. While it may not always tell the whole story, we include it just to give an idea on how the tested drive stacks up against other drives. Also, it is worth re-testing to confirm the veracity of the manufacturer's claim.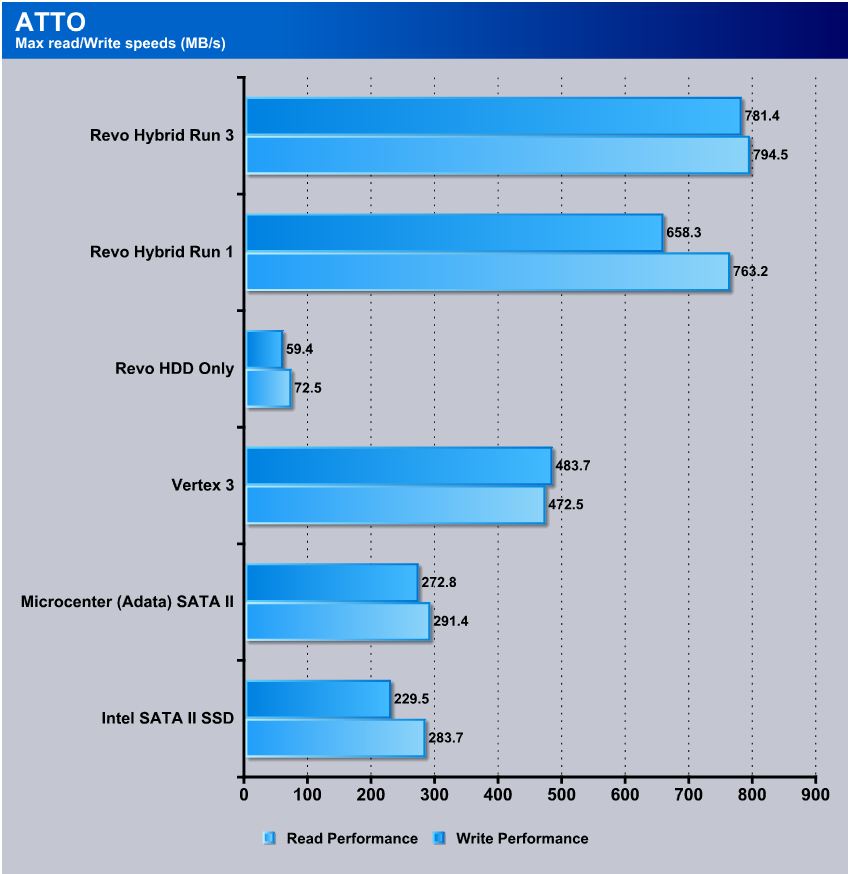 Here we see just flat out raw numbers, and while in real world usage the numbers will differ some, this is a good indicator of what these drives are capable of. It also shows what caching drive can do for the RevoDrive Hybrid. As we see here it clearly beats out every other unit including the Vertex 3 and one needs to remember that the caching side of the RevoDrive Hybrid is basically several SSD's in RAID, so it does make sense to see such a high number. This speaks to some real potential for the platform once all of the hot data is figured out and sorted by a few usage cycles of the system.
Windows 7 Boot up time
Windows 7 bootup was measured to the time of the bootloader screen to the time at desktop and loaded fully.
Here we can see that all of the SSD's boot up very quickly when compared to the RevoDrive Hybrid's stand alone HDD. On its first run, the RevoDrive Hybrid is slower, because none of the data has been cached yet. However after a couple runs things swing drastically and boot time is cut in half after the caching takes effect.
PCMARK 7
PCMark 7 is the latest system benchmark tool from Futuremark. The benchmark consists of tests such as application launches, file searches, web browsing, video playback, photo editing, and gaming.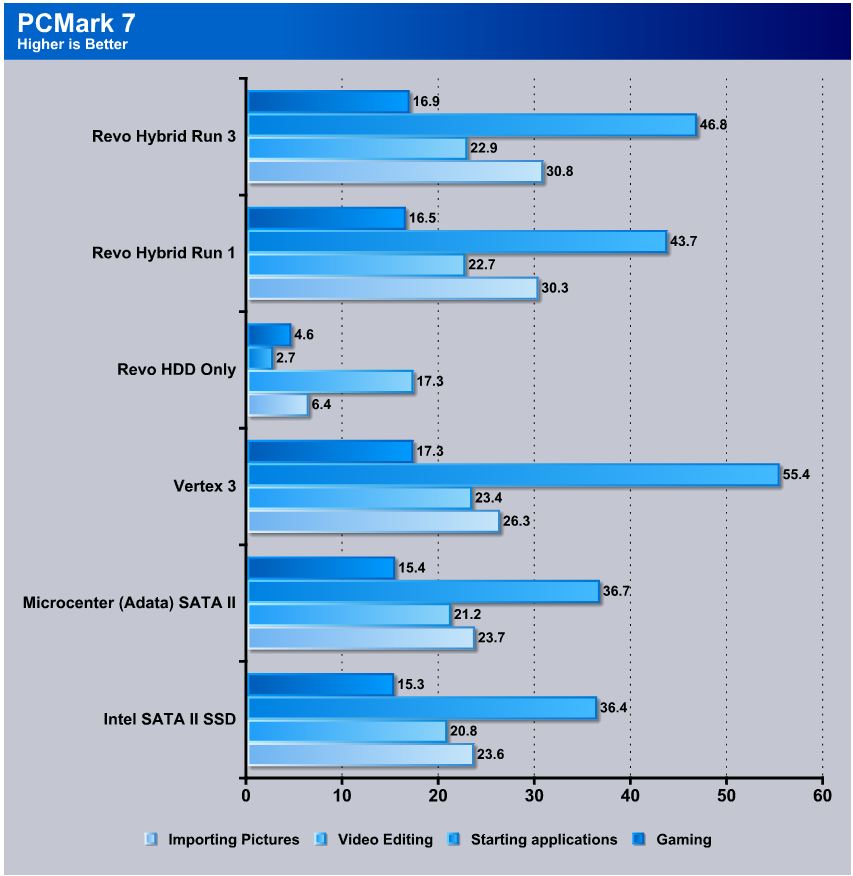 For the PCMark test we ran only the storage based benchmarks to see how exactly it performed. In this real world benchmark we find that the high-performance Vertex 3 can definitely put down some nice numbers in the starting apps benchmark but the RevoDrive Hybrid pulls ahead in multiple other aspects of the test. This just shows that while comparing to a pure SSD system is nice, it doesn't give us the full picture as the RevoDrive Hybrid has a much higher capacity and performance.
AS SSD
AS SSD is designed specifically to test SSDs. We use this tool to measure the drive's performance at handling incompressible data. Since all SandForce drives compress data to reduce number of write and reduce NAND's write cycle, It should make for a good test to see how the drive measures up.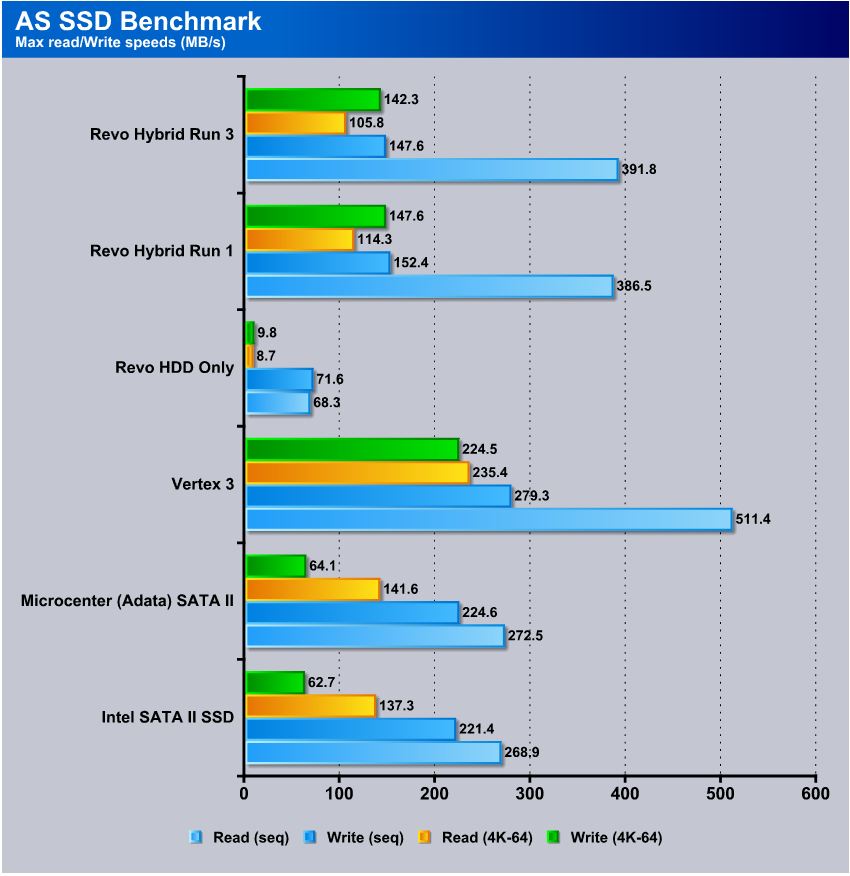 Here we see that the read on the single Vertex 3 solution scores high both at the Sequential and 4K-64 tests which is a definite sign as to how strong the drive can perform under the right conditions. The RevoDrive Hybrid gains very little from the first through the third run; the caching algorithm may not be using the data tested by AS SSD, as the drive is not showing the same performance we have seen in the other tests.
We should also keep in mind that this is not simply an SSD-only system, but a cached drive system. When comparing results to the standalone HDD that is used on the RevoDrive we see marked improvements of over 500% and in some cases even more.
CONCLUSION
The RevoDrive Hybrid is a unique product which is difficult to compare. At its present market price it is a very nice deal just looking at the hardware specifications alone. The 1TB enterprise HDD provides the benefit of drive size, and the RAID-configured SATA III compatible SSD chips in caching mode gives us a great speed boost; with the caching algorithm, it seems to be a seamless venture into a high-capacity, high-speed solution.
The RevoDrive Hybrid is a very capable unit but it does have some downfalls we wish to see improved in the future. The first is that the unit must be used as the primary boot drive, otherwise the caching software will utilize the drive that the OS is on, and we hope some simple updates in the future can resolve this. Next would be greater NAND capacity, as there are many NAND pads left empty which we know would create a lot more space for hot data, and in turn would reduce the speed decrease associated with having to pull data off the HDD.
Anyone who has been on the fence or thinking about getting a smaller SSD just for the OS and a larger hard drive just for storage should look at the RevoDrive Hybrid as it gives the possibility of some lightning-fast performance with large storage capacity all in a single card, and for the current price, is an excellent deal.
OUR VERDICT:

OCZ RevoDrive Hybrid
| | |
| --- | --- |
| Performance | 9.5 |
| Value | 9.5 |
| Quality | 10 |
| Features | 8 |
| Innovation | 9 |

We are using a new addition to our scoring system to provide additional feedback beyond a flat score. Please note that the final score isn't an aggregate average of the new rating system.

Pros
Cons

SSD-like Performance

Easy Installation

Easy to use software

3 Year Warranty

Must be used as the install drive

Has room for many more NAND
Summary: The RevoDrive Hybrid performs at near SSD speeds and even can eclipse a standalone SSD in some cases. For its performance and value it earns the Bjorn3D Golden Bear Award.