The ASUS Sabertooth X79 uses high quality and high life expectancy parts via the TUF components. Let's see how well it performs with its excellent MTBF components.
Introduction – ASUS Sabertooth X79
The X79 offerings we have looked at to date from ASUS have been the ROG offerings. However, there are other X79 boards, and we would hate for a board to be left out simply because it was not a ROG offering. Today we're looking at the Sabertooth X79. The Sabertooth is still a fairly young line, with fewer boards under its belt than the ROG line. ASUS had touted the Sabertooth or TUF series of boards for some time before finally showing one off, so the first Sabertooth board to make it to retail was the Sabertooth X58. That board was just the beginning of a whole new line of boards built to with stand the test of time, and also with components designed to withstand the worst environmental conditions possible. All components must pass these tests before they can bear the ASUS Sabertooth name.
The warranty for the TUF series boards is a nice 5 years, which says something about the perceived durability of these boards. Add to this the recent inclusion of X79 to the list of available models for the APS ASUS premium warranty, and this board looks to deliver an experience that would be viewed as second to none.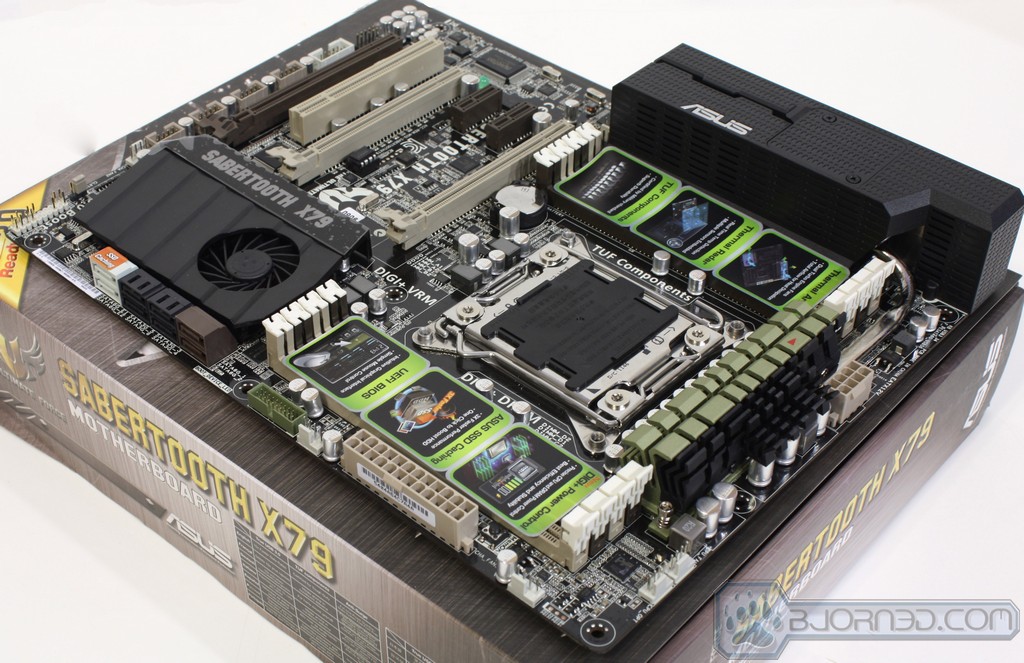 In this review we will take a look at the specific features that make the Sabertooth and TUF series in general stand out and how they apply to real world usage, and whether they merit the $329.99 price tag.
TUF
/

tΛf

/, stands for The Ultimate Force.

The TUF series delivers a "tough" image. With the unique design & high quality components (military-standard), TUF series is born for pursuing the preeminent stability, all-round compatibility, and extreme durability
"Ultimate COOL!" Thermal Solution
Thermal Armor
Total Airflow-Boosting Heat Dissipation
New generation TUF Thermal Armor kicks cooling up a notch with dual integrated Turbo Engine fans. This enhances the original TUF thermal design, helping direct heat away from MOS area components and out the case via the rear I/O section. Special heat pipes propel dissipation from critical components and make sure temps stay low across the board. The Thermal Armor also provides modders and LAN party goers an extra-cool dress up option to show off their creativity and dedication to performance.


Thermal Radar
Real Time Temp Detection and Heat Removal
The TUF Thermal Radar monitors temps in critical parts of the motherboard in real time, automatically adjusting fan speeds to make sure the system maintains high stability without overheating. It consists of multiple sensors for various components on the motherboard, giving users the ability to monitor each one individually. The Thermal Radar automatically calculates ideal fan speeds based on different parameters selected by users for each component, keeping everything cooler and longer lasting.
"TUF ENGINE!" Power Design
New DIGI+ Power Control
All-New Digital Power Control for both CPU and DRAM
ASUS X79 motherboards include New DIGI+ Power Control with three digital voltage controllers, including all-new DRAM controllers that offers ultra-precise memory tuning in addition to ultra-precise CPU voltage control. This evolution of innovative, industry-leading ASUS technology provides the best in class control for better efficiency, stability and performance. 

Best in class power efficiency and stability
Two critical components work perfectly together to match digital power signal (SVID) requests from the CPU, with ultra-fast sensing and response to efficiently deliver the right level of power on demand. Accurate power reduces wasteful voltage imprecision, and provides more a stable CPU and memory setup. 

8 DIMM Design. X79 Done Right
Support for up to 64GB of system memory with an 8-DIMM design on ASUS X79 motherboards provides the capacity for users to make full use of modern 64-bit software, ideal for rendering detailed images or manipulating large files without the bottlenecks of conventional storage. It also allows users to set up big RAM disks and speed up frequently accessed programs, minimizing the impact of storage transfer delays while maximizing user benefit.
UEFI BIOS
Flexible & Easy BIOS Interface
ASUS UEFI BIOS offers the first mouse-controlled graphical BIOS designed with selectable modes, providing a user-friendly interface that goes beyond traditional keyboard-only controls. It also natively supports fully-utilized hard drives larger than 2.2TB in 64-bit operating systems.

ASUS exclusive interface
EZ Mode displays frequently-accessed info. Users can choose system performance settings and drag and drop boot priorities. Advanced Mode for performance enthusiasts includes detailed DRAM settings via a dedicated memory info page for complete insight. 

New upgrade! Quick and easy info for enhanced system control
– F12 BIOS snapshot hotkey for sharing UEFI setup info and troubleshooting 
– New F3 Shortcut for most accessed info
– ASUS DRAM SPD (Serial Presence Detect) Information for accessing memory info, detecting faulty DIMMs and helping with difficult POST situations
TUF Components (Choke, Cap. & MOSFET; Certified by Military-standard)
Certified for Tough Duty 
Get rugged performance even in the most challenging conditions with robust TUF chokes, solid capacitors, and MOSFETs–certified through third-party, military-grade testing. TUF Chokes, also known as the "Ferrite Choke", is a made of a compound of various types of metal instead standard iron, enables the support of up to a massive 50A of rated current, much higher than conventional component. Furthermore, the single piece packaing also elimates the emission of virbation noise, delivering superb charactoristics as well as durability under extreme conditions.
ASUS Exclusive Features
ASUS SSD Caching
3X faster performance at a click
SSD caching from ASUS is easier than ever. At 3X faster, this feature boosts system performance by using an installed SSD with no capacity limitations as a cache for frequently accessed data. Harness a combination of SSD-like performance and response and hard drive capacity with just one click, no rebooting needed and instant activation for complete ease of use.
USB BIOS Flashback
Easy, worry-free USB BIOS Flashback
USB BIOS Flashback offers the most convenient way to flash the BIOS ever! It allows overclockers to try new BIOS versions easily, without even entering their existing BIOS or operating system. Just plug in USB storage and push the dedicated button for 3 seconds, and the BIOS is automatically flashed using standby power. Worry-free overclocking for the ultimate convenience!
USB 3.0 Boost
Faster USB 3.0 Transmission with UASP
New ASUS USB 3.0 Boost technology supports UASP (USB Attached SCSI Protocol), the latest USB 3.0 standard. With USB 3.0 Boost, USB device transmission speed is significantly increased by up to 170%, adding to already impressively fast USB 3.0 transfer speeds. USB 3.0 Boost provides a user-friendly graphical interface, which instantly accelerates transfer speeds for USB 3.0 peripherals with exclusive ASUS device auto-detect settings.
"Safe & Stable!" Guardian Angel
MemOK!
Any Memory is A-OK!
MemOK! quickly ensures memory boot compatibility. This remarkable memory rescue tool requires a mere push of a button to patch memory issues. MemOK! determines failsafe settings and dramatically improves your system boot success. Get your system up and running in no time!
ESD Guards
Unique protection of motherboard components from unexpected electrostatic discharges (ESD)
Electrostatic discharge (ESD) can happen suddenly and its damaging effects is often underestimated. Exclusive ASUS anti-static chip, a protective circuit design, and the I/O shield provides four times better protection to extend component lifespan.
Latest Transfer Technology
Power eSATA 6Gb/s ready
2X faster with fully charged power
Powered eSATA 6Gb/s combines data and power connectivity. Users enjoy 2X faster transfer rates, and can use external SATA 6Gb/s devices with no additional power adapters. ASUS provides extra port with enhanced scalability, faster data retrieval, and double the bandwidth of current bus systems for extra speed and accessibility
Front Panel USB 3.0 Support
Convenient USB 3.0 Front Panel Compatibility 
ASUS provides standardized USB 3.0 front panel support, compatible with any chassis. Enjoy faster throughput of USB 3.0 without relegating cables or devices to the hard-to-reach rear I/O.
Complete USB 3.0 Solution
Double USB access, double convenience
ASUS facilitates strategic USB 3.0 accessibility for both the front and rear panel – 6 USB 3.0 ports in total. Experience the latest plug & play connectivity at speeds up to 10 times faster than USB 2.0. The SABERTOOTH X79 affords greater convenience to high speed connectivity.
CPU, Chipset and Graphics features
2nd Generation Intel® Core™ i7 Processor family for the 
LGA 2011 Socket
This motherboard supports the latest 2nd Generation Intel® Core™ i7 Processor family for the LGA 2011 Socket, with memory and PCI Express controllers integrated to quad-channel (8 DIMMs) DDR3 memory and 40 PCI Express 3.0 lanes. This provides great graphics performance. 2nd Generation Intel® Core™ i7 Processor family for the LGA 2011 Socket is one of the most powerful and energy efficient CPUs in the world.
Intel® X79 Express Chipset
The Intel® X79 Express Chipset is the latest single-chipset design that supports the 2nd Generation Intel® Core™ i7 Processor family for the LGA 2011 Socket. It improves performance by utilizing serial point-to-point links, allowing for increased bandwidth and stability. Additionally, the X79 comes with 2 SATA 6Gb/s and 4 SATA 3Gb/s ports for faster data retrieval, doubling the bandwidth of current bus systems.
PCIe 3.0 Ready
The latest PCI Express bus standard delivers improved encoding for twice the performance of current PCIe 2.0. Total bandwidth for a x16 link reaches a maximum of 32GB/s, double the 16GB/s of PCIe 2.0 (in x16 mode). PCIe 3.0 provides users unprecedented data speeds, combined with the convenience and seamless transition offered by complete backward compatibility with PCIe 1.0 and PCIe 2.0 devices. It's a must-have feature for PC users aiming to improve and optimize graphics performance, as well as have the latest, most future-proof technology.

*This motherboard is ready to support PCIe 3.0 SPEC. Functions will be available when using PCIe 3.0-compliant devices. Please refer to www.asus.com for updated details. 
> Get the latest BIOS version for optimal support of PCI Express 3.0.
Quad-GPU SLI and Quad-GPU CrossFireX Support!
Flexible Multi-GPU Solutions, Your Weapon of Choice!
SABERTOOTH X79 brings you the multi-GPU choice of either SLI™ or CrossFireX. The motherboard features the most powerful Intel® X79 platform to optimize PCIe allocation in multiple GPU configurations. Expect a brand-new gaming style you've never experienced before!
SABERTOOTH X79 Product Overview
Guaranteed Service
5 Year Warranty
The ultimate reliability of TUF Series is not only based on advanced thermal design, military-standard components and strict reliability tests, but also on the 5 Years Warranty* which is proudly provided.

* This service will follow the local standard and service policy.
** This service only covers failures or malfunctions that occur during the warranty period and under normal use conditions, as well as any material or workmanship defects.
Specifications
CPU
Intel® Socket 2011 for 2nd Generation Core™ i7 Processors 
Supports Intel® Turbo Boost Technology 2 
* Refer to www.asus.com for CPU support list
Chipset
Intel® X79
Memory
8 x DIMM, Max. 64GB, DDR3 1866/1600/1333/1066 MHz Non-ECC, Un-buffered Memory
Quad Channel Memory Architecture
Supports Intel® Extreme Memory Profile (XMP)
* Hyper DIMM support is subject to the physical characteristics of individual CPUs. 
* Refer to www.asus.com or user manual for the Memory QVL (Qualified Vendors Lists).
Multi-GPU Support
Supports NVIDIA® Quad-GPU SLI™ Technology 
Supports AMD Quad-GPU CrossFireX™ Technology
Expansion Slots
2 x PCIe 3.0/2.0 x16 (dual x16) *1
1 x PCIe 3.0/2.0 x16 (x8 mode) *1
2 x PCIe 2.0 x1 
1 x PCI
Storage
Intel® X79 chipset : 
2 x SATA 6Gb/s port(s), brown
4 x SATA 3Gb/s port(s), black
Support Raid 0, 1, 5, 10
Marvell® PCIe 9128 controller : 
2 x SATA 6Gb/s port(s), gray
ASMedia® ASM1061 controller : 
1 x Power eSATA 6Gb/s port(s), green
1 x eSATA 6Gb/s port(s), red
LAN
Intel® 82579V, 1 x Gigabit LAN Controller(s)
Audio
Realtek® ALC892 8-Channel High Definition Audio CODEC 
– Supports : Jack-detection, Multi-streaming, Front Panel Jack-retasking
Audio Feature :
– Absolute Pitch 192kHz/ 24-bit True BD Lossless Sound
– Blu-ray audio layer Content Protection 
– Optical S/PDIF out port(s) at back panel
IEEE 1394
VIA® 6315N controller
1 x IEEE 1394a port(s)
(1 at back panel)
USB Ports
ASMedia® USB 3.0 controller : 
6 x USB 3.0 port(s) (4 at back panel, blue, 2 at mid-board)
Intel® X79 chipset : 
14 x USB 2.0 port(s) (6 at back panel, black, 8 at mid-board)
Special Features
TUF ENGINE! Power Design :
– 8 +2 +2 +2 Digital Phase Power Design
– TUF Components (Choke, Cap. & MOSFET; certified by military-standard)
– ASUS DIGI+ Power Control Utility
Ultimate COOL! Thermal Solution :
– TUF Thermal Armor
– TUF Thermal Radar
ASUS Exclusive Features :
– MemOK!
– AI Suite II
– Anti-Surge
– ESD Guards
– ASUS UEFI BIOS EZ Mode featuring friendly graphics user interface 
– ASUS SSD Caching
– USB 3.0 Boost
ASUS EZ DIY :
– USB BIOS Flashback
– ASUS Q-Shield
– ASUS O.C. Profile
– ASUS CrashFree BIOS 3 
– ASUS EZ Flash 2 
– ASUS MyLogo 2 
– Multi-language BIOS
ASUS Q-Design :
– ASUS Q-LED (CPU, DRAM, VGA, Boot Device LED)
– ASUS Q-Slot
– ASUS Q-DIMM 
– ASUS Q-Connector
Back I/O Ports
1 x PS/2 keyboard/mouse combo port(s)
1 x eSATA 6Gb/s
1 x Power eSATA 6Gb/s
1 x IEEE 1394a
1 x LAN (RJ45) port(s)
4 x USB 3.0 
6 x USB 2.0 
1 x Optical S/PDIF out
6 x Audio jack(s)
1 x USB BIOS Flashback Button(s)
Internal I/O Ports
1 x USB 3.0 connector(s) support(s) additional 2 USB 3.0 port(s) (19-pin, moss green)
4 x USB 2.0 connector(s) support(s) additional 8 USB 2.0 port(s)
1 x COM port(s) connector(s)
4 x SATA 6Gb/s connector(s)
4 x SATA 3Gb/s connector(s)
1 x CPU Fan connector(s) (4 -pin)
4 x Chassis Fan connector(s) (4 -pin)
1 x Optional Fan connector(s) (4 -pin)
1 x Assistant Fan connector(s) (4 -pin)
1 x S/PDIF out header(s)
1 x 24-pin EATX Power connector(s)
1 x 8-pin ATX 12V Power connector(s)
1 x Front panel audio connector(s) (AAFP)
1 x System panel(s) (Q-Connector)
1 x MemOK! button(s)
1 x Clear CMOS jumper(s)
Accessories
User's manual
ASUS Q-Shield
2 x SATA 3Gb/s cable(s)
4 x SATA 6Gb/s cable(s)
1 x SLI bridge(s)
1 x Q-connector(s) (2 in 1) 
1 x I/O Cover Fan(s)
1 x TUF Certification card(s)
1 x TUF 5 Year Warranty manual(s) (by region)
BIOS
64 Mb Flash ROM, UEFI BIOS, PnP, DMI2.0, WfM2.0, SM BIOS 2.6, ACPI 2.0a, Multi-language BIOS, ASUS EZ Flash 2, ASUS CrashFree BIOS 3
Manageability
WfM 2.0, DMI 2.0, WOL by PME, WOR by PME, PXE
Support Disc
Drivers
Anti-virus software (OEM version)
ASUS Update
ASUS Utilities 
Form Factor
ATX Form Factor 
12 inch x 9.6 inch ( 30.5 cm x 24.4 cm )
Note
*1: This motherboard is ready to support PCIe 3.0 SPEC. Functions will be available when using PCIe 3.0-compliant devices. Please refer to www.asus.com for updated details.
TUF (The Ultimate Force)
ASUS has been making TUF series board for a decent amount of time now and although it is still a younger series it has matured and become a force to be reckoned with when it comes to reliability. The TUF model boards are put through rigorous testing with third party companies to ensure extreme reliability in some of the worst situations imaginable. The TUF series boards use military grade components.
APS (ASUS Premium Service)
ASUS Previously offered the APS service on ROG boards, but starting with the X79 series they have extended the service to cover much more of their X79 models in the standard channel line. This is nice to see as the APS service allows an advanced replacement or a board to be shipped to the user which in turn means less down time for the end user. More on this service can be seen on the ASUS website HERE
ASUS Thermal Radar
ASUS offers with the Sabertooth series of TUF boards what is referred to as "Thermal Radar"  this is strategically placed and labeled sensor locations that the user can monitor via the AISuite software. These sensors are placed in such locations as the PCI-E slots, specific high load or usage IC's and even power component locations. This is especially helpful in the applications this board could be placed in such as production machines or number crunching machines which the users want maximum reliability like is promised by the TUF series boards. Also let us not forget that these readings can be a great early warning of a possible airflow issue from some sort of restriction which can result in complete system failure if not addressed.
BIOS Flashback
ASUS offers the BIOS Flashback utility which is actually a multi-facet tool and has many capabilities which some may not be aware of. We have had many times where a motherboard did not support a CPU and had to frantically search for a supported CPU just to flash the BIOS (ex. Gulftown CPU support on X58). ASUS has eliminated the worry of these kinds of issues by allowing the BIOS flashback procedure which does not require a CPU or memory to flash the BIOS. All that is needed in order to flash the BIOS is to have the desired firmware ROM file on a USB thumb drive and insert that into the White colored USB port.
Depressing the BIOS flashback button for approximately 3 seconds will start a flashing LED which indicates the firmware is being updated and once the update is complete the flashing will stop. It really is that easy and ensures that no matter the condition, the firmware can be flashed even if the newest CPU is not supported without the previously mentioned hunt for a compatible CPU.
This may seem like an odd feature but many may buy the newest and greatest CPU on the market while the board could have been shipped with the older firmware which in most cases would leave the user stuck without an option.  As for our usage we have found this useful in quite a few experiences where running an LN2 cooled system in unstable conditions led to BIOS corruption.
Turbo USB
Turbo USB or USB 3.0 boost allows for users to further accelerate their old USB devices by placing them in the USB 3.0 devices and enabling the Turbo mode. Now do keep in mind that there is also the UASP mode which select devices including external drive docks and enclosures which could result in some pretty impressive speed gains as well due to the change in protocol used to communicate with the installed device.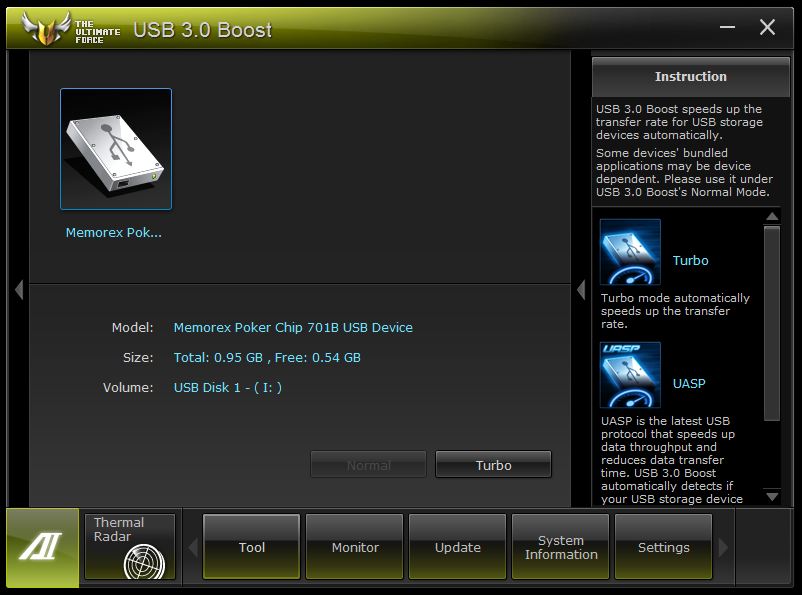 Here we see the USB 3.0 boost screen in the AI Suite II utility, which is where USB devices protocol can be adjusted. Enabling the turbo will help many models but a gain can not be guaranteed on every model for obvious reasons but if you already have the board it would be easy enough to plug in a drive and give it a try. With teh click of a button we could easily breathe some new performance into our otherwise dated old thumb drives.
For more information please see the ASUS USB 3.0 Boost landing page here
ASUS SSD Caching
With the introduction of the X79 Intel Enthusiasts model chipset we found that the Intel Smart Response SSD caching was omitted by default from support on the chipset. ASUS took this as an opportunity to add the feature themselves by way of a third party chipset which supports up to SATA 6Gbps speeds, but beyond that it is capable of supporting a caching drive which is what it is meant for. One thing to note which we are sure many have noticed by now is that the ROG boards do not have ASUS SSD caching. This was likely an intentional omission, as ASUS probably checked the market and found that most ROG users have a primary SSD already and would better benefit from a higher performance third party controller rather than a caching capable controller which may yield slightly lower results. For the Sabertooth, ASUS opted for the SSD caching capable Marvell 9128 controller. One really cool feature of the ASSUSSD caching is that it does not have the same 64GB capacity limitation as the Intel solution. With the ASUS solution, any size SSD can be synchronized with a large capacity drive so that hot data (used often) is transferred to the SSD for quick and frequent access, and cold data (data used less often) remains on the normal hard drive, leading to a much higher capacity storage system with very fast boot times and response.
Overview of the X79 Sabertooth
Click Image For a Larger One
The Sabertooth X79 comes in the same kind of box that ROG boards come in. The flip-up panel shows more marketing information, and covers some key features of the board. The front displays the 5-year warranty, along with PCI-E 3.0 support, and all of the standard coverages like SLI and CrossFireX support.
The flip open section of the front panel covers many of the TUF series components, including many items we looked at on the previous page. Just like previous board from ASUS, it is very much just a way of showing off some of the advanced features of the board.
At the rear we have the standard specifications for component support and also a few more specialized features such as the thermal armor portion, which directs airflow over a PWM cooling fin array to further enhance cooling capability. There's also a brief marker showing off the server grade-reliability and testing the board goes through.
Click Image For a Larger One
Here we get a look at what we have when opening the box. The board is under a clear plastic cover and also inside of an anti-static bag. Here is a list of all items included in the Sabertooth X79's accessory pack:
IO Shield
SATA cables
2 Way SLI Bridge
Thermal Armor optional cooling fan
User/setup manuals
Certificate of Reliability
Asus EZ Connect front panel connectors
TUF series Decal
This should be more than enough to get us going with the board although it would have been nice to see a eSATA cable included.
Click Image For a Larger One
Here we get a good look as to what exactly comes in the box as described previously. 6 SATA cables are included along with a set length SLI Bridge. The certificate of reliability shows all of the military-spec components and the testing specs they were certified to by the third party testing facility.
The front panel Q connectors are great for simplifying installation and making sure less time is spent fiddling with front panel connections during setup.
The optional Thermal Armor fan can be installed on top of the thermal armor module above the I/O area, and will feed cooling air through the cooling array for the PWM section, ensuring maximum stability under a consistent load environment.
Click Image For a Larger One
At first glance we see the dual slot PCI-E main configuration which has plenty of spacing with 3 slots of spacing to ensure that proper airflow for most cards and even fitment for some of the newer triple slot models on the market.
One thing we noticed that really stood out is the omission of onboard buttons, which means separate buttons will be needed if this unit is in a testbench setup. While this is not a huge deal it definitely is something that we feel could have been included as they really help in many cases.
The color scheme is a matter of personal preference, but it has been a mainstay for the Sabertooth series for quite some time. To us the colors seem kind of bland, but not terrible.
The 8 DIMM slot configuration means that maximum memory density can be accomplished for a heavy rendering system which means the capabilities of this model are just that much better.
The board has 7 total fan ports ready to control a whole host of fans. All the fan headers are 4 pin fan headers which means the board can control the fans to ensure a much quieter system unless the cooling power is needed.
Lastly we see at the lower edge the SSD Caching ports which allow for the ASUS SSD caching capability which in turn will improve loading and even boot time performance.
A Closer Look at the X79 sabertooth
Click Image For a Larger One
Taking a closer look  at the Sabertooth X79 we can see the solid caps which have a shiny finish to them. This is a nice effect as it adds to the visual aspect and enhances the board's "pretty factor". One of the really cool features this board carries is SSD Caching. Intel omitted this feature from the X79 chipset in favor of a third-party SATA controller. It really is cool to see ASUS do it themselves. In our opinion, ASUS actually did it better as there is no capacity limit for the caching drive. Next to the caching port, we see the controller that makes it all possible.
Another area of interest the cooling solution which has 2 different actively cooled heatsinks. The first is the PCH chipset cooler. The second is the heatsink fin array hidden within the thermal armor cover over the I/O section which has a top opening that with the optional fan installed will actively cool the fin array and the heat transferred from the main PWM heatsink to the fin array via a connected heatpipe. This is definitely a plus as many manufacturers rely on passive solutions for their power components, but without sufficient heatsink material the heat cannot be removed from the sensitive IC's below, leading to instability or component failure. The inclusion of not only a decent sized heatsink but also a heatpipe-attached fin array with an option for active cooling should easily be up to the task for even the most demanding applications. The USB 3.0 header on the Sabertooth is located near the 24 Pin ATX connector which we have seen on many ASUS boards and is an excellent placement for cable management and routing.
Click Image For a Larger One
Here we have pictures which show off the components and slot spacing for the PCI-E. Next we take a look at the lower I/O edge which shows some of the controllers responsible for keeping things moving such as the Intel Gigabit NIC controller and also the VIA and Asmedia controllers, all placed along the board edge. The Intel NIC solutions placed on the board are specially selected as many enthusiasts and power users will note that the Intel solution is a superior network solution, which provides better capability and stability over some of the other third party solutions. Moving to the lower edge we see the standard Realtek ALC892 HD audio chipset which allows for all of the audio functions of the Sabertooth.
We also see a cluster of solid state caps which are just some of the many TUF standard components which are military spec rated components on this board. The TUF components are tested to withstand some of the most harsh environments possible, which means a standard gaming or high performance PC should be a walk in the park for them. Lastly we take a look at the SATA ports. There are four black ports which are from the PCH and operate at up to SATA 3Gbps speeds, while the brown color ports are from the PCH as well and operate at up to SATA 6Gbps speeds. The white ports are routed from the adjacent Marvell 9128 chipset and are the SATA 6Gbps capable ports which also support the ASUS SSD Caching feature. Lastly we have the eSATA ports (not pictured) which operate at up to SATA 6Gbps speeds and are located on the I/O Panel.
Click Image For a Larger One
Here we get a look at the power components around the socket. This is very similar to what we saw on the Rampage line of boards, which is definitely a good sign to us as it tells us we could see some strong overclocking potential from this board. The Sabertooth employs a similar DIGI+ power design as well which is the digital PWM control solution which should allow for not only excellent overclocking capability but also the stability and power savings that comes from a digital solution. The DIGI+ offering also provides a "power on demand" feature which allows the power components to throttle down when under light load, reducing energy waste and excess heat, but still instantly transition to a full power delivery state as needed when load is placed.
On the DIMM slots we see the pre-placed decals which show off the features of the board. The DIMM slots being mentioned are color coded in relation to the channels they are in: the lighter color slots should be filled when only 4 DIMMs are used. Moving to the IO end of things we see a sticker placed on the heatsink area that denotes which ports are to be used for keyboard and mouse input. Also note that the eSATA dual ports, of which the green is a Powered eSATA port/USB. The other red color port is eSATA only and is a non-powered port. Looking at the same I/O area with the thermal armor removed, we can see the fin array which allows even better dissipation of heat from the PWM area, especially when combined with the optional fan.
Software Overview

ASUS has some very similar software as it is same updated software we have seen with the P67/Z68 series. It offers a very in depth control and management interface to help better work with the motherboard.

When opening the AI Suite II utility, as opposed to the ROG red design, were pleasantly surprised to find a remap of the AISuite software which not only included Sabertooth centric features but also appropriate color theme for the model. These small details can go a long way to making for a great user experience.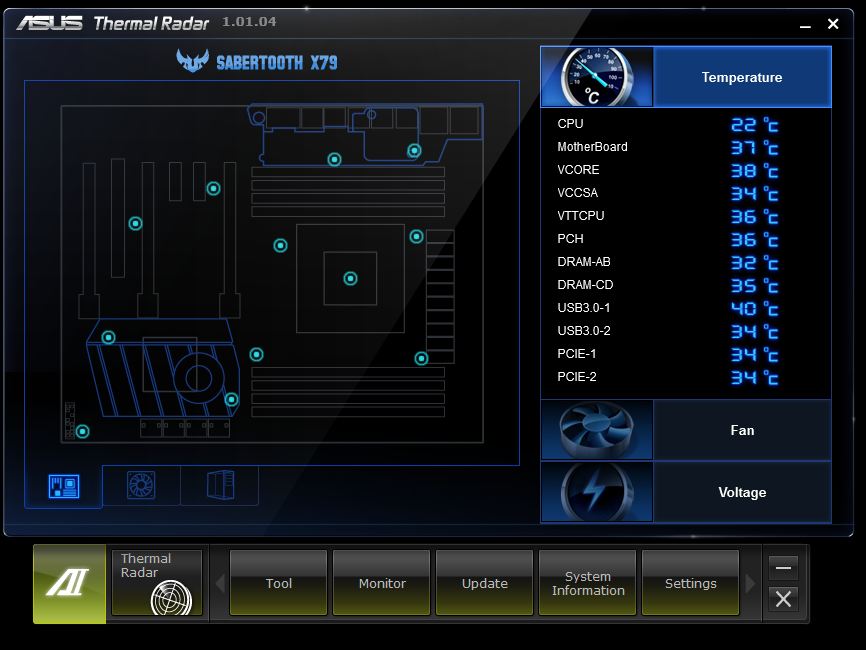 First up we have the ASUS Thermal Radar which is a very important feature for ASUS on the Sabertooth series as they place great emphasis on this feature and how beneficial it is. This is something I personally have wanted to see for some time now as implementation of proper monitoring (and supporting software to read it) has been much needed and poorly implemented for many years now.
With many systems now having multiple hot graphics cards mounted to them, this could be a new version of a early warning system which will let us know if anything is getting a little too warm or where we may need better airflow. As we look at the layout it not only shows the sensor being reported it also has small dots on the image of the motherboard so we could just click and see the temperature; this makes the software that much more user friendly and easier to use.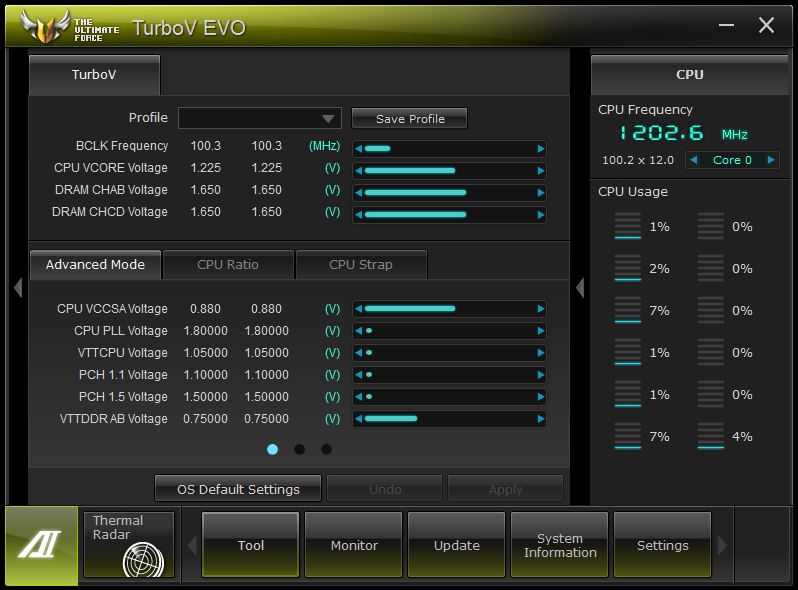 Here we have the Turbo V EVO utility which allows in-OS overclocking and system tweaking. Most of these are the same as we have seen before on other models as it is simply the same software, but re-skinned for the Sabertooth board.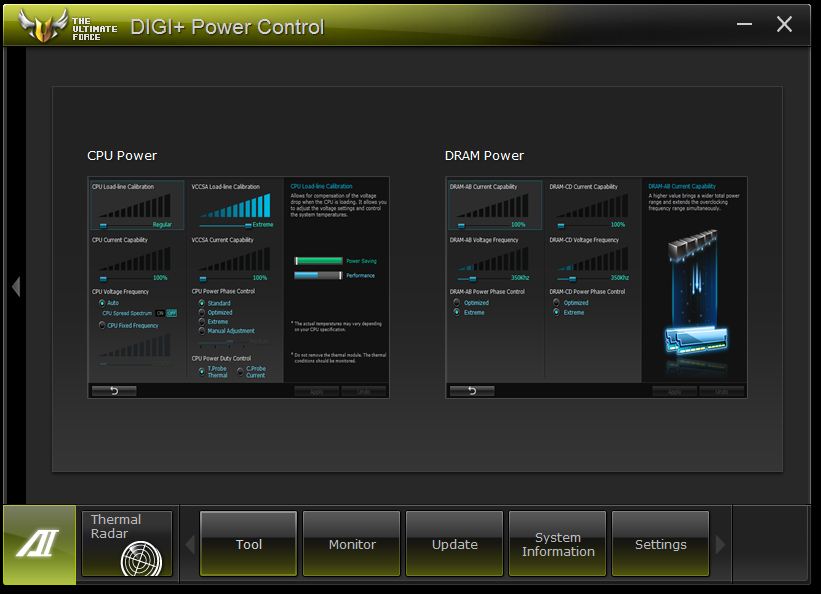 The DIGI+ Power Control Center has separate sections for both DRAM and CPU power sections. DIGI+ has to do with ASUS's implementation of its industry leading digital power controls, which have been proven for excellent efficiency and accuracy which leads to better overclocking potential.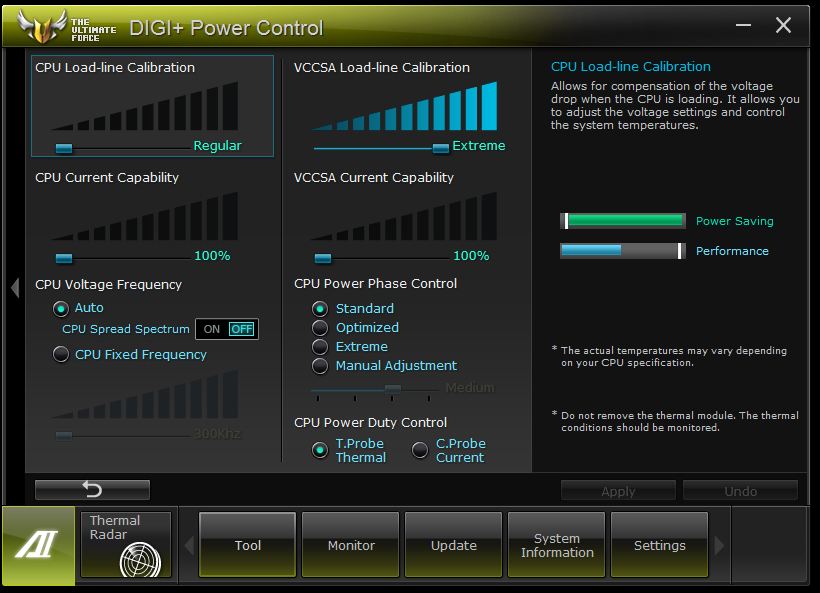 Here is what we see when entering the CPU power controls and the PWM frequency and loading as well. All of this translates into either very good overall efficiency or extreme power loads which can unlock amazing power potential.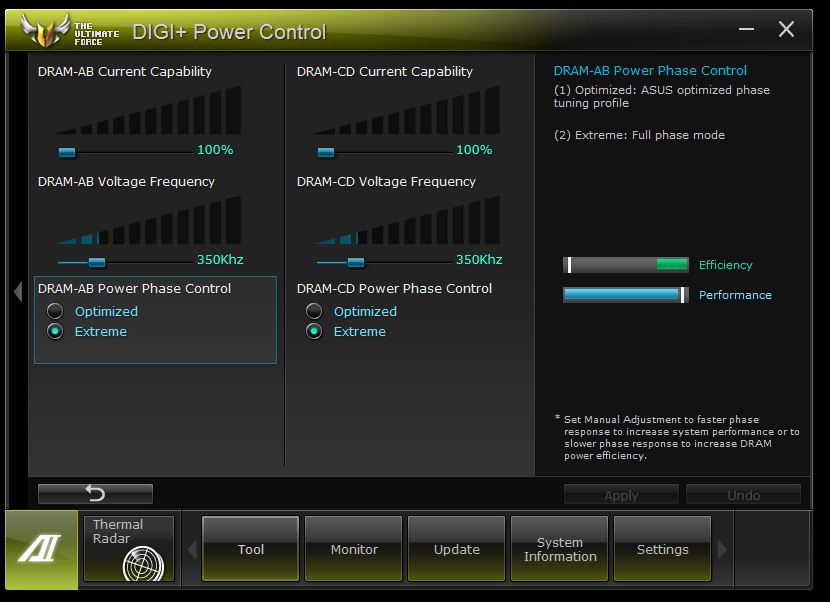 The DIGI+ screen for DRAM is very much the same as the CPU but with optimizations and controls based on the tuning of the DRAM modules. This just like the CPU has settings that can optimize either power efficiency or extreme power delivery for pushing the overclocks.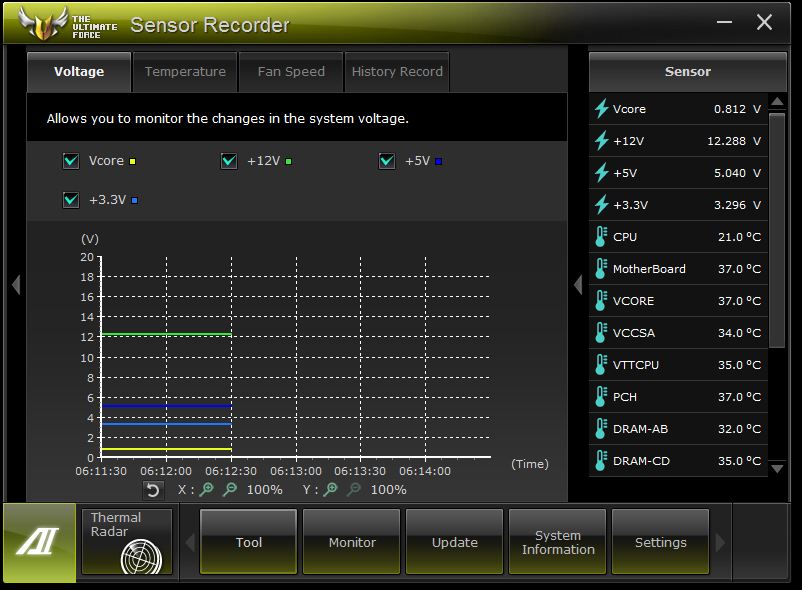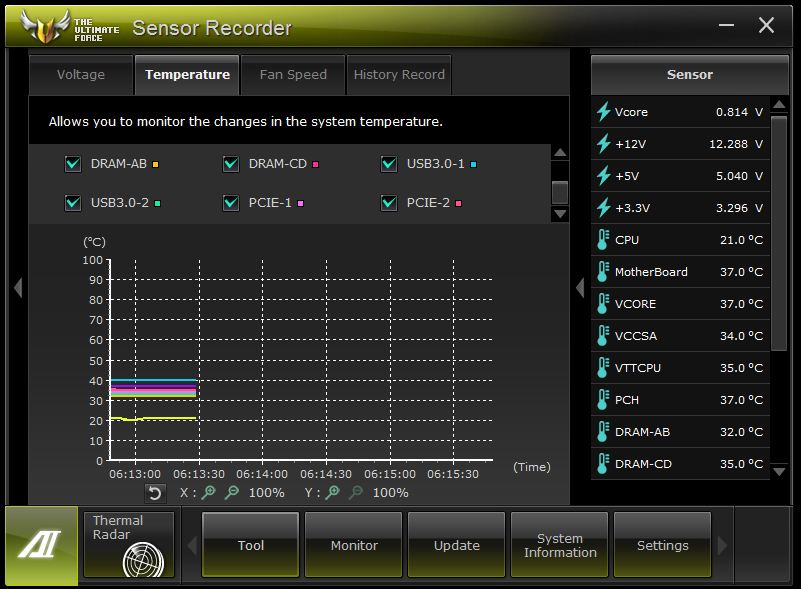 The sensor recorder software is great for monitoring activity under load, and allows users to see any instabilities in voltages or temperatures to better diagnose stability issues or thermal concerns under load. This allows for better fine tuning and finding the optimal frequency for our 24/7 rig. As we see there are also multiple tabs so we can monitor either voltage, or temps. Fan speed is an option too but unless were trying to track down noise from a fan in a silent system this would be probably the lesser used of the included menus.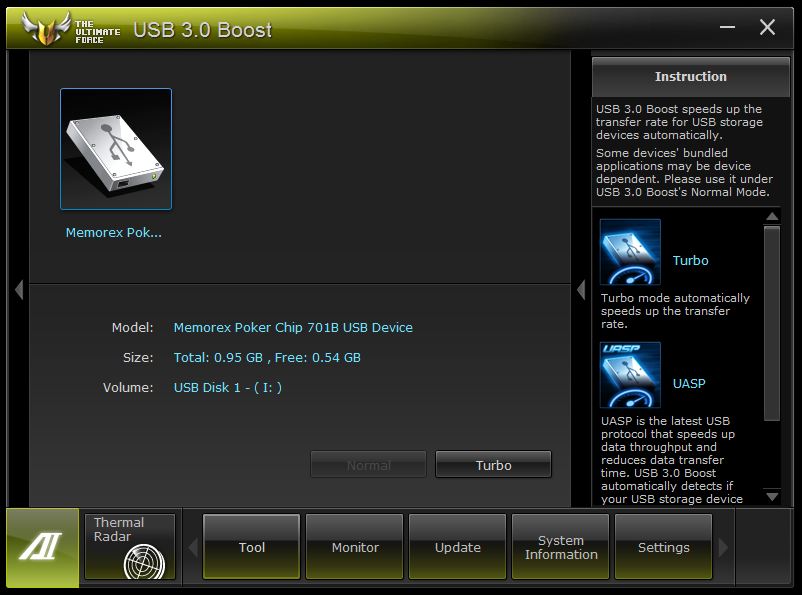 The USB 3.0 boost, which was covered briefly before, allows a speed boost to many USB 2.0 storage devices and even some supported USB 3.0 storage devices by changing the communication protocol being used. Some devices can get a moderate speed boost, such as the solitary thumb drive we all have floating around our desks which we never knew could be any better than the just acceptable performance they had before. However for those devices that support the UASP protocol, the speed boost could be substantial, so keep that in mind as this could be a fun little tool to try out with even old thumb drives or external drives.
A full list of supported protocols and presently supported devices can be found here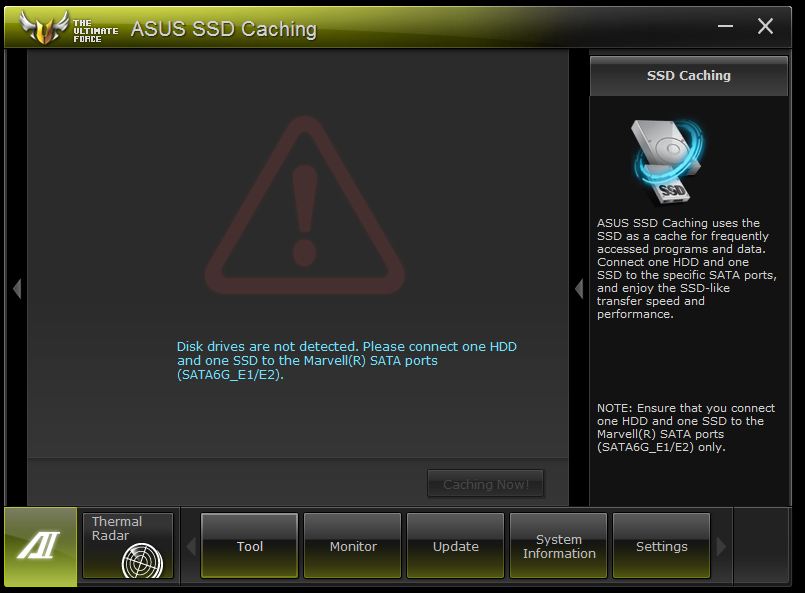 ASUS SSD Caching is implemented on select X79 models since Intel chose to omit SSD caching on its Enthusiasts chipset. This choice was likely made as they felt anyone using this chipset likely had higher end hardware including at the least a dedicated OS SSD and would be less likely to use a caching option than the mainstream 1155 platform. However ASUS knows the value of having such a feature so they offer a caching option on most all X79 with the exception of the ROG boards. One great thing about the SSD caching feature is that there is no 64GB limit of cache drive size like the present Intel Smart response is limited to. This means we can now have a fast or moderately quick large capacity hard disk and have as big of a cache drive as we want to allow lightning fast performance and still an even bigger capacity for all of the cold data which is not used all of the time.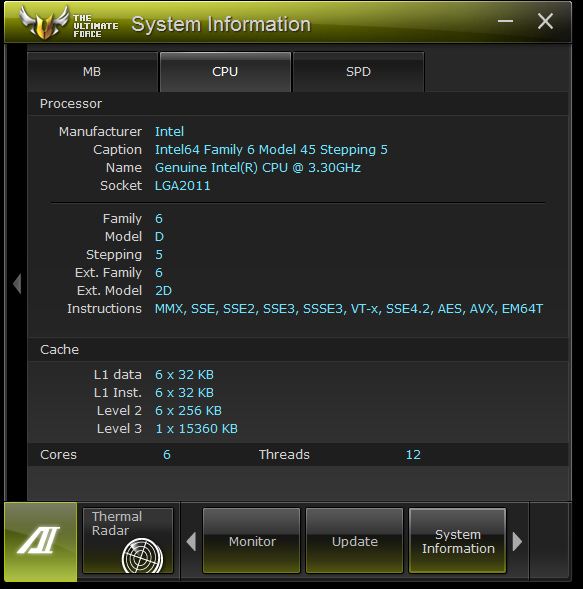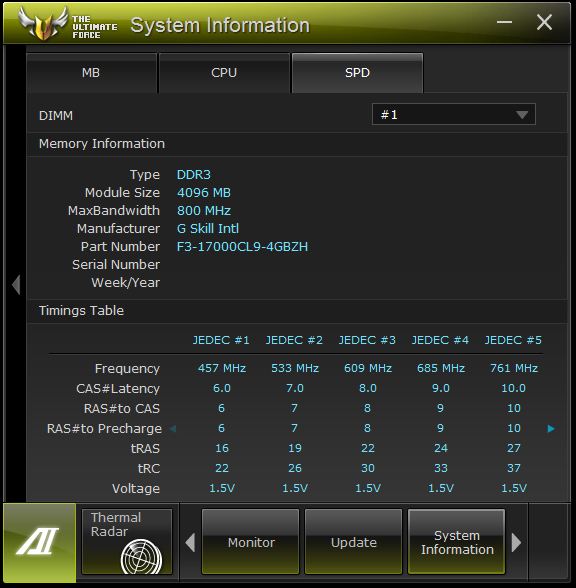 Here lastly we have the system info tab which offers detailed specs on installed hardware in the board including CPU info and even the multiple SPD profiles for the memory installed.
BIOS Overview
Click Image To Enlarge
First up, unlike the ROG boards, the Sabertooth's BIOS starts in EZ mode which is not a bad thing, but anyone looking to do detailed tuning will need to switch to the advanced tuning mode. To get a quick setting going the EZ mode is rather convenient. Moving to the main screen of the advanced mode it becomes much more familiar to what were used to when tuning the ROG boards.
Next up we take a look at the AI Tuner which is where we handle our business and get to overclocking this thing. One great thing about ASUS BIOS is that there is never any shortage of overclock settings and ways to tweak the clock to the very max. While the Sabertooth doesn't quite have all of the presets or settings that the Rampage IV Extreme had for the BIOS, we still cannot find anything that would be an issue so far. Also, we definitely like the OC Tuner which allows an automatic overclock. We were able to overclock our i7 3960X to 4.3GHz within seconds. This is a definitely an indicator of the level of engineering which went into making sure this board is a great example of stability and performance rolled into one.
Click Image To Enlarge
Next we move to the memory frequency selection which we see goes from a standard 800 MHz all the way up to 2666MHz which is insanely high. It also means we have the capability to run pretty much any memory on the market presently especially with the recent announcement of the 2666MHz kit from G.SKILL which we hope to get our hands on soon to test. Moving to the memory settings we expect nothing but the best as ASUS has always impressed us with the sheer amount of settings available for memory tweaking within the BIOS and they definitely did not disappoint here either with the Sabertooth BIOS.
The next part we look at are the DIGI+ settings which are designed for fine tuning the power components which lets us fine tune exactly how our power components perform. This should help a lot with ensuring we get the best overclock possible with the level of tuning available.
Click Image To Enlarge
Here we have some of the advanced settings such as CPU setup, which allows us to enable or disable CPU features such as speedstep or other advanced power saving features. Also it shows some advanced info as to the processor stepping and cache information.
Click Image To Enlarge
Here we have many of the settings which allow enabling and disabling of onboard components.
Click Image To Enlarge
Here we see the monitoring section which allows monitoring of temperatures, voltages, and fan speeds. This can easily help with diagnosis of issues and show any possible issues that could otherwise go unnoticed until a component fails.
Aside from all of the overclock settings we also have the standard fare advanced settings consisting of all of the settings which allow selection of boot devices and other miscellaneous board settings which allow for setup and fine tuning of the board.
Testing & Methodology
We've expanded our testing suite considerably since the X79 chipset release, and will continue to use the same methods for most of the motherboards and CPU's we test. In the interests of thoroughness and accurate results, we run each test at least three times, and some tests more than that. We average the total of all the tests from each benchmark then report the average here.
The OS we use is Windows 7 Pro 64bit with all patches and updates applied. We also use the latest drivers available for the motherboard and any devices attached to the computer. We do not disable background tasks or tweak the OS or system in any way. We turn off drive indexing and daily defragging. We also turn off Prefetch and Superfetch. This is not an attempt to produce bigger benchmark numbers. Drive indexing and defragging can interfere with testing and produce confusing numbers. If a test were to be run while a drive was being indexed or defragged, and then the same test was later run when these processes were off, the two results would be contradictory and erroneous. As we cannot control when defragging and indexing occur precisely enough to guarantee that they won't interfere with testing, we opt to disable the features entirely.
Prefetch tries to predict what users will load the next time they boot the machine by caching the relevant files and storing them for later use. We want to learn how the program runs without any of the files being cached, and we disable it so that each test run we do not have to clear pre-fetch to get accurate numbers. Lastly we disable Superfetch. Superfetch loads often-used programs into the memory. It is one of the reasons that Windows occupies so much memory. Vista fills the memory in an attempt to predict what users will load. Having one test run with files cached, and another test run with the files un-cached would result in inaccurate numbers. Again, since we can't control its timings so precisely, it we turn it off. Because these four features can potentially interfere with benchmarking, and and are out of our control, we disable them. We do not disable anything else.
Test Rig
Test Rig
Case
Thermaltake Level 10 GT
CPU

Intel Core i7-3960X

Motherboard
ASUS X79 Sabertooth
Ram
16GB Gskill RipJaws Z 4x4GB (9-11-10-27)
CPU Cooler

Swiftech H20-220 Edge

Hard Drive
Western Digital Velociraptor 300GB
SSD

Intel 510 series SATA III 120GB

Optical
ASUS BD-ROM
GPU

SLI 2x GTX 580

Case Fans

Front (intake): 200 x 200 x 20 mm ColorShift Fan x 1 (600~800RPM, 13~15dBA)

Rear (exhaust): 140 x 140 x 25 mm Turbo Fan (1000PRM, 16 dBA)

Top (exhaust): 200 x 200 x 30 mm ColorShift Fan (600~800RPM, 13~15dBA)

Side (intake): 200 x 200 x 30 ColorShift Fan (600~800RPM), 13~15dBA)

Additional Cards

N/A
PSU

Thermaltake Toughpower Grand 1200W

Mouse
Thermaltake esports Black gaming mouse
Keyboard
Thermaltake Meka G1 mechanical gaming keyboard
Test Suite
We will use the following applications to test the performance of the Motherboard. Benchmarks
Benchmarks
PCMark 7
Heaven benchmark 2.5
Cinebench R10
Cinebench R11.5
3DMark 11
3DMark Vantage
Wprime
SuperPi
Metro 2033
Lost Planet 2
SiSoft Sandra 2011b
HDTune Pro
X264HD
TrueCrypt 7.1
Overclocking

The X79 platform as most consumers are well aware at this point has the same BCLK wall we all fought against with the 1155 sandy Bridge models. Intel did try to help the enthusiast community out and made straps available to multiply the BCLK which allows for large jumps in BCLK to be accomplished to better help with fine tuning and maximum overclock potential. While it is a nice gesture, we really would like to see BCLK overclocking just work like it used to, though each new architecture offers new challenges and this is just one we will have to deal with until the next iteration comes along.
The Sabertooth board is very interesting as all of the high reliability components would make one think that the board is more of a workstation product based on stability and reliability, and overclocking would be marginal to moderate at best, and second to stability. To our relative surprise the auto overclock in the BIOS was very good. While it may not be as good as the ROG Extreme board (5GHz), the Sabertooth did rather well for itself at 4.3GHz with full stability. This means any gamer looking for a nudge in performance could easily get more than they bargain for.
After toying with the auto overclock we went ahead and strapped up for the manual overclocking. The procedure is rather painless and the BIOS was very easy to navigate. The Sabertooth board has been found to be obscenely stable even when overclocked and the BIOS for the most part is completely flawless, as we have yet to find a way to hang the board up. Even just jumping the board to obvious unstable settings wouldn't do it; the board recovered with the automatic overclock recovery. There is something to be said for this as that says a lot for the tolerance instilled in the settings to allow such horrible setting combinations to be entered. Despite our best efforts, the board breezed right by them and cycled itself back on to a overclock fail screen that allowed us to enter the BIOS and correct the settings or even revert to defaults.
Manually pushing the board, we got it pretty close to the Extreme board, but even on the same settings just could not crack the 5118MHz setting we accomplished with the Extreme board. Our results were just north of 5GHz to 5031 approximately with a VCORE of 1.46V running 129MHz BCLK with a CPU multiplier of 39. One thing to note is that at this speed we did have trouble reaching the 2400MHz speed we have seen from our G.SKILL sticks previously and could only accomplish just shy of 2200 MHz. In order to get our memory stability back we had to drop CPU speed down to around 4800MHz but this could be a limit of the CPU itself and not indicative necessarily of board performance as we have seen similar flakiness by this chip at higher clock speeds in relation to high memory speed at the same time.
This overclock was accomplioshed with usage of a Swiftech MCR Drive 240 Radiator with dual 120mm fans and a Swiftech Apogee HD CPU block all mounted up with some of Swiftech's new thermal paste they just brought to market as of recent. It did a really good job of keeping temps in check to a reading of 68C via Realtemp on the hottest core under load.
Important note: Overclocking can cause component failure.  Please exercise caution when attempting any level of overclock on system components.
Temperatures

The temperatures were recorded with Realtemp while running Wprime 1024 right before the end of the 5th run. The results were recorded carefully. After the results were recorded, we waited for 30 minutes before taking Idle temperature measurements. The results were as follows:
| | |
| --- | --- |
| CPU Temperatures | Temperature (Idle/Load) |
| Sabertooth X79 OC (4.6GHz) | 33C/68C |
| Sabertooth X79 | 28C/56C |
| Chipset Temperatures | Temperature (Idle/Load) |
| Sabertooth X79 OC (4.6GHz) | 37C/46C |
| Sabertooth X79 | 31C/40C |
Thanks to Swiftech for the LGA2011 mounting hardware which allows us to mount up the waterblock to the new LGA2011 boards with minimal fuss.
Power Consumption

The power consumption was tested while running Wprime 1024 for a few minutes at stock settings. The results were recorded carefully with a Kill-A-Watt power consumption measuring tool at the wall. After the results were recorded, we waited for yet another few minutes minutes before taking Idle power consumption measurements.
| | |
| --- | --- |
| Configuration | Power Consumption (Idle/Load) |
| Sabertooth X79 OC (4.6GHz) | 204W/451W |
| Sabertooth X79 | 160W/344W |
The power consumption is not with GPU usage. This is with CPU/system loading but nothing graphically intensive in order to provide the most accurate results by not ramping up the GPU, which will pull significantly more power.
Wprime
Wprime is a processor heavy multithreaded benchmark at which it crunches numbers of a specific data set and gives the end user an output time which can then be used as a gauge to compare system performance.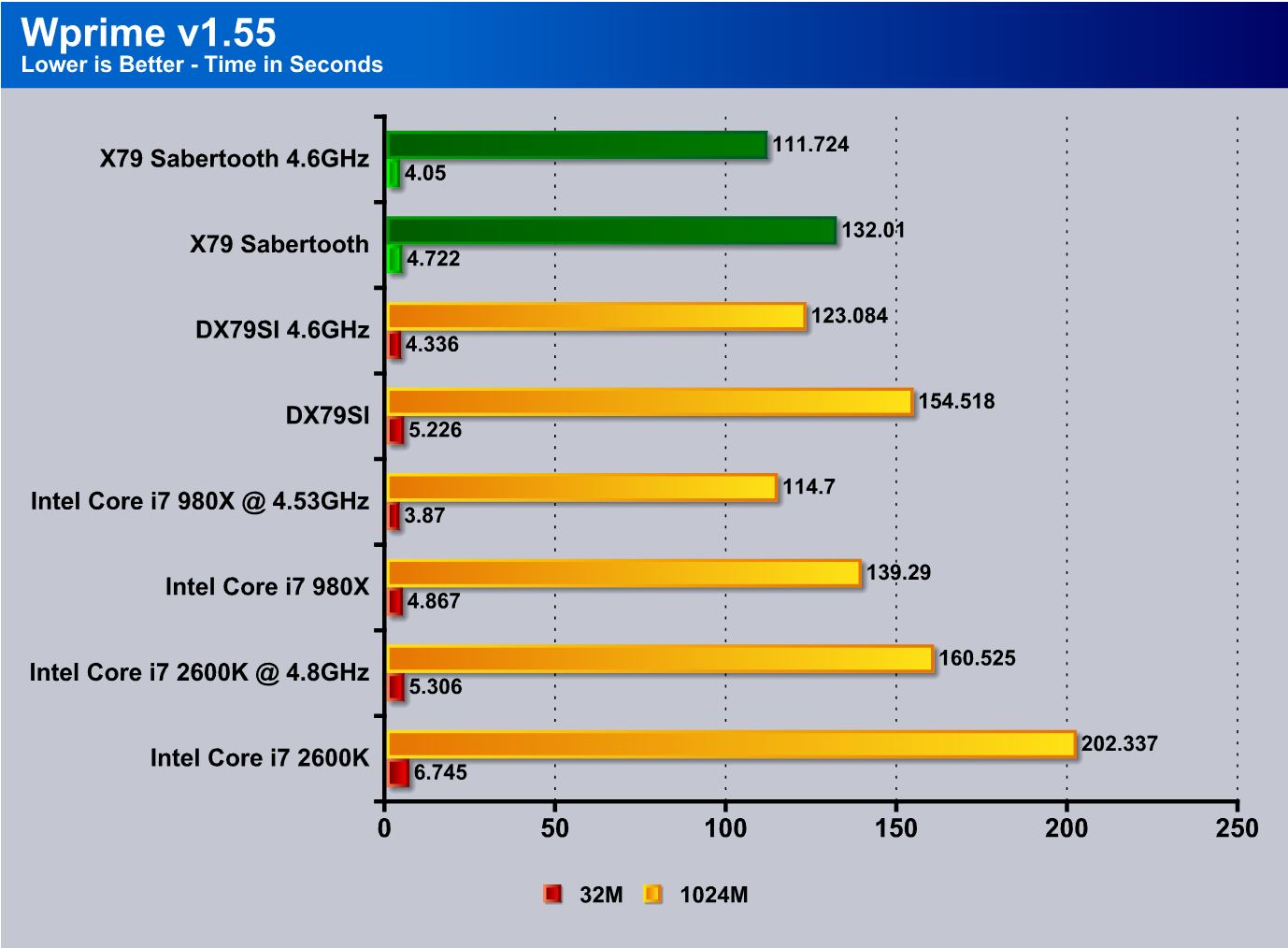 As we see once again the LGA 2011 platform allows for much better performance in comparison to previous generations as this benchmark utilizes all cores to crunch away at this benchmark.
Superpi
SuperPi is a single threaded benchmark which measures efficiency and is heavily influenced by architectural changes as much as it is by clockspeeds.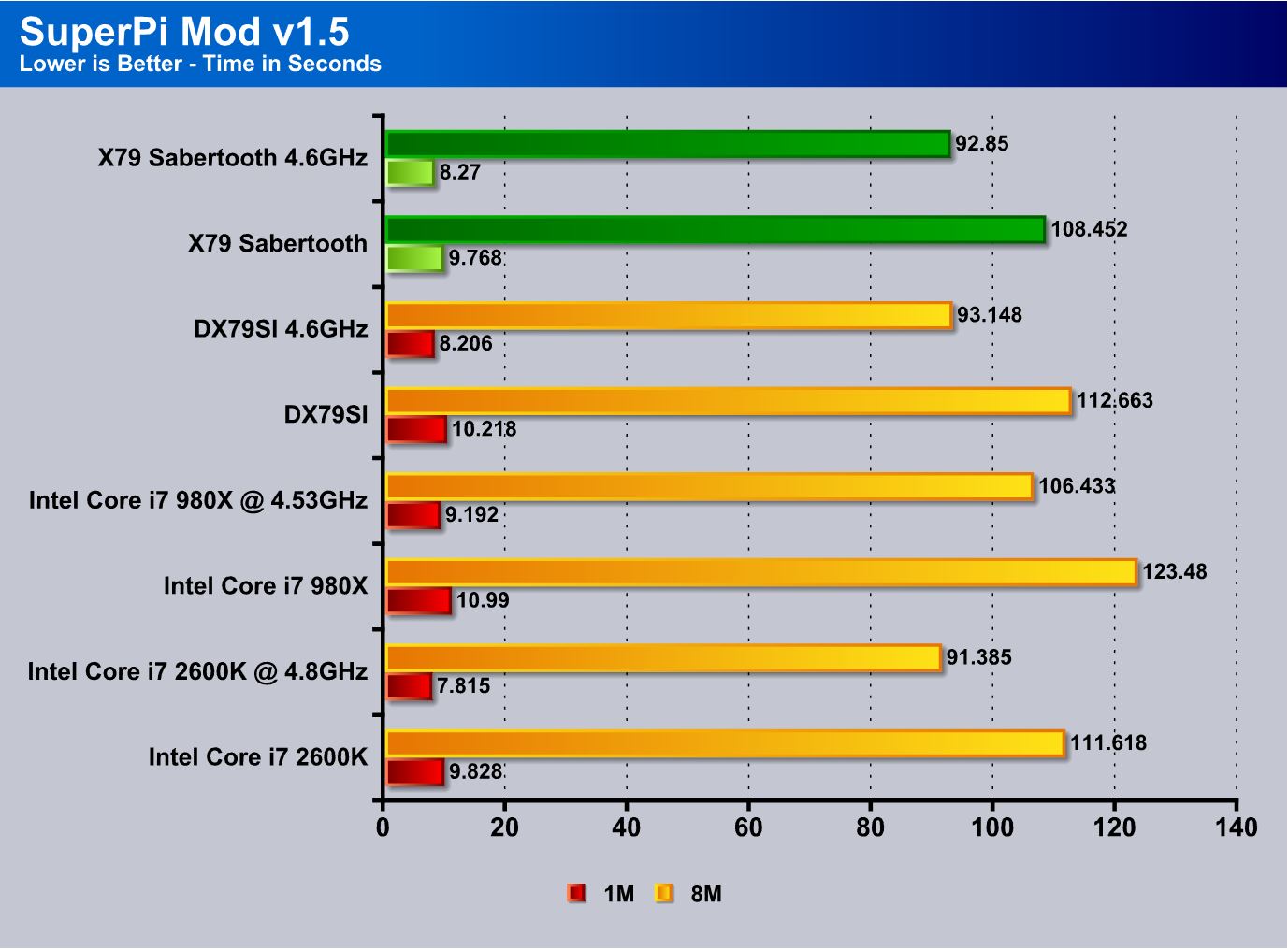 SuperPi is a much older benchmark, and some may argue its obsolescence, but with some newer processors scoring poorly in this test, it is always good to include it. Very much like we have seen with LGA 2011 as a whole the efficiency is amazing and a definite step ahead of the previous generation.
Cinebench R10 and R11.5
"CINEBENCH is a real-world test suite that assesses your computer's performance capabilities. MAXON CINEBENCH is based on MAXON's award-winning animation software, CINEMA 4D, which is used extensively by studios and production houses worldwide for 3D content creation. MAXON software has been used in blockbuster movies such as Spider-Man, Star Wars, The Chronicles of Narnia and many more. MAXON CINEBENCH runs several tests on your computer to measure the performance of the main processor and the graphics card under real world circumstances. The benchmark application makes use of up to 16 CPUs or CPU cores and is available for Windows (32-bit and 64-Bit) and Macintosh (PPC and Intel-based). The resulting values among different operating systems are 100% comparable and therefore very useful with regard to purchasing decision-making. It can also be used as a marketing tool for hardware vendors or simply to compare hardware among colleagues or friends."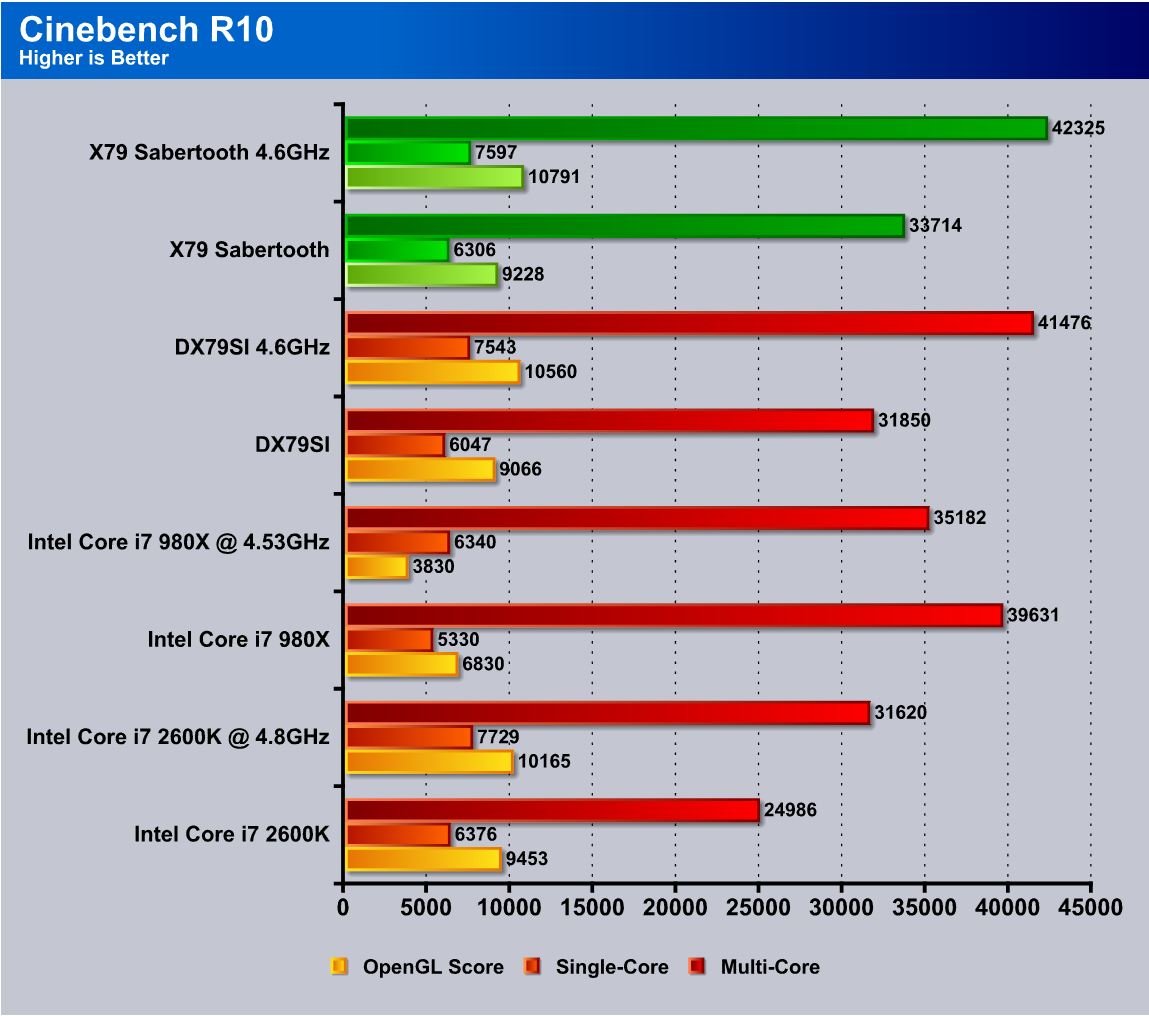 When it comes to 3D rendering, The 3960X chip is very efficient but besides that the board efficiency itself is also good. We have seen this from other ASUS boards already as its a step ahead of the Intel offering.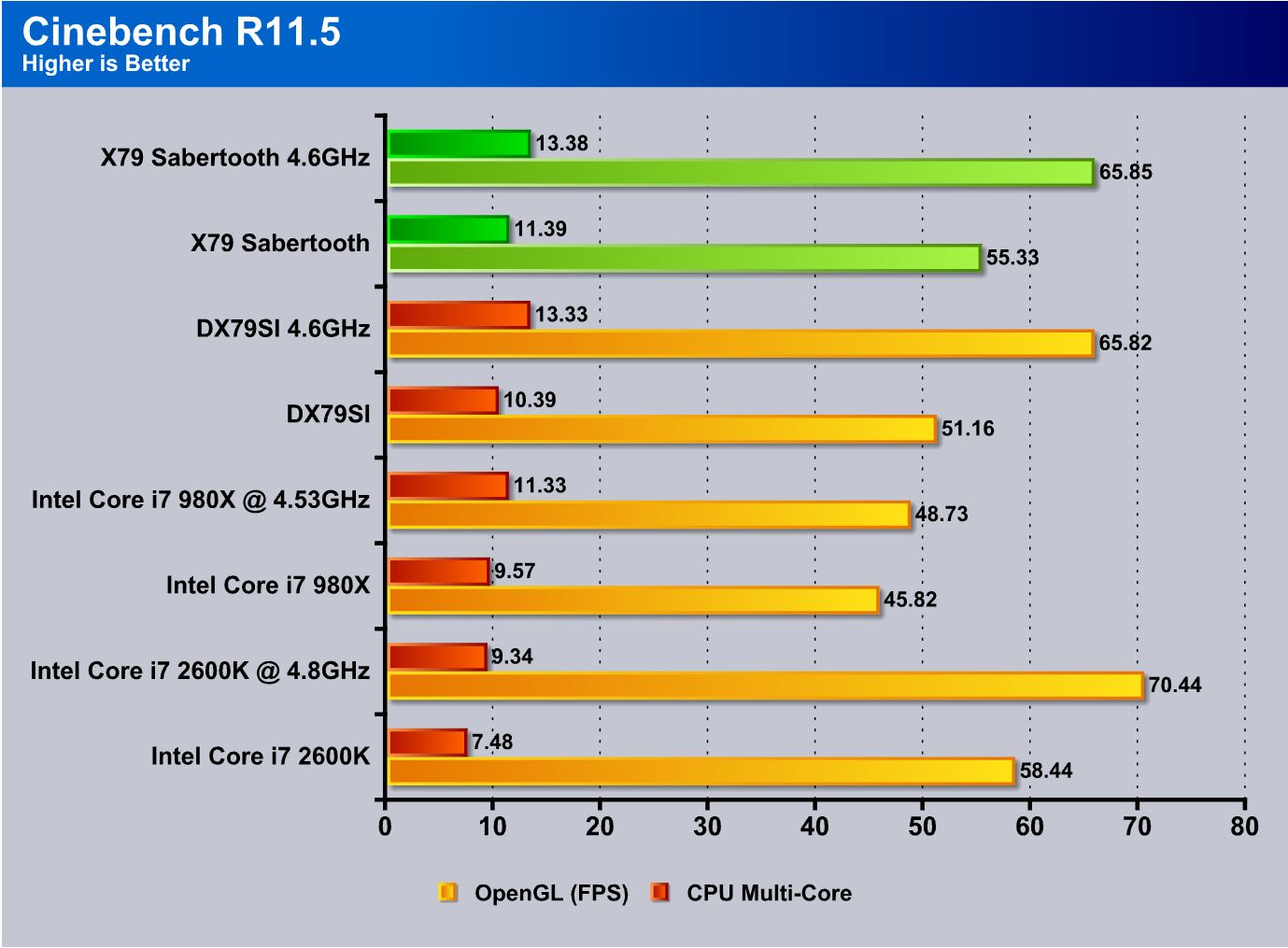 Cinebench R11.5 is a newer version of the MAXON benchmark and this shows similar to the R10 version as OpenGL rendering along with multi core efficiency is very strong.
SiSoft sandra 2011
"SiSoftware Sandra (the System Analyzer, Diagnostic and Reporting Assistant) is an information & diagnostic utility. It should provide most of the information (including undocumented) you need to know about your hardware, software and other devices whether hardware or software. It works along the lines of other Windows utilities, however it tries to go beyond them and show you more of what's really going on. Giving the user the ability to draw comparisons at both a high and low-level. You can get information about the CPU, chipset, video adapter, ports, printers, sound card, memory, network, Windows internals, AGP, PCI, PCI-X, PCIe (PCI Express), database, USB, USB2, 1394/Firewire, etc."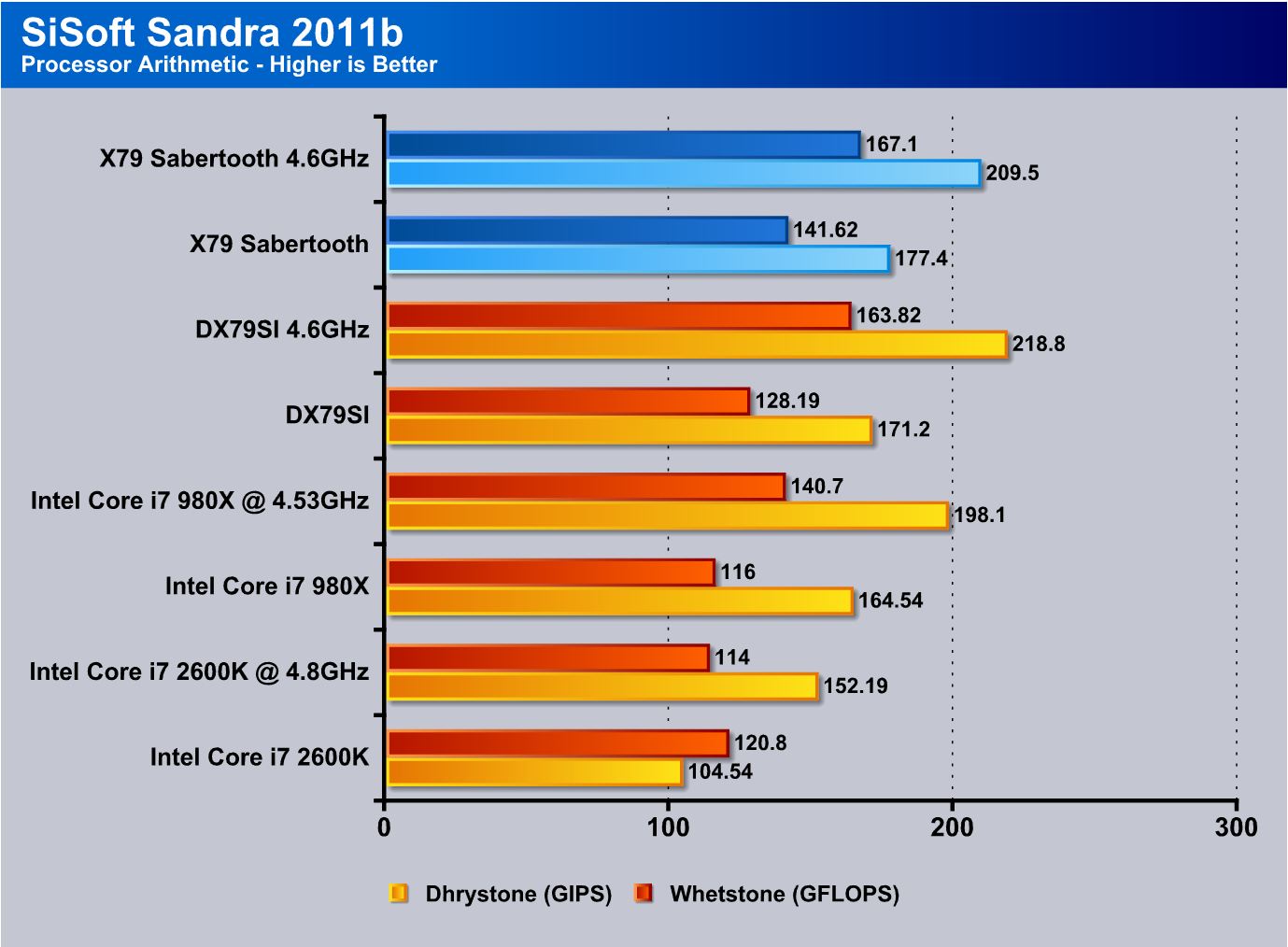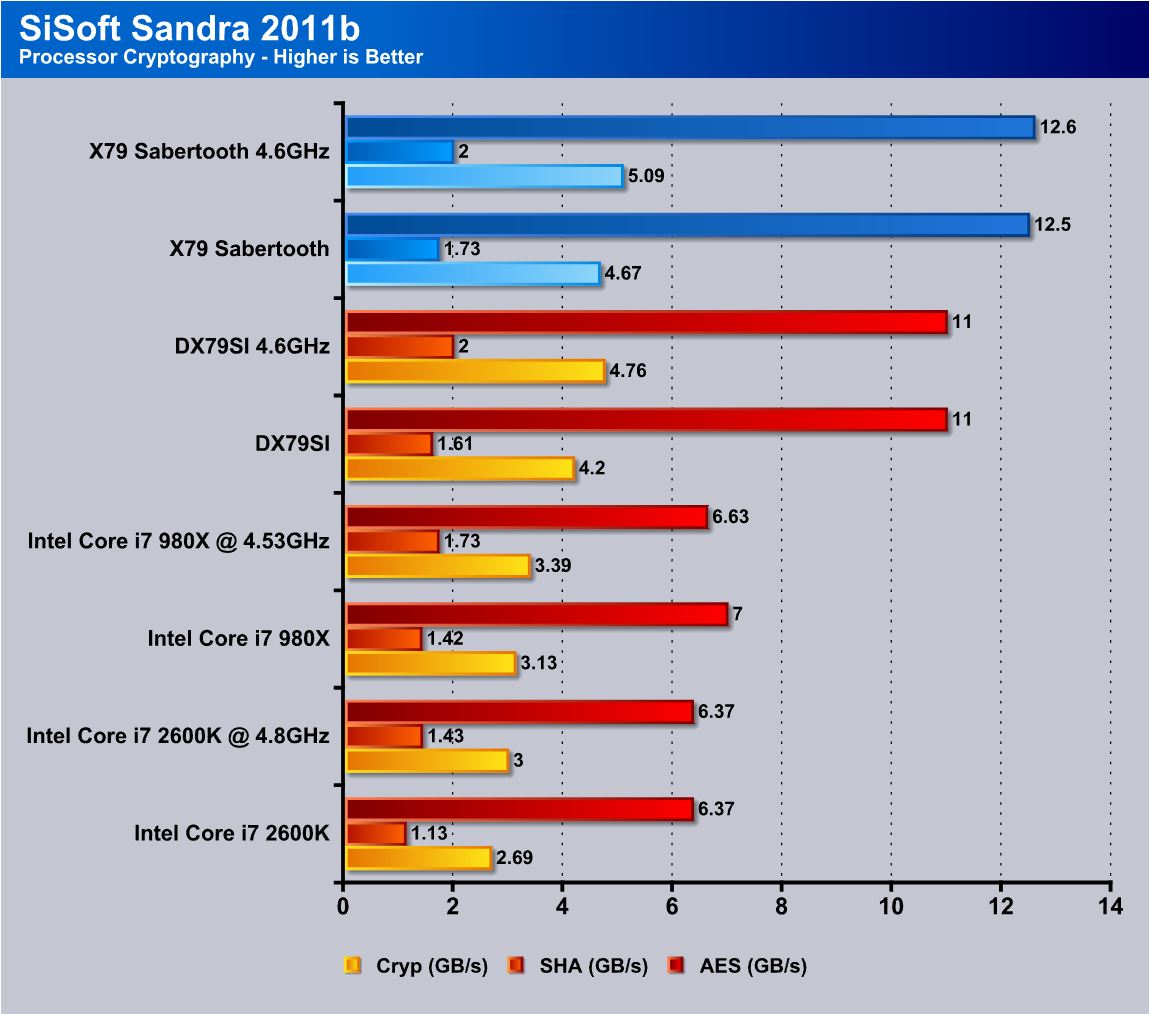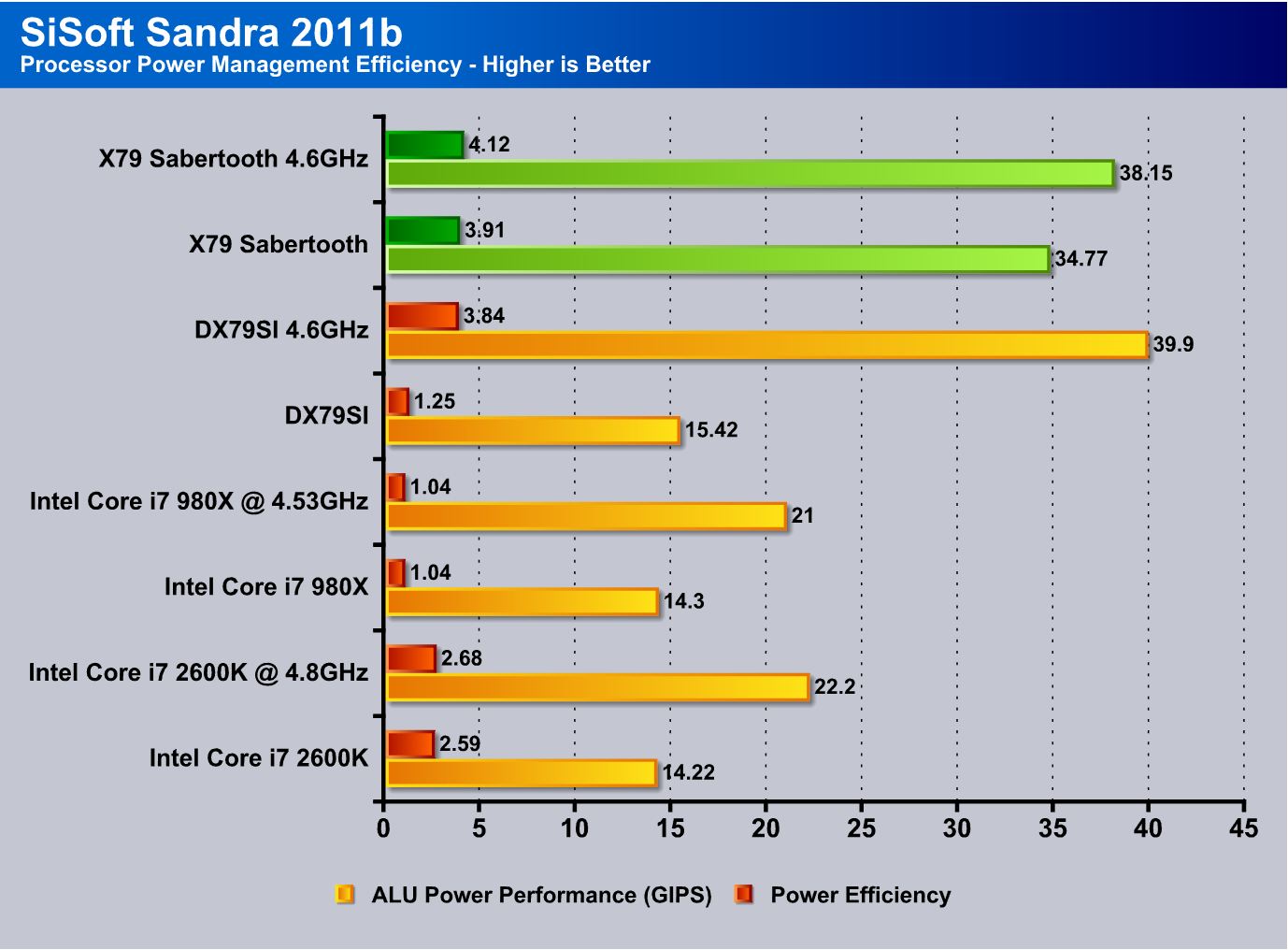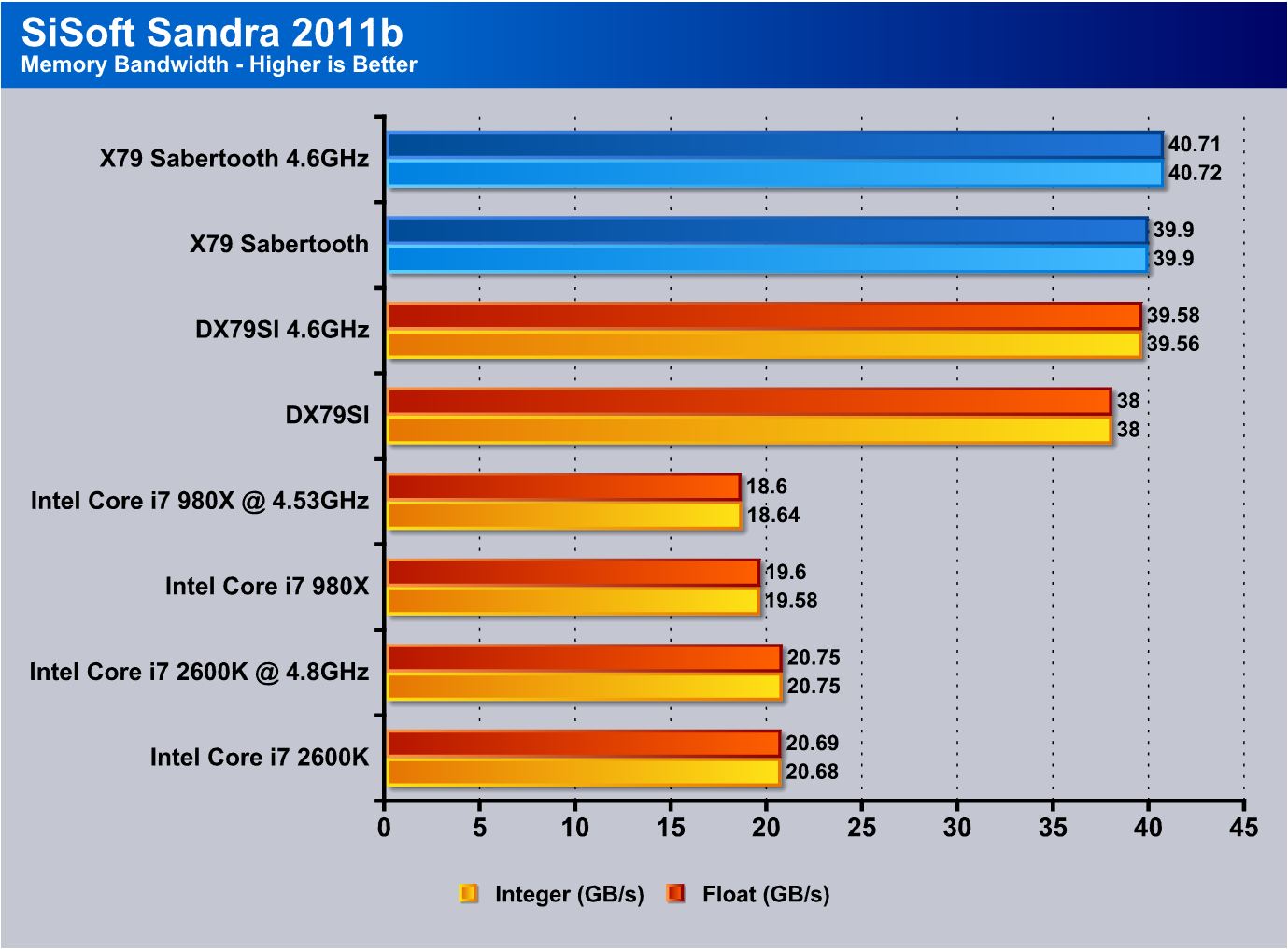 We have run many of these tests now across many boards so it is not really a surprise here to see the LGA 2011 offering topping the boards again, but the ASUS efficiency once again shows itself as it sneaks by just a little better and a bit more efficient than the others yet again.
PCmark 7

PCMark 7 is a very capable benchmark which does a pretty good job of representing real world usage. The Sabertooth once again pulls off a good lead here as well.
X264HD
X264HD is a test to show the rendering capabilities of a platform. The LGA2011 platform performs rather well and shows the raw power available in this kind of setup.
Truecrypt 7.1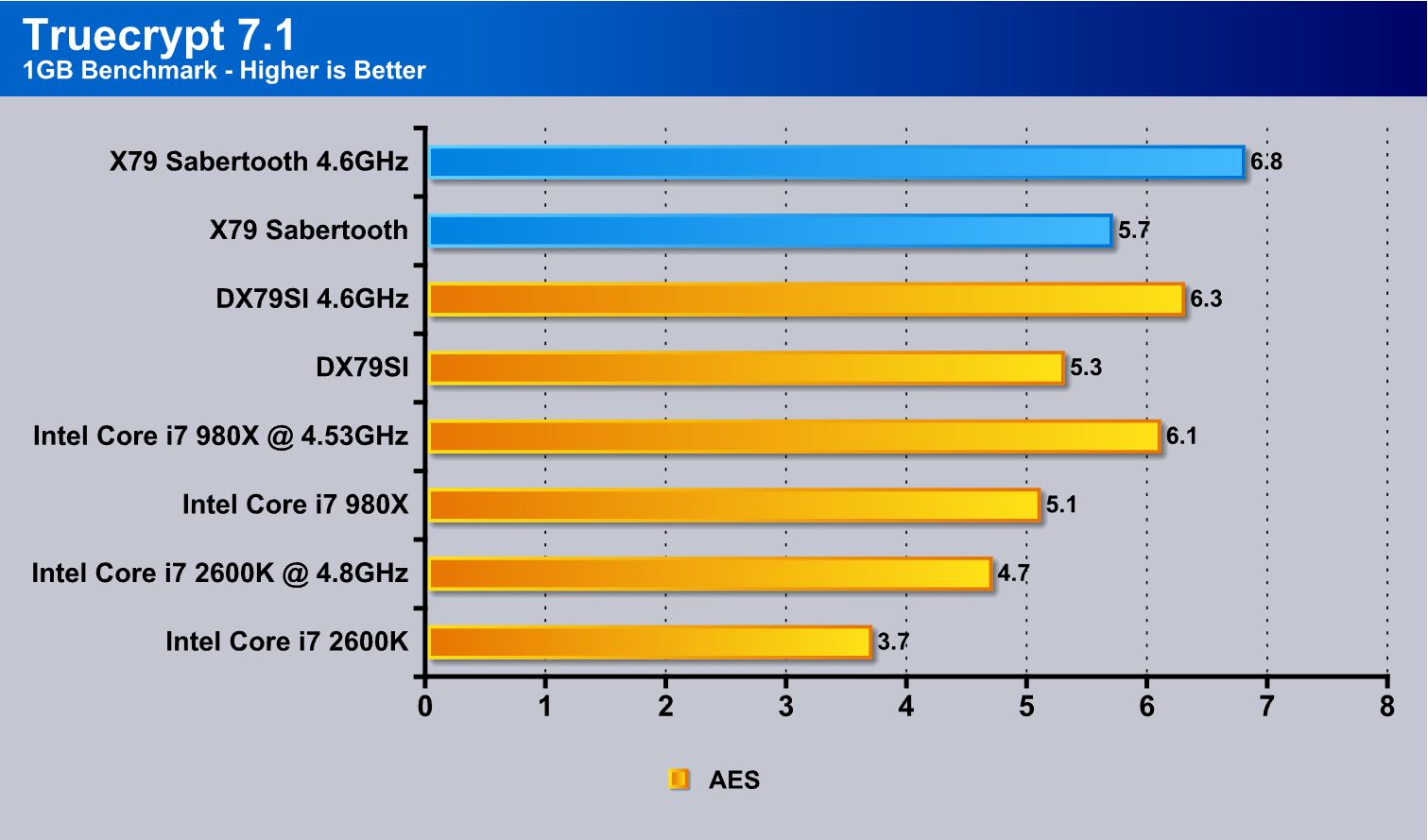 The Truecrypt benchmark similar to X264HD benchmark shows the specific capabilities of a platform to perform a very specific purpose. Even against the Intel LGA2011 platform the Sabertooth takes a commanding lead.
HDTune pro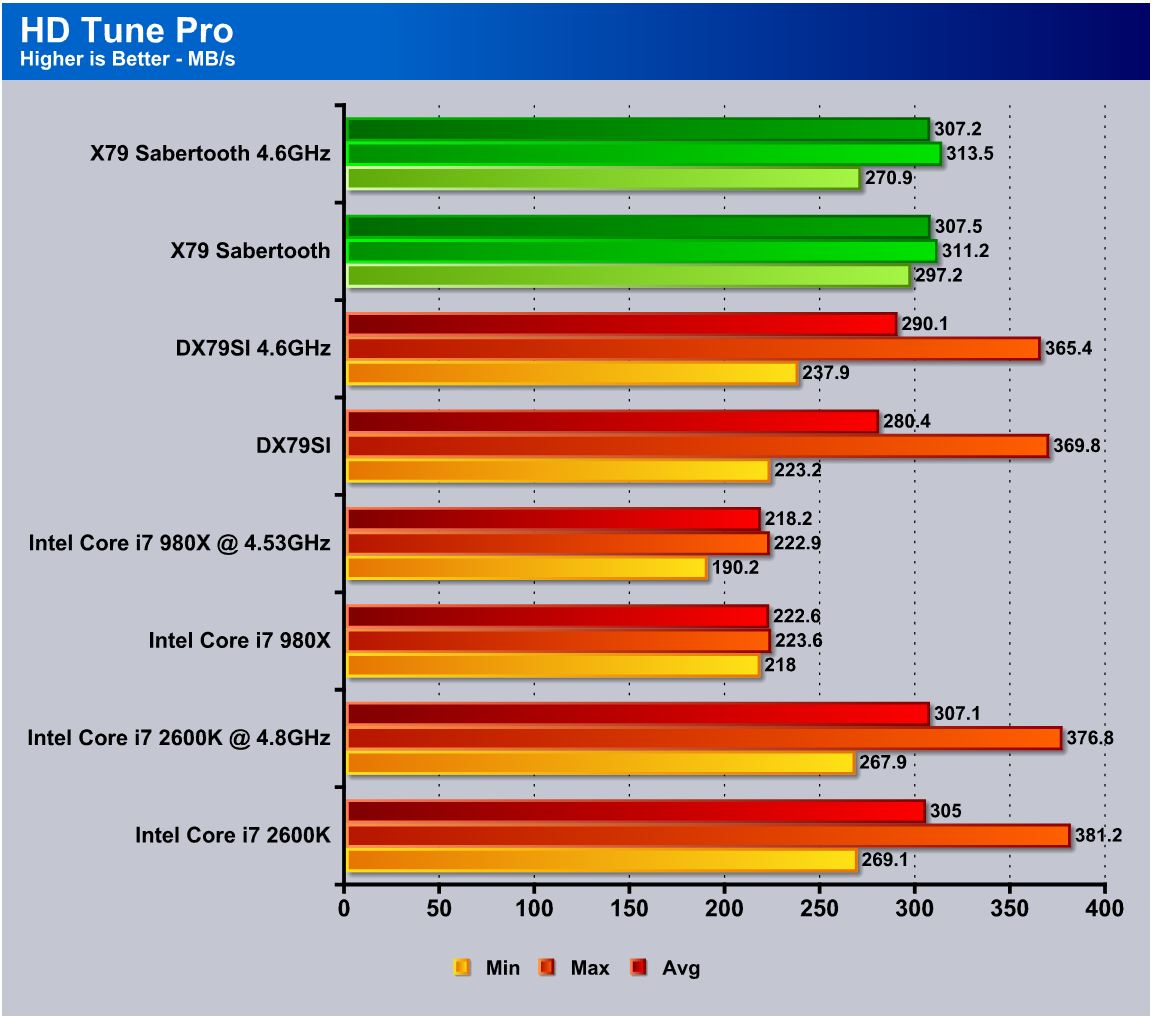 The HDTune tests were unfortunately a little skewed as the SSD used to test on the Intel board was not available at the time of testing for the Sabertooth board. Unfortunately we had to settle for the Intel 510 drive which has a Marvell controller and quite a lesser performance output.
3DMARK VANTAGE

For complete information on 3DMark Vantage Please follow this Link:
www.futuremark.com/benchmarks/3dmarkvantage/features/
The newest video benchmark from the gang at Futuremark. This utility is still a synthetic benchmark, but one that more closely reflects real world gaming performance. While it is not a perfect replacement for actual game benchmarks, it has its uses. We tested our cards at the 'Performance' setting.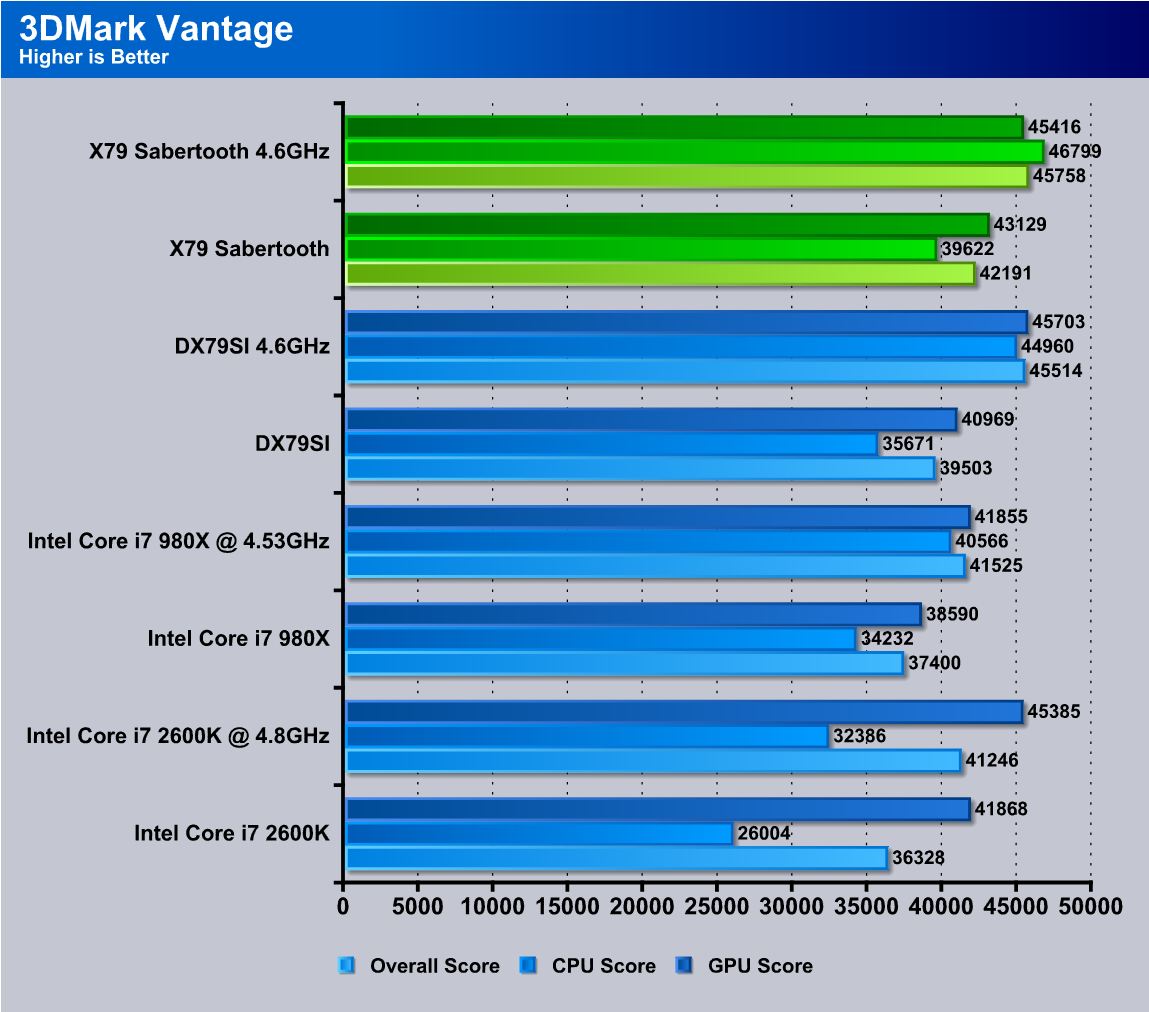 3DMARK 11

3DMark 11 is the newest in futuremark's suite of benchmarking utilities.  Its a fully capable DirectX11 benchmark which also stresses and analyzes the system performance as a whole to simulate a heavy rendering environment such as a high end game or other app the end user may run.  This benchmark was run with Performance settings 5 times and all runs were averaged for the result below.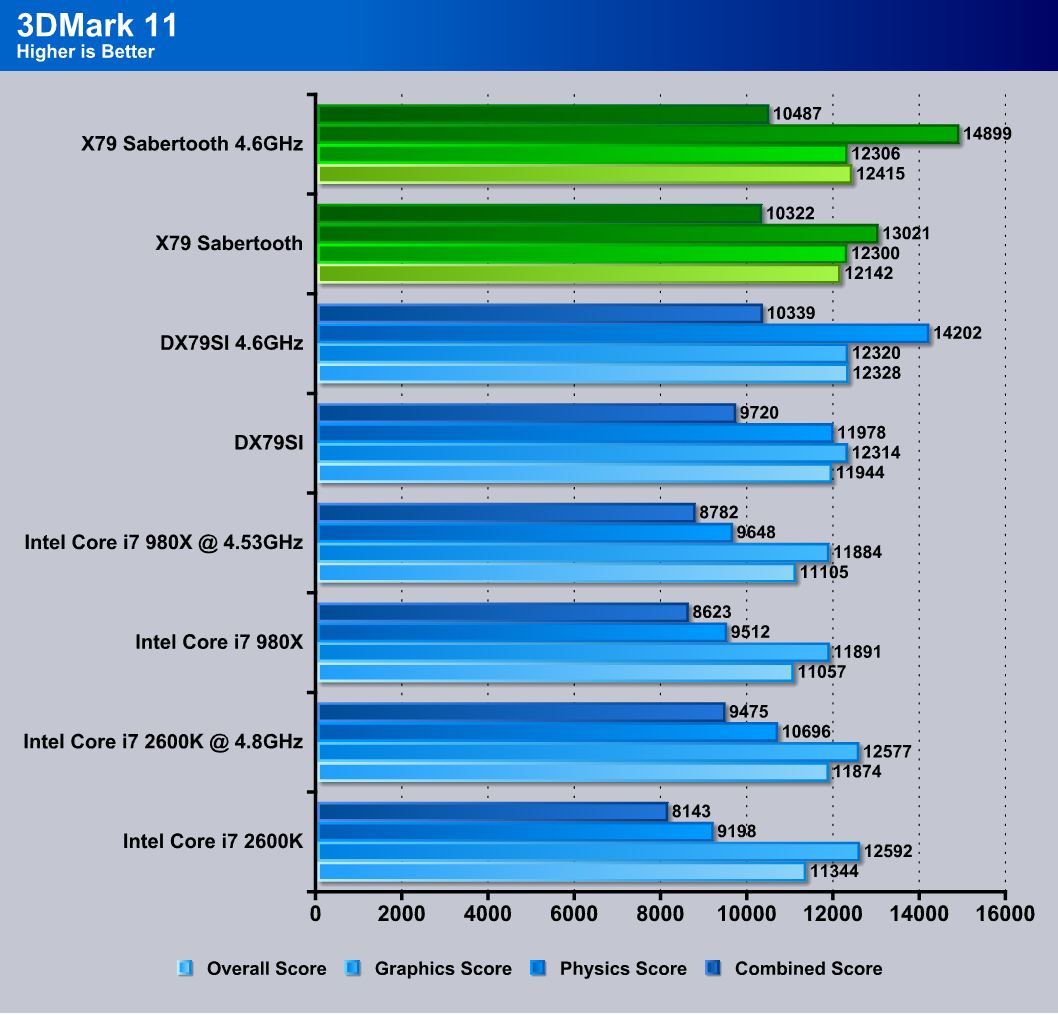 3DMark Vantage and 3DMark 11 show an increase in the CPU performance, but the graphics scores are fairly similar. The graphics card is the bottleneck here.
Unigine Heaven 2.5

Unigine Heaven is a benchmark program based on Unigine Corp's latest engine, Unigine. The engine features DirectX 11, Hardware tessellation, DirectCompute, and Shader Model 5.0. All of these new technologies combined with the ability to run each card through the same exact test means this benchmark should be in our arsenal for a long time.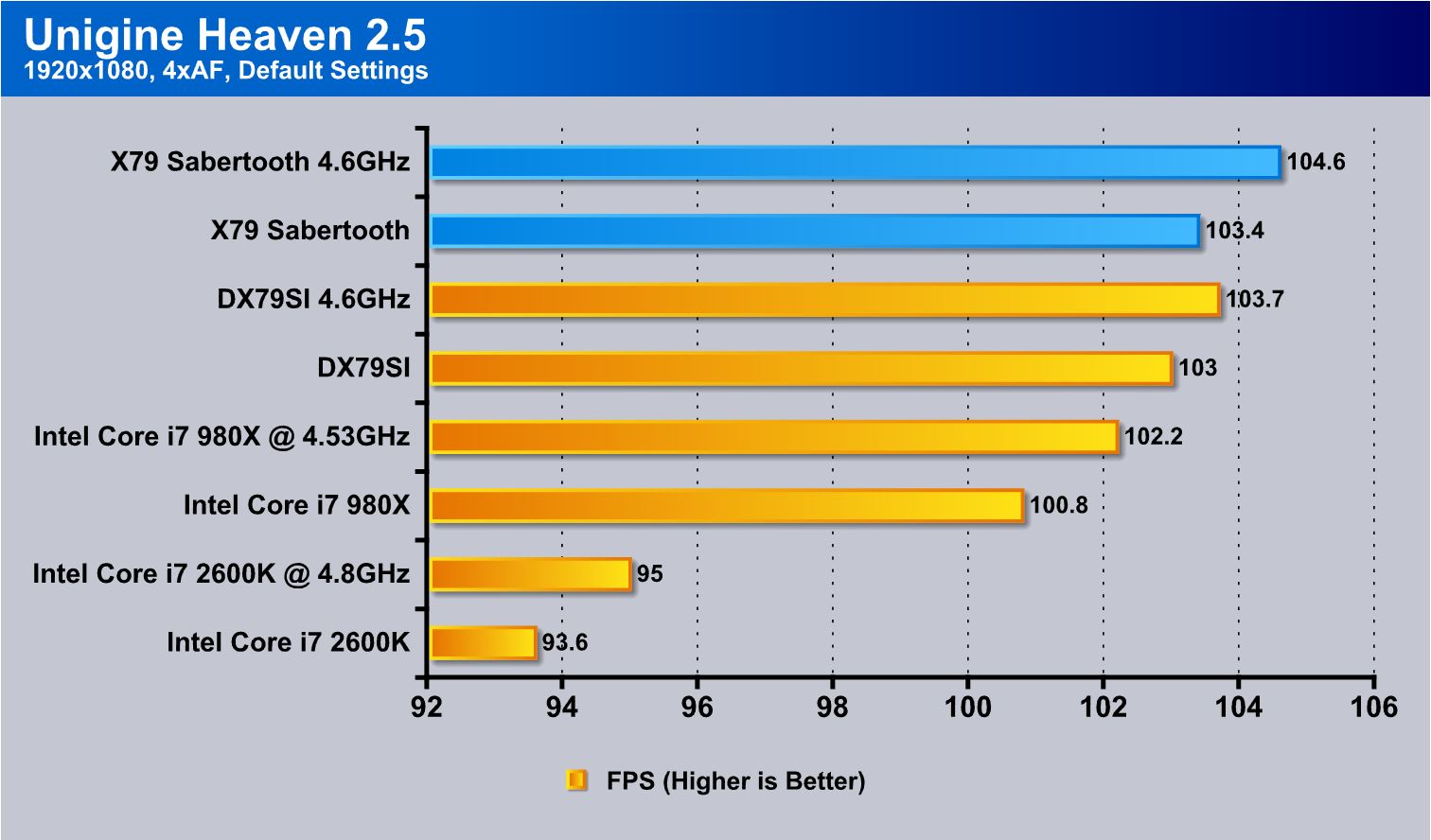 Unigine Heaven 2.5 definitely can see the increase in performance as performance scales with the frequency increases. Here we see that similar to previous we have a increase here even in graphics efficiency both at stock and overclocked settings. The difference is minimal but it all comes down to efficiency and the simple fact that the cards are likely at their limit for this demanding application.
Metro 2033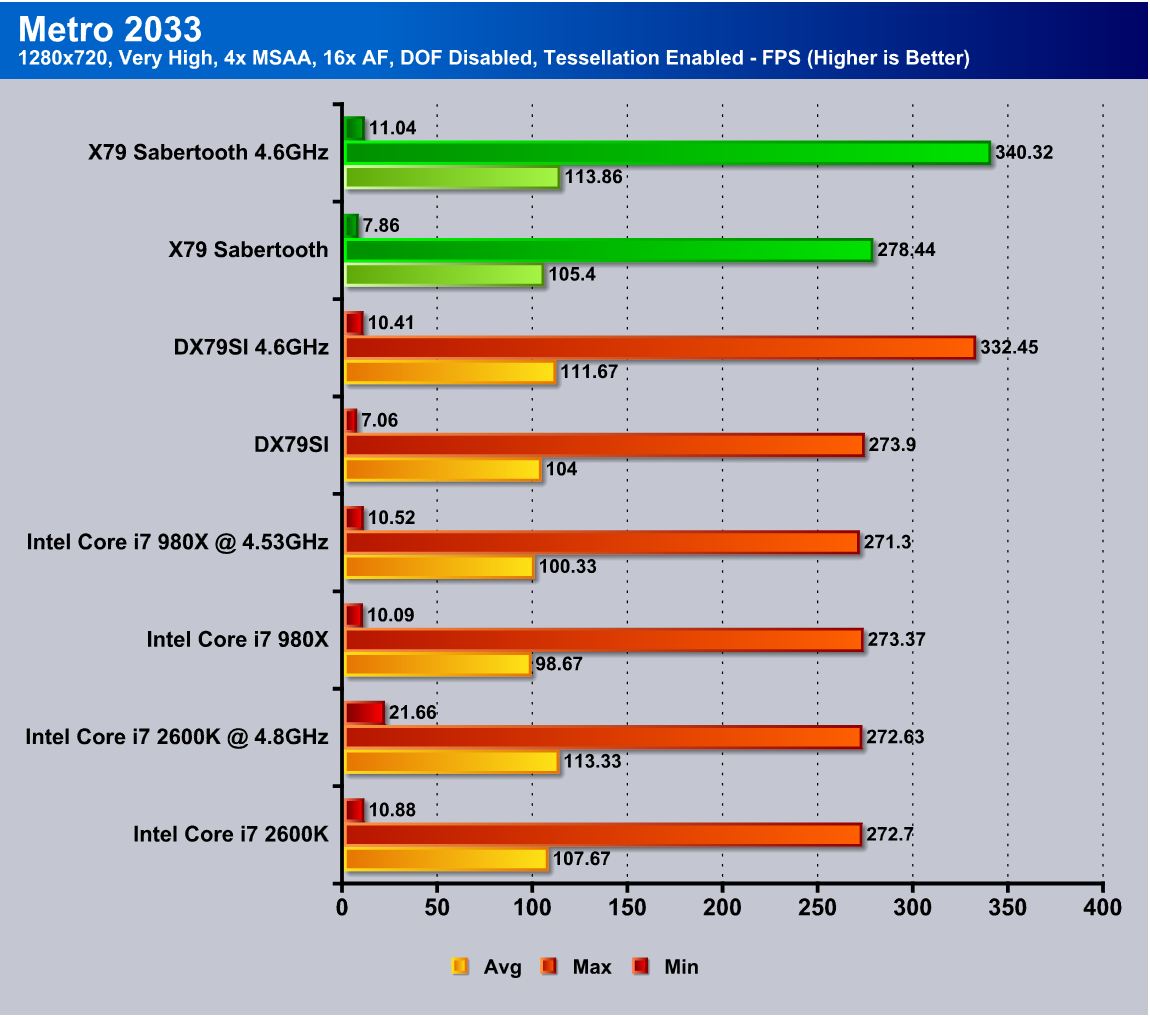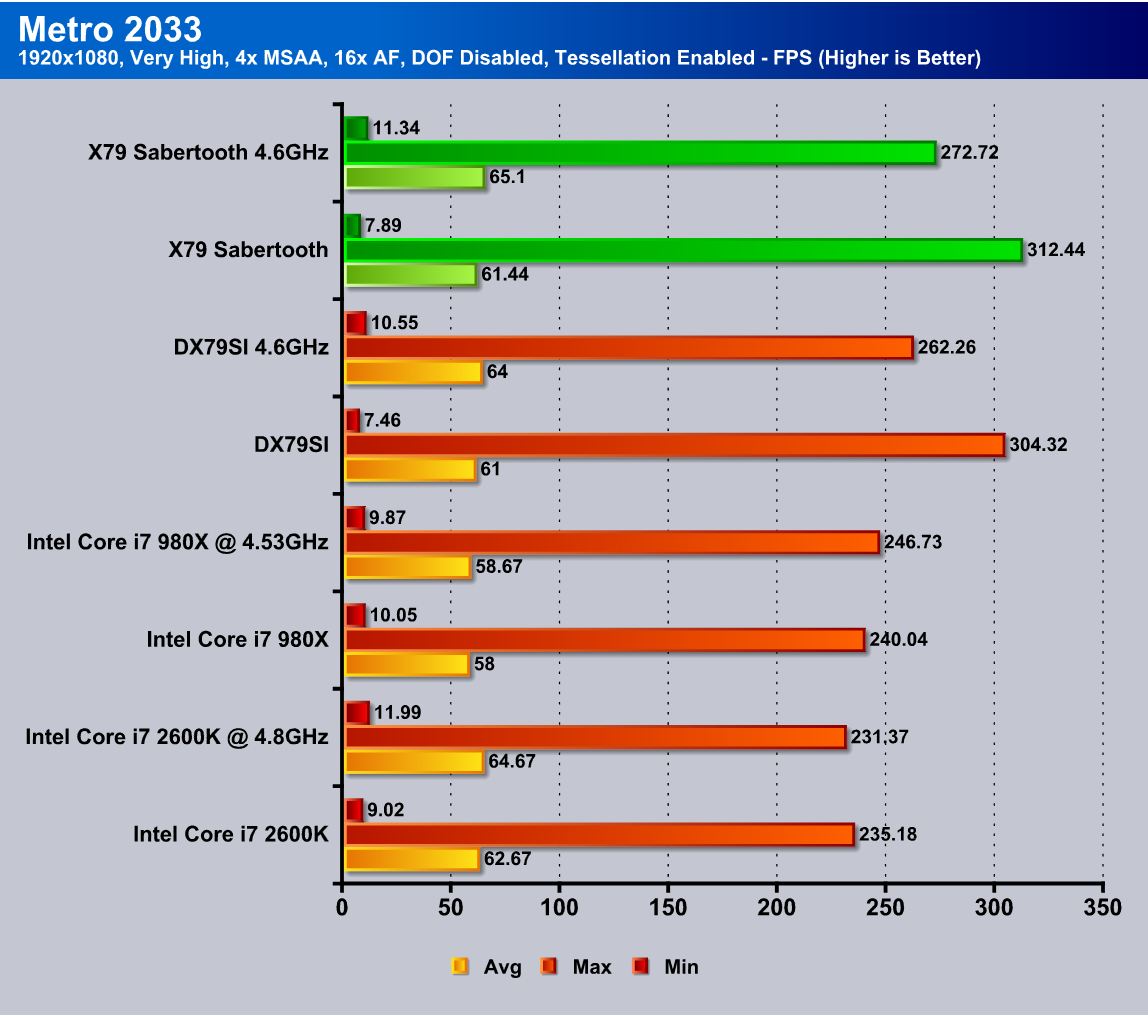 Metro 2033 is a very demanding game for graphics. Therefore we see minimum framerates dip into single digits.
Lost Planet 2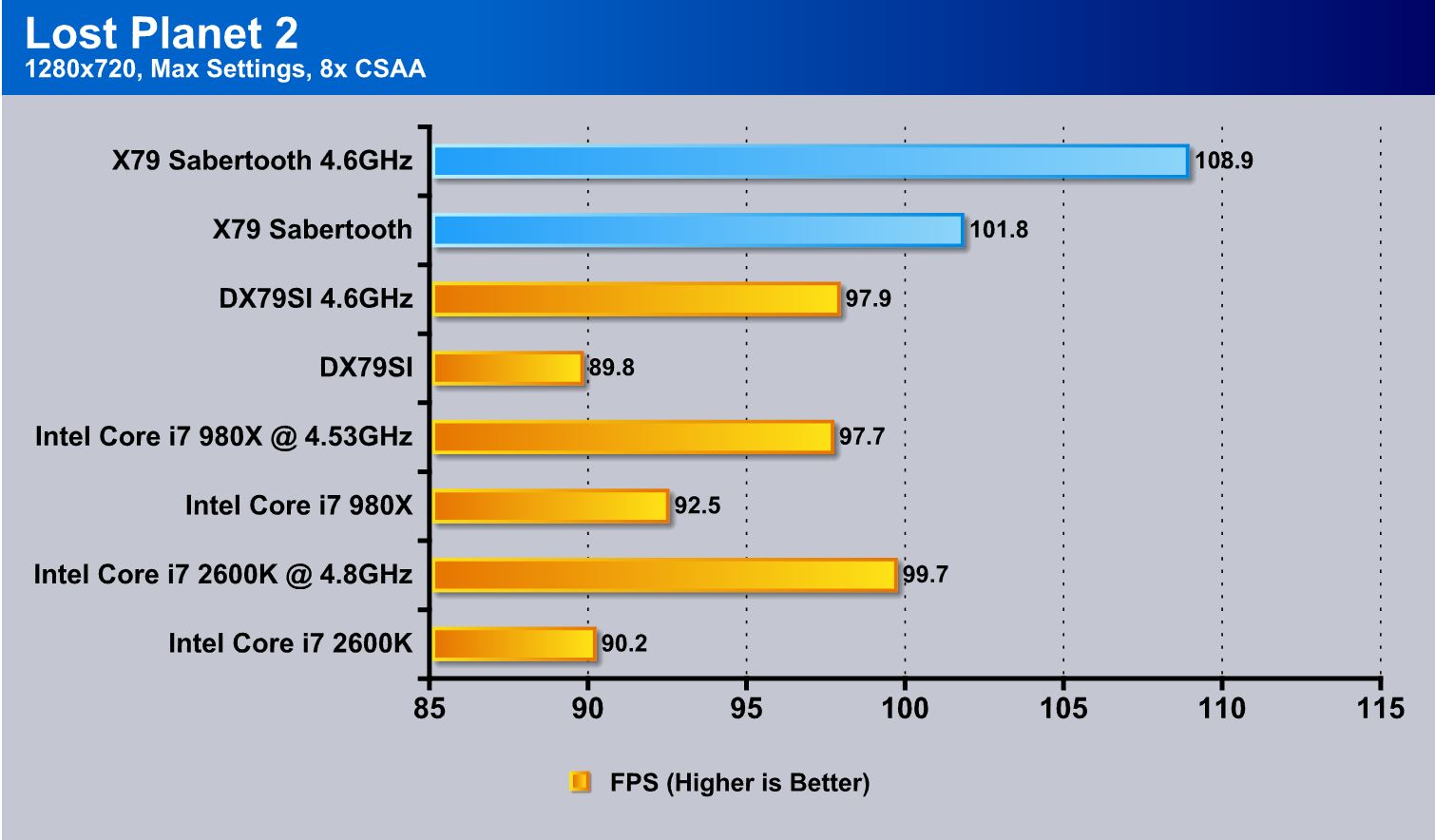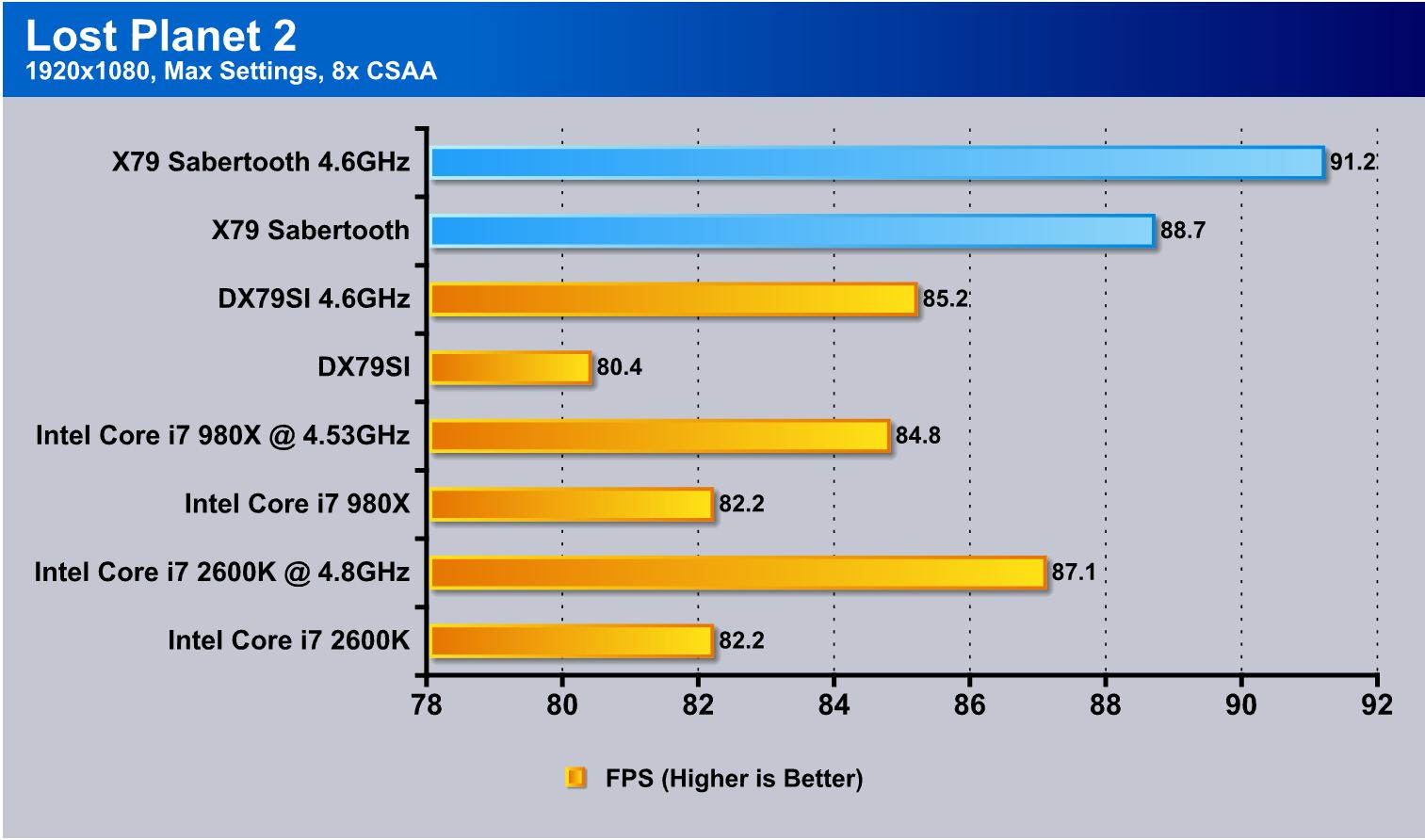 Lost Planet 2 shows a similar picture of performance as efficiency and performance is improved even over the Intel DX79SI which says a lot about the tuning that has been done to improve performance this much over a default design such as Intel's.
CONCLUSION
When we received the Sabertooth X79 we were a little perplexed as to where this unit could be placed in the market. The military spec components means that it should last a long time no matter the condition. That it goes through extended testing for reliability and durability by a third party testing team tells us that the claims are more than just that. Also, the fact that we were able to achieve 5GHz overclocks lets us know it is capable. Add to that the fact that the board goes through server grade compatibility testing and we are thoroughly convinced that this board could serve not just as a workstation or number crunching machine but also any extreme gaming rig.
There are some things we felt a little perplexed about as they were simple omissions or design aspects that simply could be better. One was the omission of onboard power/reset buttons, and also the lack of an LED POST display which could easily help with a failure to POST condition. While this was not an issue for us, it could arise for someone else, and having the POST display would help immensely. We also feel the color scheme could be better, though we acknowledge that it has been a mainstay of the Sabertooth line.
The Sabertooth X79 has excellent compatibility going for it and components with a very high MTBF. The Sabertooth would be an excellent fit for any long-term system, and the 5 year warranty sweetens the deal. Add to this that it offers the APS advanced replacement service just in case something ever goes wrong the warranty process should be rather quick.
OUR VERDICT: ASUS X79 Sabertooth
| | |
| --- | --- |
| Performance | 9.5 |
| Value | 9 |
| Quality | 10 |
| Features | 8 |
| Innovation | 9 |

We are using a new addition to our scoring system to provide additional feedback beyond a flat score. Please note that the final score isn't an aggregate average of the new rating system.

Pros
Cons

Excellent overclocking

Full UEFI BIOS

BIOS flashback function

Doesn't need CPU for BIOS flash

Many USB 3.0 ports

Intel NIC

Highly efficient DIGI+ power system

Military Spec components

Extended Server Grade Testing

Thermal Armor w/ optional fan

No onboard power/reset switches

No LCD post indicator

Color scheme can be seen as bland to some users
Summary: The ASUS Sabertooth X79 is a highly reliable and extremely capable board with a great warranty! For outstanding quality and great performance, it earns the Bjorn3D Golden Bear Award.