The Dual-GPU GeForce GTX 690 is Nvidia's fastest card yet. With two Kepler GK104 GPUs on a single PCB, and with a bit of overclocking, the GTX 690 could easily match two GTX 680s in SLI.
Nvidia's Dual-GPU Video Card – The GeForce GTX 690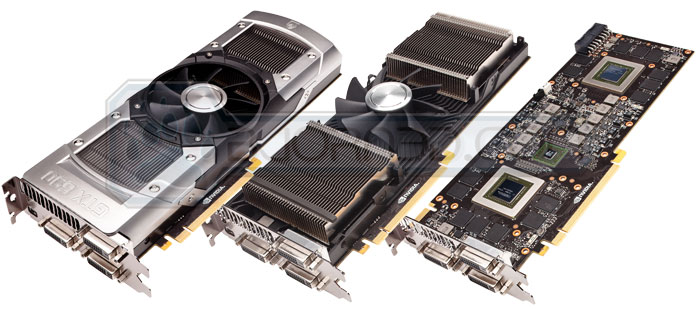 Click Images to Enlarge
Nvidia has been teasing the community for the past few days with a message on their website saying "It's Coming". Nobody knew what was coming or what to expect. Some speculated that it could be the new GK110 architecture, while others believed it will be the new dual-GPU GK104 video card. After much patience, at the Nvidia Gaming Festival 2012 in Shanghai, China, Nvidia's CEO Jen-Hsun Huang announced that they are releasing the new dual-GPU Nvidia GeForce GTX 690. Availability should start on May 3rd in a limited quantity with wider availability on May 7th, 2012. The Dual-GPU beast won't be cheap as it will pack two of the fastest GPUs currently on the market. It will cost about $999 plus tax and shipping, depending on where you order from. But before drawing conclusions about the price, lets take a look at what the GeForce GTX 690 has to offer.
Specifications
GTX 690
GTX 680
GTX 590
GTX 580

CUDA Cores

(Stream Processors)

2 x 1536(2x GK104)
1536(GK104)
2 x 512(2x GF110)
512(GF110)

Texture Units

2 x 128
128
2 x 64
64

ROPs

2 x 32
32
2 x 48
48

CORE Clock

915MHz
1006MHz
607MHz
772MHz

Shader Clock

N/A
N/A
1214MHz
1544MHz

Boost Clock

1019MHz
1058MHz
N/A
N/A

Memory Clock

6008MHz GDDR5
6008MHz GDDR5
3414MHz GDDR5
4008MHz GDDR5

Memory Bus Width

2 x 256-bit
256-bit
2x 384-bit
384-bit

VRAM

2 x 2GB (4GB)
2GB
2 x 1.5GB
1.5GB

FP64

1/24 FP32
1/24 FP32
1/8 FP32
1/8 FP32

TDP

300W
195W
375W
244W

Transistor Count

2 x 3.5B
3.5B
2 x 3B
3B

Manufacturing Process

TSMC 28nm
TSMC 28nm
TSMC 40nm
TSMC 40nm

Launch Price

$999
$499
$699
$499
As you might remember from our recent GeForce GTX 680 review, the new GK104 architecture is currently the fastest GPU on the market. Not only that, but it also consumes the least amount of power from the current high-end GPUs available in stores. Due to the amazing capabilities of the GK104 architecture, Nvidia could slap two of these fully enabled babies on a single PCB while maintaining a very reasonable 300W TDP. What do we mean by fully enabled chips? In the past we've seen certain video cards that have used the same GPU architecture as other high-end card video cards, but certain portions of the GPU were locked. The GTX 690 doesn't have this problem, and while a single GTX 680 had a TDP of 195W, it is even more surprising to see that the GTX 690, which comes with two of the same chips that the GTX 680 is equipped with, can operate at a 300W TDP. Comparing the GTX 690 to the older Fermi cousin, the GTX 590, the Geforce GTX 690 should be a cooler card with a lower power consumption as the GTX 590 had a TDP of 375W. This will make the GTX 690 an excellent card for systems that might not be able to handle the heat output and the power consumption of a GTX 590.
Click Images to Enlarge
But let's not forget that this card is slightly downclocked from the original core clock of 1006MHz to 915MHz. On the bright side, the GTX 690 is able to boost its core clock to 1019MHz, which is slightly higher than the stock speed of a GTX 680. Not to mention, the GTX 690 has double the CUDA cores of a GTX 680, at 3072 (2 x 1536) CUDA cores. So what can we expect from the GTX 690? To be honest, we wouldn't be surprised if the GTX 690 performed close to two GTX 680s in SLI. With the GTX 680 being able to go up to 1058MHz with boosted core clock speeds, it will still have an advantage over a single GTX 690, but with some overclocking, the GTX 690 could perform just as good as two GTX 680s or even faster. We'll have more on performance numbers and a in-depth review hopefully soon.
Click Images to Enlarge
The GTX 690 comes with a very similar PCB design that we have seen on the GTX 590. An SLI chip in the middle of the board is responsible for making sure the two GPUs can communicate with each other even on a non-SLI based system. The card comes with a total of 4GB of video memory, however only 2GB will be used per GPU. This card would be perfect for a Nvidia Surround or Nvidia 3D Vision Surround configuration, but do keep in mind that some games might exceed the 2GB VRAM limit of the card with high AA settings. Let's not forget that due to the higher TDP, the card also requires more power to keep running. This is why the GTX 690 comes with two 8-pin PCI-E power connectors. This will provide a total of 375W of power, considering that the PCI-E slot also provides about 75W of power to the video card. Knowing this, and hoping that the card will be easily overclockable just like the GTX 680, we see a great overclocking potential for the GTX 690.
The key advantage of the Nvidia GeForce GTX 690 is its dual PCI slot design. While two GTX 680's would take up 4 PCI slots total, they would also require a SLI capable motherboard. This means that even a small form factor motherboard could easily handle a GTX 690, while it might not handle two GTX 680s. This also means that more power can be packed in a smaller form factor case. But let's not forget that while single PCB SLI based solutions are an excellent idea in theory, they do introduce a problem called "micro stuttering". Micro stuttering is a term in multi-GPU based systems where the user might experience sight stutters even with high frame rate in a 3D application, due to the alternate frame rendering configuration that might be used in an SLI configuration.
The disadvantage of the GTX 690 is it's cooling design. While having the GPUs separated from each other and having two heatsinks cool off both GPUs, half of the hot air exhausted from the card will be left inside the case. This means that the user will need to make sure that they have good air circulation inside their case, otherwise the hot air could be reused and further warm up the video card to unacceptable temperatures.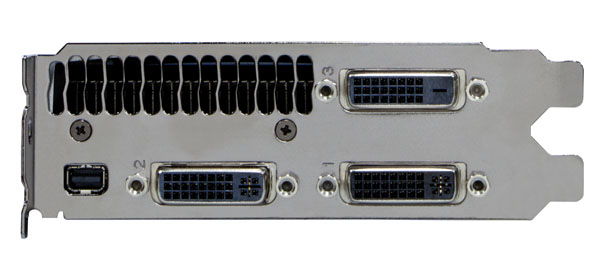 Click Images to Enlarge
The back of the GTX 690 also has a slightly different display output connectors than the GTX 680. While the GTX 680 came with one Dual Link DVI-I, one Dual Link DVI-D, one HDMI and one DisplayPort, the GTX 690 comes with three Dual Link DVI ports and one mini-DP connector.
This card should come with all the features the GTX 680 supports, including the new H.264 video encoder called NVENC, FXAA and TXAA support, as well as Adaptive VSync, which can be enabled through the latest 3xx series Nvidia Forceware drivers. For more information about the new GK104 architecture, check out our GK104 overview.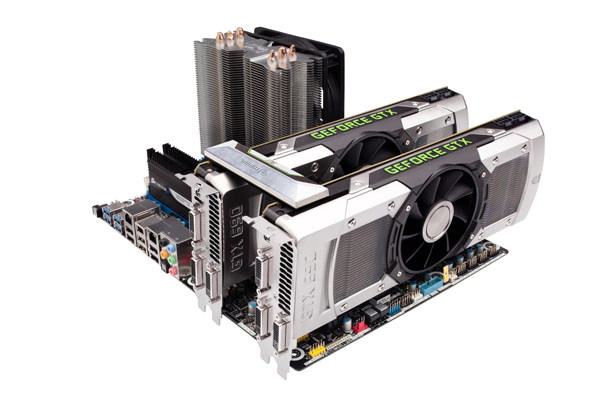 Click Images to Enlarge
The above picture shows a crazy quad-SLI configuration for the GTX 690s. We cannot go without saying that the new Nvidia GeForce GTX 690 might have one of the craziest and slickest reference card designs we have seen to this point. If you are planning on picking up one of these cards, make sure to be around early May 3rd, as cards will be extremely limited up until May 7th. Knowing that the GTX 680s sold out within half an hour of launch on Newegg, you'd have to be very lucky to pick one of these up on launch date. Hopefully Nvidia's 28nm production will pick up a bit more and there won't be as much shortage of the GK104 chips as we have seen in the past month.