If you're a gamer, and you'd like to improve your gaming experience with faster loading and less jumpy gameplay, the Kingston HyperX 3K SATA III SSD could be an option for you.
Introduction
We have noticed an increased demand for SSDs over the past few months. It looks like many are getting more interested in upgrading to SSDs instead of buying hard drives. This is most likely caused by the increased prices for hard drives due to the floods in Thailand last year. The flood had crippled many companies, including Western Digital, and while Seagate was not affected directly, they claimed that they have a shortage of supplies as well. With the prices of SSDs coming down, users are able to afford higher capacity Solid State Drives with great performance. This is why SSDs are becoming a better upgrade option for gamers and enthusiast builders.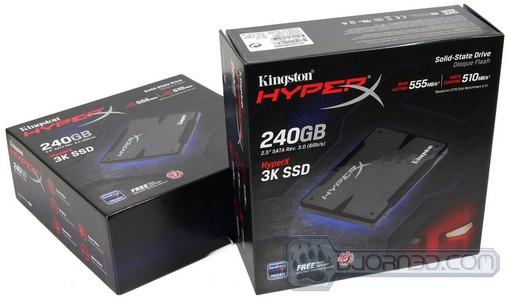 However, lets face it, SSDs are still quite expensive compared to the capacity you get per dollar, but the performance is excellent. If we're looking at getting a single 480GB SSD for a desktop system, why not just look into getting two 240GB SSDs and put them in RAID 0 configuration? The way we see, two 240GB 3K SSDs cost about $600 + tax, which is about the same as getting a single 480GB SSD. But two SSDs in RAID 0 configuration should give the user double the performance in sequential read/write, and show greater performance in lower 4-64kb data transfers. So today, we will not only be checking out one single Kingston HyperX 240GB 3K SSD, but two of them in a RAID 0 array on the latest X79 chipset.
What should we consider when using RAID with SSDs?
No TRIM Support with RAID
It is important to know that there is no TRIM support when using RAID with SSDs. The TRIM command used on SSDs tells the SSD's controller to wipe certain blocks that used to hold data. This prevents the SSD from having to erase and write at the same time, leading to faster write performance next time the block is used. As you may know from reading past SSD reviews, the SSD needs to be set up in AHCI mode with Windows 7 to fully utilize the TRIM command. But when the SSDs are put in RAID 0 configuration, the user also needs to change their storage setup to RAID mode instead of AHCI mode. Depending on the RAID configuration, a RAID 0 setup will provide the storage capacity of the two 240GB SSDs combined, and will show up in Windows Explorer as a single Device at 480GB. The problem is that because of this, the system doesn't see the drives as separate solid state drives, and this prevents the TRIM command from executing. This also prevents the user from performing a Secure Erase on the drives.
On the bright side, while performance might be lower after using the SSD strenuously after extended periods of time, a RAID 0 configuration should still be faster than a single SSD after it has been installed into the system for the first time.
Block Size Decisions
When setting up a RAID array, the BIOS or the Intel Rapid Storage Technology Drivers will ask the user for block size information. This is the block size that the RAID array will be working with. Knowing that SSDs have a much shorter access time than moving storage devices like hard drives, small 4K read / write performance is also drastically improved. This would lead us to thinking that a 4KB block size configuration for a RAID array might be the appropriate decision, but according to our tests, we have not seen major performance difference between 4KB, 8KB, 32KB, 64KB and 128KB block size configurations in the 4KB to 64KB benchmarks. On the other hand we have seen a difference in sequential read and write performance, and a larger block size would provide a much higher sequential read / write performance.
Other review sites claim that they have seen better overall SSD performance at lower 32KB or 64KB block size configurations; however, we did not see this particular increase in performance on our X79 Chipset. 32KB and 64KB block size configurations might provide for a better performance in 4KB-64KB benchmarks, but sequential read and write will suffer over a configuration such as 128KB block size. So it really depends what the user is looking at doing on their system. If they are working with many large photographs, or perhaps video editing, a higher sequential read / write performance is better over faster 4KB performance. However, if loading performance is the key factor for you, a combination of good 4KB and sequential read and write might be the best solution.
Specifications
While some people might think that each HyperX 3K SSD performs the same way, Kingston provided us with detailed specifications which shows that the 90GB model performs slower than any other model from the HyperX series. The best performer according to the specifications will be 480GB SSD for read and the 240GB SSD for the write (Sustained Random 4K R/W input/output operations per second).
Feature/Specification

Kingston HyperX 3K SSDs

Form Factor

2.5″

 Controller

SandForce SF-2281

Components

MLC NAND (3K P/E Cycles)

Interface

SATA Rev 3.0 (6Gb/s), SATA Rev 2.0 (3Gb/s)

Capacities

90GB, 120GB, 240GB, 480GB

Sequential Reads

SATA Rev 3.0

90GB / 120GB / 240GB – 555MB/s

480GB – 540MB/s

Sequential Writes

SATA Rev 3.0

90GB / 120GB / 240GB – 510MB/s

480GB – 450MB/s

Sustained Random 4K R/W

90GB – 20,000/50,000 IOPS

120GB – 20,000/60,000 IOPS

240GB – 40,000/57,000 IOPS

480GB – 60,000/45,000 IOPS
Max Random 4K R/W
90GB – 85,000/74,000 IOPS
120GB – 85,000/73,000 IOPS
240GB – 86,000/60,000 IOPS
480GB – 75,000/48,000 IOPS
PCMark Vantage HDD Suite Score
90GB / 120GB / 240GB / 480GB: 60,000
Supports
*Supports TRIM: enhances device wear leveling by eliminating merge operation for all deleted data blocks
*Supports S.M.A.R.T. (Self-Monitoring, Analysis and Reporting Technology)
*Garbage Collection
Power Consumption
0.455W (TYP) Idle
1.58W (TYP) Read
2.11W (TYP) Write
Dimensions
69.85mm x 100mm x 9.5mm
Weight
97g
Operating Temperatures
0C ~ 70C
Storage Temperatures
-40C ~ 85C
Shock Resistance
1500G
Vibration Operation
2.17G
Vibration non-operating
20G
MTBF
1,000,000 Hrs
Total Bytes Written (TBW)
90GB: 57.6TB
120GB: 76.8TB
240GB: 153.6TB
480GB: 307.2TB
Models
Part Numbers and Price (Newegg Price)

Package Contents

SH103S3/90G (stand-alone drive) $119.00
SH103S3/120G (stand-alone drive) $149.00
SH103S3/240G (stand-alone drive) $299.00
SH103S3/480G (stand-alone drive) $599.00
SH103S3B/90G (upgrade bundle kit) $129.99
SH103S3B/120G (upgrade bundle kit) $159.99
SH103S3B/240G (upgrade bundle kit) $309.99
SH103S3B/480G (upgrade bundle kit) $609.99

Stand-alone
2.5″ SSD
3.5″ bracket and mounting screws
Upgrade Bundle Kit
2.5″ SSD
2.5″ USB Enclosure
3.5″ bracket and mounting screws
SATA data cable
Hard Drive cloning software and Installation guide
Multi-bit Screwdriver
If we look at the pricing for the HyperX 3K SSD, the prices are slightly lower than OCZ's Vertex 3 high-performance SSDs. The HyperX 3K should perform roughly the same as the Vertex 3. Do note that a 240GB Vertex 3 stand-alone SSD costs $299.99, and a 480GB Vertex 3 costs around $699. So while a 240GB SSD might be the same price as the Kingston HyperX 3K SSD, the 480GB Vertex 3 is about $100 more.
The SandForce SF-2281 Controller


Source: SandForce
The Kingston HyperX Series SATA III SSD uses the SandForce SF-2281 controller. While the SF-2000 is not a major architecture change, the new controller brings a few major upgrades. Among the upgrades include 6Gbps interface, up to 500 MB/s of sequential read and write, 60K IOPS of sustained 4K read and burst write, and 20K IOPS of sustained write. Older SSDs on the SF-1000 series controller, on the other hand, supports the SATA II 3 Gbps interface, up to 285 MB/s read and 275 MB/s write, and 50,000 IOPS random 4K write. The 6 Gbps interface is a much welcomed feature since SSDs are easily bottlenecked by SATA II's 3 Gbps bandwidth limit.
We should take a moment here to note that though this has not been tested, X58-based motherboards are expected to provide far lower SATA 6Gbps performance than P67 or Z68-based or even the X79 and Z77 boards. This is because P67/Z68/X79/Z77 boards natively support SATA 6Gbps, whereas most X58 boards use a third-party controller. Similarly, P67/Z68/X79/Z77 boards that use a third-party chip for their SATA 6Gbps ports will experience slower performance. This is not because of the SSD, but because of the controller on the motherboard.
The SF-2281 controller also features support basic smart attributes, 8 channels of 8 bytes per lane asynchronous IOs and supports storage capacity up to 512GB.  Also, it supports 128 bit and 256 bit encryption and features a 55-bit BCH ECC engine for error correcting.
SandForce SF-2000 controller also adds support for Toggle Mode and ONFI 2 NAND support. ONFI 2 and Toggle Mode increase the NAND interface speed up to 133MB/s (ONFI 2) or 166MB/s (ONFI 2.1) whereas the older NAND interface was limited to 50MB/s. This extra bandwidth available contributes to the fact that while the new controller does not have major architectural changes, it can still provide significant gains in the performance.
SSDs use NAND flash to store data. Performance grade SSDs often use single-level cell (SLC), allowing for greater durability, while mainstream drives use multi-level cell (MLC). Think of the single-level cell as a one story house, while the MLC is like an apartment building. Within the same area, more people can fit in an apartment than a single story house. Similarly, though SLC has greater durability, it has less overall data capacity.
Flash memories have a finite number of program-erase cycles. As the NAND gets smaller in size, its program-erase cycles decrease. A 50nm MLC NAND can have 10,000 cycles before it stops being able to write any data. As we transition to 34nm, the number is reduced to 5,000 cycles. Current SSD use 25nm NAND, for which the durability for the program-erase cycle is about 3,000-5,000.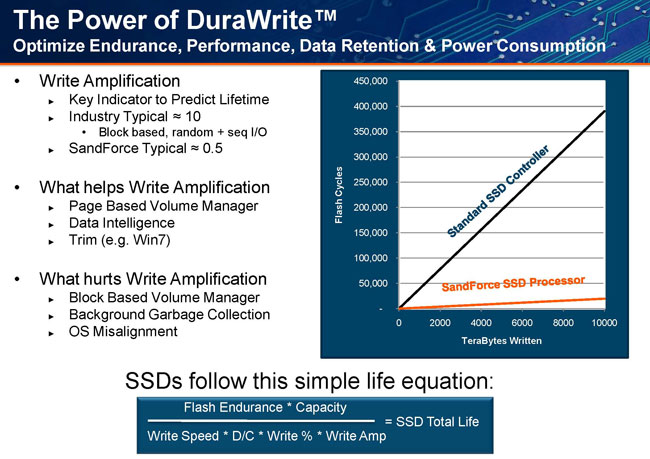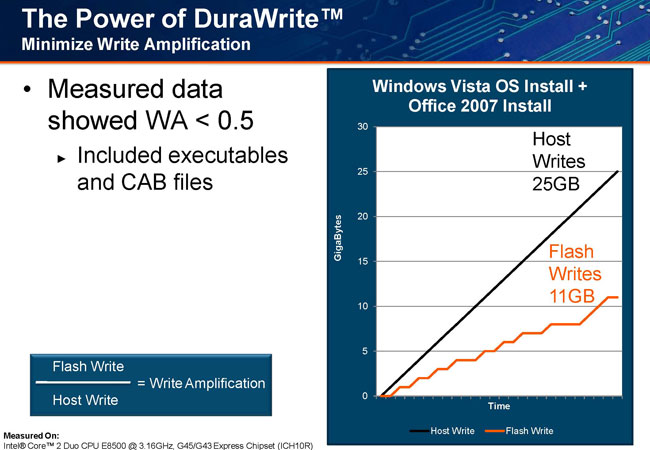 Source: SandForce
To compensate for this, the new SandForce controller features DuraWrite Technology, in which the controller intelligently compress the data using a deduplication algorithm on-the-fly. Data is also encrypted and has redundancy to ensure data integrity, which the company calls RAISE (Redundant Array of Independent Silicon Elements). This effectively reduces the file size needing to be written to the SSD. By writing less data, less NAND will be wear out, and the lifespan can be increased, not to mention the benefit of extra performance gain.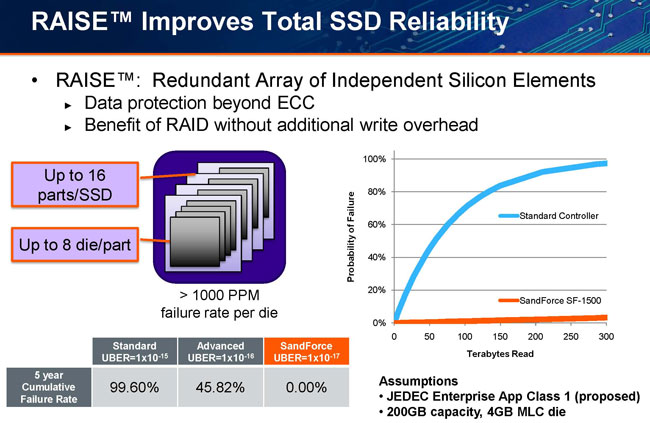 Source: SandForce
The only place where SandForce's approach may not be beneficial is when dealing with uncompressible data, such as MP3 and videos. For average desktop users, many files are compressible and the performance gain can be dramatic. This approach also reduced the need for a large DRAM cache to keep track of data. This in turn, drives the cost down.
Trim
The first SandForce based SSD had limitations where the performance was severely hindered to about 80MB/s when the whole drive is filled with incompressible data. 80MB/s is the maximum speed that the controller clean the NAND block and write new data. Even if the TRIM command was enabled, the performance would never recover to original levels because TRIM only marked the NAND as available, and did not actually clean it. This is an inherent problem with the way solid state drives handle data, as SSD's want to write the least amount of NAND in order to reduce wear on the NAND.
The problem with SF-1200 controller is that the drive was bottlenecked by its block recycling process speed of around 80MB/s. When the drive was filled with compressed data, the performance would eventually be limited to 80MB/s.
With the SF-2000 controller, SandForce has improved the block recycling process, and the drive now is able to clean the NAND block at rate of approximately 200MB/s. Thus, while we still will experience a performance drop, it is, at least, much more acceptable performance.
A Closer Look
Click Image For a Larger One
The Kingston HyperX 240GB 3K SSD comes in almost exactly the same package as the older 5K version. The only difference is that the 5K shows a blue and gray HyperX SSD on the cover, while this one comes with a big 3K SSD image and comes with a black and gray design. Just a reminder, we are taking a look at the Kingston HyperX 240GB SATA III Upgrade Kit, which comes with extra accessories and features for easier upgrades. The standalone version for this SSD comes only with the 2.5″ to 3.5″ Desktop Mounting Plate, which helps the user install their SSD in a standard Hard Drive compartment. The box we are presented with today is only slightly different from the previous 5K SSD, but before we go into the design, let's see what the cover shows. The front cover has the capacity of the drive, which in our case is the 240GB. It also shows the new performance increase withe the new SandForce controller. The customer can also be assured that they will receive a 24/7 technical support and will have a 3 year warranty. The back of the box has all the accessories explained for the Upgrade Kit which the buyer can take a look at before they commit to buying the SSD.
Click Image For a Larger One
Instead of the standard soft cover cardboard design that opens up on both sides of the box, Kingston completely redesigned their boxing to make the unboxing process more enjoyable. With the 5K version, the box would simply be two hard pieces and it would open up vertically. The 3K version is extremely similar, but the top cover is  now attached to the main box design. As soon as the top top part of the box is lifted off, the user can instantly see the new SSD they have bought. There is a thick anti-static foam covering the SSD on all sides to prevent damage during shipment. The foam is about an inch or two in height, and it also includes the 2.5″ to 3.5″ Desktop Mounting Plate on the back side of the foam.
Simply by lifting out the foam padding, the user has access to the Software CD which comes with Acronis True Image HD migration software. Behind the CD, there is an additional USB External Drive Bay in a soft transparent bag to prevent any scratches to the enclosure during shipment. Right next to it, we see a tool which looks like a pen. This is actually an all-in-one Multi-Head Screwdriver. Under the USB Enclosure, the user will be provided with additional accessories like the SATA III cable to connect the SSD to a desktop PC, and the USB power and data cable for the USB Enclosure.
Click Image For a Larger One
Here we have a closer look at the 2.5″ to 3.5″ Desktop Mounting Plate and the SSD being placed in it. There are 2 types of 4 screws included with the SSD. One of them needs to be used to attach the SSD to the Mounting Plate, while the other 4 screws are used to screw the mounting plate into a case. Some cases have a tool-less design which might work, but it is always better to screw in the devices to make sure they are securely placed in the computer chassis.
Click Image For a Larger One
Here we have a closer look at each of the accessories taken out of the packaging. As we can see the screw driver has three different screw driver heads depending on which screws will be used to install the SSD. To get access to the screw driver heads, the user needs to unscrew the top cap of the pen, and slide out the screw driver heads. These can easily be attached at the front of the pen as a strong magnet holds the screw driver head in place. This is a nice addition to the Upgrade Kit, because it eliminates the need to go hunting for screwdrivers that will fit.
Click Image For a Larger One
Here is the USB External Drive Bay enclosure, which can help users back up their files or clone their previous hard drive content to the SSD. It is worth noting though that this is a 2.5″ hard drive enclosure, which means that this will only be useful if the user is replacing a laptop hard drive with an SSD. It can also be useful if an older SATA II SSD is replaced with the current HyperX 240GB SATA III SSD, as the older SSD can be cloned to the new SSD in the system. We would also like to note that this is only a USB 2.0 Enclosure, and will not provide USB 3.0 performance for the users. This was a pretty big disappointment for us, because with a fast device we were also expecting fast accessories, and the fast performance of SATA III compatibility is totally ruined when limited by USB 2.0 bandwidth. The USB Enclosure is super easy to work with as well. Simply unlock the enclosure with the sliding switch on the side of the enclosure, and slide out the top of the enclosure. The SSD or hard drive can be easily placed in and slid into the connectors without any force, and holds nicely in the enclosure.
But as we said, while this is a nice addition to the upgrade kit, it might not be useful at all when working with Desktop hard drives, as they are much larger than the enclosure itself. But on the other hand the user can use Acronis True Image cloning software to copy all the data over to the SSD that will be installed in the main system. But the USB 2.0 performance will lead to a lengthy process, as speeds will be limited to about 15-25MB/s
Click Image For a Larger One
Finally, let's take a look at the Kingston HyperX 240GB 3K SSDs. The new 3K version of the HyperX SSDs are somewhat more appealing than the previous 5K version which came with a blue and gray design. The new Black and gray design for the 3K version will look very nice in a gaming and enthusiast system. The nice thing is that this SSD is also designed for the budget users, but lower price doesn't detract from the SSD's appearance.
Because there is a special screw used for the SSD, it was not possible for us to take apart the SSD, though we do have some background information of exactly what is inside the SSD casing. The outer casing has a thin layer of thermal padding to help dissipate heat from the memory modules and the SandForce SF-2281 controller. This is especially necessary on a high-end SATA III SSD, as components can get slightly hotter than older SSD models. We haven't seen many companies implementing thermal padding on the chassis, which just puts Kingston at a higher level, considering that users will be protected against heat problems in most cases, as the chassis will help dissipate heat from the SSD's components.
The PCB of the Kingston HyperX SSD is very similar to previous SSDs we've take a look at. For example, take a look at one of the related reviews linked to this review for some sample overviews of other SSD PCBs. This SSD uses 25nm Intel MLC based NAND flash. This is the ONFI 2.2 chip variety. This particular chip has 3K programmable/erasable cycles over the high-end brother which has 5K P/E cycles. There are a total of 8 NAND chips on each side of the PCB, adding up to 16 NAND chips altogether. Finally, a SandForce SF-2281 controller is onboard.
TESTING & METHODOLOGY
To test the Kingston HyperX 240GB SATA III 3K SSD we cloned our test rig drive to the SSD. It is the same test drive we've been using on all of our drive testing and is nothing more than a clean Windows load with all the drive testing software installed, as well as all the current drivers and patches for the OS. It's the equivalent of doing a fresh load of Windows 7 from the disk but takes a lot less time and ensures that every drive tested uses exactly the same OS load and drivers. Nothing that may effect the outcome of the testing procedure can creep in. We ran all of the tests a total of 3 times and averaged those results. The Average of the three results are presented here. In the case of a pictorial benchmark we ran the bench 3 times and picked the median result. As with most SSD testing differences from run to run are minimal and the median result is a good indication of what you can expect from the drive.
We ran our usual battery of tests on the drive, and used it as the primary boot drive during testing. All of the drives tested were used as the primary boot drive during testing. That's a more realistic test than strapping the drive in and testing it with a bare format or as a non-boot drive and it represents real life transfer rates, much like you can expect when you install and operate the drive in your own system. Each test was performed 3 times and the average of the 3 test run is reported here.
Test Setup
Test Rig
Case
Cooler Master Storm Trooper
CPUs
Intel Core i7-3960X (Sandy Bridge-E)
Motherboards
ASUS P9X79 WS X79 Chipset Motherboard
Ram
Kingston HyperX Genesis 32GB (8x4GB) 1600Mhz 9-9-11-27 Quad-Channel Kit
CPU Cooler
Noctua NH-D14 Air Cooler
Hard Drives
2x Western Digital RE3 1TB 7200RPM 3Gb/s Hard Drives
1x Western Digital 600GB 3Gb/s Hard DRive
SSD
2x Kingston HyperX 3K 240GB SATA III 6Gb/s SSDs in RAID 0 (480GB)1x Kingston HyperX 5K 240GB SATA III 6Gb/s SSD
Optical
ASUS DVD-Burner
GPU
3x Nvidia GeForce GTX 580 1.5GB Video Cards in 3-Way SLI
Audio Card
ASUS Xonar Xense
PSU
Cooler Master Silent Pro Gold 1200W PSU
Mouse
Razer Imperator Battlefield 3 Edition
Keyboard
Razer Blackwidow Ultimate Battlefield 3 Edition
Test Suite
Benchmarks
AS SSD Benchmark
ATTO
Crystal Disk Mark
HDTach 3.0.4.0
HD Tune Pro
PCMark 7
ATTO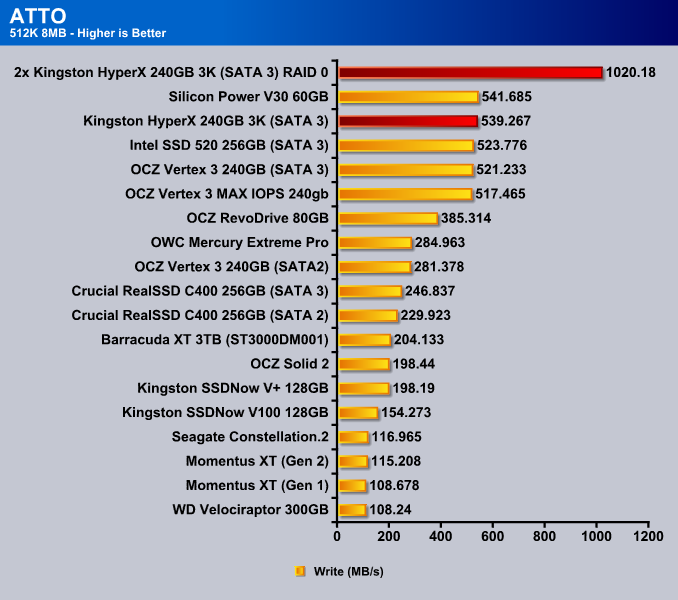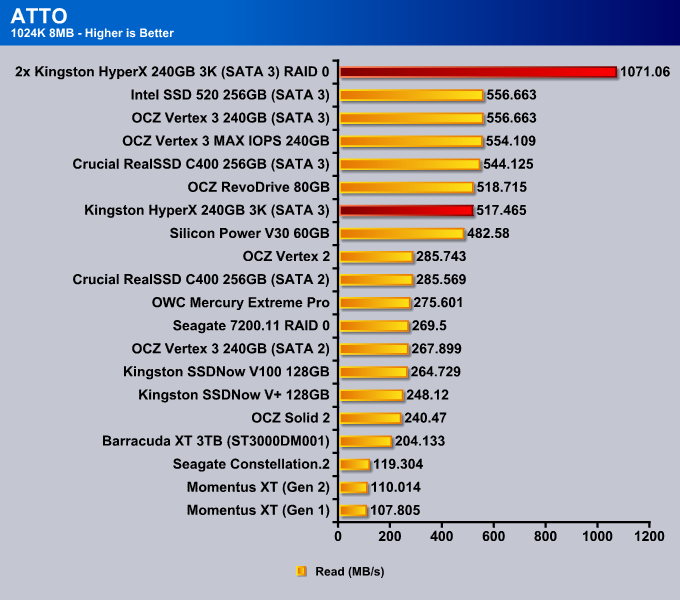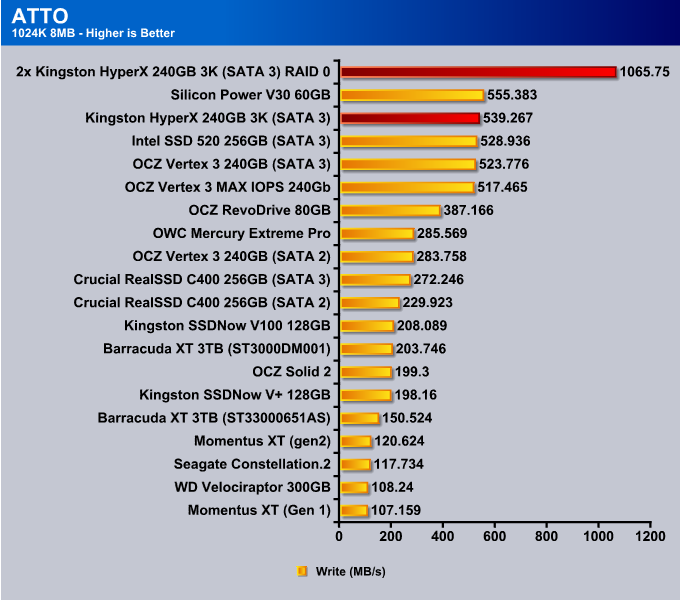 As we can see from the ATTO benchmarks, the Kingston HyperX 240GB 3K SSD is a bit slower than the original 5K SSD, but the difference is small. The benchmark pictures below provide a better overview of the performance of the SSD. While 512KB and 1024KB might not have performed too well compared to the other SATA 3 SSDs, the images below tell the true story about overall performance. For 4K, we can see up to 255MB/s write speeds in single SSD mode and 507MB/s read speeds for the RAID 0 configuration. This is extremely fast, and show provide for great overall loading performance for applications.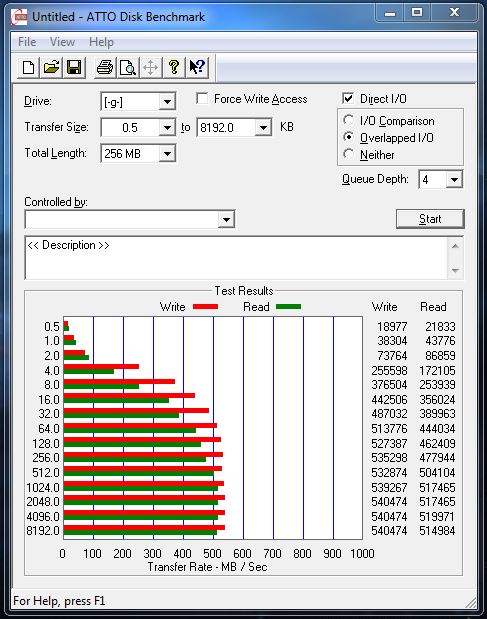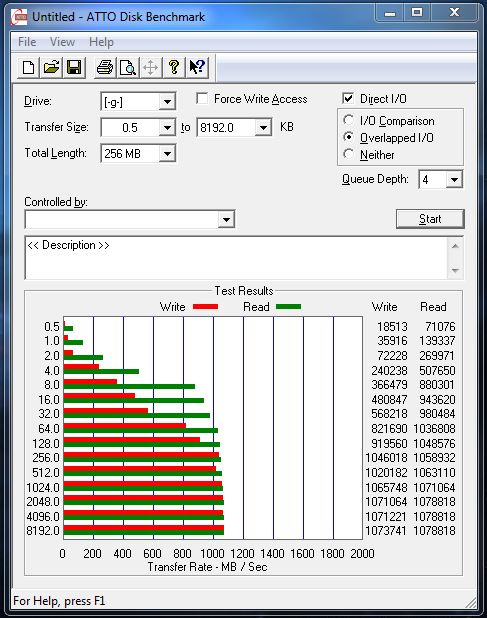 Standalone HyperX 3K SSD (left) and 2x HyperX 3K SSD's in RAID 0 (right)
HDTach 3.0.4.0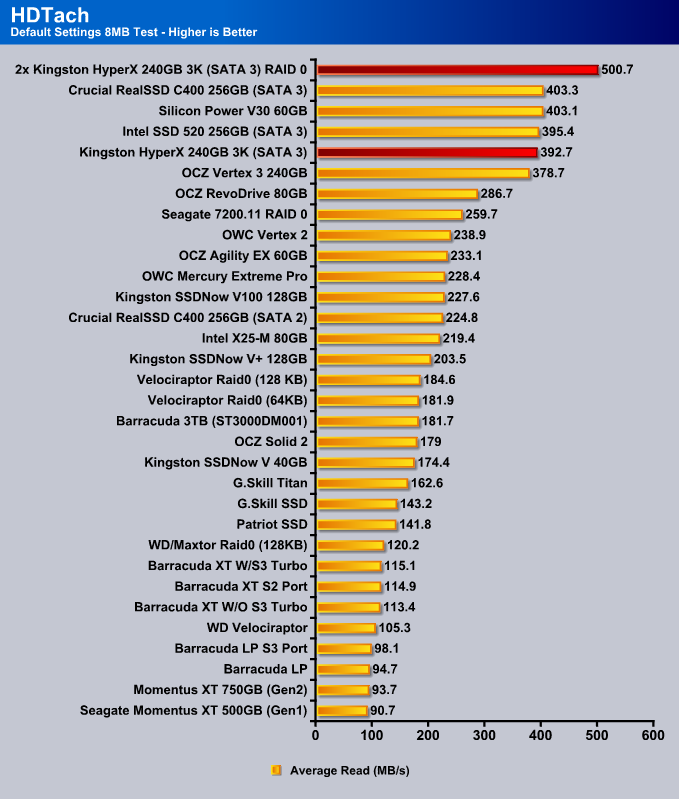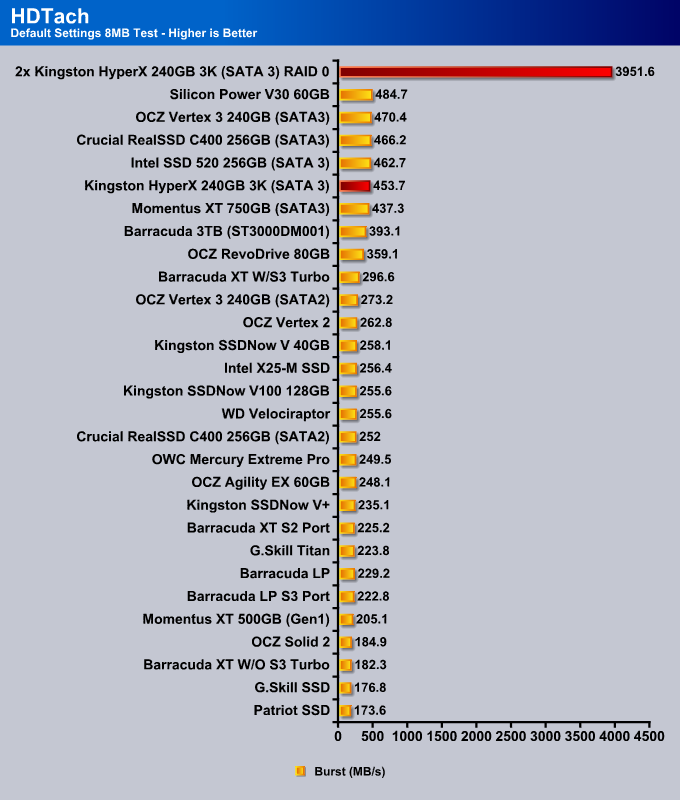 The average read tests showed greater performance for the Kingston HyperX 240GB 3K SSD over the OCZ Vertex 3. That's already pretty impressive, but when we check out the 32MB benchmarks, we can clearly see that the RAID 0 configuration of the HyperX SSDs brings the average read performance up to 1178MB/s. This is something we did not expect as each SSD is rated at 555MB/s read performance max.
8MB Test
Standalone SSD

RAID 0 configuration
32MB Test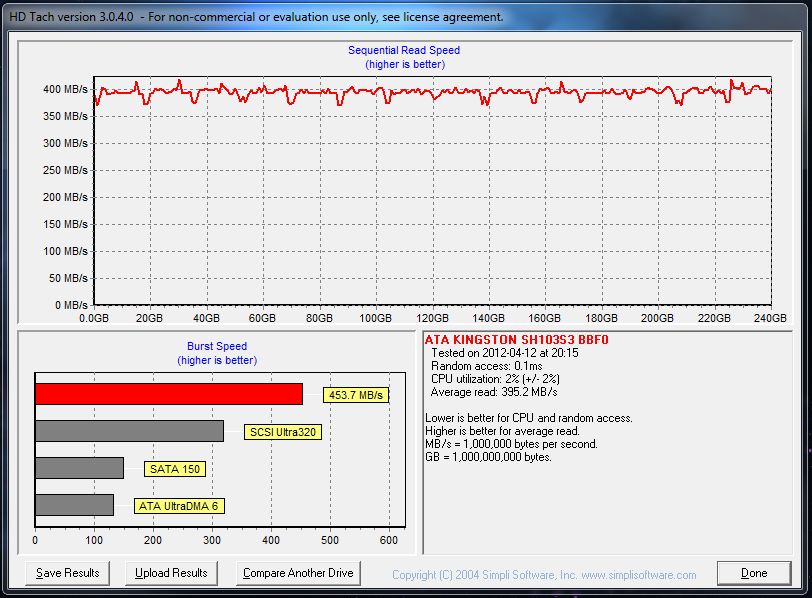 Standalone SSD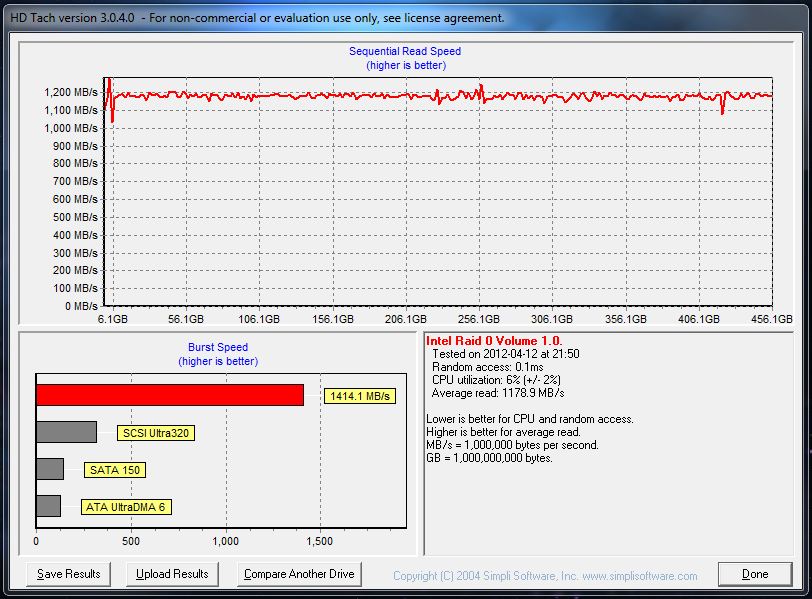 RAID 0 configuration
HD Tune Pro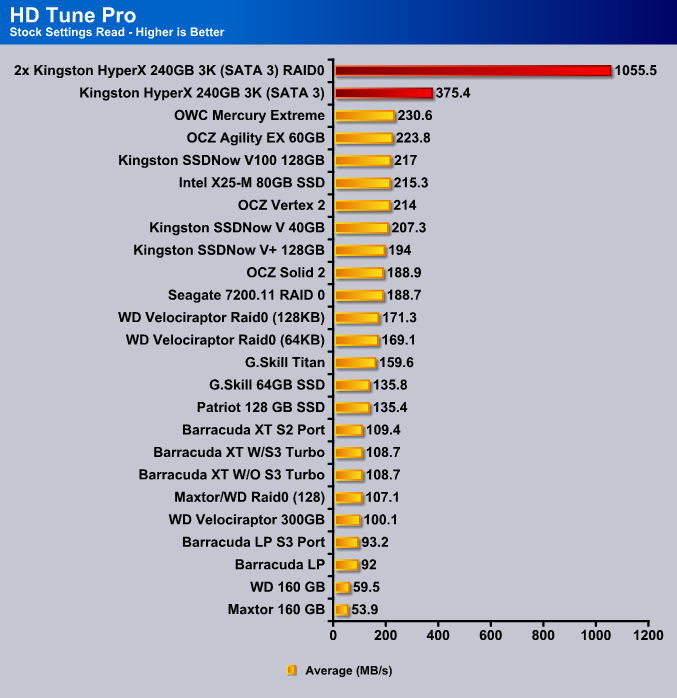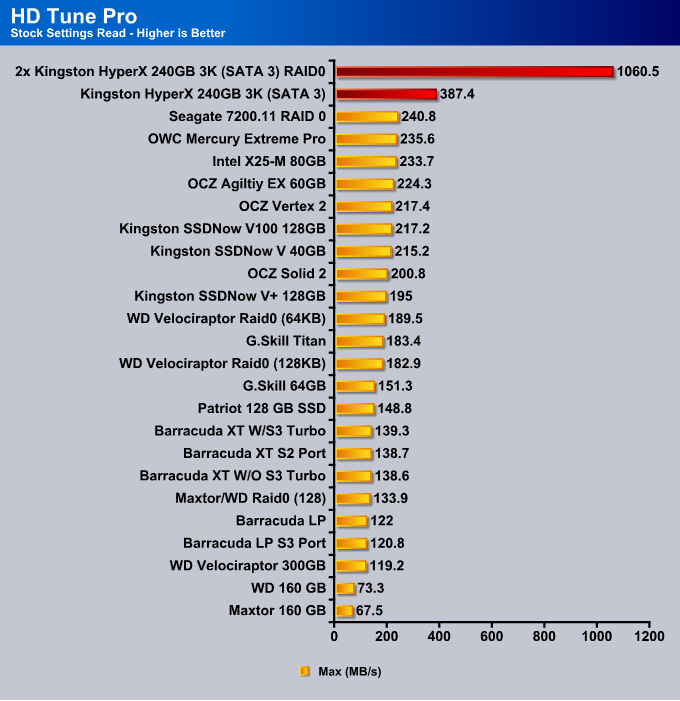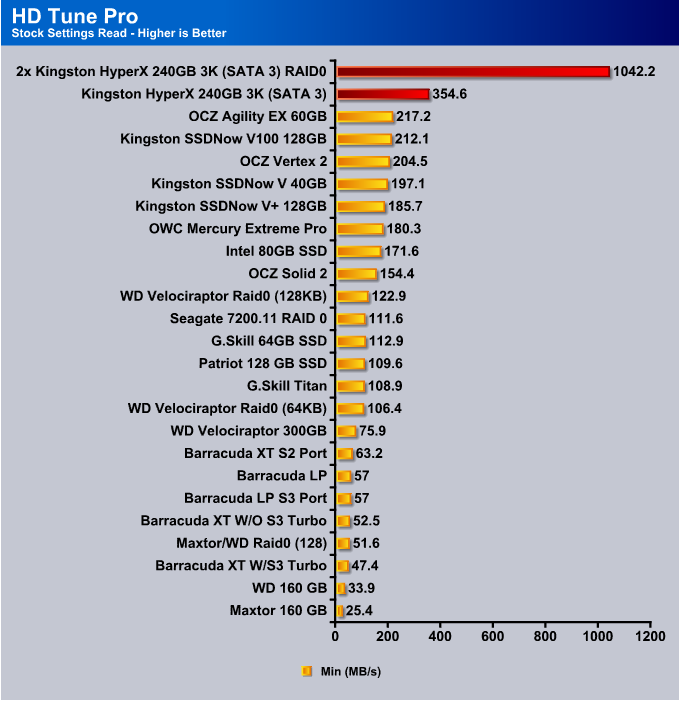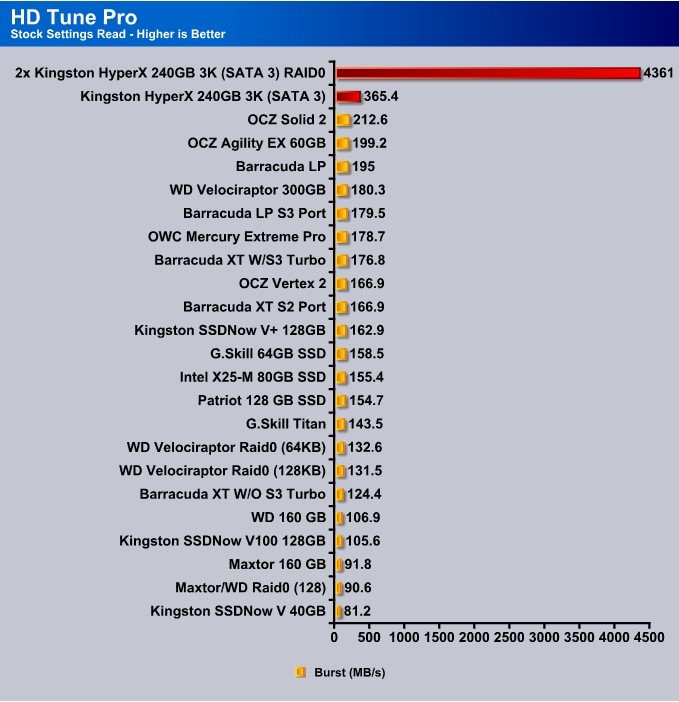 Unfortunately we did not have any other SATA III SSDs to compare with HD Tune Pro, but we have included the results for those that would like to see the performance numbers from this particular benchmark. The ridiculously high burst speeds in a RAID 0 configuration are caused by the write back cache being enabled, which uses the RAM as a temporary cache for the time being. These numbers are not too important in most cases.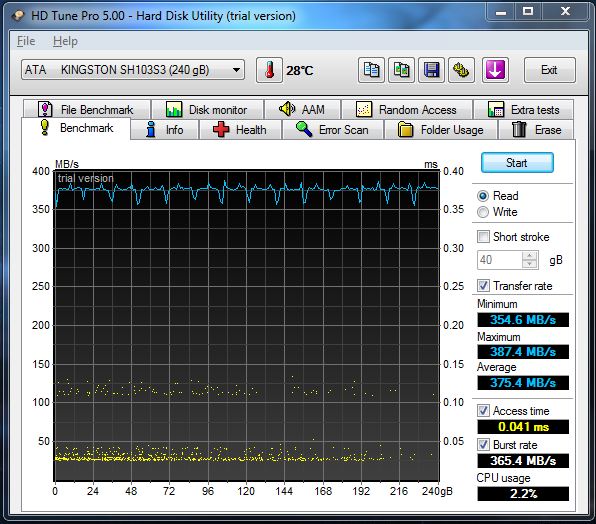 Standalone SSD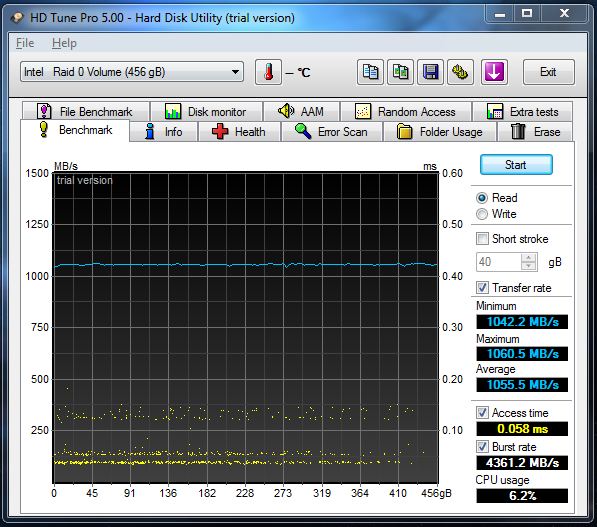 RAID 0 configuration
CrystalDiskMark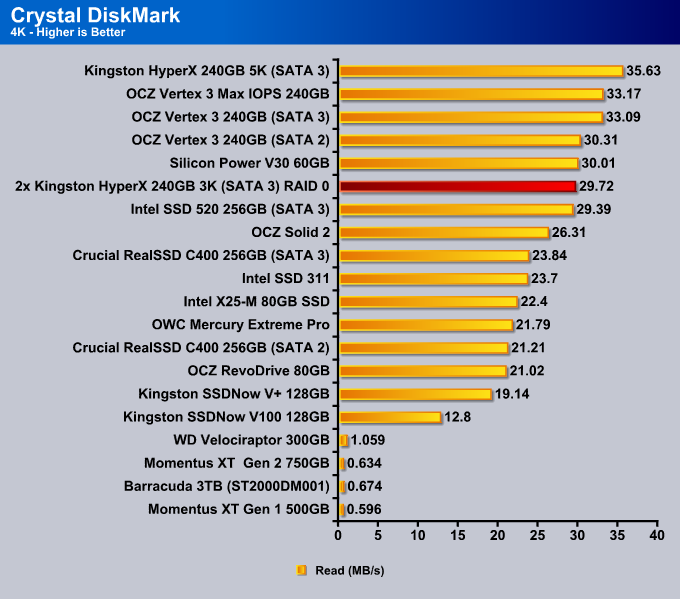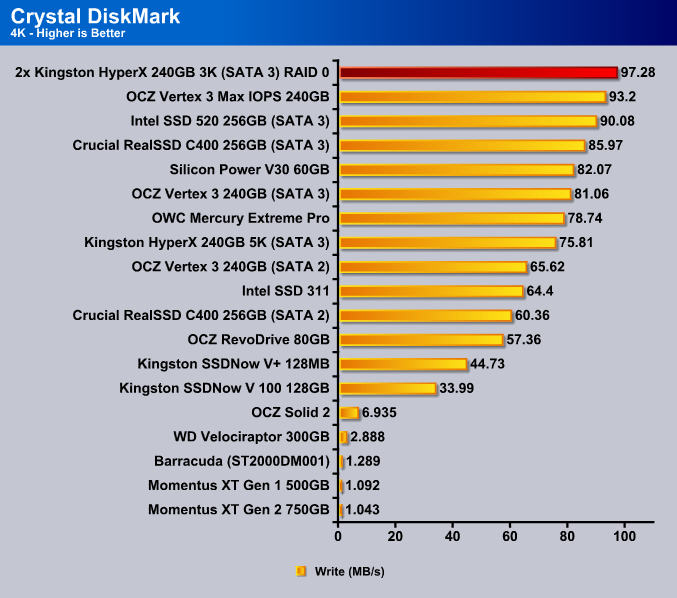 CrystalDiskMark showed some interesting results for the 4K read and write tests. A RAID 0 configuration of the HyperX 240GB 3K SSDs showed a lower read performance than a single SATA III SSD. This is something to consider when creating a RAID 0 array with SSDs. Not all aspects of performance will be increased with a RAID 0 configuration, and some performance could be hindered. Fortunately, the write performance in 4K did show improvement over a single SSD solution.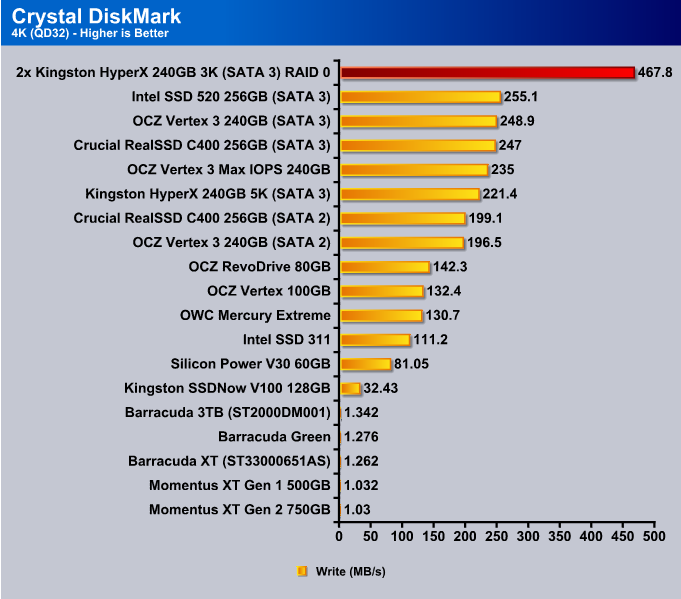 Here we have a few more examples of 4K (QD32) type read and write performance. In this instance both read and write had a major advantage over single SATA III SSD solutions.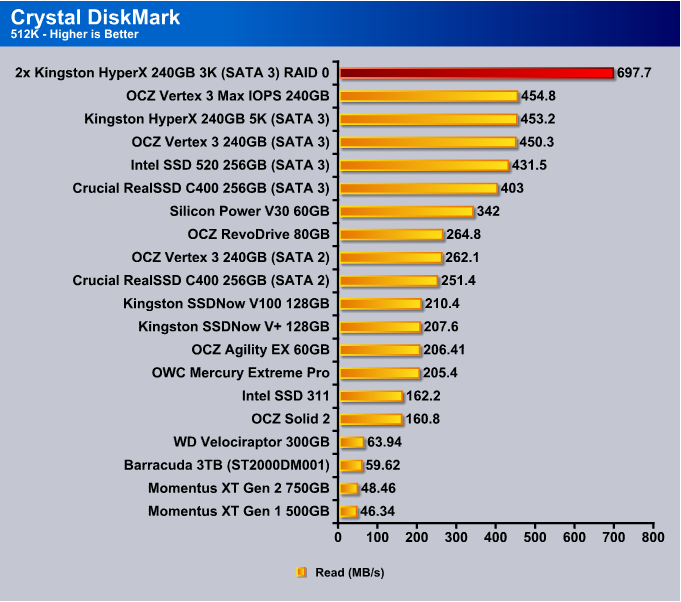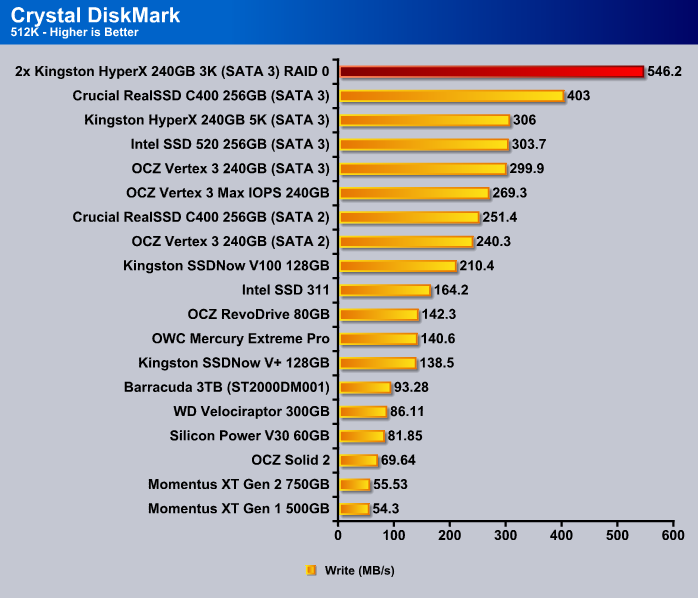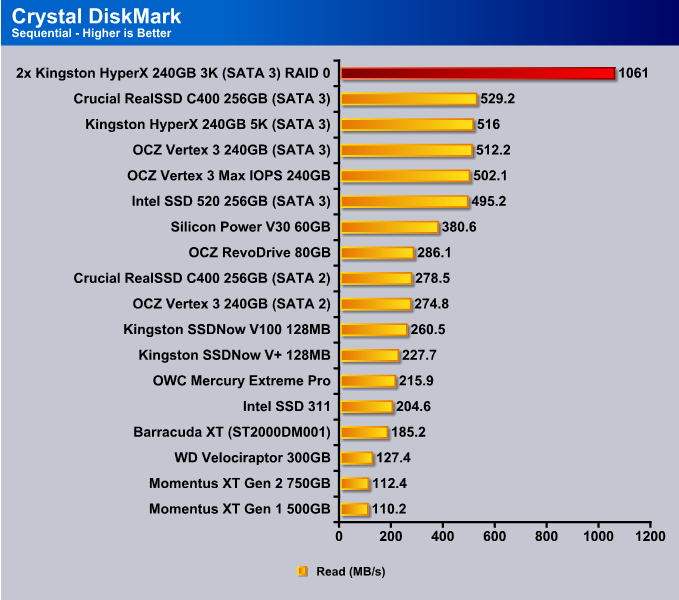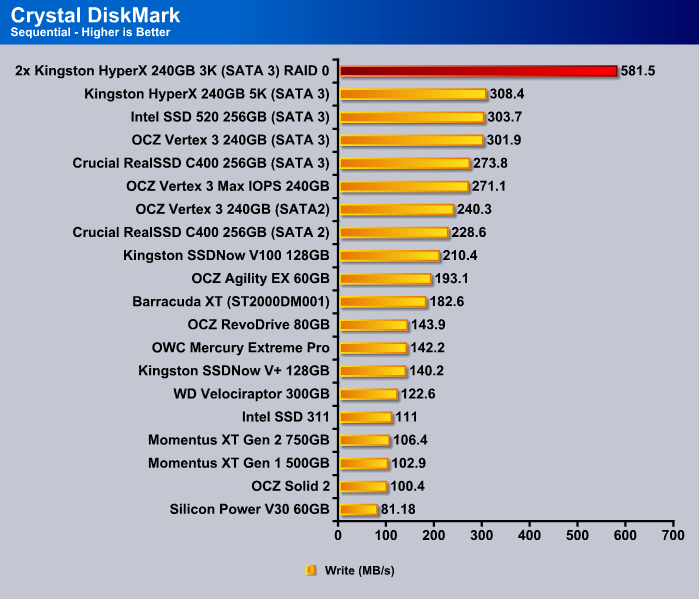 Going higher in the data size and especially at sequential read and write speeds, the RAID 0 configuration shows its true potential. Interestingly, sequential write speeds are much lower on CrystalDiskMark than expected, but overall performance is much lower for non-RAID based SSDs as well.
AS SSD Benchmark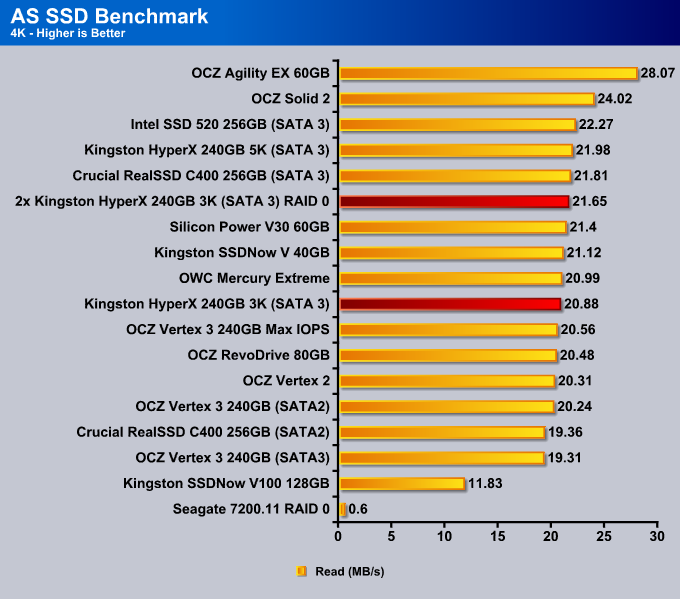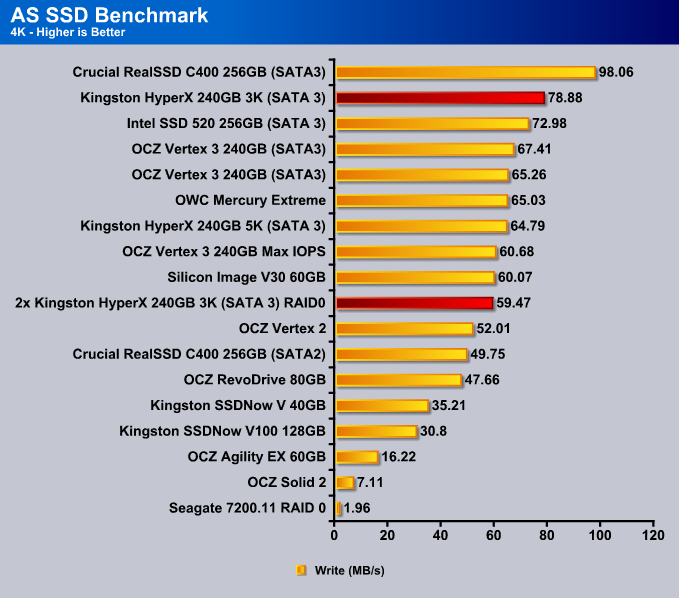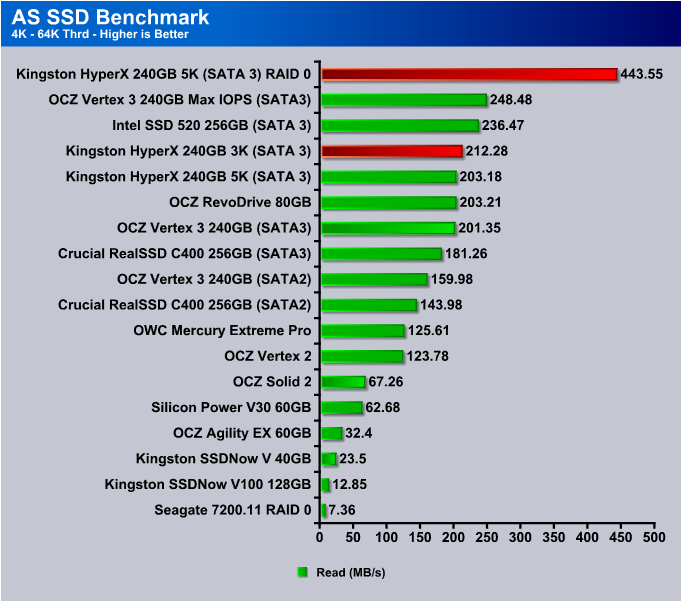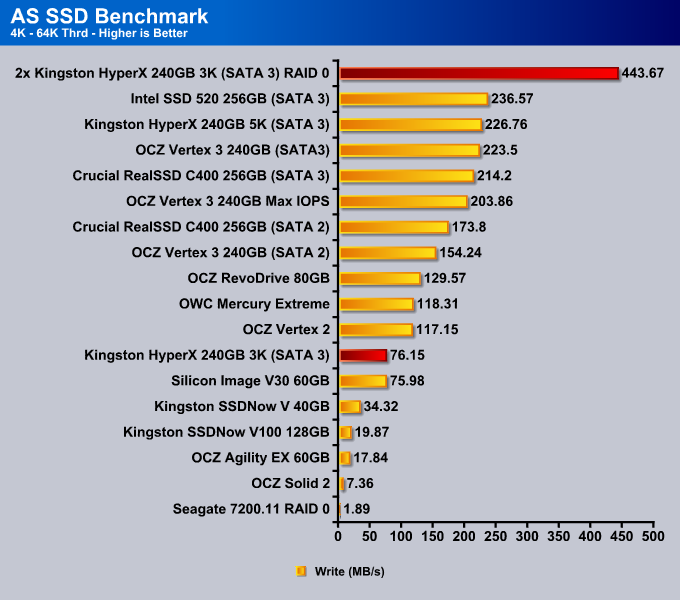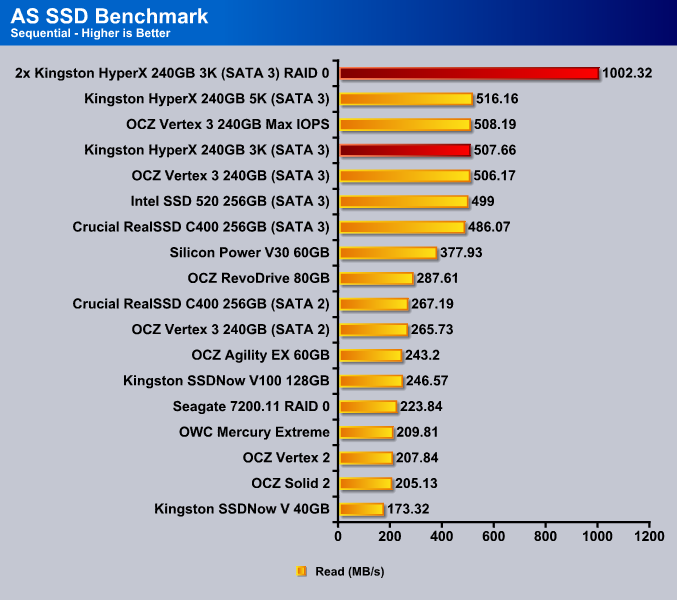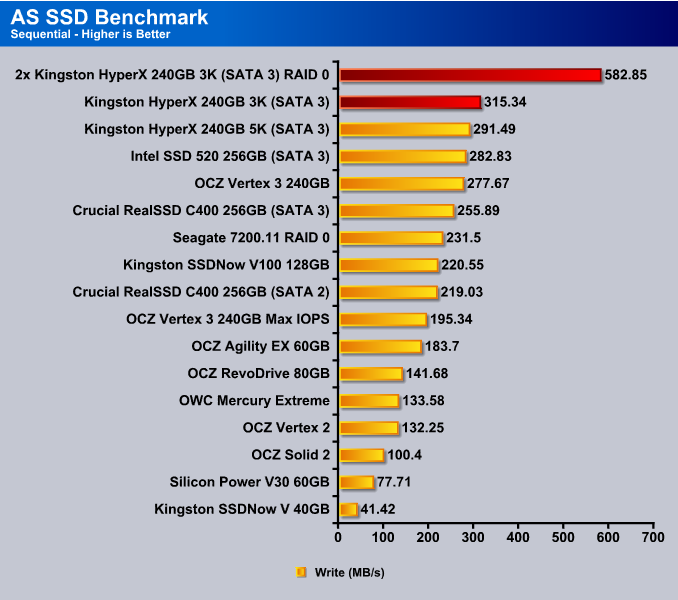 According to AS SSD, and the 4K test, a RAID 0 configuration is not the ultimate weapon against some of the more expensive SSDs on the market. Once again we can see that the read performance suffers quite a bit in RAID 0, which at first was not expected when we started testing the Kingston HyperX 240GB 3K SSDs in RAID. Also, another very odd result was the 4K – 64K test, which showed a very poor performance for the HyperX 3K SSD. We're not quite sure why this happened, but we re-ran the benchmark several times and still got poor performance. Besides that, the SSDs in RAID outperformed everything we have tested so far in both the 4K – 64K and the Sequential read and write benchmarks. Also check out the great performance increase in application based tests below.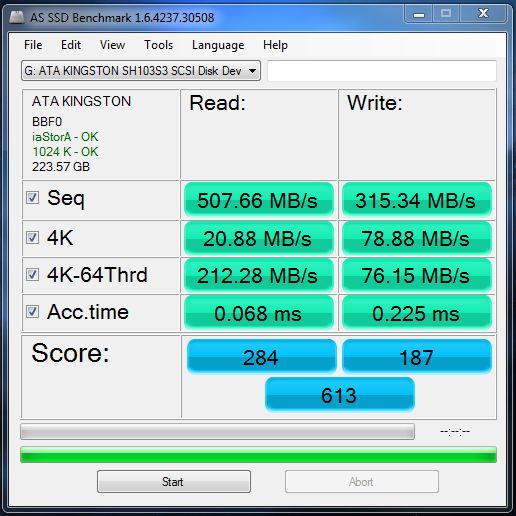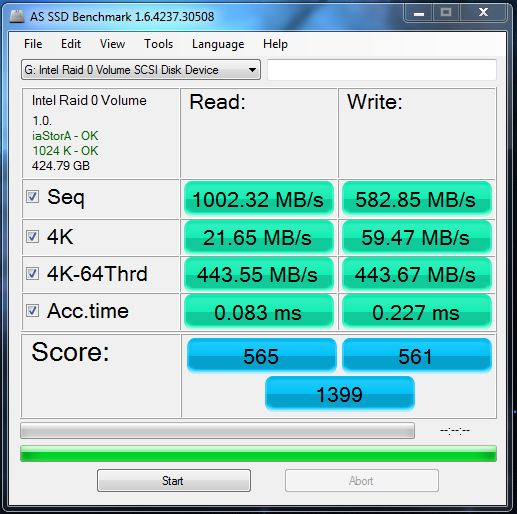 Standalone SSD (left) and RAID 0 (right)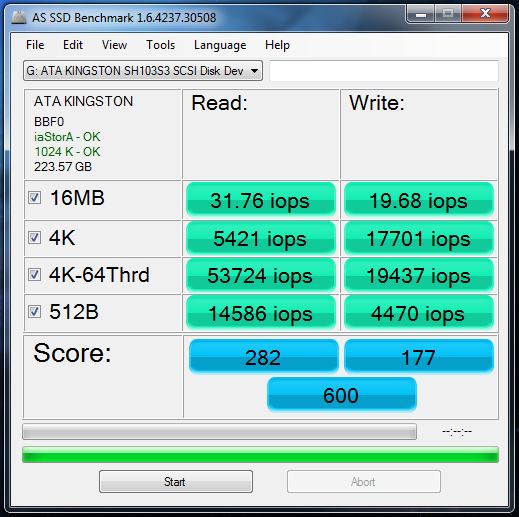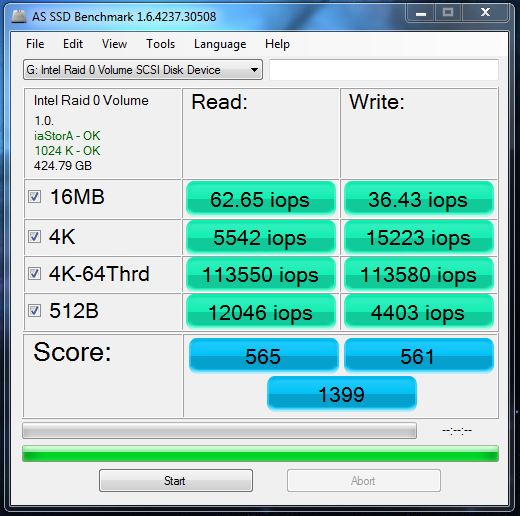 Standalone SSD (left) and RAID 0 (right)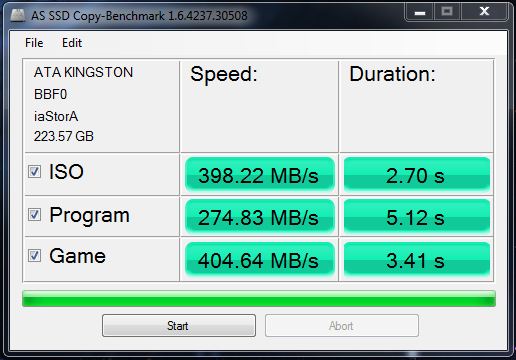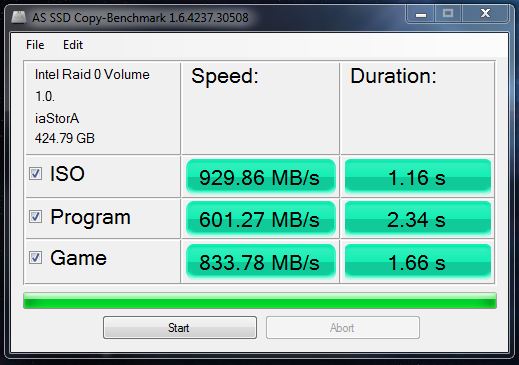 Standalone SSD (left) and RAID 0 (right)
PCMark 7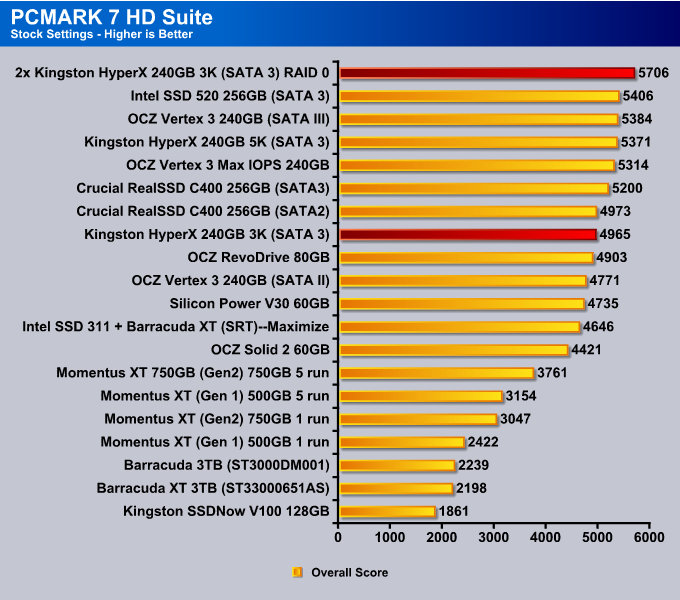 Overall system performance for reading, writing of files should be improved according to PCMark 7. This benchmark runs through several benchmarks testing different everyday scenarios. While applications like Windows Defender don't see much performance difference between different types of SSDs, photo and video based tests see quite a bit of performance increase in a RAID 0 setup over just a single Kingston HyperX 240GB 3K SSD. Therefore with two Kingston HyperX 3K SSDs in RAID 0, we were able to achieve a stunning score of 5706 in PCMark 7 on the HD Suite test.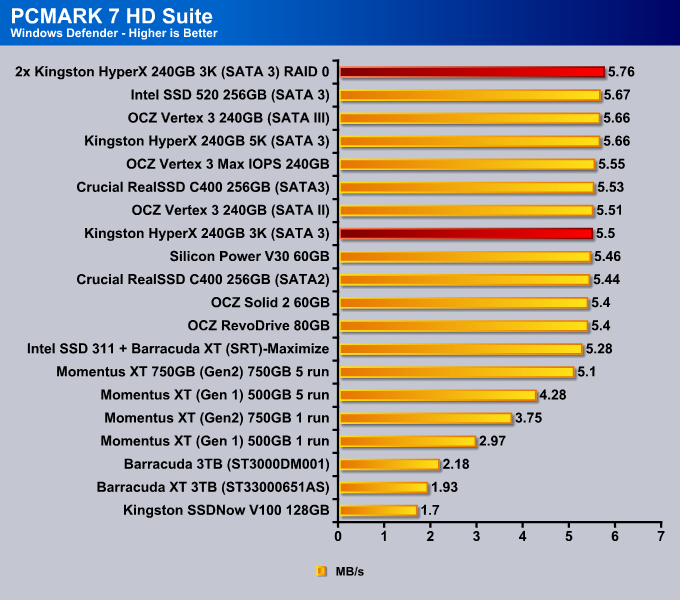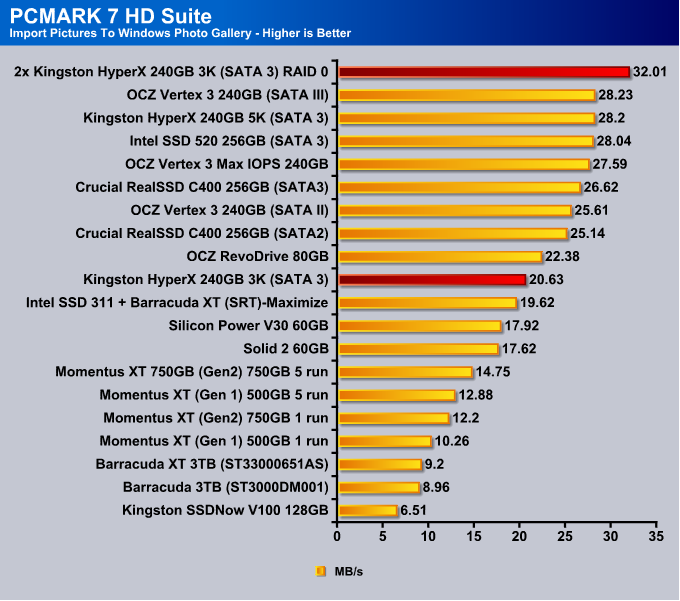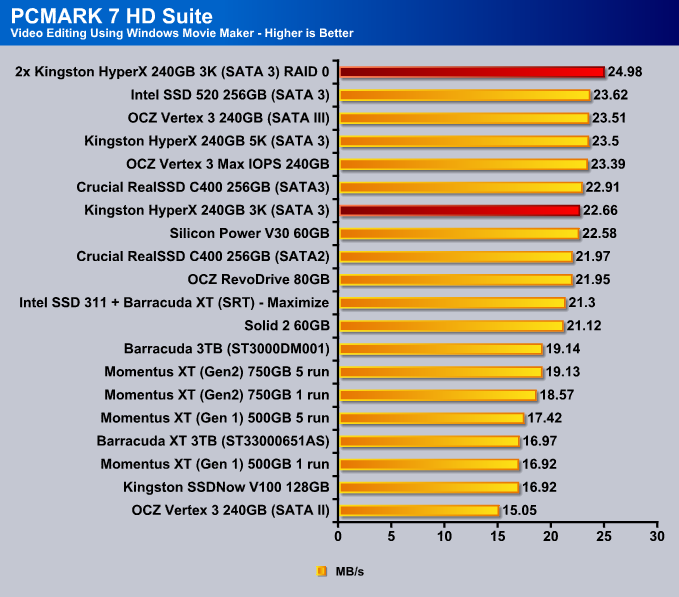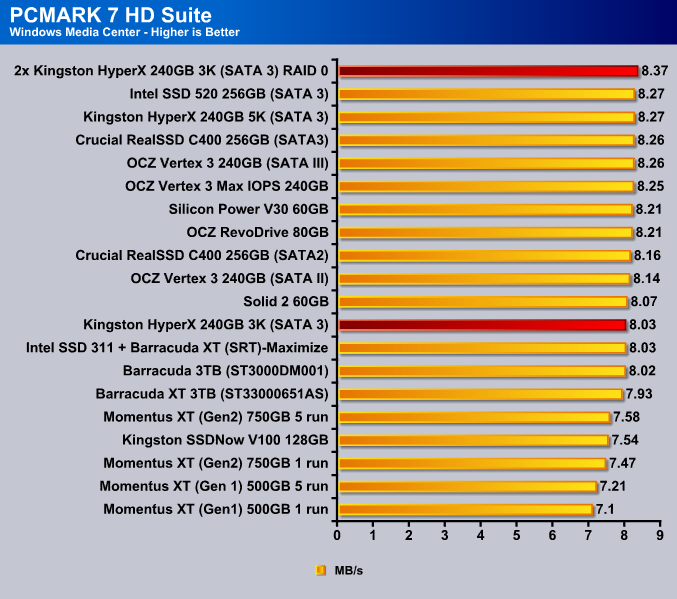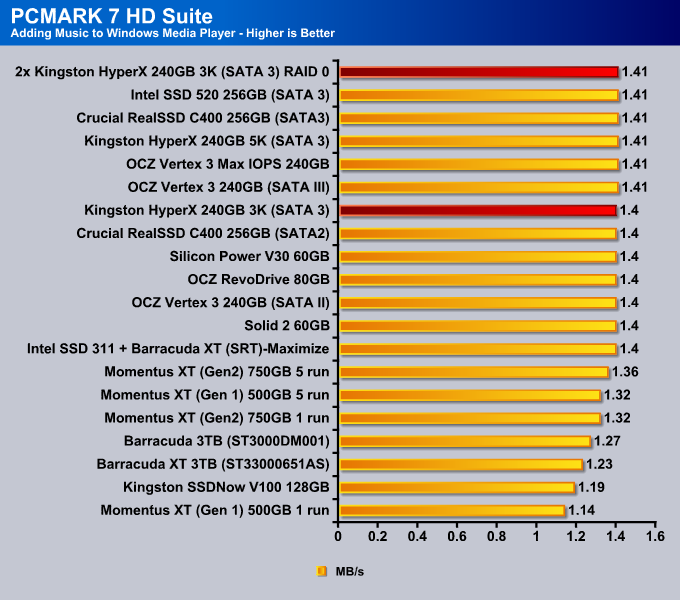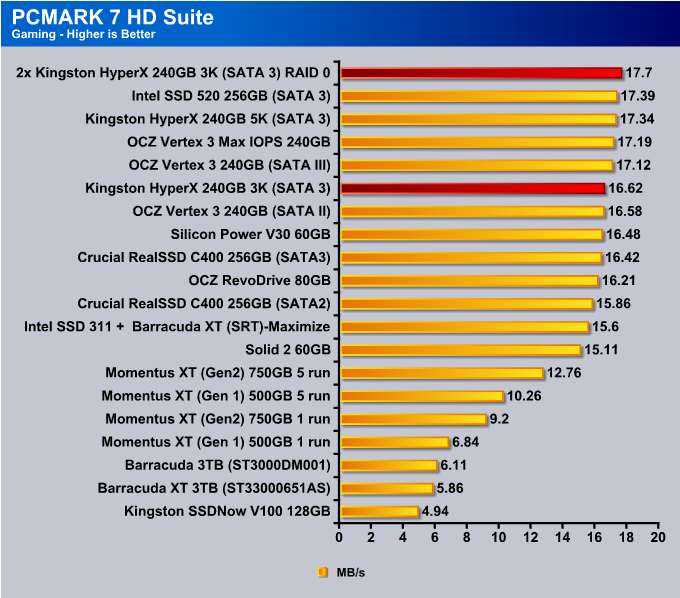 Application loading time and gaming is the key benefit of SSDs. As we compare all the SSDs tested till now, we can see a dramatic improvement over the standard hard drives. Notice that while there is a bigger performance increase between single SSD and dual SSD solution, the performance difference will not be as visible as some benchmarks show. This is because application loading is not just a single type of read from the storage device, but a mixture of different types. There is no other better way of measuring this than with PCMark 7.
CONCLUSION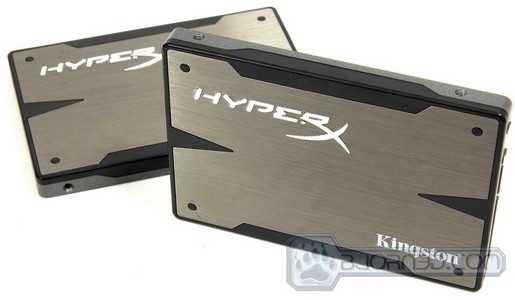 So far at Bjorn3D, we've reviewed multiple SSD's, but one does not simply review multiple SSD's without testing them in RAID. This is exactly what we've done today with the Kingston HyperX 240GB 3K SSDs, showing the performance potential users can get with RAID. For the same price as a single Kingston HyperX 480GB 3K SSD, you could buy two Kingston HyperX 240GB 3K SSDs and get double the overall performance that you would get with a single SSD. Let's not forget that going with this option does require some sacrifices, like the inability to use TRIM in RAID mode, and twice the possibility of data loss due to hardware failure. But, if that's not one of your concerns, and high-performance is your first priority, a RAID configuration is a great choice. We managed to reach up to 1178MB/s with two SSDs in RAID 0 on an X79 chipset.
When we first reviewed the Kingston HyperX 240GB 5K model, we were quite surprised that there was a $50 pricetag difference between the stand-alone kit and the upgrade kit. This wide gap in price is narrowed to only $10 price difference on the 3K models. With only a $10 dollar price difference between the stand-alone kit and the upgrade kit, the user gets an additional 2.5″ HDD or SSD USB 2.0 enclosure, Acronis True Image cloning software, and a magnetic screw driver to help with the installation of the SSD. It's a great deal if you ask us.
Besides that, a single Kingston HyperX 240GB 3K SSD performs quite well just like any Sandforce SF-2281 based SSDs on the market. It might be slightly slower than the 5K version which is more expensive as well, but for the price of the 3K models, you still get quite a bit of performance and a good amount of capacity.
OUR VERDICT: Kingston HyperX 240GB 3K SATA III SSD
| | |
| --- | --- |
| Performance | 8 |
| Value | 9 |
| Quality | 10 |
| Features | 10 |
| Innovation | 8.5 |

We are using a new addition to our scoring system to provide additional feedback beyond a flat score. Please note that the final score isn't an aggregate average of the new rating system.

Pros
Cons
Great Performance and Capacity at a reasonable priceAcronis True Image HD Migration Software Included

USB External Drive Bay for easy cloning

SATA 6.0Gbps Compatibility with SandForce SF-2281 Controller

2.5" to 3.5" Bracket

Extra accessories included for easy upgrade

USB 2.0 Enclosure: USB 3.0 would have been nicer.
Summary: Just like the Kingston HyperX 240GB 5K P/E SSD was a fantastic SSD for its  quality, performance and capacity, the HyperX 3K models also pack these exact features with the exception of less programmable and erasable cycles at a lower price. We can proudly say that the Kingston HyperX 240GB 3K SSD deserves the Bjorn3D Golden Bear Award.
2x Kingston HyperX 240GB 3K SSDs in RAID 0
We are using a new addition to our scoring system to provide additional feedback beyond a flat score. Please note that the final score isn't an aggregate average of the new rating system.

Pros
Cons
Outstanding Sequential Read / Write Performance reaching 1GB/s+ speeds.

2x240GB SSD RAID 0 is more price-efficient than one 480GB standalone SSD

All points in the previous table

More expensive than just a single SSDNo TRIM support in RAID

Lower or equal 4K Read performance in RAID 0 configuration over Single SSD setup.
Summary: We at Bjorn3D really liked the performance of the Kingston HyperX 240GB 3K SSDs in a RAID 0 configuration, and besides the TRIM support problem in RAID, we still believe RAID 0 is a fantastic option for those that need over 1GB/s read/write speeds with reasonable amount of storage space. This is why even though this configuration had some faults, we believe that the Kingston HyperX 240GB 3K SSDs in RAID 0 configuration deserve a 9.5 out of 10 points and the Bjorn3D Golden Bear Award.