Today we look at one of SilenX newest offerings in the 120mm CPU cooler market. This cooler is LGA 2011 compatible so we will put this to the test to see how exactly it will handle it.
introduction
For a while now, SilenX has mostly been off the radar of enthusiasts, as the company's focus has been primarily on silent coolers and not on extreme performance cooling. Today we are looking at the EFZ-120HA5 which is a silent cooler with triple direct touch 6mm heatpipes and is listed as LGA 2011-compatible, which means we can have a new X79 system without the noise associated with a performance cooler.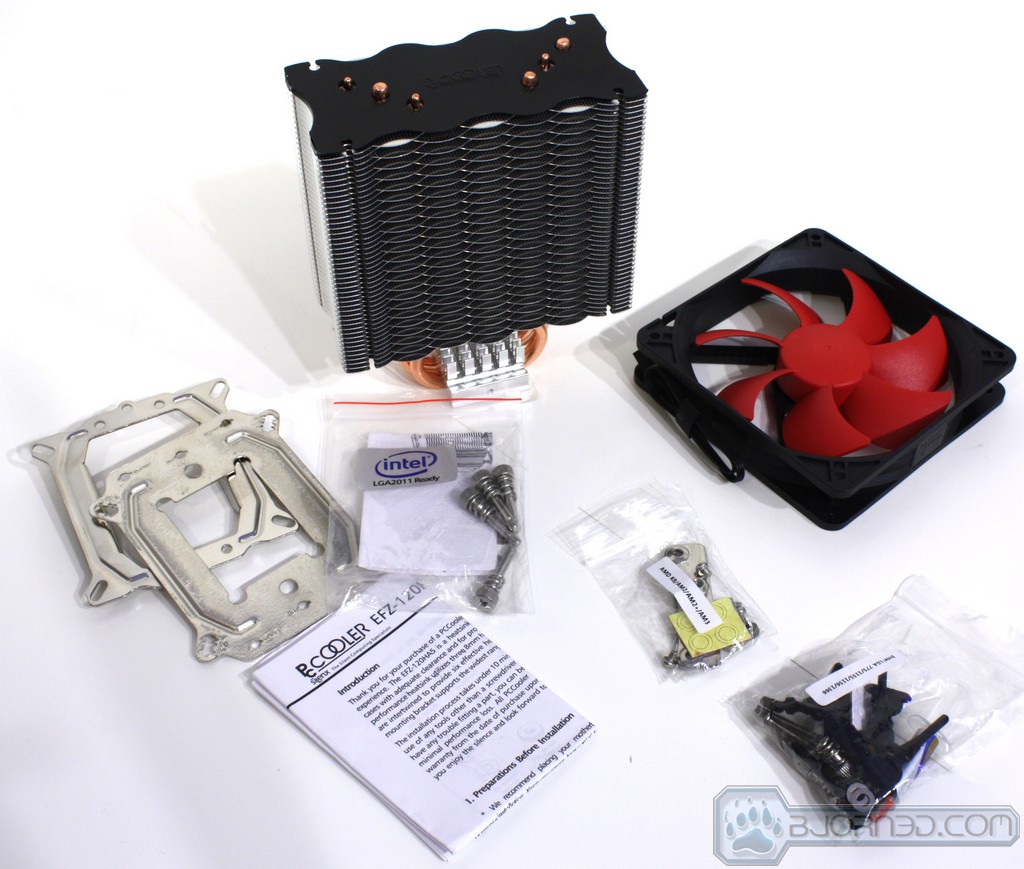 With a price tag of $32.99 presently this could be quite the bargain for anyone looking to build a new quiet high performance system. Now let's take a look at the performance and quality of the cooler as we get it installed.
Specifications
| | |
| --- | --- |
| sku | EFZ-120HA5 |
| rated dba | 8-24 |
| dimensions | 125x85x153mm |
| materials | copper heatpipes, anodized aluminum fins |
| weight | 648g |
| rpm | <1600 |
| cfm | 32-86 |
| operating voltage | 5-12v |
| current draw | <0.16A |
| power consumption | <1.92w |
| bearings | 3rd generation fluid dynamic bearings |
| intel cpu compatibility | lga775, lga1155/1156, lga1366, lga2011 |
| amd cpu compatibility | socket 754, 939, 940, AM2, AM2+, AM3 |
unboxing & first impressions
Click Image For a Larger One
The packaging for the SilenX cooler is well laid out with some key specs and marketing language with a cutout so we could see the cooler before ever even opening it. The internal support is a plastic clamshell style which contains all of the components, and everything looked like it would stay in place no matter the shipping condition. The clamshell also helps contain all of the accessory pieces very well as the plastic is molded to hold all of the accessories in place.
Click Image For a Larger One
Here we get a look at what comes in the box to help with installation and function of the SilenX cooler. Everything that is needed to install it on every current socket we can think of is included and well labeled in each package. All of the mounting hardware feels high quality and has a solid feel to it. The backplate has indexed notches to make sure that installation is made easy as possible for even the most novice user.
Click Image For a Larger One
Here we see the fan mounting which is anti-vibration rubber mounting which should be very familiar at this point as it has been widely used by many manufacturers and works quite well at not only solidly mounting the fan but eliminating noise and vibration. Next we get a quick look at the mounting screws and included thermal paste. Moving on to the fan we see the included ted bladed fan from SilenX which with our testing was very quiet across its operating range.
Click Image For a Larger One
Here we take a closer look at what makes this cooler work. First thing we notice would be the dimple array on the fins, which are said to improve airflow and enhance heat dissipation to help make the cooler more efficient at dissipating heat removed from the processor. Next up we see the triple 6mm heatpipes which wick away the heat from the CPU and move it up to the fins to be dissipated into the passing airflow.
Click Image For a Larger One
Lastly we look at the meat of the cooler as we delve into the direct touch heatpipe base. Here we see the contact from the heatpipes to the fin array and even the bonding of the heatpipes to the base itself. Being a triple 6mm heatpipe array we have to admit up front that this is not a high performance overclocking cooler and is more for those looking for a ultra quiet cooler for your performance build.
Testing
TEST RIG
Test Rig

Case
Open air, desk
CPU

Intel Core i7 920 @ 3.8GHz

Motherboard
Gigabyte X58A-OC

Ram

Kingston HyperX T1 1600MHz

CPU Cooler(s)

SilenX EFZ-120HA5

Fans
2x 230mm Cooler Master case fans
Hard Drives

1TB Seagate 7200.12

2TB Seagate 5400RPM

2x 1TB Seagate ST31000524AS

Optical
Super WriteMaster DVD-Burner
GPU


Nvidia GeForce GTX 580

Additional Cards

N/A
PSU

Thermaltake ToughPower Grand 1200W

Mouse
Tt eSPORTS MEKA G1
Keyboard
Logitech G15
METHODOLOGY
During the testing stage of this review, we will be testing with Wprime looping consistently until the temperature levels out so we know the theoretical max we will see while doing about the most stressful tasks such as video encoding or other heavy processor bound tasks, 
For testing we choose not to use such programs as LINX or other linpack tests as we have found that those testing utilities can work as a power virus and cause premature failure of power circuits and processors.
RESULTS
As we can see from the results above, the SilenX cooler can handle a small overclock pretty well and even at max overclocked temp, we did not hear the fan over anything else in the system. This is a rather impressive cooler.
Conclusion
The SilenX EFZ-120HA5 proved itself to be an impressive cooler and for anyone looking for a very quiet cooler for their performance gamer and not looking to push the processor too far this cooler is an excellent choice. The price is very good, the quality of the mounting is extremely solid, and feels like a very quality piece for a low cost cooler.
All things considered, this unit is not made for a heavy overclock or high end enthusiast. This is more for those users that want silent performance at the expense of overclock-level cooling. Nonetheless, this is a good cooler.
OUR VERDICT: SilenX EFZ-120HA5 Cooler
| | |
| --- | --- |
| Performance | 8.5 |
| Value | 9 |
| Quality | 9 |
| Features | 8 |
| Innovation | 9 |

We are using a new addition to our scoring system to provide additional feedback beyond a flat score. Please note that the final score isn't an aggregate average of the new rating system.

Pros
Cons

Good performance

Quiet solution for the cooling performance delivered

Solid mounting design

Rubber fan mounting is efficient and easy to use

Limited overclocking headroom

 

 

 
Summary: The SilenX EFZ-120HA5 has excellent cooling performance for the absolute quiet you get, and its low price earns the SilenX EFZ-120HA5 the Bjorn3D Silver Bear Award.