The ASUS 990FX Sabertooth is a good offering for the 990FX chipset, and would pair well with the recently released Bulldozer CPU's. Keep reading to see how well it does in our benchmarks!
Introduction
So far, Intel has wowed the computer industry with its P67 and Z68 chipset boards, designed to go with their newest Sandy Bridge architecture. In addition, 2011 has seen the launch of the Sandy Bridge-E series extreme processors, and 2012 will bring the Ivy Bridge die shrink. Intel's steady march forward had created enormous pressure on AMD to release their long-delayed Bulldozer.
Today we're looking at the ASUS 990FX Sabertooth, which is meant to be ASUS' offering to the enthusiast market. The board comes with a plethora of features, all of which we'll cover.
The ASUS 990FX Sabertooth uses the AM3+ socket, which fits a large number of AMD processors. AMD has a good history of offering backwards compatibility, making it a favorite of more mainstream users who don't necessarily need the extreme performance offered by Intel CPUs, and also don't want to spend money on a new motherboard every time they upgrade their processor.
The AMD 990FX Chipset
The 990FX represents the flagship chipset targeting the enthusiasts and hardcore gamers. The 990FX is essentially the same chipset as the 890FX. The chipset is manufactured by TSMC's 65nm fabrication process just like the 890FX. The 990FX sports 42 PCI Express 2.0 lanes. 32 of the 42 lanes are split between the two PCIE x16 slots for multi-GPU support in 2×16 or 16+2×8, or 4×8 configurations. It is not a surprise that the board will support AMD CrossFireX in 2 or 3-way configurations. Here is the kicker; the new chipset brings NVIDIA SLI support back to the AMD platform. After a few years of preventing AMD systems from running SLI and forcing motherboard manufacturers to rely on third party chips like the Lucid as seen on the ASUS Crosshair IV Extreme, NVIDIA finally granted the SLI license to AMD. The chipset supports 2-way and 3-way SLI. The 990FX's 10 extra PCI Express 2.0 lanes are split in one PCI-E x4 and six PCI-E x1 which can be used for additional expansion cards or to interconnect other devices such as USB 3.0 and Ethernet.
The Southbridge for the new platform is still the same old SB850 except it is being renamed to SB950. While the chip is a year old, it's not completely outdated so it is still a good choice. It supports six SATA 6Gbps and 14 USB 2.0 ports. The lack of USB 3.0 is a bit of a disappointment. To be fair, the latest Z68 chipset only supports 2 SATA 6Gbps and does not offer USB 3.0 support. So at least AMD offers more SATA 6Gbps. Still, we would prefer to see USB 3.0 natively supported. There are four additional PCI-E 2.0 x1 lanes available on the chip. Finally, keeping with backward compatibility, the chip still supports the aging PCI 2.2 and parallel ATA.
Features
The ASUS 990FX Sabertooth is packed with features. However, it curiously does not come with the thermal armor that adorns the P67 Sabertooth. This is especially strange considering that the P67 chipset is a direct competitor to AMD's 990 chipset.
This board does have the Thermal Radar feature, however, which makes it easier to monitor temperatures across the board.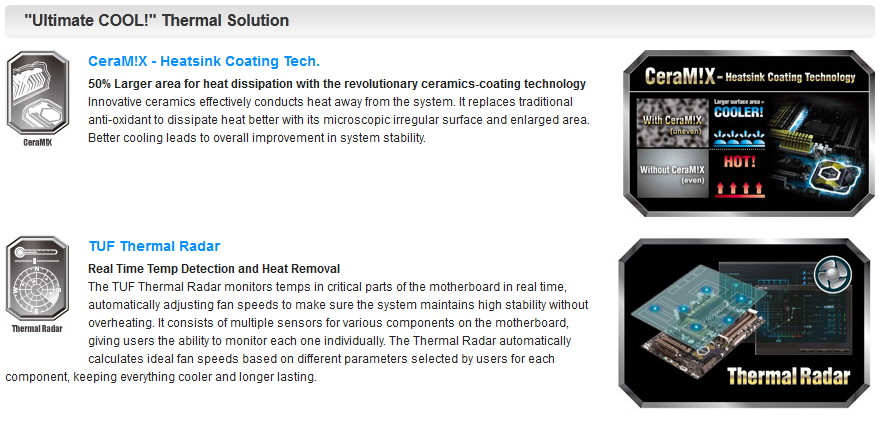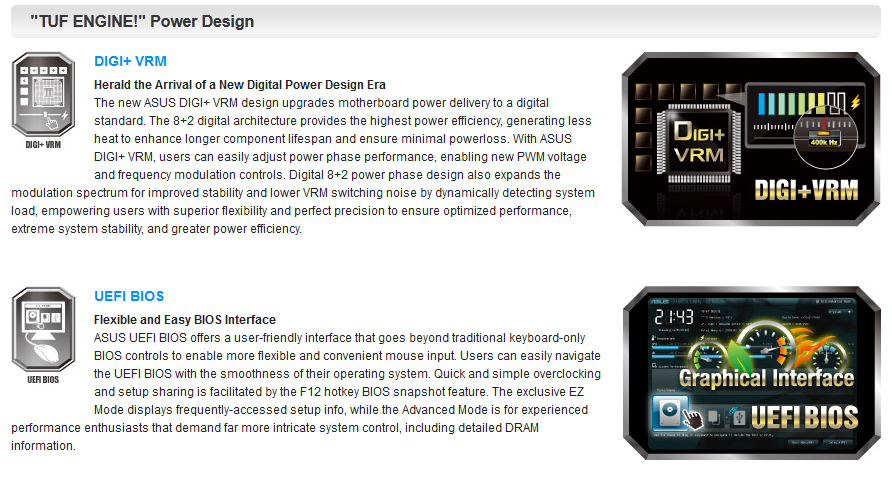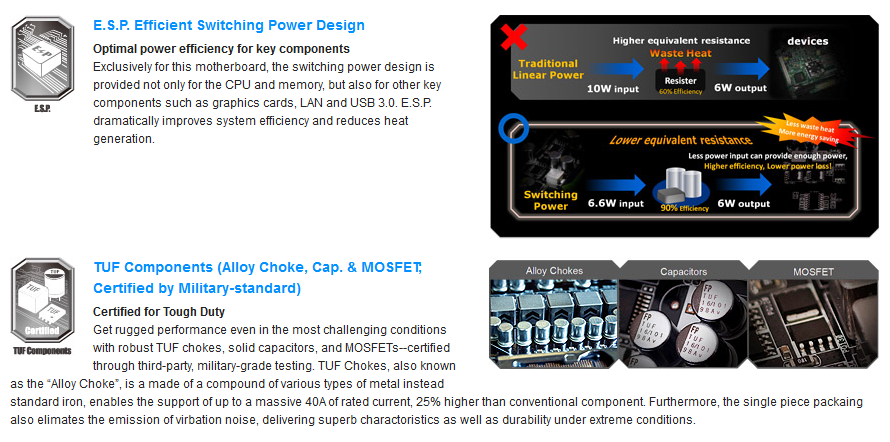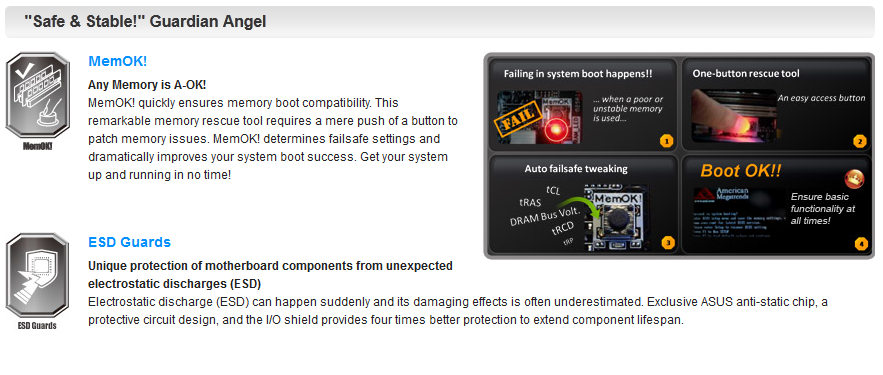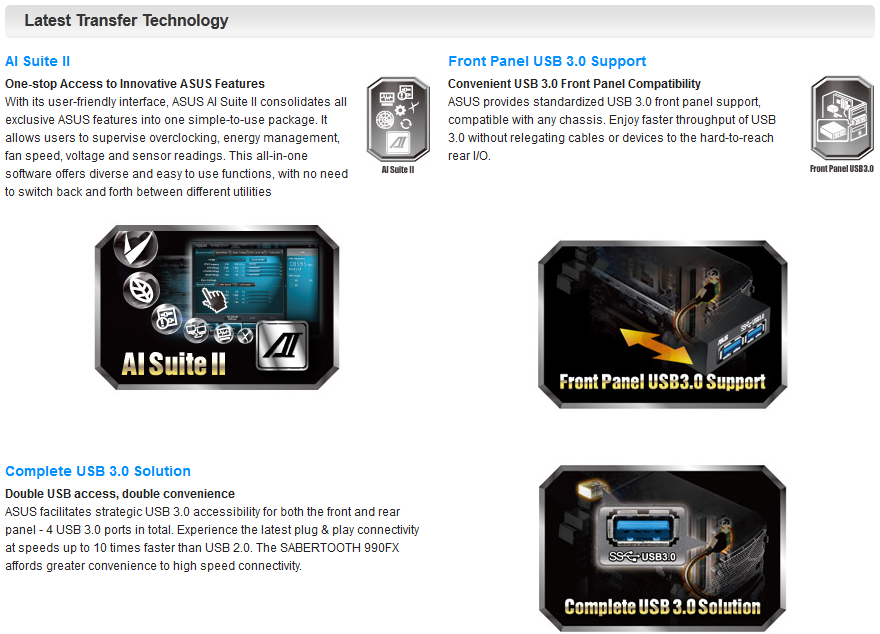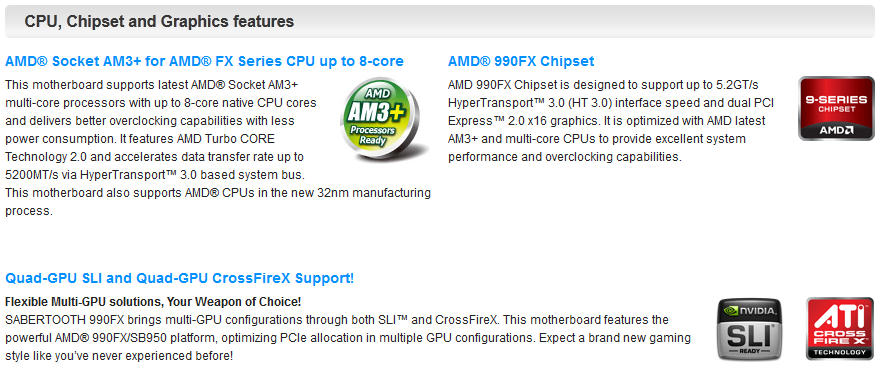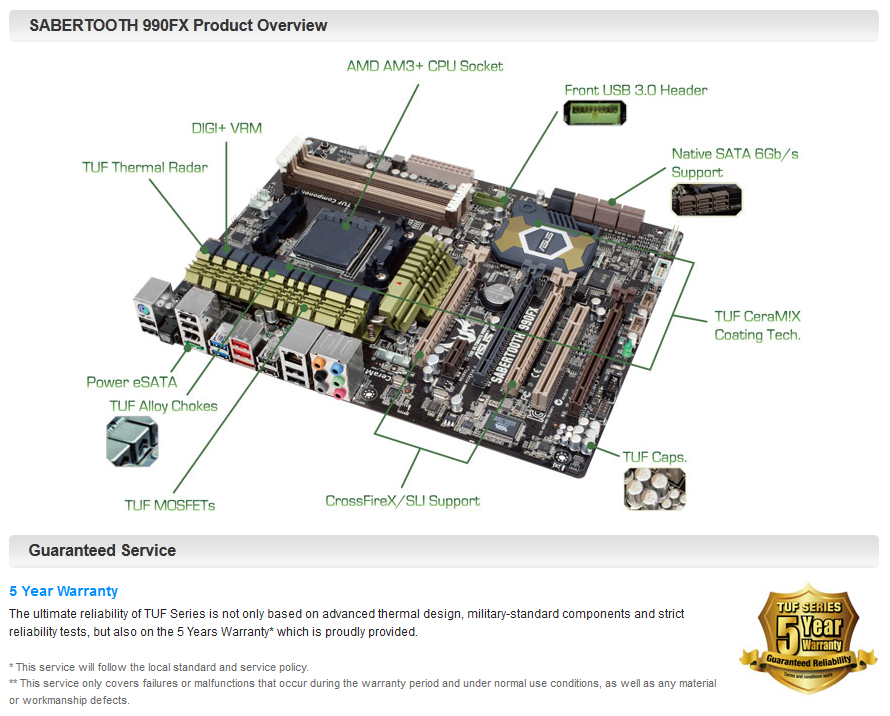 Specifications
Specifications

ASUS 990FX Sabertooth

CPU

AMD AM3+ FX™/Phenom™ II/Athlon™ II/Sempron™ 100 Series Processors
Supports AM3+ 32 nm CPU
Supports CPU up to 8 cores
Supports CPU up to 140 W
AMD Cool 'n' Quiet™ Technology

Memory

4 x DIMM, Max. 32GB, DDR3 1866/1600/1333/1066 Hz ECC, Non-ECC, Un-buffered Memory
Dual Channel Memory Architecture
* Refer to www.asus.com or user manual for the Memory QVL (Qualified Vendors Lists).
* Due to OS limitation, when installing total memory of 4GB capacity or more, Windows® 32-bit operation system may only recognize less than 3GB. Install a 64-bit Windows® OS when you want to install 4GB or more memory on the motherboard.
* Due to CPU spec., AMD 100 series CPUs support up to DDR3 1066MHz. With ASUS design, this motherboard can support up to DDR3 1333MHz.

Multi-GPU Support?

Supports NVIDIA® Quad-GPU SLI™ Technology
Supports AMD Quad-GPU CrossFireX™ Technology
Expansion Slots

3 x PCIe 2.0 x16 (dual x16 or x16, x8, x8) *1
1 x PCIe 2.0 x16 (x4 mode, black)
1 x PCIe 2.0 x1
1 x PCI

Storage

AMD SB950 controller :
6 x SATA 6Gb/s port(s), brown
Support Raid 0, 1, 5, 10
JMicron® JMB362 controller :
2 x SATA 3Gb/s port(s), black
1 x Power eSATA 3Gb/s port(s), green
1 x eSATA 3Gb/s port(s), red

LAN

Realtek® 8111E , 1 x Gigabit LAN Controller(s)

Audio

Realtek® ALC 892 8-Channel High Definition Audio CODEC
– Supports : Jack-detection, Multi-streaming, Front Panel Jack-retasking
Audio Feature :
– Absolute Pitch 192kHz/ 24-bit True BD Lossless Sound
– Blu-ray audio layer Content Protection 
– ASUS Noise Filter
– Optical S/PDIF out port(s) at back panel

IEEE 1394

VIA® 6308P controller
2 x IEEE 1394a port(s)
(1 at mid-board, 1 at back panel)

USB Ports

ASMedia® USB 3.0 controller :
4 x USB 3.0 port(s) (2 at back panel, blue, 2 at mid-board)
AMD SB950 controller :
14 x USB 2.0 port(s) (10 at back panel, black+red, 4 at mid-board)

Special Features

ASUS Dual Intelligent Processors 2 with DIGI+ VRM :
TUF ENGINE! Power Design :
– 8 +2 Digital Phase Power Design
– TUF Components (Alloy choke, Cap. & MOSFET; certified by military-standard)
– ASUS DIGI+ VRM Utility
– E.S.P. : Efficient Switching Power Design
Ultimate COOL! Thermal Solution :
– TUF CeraM!X Heatsink Coating Tech.
– TUF Thermal Radar
ASUS Exclusive Features :
– MemOK!
– AI Suite II
– Anti-Surge
– ESD Guards
– Front Panel USB 3.0 Support
– ASUS UEFI BIOS EZ Mode featuring friendly graphics user interface
ASUS EZ DIY :
– ASUS Q-Shield
– ASUS O.C. Profile
– ASUS EZ Flash 2
– ASUS MyLogo 2
– Multi-language BIOS
ASUS Q-Design :
– ASUS Q-LED (CPU, DRAM, VGA, Boot Device LED)
– ASUS Q-Slot
– ASUS Q-DIMM
– ASUS Q-Connector

Rear I/O

1 x PS/2 keyboard/mouse combo port(s)
1 x eSATA 3Gb/s
1 x Power eSATA 3Gb/s
1 x IEEE 1394a
1 x LAN (RJ45) port(s)
2 x USB 3.0
10 x USB 2.0
1 x Optical S/PDIF out
6 x Audio jack(s)

Internal I/O

1 x USB 3.0 connector(s) support(s) additional 2 USB 3.0 port(s) (19-pin, moss green)
2 x USB 2.0 connector(s) support(s) additional 4 USB 2.0 port(s)
1 x COM port(s) connector(s)
6 x SATA 6Gb/s connector(s)
2 x SATA 3Gb/s connector(s)
1 x IEEE 1394a connector(s)
1 x CPU Fan connector(s) (4 -pin)
4 x Chassis Fan connector(s) (3 x 4 -pin, 1 x 3 -pin)
1 x Optional Fan connector(s) (4 -pin)
1 x S/PDIF out header(s)
1 x 24-pin EATX Power connector(s)
1 x 8-pin ATX 12V Power connector(s)
1 x Front panel audio connector(s) (AAFP)
1 x System panel(s) (Q-Connector)
1 x MemOK! button(s)
1 x Clear CMOS jumper(s)
Overview of the 990fx Sabertooth
The 990FX Sabertooth comes in the standard metallic silver cardboard box, with the TUF label on the front and back. The board's box has an inside flap with a detailed listing of the features, including TUF Components and the AI Suite II. The flap is a little flimsy, and can come off the rear side of the box if pulled hard enough, but we doubt anybody would do this.
Here we have our first look at the motherboard. The board is packaged in an anti-static bag, a good foresight on ASUS' part. The motherboard can then be lifted out of the box for the accessory and manual bundle, which will be covered further on in the review. The board itself is a decently sized board with the military green and brown color scheme typical of the TUF brand.
The board's features are clearly visible here, including the six SATA 6 Gbps ports, two SATA 3 Gbps ports, and four dual-channel DIMM slots. The board supports up to 32GB of DDR3 1866/1600/1333/1066 MHz memory. The board uses an AMD AM3+ socket, which fits most modern AMD processors from the Phenom II, Athlon II, and Sempron lines. It supports a maximum of 8 CPU cores, with a maximum CPU TDP of 140W.
The ASUS 990FX Sabertooth comes with four SATA data cables, a rear I/O panel, Q-connectors, an SLI-bridge, and user manuals.
A Closer Look at the 990FX Sabertooth
Let's move on to the Sabertooth board, and take a closer look at its components.
ASUS' main focus with this board is bringing the TUF brand to AMD platforms. Up till now, AMD boards have been mostly overlooked for performance enhancements in favor of Intel boards. With the release of the 990 chipset, and the impending release of Bulldozer, however, ASUS has decided to bring its well-known TUF brand to AMD platforms.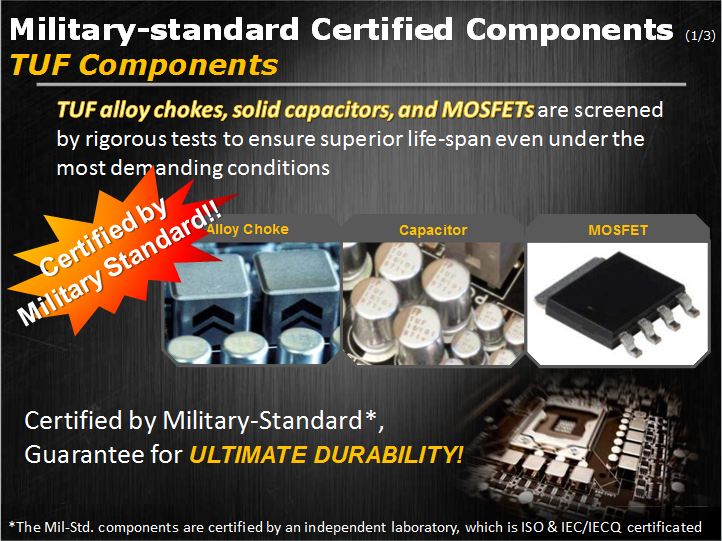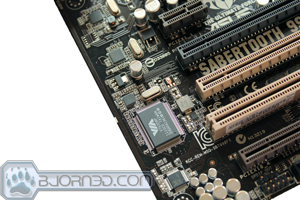 Here we can see the actual components ASUS uses. On the bottom are high quality capacitors, advertised as the "TUF Caps" feature. These are conductive polymer aluminum solid capacitors, and are supposed to last 2.5x as long as regular capacitors. Additionally, the board uses TUF MOSFETs, which allow this board to withstand extreme temperatures, between -65C and 150C. The board also uses alloy core chokes instead of the standard ferrite core chokes, which are pure iron. The alloy chokes use a combination of metals for extra durability and higher inductance, which leads to a more stable power supply across the board.
Here, we can also see a few very important chips. The VIA IEEE 1394a controller controls the IEEE 1394 ports at the bottom of the board. The chip allows up to 2 1394 ports, one in the back I/O and one in the internal headers. We can also see the JMicron SATA controller. This chip controls the two SATA 3 Gbps ports (black), the Power eSATA 3 Gbps port (green) and eSATA 3 Gbps port (red) on the rear I/O panel. The SATA 6 Gbps ports are all controlled by the AMD SB950 chip. The Realtek 8111E chip above the JMicron chip is the Gigabit LAN controller. Like the P67 Sabertooth board, this board only has one LAN port. Below the VIA chip is the Realtek ALC 892 8-channel audio controller, which controls the audio ports on the rear I/O.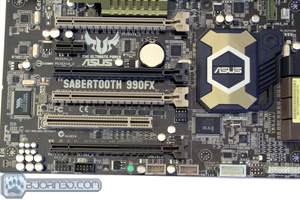 Moving on to the expansion slots, we can see that the board has four PCI-E x16 slots. However, only slots one and three (light brown) are electrically x16. Slots two (grey) is x4 and slot four (dark brown) is x8. The board's 32 PCI-E lanes can also be split for 2-way and 3-way SLI or CrossFireX. For a two-card configuration, the two x16 slots will stay x16. For a three-card setup, the lanes will be split into a (x16, x8, x8) configuration. Overall, the board supports up to four GPU's. However, this must be in a two dual-GPU card configuration; a four single-GPU card setup is not supported. ASUS designed the expansion slot spacing on this board well. The board's two x16 slots are spaced well apart, so there is minimal thermal interaction between the cards. Additionally, the x8 slot is at the very bottom, so there will also be less heat given off to the topmost card in a 3-way configuration.
The board also has a PCI-E x1 slot and a PCI slot. Between the top x16 slot and the x1 slot, we can see something labelled "VGA_LED". This is one of the Sabertooth's boot LED's. These LED's are interspersed throughout the board to help detect errors in booting. For instance, if there is an error with the GPU, the VGA_LED will light up. If there is an error with the boot drive, the BOOT_DEVICE_LED will light up. If there is an error with the memory, the DRAM_LED will light up. We'll show the placement of each of these as we cover the respective sections of the board on this page.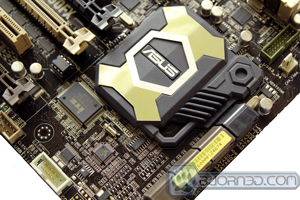 Here we can see the South Bridge area, with a large heatsink over the actual chip itself. We can take a moment here to introduce the CeraM!X coating feature that ASUS includes on this board. The surfaces of most motherboard heatsinks are smooth. On this board, however, the heatsink has a coarser, rougher texture. According to ASUS, this is actually a major part of the CeraM!X feature. CeraM!X uses a rough and uneven ceramic material for its heatsink coatings. The porous nature of the ceramic coating increases surface area for heat dissipation, allowing the board to run cooler. According to ASUS, the ceramic surface increases available surface area for heat dissipation by as much as 50%.
Underneath the South Bridge is the BOOT_DEVICE LED. This LED will light up during boot if the computer encounters an error with the boot drive. Below the South Bridge is also the TPU control chip. The TPU allows for better overclocking by offering more precise voltage control and advanced monitoring through the Auto Tuning and TurboV functions. To the right of the South Bridge heatsink, we can see the SATA ports. One of our favorite features of this motherboard is the native SATA 6 Gbps support. The board has six SATA III ports, all controlled by the AMD SB950 South bridge chip. It also has two SATA II ports, based off the JMicron controller. The SATA III support is heartening to see, because SATA III has become the standard of choice. Though SATA platter drives cannot even saturate the 3 Gbps bandwidth, SSD's, and SATA or SAS (Serially Attached SCSI) drives in arrays can easily saturate the SATA II bandwidth, causing bottlenecks for file-intensive programs. The addition of native SATA III support in the form of six SATA III ports on the board is definitely good to see.

This is the area behind the DIMM slots. The green header to the left of the DIMM slots is a USB 3.0 front panel extension unit header. However, though the board has the USB 3.0 front panel support, it does not actually come with a header. However, since we also have an ASUS P8P67 Deluxe board (which does include the extension unit), we will use that in our system. Nonetheless, we would have preferred ASUS to include the extension unit with the board, since this board requires users to buy it separately.
Directly below the DIMM slots is the 24-pin EATXPWR plug. On the right side of the picture, we can see a button and a light labeled "DRAM_LED". This light is one of the boot error lights on the board; it will light up if there is an error with the memory during booting. This makes it very easy to identify where a problem is during bootup. Above the light is a button labelled "MemOK!", which resets the memory to fail-safe specifications.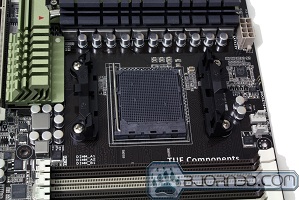 Here we can see the area around the CPU socket. The board comes with screwed-on fasteners for the stock heatsink associated with the AM3+ socket. It is, of course, possible to unscrew this to mount an aftermarket CPU cooler. To the bottom right corner of the socket is the CPU_LED. This LED lights up if there is an error with the CPU during booting. At the top of the socket we can see the +12v EATX power connector and two 4-pin PWM fan headers for the CPU cooler. This is definitely a nice touch for users who have two fans on their CPU coolers. We would have taken advantage of this extra PWM header had our high-clearance RAM not obstructed the right side of our cooler. The fact that these headers are 4-pin headers makes the deal sweeter, as it means users can adjust their CPU cooler's fan speeds.
Around the CPU is the 8+2 phase power design of the board, and the TUF components such as alloy chokes, aluminum solid capacitors and TUF MOSFETs. The most prominent feature, the large green and black heatsink, is screwed onto the PCB. This is a definite advantage over boards that use push-pins to fasten socket area heatsinks, as the screws allow for better thermal contact against the components. The heatsinks on this board are connected by a heatpipe, and are specially designed, using the same CeraM!X coating as the South Bridge heatsink does. They are also fairly low to the  PCB, and should not present clearance issues for even the largest coolers. We tried installing the gargantuan Thermalright Venomous X cooler, which cleared the heatsinks with ease, and only the fan attachment clips got caught, though with a little fiddling these also cleared.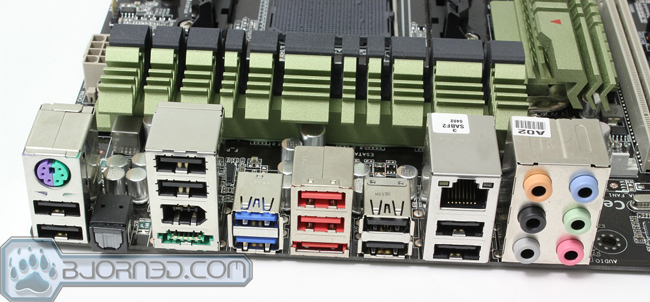 Finally, rounding off our closer look at the board, we have the rear I/O ports:
1 x PS/2 keyboard/mouse combo port(s)
1 x eSATA 3Gb/s
1 x Power eSATA 3Gb/s
1 x IEEE 1394a
1 x LAN (RJ45) port(s)
2 x USB 3.0
10 x USB 2.0
1 x Optical S/PDIF out
6 x Audio jack(s)
Overall, we were mostly satisfied with the I/O ports. The two eSATA ports give the board much more versatility. We do, however, wish that the board had more than 2 USB 3.0 ports, especially now that USB 3.0 is slowly but surely usurping its predecessor's place as the standard. A couple more USB 3.0 ports on the rear panel would have been a great addition to see, considering that the board does not even come with its own USB 3.0 front panel extension unit.
BIOS
The ASUS 990FX Sabertooth uses a fully UEFI BIOS, meaning it has a graphical user interface that supports input functions with the mouse as well as the keyboard. In addition to looking flashy, it supports 2.2+ TB hard drives.
ASUS will need a BIOS update to use this board with a Bulldozer CPU.
By default, when users enter the board's BIOS, they will see the EZ Mode. The EZ mode shows very basic information about the system. The page is very much like the "Standard CMOS" page on the old text-based BIOS. Here users get to select the boot device priority, power saving mode, and the language.
Clicking on "Exit/Advanced Mode" in the upper right hand corner will bring up more options for advanced users. This is also where users can find overclocking tools. To navigate in the advanced mode, users can click on a tab on the top to display the settings below. Alternatively, users can use the keyboard to navigate through the BIOS. To go back to the previous page, click the back button or use the ESC key like the older BIOS. Navigating around the BIOS can be done with the keyboard's arrow keys or the mouse.
Just like the EZ Mode in the EFI BIOS, the Advanced BIOS has a very similar Main section where the user can change basic settings including Language, Date, Time and Security options.
This is ASUS' AI Tweaker. Here, users can adjust their system's specifications, including CPU Ratio, Memory and CPU/NB frequencies, AMD Turbo Core, and component voltages. Users can also adjust their memory latencies and drive information. This is where all the basic tweaking is done.
This is where users can adjust advanced options for the CPU, Memory, storage, and North Bridge. 
This is where users can adjust additional peripheral options, including the OHCI drive bus, USB 3.0 support, and legacy USB support. Users can also adjust the ASUS Core Unlocker and CPU Core activation, which allows users to activate extra cores on the CPU. 
Monitor, Boot, and Exit
The monitor and boot sections allow users to monitor their system temperatures and fan speeds. The Boot menu allows users to select their boot priorities, and the ASUS utilities allow users to flash their BIOS (among other things).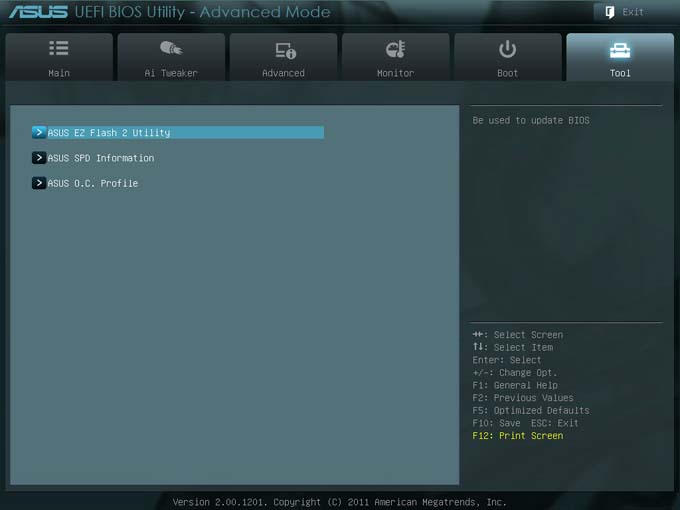 Testing & Methodology
We've expanded our testing suite considerably for the 990 chipset, and will continue to use the same methods for most of the motherboards and CPU's we test. In the interests of thoroughness and accurate results, we run each test at least three times, and some tests more than that. We average the total of all the tests from each benchmark then report the average here.
The OS we use is Windows 7 Pro 64bit with all patches and updates applied. We also use the latest drivers available for the motherboard and any devices attached to the computer. We do not disable background tasks or tweak the OS or system in any way. We turn off drive indexing and daily defragging. We also turn off Prefetch and Superfetch. This is not an attempt to produce bigger benchmark numbers. Drive indexing and defragging can interfere with testing and produce confusing numbers. If a test were to be run while a drive was being indexed or defragged, and then the same test was later run when these processes were off, the two results would be contradictory and erroneous. As we cannot control when defragging and indexing occur precisely enough to guarantee that they won't interfere with testing, we opt to disable the features entirely.
Prefetch tries to predict what users will load the next time they boot the machine by caching the relevant files and storing them for later use. We want to learn how the program runs without any of the files being cached, and we disable it so that each test run we do not have to clear pre-fetch to get accurate numbers. Lastly we disable Superfetch. Superfetch loads often-used programs into the memory. It is one of the reasons that Windows occupies so much memory. Vista fills the memory in an attempt to predict what users will load. Having one test run with files cached, and another test run with the files un-cached would result in inaccurate numbers. Again, since we can't control its timings so precisely, it we turn it off. Because these four features can potentially interfere with benchmarking, and and are out of our control, we disable them. We do not disable anything else.
Test Rig
Case
Zalman Z9 Plus Mid-Tower Case
CPU

AMD Phenom II X6 1090T
AMD FX-8150 (Bulldozer)

Motherboard
ASUS 990FX Sabertooth
Ram

Kingston H2O 8GB (4x2GB) DDR3 2133MHz 9-9-9-27

CPU Cooler
Thermalright Venomous X CPU Cooler
Storage
1x WD Caviar Black 1TB 7200RPM
Optical
ASUS DVD Burner
GPU

1x Nvidia GeForce GTX 560 Ti

Fans

2x SilenX 120mm Ice Blue Quiet LED Fan (bottom left side panel)
1x 120mm (rear panel)
1x 120mm (bottom front panel)
2x 120mm (top panel)

PSU

Corsair HX Series 750W Modular Power Supply

Mouse
Razer Lachesis
Keyboard
Logitech Keyboard
Test Suite
We will use the following applications to test the performance of the Motherboard. Benchmarks
Benchmarks
SiSoft Sandra
PCMark Vantage
Cinebench R10
Cinebench R11.5
3DMark 11
Crysis Warhead
Dirt 2
AIDA64
TrueCrypt
x264 HD
Overclocking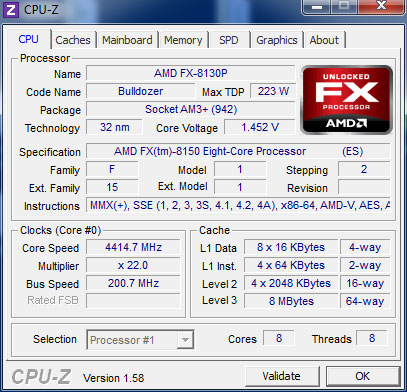 Due to time constraints, we were not able to play with the overclocking on the Sabertooth as much as we would've liked. However, we were able to overclock the CPU to 4.4GHz without much trouble by simply setting the CPU voltage to 1.45V, loadline calibration to 120%, voltage over current protection to 120% and PWM mode to extreme. With these settings, we were able to boot the system up at 4.5GHz, but the system would crash when we ran Prime95. We brought it down to 4.4GHz and it ran stable.
Important note: Overclocking can cause component failure.  Please exercise caution when attempting any level of overclock on system components.
Temperatures

The temperatures were recorded with Realtemp while running Wprime 1024 right before the end of the 5th run. The results were recorded carefully. After the results were recorded, we waited for 30 minutes before taking Idle temperature measurements. The results were as follows:
| | |
| --- | --- |
| CPU Temperatures | Temperature (Idle/Load) |
| ASUS Sabertooth (OC) | 48C/73C |
| ASUS Sabertooth | 36C/61C |
| Chipset Temperatures | Temperature (Idle/Load) |
| ASUS Sabertooth (OC) | 38C/48C |
| ASUS Sabertooth | 33C/42C |
We were lucky enough to be able to mount our Swiftech Edge H20-220 kit to give us a bigger temperature headroom. The ASUS Sabertooth has fairly low temperatures, and its CeraM!X special coating does alleviate temperature constraints somewhat, though the extent to which this is effective will also depend on case ventilation.
Power Consumption

The power consumption was tested while running Wprime 1024 for a few minutes at stock settings. The results were recorded carefully with a Kill-A-Watt power consumption measuring tool at the wall. After the results were recorded, we waited for yet another few minutes minutes before taking Idle power consumption measurements.
| | |
| --- | --- |
| Configuration | Power Consumption (Idle/Load) |
| ASUS Sabertooth (OC) | 118W/274W |
| ASUS Sabertooth | 119W/239W |
The ASUS board consumes a decent bit of power, but it is within range.
SiSoft Sandra 2011
"SiSoftware Sandra (the System Analyzer, Diagnostic and Reporting Assistant) is an information & diagnostic utility. It should provide most of the information (including undocumented) you need to know about your hardware, software and other devices whether hardware or software. It works along the lines of other Windows utilities, however it tries to go beyond them and show you more of what's really going on. Giving the user the ability to draw comparisons at both a high and low-level. You can get information about the CPU, chipset, video adapter, ports, printers, sound card, memory, network, Windows internals, AGP, PCI, PCI-X, PCIe (PCI Express), database, USB, USB2, 1394/Firewire, etc."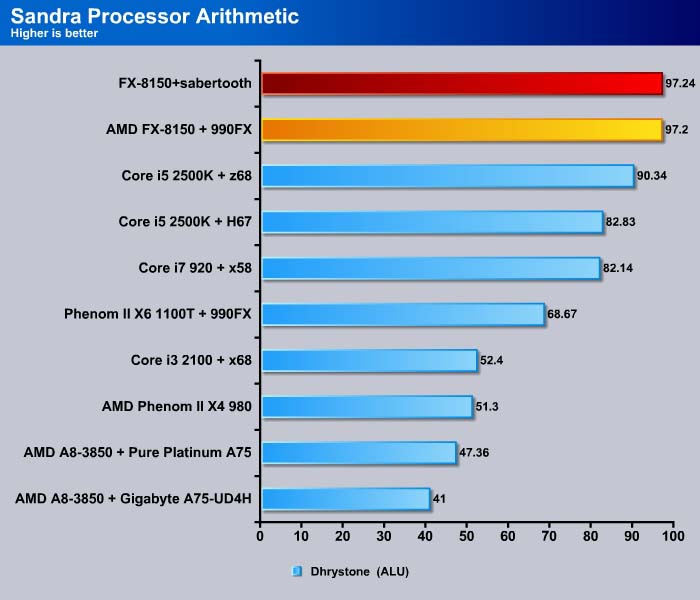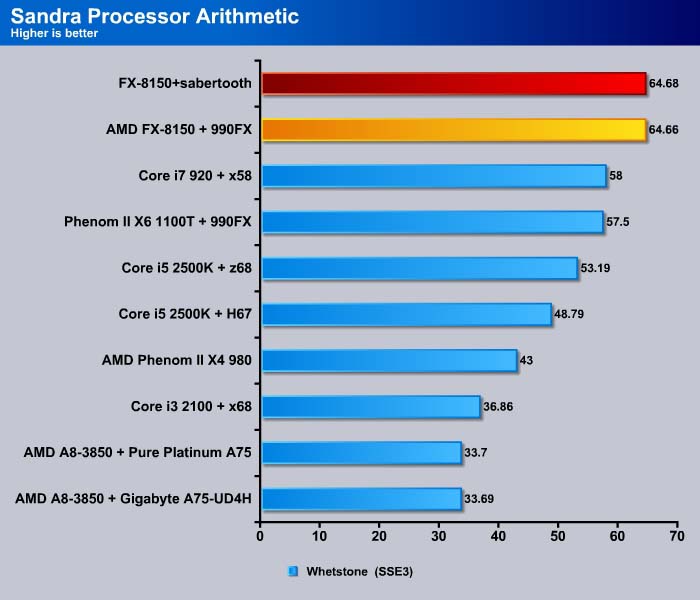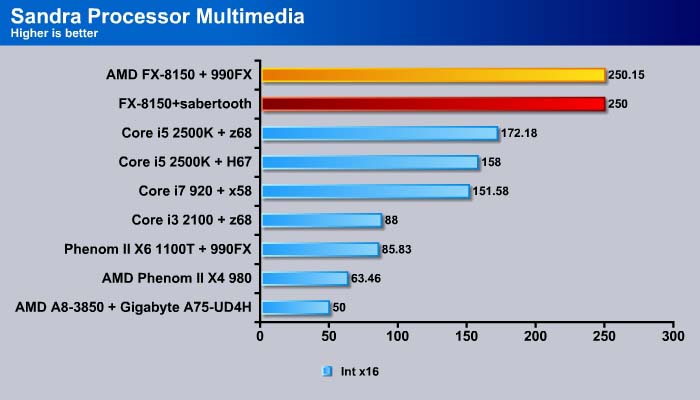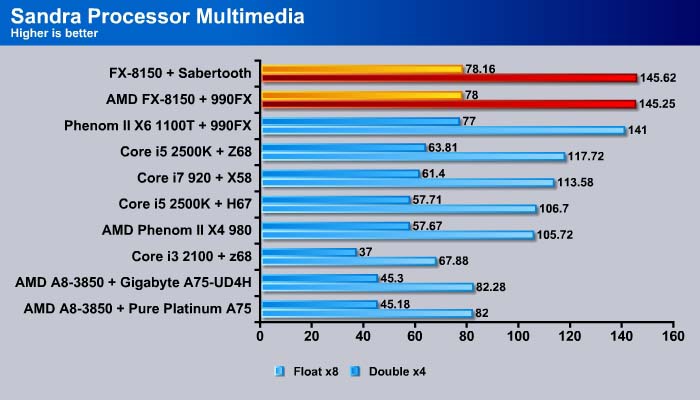 In Sandra, we can see that the ASUS Sabertooth 990FX performs within the range for the 990FX series boards. Performance does not vary much from board to board. Features and personal preference will be more of a driving force for the end user's purchasing decision.
PCMark Vantage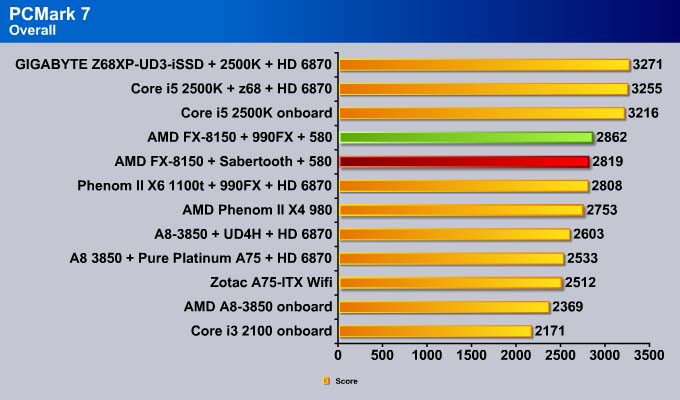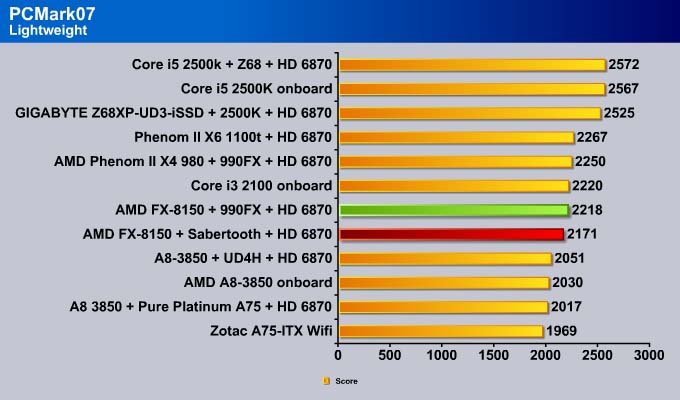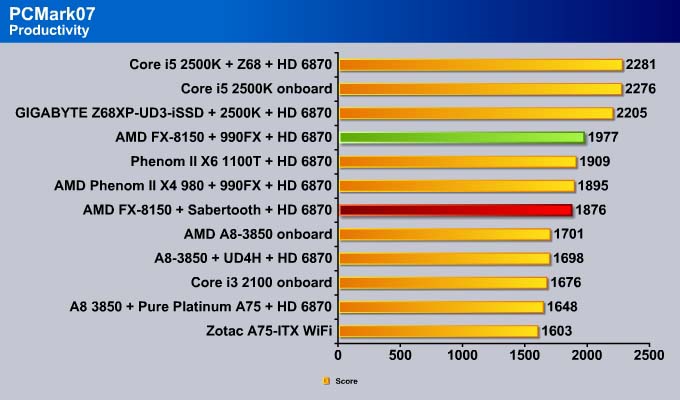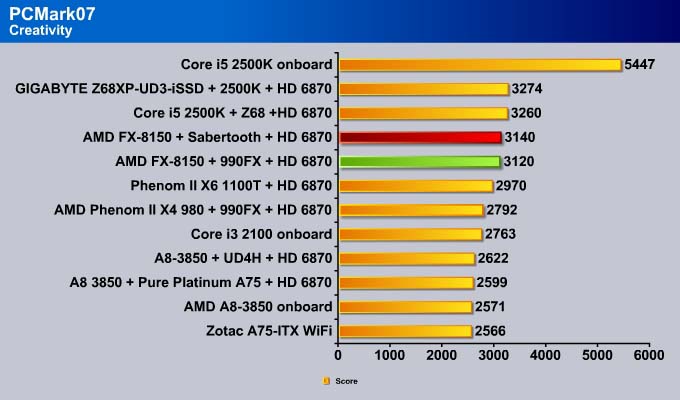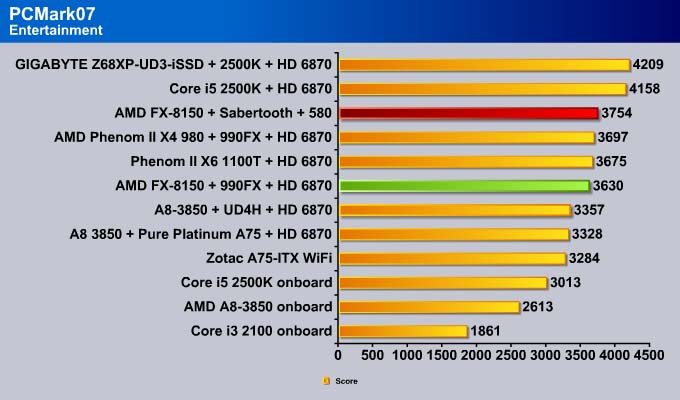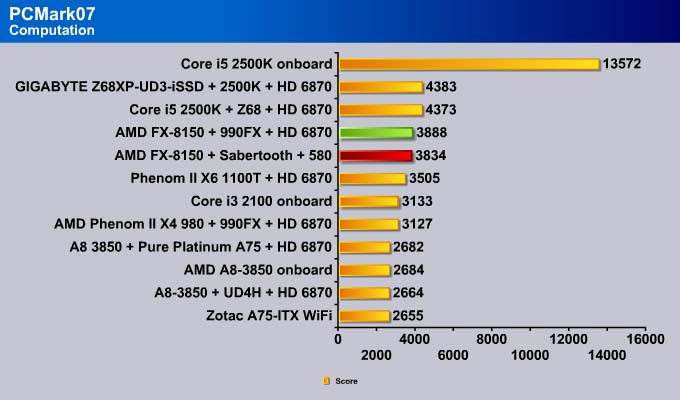 As we can see in PCMark Vantage, the ASUS 990FX Sabertooth comes in ahead of all other AMD-based boards. Though motherboards don't usually provide a very high difference in performance, the fact that the ASUS board comes in ahead of all other motherboards in its chipset class speaks to its performance capabilities.
TrueCrypt 7.1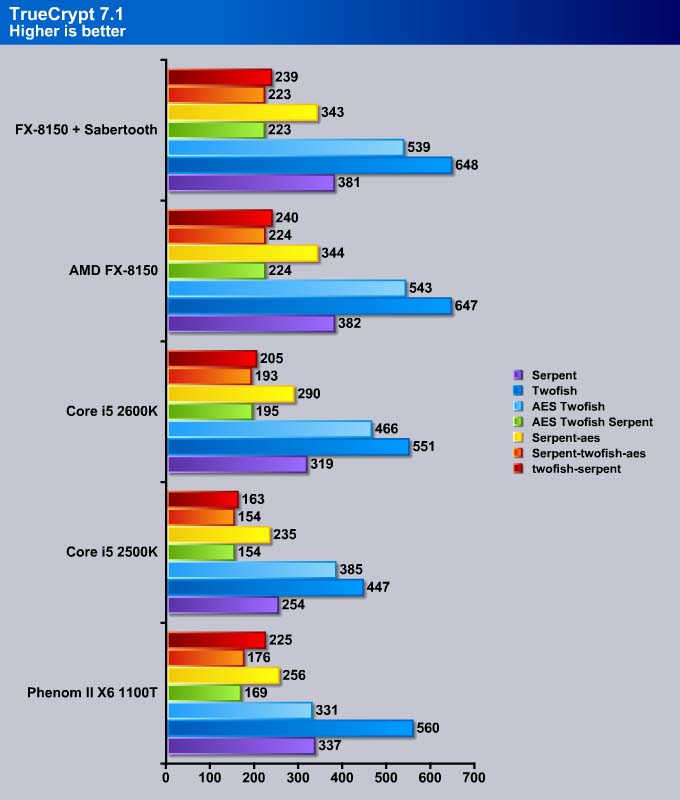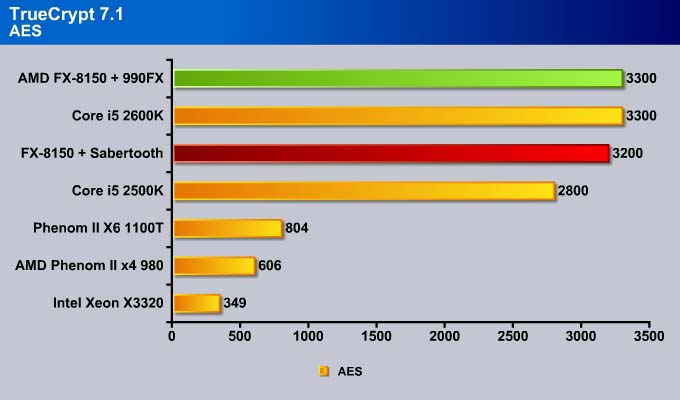 The ASUS 990FX Sabertooth comes out near the top in the TrueCrypt benchmark, speaking to the strength of the FX-8150 CPU and 990FX chipset in encryption tasks. The combination of the FX-8150 and 990FX showed a strong encryption result in our Bulldozer release article as well.
Cinebench R10 and R11.5
"CINEBENCH is a real-world test suite that assesses your computer's performance capabilities. MAXON CINEBENCH is based on MAXON's award-winning animation software, CINEMA 4D, which is used extensively by studios and production houses worldwide for 3D content creation. MAXON software has been used in blockbuster movies such as Spider-Man, Star Wars, The Chronicles of Narnia and many more. MAXON CINEBENCH runs several tests on your computer to measure the performance of the main processor and the graphics card under real world circumstances. The benchmark application makes use of up to 16 CPUs or CPU cores and is available for Windows (32-bit and 64-Bit) and Macintosh (PPC and Intel-based). The resulting values among different operating systems are 100% comparable and therefore very useful with regard to purchasing decision-making. It can also be used as a marketing tool for hardware vendors or simply to compare hardware among colleagues or friends."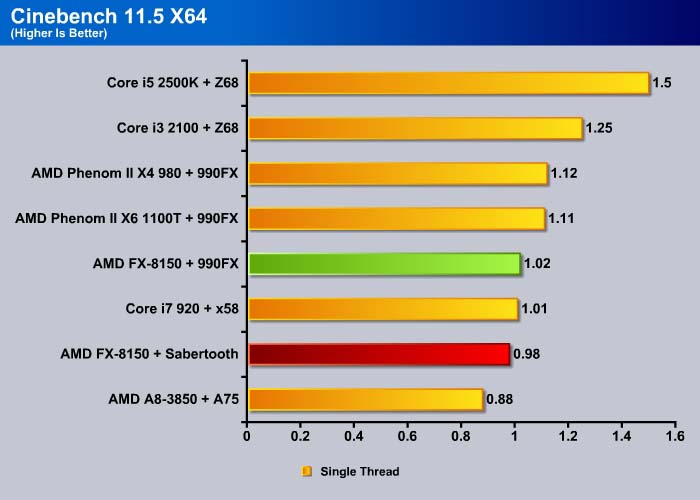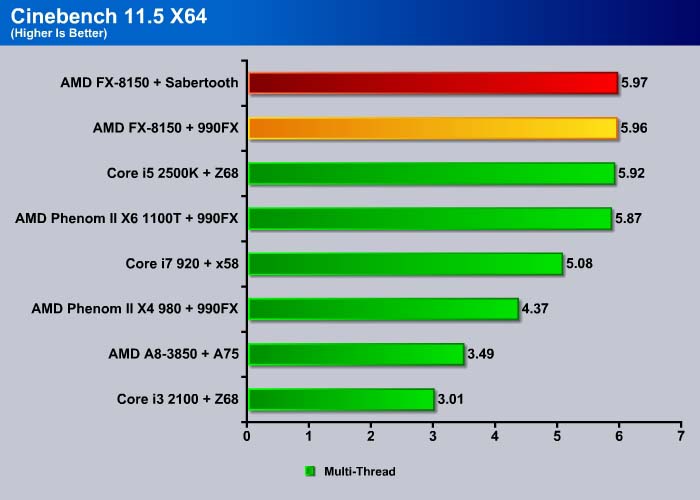 The ASUS 990FX scores within range in Cinebench. There isn't really much difference here between modern generation boards.
3DMARK VANTAGE

For complete information on 3DMark Vantage Please follow this Link:
www.futuremark.com/benchmarks/3dmarkvantage/features/
The newest video benchmark from the gang at Futuremark. This utility is still a synthetic benchmark, but one that more closely reflects real world gaming performance. While it is not a perfect replacement for actual game benchmarks, it has its uses. We tested our cards at the 'Performance' setting.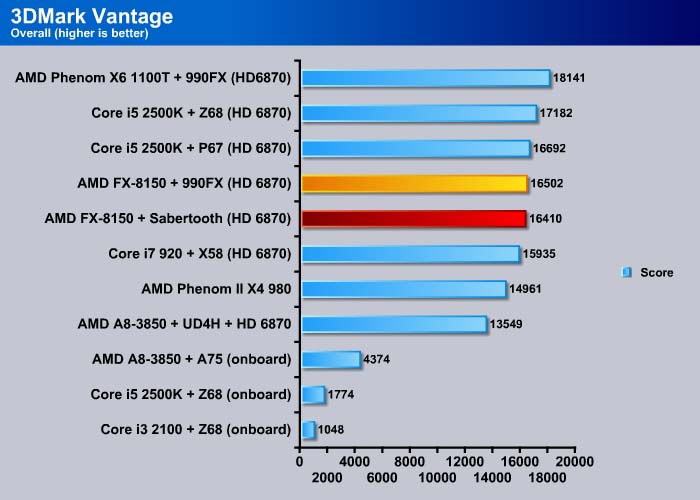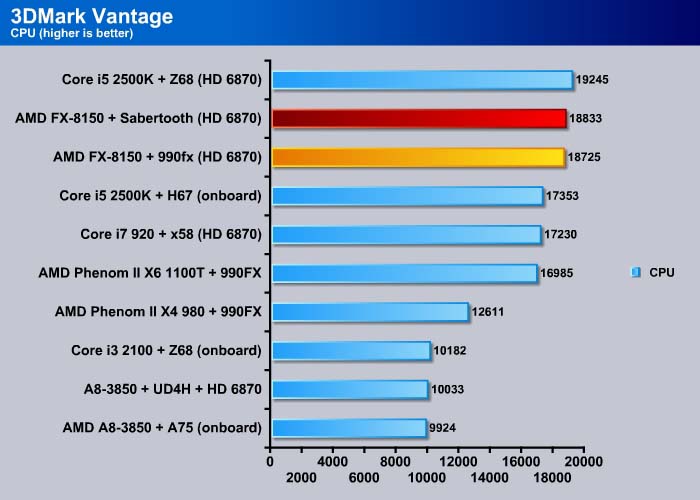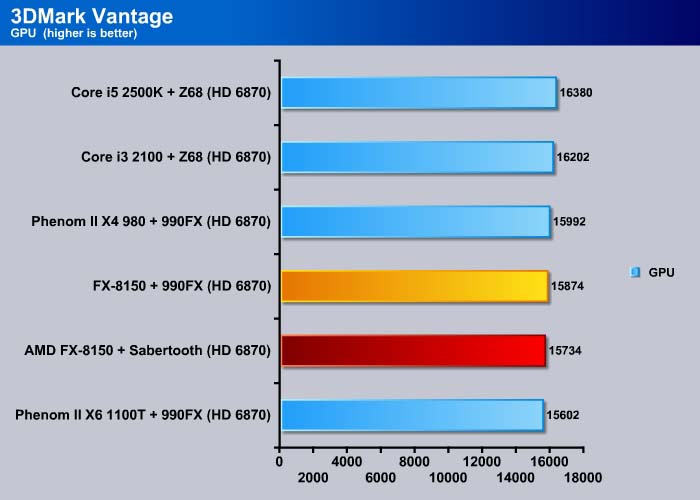 The ASUS 990FX Sabertooth scores well in all but the GPU tests. However, even in the CPU testing, it scores close to the other 990FX boards, indicating that the performance limitations are with the CPU and chipset rather than with the motherboard (this can also be seen by the fact that the 2500K based system tops the charts in the CPU test).
aida64 v1.80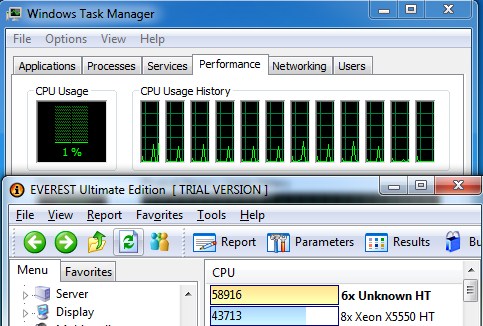 "AIDA64 Extreme Edition is a streamlined Windows diagnostic and benchmarking software for home users. AIDA64 Extreme Edition provides a wide range of features to assist in overclocking, hardware error diagnosis, stress testing, and sensor monitoring. It has unique capabilities to assess the performance of the processor, system memory, and disk drives. AIDA64 is compatible with all current 32-bit and 64-bit Microsoft Windows operating systems, including Windows 7 and Windows Server 2008 R2."
CPU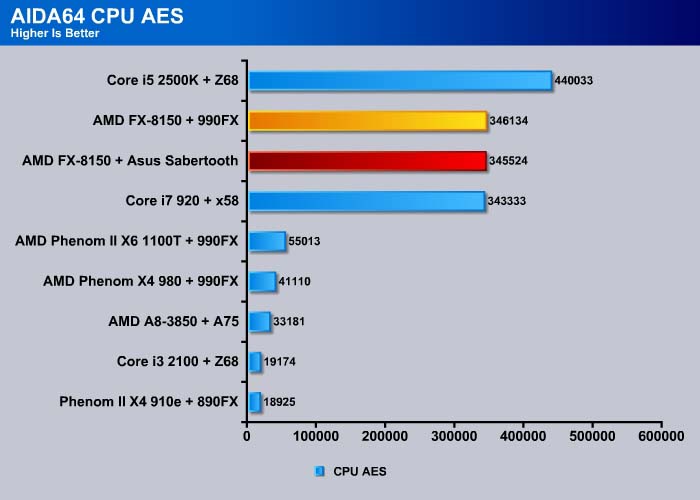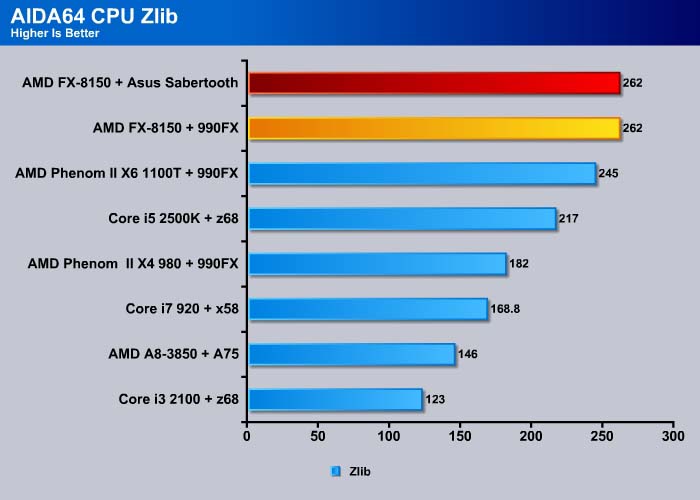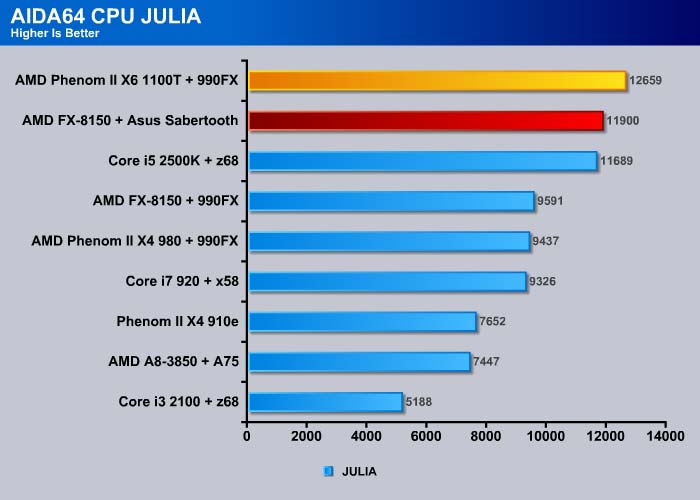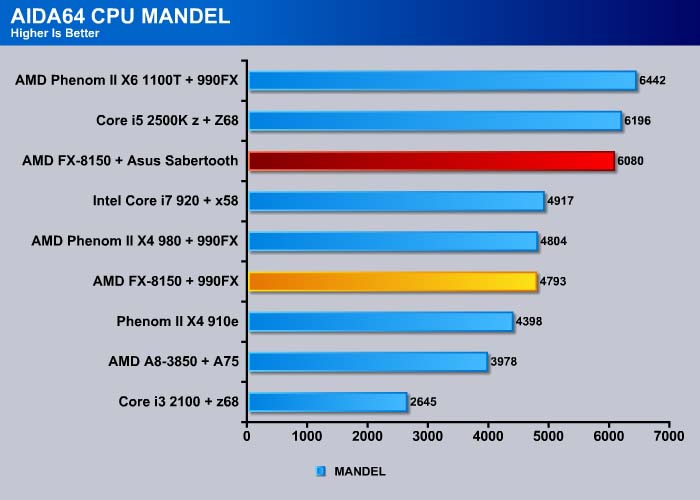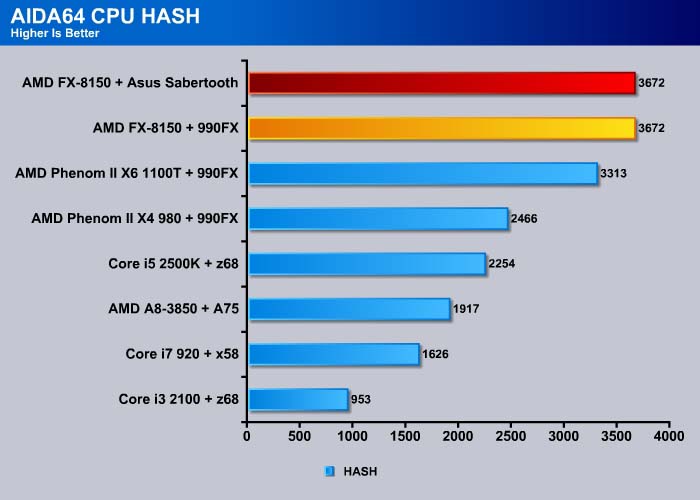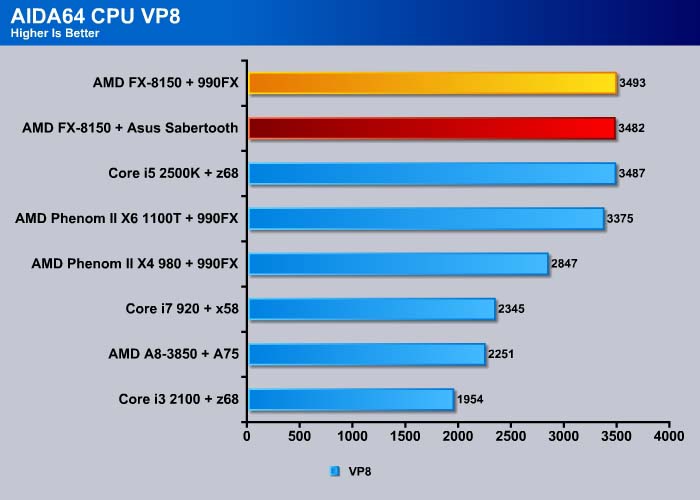 The poor performance of the AMD processor shows its colors here, as it loses to its Intel counterparts in almost every test.
Memory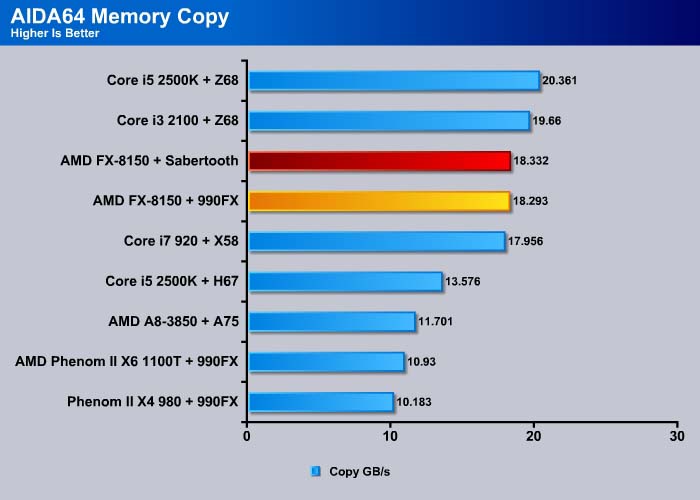 The ASUS 990FX comes in within range for its chipset here.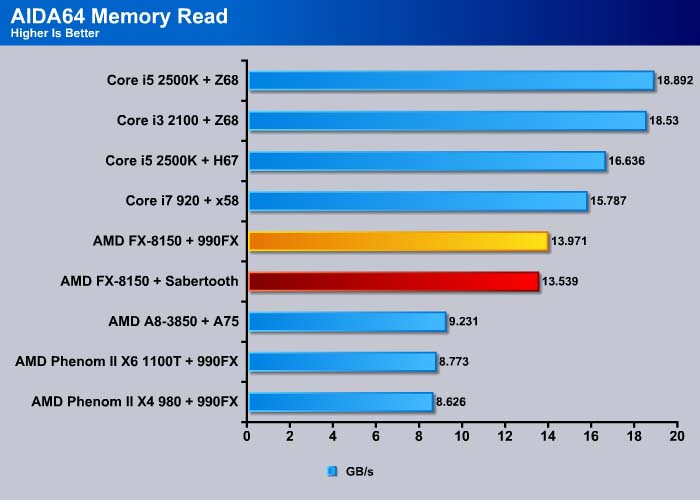 We see the same thing with the memory read–the 990FX chipsetboards perform within 0.5GB/s of each other.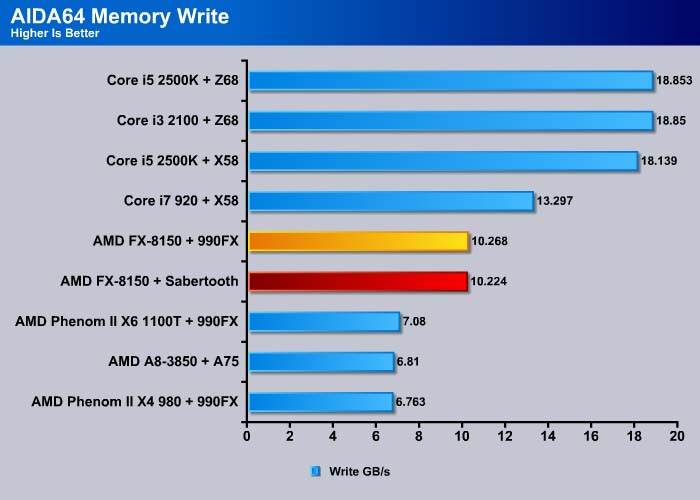 The ASUS 990FX board tops the charts in its class here, though it loses very clearly to Intel-based boards.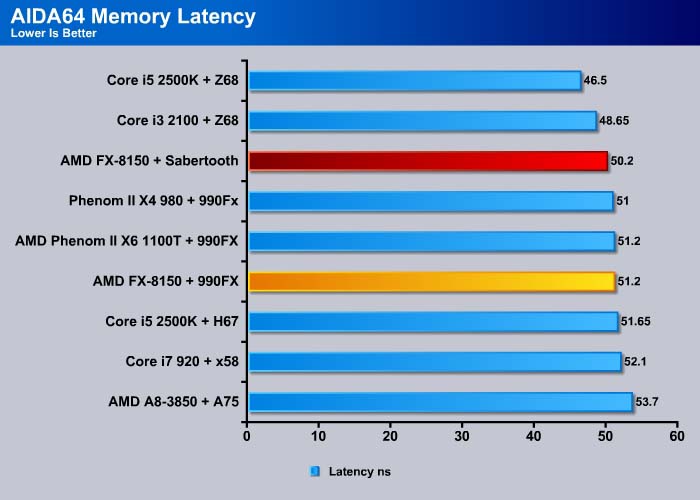 The ASUS 990FX board again comes in within range.
CRYSIS WARHEAD

Crysis Warhead is the much anticipated standalone expansion to Crysis, featuring an updated CryENGINE™ 2 with better optimization. It was one of the most anticipated titles of 2008.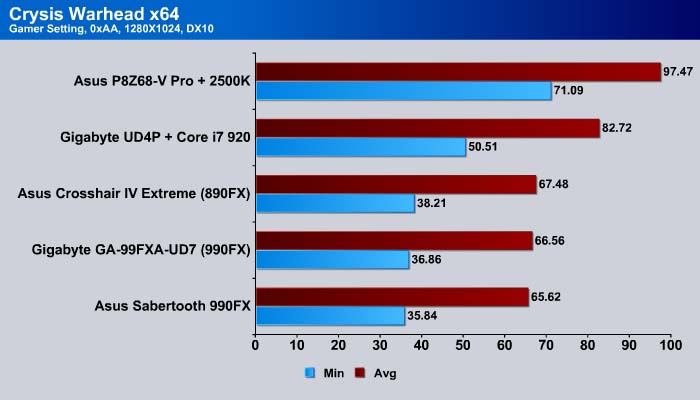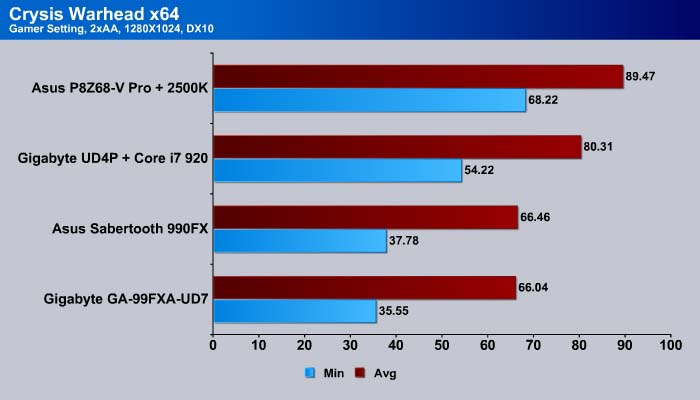 The ASUS 990FX comes in within range in Crysis Warhead. Though the game is obviously more GPU bound than anything else, the board's performance indicates that it is up to par for modern gaming.
X264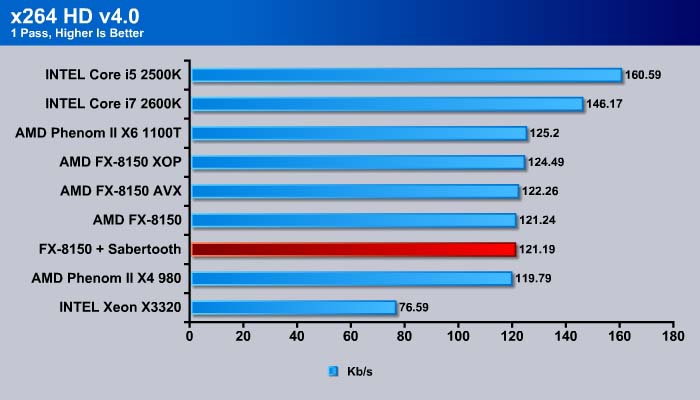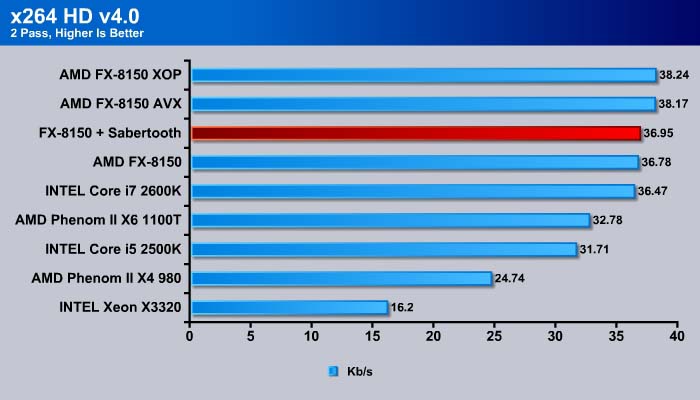 The ASUS Sabertooth 990FX lags behind in the 1-pass test, but jumps ahead in 2-pass, even surpassing the Intel Core i7-2600K. Note that when the FX-8150 CPU uses its XOP and AVX instruction sets, it scores even higher.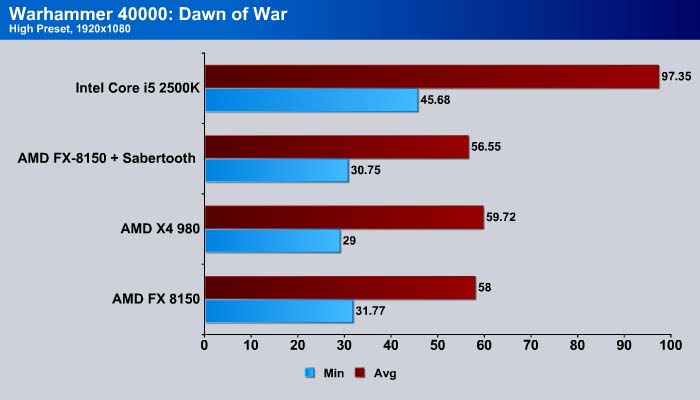 The ASUS Sabertooth falls in line with the other AMD-based systems here, and well below the Intel system. Though the framerates yielded by the AMD systems are playable, it further highlights the weakness of the AMD CPU's architecture.
Dirt 2
Colin McRae: Dirt 2 (known as Dirt 2 outside Europe and stylized, DiRT) is a racing game released in September 2009, and is the sequel to Colin McRae: Dirt. This is the first game in the McRae series since McRae's death in 2007. It was announced on 19 November 2008 and features Ken Block, Travis Pastrana, Tanner Foust, and Dave Mirra. The game includes many new race-events, including stadium events. Along with the player, an RV travels from one event to another, and serves as 'headquarters' for the player. It features a roster of contemporary off-road events, taking players to diverse and challenging real-world environments. The game takes place across four continents: Asia, Europe, Africa and North America. The game includes five different event types: Rally, Rallycross, 'Trailblazer,' 'Land Rush' and 'Raid.' The World Tour mode sees players competing in multi-car and solo races at new locations, and also includes a new multiplayer mode.
Colin McRae: Dirt is the first PC video game to use Blue Ripple Sound's Rapture3D sound engine by default.
A demo of the game was released on the PlayStation Store and Xbox Live Marketplace on 20 August 2009. The demo appeared for the PC on 29 November 2009; it features the same content as the console demo with the addition of higher graphic settings and a benchmark tool.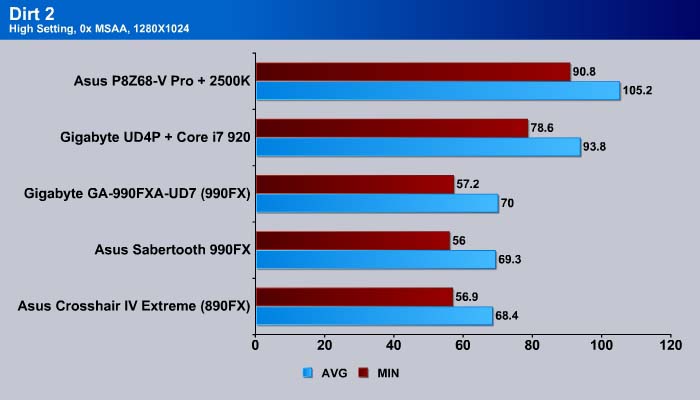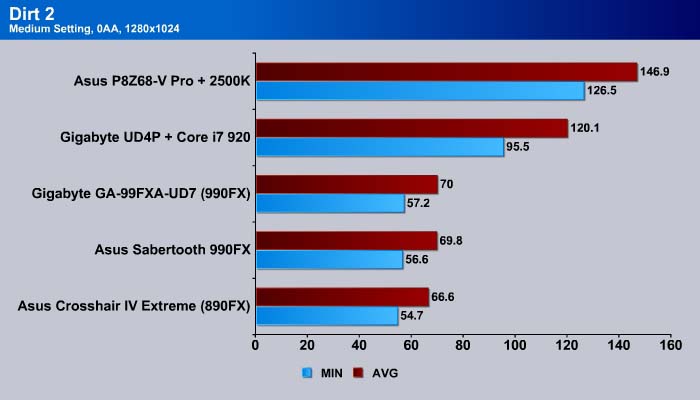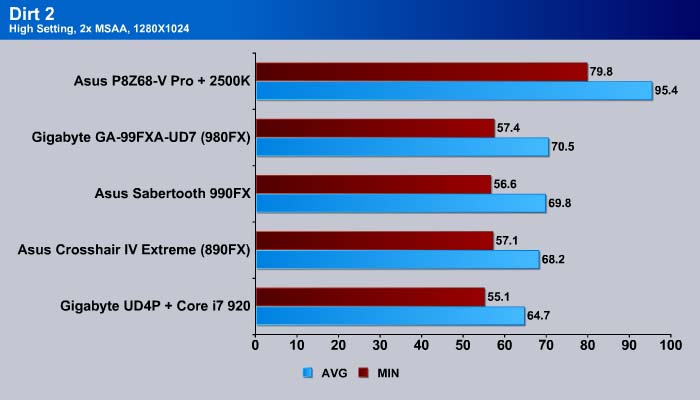 We see the same thing in Dirt 2 as we did in Crysis Warhead, with the ASUS 990FX Sabertooth coming in within range.
Conclusion
The ASUS 990FX Sabertooth is a great motherboard for its price range. Though it does not have top-of-the-line performance, it does come richly packed with features, and can withstand an amazing amount of torture. Features like the CeraM!X coating on the heatsinks and the military-class alloy core chokes will be well appreciated by users who wish to push this board to the limit with their Bulldozer CPU's.
The ASUS 990FX Sabertooth also comes with a UEFI BIOS which is easy to navigate and simple to use. This will also be definitely appreciated by Bulldozer users who are eager to push their components. The board carries a high amount of connectivity for internal storage, with six SATA 6Gb/s ports for those who want to use multiple hard drives in RAID arrays, or high-speed SSD's.
It does need a few improvements, however. The biggest feature we found lacking was the low USB 3.0 connectivity. Though this board has been out for a while, we would have liked to see at least 2 more USB 3.0 ports on the rear I/O panel, considering that the board doesn't come with its own USB 3.0 extension bay unit like most others do nowadays.
OUR VERDICT: ASUS 990FX Sabertooth
| | |
| --- | --- |
| Performance | 8 |
| Value | 8.5 |
| Quality | 9 |
| Features | 9 |
| Innovation | 8 |

We are using a new addition to our scoring system to provide additional feedback beyond a flat score. Please note that the final score isn't an aggregate average of the new rating system.

Pros
Cons

Good overclocking potential

Good thermal capabilities

High-class components

Good SATA III connectivity

Good board design and slot layout

LED Error displays

UEFI BIOS

Low USB 3.0 connectivity on rear I/O

No included USB 3.0 ports

 

 

 
Summary: The ASUS 990FX Sabertooth is a good board with solid performance on the Bulldozer system. It can stand up to punishment, and has great storage connectivity, making it a great board to start with. For its features and quality, it earns the Bjorn3D Silver Bear Award.