Need to carry your data with you on the go? If so, then check out the Silicon Power Diamond: a slim, portable USB 3.0 storage that brings you portability and performance.
INTRODUCTION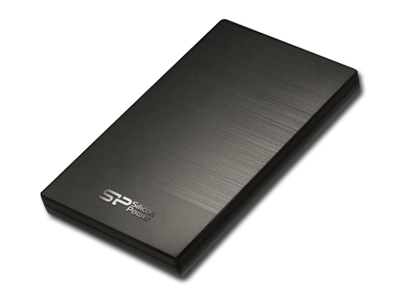 While convenient, USB 2.0 can be quite unbearable when transferring large amounts of data. USB 2.0 has a theoretical transfer speed of 480 Mbit/s (60MB/s). In practice, USB 2.0 devices often reach a maximum transfer speed of approximately 35MB/s. Therefore, it takes at least a couple of minutes to transfer just 1GB of data using USB 2.0. While this may not seem that much, imagine backing up a main drive which may contain upwards of 100GB of data. With USB 2.0, this can take hours to finish. If you have plan ahead and have a six-pack of beer ready beforehand, the wait may not seem so bad, but most people don't like waiting that long.
Till now, eSATA was the preferred option for faster data transfer as it provides performance up to six times of that of USB 2.0, with a theoretical transfer speed of 3 Gbit/s. Though the real performance of eSATA is about half its theoretical limit, it still has a faster rate than USB 2.0. Unfortunately, eSATA never gained as much popularity as USB, and not every system on the market supports the interface.
Recently, motherboard manufacturers are embracing the next version of the universal serial bus: USB 3.0. The new USB 3.0 is backward compatible with USB 2.0 (running at USB 2.0 speeds) yet offers ten times of the transfer speed (5 Gbit/s). This makes it is the best option for portable storage, as it not only reduces transfer time but also is backward compatible with systems that only support USB 2.0 port.
In practice, USB 3.0 delivers about three times the performance compare to USB 2.0. This puts USB 3.0 at the same level as eSATA when comes to storing data on an external storage device that uses a mechanical hard drive. The sustained sequential read and write speeds of mechanical drives do not break 150MB/s, so for users who store data on an external drive, USB 3.0 would be a better option if you are looking for a wider compatibility.
Today we're reviewing a 2.5'' portable USB 3.0 external hard drive from Silicon Power—the Diamond D05.
Silicon Power Diamond D05 (SP750GBPHDD05S3T)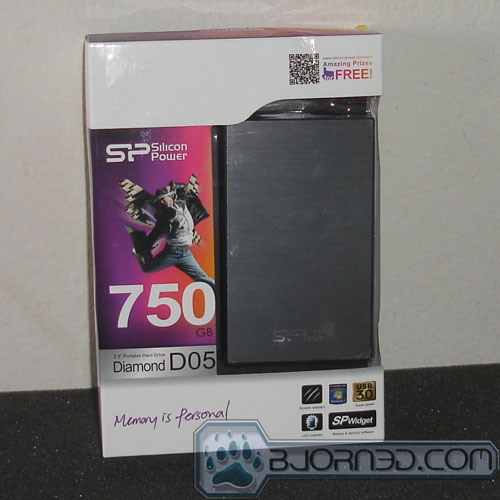 The Diamond D05 is packaged in a very nice box that gives us a peek at the hard drive's exterior through the clear plastic box. On the other side, we see some marketing information and the system requirements.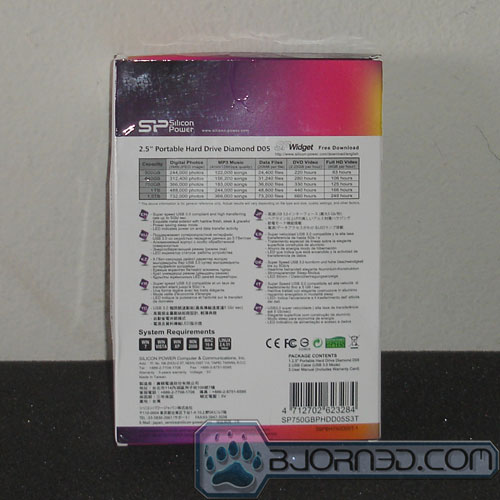 Inside we see that in addition to the portable drive, we have the user manual and a USB cable. Silicon Power did not include any driver CDs and we did not have any issue getting the unit recognized under Windows 7 x64 and Windows Vista x64. The unit supports Windows 7, Vista, XP, 2000, Mac 10.4 or later, and Linux 2.6.31 or later. So, unless you are using Windows 98 or older, you shouldn't have much issue getting it recognized.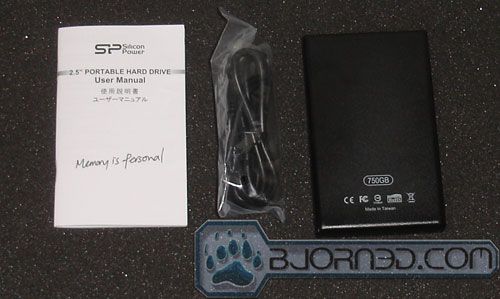 The unit did not come with any backup software. Personally, we prefer to choose our own backup software instead of using the bundled software, but we can see why some users may prefer a bundled software.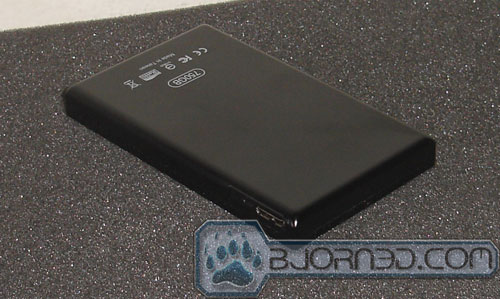 The case is primarily plastic except for one metal face, and has Silicon Power logo. The enclosure is tightly sealed without any screws on the outside so opening it up requires a bit of force prying the cover away from the plastic, which we are certain would void the warranty. There is only a single micro USB 3.0 port on the side of the device. The is only a single blue LED light that shines as the device is connected to a PC. We like the minimalist design and the subtle blue LED light.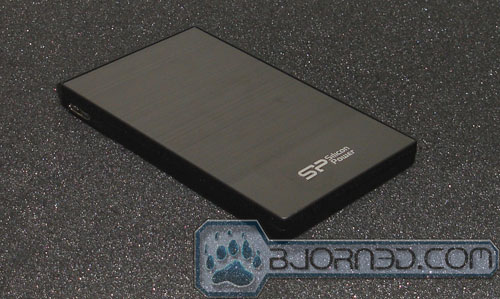 Sitting inside the case of the Diamond D05 is a 2.5'' Samsung HN-M750MBB mechanical drive. The 2.5'' SATA 3Gbps drive has 8MB cache with 5400RPM rotational speed.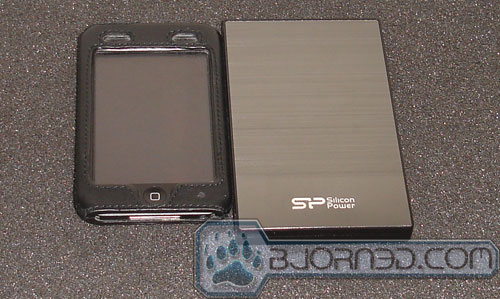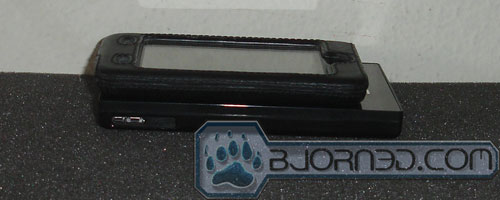 In addition to this model's 750GB of storage capacity, the Diamond Series also has a model that comes with a capacity up to 1TB. We received the 750GB version for review.
Product Specifications
Dimensions: 124.8x 75.8mm x 13.6mm
Weight: 155g/205g (1TB)
Interface: USB 3.0 / 2.0
Support OS: Windows 7, Windows Vista, Windows XP, Windows 2000, Linux 2.6.31 or later, MacOS 10.4 or later (only USB 2.0 currently supported)
Transfer Rates: Max. 5Gbit/s (USB 3.0 mode)
Max. 480 Mb/s (USB 2.0 mode)
Power Supply: DC 5V (Power supplied through USB)
Operating Temperature: 5°C – 55°C
Storage Temperature: -40°C – 79°CColor: metallic gray
Three-year warranty
Available Capacities
| | |
| --- | --- |
| Capacity | P/N |
| 1TB | SP010TBPHDD05S3T |
| 750GB | SP750GBPHDD05S3T |
| 640GB | SP640GBPHDD05S3T |
| 500GB | SP500GBPHDD05S3T |
SP Widget
Silicon Power did not include any software with the drive. However, their website has a tool called SP Widget for their storage devices. We were a bit surprised that they did not simply put the file on their drive. If we did not navigate to their site, we would've missed it.
The SP Widget offers a straightforward interface for users' backup needs. The software will only work with Silicon Power devices as it will try to autodetect the Silicon Power device upon launch. If there is no Silicon Power device plugged in, it will not run. Mac users are out of luck as the SP Widget only supports Windows XP/Vista/7.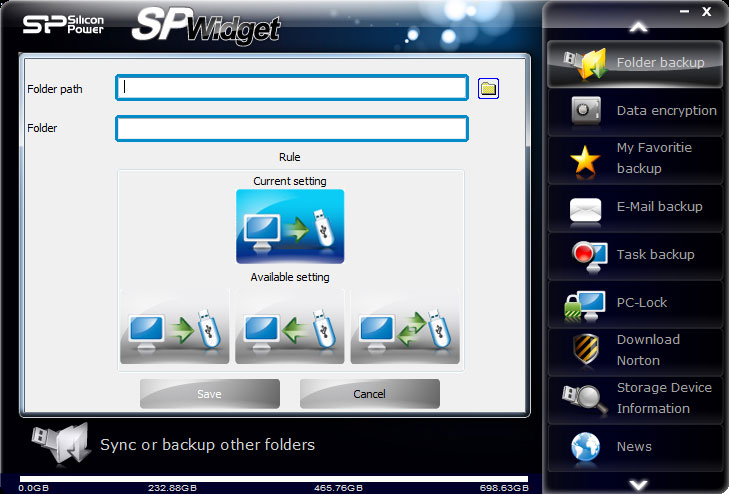 On the right side, we see a panel of icons with different tasks. Here we can launch various tasks. Most of the options are pretty self-explanatory. The My Documents backup backs up the my Documents folder and Folder Backup lets users add a specific folder to backup. Microsoft removed "My Documents" in Windows 7 and replaced it with the "Documents" library. The SP Widget does not detect the new "Documents" folder under Windows 7.
The SP Widget offers three types of data duplication. Users can copy files from PC to the external storage, from the external storage to the PC, or initiate a two-way sync that it will check both the PC and the external storage and updates any new files created onto both devices to keep them both up to date.
For working professionals who constantly need to sync files between systems, the ability to set to different backup schemes is very useful. Users can set the device to always keep the files up to date between their PCs and the USB storage. 
The software offers Data Encryption of any folders on both internal and external storage. We do not know what kind of encryption scheme is used. The next two backup options are My Favorite and Email backup. The Email backup currently supports Outlook and Outlook Express only.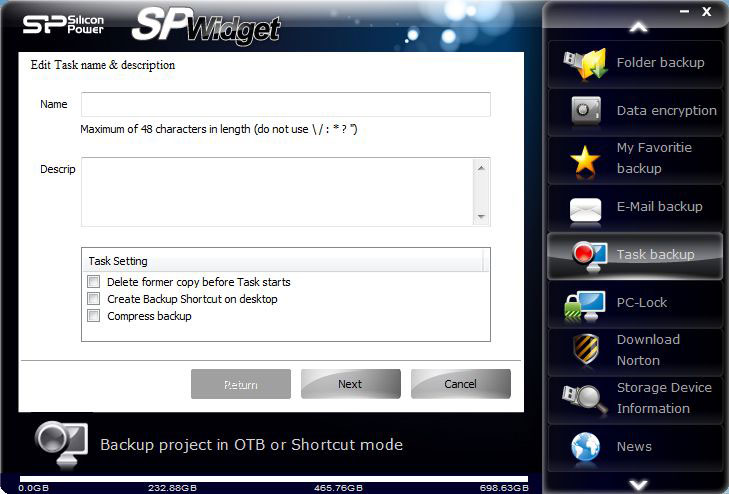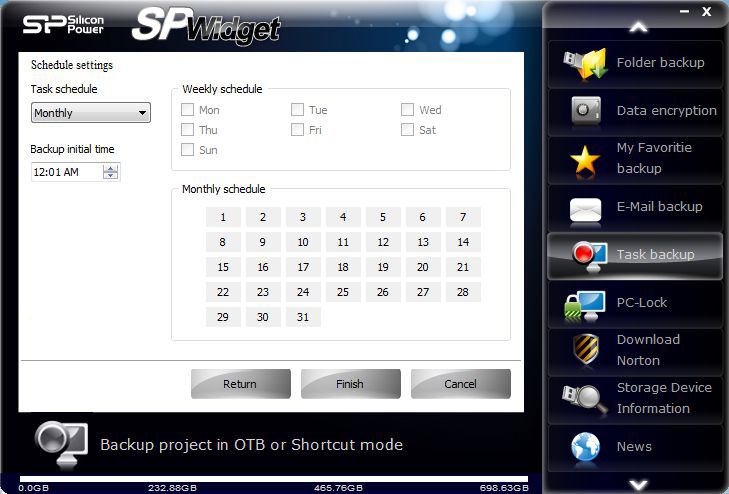 The Task backup is a full-fledged automatic scheduled backup solution that allows users to backup a drive, folder, or directory. Here users can schedule backup daily, weekly, or monthly. Unfortunately, the software did not offer the ability to automatically backup every time the device is plugged in, so users must either setup the backup scheme or manually click on the backup.
PC-Lock is a rather unique feature that allows user to set up a time where the system will lock the computer. This will probably not be very frequently used, as Windows' own Power Management tool can also do this.
Under Storage Device Information, we can see that the unit comes with 698.63GB but 111.9MB has been used already by the SP Widget if you install the tool.
The News section provides some information about other Silicon Power products. The Download will check the Silicon Power for an updated version of the software. Under Language, we can see that the SP Widget supports English, Traditional Chinese, Simplified Chinese, Japanese, and Russian. Lastly, Scan Storage Device allows users to scan other devices hooked up to the PC.
Performance
HD Tach
| | | | | | |
| --- | --- | --- | --- | --- | --- |
| Interface | Burst (MB/s) | Average Read (MB/s) | Average Write (MB/s) | Random Access (ns) | CPU Usage (%) |
| Silicon Power Diamond D05 | 197.5 | 86.2 | 84.4 | 17.0 | 2 |
| Barracuda Green + USB 3.0 enclosure | 142.6 | 108.7 | 89.2 | 17.0 | 3 |
| Constellation.2 (2.5") | 357.9 | 97.2 | 87.8 | 12.1 | 2 |
The performance for any external USB portable storage drive depends heavily on the hard drive that is used. The Silicon Power uses a 5400 RPM SATA 3 Gbps Samsung hard drive so we are not expecting it to take any award in the performance category.
The drive's performance is respectable with 86MB/s average read, 84MBs average write, and 197MB/s burst. The CPU usage and the random access time is within the limits of a USB 3.0 enclosure. Notice that when compared to the 7200RPM Seagate Constellation.2 connected to an SATA 6Gbps port, the Diamond D05 is just 10% slower in the average read. There is not much of a performance hit with the USB 2.0 Iinterface.
USB 2.0 vs USB 3.0
Read
| | | | | | | |
| --- | --- | --- | --- | --- | --- | --- |
| Interface | Burst (MB/s) | Minimum (MB/s) | Maximum (MB/s) | Average (MB/s) | Random Access (ns) | CPU Usage (%) |
| USB 2.0 | 33.3 | 21.1 | 33.3 | 33.2 | 17.8 | 3.4 |
| USB 3.0 | 188.7 | 50.4 | 111.4 | 82.3 | 17.6 | 2.1 |
Write
| | | | | | | |
| --- | --- | --- | --- | --- | --- | --- |
| Interface | Burst (MB/s) | Minimum (MB/s) | Maximum (MB/s) | Average (MB/s) | Random Access (ns) | CPU Usage (%) |
| USB 2.0 | 27.8 | 16.4 | 26.3 | 26.2 | 17.3 | 1.0 |
| USB 3.0 | 135.2 | 38.1 | 105.6 | 79.8 | 14.4 | 2.4 |
With a quick comparison of the USB 2.0 and the USB 3.0 performance, we can see that the performance enhancement is across the board even with the minimum transfer rate. The minimum transfer rate is more than double when switching to USB 3.0. When we look at the average transfer rate, USB 3.0 is 2.5 times faster in read and 3 times faster in write compare to USB 2.0.
In terms of temperature, the enclosure idles at around 29°C and during heavy use when we run HD Tune and HD Tach tests, the drive temperature reached to 36°C. This is still within acceptable range for external storage.
Conclusion
The Silicon Power Diamond D05 is not the slimmest portable drive but it is still slim enough to fit into your pocket. The overall construction feels quite solid and durable. We absolutely love the brushed metal front and very non-intrusive blue LED activity light. The plastic body casing is not our favorite but it feels like good quality plastic that will not break easily.
The Diamond D05's performance is not record-breaking, but not sluggish either, with average sequential read speed of 86MB/s and sequential write speed of 84MB/s–three times faster than any USB 2.0 devices can offer thanks to the USB 3.0 interface.
The included SP Widget software is decent but will not replace a full fledged disk management software like Acronis True Image or Norton Ghost. However, we do like the fact that it is portable and does not need to be installed on a PC in order for it to work. We do wish that it would offer the ability to automatically sync files whenever the device is plugged in.
Backed by three year warranty, the Silicon Power can be purchased for as low as $72, which is quite decent pricing for a 750GB external storage.  If you are on the market for a portable storage device, the Silicon Power Diamond D05 is definitely worth considering.
OUR VERDICT: Silicon Power Diamond D05 External HDD
| | |
| --- | --- |
| Performance | 8 |
| Value | 9 |
| Quality | 9 |
| Features | 8 |
| Innovation | 8 |

We are using a new addition to our scoring system to provide additional feedback beyond a flat score. Please note that the final score isn't an aggregate average of the new rating system.

Pros
Cons

Wide range of capacity to choose: 500GB, 640GB, 750GB, and 1TB

USB 3.0 interface

Good performance

Backward compatible with USB 2.0

Nice looking and well constructed

3-year warranty

 

SP Widget software is not included (needs to be downloaded)

No automatic sync option

 
Summary: The Silicon Power Diamond D05 is definitely worth considering if you are on the market for a USB 3.0 portable storage with its solid construction and good performance. For its value and quality, it earns the Bjorn3D Seal of Approval.