Today we're taking a look at GIGABYTE's newest offering of the G1.Killer line: the G1.Sniper 2. Let's find out what the first Z68-based G1 motherboard can do.
Introduction – GIGABYTE G1.Sniper 2
Today we have the newest offering in the GIGABYTE G1.Killer series of motherboards: the G1.Sniper 2. The G1.Sniper 2 is the first LGA1155 motherboard of the G1.Killer line, and carries a Z68 chipset, in addition to many of the features that made the original G1.Killer series popular. The board also has PCI-E Generation 3 support, though this cannot really be utilized until the new Ivy Bridge 22nm CPU's become available, as present Sandy Bridge processors do not support PCI-E 3. All of that considered, there are many things to like when looking at the specs of the board, including the inclusion of a Creative 20K2 powered audio system and Killer E2100 NPU to ensure that the gaming experience is the very best possible. The board has many features (such as Lucidlogix Virtu support) to provide excellent performance and save power.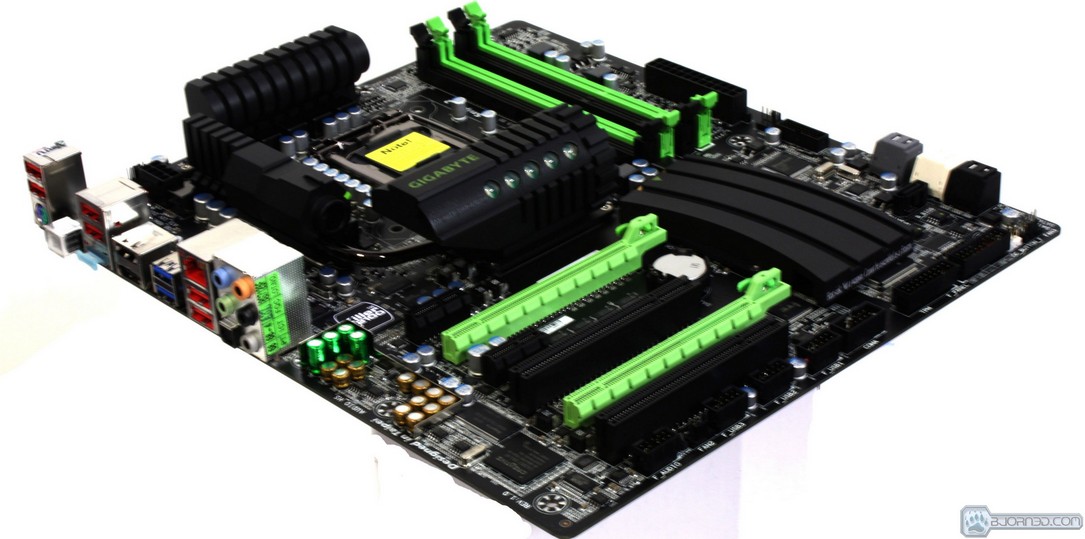 In this review we will look at the features and differences that separate the G1.Sniper 2 from the rest of the pack, and whether those differences merit the $359.99 price tag.
Features
GIGABYTE G1.Sniper 2 : Weaponize Yourself
Featuring several state-of-the-art onboard solutions from industry leaders including Creative and Bigfoot Networks, as well as several unique GIGABYTE features, the G1.Sniper 2 motherboard is unlike any current gaming motherboard on the market. With the ultimate in multi-GPU support, dedicated on-board audio and advanced networking, GIGABYTE has brought out some incredibly big guns to the party, so lock & load soldiers, and get ready to unleash some mass gaming destruction.
Onboard Creative Soundblaster X-Fi Digital Audio Processor (20K2) with X-Fi Xtreme Fidelity™ and EAX® AHD 5.0™ Technologies
Being able to hear where your enemy is located before you see them can put you at a distinct advantage in most gaming situations. That is why GIGABYTE has rigged the G1.Sniper 2 motherboard with the industry's most advanced audio solutions all onboard; giving you the highest caliber audio experience. GIGABYTE G1.Sniper 2 is the world's only gaming motherboard to feature Creative's top-of-the-line Soundblaster Digital Audio Processor (20K2) onboard with X-Fi Xtreme Fidelity® and EAX® Advanced HD™ 5.0 technologies, allowing you to experience sound in your gaming world exactly as you would in real life.
Built-in Visuals
Built-in Visuals GIGABYTE Z68 motherboards offer support for several 2nd generation Intel® Core™ Built-in Visual Features. 
Intel® Quick Sync Video 
Up to 2X faster media processing than any other solution for incredibly fast conversion of video files for portable media players or online sharing. 
Intel® InTru™ 3D 
Users can enjoy the ultimate 3D visual experiences–seamlessly–from their PC. Now they can watch their favorite 3D movies with Blu-ray Stereo 3D playback using active shutter 3D glasses. It delivers it all in 1080p full, high-definition resolution on the TV over HDMI 1.4. 
Intel® Insider 
Allows users to view premium 1080p HD content on their GIGABYTE Z68 series system. 
Switchable Graphics with LucidLogix Virtu GPU Virtualization 

GIGABYTE Z68 motherboards are enabled with LucidLogix Virtu GPU Virtualization technology which allows users to dynamically switch between their built-in graphics and their high-end, 3D discrete graphics cards. This is ideal for gamers who require high-resolution gaming and still want to enjoy the built-in media features of 2nd generation Intel® Core™ processors. In so doing, switchable graphics helps to dramatically reduce PC graphics power consumption. 
GIGABYTE Touch BIOS™ (Patent Pending)
An Innovative New Way to Modify BIOS Settings
Navigating through the BIOS to change system settings can be a daunting task for users not familiar with control "F"functions and mouse-less navigation. While some EFI BIOS try to address this with a mouse friendly environment, many implementations still lack a certain ease-of-use necessary for most people. With GIGABYTE Touch BIOS™, GIGABYTE engineers have completely re-imagined how users can interact with their BIOS, allowing for a more intuitive user experience. In fact, with a touch screen monitor, GIGABYTE Touch BIOS™ is as easy to use as most apps on your iPhone.
GIGABYTE EZ Smart Response

The GIGABYTE EZ Smart Response utility is a simple application that allows users to quickly and easily configure their system for Intel® Smart Response Technology. In the past, enabling Intel® Smart Response meant users needed to enter the BIOS in order to configure their system for RAID mode, which then required a complete reinstall of the operating system. Once that processes was complete, users then needed to install the Intel® Rapid Storage Utility as well as configure Intel's Smart Response Technology. GIGABYTE EZ Smart Response does all of this automatically, without users having to perform a complicated install process. This allows them to quickly and effortlessly enjoy a significant boost in system performance…more
Dolby® Digital Live
Enjoy audio from your PC through your home theater with Dolby® Digital Live. A real-time encoding technology, Dolby Digital Live converts any audio signal into a Dolby Digital bitstream for transport and playback through a home theater system. With it, your PC can be hooked up to your Dolby Digital-equipped audio/video receiver or digital speaker system via a single digital connection, eliminating the confusion of multiple cables and ensuring the integrity of the audio signal.
DTS™ Connect
DTS Connect is the perfect solution to enhance your entertainment experience using your home theater's Audio/Video Receiver. DTS Connect is comprised of two DTS technologies including DTS Neo: PC™ which takes 2-channel (stereo) audio and transforms it into a full-bandwidth matrix of your speaker layout (up to 7.1 channels) and DTS Interactive™ which encodes digital audio sources into DTS Digital Surround, which can then stream out to your Audio/Video Receiver using a S/PDIF connection.
Built-in Front Audio Headphone Amplifier
Specially designed for gamers, GIGABYTE G1.Sniper 2 utilize a high capacity amplifier which is able to drive 150Ω loads, allowing gamers to enjoy a fuller range of dynamic sound with crisper details and less distortion when using high quality professional headphones. The amplifier also features wide band-width, low noise, high slew rate and low distortion, making it ideal for professional audio usage. In addition, GIGABYTE has equipped G1.Sniper 2 motherboard with 4 additional amplifiers onboard for the center/sub woofer, rear speaker, side surround and line out.
Nichicon High-end Audio Capacitors
GIGABYTE G1.Sniper 2 motherboard utilizes the highest quality Nichicon MUSE ES series and MW series Bi-Polarized audio capacitors at each channel layout. These professional audio capacitors deliver the highest quality sound resolution and sound expansion to create the most realistic sound effects for professional gamers.
Onboard Bigfoot Networks Killer™ E2100 Game Networking Platform
GIGABYTE is the only motherboard manufacturer to seriously address online gaming network lag issues by implementing the Bigfoot Networks Killer™ E2100 Game Networking Platform directly onboard the G1-Killer series motherboards. Utilizing a unique combination of dedicated Network Processing Unit (NPU) and exclusive Game Networking DNA™ technology, the Bigfoot Networks Killer™ E2100 Game Networking Platform was designed to give the best online gaming experience possible.
Killer™ E2100 Dedicated NPU
Dedicated Network Processing Unit (NPU) with 1Gb of dedicated DDR2 memory helps offload network traffic from the CPU, freeing it up to do other important computing tasks.
Game Networking DNA™ 
Bigfoot Network's exclusive Game Networking DNA™ software offloads gaming data directly to the NPU by bypassing the Windows Network Stack, delivering tremendous speed benefits which allow you to move quicker, shoot faster and win bigger.
Up to 10X Faster 
Whether you're playing MMOs or first-person shooters, the Bigfoot Networks Killer™ E2100 game networking platform delivers up to 10X faster networking performance for a whole new level of online gaming performance.
Front Access Control Panel
As part of its box kit, the G1.Sniper 2 motherboard features a convenient Front Access Control Panel that allows quick and easy access to 2 USB 3.0 ports and Power eSATA. The Front Access Control Panel also features a Quick Boost button that allows gamers to instantaneously overclock their system with a single press of a button. Imagine being in the thick of battle and being able to get a super charged on-the-fly performance boost without the need for a system reboot.
SATA 3.0 (6Gbps) and USB 3.0
When you're behind enemy lines, intelligence data latency can get you killed. That is why GIGABYTE G1.Sniper 2 motherboard provides ultra fast data transfer performance with onboard integration of the latest SuperSpeed USB 3.0 for up to 4 ports (2 front panel, 2 back panel), SATA Revision 3.0 (6Gbps) technologies, and an unprecedented 3x USB power boost on all USB ports for the most power hungry USB devices. Locked and Loaded Heatpipe Design
Locked and Loaded Heatpipe Design
The GIGABYTE G1.Sniper 2 features a brand new heatpipe that was designed to be as deadly to heat as it looks. By effectively spreading the heat from the critical areas of the motherboard such as the CPU VRM zone and quickly dissipating it, GIGABYTE G1.Sniper 2 motherboard remain cool, even when the battle heats up. 
Modeled after the common firearms issued to soldiers deployed to a warzone including pistol, rifle and ammo clip, the Locked and Loaded heatpipe design utilizes a unique fluting technology similar to a rifle barrel fluting, which allows for maximum heat dispersion.
5 Smart Fan Connectors
Further helping to eliminate heat are the 5 strategically placed Smart Fan pin headers which allow for more precise control of system and CPU fans. Equipped with their own individual thermal sensors, the Smart Fans can be easily controlled via GIGABYTE's EasyTune™ 6 utility as well as in the BIOS.
Support for PCI Express Gen.3
Approx. double the potential data bandwidth
The GIGABYTE motherboard is one of the first to provide gamers with the latest Gen.3 PCI Express technology, delivering maximum data bandwidth for the latest discrete graphics cards.
Multi-display support with 2 way SLI™ and 2 way CrossFireX
Flexible graphics capabilities – Up to 2 VGA cards are supported for either 2 way CrossFireX™ or 2 way SLI™ action, delivering the ultimate in graphics performance for gaming enthusiasts who demand the highest frame rates without compromising on resolution.
Ultra Durable 3
The GIGABYTE Ultra Durable™ 3 design features twice the copper for both the power and ground layers of the PCB, dramatically lowering system temperature by efficiently spreading heat from critical areas of the motherboard (such as the CPU power zone) throughout the entire PCB. GIGABYTE's Ultra Durable™ 3 also lowers the PCB impedance by 50%, which helps to reduce electrical waste and further lowers component temperatures. A 2x Copper layer design also provides improved signal quality and lower EMI (Electromagnetic Interference), providing better system stability and allowing for greater margins for overclocking…
more
Maximum CPU Power Delivery
Like the pistons and cylinders of a car engine, the design of the motherboard Voltage Regulator Module (VRM), component quality and number of power phases greatly affects motherboard performance. GIGABYTE engineers were first to realize not only the importance of using the best quality components for this critical area, but also that with more power phases, there can be more power available to your CPU. With 8 phase power design, Dual CPU Power and Driver MOSFETs, GIGABYTE G1-Killer series motherboards deliver the best-in-class system performance and power stability required for elite gaming systems.
Dual CPU Power
GIGABYTE's proprietary Dual CPU Power Technology allows CPU VRM power phases to split evenly into 2 sets of power engines that operate in tandem. This allows 1 set of power phases to rest while the other is active as opposed to a traditional power design where all the power phases are always active. As such, GIGABYTE Dual CPU Power effectively halves the amount of work done by each set of power phases to significantly increase motherboard durability and reliability.
Driver MOSFETs
By incorporating the MOSFETs and driver IC in accordance with the Intel® Driver MOSFET specification, GIGABYTE G1-Killer series motherboards allows higher power transfer and increased efficiency at higher switching frequencies to satisfy the power requirements of modern processors. Driver MOSFETs also help to reduce VRM real estate requirements for a cleaner, less cluttered CPU zone.
DualBIOS™ 3TB+ HDD Support (Hybrid EFI Technology)
Hybrid EFI Technology combines the benefits of GIGABYTE's mature BIOS platform including stability and compatibility with 3rd party products with 3TB+ HDD support from EFI technology, allowing GIGABYTE to offer the best of both worlds through a quick and easy BIOS update using GIGABYTE's @BIOS utility that is freely available from the GIGABYTE website. 
GIGABYTE DualBIOS™ is a patented technology that automatically recovers BIOS data when the main BIOS has crashed or failed. Featuring 2 physical BIOS ROMs integrated onboard, GIGABYTE DualBIOS™ allows quick and seamless recovery from BIOS damage or failure due to viruses or improper BIOS updating. In addition, GIGABYTE DualBIOS™ now supports 3TB+ (terabyte) hard drive booting without the need for partitioning, and enables more data storage on a single hard drive.
Specifications
CPU

Support for Intel® Core™ i7 processors/Intel® Core™ i5 processors/ Intel® Core™ i3 processors/Intel® Pentium® processors/Intel® Celeron® processors in the LGA1155 package
L3 cache varies with CPU

(Please refer "CPU Support List" for more information.)

Chipset

Intel® Z68 Express Chipset

Memory

4 x 1.5V DDR3 DIMM sockets supporting up to 32 GB of system memory
* Due to Windows 32-bit operating system limitation, when more than 4 GB of physical memory is installed, the actual memory size displayed will be less than 4 GB.
Dual channel memory architecture
Support for DDR3 2133/1866/1600/1333/1066 MHz memory modules
Support for non-ECC memory modules
Support for Extreme Memory Profile (XMP) memory modules

(Please refer "Memory Support List" for more information.)

Onboard Graphics
Integrated in the Chipset:

1 x HDMI port, supporting a maximum resolution of 1920×1200

Audio

1 x Creative CA20K2 chip
Support for Dolby® Digital Live and DTS™ Connect
Support for X-Fi Xtreme Fidelity® and EAX® Advanced HD™ 5.0 technologies
High Definition Audio
2/4/5.1/7.1-channel
Support for S/PDIF Out

LAN

1 x Bigfoot Killer E2100 chip (10/100/1000 Mbit)

Expansion Slots

1 x PCI Express x16 slot, running at x16 (PCIEX16)
* For optimum performance, if only one PCI Express graphics card is to be installed, be sure to install it in the PCIEX16 slot.
1 x PCI Express x16 slot, running at x8 (PCIEX8)
* The PCIEX8 slot shares bandwidth with the PCIEX16 slot. When the PCIEX8 slot is populated, the PCIEX16 slot will operate at up to x8 mode.
2 x PCI Express x1 slots
(All PCI Express slots conform to PCI Express 2.0 standard.)
2 x PCI slots

Multi-Graphics Technology

Support for AMD CrossFireX™/NVIDIA SLI technology
* The PCIEX16 slot operates at up to x8 mode when AMD CrossFireX™/NVIDIA SLI is enabled.

Storage Interface
1 x Marvell 88SE9172 chip:

2 x SATA 6Gb/s connector (GSATA3_6, GSATA3_7) supporting up to 2 SATA 6Gb/s devices
Support for RAID 0 and RAID 1

Chipset:

2 x SATA 6Gb/s connectors (SATA3_0, SATA3_1) supporting up to 2 SATA 6Gb/s devices
3 x SATA 3Gb/s connectors (SATA2_2~SATA2_4) supporting up to 3 SATA 3Gb/s devices
1 x eSATA 3Gb/s connector (eSATA/USB Combo connector) on the back panel supporting up to 1 SATA 3Gb/s device
Support for RAID 0, RAID 1, RAID 5, and RAID 10
* When a RAID set is built across the SATA 6Gb/s and SATA 3Gb/s channels, the system performance of the RAID set may vary depending on the devices being connected.

USB
Chipset:

Up to 14 USB 2.0/1.1 ports (8 ports on the back panel, including 1 eSATA/USB Combo connector, 6 ports available through the internal USB headers)

2 x Etron EJ168 chips:

Up to 4 USB 3.0/2.0 ports (2 ports on the back panel, 2 ports available through the internal USB header)

Internal I/O Connectors

1 x 24-pin ATX main power connector
1 x 8-pin ATX 12V power connector
4 x SATA 6Gb/s connectors
3 x SATA 3Gb/s connectors
1 x CPU fan header
4 x system fan headers
1 x front panel header
1 x front panel audio header
1 x S/PDIF Out header
3 x USB 2.0/1.1 headers
1 x USB 3.0/2.0 header
1 x serial port header
1 x Trusted Platform Module (TPM) header
1 x clearing CMOS jumper
1 x heatsink LED power connector
1 x CPU overclocking button header

Back Panel Connectors

7 x USB 2.0/1.1 ports
1 x PS/2 keyboard/mouse port
1 x CPU overclocking button
1 x optical S/PDIF Out connector
1 x eSATA/USB Combo connector
1 x HDMI port
2 x USB 3.0/2.0 ports
1 x RJ-45 port
5 x audio jacks (Center/Subwoofer Speaker Out, Rear Speaker Out, Side Speaker Out, Line In/Mic In, Line Out)

I/O Controller

iTE IT8728 chip

H/W Monitoring

System voltage detection
CPU/System temperature detection
CPU/System fan speed detection
CPU overheating warning
CPU/System fan fail warning
CPU/System fan speed control
* Whether the CPU/system fan speed control function is supported will depend on the CPU/system cooler you install.

BIOS

2 x 32 Mbit flash
Use of licensed AWARD BIOS
Support for DualBIOS™
PnP 1.0a, DMI 2.0, SM BIOS 2.4, ACPI 1.0b

Unique Features

Support for @BIOS
Support for Q-Flash
Support for Xpress BIOS Rescue
Support for Download Center
Support for Xpress Install
Support for Xpress Recovery2
Support for EasyTune
* Available functions in EasyTune may differ by motherboard model.
Support for Dynamic Energy Saver™ 2
Support for Smart 6™
Support for Auto Green
Support for eXtreme Hard Drive (X.H.D)
Support for ON/OFF Charge
Support for Cloud OC
Support for 3TB+ Unlock
Support for TouchBIOS
Support for Q-Share

Bundle Software

Norton Internet Security (OEM version)
Intel® Smart Response Technology
LucidLogix Virtu
* Make sure the monitor cable has been connected to the integrated graphics port on the back panel.

Operating System

Support for Microsoft® Windows 7/Vista/XP

Form Factor

ATX Form Factor; 30.5cm x 26.4cm
Overview of the GIGABYTE g1 sniper 2
Click Image to Enlarge
The packaging is very nice. The front of the box has the key selling points for the board, including PCI-E Gen 3 support, 22nm CPU support and Killer 2100 network support along with a Creative X-Fi logo as well. Moving to the rear we see a full board layout shot once again pointing out the key features in some detail. Moving on to the unboxing, we get to the large black box which houses the mainboard along with all of its installation accessories. When opening the box we see the motherboard enclosure which has a clear plastic cover that allows a view of the board before removing it. After removal we see the entire board which has very prominent heatsinks styled after modern weaponry components.
Click Image to Enlarge
Here we see the included accessories needed to install and use the G1 Sniper 2 motherboard. Here is a list of all items included in the accessory pack:
IO Shield
SATA cables
2 Way SLI Bridge
Users Manual
5.25″ Interface panel
G1 Killer Sticker Pack
G1 Killer Poster
The front panel 5.25″ interface device has dual USB 3.0 ports, an eSATA port and also a "Quick Boost" button which serves the same purpose as the "O.C." button on the rear, giving the user a quick boost of speed when needed. All of this fits into a single 5.25″ bay, and we must say this is one of the best front bay mount implementations we have seen.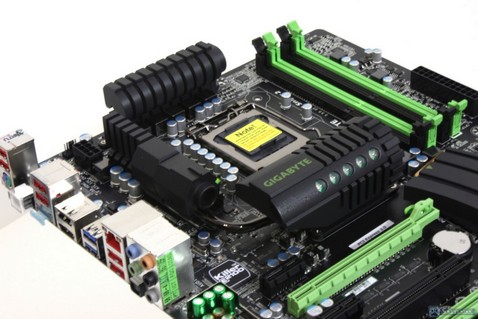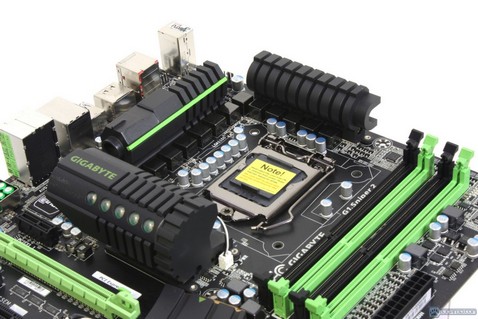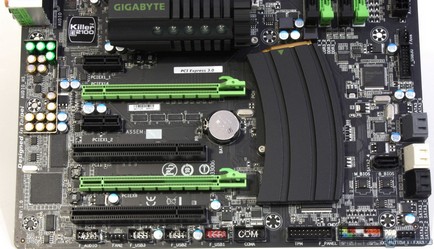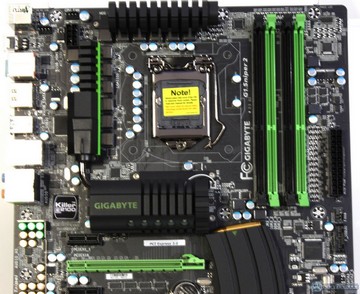 Click Image to Enlarge
Here we can see the basic layout and overview of the board. We notice first and foremost the heatsink and component color scheme, which is carried over from the previous first generation X58 G1.Killer series. The overall layout design looks very good as most connections are placed at the board's edge to ensure easy connectivity. There are some areas where connectivity could be done better, such as placement of the USB 3.0 header which is placed on the right hand edge near the 24pin ATX power plug. This is not necessarily horrible placement, but it will make cable management a little harder. Another area that could be of issue is the 8 pin CPU ATX connection which is placed directly below and next to a pair of fan headers which could also cause a cable routing issue with fans installed.
Most of the SATA connections are right angled, though there is one right next to the heatsink that points up. One thing to note is that the upward pointing SATA port is controlled by the PCH. Of the four natively controlled ports, only three are internal. The fourth is on the rear I/O. The standard fare of connections can also be found from front panel audio, to com port, to many USB port headers which include higher power with On/Off Charge capability to ensure charging of devices regardless of whether the system is on or off.
Click Image to Enlarge
Here we can get a good idea of component placement around the CPU socket along with available area for cooler clearance. Also note the grey right angled SATA ports: these are controlled by an additional Marvell 88SE9172 controller which supports SATA 6Gbps protocol supporting RAID 0 or RAID 1. Additional controllers are great to have as they can greatly expand available storage ports, but in our experience for main storage drives, the PCH ports are much better for performance and compatibility. If the extra ports are needed we would recommend using these last, for either optical drives or spare storage drives.
Click Image to Enlarge
Here we can see the I/O panel, which provides the following ports:
2x USB 3.0 ports
7x USB 2.0 ports
Keyboard/mouse combo PS/2 port
Quick boost O.C. button
HDMI port
1x eSATA/USB2.0 combo
1x Gigabit ethernet port (powered by Killer E2100)
Creative 7.1 Channel HD audio (includes optical SPDIF out)
A Closer Look at the Gigabyte g1.sniper 2
Click Image For a Larger One
The previous pictures gave us a good idea about layout and what to expect from the board during installation and cable management. Now we get a look at the component level and what really makes the board work. First up we get a close look at the NPU (Network Processing Unit) which controls the network interface for this board. Unlike many boards which use the standard fare Realtek or Marvell dual Gigabit network controllers, the G1.Killer series utilizes a fully functional Bigfoot Networks E2100 NPU which allows advanced bandwidth control and Windows network stack bypass to allow better performance from your online games. This kind of claim is very hard to test or verify but from testing the unit works great.
Next we see the Creative 20K2 chipset which is the brain for the high end audio built onto the G1.Sniper 2. This chipset supports up to 7.1 audio along with full EAX Advanced HD 5.0 technologies and a lot more. This board also has PCI-E Gen 3 support, which means as soon as Ivy Bridge is released and manufacturers make PCI-E 3.0 cards, this board will be ready to run. Lastly we see the PCH heatsink which we had to get a picture of. We found the disclaimer at the bottom quite entertaining:
"Heatsink: Not a weapon. Cannot be assembled as a firearm"
Click Image For a Larger One
Here we get a clear look at the upright SATA connection we mentioned previously. There should not be any issues fitting hardware, except in rare cases where triple slot cards may be used. Next we get a view of the Killer E2100 NPU along with a small corner view of the high quality audio capacitors and their shielding. The high quality audio capacitors make the difference between regular audio and extreme audio clarity and definition. Also we noted that there is a full copper shield around the high quality caps to ensure that the noise from the other components does not saturate audio and end up creating any feedback or static. Lastly we see the EtronTech chip which controls the USB 3.0 ports and the USB 3.0 onboard header.
Click Image For a Larger One
Here we have a view of the dual BIOS chips which means that even if a BIOS goes bad, the backup chip will flash over to correct the issue. Next we get a good close look at the Creative 20K2 chip which is what makes the awesome audio from this board possible. Lastly, we see the I/O panel "O.C." Button which gives a quick jump to 4.2GHz with just the press of a button.
BIOS
Main Page
Click Image To Enlarge
Though GIGABYTE uses an older style BIOS, the true quality of a BIOS is determined by the ease with which a user can navigate it. Users familiar with the GIGABYTE BIOS will probably not need to read this section, though seeing the new features of the Z68 Chipset might be interesting for some. Regular overclockers and those who like to mess with their computers should find this BIOS very enjoyable to work with. For those that are not used to working with the Traditional BIOS, GIGABYTE offers a new software based BIOS which runs through Windows. This is called TouchBIOS, and will allow the user to make real-time changes in the BIOS through Windows. Starting off with the basics, the first image shows the main BIOS page. The F9 button shows all current system specs shown in the first picture. The users can also save BIOS settings to 8 different profiles that GIGABYTE provides. This can be brought up by pressing F11.
This is the Standard CMOS Features section, which detects HDDs and input drives. If RAID is enabled in the BIOS, the list of IDE Channels will be lowered drastically. Those hard drives are controlled by the Intel Matrix Storage Manager. 
MB Intelligent Tweaker (M.I.T.)
Click Image To Enlarge
The MB Intelligent Tweaker section shows all the main motherboard settings, as well as some PC health information such as fan speeds, temperatures, and voltages.
The first section in the MB Intelligent Tweaker (M.I.T) is the M.I.T Current Status. In this section users can check on the current status of their hardware, including whether it is overclocked or at the stock settings, how many memory modules are installed and how they are detected, and the timings for each memory module. The next section is the Advanced Frequency Settings section. This section allows users to control CPU clock speeds, timings, and QPI. There are also extensive memory overclocking options present here, with the ability to change the System Memory Multiplier. However, this setting also determines how well the processor can be overclocked. Within the Advanced Frequency Settings are the Advanced CPU Core Features, containing different feature settings for the processor. The features can differ by processor. For our settings, we disabled CPU Thermal Monitor, which was originally enabled. Within this section, users can also set the number of processor cores they want to use. Interestingly, while some applications already work with processors that have multiple cores, others might not. A good example would be an older game that does not support multiple cores. If users were to disable two cores on the processor and decide to overclock it to a higher clock speed, the heat production would decrease. In cases such as these, users wouldn't need a very powerful cooling system to achieve high clock speeds that games can perform well at. Also, this could be used to lower power consumption when the system doesn't need to run at high frequencies.
The next part is the Advanced Frequency Settings. As the BCLK Frequency controls the CPU Frequency, the Memory, and PCI-Express lanes, there is only a limited amount of headroom we have here for overclocking. Instead, the user can use the Processor Multiplier for overclocking. Finally, the last picture shows the System Memory Multiplier (SPD) which controls what frequency the memory runs at. For example if our BCLK Frequency is set to 100MHz, that comes out to 100MHz x 18.6 = 1866MHz.
It is interesting to see that while the BIOS for the GIGABYTE G1 Sniper 2 does not differ a lot from the Z68X-UD7, UD4 or even the UD3H the sections that have options for different settings usually provide more options for the user. This is why the G1 Sniper 2 motherboard has more control over the settings in a system. The Z68X-UD4 has all the necessary options that most users will require. For instance, the UD4 only has AUTO, Enabled and Disabled options for the Load-Line Calibration, while the G1 Sniper 2 has AUTO, Disable, Level 1, and Level 2 and further settings. To sum it up, the Sniper 2 is a motherboard where everything can be fine tuned, while the UD4 has is a board for coarser adjustments. The UD4, UD7 and Sniper 2 also allow for fine tuning each core's multiplier, for the processor, especially with Turbo enabled.
Next up is the Advanced Memory Settings section where all the memory settings are applied. On the first picture we can see the same System Memory Multiplier (SPD) that we saw in the Advanced Frequency Settings section. If the DRAM Timing Selectable (SPD) is set to Standard mode, all the timings will be automatically set on the memory. If it is set to Quick mode, users can change the timings on one channel and it will change all the memory timings to the preferred timings. But here's the interesting part: assume for example that a user has two different memory modules from two different manufacturers. One of the memory kits might have different timings. GIGABYTE also gave the end-user the option to change the DRAM Timing Selectable (SPD) to Expert mode, which allows the user to set the timings on each channel.
The following three pictures show the Advanced Voltage Settings panel and the Miscellaneous Settings panel. The Advanced Voltage Settings panel enables the user to change the voltages on just about any part of their system. For overclocking purposes, we only had to alter the CPU Vcore and DRAM Voltages. While this might be scary for some, GIGABYTE does color code their voltage settings to make it easier for users to know which settings are dangerous when tampered with. Users still unsure of their expertise should keep the settings on AUTO. For the more advanced users, this will probably not be an issue, but caution is always recommended.
Advanced BIOS Features

Click Image For a Larger One
The Advanced BIOS Features has all the main booting options when your system boots. These include hard drive compatibility options and setting up what should boot first when the system is turned on.
Integrated Peripherals, Power Management Setup & PC Heath Status
Click Image For a Larger One
The Integrated Peripherals section is probably the longest section of the BIOS. Here, users can enable and disable functions in the BIOS. If the extra IDE and LAN functions in the BIOS are disabled, the system takes less time to boot. To save time, we have disabled as many of the unnecessary functions as we could. The new SATA III and USB 3.0 host controller settings can be enabled and disabled here as well. The Power Management Setup section gives users the option to tinker with the way the computer powers up or goes to sleep. This section also enables Keyboard and Mouse booting as well as enables the system to be rebooted in case of a power outage.
Lastly, the PC Health Status section shows all important information about fan speeds, temperatures, voltages, and gives extra options for temperature and fan settings.
Testing & Methodology
We've expanded our testing suite considerably since the Z68 chipset release, and will continue to use the same methods for most of the motherboards and CPU's we test. In the interests of thoroughness and accurate results, we run each test at least three times, and some tests more than that. We average the total of all the tests from each benchmark then report the average here.
The OS we use is Windows 7 Pro 64bit with all patches and updates applied. We also use the latest drivers available for the motherboard and any devices attached to the computer. We do not disable background tasks or tweak the OS or system in any way. We turn off drive indexing and daily defragging. We also turn off Prefetch and Superfetch. This is not an attempt to produce bigger benchmark numbers. Drive indexing and defragging can interfere with testing and produce confusing numbers. If a test were to be run while a drive was being indexed or defragged, and then the same test was later run when these processes were off, the two results would be contradictory and erroneous. As we cannot control when defragging and indexing occur precisely enough to guarantee that they won't interfere with testing, we opt to disable the features entirely.
Prefetch tries to predict what users will load the next time they boot the machine by caching the relevant files and storing them for later use. We want to learn how the program runs without any of the files being cached, and we disable it so that each test run we do not have to clear pre-fetch to get accurate numbers. Lastly we disable Superfetch. Superfetch loads often-used programs into the memory. It is one of the reasons that Windows occupies so much memory. Vista fills the memory in an attempt to predict what users will load. Having one test run with files cached, and another test run with the files un-cached would result in inaccurate numbers. Again, since we can't control its timings so precisely, it we turn it off. Because these four features can potentially interfere with benchmarking, and and are out of our control, we disable them. We do not disable anything else.
Test Rig
Test Rig
Case
Thermaltake Level 10 GT
CPU

Intel Core i7-2600K

Motherboard
Gigabyte G1 Sniper 2
Ram
8GB Gskill 2133MHz RipjawsX (XMP 9-11-10-28)
CPU Cooler

Swiftech H20-220 Edge

Hard Drive
Western Digital Velociraptor 300GB
SSD

Intel 510 series SATA III 120GB

Optical
ASUS BD-ROM
GPU

ASUS GTX 580 Matrix Platinum

Case Fans

Front (intake): 200 x 200 x 20 mm ColorShift Fan x 1 (600~800RPM, 13~15dBA)

Rear (exhaust): 140 x 140 x 25 mm Turbo Fan (1000PRM, 16 dBA)

Top (exhaust): 2x120mm fans mounted to Radiator for Swiftech H20-220 Edge kit

Side (intake): 200 x 200 x 30 ColorShift Fan (600~800RPM), 13~15dBA)

Additional Cards

N/A
PSU

Thermaltake Toughpower Grand 1200W

Mouse
Tt eSPORTS Black gaming mouse
Keyboard
Tt eSPORTS Meka G1 mechanical gaming keyboard
Test Suite
We will use the following applications to test the performance of the Motherboard. Benchmarks
Benchmarks
PCMark Vantage
Heaven benchmark
Cinebench R10
Cinebench R11.5
3DMark 11
3DMark Vantage
Wprime
SuperPi
Crysis Warhead
Just Cause 2
Overclocking

The P67 and Z68 chipset does not allow for a large amount of BCLK overclocking. Therefore, in order to achieve maximum performance, we chose a Core i7-2600K which has an unlocked multiplier to ensure the motherboard is not a limiting factor and the limit should be the CPU itself. One thing to note is the chip we have on hand is a very good sample, and walls at 55-56X multiplier; however this was with much higher than optimal voltage and should only be attempted with adequate cooling.
We started by just pushing the BCLK up some until we experienced a crash, which was at a surprising 106.2MHz. We then went back to stock BCLK and tried raising the multiplier just to see how well the board clocked without a lot of tweaking. We were not really surprised to see 5 GHz easily bootable, but under stability testing the voltages required to sustain such a clockspeed were not ideal for long term operation. We warn against such high voltages and clockspeeds unless adequately cooled and tuned precisely as this board can run a system at well over 4.5+ GHz with little to no effort. This just goes to show what we have seen as more of a trend lately that now with the limitation being the CPU in the 1155-based configurations, pretty much all boards perform very close to each other, and the main distinguishing factors of a board are its features.
With sub-ambient cooling we could run some extended tests at much higher clock frequencies but for practicality and realistic expectations we kept the clock speeds at a much more manageable 4.8GHz for the extent of the testing.
Important note: Overclocking can cause component failure.  Please exercise caution when attempting any level of overclock on system components.
Temperatures

The temperatures were recorded with Realtemp while running Wprime 1024 right before the end of the 5th run. The results were recorded carefully. After the results were recorded, we waited for 30 minutes before taking Idle temperature measurements. The results were as follows:
| | |
| --- | --- |
| CPU Temperatures | Temperature (Idle/Load) |
| G1.Sniper 2 OC (4.8GHz) | 37C/69C |
| G1.Sniper 2 | 28C/56C |
| Chipset Temperatures | Temperature (Idle/Load) |
| G1.Sniper 2 OC (4.8GHz) | 42C/61C |
| G1.Sniper 2 | 39C/54C |
We found the water cooling on the CPU to be a great solution to keep temperatures lower to avoid long term component damage. The 240mm radiator in the Swiftech Edge H20-220 kit handled the near 5GHz overclock with very acceptable temperatures under a very heavy load but not really something we would want to do for an extended period. Also to note that the on-board heatsinks cool quite well without any issues seen even with GTX 580 cards placed above them, so GIGABYTE gets some points for making a non-heatsink looking heatsink that also keeps the components cool even under overclocked conditions.
Power Consumption

The power consumption was tested while running Wprime 1024 for a few minutes at stock settings. The results were recorded carefully with a Kill-A-Watt power consumption measuring tool at the wall. After the results were recorded, we waited for yet another few minutes minutes before taking Idle power consumption measurements.
The power consumption is not with GPU usage.
| | |
| --- | --- |
| Configuration | Power Consumption (Idle/Load) |
| G1 sniper 2 (4.8GHz) | 155W/268W |
| G1 sniper 2 | 132W/170W |
This is with CPU/system loading but nothing graphically intensive in order to provide the most accurate results by not ramping up the GPU, which will pull significantly more power.
SiSoft sandra 2011
"SiSoftware Sandra (the System Analyzer, Diagnostic and Reporting Assistant) is an information & diagnostic utility. It should provide most of the information (including undocumented) you need to know about your hardware, software and other devices whether hardware or software. It works along the lines of other Windows utilities, however it tries to go beyond them and show you more of what's really going on. Giving the user the ability to draw comparisons at both a high and low-level. You can get information about the CPU, chipset, video adapter, ports, printers, sound card, memory, network, Windows internals, AGP, PCI, PCI-X, PCIe (PCI Express), database, USB, USB2, 1394/Firewire, etc."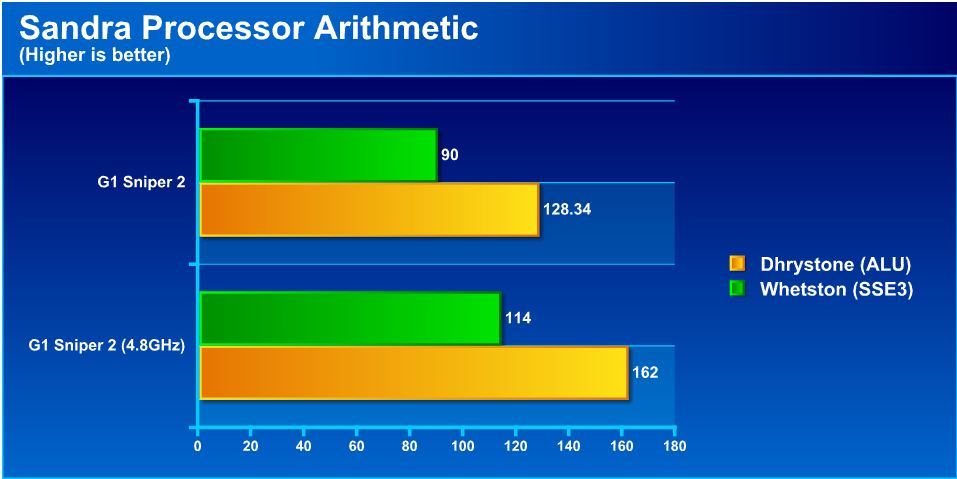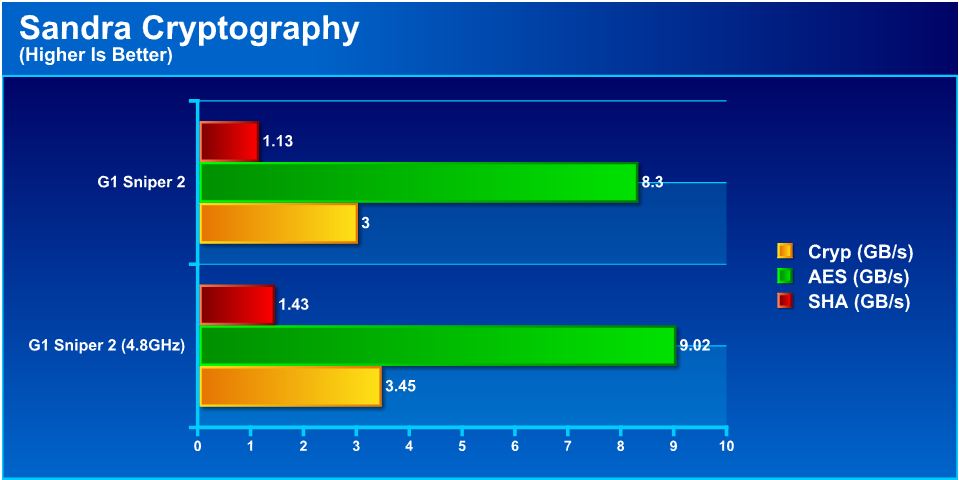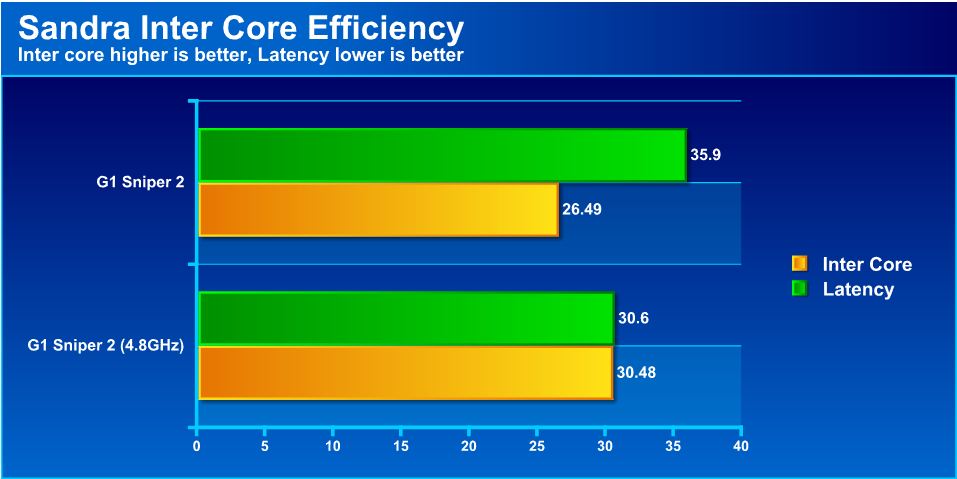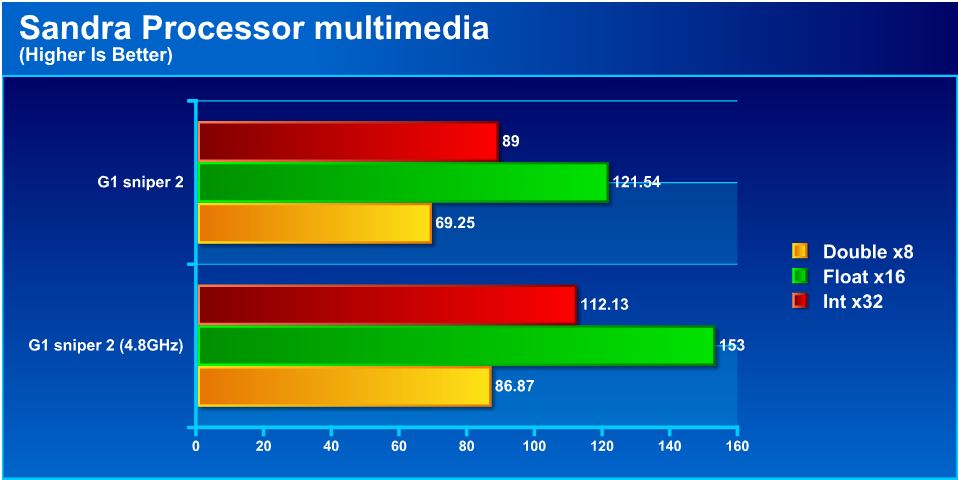 Here we see that the same holds true again and again. Performance on Sandy Bridge-based systems does not vary much from board to board, but performance when overclocked is excellent. That said, most higher level boards overclock pretty much the same and performance follows very closely; features and personal preference will be more of a driving force for the end user's purchasing decision.
PCMARK VANTAGE
PCMark Vantage is the latest system benchmark tool from Futuremark. The benchmark consists of tests such as application launches, file searches, web browsing, video playback, photo editing, and gaming.
Here we see similar results again as each board we have tested. The Sandy Bridge platform overclocks very well and also can outperform the existing top end X58 6-core CPU's in some cases, which means we get excellent value/performance for this platform.
Wprime
Wprime is a processor heavy multithreaded benchmark at which it crunches numbers of a specific data set and gives the end user an output time which can then be used as a guage to compare system performance.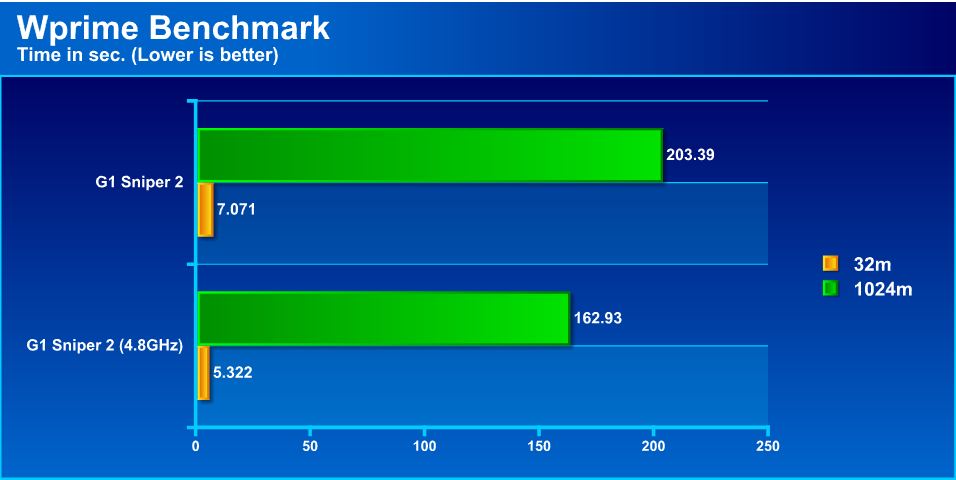 As we see once again that higher clockspeeds combined with multithreading allow for some very impressive results, cutting work time by almost 25% on the long duration test.
Superpi
SuperPi is a single threaded benchmark which measures efficiency and is heavily influenced by architectural changes as much as it is by clockspeeds.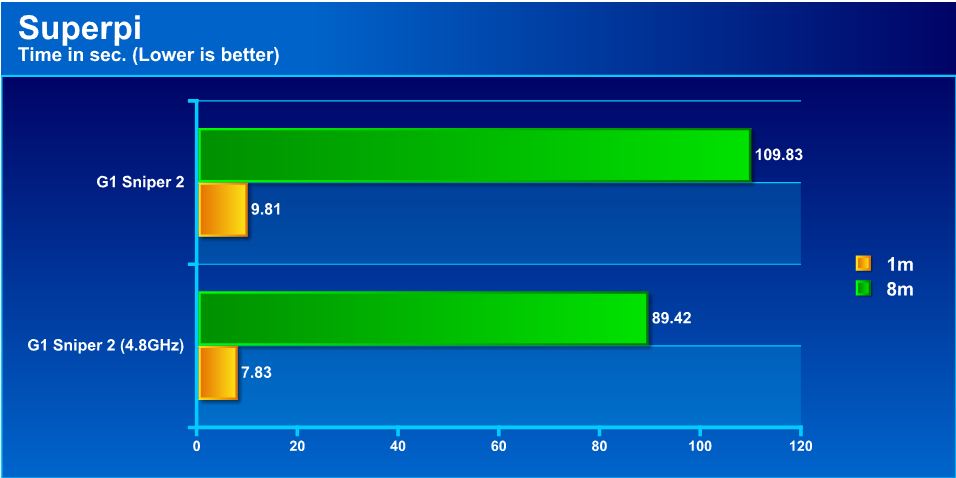 SuperPi is a much older benchmark, and some may argue its obsolescence, but with some newer processors scoring poorly in this test, it is always good to include it. This test does not factor in cores or threads, only raw frequency performance, and the 2600K on the Sandy Bridge platform is very impressive and definitely delivers.
CINEBENCH R10 AND R11.5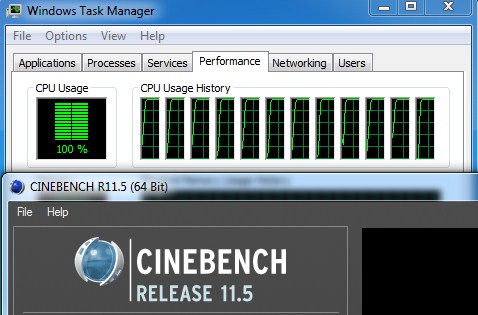 "CINEBENCH is a real-world test suite that assesses your computer's performance capabilities. MAXON CINEBENCH is based on MAXON's award-winning animation software, CINEMA 4D, which is used extensively by studios and production houses worldwide for 3D content creation. MAXON software has been used in blockbuster movies such as Spider-Man, Star Wars, The Chronicles of Narnia and many more. MAXON CINEBENCH runs several tests on your computer to measure the performance of the main processor and the graphics card under real world circumstances. The benchmark application makes use of up to 16 CPUs or CPU cores and is available for Windows (32-bit and 64-Bit) and Macintosh (PPC and Intel-based). The resulting values among different operating systems are 100% comparable and therefore very useful with regard to purchasing decision-making. It can also be used as a marketing tool for hardware vendors or simply to compare hardware among colleagues or friends."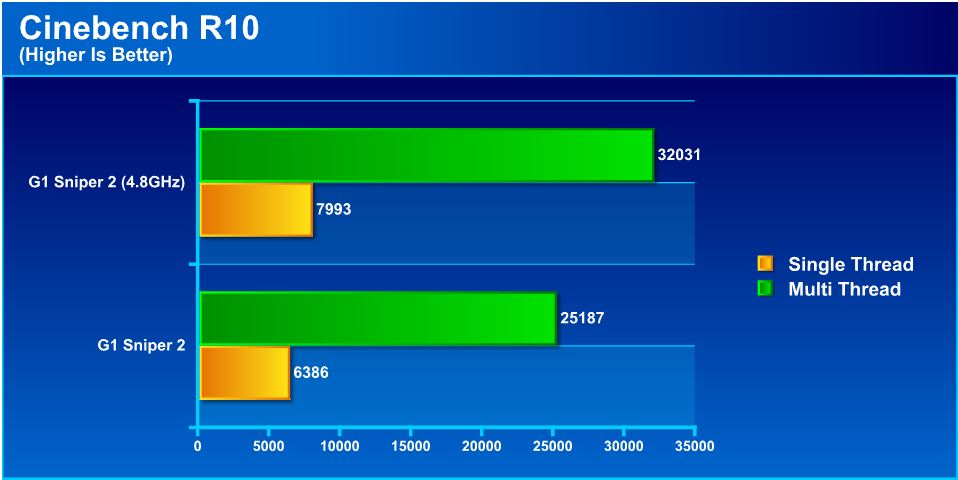 Cinebench takes rendering on our CPU and just pounds it to see how it performs. We were quite impressed as the overclock held fine over multiple passes and pumped out similar results every run showing the stability and efficiency of a proven platform at its best. The overclock definitely showed how well the platform scales, and the productivity numbers were very high with the overclocked settings. Next we will look at the newer version of Cinebench and how it fares.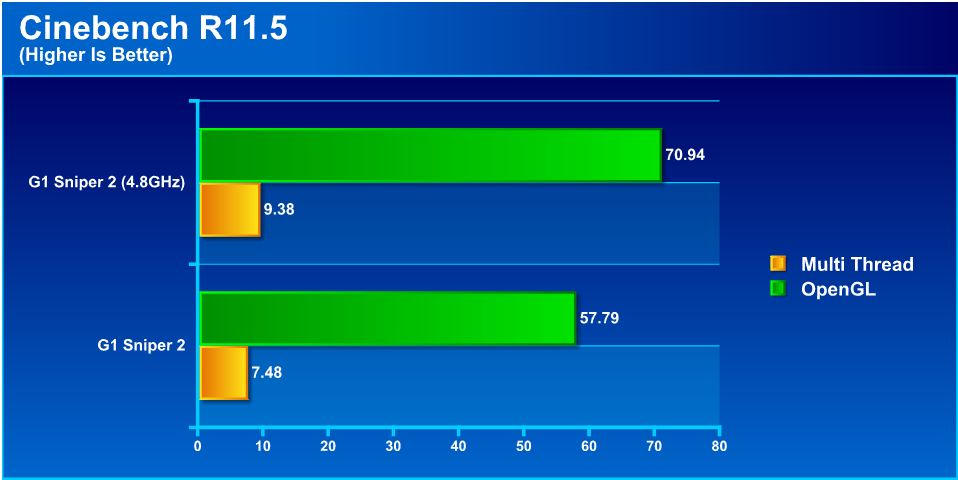 Cinebench 11.5 returned similar and impressive results as over multiple passes the system did not even flinch. Here we see an improvement of almost 20% with the very easily reproduced overclock and with the voltage required it should be quite safe.
3DMARK VANTAGE

For complete information on 3DMark Vantage Please follow this Link:
www.futuremark.com/benchmarks/3dmarkvantage/features/
The newest video benchmark from the gang at Futuremark. This utility is still a synthetic benchmark, but one that more closely reflects real world gaming performance. While it is not a perfect replacement for actual game benchmarks, it has its uses. We tested our cards at the 'Performance' setting.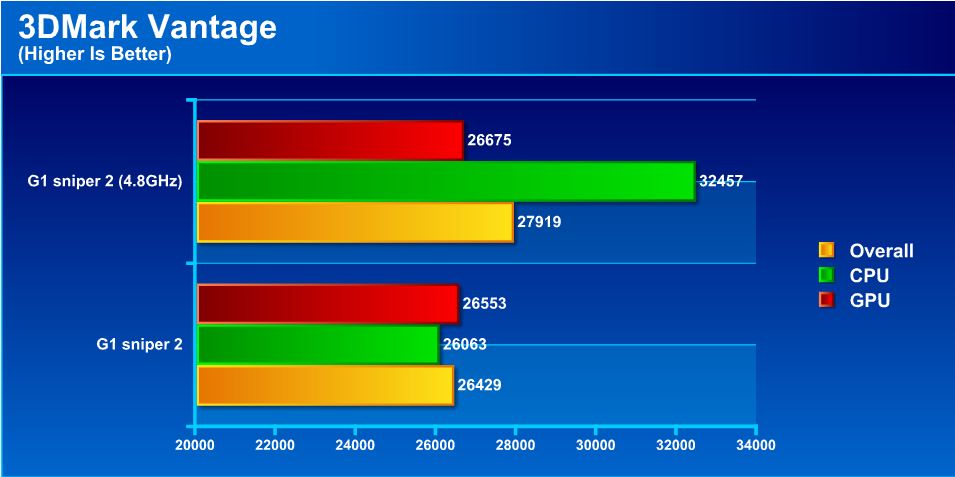 3DMARK 11

3DMark 11 is the newest in futuremark's suite of benchmarking utilities. It's a fully capable DirectX11 benchmark which also stresses and analyzes the system performance as a whole to simulate a heavy rendering environment such as a high end game or other app the end user may run.  This benchmark was run with Performance settings 5 times and all runs were averaged for the result below.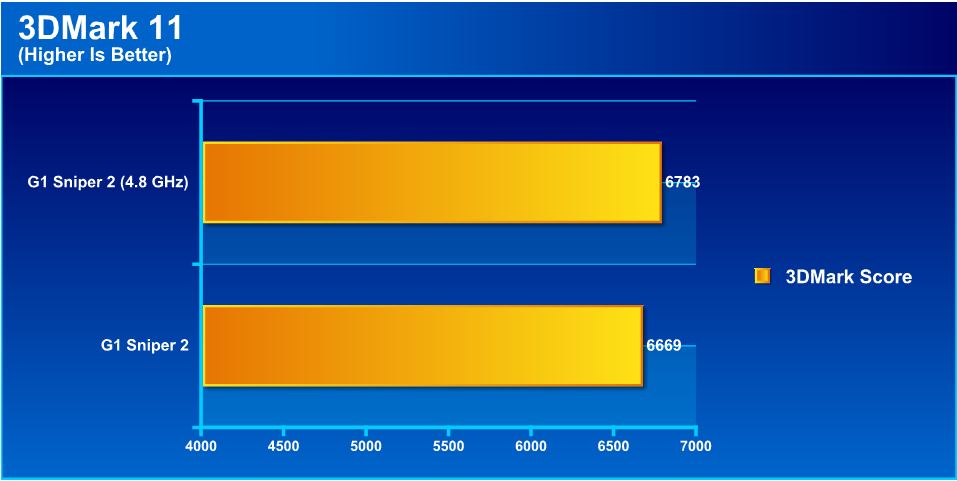 3DMark Vantage and 3DMark 11 both showed a increase in graphics performance, but the new architecture is obviously very efficient. Graphics does not appear to need any significant CPU speed increase, as graphics performance increase is marginal, meaning the graphics card is the bottleneck at higher settings and the only way overclocking will help is with multiple graphics card configurations, where there is enough data throughput that increased clockspeed is needed to facilitate the higher amount of data transfer through the bus.
Crysis Warhead
Crysis Warhead is the much anticipated standalone expansion to Crysis, featuring an updated CryENGINE™ 2 with better optimization. It was one of the most anticipated titles of 2008.
We ran Warhead using gamer's setting at resolution of 1920X1080 and DirectX 10. We tested 16xQ AA setting.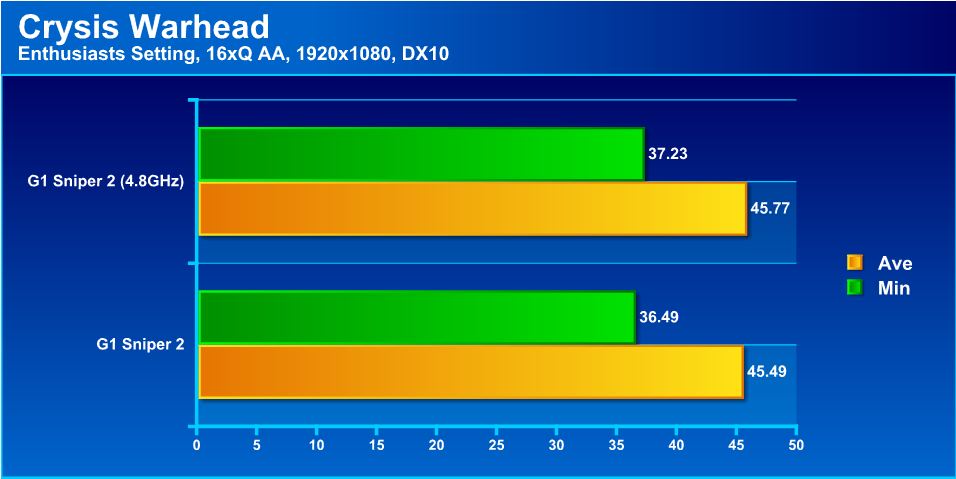 We also tested with much lower settings to take the load from the GPU and show the true effect of CPU overclock on increasing the system bus, and the results are as follows.
The scores at max settings are fairly similar here, showing that the game is (obviously) much more GPU-bound. The increase in clockspeed really didn't do much, and the difference in average FPS is barely noticeable. However when lowering the settings, the GPU bottleneck is removed and now we see where the increase in clockspeed results in measurable gains in performance.
just cause 2
Just Cause 2 has been out for almost a year now, but instead of running lower resolution tests, we were also interested in checking out what to expect at higher resolutions where graphics performance might get in the way. This will give a great example to those people playing games at much higher resolutions.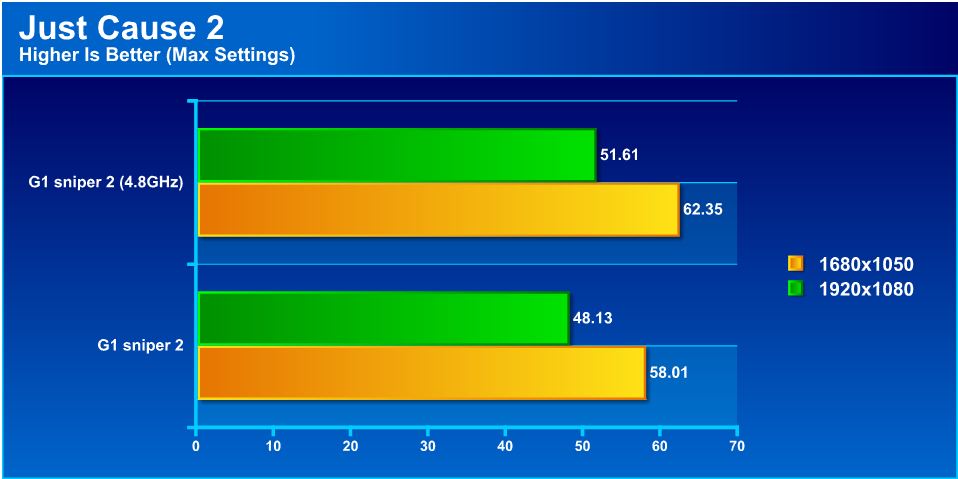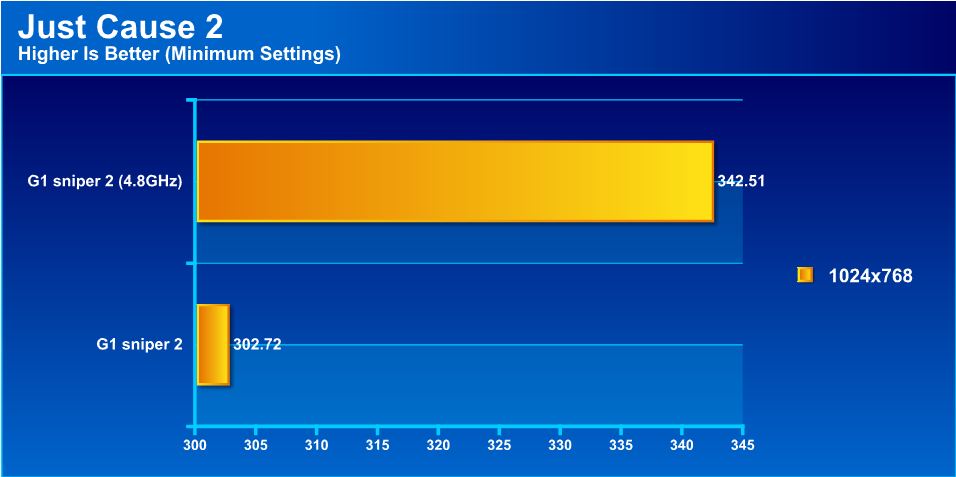 We decided to run the systems at both max settings and also at minimum settings, just to see how the games scale when the graphics card is not a bottleneck to the performance. Here we see under maximum graphics, the card is obviously the bottleneck, and a multi-card setup would likely net much more favorable results, as the overclock seemed to give very little in return by way of FPS. However taking the test down to minimum settings, the graphics card is no longer the bottleneck, and the system has a chance to deliver a decent FPS increase because of the overclock.
Metro 2033

Metro 2033 is very hard on the graphics card similar to how Crysis used to be the benchmark for every card when it first had come out. This tests the card very heavily and if overclocking will help with better FPS or gameplay this should tell us.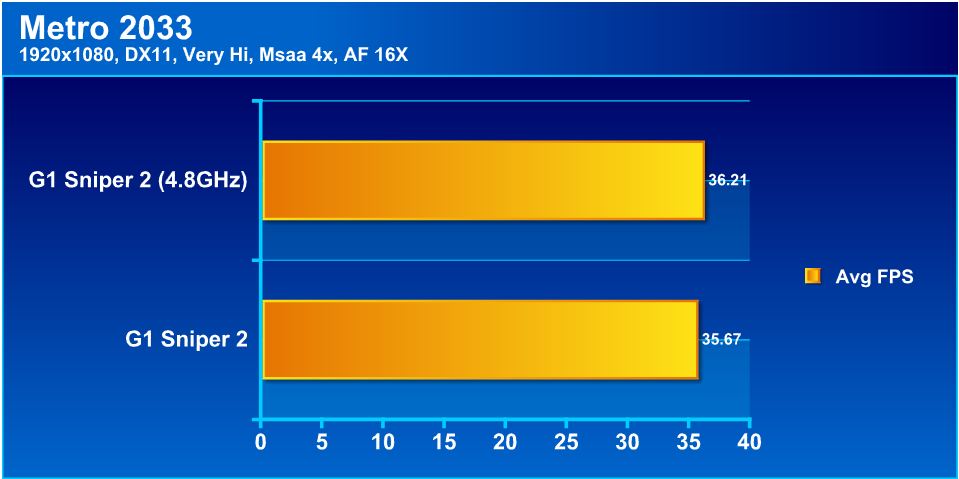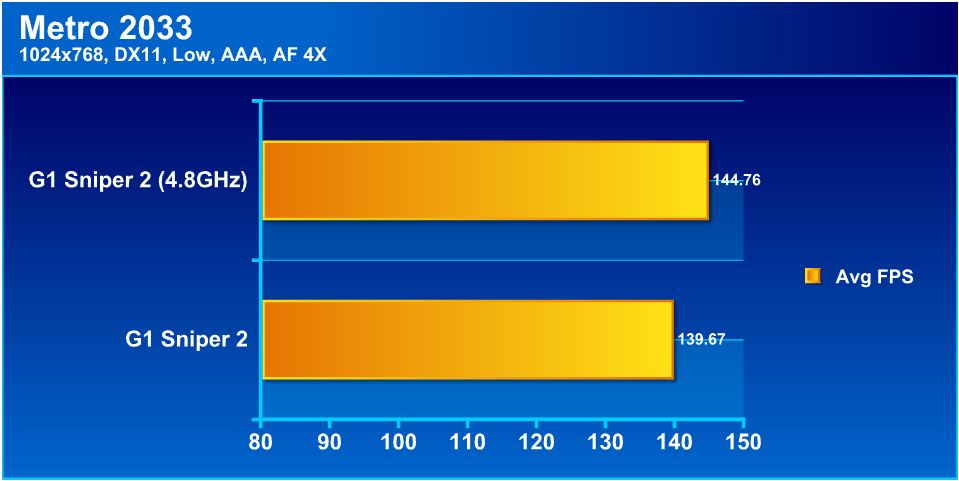 We witnessed similar results in the Metro 2033 benchmark. This game is somewhat like Crysis was when it first debuted–no single card can run it at maximum settings. We did see similarly that the overclock did very little for the maxed out test, but it gains some ground when at minimum settings. The net FPS increase in this game is smaller than in other games because even minimum settings for Metro 2033 are considerably taxing.
Unigine Heaven 2.5
Unigine Heaven is a benchmark program based on Unigine Corp's latest engine, Unigine. The engine features DirectX 11, Hardware tessellation, DirectCompute, and Shader Model 5.0. All of these new technologies combined with the ability to run each card through the same exact test means this benchmark should be in our arsenal for a long time.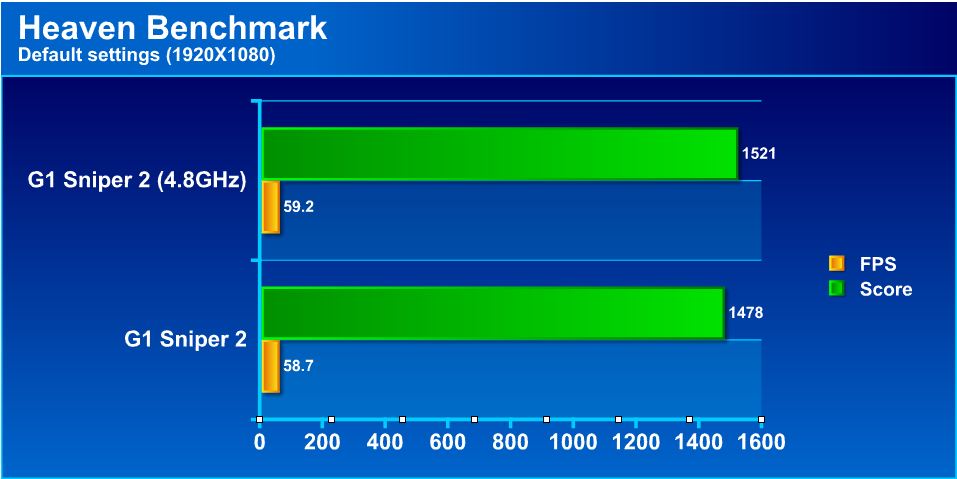 Unigine Heaven at default settings with a 1920X1080 resolution loads the card heavily enough to show that the system bus is in no way a bottleneck, as we net only about 1 FPS from the approximate 1.5GHz overclock, and even that 1 FPS is within the margin for error.
CONCLUSION
The G1.Sniper 2 is an excellent board with a lot of innovative features that should make gamers rejoice. These features make excellent additions to any board and we are really surprised to see that GIGABYTE is the only manufacturer to adopt such unique features as they really do make for a great gaming board. Add to that the fact that its ready for 22nm Ivy Bridge processors and PCI-E 3, and we have a board is actually future-proofed to an extent.
The inclusion of the creative audio means that gamers can have great audio and capabilities to run the best audio technologies for their gaming. The same goes for the Bigfoot Networks NPU onboard, which means gamers get the best of the best for their online gaming needs as well. With support for the PCI-E 3 protocol, as GPU manufacturers start to produce cards based upon PCI-E Gen 3, gamers will already have the support ready to go with the G1.Sniper 2.
However, there are a few points that we would have liked to see or have improved. We would have liked to have onboard buttons to control power/reset/clear CMOS, as that is basically standard fare now days and a board of this level with this price point should have these without a doubt. We would've also liked to see the board include some sort of onboard POST indicator, as this is quite standard, and is extremely helpful should a user encounter a POST issue. Another issue is lack of UEFI BIOS. Even though the board has Hybrid EFI to support 3TB+ HDDs, we are dissapointed to see that GIGABYTE still has not adopted a full UEFI BIOS. THey do have the Windows-based Touch BIOS program, but at this point, it would be nice to see a full UEFI implementation to match up to the competition.
OUR VERDICT: GIGABYTE G1.Sniper 2
| | |
| --- | --- |
| Performance | 9 |
| Value | 8 |
| Quality | 8 |
| Features | 8 |
| Innovation | 8 |

We are using a new addition to our scoring system to provide additional feedback beyond a flat score. Please note that the final score isn't an aggregate average of the new rating system.

Pros
Cons

Creative high performance audio

Bigfoot Networks E2100

PCI-E Gen 3 Support

Intel Ivy Bridge 22nm CPU Support

Custom heatsink design

Adequate spacing for dual GPU airflow

Lucidlogix Virtu Support

Quick OC button

Dual BIOS to ensure safety

Excellent overclocking ability

Stylish gaming inspired design

No LCD post indicator

No onboard power/reset switches

No onboard CMOS reset switch

No UEFI BIOS

 

 

 
Summary: The GIGABYTE G1.Sniper 2 performs well and has some exclusive and hard to beat features that makes it an excellent buy for many gamers out there. For its performance and features it earns the Bjorn3D Silver Bear Award.