The ZOTAC GeForce® GTX 580 AMP²! Edition is the flagship GTX580-card from Zotac and is not only pre-overclocked but also comes with 3 GB memory and a Zalman VF3000 cooler.
Introduction
The GeForce GTX580 is one of the fastest cards available at this time and therefore it is not surprising that a a lot of companies have released their own versions of it. Zotac is no different and currently have a range of GTX580-cards in their arsenal. The card we are testing today, the ZOTAC GeForce® GTX 580 AMP²! Edition, is one of their flagship products only eclipsed by their GTX590-card. Not only does it come with a GPU-clockspeed of 815 MHz (up from 772 MHz) and a memory clockspeed of 4100 MHz (up from 4008 MHz), it also has 3 GB of memory instead of the regular 1.5 GB and a Zalman VF3000 cooler that promises great cooling with little or no noise.

Features and Specification
The  ZOTAC GeForce® GTX 580 AMP²! Edition of course comes with all the features and specifications of the GTX580 GPU including great tesselation support, DX11-support, CUDA, and 3D-Vision. We recommend reading
our article about the GTX580
if you want to know more.

As mentioned in the introduction the card has double the memory and is factory overclocked. Instead of the regular reference GTX580-cooler Zotac has put a dual-fan Zalman VF3000 cooler on the card.
Closer look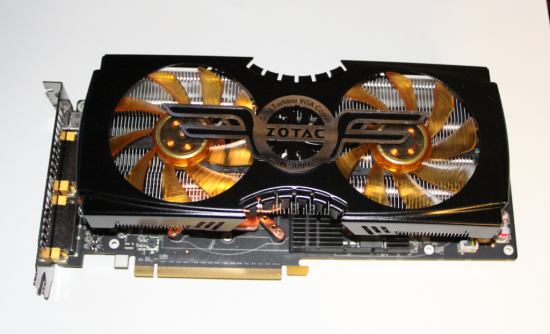 This is a pretty large card, mainly due to the big cooler which means the card needs at least 2 slots to fit in. Unfortunately we did not have 2 cards to try SLI but it can be tight unless the motherboard has separated the two pci-lanes properly.
A copper-heatsink is used to transfer heat from the GPu to the rest of the cooler.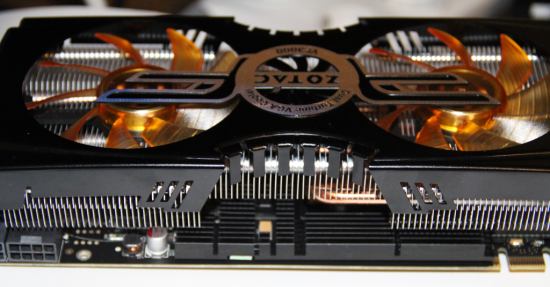 The cooler consists of a lot of thin aluminium-fins which together with the 2 fans help keep the card cool. Over the memory we also find extra heatsinks.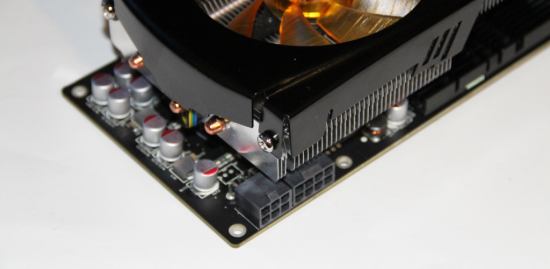 The card comes with a 6-pin and a 8-pin pci-e-power connector.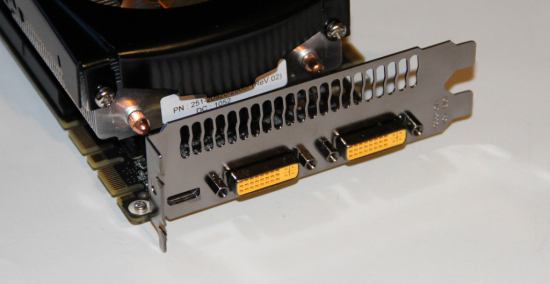 As this is a Nvidia-card we only get 2 DVI-D and a mini-HDMI-connector. Anyone hoping for a DisplayPort-connector needs to wait until (at least) the next generation of Nvidia-cards.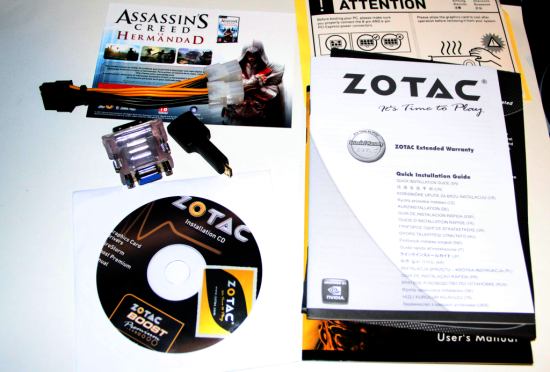 In addition to the card we also get:
mini-hdmi to hdmi-adapter
dvi to vga-adapter
Voucher for Assasins Creed:Brotherhood
User-manual and DVD with drivers
TESTING METHOLOGY
We tested the card on the following system
Hardware
Test Setup
CPU

Intel Core i7 2600K @ 4.7 GHz

Motherboard

ASUS P8P67 Pro

Memory

8 GB DDR3 Kingston

Boot disk

OCZ Vertex 2

Video Cards
HIS HD6970
HIS HD6970 Turbo
Reference HD6970
GTX480
GTX580
Zotac GTX580 Amp2 Edition
PSU

Thermaltake GRAND 750W

OS
Windows 7 Home Premium 64-bit with SP1
Video drivers
AMD cards: Catalyst 11.4 beta
NVIDIA GTX460 1 GB: 266.58
NVIDIA GTX560 Ti: 266.66
| Benchmark: | Settings: |
| --- | --- |
| 3DMark 11 | DX11, "Performance" and "Xtreme" |
| Crysis 2 | DX11, "Ultra" preset, 4xAA, Hi-res-textures |
| Just Cause 2 | DX11, 8xAA/16xAF, Everything set to max except NVIDIA specific settings which are turned off. Dark Tower and Sunrise benchmark. |
| Crysis: Warhead | DX10, "Enthusiast" preset, 4xAA |
Overclocking
The card turned out to be a great overclocker as we could get it up to 940 MHz (GPU) and 4430 MHz (memory). That is a 15% increase in GPU-clockspeed and a 8% increase in memory-clockspeed. In fact, it is a 22% increase in GPU-clockspeed over a regular GTX580 and a 11% increase in memory-clockspeed over a regular GTX580. Not bad at all.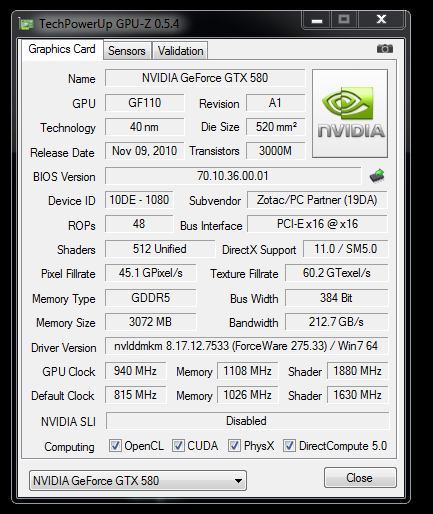 SYNTHETIC BENCHMARKS
Our first batch of benchmarks are synthetic benchmarks, which try to simulate a real life situation.

"3DMark 11 is the latest version of the world's most popular benchmark for measuring the graphics performance of gaming PCs. Designed for testing DirectX 11 hardware running on Windows 7 and Windows Vista the benchmark includes six all new benchmark tests that make extensive use of all the new features in DirectX 11 including tessellation, compute shaders and multi-threading. After running the tests 3DMark gives your system a score with larger numbers indicating better performance. Trusted by gamers worldwide to give accurate and unbiased results, 3DMark 11 is the best way to test DirectX 11 under game-like loads."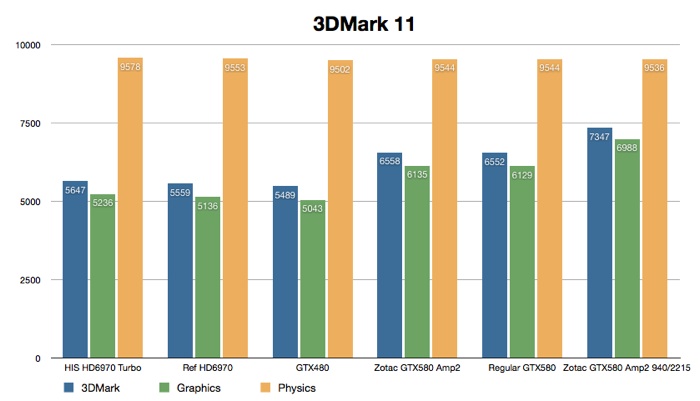 The Zotax GTX580 Amp2 Edition is the fastest card in this test. We do not see a huge improvement in performance over a regular GTX580, at least not until we overclock it. 
DX10 GAMING: JUST CAUSE 2

"Just Cause 2 is an open world action-adventure video game. It was released in North America on March 23, 2010, by Swedish developer Avalanche Studios and Eidos Interactive, and was published by Square Enix. It is the sequel to the 2006 video game Just Cause.
Just Cause 2 employs the Avalanche Engine 2.0, an updated version of the engine used in Just Cause. The game is set on the other side of the world from the original Just Cause, on the fictional island of Panau in Southeast Asia. Panau has varied terrain, from desert to alpine to rainforest. Rico Rodriguez returns as the protagonist, aiming to overthrow the evil dictator Pandak "Baby" Panay and confront his former mentor, Tom Sheldon."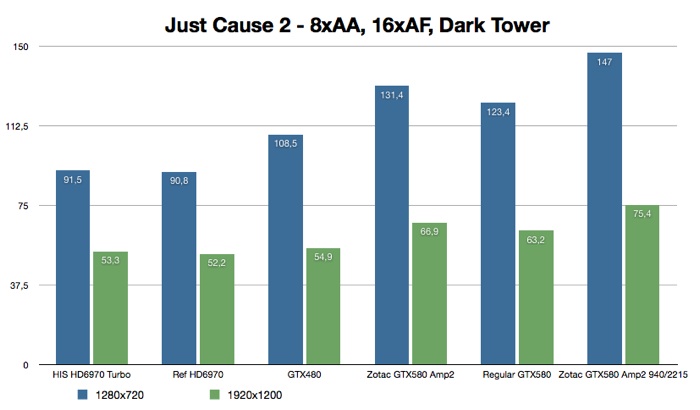 Again the card is the fastest among the cards in the test. This time we definitely see that the extra clockspeed of the Zotac GTX580 Amp2 is giving the card an edge over a regular GTX580. Overclocking the card sees the performance skyrocket and we get between 13-20% higher framerates than with the "regular" Amp2-speeds. 
DX10 GAMING: CRYSIS WARHEAD

Crysis Warhead is the much anticipated standalone expansion pack to Crysis, featuring an updatedCryENGINE™ 2 with better optimization. It was one of the most anticipated titles of 2008.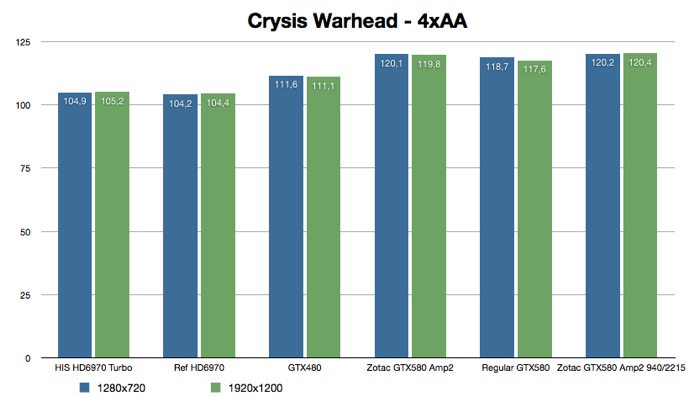 Crysis Warhead is starting to show its age and it is very likely that we are cpu-bound with the GTX580 as we see no big difference either betweeh 1280×720 and 1920×1200 or between the different GTX580 cards. 
DX11 Gaming: Crysis 2
Crysis 2 is the long awaited sequel to the popular fps Crysis and was released in march 2011. At that time it did not come with DX11 support and that was instead added in a patch in end of june 2011 together with a hi-res texture pack for the game.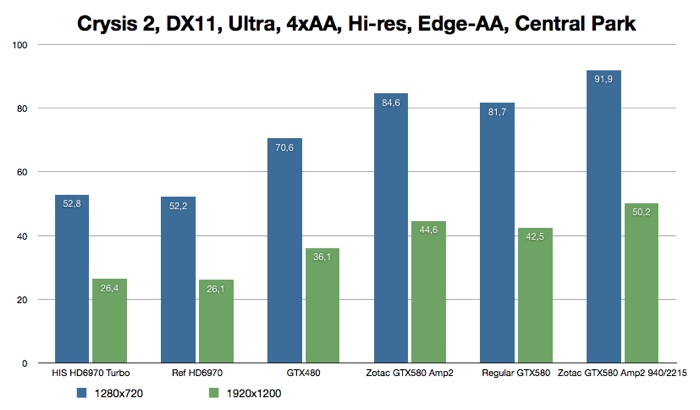 This is yet another game where the increased clockspeed of the Zotac GTX580 Amp2-card is resulting in increased framerates. Overclocking the card gives us up to 13% higher framerates which is not bad at all. Even though we do not hit the magic 60 fps-mark at 1920×1200 getting an average of 50 fps with these high settings is impressive.
DX11 Gaming: Dirt 3
Dirt 3 is the sequel to the popular Dirt 2-game and of course comes with tons of cool graphical features including DX11-support.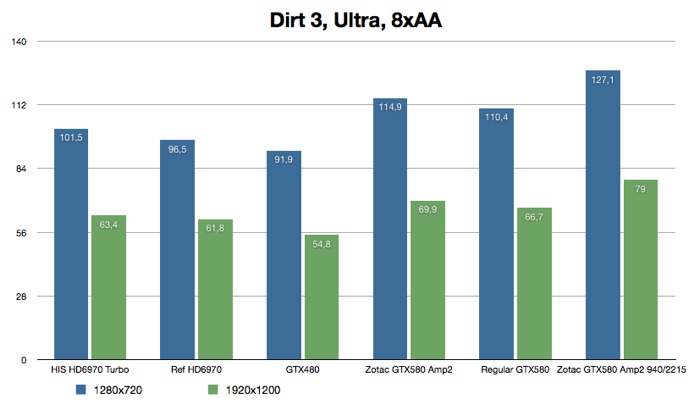 Dirt 3 also benefits from the additional MHz of the Zotac GTX580 Amp2 and again the overclocked card impresses us with 10-13% higher framerates. 
Temperature and Noise
While it is nice to get good performance we still do not want a card that runs hot and/or is noisy. It is therefore very nice to see that the Zalman VF3000 cooler manages not only to keep the card running cool, we never went over 65 Celcius in any of our prolonged tests, but also keeps the noise at a minimum. In fact, as far as we could hear even when the card was running at full load we could not hear the fans over the rest of the (silent) system. 
Conclusion
It is easy to be impressed with the ZOTAC GeForce® GTX 580 AMP²! Edition. Not only is this a fast card but it is also very overclockable and still runs cool and silent. Add the extra memory that should help if you need resolutions over 1900×1200 and a nice bundle we end up with a card that really has few if any flaws.
The only flaw we really can see is that the price at around 450£ (we could not find a US price at the time of writing but it should be around 550-600$) which is quite expensive compared to other GTX580 as well as close to the price of a HD6990 which is a faster (but also noisier) card. 
OUR VERDICT: Zotac GTX580 AMP2! Edition
| | |
| --- | --- |
| Performance | 9 |
| Value | 7 |
| Quality | 9 |
| Features | 9 |
| Innovation | 8 |

We are using a new addition to our scoring system to provide additional feedback beyond a flat score. Please note that the final score isn't an aggregate average of the new rating system.

Pros
Cons

Great performance

Excellent overclocking potential

Great cooling

Silent cooling

Nice game included

 

Needs 3 slots

Warm air is kept inside the case

Pricey

 

 

 
Summary: The ZOTAC GeForce® GTX 580 AMP²! Edition is a fast and overclockable GTX580 that comes with an impressive and silent Zalman Cooler. The only think we can complain about is the price that is slightly to high.