The P67 Sabertooth is definitely a top contender when it comes to P67 motherboards.
INTRODUCTION
The P67 chipset might have been replaced by the Z68, but it still offers more than enough in the way of features and performance. As with all other P67 boards, overclocking is an integral part of the ASUS P67 Sabertooth. Unlike newer Z68 boards, this P67 does not have any onboard graphics options, but for most gamers and enthusiasts, that is not a big problem.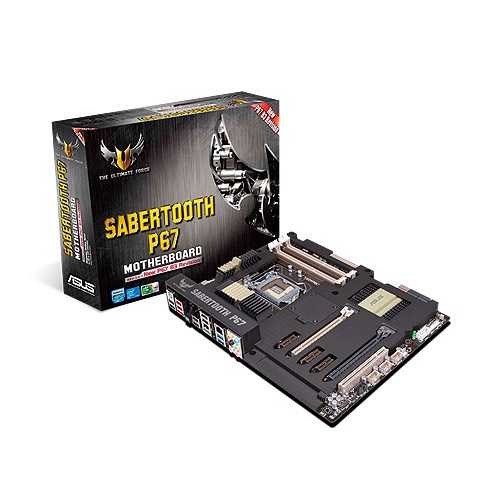 We will be looking at all sorts of unique and interesting features for the ASUS P67 Sabertooth as well as the standard performance and overclock testing. Unlike many other reviews though this one will be conducted using a slightly older graphics card; everyone wants to upgrade their computers but due to the high costs of components, very few people are able to upgrade their CPU, motherboard, and graphics card all at once. Hopefully this review will show how well the P67 Sabertooth performs even with an older graphics card.
As far was features go the Sabertooth P67 is loaded with a variety of unique and innovative designs that really make it stand out from the rest of the crowd. To begin with ASUS has listed the P67 Sabertooth as being "TUF" which essentially means that the motherboard is built with high quality components that have been tested and are sure to last for quite some time.
The P67 Sabertooth also has a unique thermal system that very few other motherboard have. The "Sabertooth" is the first board from ASUS that comes with a full thermal shield that covers nearly all of the motherboard for temperature control. The effectiveness of this will be tested as part of our temperature testing so keep reading to see how much of a difference it makes.
Of course because this motherboard comes from ASUS it is not the only P67 motherboard available. There are plenty of similar motherboards to choose from from ASUS so the additional features and cooling systems included are what really make the Sabertooth stand out. The P67 Sabertooth also comes with a plethora of software and monitoring programs that make it incredibly easy to keep track of all the temperatures and voltages all across the motherboard.
Beyond that the P67 Sabertooth offers a few more features as well. Currently the P67 Sabertooth costs around $220, which puts it right in the middle of ASUS P67 line. Considering the unique and innovative features included with the P67 Sabertooth the price point is quite attractive and should make the P67 Sabertooth a hot seller. Keep reading for the rest of the details as well as plenty of testing!
Features
The fact that ASUS included plenty of USB 3.0 ports as well as an additional header for USB 3.0 expansion was a very nice touch; as USB 3.0 is becoming more and more popular it is quite helpful to have plenty of available connections.
The thermal armor system used by the P67 Sabertooth is also a very unique feature that is only available on this board. Obviously there are going to be some benefits to the heat shielding though the appearance alone makes this a very cool feature according to most people. Finally, the UEFI BIOS system makes it surprisingly easy to navigate through all of the options and settings; UEFI really does make a world of difference when compared to the old school BIOS systems. It also adds support for 2.2TB+ HDDs, a feature which was missing from BIOS chips previously.
Unfortunately even though ASUS did include 2 PCI-Express slots and CrossFireX/SLI capabilities, it is much less useful than it should be. The P67 Sabertooth will automatically revert to PCI-Express x8 when two GPUs are installed so the performance benefit is diminished slightly (note, this is a chipset limitation that all P67 boards suffer from). This is not necessarily a huge deal but it would have definitely been nice of ASUS to build in the ability to handle two graphics cards at full speed.
TUF stands for The Ultimate Force.
The TUF series delivers a "tough" image. With the unique design & high quality components (military-standard), TUF series is born for pursuing the preeminent stability, all-round compatibility, and extreme durability
"Ultimate COOL!" Thermal Solution
TUF Thermal Armor


Total Airflow-Boosting Heat Dissipation
The TUF Thermal Armor is the world's first ever thermal design for the entire motherboard, not just for select critical areas. It safeguards the system against hot air generated by connected cards and components, keeping temps down. With its sophisticated and agile integrated shunt design, the Thermal Armor improves cool air circulation, directing it towards every important part for a complete motherboard cool down. It effectively conducts hot air away and out of the case through special airflow channels, contributing to enhanced system stability and extending component lifespan.
TUF Thermal Radar
Real Time Temp Detection and Heat Removal
The TUF Thermal Radar monitors temps in critical parts of the motherboard in real time, automatically adjusting fan speeds to make sure the system maintains high stability without overheating. It consists of multiple sensors for various components on the motherboard, giving users the ability to monitor each one individually. The Thermal Radar automatically calculates ideal fan speeds based on different parameters selected by users for each component, keeping everything cooler and longer lasting.
"TUF ENGINE!" Power Design
DIGI+ VRM
Herald the Arrival of a New Digital Power Design Era
The new ASUS DIGI+ VRM design upgrades motherboard power delivery to a digital standard. The 8+2 digital architecture provides the highest power efficiency, generating less heat to enhance longer component lifespan and ensure minimal powerloss. With ASUS DIGI+ VRM, users can easily adjust power phase performance, enabling new PWM voltage and frequency modulation controls. Digital 8+2 power phase design also expands the modulation spectrum for improved stability and lower VRM switching noise by dynamically detecting system load, empowering users with superior flexibility and perfect precision to ensure optimized performance, extreme system stability, and greater power efficiency.
E.S.P. Efficient Switching Power Design
Optimal power efficiency for key components
Exclusively for this motherboard, the switching power design is provided not only for the CPU and memory, but also for other key components such as graphics cards, LAN and USB 3.0. E.S.P. dramatically improves system efficiency and reduces heat generation.
TUF Components (Alloy Choke, Cap. & MOSFET; Certified by Military-standard)
Certified for Tough Duty
Get rugged performance even in the most challenging conditions with robust TUF chokes, solid capacitors, and MOSFETs–certified through third-party, military-grade testing. TUF Chokes, also known as the "Alloy Choke", is a made of a compound of various types of metal instead standard iron, enables the support of up to a massive 40A of rated current, 25% higher than conventional component. Furthermore, the single piece packaing also elimates the emission of virbation noise, delivering superb charactoristics as well as durability under extreme conditions.
> Learn more on test report
"Safe & Stable!" Guardian Angel
MemOK!
Any Memory is A-OK!
MemOK! quickly ensures memory boot compatibility. This remarkable memory rescue tool requires a mere push of a button to patch memory issues. MemOK! determines failsafe settings and dramatically improves your system boot success. Get your system up and running in no time!
ESD Guards
Unique protection of motherboard components from unexpected electrostatic discharges (ESD)
Electrostatic discharge (ESD) can happen suddenly and its damaging effects is often underestimated. Exclusive ASUS anti-static chip, a protective circuit design, and the I/O shield provides four times better protection to extend component lifespan.
Latest Transfer Technology
Extra SATA 6Gb/s Supports
Extra Ports, Extra Speed and Accessibility

The Intel® P67 Express chipset natively supports the next-generation Serial ATA (SATA) interface, delivering up to 6Gb/s data transfer. ASUS provides extra SATA 6Gb/s ports with enhanced scalability, faster data retrieval, and double the bandwidth of current bus systems.
Front Panel USB 3.0 Support
Convenient USB 3.0 Front Panel Compatibility

ASUS provides standardized USB 3.0 front panel support, compatible with any chassis. Enjoy faster throughput of USB 3.0 without relegating cables or devices to the hard-to-reach rear I/O.
Complete USB 3.0 Solution
Double USB access, double convenience
ASUS facilitates strategic USB 3.0 accessibility for both the front and rear panel – 4 USB 3.0 ports in total. Experience the latest plug & play connectivity at speeds up to 10 times faster than USB 2.0. The SABERTOOTH P67 affords greater convenience to high speed connectivity.
CPU, Chipset, Memory and Graphics features
LGA1155 socket for Intel® Second Generation Core™ i7/ Core™ i5/ Core™ i3 Processors
This motherboard supports the latest Intel® second generation Core™ i7/Core™ i5/Core™ i3 processors in the LGA1155 package, with memory and PCI Express controllers integrated to support 2-channel (4 DIMM) DDR3 memory and 16 PCI Express 2.0 lanes. This provides great graphics performance. Intel® second generation Core™ i7/Core™ i5/Core™ i3 processors are among the most powerful and energy efficient CPUs in the world.
Intel® P67 Express Chipset
The Intel® P67 Express Chipset is the latest single-chipset design to support new socket 1155 Intel® second generation Core™ i7/Core™ i5/Core™ i3 processors. It provides improved performance by utilizing serial point-to-point links, allowing increased bandwidth and stability. Additionally, the P67 provides 2 SATA 6Gb/s and 4 SATA 3Gb/s ports for faster data retrieval at double the bandwidth of current bus systems.
Quad-GPU SLI and Quad-GPU CrossFireX Support!
Flexible Multi-GPU solutions, Your Weapon of Choice!
SABERTOOTH P67 brings multi-GPU configurations through both SLI™ and CrossFireX. This motherboard features the powerful Intel P67 platform, optimizing PCIe allocation in multiple GPU configurations. Expect a brand new gaming style like you've never experienced before!
Dual-Channel DDR3 1866/1800/1600/1333/1066 support
The motherboard supports DDR3 memory that features data transfer rates of 1866/1800/1600/1333/1066 MHz to meet the higher bandwidth requirements of the latest 3D graphics, multimedia, and Internet applications. The dual-channel DDR3 architecture enlarges the bandwidth of your system memory to boost system performance.
SABERTOOTH P67 Product Overview
Specifications
CPU
Intel® Socket 1155 for 2nd Generation Core™ i7/Core™ i5/Core™ i3 Processors
Supports Intel® 32 nm CPU
Supports Intel® Turbo Boost Technology 2.0
* The Intel® Turbo Boost Technology 2.0 support depends on the CPU types.
* Refer to www.asus.com for CPU support list
Chipset
Intel® P67(B3)
Memory
4 x DIMM, Max. 32GB, DDR3 1866/1800/1600/1333/1066 Hz Non-ECC, Un-buffered Memory
Dual Channel Memory Architecture
Supports Intel® Extreme Memory Profile (XMP)
* According to Intel® SPEC, the Max. 32GB memory capacity can be supported with DIMMs of 8GB (or above). ASUS will update QVL once the DIMMs are available on the market.
* Hyper DIMM support is subject to the physical characteristics of individual CPUs. 
* Refer to www.asus.com or user manual for the Memory QVL (Qualified Vendors Lists).
* Due to CPU behavior, DDR3 1800 MHz memory module will run at DDR3 1600 MHz frequency as default.
Multi-GPU Support
Supports NVIDIA® Quad-GPU SLI™ Technology
Supports AMD Quad-GPU CrossFireX™ Technology
Expansion Slots
2 x PCIe 2.0 x16 (x16 or dual x8)
3 x PCIe 2.0 x1
1 x PCI
Storage
Intel® P67(B3) chipset :
2 x SATA 6Gb/s port(s), brown
1 x eSATA 3Gb/s port(s), black
Support Raid 0, 1, 5, 10
Marvell® PCIe SATA 6Gb/s controller :
2 x SATA 6Gb/s port(s), gray
JMicron® JMB362 controller :
1 x Power eSATA 3Gb/s port(s), green
1 x eSATA 3Gb/s port(s), red
LAN
Intel® 82579, 1 x Gigabit LAN Controller(s)
Intel® LAN- Dual interconnect between the Integrated LAN controller and Physical Layer (PHY)
Audio
Realtek® ALC 892 8-Channel High Definition Audio CODEC
– Supports : Jack-detection, Multi-streaming, Front Panel Jack-retasking
Audio Feature :
– Absolute Pitch 192kHz/ 24-bit True BD Lossless Sound
– Blu-ray audio layer Content Protection 
– Optical S/PDIF out port(s) at back panel
IEEE 1394
VIA® 6308P controller
2 x IEEE 1394a port(s)
(1 at mid-board, 1 at back panel)
USB Ports
NEC® USB 3.0 controller :
4 x USB 3.0 port(s) (2 at back panel, blue, 2 at mid-board)
Intel® P67(B3) chipset :
14 x USB 2.0 port(s) (8 at back panel, , 6 at mid-board)
Special Features
TUF ENGINE! Power Design :
– 8 +2 Digital Phase Power Design
– TUF Components (Alloy choke, Cap. & MOSFET; certified by military-standard)
– ASUS DIGI+ VRM Utility
– E.S.P. : Efficient Switching Power Design
Ultimate COOL! Thermal Solution :
– TUF Thermal Armor
– TUF Thermal Radar
ASUS Exclusive Features :
– MemOK!
– AI Suite II
– Anti-Surge
– ESD Guards
– Front Panel USB 3.0 Support
– ASUS UEFI BIOS EZ Mode featuring friendly graphics user interface
ASUS EZ DIY :
– ASUS Q-Shield
– ASUS O.C. Profile
– ASUS CrashFree BIOS 3
– ASUS EZ Flash 2
– ASUS MyLogo 2
– Multi-language BIOS
ASUS Q-Design :
– ASUS Q-LED (CPU, DRAM, VGA, Boot Device LED)
– ASUS Q-Slot
– ASUS Q-DIMM
– ASUS Q-Connector
Back I/O Ports
1 x PS/2 keyboard/mouse combo port(s)
1 x eSATA 3Gb/s
1 x Power eSATA 3Gb/s
1 x IEEE 1394a
1 x LAN (RJ45) port(s)
2 x USB 3.0
8 x USB 2.0
1 x Optical S/PDIF out
6 x Audio jack(s)
Internal I/O Ports
1 x USB 3.0 connector(s) support(s) additional 2 USB 3.0 port(s) (19-pin, moss green)
3 x USB 2.0 connector(s) support(s) additional 6 USB 2.0 port(s)
1 x COM port(s) connector(s)
4 x SATA 6Gb/s connector(s)
4 x SATA 3Gb/s connector(s)
1 x IEEE 1394a connector(s)
1 x CPU Fan connector(s) (4 -pin)
2 x Chassis Fan connector(s) (1 x 4 -pin, 1 x 3 -pin)
1 x Power Fan connector(s) (3 -pin)
1 x Assistant Fan connector(s) (3 -pin)
1 x S/PDIF out header(s)
1 x 24-pin EATX Power connector(s)
1 x 8-pin ATX 12V Power connector(s)
1 x Front panel audio connector(s) (AAFP)
1 x System panel(s) (Q-Connector)
1 x MemOK! button(s)
1 x Clear CMOS jumper(s)
Accessories
User's manual
ASUS Q-Shield
2 x SATA 3Gb/s cable(s)
2 x SATA 6Gb/s cable(s)
1 x SLI bridge(s)
1 x Q-connector(s) (2 in 1)
1 x TUF Certification card(s)
1 x TUF 5 Year Warranty manual(s) (by region)
4 x screws for Assistant Fan(s)
BIOS
32 Mb Flash ROM , UEFI AMI BIOS, PnP, DMI2.0, WfM2.0, SM BIOS 2.5, ACPI 2.0a, Multi-language BIOS, ASUS EZ Flash 2, ASUS CrashFree BIOS 3
Manageability
WfM 2.0,DMI 2.0,WOL by PME,WOR by PME,PXE
Support Disc
Drivers
Anti-virus software (OEM version)
ASUS Update
ASUS Utilities
Form Factor
ATX Form Factor
12 inch x 9.6 inch ( 30.5 cm x 24.4 cm )
Software Overview
Just like all other recent ASUS motherboards, the P67 Sabertooth came bundled with a good bit of software utilities that will accomplish a variety of different things. The most useful piece of software is the revolutionary ASUS AI Suite II which offers a variety of overclocking, monitoring, and general options.

Click Image to Enlarge
This is the main panel of the AI Suite II; each button will expand into multiple other tools.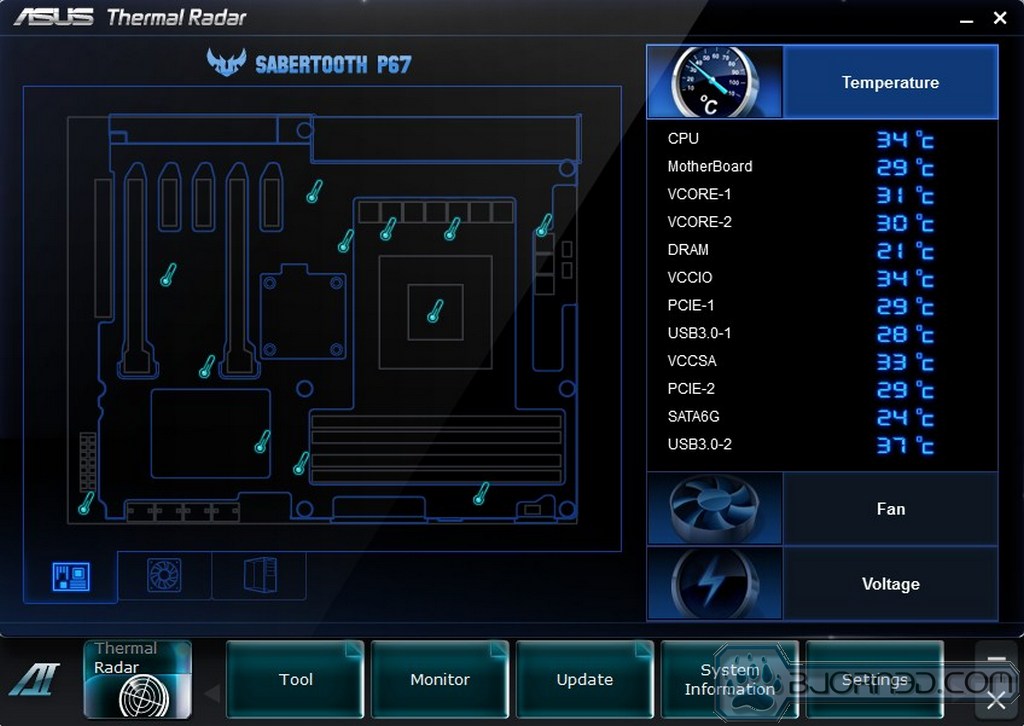 Click Image to Enlarge
Here is the first screen that many people select, the Thermal Radar option. Just as the name implies, it gives users a variety of temperature readings from the various sensors on the motherboard, processor, and others. The second and third tabs of this screen can also be used to adjust the speed of any fans connected to the motherboard headers.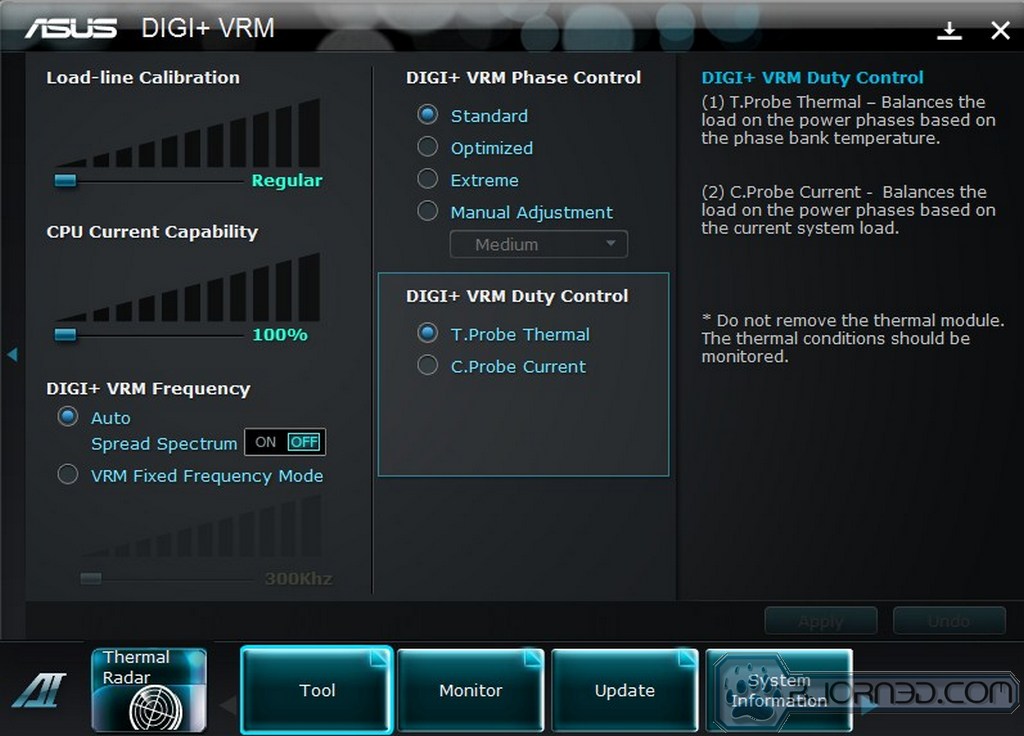 Click Image to Enlarge
Next up we see the standard DIGI+ VRM screen which gives users the option to adjust load line calibration to help stabilize and maximize overclocking potential.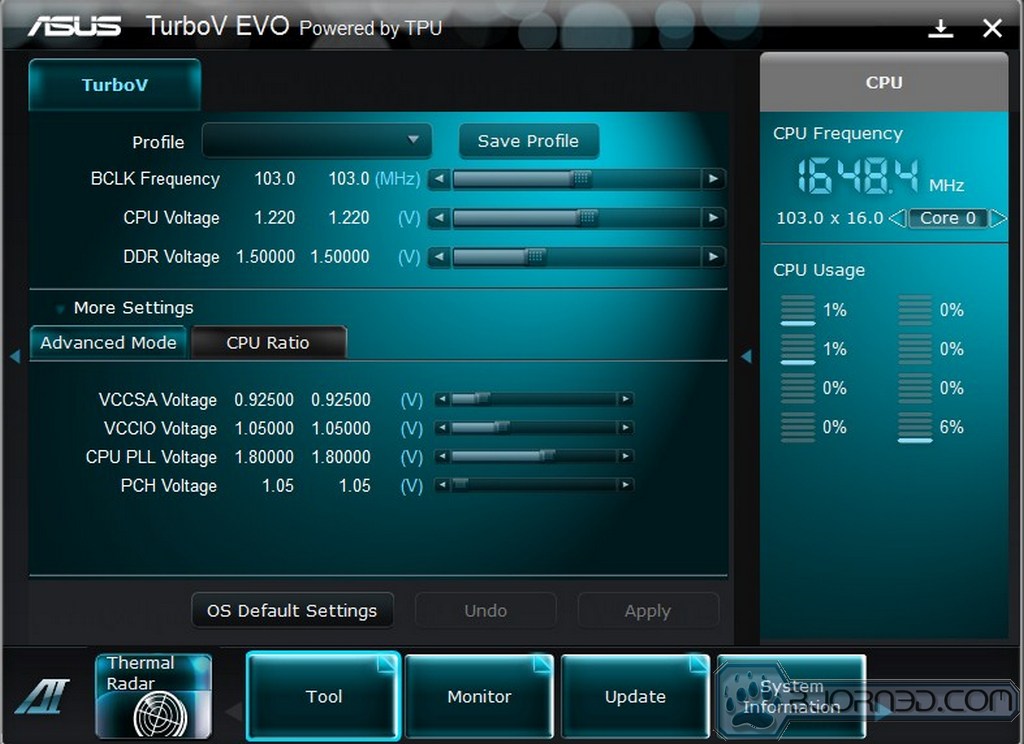 Click Image to Enlarge
Here we see what ASUS calls the TurboV EVO screen. Essentially, this screen is used to adjust and tweak speed and voltage settings. Just like in the BIOS, nearly everything can be adjusted here, and users can even set multiple profiles so it is easier to switch between multiple settings.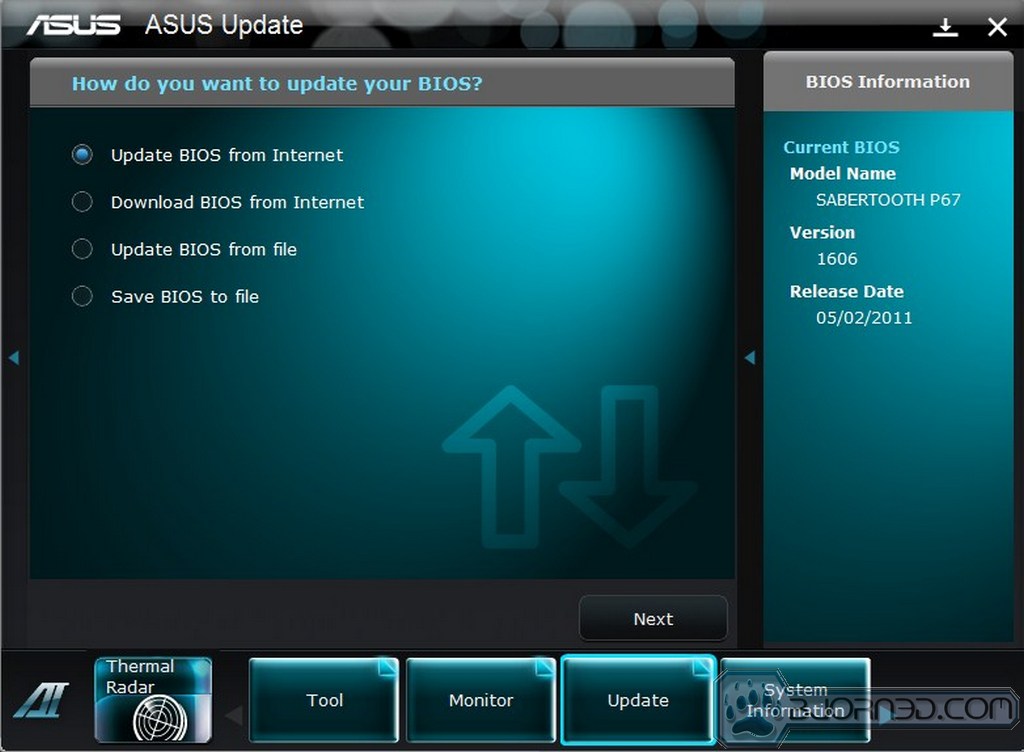 Click Image to Enlarge
There is even an ASUS Update screen which allows users to automatically download and install the newest BIOS revisions from within Windows. There are a few different options available as to how users wish to update the BIOS.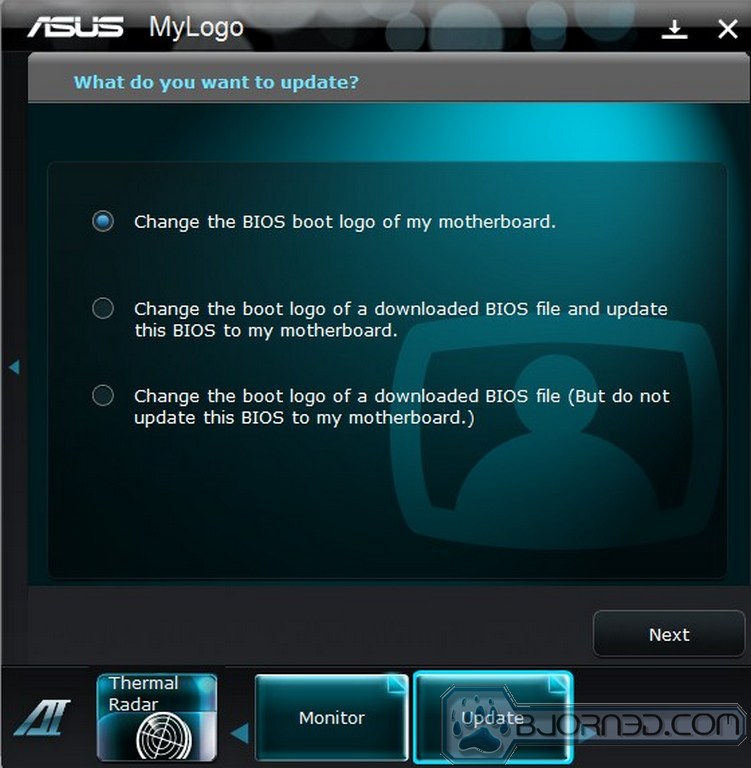 Click Image to Enlarge
Here users have the option of changing the boot logo of the BIOS file being used. This is a fairly unique feature and while it is purely cosmetic, it is quite unique.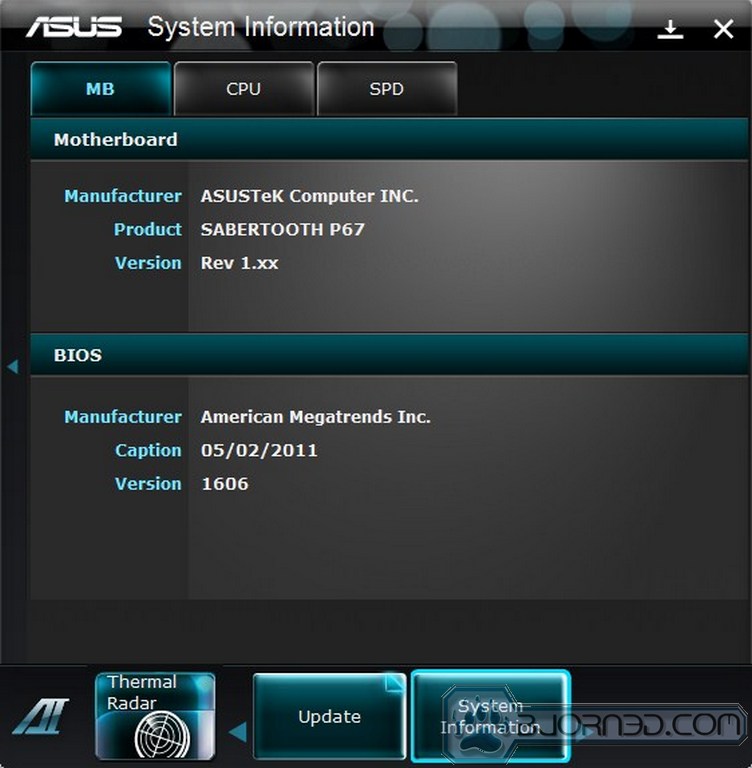 Click Image to Enlarge
Here is the system information tab which gives all the specifications of the current motherboard. There is also a tab for CPU information as well as RAM (the SPD tab).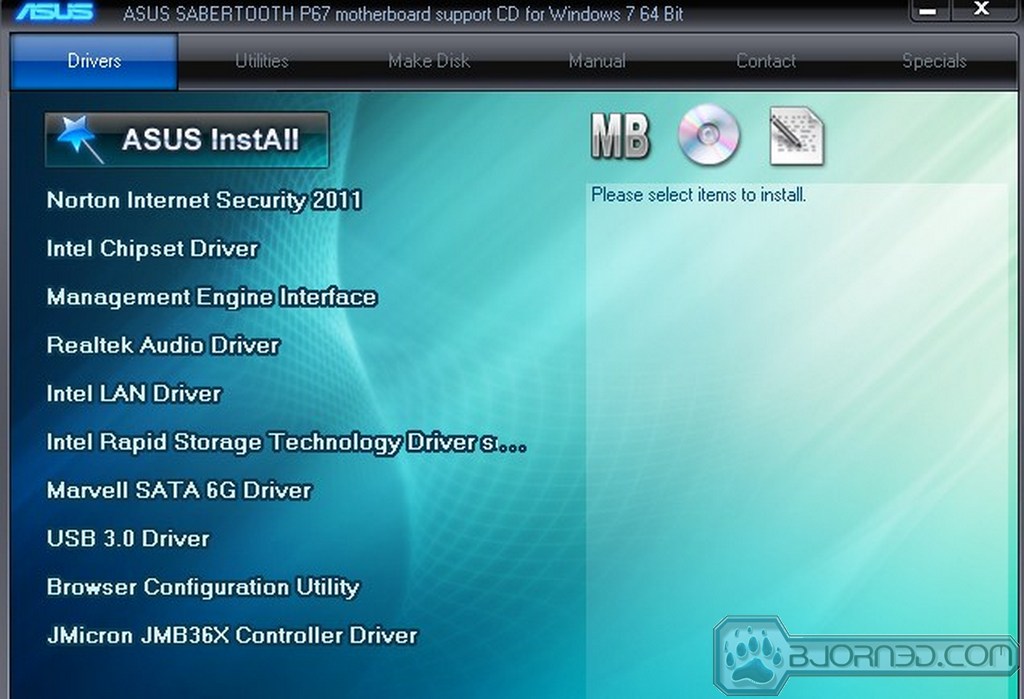 Click Image to Enlarge
Here is the display users will see when viewing the included DVD. All of the mentioned utilities are available on the included disc as well as all of the necessary drivers and even a copy of Norton Internet Security 2011.
Overall the software works very well and the motherboard seems to have no problems with any software or operating system configurations. The only real issue we have experienced is that the P67 Sabertooth seems to be having issues with waking up from sleep mode. No matter how sleep mode is configured within Windows the board always fails to wake from sleep mode.
Overview of the P67 Sabertooth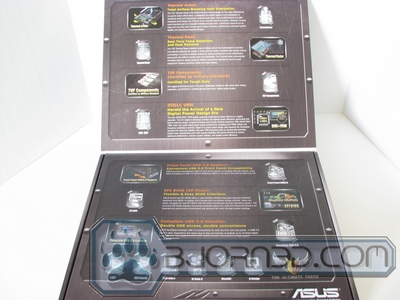 Click Image to Enlarge
The packaging for the ASUS P67 Sabertooth is pretty much the same as other recent ASUS boards we have reviewed. The box covers basically all the important and interesting features and specifications of the board without being too full of information.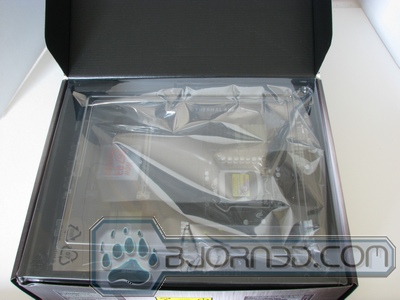 Click Image to Enlarge
Once again ASUS stuck with what works. Inside of the box, the motherboard is simply wrapped in an antistatic bag without much else going on. The accessories were obviously inside the box as well, more details on that to come.
Click Image to Enlarge
Here is the motherboard itself. The design layout is the standard P67 layout, although the first thing everyone notices is the thermal armor. The plastic armor surrounds and covers nearly the entire motherboard, and according to ASUS, should reduce the temperature of most components by keeping the heat sources separated.
Click Image to Enlarge
At last we see the motherboard with a full size CPU cooler and a video card installed. Obviously there is plenty of space between them to connect everything and there is clearly enough room for a second video card to utilize SLI or CrossFire.
The second photo features all of the included accessories, cables, and guides. As we can see ASUS included plenty of SATA cables along with other additional accessories, and overall there were more than enough included with the P67 Sabertooth. The only thing we would have liked ASUS to include is the optional "assist fan" but for most people the additional fan is likely not necessary.
Included Accessories:
2x SATA 3.0Gb/s Cables
2x SATA 6.0Gb/s Cables
1 x Q-Shield
1 x Q-Connecor (2 in 1)
User's manual
1 x ASUS SLI bridge cable
1 x TUF Certification card
1 x TUF 5 Year Warranty manual (by region)
4 x screws for Assistant Fan
Support Disc (with drivers and utilities)
A Closer Look at the p67 sabertooth
Click Image to Enlarge
To start off with we will take a look at the built in I/O ports as well as the unique "Q-Shield" ASUS has included with this board. The Q-Shield is unique because unlike most I/O shields it is padded and includes some sort of special electromagnetic protection material that is supposed to help the motherboard.
The motherboard itself comes with the following I/O ports:
2 x USB 3.0/2.0 ports (blue)
1 x Power eSATA 3Gb/s port (green)
1 x PS/2 Keyboard/Mouse Combo port
1x External SATA 3Gb/s port (red)
1 x S/PDIF Out (Optical)
1 x IEEE 1394a
1x LAN(RJ45)
8x USB 2.0/1.1
6 -Channel Audio I/O
As with many newer boards the P67 has quite a selection of I/O ports available. The inclusion of a PS/2 port for keyboard or mouse use is somewhat uncommon since very few motherboards nowadays include it but for a select few users there is definitely a desire to include the PS/2 port. It was also nice to see that there are a few different SATA/eSATA options available alongside the USB 2.0 and USB 3.0 connections.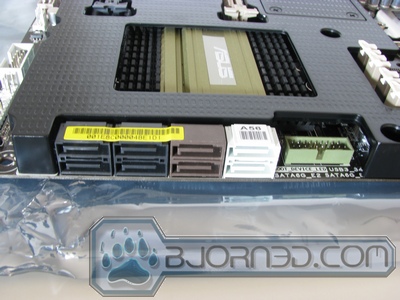 Click Image to Enlarge
ASUS was also nice enough to color code everything on both the inside and outside of the computer to make it easy to identify everything. Much like the outside I/O, ports the internal SATA connections are color coded by bandwidth so it is easy to pick the right one. This same color coding is also referred to while in BIOS so users can easily remember which connection is which. The brown SATA connections are 6Gb/s SATA ports which are powered by the Intel controller, and the white connections are also 6GB/s but are powered by the Marvell controller. The black SATA connections are 3.0Gb/s SATA ports that are also powered by the Intel controller.
Click Image to Enlarge
Here we can see a few different close-ups of the thermal shield itself. Obviously it covers the motherboard so we can't see any of the actual PCB, making the entire thing look quite unique and futuristic. On the left side the primary PCI-Express slot and CPU are clearly visible; the removable cover in the center is where an optional accessory fan can be attached to blow air under the thermal shield if desired. The right side image shows a close-up of the PCI and PCI-Express slots on the motherboard; the edges of the thermal shield are also visible. There is plenty of room for cards to fit into the slots even with the thermal shield installed. 
There is more than enough room between the PCI-Express slots to allow even the biggest graphics cards to fit without touching. There are also more than enough PCI-Express x1 slots available too. One drawback to the dual PCI-Express slots is that although they support SLI/CrossFire they will only run at x8 rather than x16. This is a hardware limitation for all P67 motherboards but it is still worth noting as it could affect performance. Otherwise the expansion slots are setup and configured nicely. ASUS also included a PCI slot for older expansion hardware. The thermal shield is also shaped so as to not interfere with expansion cards and from our testing it is clear that the thermal shield does not make it difficult to add or remove graphics cards.
Click Image to Enlarge
Here is what ASUS calls their "Q-Connector" system; it is not exactly a new feature but it is definitely something that every motherboard should come with. Having the ability to connect the front panel lights and switches to this rather than the board sure makes it a lot easier to install later on. On the left we can see the Q-Connectors connected to the case's front panel connections while on the right are the Q-Connectors connected to the board's front panel headers.
Click Image to Enlarge
On the back of the motherboard we find an interesting warning. Apparently due to the way the motherboard is designed there is a slight risk for short circuiting which is why this warning pad is here. As we can see on the right, some of the mounting screws extend quite a ways out from the bottom of the motherboard so using standoffs to separate the board from the case is crucial.
Click Image to Enlarge
In the left image we can see a few important features. Obviously the large heat sink system is visible and it has a very interesting appearance. Directly in front of the large heat sink are two CPU fan headers; unlike many boards, however there are 2 headers available for CPU fans which is great since many aftermarket CPU coolers use 2 fans. On the right are USB 3.0 headers; this is a nice feature that few motherboards include at this time so it is nice to see ASUS added it to the P67 Sabertooth.
One thing to note about the dual CPU fan headers is the variety of controls offered by ASUS. ASUS worked hard to make sure that all fan headers are completely controllable or adjustable by the user, either through BIOS, or software. This is great because there is no longer a need for an external fan controller plus you can easily and quickly change between high performance cooling and quieter cooling options depending on what you are doing at the time.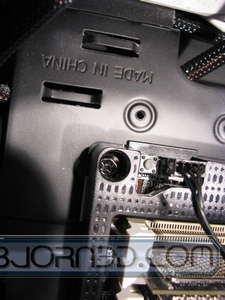 Click Image to Enlarge
Finally we can see one of the major shortcomings of the P67 Sabertooth. When installing the motherboard into the case, it is difficult to screw it in properly, especially while lining it up with the hole. That is exactly what happened here and thanks to the Sabertooth's unique thermal armor system is can be somewhat difficult to remove or straighten a screw such as this one. With a little extra work it is possible but it is just another hassle.
Click Image to Enlarge
Finally we see the motherboard itself without the thermal shield. Removing it is not too difficult; there are only 12 screws to remove and the shield will simply lift off. As far as temperatures go there is some testing coming up which will determine if it is better to keep the shield on or off.
The biggest thing that makes this motherboard different from most is the combination of the thermal shield and the "TUF" components and hardware. According to ASUS the TUF components are meant to be tough and durable parts that will stand up to extreme use and abuse without failing. They also have the long term reliability needed by professionals. All of the "TUF" components on this motherboard are certified against a variety of military standards as well. On this particular motherboard ASUS lists that the "TUF" components are the MOSFETs, capacitors, and chokes used. This is quite a big deal as each of these have been known to fail in low-end or cheap motherboards when they are pushed to the limit; thanks to the TUF components on the P67 Sabertooth this should not be an issue.

Obviously it is pretty difficult to test the quality or durability of specific parts such as the TUF components but given the traditional quality of the TUF parts it is always good to see them added to any motherboard. Capacitors and MOSFETs do fail on motherboards, so anything that can be done to lengthen their life is a good thing and that is exactly what ASUS has done.
Along with these TUF components ASUS has also included a 5 year warranty for this motherboard. This shows that ASUS is really willing to stand behind their high quality product and will keep you protected for years to come in case something was to fail.
Finally we would like to point out a few additional features that really make the P67 Sabertooth stand out. Obviously the thermal armor is the most noticeable thermal system on the P67 Sabertooth but it is also important to note the addition of 12 thermal sensors on the motherboard. ASUS included so many sensors simply because it makes it incredibly easy to monitor and keep track of temperatures when everything is available in a single spot. The software page showed a quick peek at the thermal radar readings but here we can see ASUS's official information about the sensors as well as a numbered list of each of the sensors.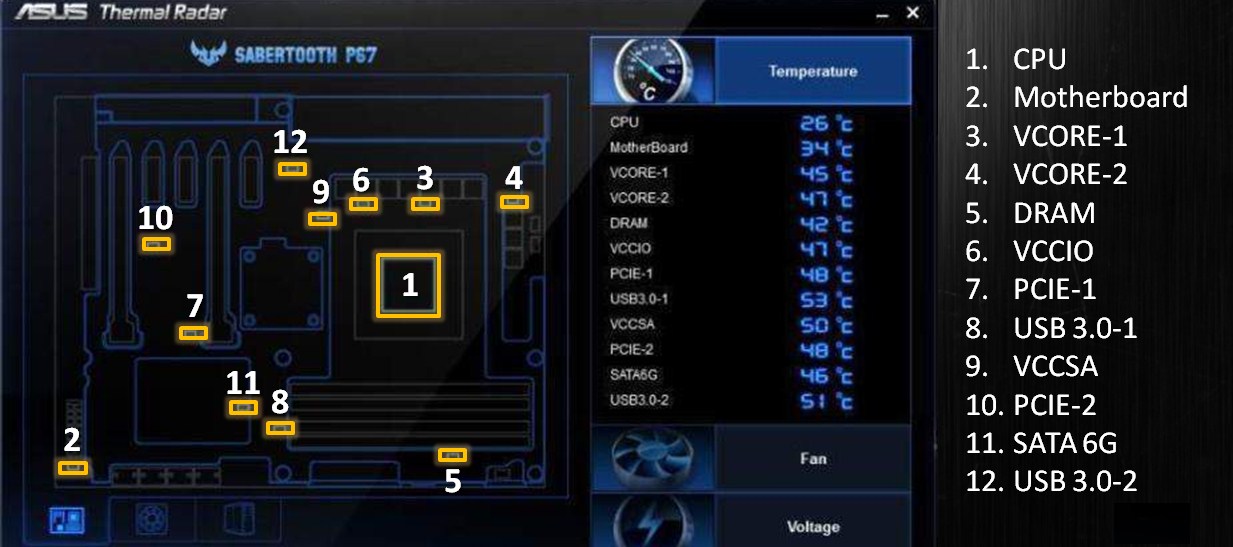 Obviously it is not exactly common to have this many thermal sensors on a board so we thought it was particularly important to point out that they are available. When overclocking or tweaking, it is incredibly easy to keep track of what temperatures are changing and even to see where on the motherboard temperatures are being affected thanks to the wide variety of thermal sensors.
BIOS Overview
The first thing most people notice about the BIOS system used by the P67 Sabertooth is that it doesn't look anything like what most people are used to. Fortunately ASUS has begun implementing UEFI BIOS which really makes everything much easier to use and navigate. As we can see the entire BIOS system is visual now rather than text.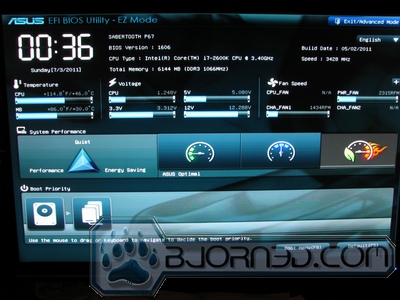 Click Image to Enlarge
This is the main page of the "EZ Mode" which gives limited control over how things work. In the center there are 3 different options for performance which can be selected; each of these is preset by ASUS and differences include clock speed, power consumption, and fan speed control. The left hand option is designed to save power and reduce temperatures by lowering certain voltages as much as possible without having to reduce the clock speed of the processor. The middle option is completely stock (this is the default as well). And the final option on the right is the TPU (TurboV Processing Unit) option which will increase the performance of the processor without drastically increasing any voltages or speeds. This is designed to be an easy way to get a moderate overclock for even the most basic user.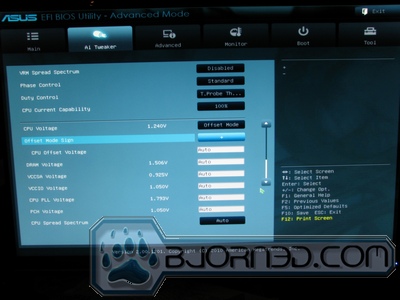 Click Image to Enlarge
Here two  few shots of the "AI Tweaker" portion of the P67 Sabertooth BIOS. There is a wide variety of options ranging from CPU and memory adjustments of any kind. Once again thanks to the UEFI interface, it is remarkably easy to navigate through all the menus.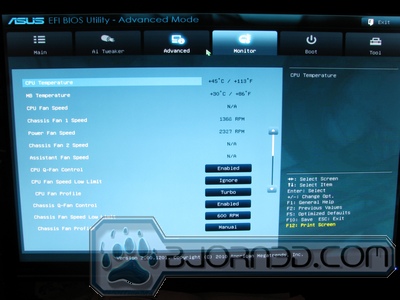 Click Image to Enlarge
Here is a shot of the ASUS Monitor page within BIOS. This is about the same as any other monitoring suite and it closely resembles the ASUS AI Suite II monitoring system available in Windows.
Click Image to Enlarge
Here are just a few more shots of the advanced options available within BIOS. On these screens there are dozens of options available for things such as storage and onboard audio. Just like everywhere else nearly everything is completely configurable.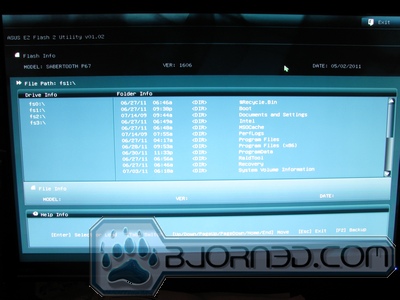 Click Image to Enlarge
Finally, here is the ASUS EZ Flash system which is used to update BIOS on the P67 Sabertooth. The EZ Flash utility gives full access to the hard drive so it is easy to find and select the newest BIOS file you have downloaded. Everything is run from within this updater so it is surprisingly easy to update to the newest BIOS revision.
Overall the entire BIOS system is remarkably easy to use. The graphical interface makes it very easy to navigate and find the options or settings you need with ease. BIOS in general is remarkably similar to the ASUS AI Suite II program which comes with the motherboard too so once you are familiar with one system it will be very easy to utilize both for tweaking or overclocking the system.
Here are the exact details for what types of adjustments can be made. These are nearly identical to all of the previous P67 boards from ASUS. Small changes have been made but overall everything is almost identical.
Memory Adjustments
Primary Timing
 
CAS
Auto, 3-15
RAS to CAS
Auto, 4-15
RAS Pre Time
Auto, 4-15
RAS ACT Time

Auto, 4-40

DRAM Command Mode
Auto, 1-3
Secondary Timing
 
RAS to RAS Delay
Auto, 4-15
REF Cycle Time
Auto, 48-511
Refresh Interval
Auto, 3120-9999
WRITE Recovery Time
Auto, 5-16
READ to PRE Time
Auto, 4-15
Four ACT WIN Time
Auto, 16-63
WRITE to READ Delay
Auto, 4-8
CKE Minimum pulse width
Auto, 3-15
CAS Write Latency
Auto, 5-15
RTL
Auto, 16-63
Third Timings
 
tWDR (DD)
Auto, 1-6
tRWDR (DD)
Auto, 1-6
tRWSR
Auto, 1-6
tRR (DD)
Auto, 1-6
tTTSR
Auto, 1-7
tWW (DD)
Auto, 1-6
tWW (DR)
Auto, 1-6
tWWSR
Auto, 4-7
CPU Power Management offers fine-tuning of the processor's Turbo power, adding stability and better overclocking.
CPU Power Management
Long Duration Power Limit
Auto, 1-255
Long Duration Maintained
Auto, 1-32
Short Duration Power Limit
Auto, 1-255
Additional Turbo Voltage

Auto, 0.004-1.000 in 0.004v increments

Primary Plane Current Limit
Auto, 0.125-1023.875 in 0.125 increments
DIGI VRM Adjustments
 
 
Load Line Calibration
Auto, Regular, Medium, High, Ultra High, Extreme
VRM Frequency
Auto, Manual
VRM Spread Spectrum
Enabled, Disabled
Phase Control

Standard, Optimized, Extreme, Manual

Manual Phase Control
Ultra Fast, Fast, Medium, and Regular
Duty Control
T. Probe Thermal, C. Probe Current
CPU Current Capability
100%-140%
Voltage Adjustments
CPU VOLTAGE
Manual, Offset
CPU Manual Voltage
Auto, 0.800V – 1.990V in 0.05V
DRAM Voltage
Auto, 1.20V – 2.20V in 0.00625V increments
VCCSA Voltage
Auto, 0.8000V – 1.7000V in 0.00625V increments
VCCIO Voltage

Auto, 0.8000V – 1.7000V in 0.00625V increments

CPU PLL Voltage
Auto, 1.2000V-2.2000 in 0.00625V increments
PCH Voltage
Auto, 0.8000V – 1.7000V in 0.00625V increments
DRAM DATA REF Voltage
Auto, 0.3950x – 0.6300x in 0.0050x increments
DRAM CTRL REF Voltage
Auto, 0.3950x – 0.6300x in 0.0050x increments
CPU Spread Spectrum
Auto, Enable, Disable
Overclocking
The P67 Sabertooth makes overclocking much simpler. With just a few basic tweaks, users can easily reduce power consumption while also increasing the speed of the CPU dramatically. For the purposes of this review however, we went with a simple yet effective multiplier increase so that the CPU clock bumped to 4.5GHz from the stock speed of 3.4GHz.
Click Image to Enlarge
As we can see the voltage is surprisingly low for how high the clock speed is. Surely there is plenty left in this CPU and motherboard for anyone who wants to really push it but considering how little work was involved in pushing this processor to 4.5GHz, I am more than happy with the results. Whether users wish to overclock manually using the AI Suite II, using preset overclocking settings in AI Suite II, or manually though BIOS there is plenty to be gained through a bit of work overclocking with the P67 Sabertooth.
Temperatures
The temperatures were recorded with CoreTemp while running LinX for a few hours during stability tests and double checking the results with OCCT for 20 minutes right after LinX finished its stress test. Because this review is focused primarily on basic overclocking compared to stock, the comparison will be between the overclocked temperature, the stock temperature, and the stock temperature of an X58 system. Each test was conducted with the same ambient room temperature while using the same CPU cooler (Cooler Master V6GT).
| | |
| --- | --- |
| System | Temps (Idle/Load) |
| i7 920 (X58) | 32/61 |
| i7-2600K (P67 Sabertooth)–Stock | 28/53 |
| i7-2600K (P67 Sabertooth)–4.5Ghz | 33/57 |
From these results it is absolutely clear that the P67 series as a whole is light years beyond the X58 as far as cooling goes. With substantially higher clock speeds and no special power or temperature saving options enabled on any of the systems, the P67 Sabertooth is substantially cooler both at idle and load when compared to the X58 setup. With additional power savings options turned on, the temperature at idle can be reduced even more for the P67 Sabertooth system giving it a clear advantage.
The following temperatures were recorded using ASUS's included AI Suite II temperature monitor. The primary purpose of this test was to determine if the shield has any impact on the motherboard's cooling.
Configuration

Motherboard Temp

Shield On, Fan Cover On

29ºC

Shield Off

32ºC

Shield On, Fan Cover Off

28ºC
From the temperatures achieved it is clear that the shield does have a slight impact upon cooling. Removing the fan cover made a tiny difference as well, though 1 degree is so minuscule it doesn't seem like a huge deal. Adding the optional accessory fan from ASUS may make a slightly larger impact but from this test it is definitely worth leaving the shield attached to the board.
Finally we have a list of temperature readings from the P67 Sabertooth using the ASUS AI Suite II Thermal Radar. This uses the previously mentioned 12 sensors and displays all of the temperatures in the same place for easy access. As expected the temperatures around critical parts are higher without the board. In particular anything near the CPU or GPU showed much higher temperatures when not covered by the shield. Once again this confirms that the thermal shield does what it is supposed to do.
| | | |
| --- | --- | --- |
| Sensor | Shield On (idle) | Shield Off (idle) |
| Motherboard | 29 | 32 |
| Vcore-1 | 29 | 29 |
| Vcore-2 | 27 | 29 |
| DRAM | 22 | 24 |
| VCCIO | 32 | 33 |
| PCIE-1 | 31 | 38 |
| USB3.0-1 | 28 | 29 |
| VCCSA | 33 | 36 |
| PCIE-2 | 30 | 35 |
| SATA6G | 26 | 27 |
| USB3.0-2 | 34 | 35 |
Certain parts of the motherboard are affected more than others with the thermal shield on or off. Anything near a source of high thermal output (CPU, GPU) is going to heat up much quicker without the thermal shield. As far as other sensors on the motherboard are concerned there is little difference between the temperatures with and without the shield; in many cases it might not make a difference, but around the CPU and GPU, the thermal shield definitely makes a difference when it comes to cooling.
Power Consumption
The power consumption was tested while running LinX for a few minutes at stock settings. The results were recorded carefully with a Kill-A-Watt power consumption measuring tool at the wall. After the results were recorded, we let the system cool and stabilize before taking idle measurements.
| | |
| --- | --- |
| Motherboard | Power Consumption (Idle/Load) |
| P67 Sabertooth | 195/296 |
| DX58SO | 212/335 |
Once again it is pretty clear that the P67 Sabertooth is much more efficient than the previous X58 generation of motherboards. ASUS has included a variety of power saving options which work marvelously in order to minimize power consumption when the system isn't being pushed to the limits. Obviously with a more powerful video card the power consumption will increase but that is to be expected with any motherboard.
Testing & Methodology
We've expanded our testing suite considerably for the P67 chipset, and will continue to use the same methods for most of the motherboards and CPU's we test. In the interests of thoroughness and accurate results, we run each test at least three times, and some tests more than that. We average the total of all the tests from each benchmark then report the average here.
The OS we used for this review is Windows 7 Ultimate 64bit with all patches and updates applied. We also use the latest drivers available for the motherboard and any devices attached to the computer. We do not disable background tasks or tweak the OS or system in any way. We turn off drive indexing and daily defragging. We also turn off Prefetch and Superfetch. This is not an attempt to produce bigger benchmark numbers. Drive indexing and defragging can interfere with testing and produce confusing numbers. If a test were to be run while a drive was being indexed or defragged, and then the same test was later run when these processes were off, the two results would be contradictory and erroneous. As we cannot control when defragging and indexing occur precisely enough to guarantee that they won't interfere with testing, we opt to disable the features entirely.
Prefetch tries to predict what users will load the next time they boot the machine by caching the relevant files and storing them for later use. We want to learn how the program runs without any of the files being cached, and we disable it so that each test run we do not have to clear pre-fetch to get accurate numbers. Lastly we disable Superfetch. Superfetch loads often-used programs into the memory. It is one of the reasons that Windows occupies so much memory. Vista fills the memory in an attempt to predict what users will load. Having one test run with files cached, and another test run with the files un-cached would result in inaccurate numbers. Again, since we can't control its timings so precisely, it we turn it off. Because these four features can potentially interfere with benchmarking, and and are out of our control, we disable them. We do not disable anything else.
Test Rig
Case

Silverstone RV02

Motherboard

ASUS P67 Sabertooth

Intel DX58SO

CPU
Intel Core i7 2600K

RAM

6GB OCZ Platinum Kit

CPU Cooler

Cooler Master V6GT

Hard Drives

Seagate 1TB

Seagate 320GB

Case Fans
Silverstone 180mm (3), Silverstone 120mm (2)

SSD

Intel 80GB

GPU

ASUS 4870DK
Testing Suite
Benchmarks
SiSoft Sandra 2011
Cinebench R11.5
3DMark Vantage
Crysis 2
Battlefield Bad Company 2
Call of Duty: Black Ops
DiRT 3
SiSoft Sandra 2011
"SiSoftware Sandra (the System Analyzer, Diagnostic and Reporting Assistant) is an information & diagnostic utility. It should provide most of the information (including undocumented) you need to know about your hardware, software and other devices whether hardware or software. It works along the lines of other Windows utilities, however it tries to go beyond them and show you more of what's really going on. Giving the user the ability to draw comparisons at both a high and low-level. You can get information about the CPU, chipset, video adapter, ports, printers, sound card, memory, network, Windows internals, AGP, PCI, PCI-X, PCIe (PCI Express), database, USB, USB2, 1394/Firewire, etc."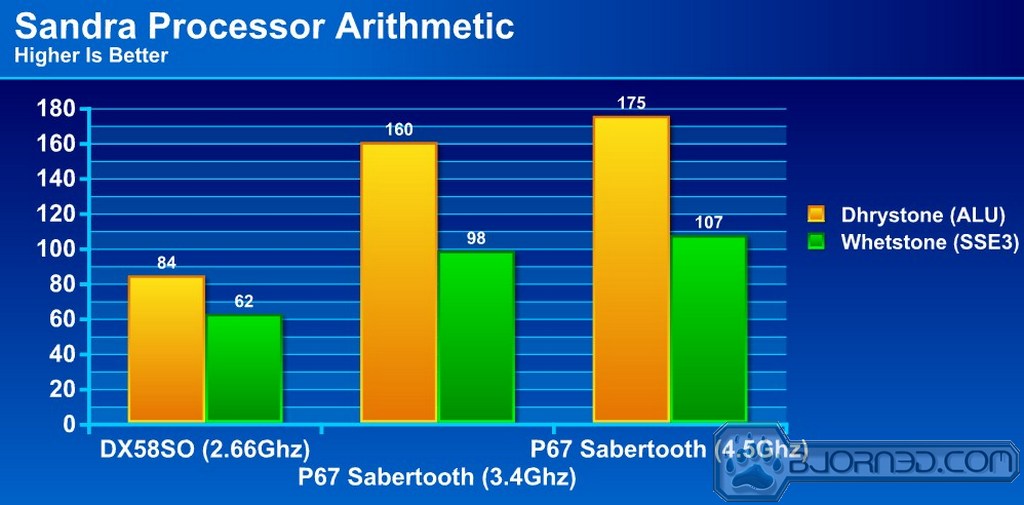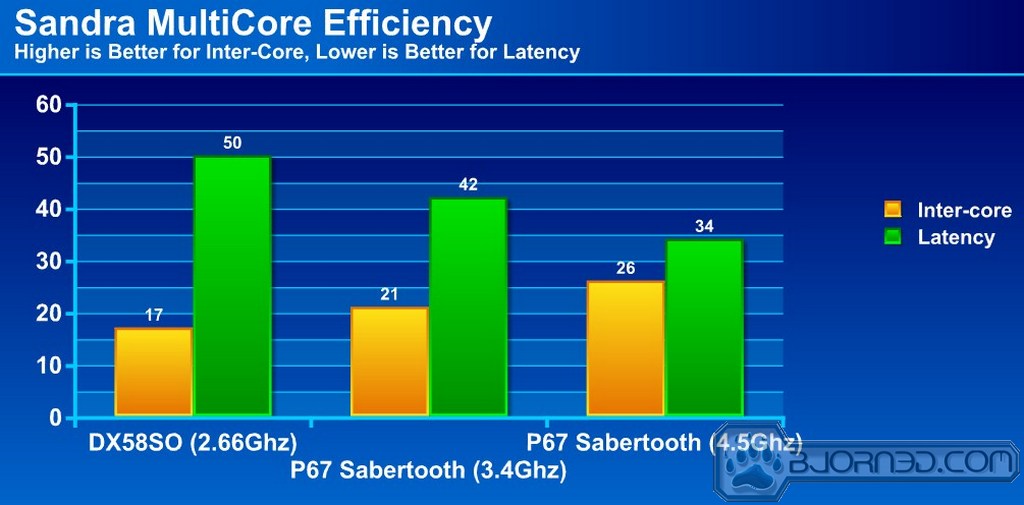 Click Image to Enlarge
Just as anticipated the P67 Sabertooth performs noticeably better in all CPU tests than the Intel DX58SO. This can be attributed to improved architecture between the two CPUs as well as significantly higher clock speeds from the P67 Sabertooth. When it comes to raw processing power the X58 is simply no match for the P67 Sabertooth.
Cinebench R11.5
"CINEBENCH is a real-world test suite that assesses your computer's performance capabilities. MAXON CINEBENCH is based on MAXON's award-winning animation software, CINEMA 4D, which is used extensively by studios and production houses worldwide for 3D content creation. MAXON software has been used in blockbuster movies such as Spider-Man, Star Wars, The Chronicles of Narnia and many more. MAXON CINEBENCH runs several tests on your computer to measure the performance of the main processor and the graphics card under real world circumstances. The benchmark application makes use of up to 16 CPUs or CPU cores and is available for Windows (32-bit and 64-Bit) and Macintosh (PPC and Intel-based). The resulting values among different operating systems are 100% comparable and therefore very useful with regard to purchasing decision-making. It can also be used as a marketing tool for hardware vendors or simply to compare hardware among colleagues or friends."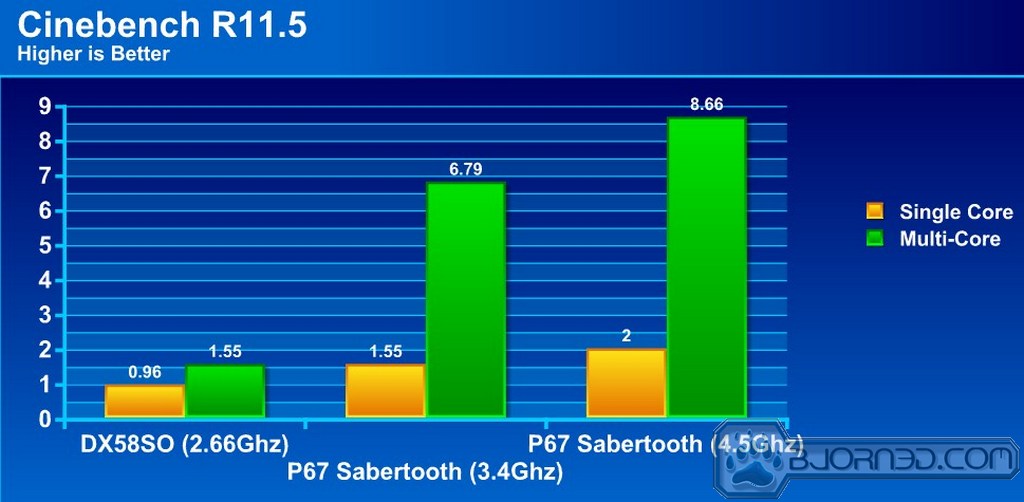 Click Image to Enlarge
Again from both the single and multi-core testing via Cinebench it is increasingly obvious that in any and all CPU intensive applications the P67 Sabertooth outperforms the X58 series by a substantial amount. This is once again due to improved architecture and high clock speeds.
3DMark vantage
For complete information on 3DMark Vantage Please follow this Link:
www.futuremark.com/benchmarks/3dmarkvantage/features/
The newest video benchmark from the gang at Futuremark. This utility is still a synthetic benchmark, but one that more closely reflects real world gaming performance. While it is not a perfect replacement for actual game benchmarks, it has its uses. We tested our cards at the 'Performance' setting.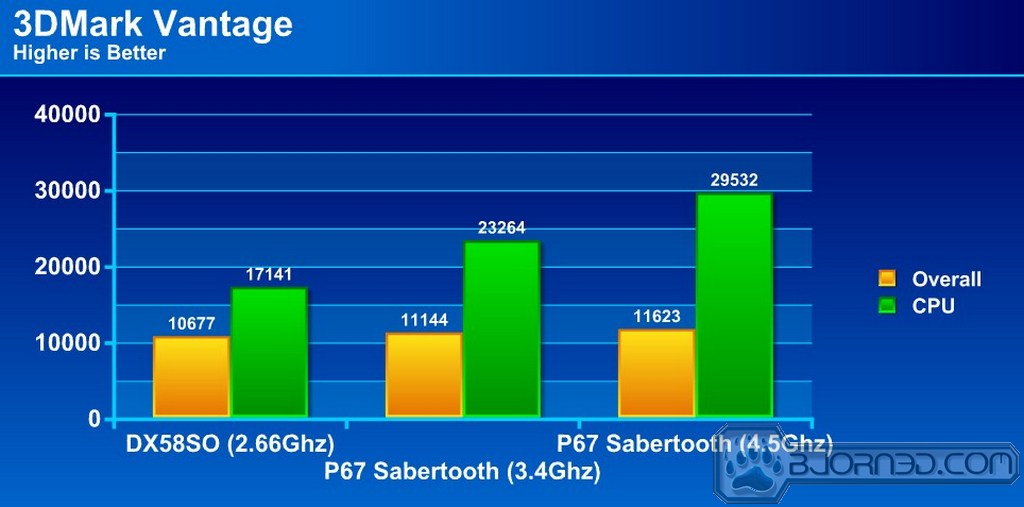 Click Image to Enlarge
Finally, finally we see the first of a somewhat real-world comparison between the X58 and the newer P67 Sabertooth system. Given that both of these systems were using the same graphics card, it is surprising to see that there really was a significant jump in performance for the P67 Sabertooth. Clearly the P67 system has cleared up some of the bottleneck by increasing processing power.
As always the real question however is real world usage; keep reading to see how much of a difference there is in gaming applications.
Crysis 2
Crysis 2 is the much anticipated sequel to Crysis, and thanks to engine updates and advancements it offers stunning visuals along with incredible game play. In order to test with Crysis 2 the same settings were used for all tests; the "extreme" preset was chosen and the game was run at 1900×1200 resolution.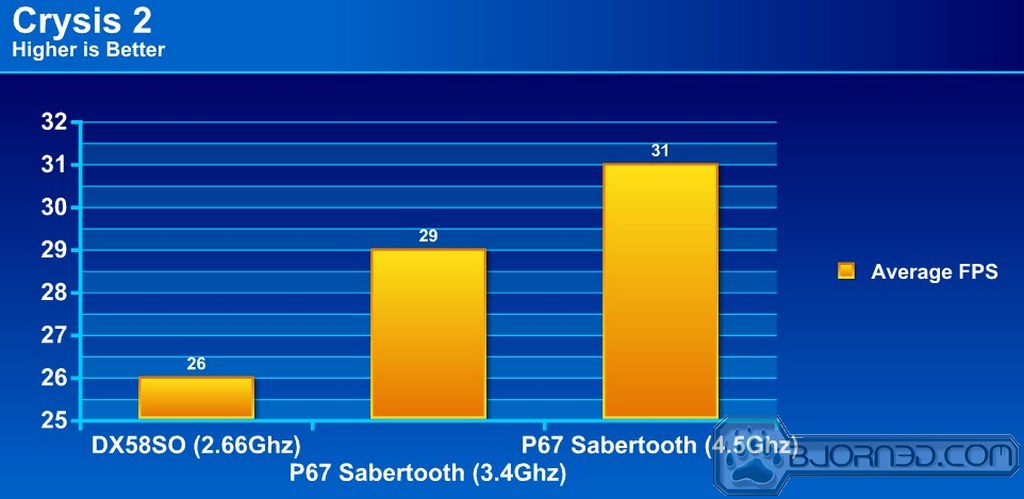 Click Image to Enlarge
From the graph it is pretty obvious that the P67 Sabertooth is capable of higher performance in real applications as well as synthetic benchmarks. While playing Crysis 2 and other intense gaming there is a slight advantage from P67 Sabertooth over an older X58 system. Of course the frames per second are still being held back by the slower video card but improvement can be seen even when overclocking with the P67 Sabertooth.
Battlefield Bad Company 2
For testing in Bad Company 2 we also used a standard set of settings between systems. Everything was tested using 4x AA and AF along with all graphical options on the highest setting possible. The average FPS was then recorded over significant amounts of playtime.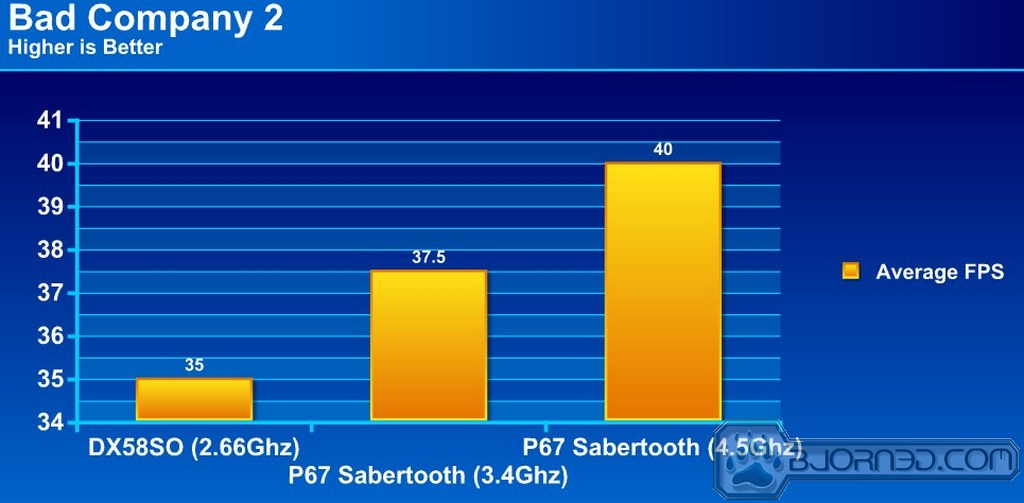 Click Image to Enlarge
In real world testing the X58 is still trailing behind the P67 Sabertooth in performance; the difference is not as pronounced as it is with artificial benchmarks but the big bottleneck on a system like this is the slightly outdated graphics card we used for testing. However, this is again proof that upgrading the motherboard and CPU before buying a new GPU does yield performance improvements in games.
Call of Duty: Black Ops
For the next two gaming tests we went with a slightly different approach. By turning down the resolution and graphic intensity we have eliminated the bottleneck of the GPU from both systems. We will see how much of a difference there is between the two systems when the CPU/motherboard are the only factors. This test was conducted at 1680×1050 resolution with all graphical settings on medium and AA/AF off.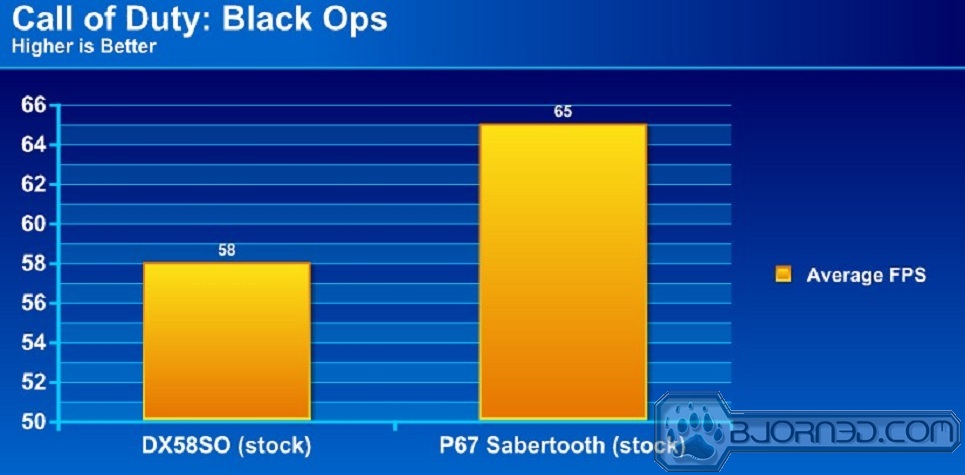 Click Image to Enlarge
From the results it is clear that once again the Core i7-2600K and P67 Sabertooth combo are far more powerful than an older X58 system. This comes as no surprise to anyone and repeated testing has shown that in nearly all situations an actual benefit can be seen even with an older graphics card or even low resolution and low graphical settings.
Dirt 3
This test was also conducted at 1680×1050 with "multisampling" off, and using the graphic preset "Medium" in order to remove any bottleneck from the low-end graphics card.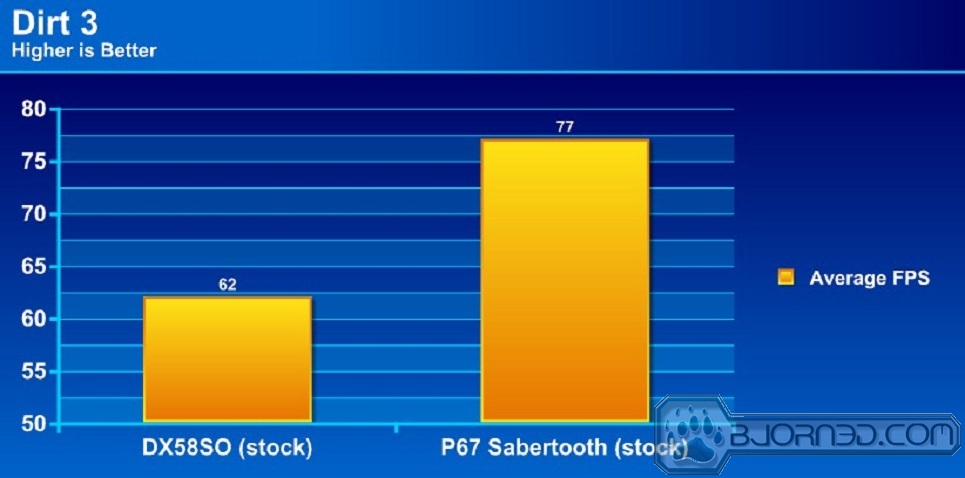 Click Image to Enlarge
Finally we have the results of the same two systems running DiRT 3. The results are even more pronounced in this test because DiRT 3 is more CPU dependent even when using lower graphical settings. This is even more concrete evidence that upgrading to a new P67 system is worthwhile even if using a lower end graphics card.
Conclusion

Overall the P67 Sabertooth is definitely an adequate performer in all respects. The P67 Sabertooth comes with plenty of unique features such as the thermal shield along with plenty of nice features such as the addition of numerous USB 3.0 ports on the back and front panel. As always ASUS also did quite well with the included accessories and the quality of the board overall seems very good.
Unfortunately there are a few drawbacks to the P67 Sabertooth as well. First of all, it would have been nice to see the ability to run two graphics cards in SLI/CrossFire with both cards at x16 rather than x8, however this is a chipset limitation that affects all P67 motherboards. It is also somewhat odd that the P67 Sabertooth seems to have issues with sleep mode: we never once successfully got the test system to resume Windows from sleep mode and further research shows that this may be a common problem with all P67 motherboards, not just the P67 Sabertooth.
Editor's note: We have encountered this problem on the ASUS P8P67 Deluxe board as well.
As far as software and BIOS goes the P67 Sabertooth is definitely a top performer as well. The new ASUS UEFI BIOS system is really quite impressive and the addition of features like EZ-Flash makes it even more useful. Along the same lines, ASUS has included a great bundle of software that simply cannot be beat; ASUS AI Suite II is great for controlling or monitoring nearly any aspect of the system, and is incredibly versatile.
For overclocking we decided not to push this motherboard as far as possible in this test simply because there is no need; we were trying to compare the benefits of a Sandy Bridge system (P67) to an older X58 system while using the same outdate graphics card and in all of our tests the P67 Sabertooth showed that there are plenty of benefits. For those who want to upgrade but aren't able to buy a new motherboard, CPU, and GPU all at once, upgrading to the P67 Sabertooth or a similar board without upgrading the graphics card will still be a worthwhile investment.
And finally we come to the price point for the P67 Sabertooth. At the time of review, the P67 Sabertooth is available for USD204.99 from Newegg, which points it right on par with most other P67 motherboards. The P67 Sabertooth does include multiple features that others are lacking so in that way the P67 Sabertooth is definitely a good deal.
One final note to include about the motherboard. While testing we had a failure on the P67 Sabertooth; one of the DIMM slots failed. This is not a good thing obviously but problems like this do happen occasionally and we realize that not every product will be 100% perfect from every manufacturer every single time.
OUR VERDICT: ASUS P67 Sabertooth
| | |
| --- | --- |
| Performance | 9 |
| Value | 9 |
| Quality | 9 |
| Features | 8 |
| Innovation | 9 |

We are using a new addition to our scoring system to provide additional feedback beyond a flat score. Please note that the final score isn't an aggregate average of the new rating system.

Pros
Cons

Overclocks easily

Looks great

Unique in many ways

UEFI BIOS easy to use

Great assortment of included software

Five year warranty

Sleep mode bug

Thermal armor makes it more difficult to install motherboard

No dual x16 SLI/CrossFire (chipset limitation)

 

 
Summary: The P67 Sabertooth is definitely a top contender when it comes to P67 motherboards. The combination of unique features with a low price point makes it a great choice for anyone looking for a unique yet useful motherboard, and it is without a doubt a worthwhile upgrade over an older X58 system. For its features and innovation, it earns the Bjorn3D Silver Bear Award.