If you're looking for a high-performance motherboard suited for work, and highly-threaded applications, the ASUS P8P67 WS Revolution motherboard might be a great option.
Introduction
ASUS has had some very successful workstation motherboards in the past. These motherboards provide features that are not normally seen on standard gaming or mainstream motherboards, and are server compatible for those looking into building cheaper server systems. ASUS Workstation motherboards are also famous for their multiple PCI-E slot support, allowing for extremely powerful systems with four Nvidia TESLA cards, or perhaps powerful server systems with multiple PCI-E SAS (Serial-Attached SCSI) RAID cards. Pairing up this motherboard with a powerful RAID card, a few server quality hard drives, and some other powerful hardware can produce an amazing server system that doesn't need an expensive server motherboard.
Today we have another great motherboard from ASUS: the P8P67 WS Revolution – B3 Revision. This motherboard is designed for the latest Intel Sandy Bridge microarchitecture, running on the LGA 1155 platform. It also sports a revised P67 Cougar Town chipset, to fix the problems that prompted the recall. For those that don't know about the Cougar Town recall, Intel had a major setback with the Sandy Bridge launch due to a chipset defect that would degrade the SATA III ports over time. With the B3 stepping motherboards, the problem is eliminated and the user is guaranteed to receive a fully functional chipset.
The P8P67 WS Revolution has some great features that only high-end P67 motherboards have. This includes the inclusion of the NF200 chip from NVIDIA, which provides users with high performance in graphics with 2-Way/3-Way SLI and Quad Quadro cards on demand. Though motherboards without the NF200 chip can do 2-way SLI, they cannot run 3-way SLI, and are limited by the PCI-E connectors they can use. ASUS managed to put up to 4 PCI-Express slots onto this ATX motherboard, which allows for support of even Quad-GPU CrossFireX for those looking into ATI/AMD solutions. One thing to note about this design is that while other motherboard manufacturers tried to accomplish this with their motherboards, they usually ended up going with an XL-ATX form factor (GIGABYTE X58A-UD9, G1.Assassin). With an XL-ATX motherboard, the user needs a special chassis, making it very inconvenient to build a system that will be fully compatible with what they need. Additionally, those parts can be extremely expensive, and may well exceed the budget for a user who is just trying to find the greatest deal for a 4 PCI-E motherboard solution. There are some mid-tower and several full-tower chassis that fit the P8P67 WS Revolution motherboard, and are compatible with 4 dual-slot video cards.
T
he P8P67 WS Revolution has 92% Power Efficiency, meaning that it comes with high quality components, like the Japanese solid state capacitors and very low resistance (Rds) MOSFETS. They last longer than standard mainstream P67 motherboards with better power efficiency to help reduce the expenses on the electricity bill, improve heat dissipation, lower capacitance, and increase longevity of component life cycles. Because there is higher resistance in thinner board designs, ASUS is following the same 2 oz copper inner board design that GIGABYTE has been using with their Ultra Durable 3 motherboards. However ASUS has its own special VRM design called the DIGI+ VRM, which helps achieve extremely high overclocks for the CPU. The DIGI+ VRM helps by adjusting PWM voltage and frequency modulation with minimal power loss through BIOS and ASUS' AI Suite II software. These adjustments could lead to higher overclocking potential. Its spread spectrum option helps cut radiation interference by half to help with system stability when using the DIGI+ VRM frequency adjustments. We find the overclocking and DIGI+ VRM settings in the AI Suite II very useful for overclocking to high frequencies without needing to go into the BIOS.
ASUS uses Dual Intel Gigabit LAN rather than the Realtek LAN solution that most motherboards have. With Dual Gigabit LAN, users can experience double the bandwidth of standard Gigabit LAN that Realtek supports. The Intel based solution is hardware-accelerated, providing lower CPU utilization for better performance in network based applications. The Intel Gigabit LAN setup offers more options for the user than Realtek, making customization of the network much easier.
While the motherboard has all the latest features like USB 3.0 and SATA III, this motherboard in specific has four SATA 6Gb/s connectors with dual RAID support. Finally, one of the best features of ASUS P67 boards (including the P8P67 WS Revolution) is the EFI BIOS (EZ Mode). The EFI BIOS is a completely GUI-based BIOS with mouse support. By quick drag and drop actions, the user can easily set up their boot drive priority options and with a few clicks, can set up their whole system through nice drop down menu options. With the EFI BIOS, the user can also use hard drives over 2.2TB due to native support for hard drives larger than 2.2TB in 64-bit operating systems.
For the price of $259.99, the ASUS P8P67 WS Revolution motherboard might just be perfectly priced. Considering that this motherboard is full of features, has options that server systems will need, and specifications for high-end systems, the price of $259.99 is not too much for what you will be getting in this package.
Features & Specifications
Our analysis:
There are a few more features to the ASUS P8P67 WS Revolution that we would like to discuss. We really liked the addition of the USB 2.0 ports on the motherboard which are accessible from the inside of the PC. These USB 2.0 connectors, which are also called the Quick Gate ports, are nice features when the user wants to connect something to the PC via USB and keep it running all the time. While this is a nice feature, there could be another use for these ports. Some newer cases like the Thermaltake Level 10 GT, or the In-Win Dragon Rider come with prebuilt USB 3.0 cables inside the case that require the user to route the cables outside the system when they want to use those ports. The ports inside the chassis on the P8P67 WS Revolution motherboard could easily be used for this purpose, if they were USB 3.0. We would have been much more satisfied to see USB 3.0 ports placed instead of USB 2.0. Of course for most people this will not be a problem, because the people utilizing these features inside the PC will most likely be graphic designers, 3D modelers, and people working with CAD software. This function will provide a great way of hiding expensive products that they would not like to keep out on the table for easy steeling. So this feature is mainly for users working with Maya, Cinema 4D, XSI, Lightwave, 3DStudio Max, Solidworks, AutoCAD and other such applications.
The G.P. Diagnosis tool is an excellent add-on to the P8P67 WS Revolution motherboard. It helps especially when overclocking the systems or in the event of a hardware failure. The G.P. Diagnosis helps show error codes that can be looked up in the Motherboard's Manual to understand where the problem is during booting. The G.P. Diagnosis also comes with power on/off and reset buttons, which are very useful for those using this motherboard on a testbench. The one con we observed about the G.P. Diagnosis is the poor placement of the pins on the motherboard. While it might not be such a bad placement for some, in other cases the PSU and other hardware get in the way of the pins, making it impossible to plug in the G.P. Diagnosis tool.
From ASUS' Website:
_______________________________________________________________________
Intel LGA1155 Platform / Intel® P67 Express Chipset/Nvidia NF200
Ultimate Graphics Power with 3-Way/2-Way Geforce SLI™ and Quad Quadro cards on demand
Platinum Level 92% Power Efficiency
Intel® Ethernet technology-Built in dual Intel Lan
EFI BIOS (EZ Mode) – Flexible & Easy BIOS Interface
Quad SATA 6Gb/s with dual RAID Support – Double Access, Double Convenience
_______________________________________________________________________
Workstation Engine Essential in Your Professional Studio
The ASUS Workstation Series is the ideal foundation for a powerful PC. It delivers awesome power, dependable performance and unparallel multiple I/O scalability for the most demanding tasks and future upgrades. The ASUS Workstation Series intelligently reduces operation noise and dissipates heat through advanced and environmentally friendly methods to accommodate user needs. ASUS Workstation Series motherboards also bring you ultimate reliability and quality through our 24×24 initiative,which means 24 hours non-stop operation and a 24-month life cycle supply guarantee. Don´t change yourself for a computer. Instead, let ASUS Workstation Series improves the quality of your work and life.
ASUS Workstation Exclusive Features
Ultimate Graphics Power with 3-Way/2-Way Geforce SLI™ and Quad Quadro cards on demand
The Best Graphic Performance you Ever have
Designed for true power users, the P8P67 WS Revolution uses a built-in NF200 controller that enhances bandwidth availability between the board and the four graphics card expansion slots. This is ideal for NVIDIA GeForce SLI™ and AMD CrossFireX™, as the new motherboard can easily handle 2-Way SLI in dual PCI Express X16, while 3-Way SLI works in dual PCI Express X8 and one X16 link. This translates into a 26.4% performance increase compared to regular P67 motherboards with similar SLI configurations, as measured by 3DMark06. For CrossFireX, the P8P67 WS Revolution supports up to quad GPUs builds in PCI Express X8 links, unlike standard motherboards, which lack the bandwidth to do so.
True to its workstation design, the motherboard empowers commercial users with up to four NVIDIA Quadro GPUs at once. These graphics accelerators focus on professional uses, including computer-aided design (CAD), computer-aided engineering (CAE), digital content creation (DCC) and geographic information systems (GIS). Having up to four Quadro GPUs on one board provides the flexibility and resources needed to run various professional applications.
Platinum-level 92% power efficiency
High quality materials and components include all Japan-made ultra long life solid state capacitors and very low resistance (Rds) MOSFETS. These go far beyond the standards employed by mainstream P67-based motherboards. As a result, users benefit from improved heat dissipation, lower capacitance (and thus greatly improved efficiency), optimized gate charge and extremely long component life cycles.
To further help achieve its 92% power efficiency, the P8P67 WS Revolution uses a 2oz copper inner layer board design. In addition, it includes ASUS' exclusive DIGI+ VRM. The high power efficiency is maintained to help users reduce their ultimate energy expenditure as well as peerless stability and reliability.
Built in Dual Intel® Gigabit LAN
Commercial users who wish to enhance their network reliability and throughput should look forward to the new P8P67 WS Revolution. It offers dual hardware-accelerated Intel Gigabit LAN ports that lower CPU utilization by up to 71% , reduced packet loss and better support for diverse operating systems. Featuring teaming and fault-tolerance functions, these two augmented LAN ports provide double the bandwidth and network redundancy of standard Gigabit LAN.
Heart-touching design-Quick Gate
Quick Gate is a vertical USB connector on the motherboard, allowing you to install USB devices directly with no messy cables. This stops important data storage devices from breaking off unexpectedly. P8P67 WS Revolution with this unique design provides a convenient and safe way to install data and applications on your PC.
Easy to Find System Error with G.P. Diagnosis Card
Bundled with the P8P67 WS Revolution, the G.P. Diagnosis card double checks the system by effortlessly and quickly providing precise info every time you switch on your PC.
CPU, Chipset and Graphics features
LGA1155 socket for Intel® Second Generation Core™ i7/ Core™ i5/ Core™ i3 Processors
This motherboard supports the latest Intel® second generation Core™ i7/Core™ i5/Core™ i3 processors in the LGA1155 package, with memory and PCI Express controllers integrated to support 2-channel (4 DIMM) DDR3 memory and 16 PCI Express 2.0 lanes. This provides great graphics performance. Intel® second generation Core™ i7/Core™ i5/Core™ i3 processors are among the most powerful and energy efficient CPUs in the world.
Intel® P67 Express Chipset
The Intel® P67 Express Chipset is the latest single-chipset design to support new socket 1155 Intel® second generation Core™ i7/Core™ i5/Core™ i3 processors. It provides improved performance by utilizing serial point-to-point links, allowing increased bandwidth and stability. Additionally, the P67 provides 2 SATA 6Gb/s and 4 SATA 3Gb/s ports for faster data retrieval at double the bandwidth of current bus systems.
Quad-GPU SLI and Quad-GPU CrossFireX Support!
Flexible Multi-GPU solutions, Your Weapon of Choice!
P8P67 Deluxe brings multi-GPU configurations through both SLI™ and CrossFireX. This motherboard features the powerful Intel® P67 platform, optimizing PCIe allocation in multiple GPU setups. Expect a brand new gaming sensation like you've never experienced before!
ASUS Digital Power Design
DIGI+ VRM
Herald the Arrival of a New Digital Power Design Era
The new ASUS DIGI+ VRM design upgrades motherboard power delivery to a digital standard. The 16+2 digital architecture delivers twice the precision power, intelligently adjusting PWM voltage and frequency modulation with minimal power loss through BIOS tuning and exclusive user interface to increase over-clocking range while performance reaches its full potential. It also adjusts frequencies dynamically, cutting radiation interference by half to enhance system stability through enabling spread spectrum. The DIGI+ VRM digital power design empowers users with superior flexibility and perfect precision to ensure optimized performance. extreme system stability, and greater power efficiency.

ASUS Exclusive Features
EFI BIOS (EZ Mode)
Flexible & Easy BIOS Interface
The new ASUS EFI BIOS is an Extensible Firmware Interface that complies with uEFI architecture, offering a user-friendly interface that goes beyond traditional keyboard-only BIOS controls to enable more flexible and convenient mouse input. Users can easily navigate the new EFI BIOS with the same smoothness as their operating system. The exclusive EZ Mode displays frequently-accessed setup info, while the Advanced Mode is for experienced performance enthusiasts that demand far more intricate system settings.
Supports Hard Drives over 2.2TB
ASUS EFI BIOS natively supports hard drives larger than 2.2TB in 64-bit, with full storage space utilization, helping deliver far more exciting computing than traditional BIOS versions!
Exclusive ASUS Interface
EZ Mode – easy to learn, use, and manage
Advanced Mode – for experienced performance enthusiasts that demand intricate system settings
AI Suite II
One-stop Access to Innovative ASUS Features

With its user-friendly interface, ASUS AI Suite II consolidates all exclusive ASUS features into one simple-to-use package. It allows users to supervise overclocking, energy management, fan speed, voltage and sensor readings, even interact with mobile devices via Bluetooth. This all-in-one software offers diverse and easy to use functions, with no need to switch back and forth between different utilities.
TPU
The Ultimate Turbo Processor

Unleash your performance with ASUS' simple onboard switch or AI Suite II utility. The TPU chip offers precise voltage control and advanced monitoring through Auto Tuning and TurboV functions. Auto Tuning offers a user friendly way to automatically optimize the system for fast, yet stable clock speeds, while TurboV enables unlimited freedom to adjust CPU frequencies and ratios for optimized performance in diverse situations.

EPU
Energy Efficiency All Around

Tap into the world's first real-time PC power saving chip through a simple onboard switch or AI Suite II utility. Get total system-wide energy optimization by automatically detecting current PC loadings and intelligently moderating power consumption. This also reduces fan noise and extends component longevity!
Latest Transfer Technology
Extra SATA 6Gb/s Supports
Extra Ports, Extra Speed and Accessibility
The Intel® P67 Express chipset natively supports the next-generation Serial ATA (SATA) interface, delivering up to 6Gb/s data transfer. ASUS provides extra SATA 6Gb/s ports with enhanced scalability, faster data retrieval, and double the bandwidth of current bus systems.
ASUS Crystal Sound
DTS
DTS Surround Sensation UltraPC
DTS Surround Sensation UltraPC delivers exceptional 5.1 surround experience through the most common PC audio setups – your existing stereo speakers or headphones. In addition to virtual surround, "Bass enhancement" provides stronger low frequency bass sound, and "Voice clarification" provides clear human dialogue even with loud background sound. With these technologies, you may experience a better home-theater audio with ease.
RoHS
GreenASUS and ErP Ready
The motherboard is European Union´s Energy-related Products (ErP) ready, and ErP requires products to meet certain energy efficiency requirements in regards to energy consumptions. This is in line with ASUS vision of creating environment-friendly and energy-efficient products through product design and innovation to reduce carbon footprint of the product and thus mitigate environmental impacts.
Speficiations
CPU

Intel® Socket 1155 for Intel® 2nd Generation Core™ i7 Processor/Core™ i5 Processor/Core™ i3 Processor/
LGA1155 socket for Intel® next generation server processor
Support Intel® 32nm CPU
Supports Intel® Turbo Boost Technology 2.0
* Refer to www.asus.com for Intel CPU support list


Chipset

Intel® P67(B3) Express Chipset ; Nvidia NF200*1

Memory

4 x DIMM, Max. 32 GB, DDR3 2133(O.C.)*/1866(O.C.)/1600/1333/1066 Non-ECC,Un-buffered Memory
Dual Channel memory architecture
* Due to CPU behavior, DDR3 2200/2000/1800 MHz memory module will run at DDR3 2133/1866/1600 MHz frequency as default.
* Please refer to www.asus.com or user manual for Memory QVL.


Expansion Slots

2 x PCIe 2.0 x16 (@ x16 or x8)
2 x PCIe 2.0 x16 (@ x8)
3 x PCIe 2.0 x1 (@ x1)


VGA

CUDA support:
Up to 4 NVIDIA Tesla GPUs

Multi-GPU Support

Supports NVIDIA® Geforce 3-Way/2-Way SLI™ techonology
Supports ATI® CrossFireX™ technology, up to Quad CrossFireX™

Storage

Intel® P67(B3) Express Chipset
2 xSATA 6.0 Gb/s ports (gray)
4 xSATA 3.0 Gb/s ports (blue)
Intel® Rapid Storage Technology Support RAID 0,1,5,10
Marvell® 9128 PCIe SATA6Gb/s controller
2 xSATA Gb/s ports(navy blue) Support SATA RAID 0 and 1


LAN

1 x Intel® 82574L GbE LAN 1 x Intel® 82579 Gigabit LAN- Dual interconnect between the Integrated LAN controller and Physical Layer (PHY)
– Support teaming function


Audio

ALC889 8-Channel High Definition Audio CODEC
– Multi-Streaming
– Jack-Sensing
– Front Panel Jack-Retasking
– Optical/Coxial S/PDIF out ports at back I/O
– ASUS Noise-Filer

IEEE 1394

VIA VT6315N controller supports 2 x 1394a port(s)

USB

NEC USB 3.0 controller
– 2 x USB 3.0/2.0 ports (Blue, at back panel)
Intel® P67(B3) Express Chipset
– 14 x USB 2.0/1.1 ports (6 ports at mid-board, 8 ports at back panel)


ASUS Unique Features

– ASUS Digi+ VRM Utility
ASUS Exclusive Features
– MemOK!
– AI Suite II
– ASUS EFI BIOS EZ Mode featuring friendly graphics user interface
ASUS Quiet Thermal Solution
– ASUS Fanless Design: Heat-pipe solution
– ASUS Fan Xpert
ASUS EZ DIY
– ASUS Q-Shield
– ASUS Q-Connector
– ASUS CrashFree BIOS 3
– ASUS EZ Flash 2
ASUS Q-Design
– ASUS Q-LED (CPU, DRAM, VGA, Boot Device LED)
– ASUS Q-Slot
– ASUS Q-DIMM


ASUS Workstation Special Features

4 PCIe x 16 slots
G.P. Diagnosis Card bundled
Quick Gate:2 vertical USB 2.0 on board
ASUS SASsaby series Cards support
ASUS WS Diag. LED
ASUS WS Heartbeat

Back Panel I/O Ports

1 x PS/2 Keyboard/Mouse Combo port
1 x IEEE 1394a
2 x LAN(RJ45) port(s)
2 x USB 3.0/2.0
8 x USB 2.0/1.1
1 x S/PDIF Out (Optical and Coxial)
8 -Channel Audio I/O


Internal I/O Connectors

2 x USB 2.0/1.1 connector(s) support additional 4 USB ports
1 x MemOK! Button
1 x TPM connector
1 x CPU Fan connector(s) with PWM control
3 x Chassis Fan connector(s) with Q-fan control
1 x Power Fan connector(s)
1 x S/PDIF Out connector
24-pin ATX Power connector
8-pin ATX +12V Power connector
1 x COM port connector
4-pin EZ_PLUG Power connector
AAFP connector
2 x USB 2.0/1.1 vertical ports
20-pinfront panel connector


BIOS

32 Mb Flash ROM , EFI AMI BIOS, PnP, DMI2.0, WfM2.0, SM BIOS 2.6, ACPI 2.0a, Multi-language BIOS, ASUS EZ Flash 2, ASUS CrashFree BIOS 3


Manageability

WfM 2.0,DMI 2.0,WOL by PME,WOR by PME,PXE

O/S Compatibility

Win7 32/64 bit,Vista 32/64 bit and WinXP 32/64bit

Form Factor

ATX Form Factor
12 inch x 9.6 inch ( 30.5 cm x 24.5 cm )

Software Overview
AI Suite II
After installing the software components, a quick restart is needed. Then, on the taskbar, there is a little icon that will launch the AI SUITE II. By default, it will display a strip of icons for different functions. The software interface has a very fresh and easy to use GUI. One bug we noticed, which will get fixed in the future versions of AI Suite II was a weird black box with gray arrows on our 2nd monitor. Once AI Suite II is clicked on in the taskbar, this black box disappears and never appears again.
Clicking on each icon will display more options.
Probe II is the system monitoring tool ASUS provides. The software lets users monitor the voltage, temperature, fan speed of the board. Users can set a threshold for the safe value. The user can also set up alerts along with the threshold settings.
Right inside the AI Suite II, users can adjust the load-line calibration and the CPU current in the DIGI+ VRM menu. These options are also available in the BIOS. These options can help with overclocking the CPU to faster frequencies.
The EPU is an energy efficient tool. The tool provides different modes that users can pick depending on their usage need. Unfortunately the full functionality of the EPU will only work when the system is running under stock settings. With the EPU, the user can conserve electricity by lowering the performance of the system during idle or low load states.
Fan Xpert offers a GUI interface for those who want to fine-tune the fan speed and the system temperature. In addition to the CPU fan, there is one additional 4-pin chassis fan header. In addition to the CPU fan, one of the three pin fan headers and all the four pin fan headers can be monitored with the Fan Xpert. Some people may wish to have more fan control. The user can easily set up fan speed profiles depending on what they will be doing and to set a threshold for the fan speed if the user is very sensitive to fan noise.
The software also provides a very nice visual display of the system voltage and temperature log, allowing users to monitor the various components.
The TurboV EVO tool allows manual or automatic overclocking of the processor. Users can use it to adjust the BCLK frequency, CPU voltage, IMC voltage, and DRAM Bus voltage right from Windows. While the new BIOS offers a very easy to navigate interface, it is still nice to be able to overclock inside Windows. Users can choose between the manual or opt for the auto tuning to find the most stable overclocking result.
Here we have a closer look at the manual overclocking for the P8P67 WS Revolution motherboard. We can clearly see the BCLK Frequency, CPU Voltage and DDR Voltage, which are the three major settings that will help with overclocking the Sandy Bridge processors. The CPU Ratio tab provides the user with Multiplier customization. In this case we have raised the Multiplier from stock 34x to 50x, gaining roughly 1600MHz on each core.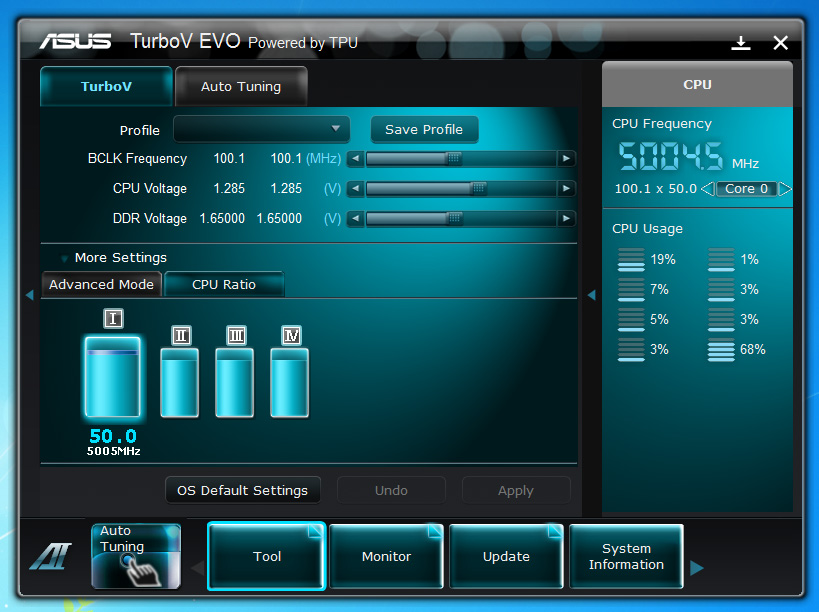 This picture has additional information about the Advanced Mode section of the TurboV EVO Tab. This section gives the user more voltage customization, however we have not noticed much stability or overclocking gains from messing with the following voltages. These could come handy for those who want to also alter other hardware in their PCs.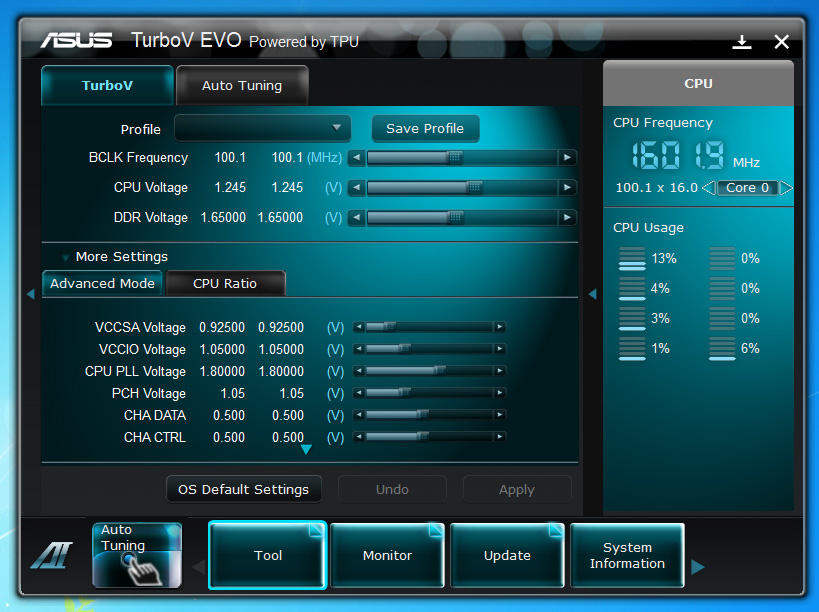 This section of the AI Suite II allows the user to update the BIOS for the P8P67 WS Revolution motherboard. This section also provides additional booting options for the PC, where the user can set their own boot logo when the system is turned on.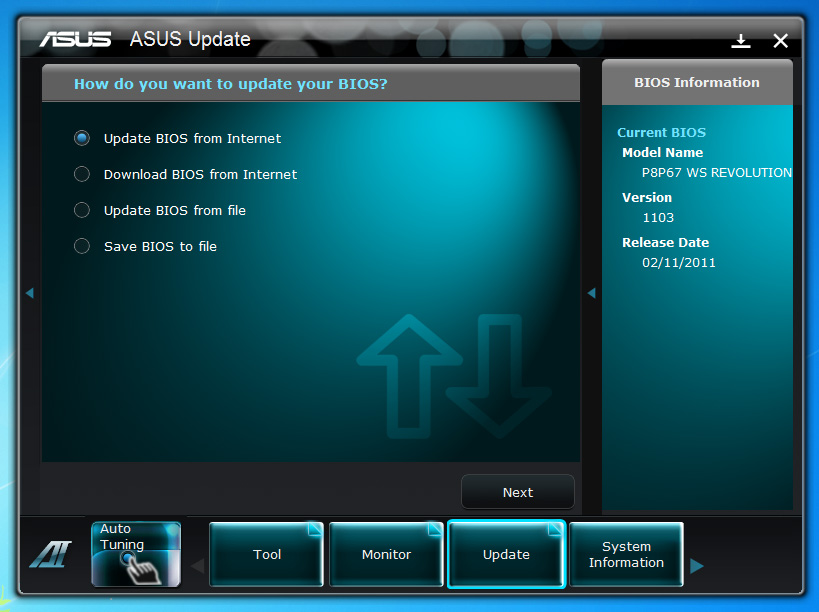 Finally, the System Information tab in the AI Suite provides the user with such information as CPU-Z in the Motherboard, CPU and Memory tabs. These sections will give lots of information about the current hardware the user is running.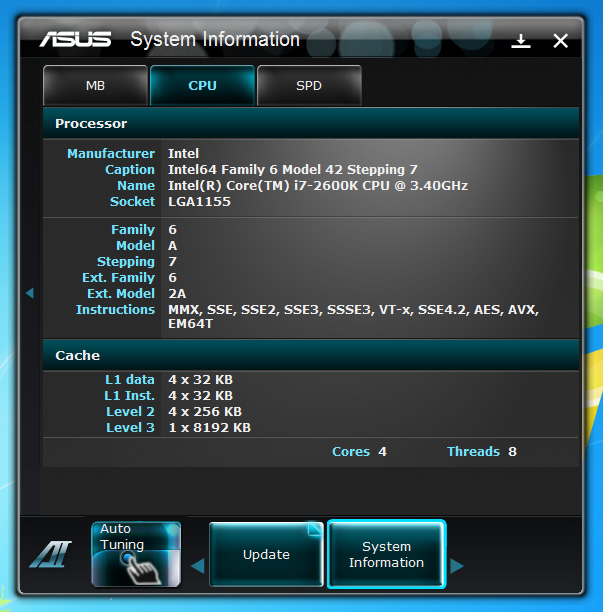 Overview of the P8P67 WS Revolution
Click Image To Enlarge
The ASUS P8P67 WorkStation Revolution motherboard follows the same box design as the previous P8P67 motherboards that we reviewed this year. There is nothing too major about this box, it has all the features explained and pointed out on the back and in the inside flap of the box.
Click Image To Enlarge
We are actually glad ASUS did not go too crazy with their box design, and just decided to stick with the same motherboard packaging most mainstream and high-end motherboards have. There is absolutely no need to have special boxing with windows to show off a motherboard from the outside. Inside the box there is a white cardboard piece between the motherboard and the accessories that can be easily lifted to get access to the motherboard. The motherboard is placed into a anti-static bag for static discharge protection.
Click Image To Enlarge
The overall board design with the color scheme and color coding works well with this motherboard. The colors are not too crazy and keep the professionalism that most high-end users and server based users will enjoy. We can see a clear color coding for the PCI-Express slots where the blue PCI-Express slots designate the x16 slots and the black PCI-Express slots designate the x8 slots. Based on the motherboard's slot design, from the top we can see four PCI-Express slots allowing for up to 4 video cards to be utilized for Multi-GPU processing. These slots can also be used with Nvidia's TESLA cards for maximum parallel processing, or perhaps FireXL or Quadro cards for maximum 3D performance for Designers and CAD users. In between each high-performance PCI-Express slot, we can see three addition PCI-E x1 slots. For the high-performance PCI-E slots, the WS Revolution motherboard is using a x16 x8 x16 x8 spacing design.
The back of the motherboard shows a a neatly organized design with screw design for the motherboard cooling system. ASUS decided to go with a push-pin design for the P67 chipset by the SATA and PCI-Express ports. This should not be a problem, though we would have liked to see a fully screw based setup for the cooling system.
Once the cooling is removed, we can see the main components on the motherboard, including the P67 chipset in the far right bottom corner, the Nvidia NF200 chipset in the middle of the board right under the CPU socket, ASUS' dense VRM design with the MOSFETS and the DIGI+ VRM chip on the far left top corner. We'll have a closer look at these parts on the next page.
Click Image To Enlarge
We are quite satisfied with the overall board design and the placement of the components and features on this motherboard, except for the G.P. Diagnosis port on the bottom middle part of the motherboard. This is where the G.P. Diagnosis PCB card gets plugged in. The reason why this place is not the best place to put this connector is because when larger cards are placed in the last PCI-Express slot, the port gets completely covered up or the debugging LEDs and power on/off and reset switches become inaccessible. This can also be a problem when using the motherboard in a chassis where the Power Supply is right under the bottom edge of the motherboard.
Going back to the cooling solution that ASUS implemented on this motherboard, we can see that it is a complete single piece setup due to the thick heatpipe solution that connects each part of the hottest areas of the motherboard together. This helps transfer heat to the fins providing extra cooling with well air circulation inside the system. The thick fin design on the P8P67 WS Revolution seems to follow the same design as most P67 motherboards are using. It seems it has become a great identifier for the P67 chipset. We saw a similar design on previous X58 ROG boards that we have reviewed in the past, and they always provided enough cooling for the chipset and components on the motherboard.
Click Image To Enlarge
Here we take a look at how the motherboard's PCI-Express slots can easily be utilized. While we did not have three identical video cards, in this picture we show that it is possible to have either 4 video cards set up right next to each other or perhaps have a 3-way SLI or CrossFireX configuration, while having a PCI-Express based RAID card in the last PCI-E x8 slot. Having such setup will not require the user to have a 8 slot chassis, and since most cases come with 7 slots, this setup will still work. This is definitely a fantastic design that ASUS implemented on this motherboard.
The second picture take a look at the accessories that come with the P8P67 WS Revolution motherboard. We are very thankful that ASUS provided plenty of SATA cables with this motherboard. We very very surprised and disappointed to see GIGABYTE's accessory bundle for the P67 chipset, as it seems that even with the high price range that they have for their high-end motherboards, they are not able to provide enough SATA cables and other accessories to fit the needs of high-end users. We feel this is a rip-off because the user will have to buy extra accessories for their motherboard if they have additional hardware in their systems. Thankfully ASUS provided all the accessories that will keep even the savviest server users happy.
Included accessories:
1x 2-port USB 2.0 module and 1-port eSata module
4x Serial ATA 6.0 Gb/s signal cables
2x Serial ATA 3.0 Gb/s power cables
4x Serial ATA 3.0 Gb/s cables
1x ASUS Q-Shield (I/O Shield)
1x ASUS 2-in-1 Q-Connector Kit
1x G.P. Dignosis Card
1x ASUS SLI bridge connector
1x ASUS 3-Way SLi bridge card
ASUS motherboard support DVD
User Guide
A Closer Look
Click Image To Enlarge
Staring off with the closer look at the motherboard, we can see the Input/Output ports on the rear of the motherboard and the SATA II and SATA II ports on the front of the motherboard. Starting with the I/O ports, we have the following:
1 x PS/2 Keyboard/Mouse Combo port
1 x IEEE 1394a
2 x LAN(RJ45) port(s)
2 x USB 3.0/2.0
8 x USB 2.0/1.1
1 x S/PDIF Out (Optical and Coaxial)
8 -Channel Audio I/O
It is very nice to see the inclusion of a Firewire port on this motherboard since video editors and 3D designers will most likely be able to take advantage of that port. Another nice feature is the dual LAN support driven by the Intel Chipsets, which is a must on Server and high-end Workstation motherboards. Unfortunately, there are only two USB 3.0 ports, but a whopping 8 USB 2.0 ports. Most people will not need more than two USB 3.0 ports anyway, but video editors might feel the need for at least 4 USB 3.0 slots for the ultimate backup solution, especially if two of the ports will be taken up by front panel USB 3.0 connectors with the loop back cable design that some chassis come with.
In the SATA connectors, we can see two dark blue and two light blue connectors. These connectors are SATA III 6Gb/s ports. The reason why they are color coded is because they both have their own controller for separate dual RAID support. The middle four aqua blue ports are standard SATA II 3Gb/s ports that are also RAID compatible. The four SATA III ports are a great addition to the Workstation Revolution motherboard.
Finally we can see a single BIOS chip implementation on this motherboard, but thankfully in case the BIOS gets crippled, it can easily be replaced with a replacement BIOS chip. We had to do this previously with an Intel motherboard, and the process was extremely simple.
Click Image To Enlarge
Moving on to the closer details of the motherboard, lets take a look at each picture from the top to the bottom. Starting off at the left edge of the first picture we can see the NEC Renesas USB 3.0 controller. This USB 3.0 Controller allows the motherboard to have two USB 3.0 ports at the rear I/O ports section. The Intel 82579V chip right next to it is the Dual Intel Gigabit LAN's controller. This solution is a bit more expensive to have on a motherboard, but also provides more options and better performance than standard Realtek LAN solutions. At the corner of the motherboard, by the large Japanese solid state capacitors, we can see the Realtek ALC889 chip, which is a standard Audio chip that most motherboards will come with.
Taking a look at the motherboard from another angle, we can see the clear ASUS logo and the name of the motherboard. The ASUS logo has four LEDs that will blink while the system is on to bring attention the the ASUS logo. The ports on the bottom consist of the following:
Digital Audio Connector (4-1 pin SPDIF_OUT)
IEEE 1394a port connector
EPU Switch
USB 2.0 Connectors
Serial port connector
TPM connector for the G.P Diagnosis card
4-pin PWM fan connector
2x USB 2.0 Connectors for internal USB 2.0 use
Chassis Fan Control Setting
Clear RTC RAM
System Panel Connectors
Above the connectors there are several chips, the two important chips that we would like to talk about are the TurboV EVO chip, and the Marvell 9128 chip. The TurboV EVO chip allows overclocking real time, from the operating system. The Marvell 9128 chip is the main SATA III 6Gb/s controller besides the one that is possible through the P67 chipset. Unfortunately, we do not see the newer Marvell SE9182 chip on this motherboard. The newer SE9182 chip is capable of using 2x PCI-E x1 lanes, which means performance for the SATA III ports should be should be even better than the 9128. The Marvell 9128 chip should still have plenty of performance as well.
Around the corner, there are several more connectors available:
4-pin CPU PWM fan connector
USB 2.0 connector
EZ-Plug Power Connector
24-pin EATXPWR connector
3-pin PWR_FAN connector
MemOK! Switch
TPU Switch
The TPU switch is responsible for enabling or disabling TPU on this motherboard. The TPU switch is there to fine-tune performance when working on a bare or open-case system. This is ideal for overclockers and gamers who continually change settings to enhance system performance.
 
The EZ-Plug Power Connector is right behind the 24-pin motherboard power connector. This 4-pin Molex power connector provides additional power to the motherboard if needed.
Click Image To Enlarge
Just around the corner, on the other side of the motherboard, we can see two more 4-pin PWM fan connectors. Right behind the Audio output ports, there is also a Front Panel audio connector. While not seen on the pictures clearly, there are several diagnostic LEDs spread throughout the motherboard to warn the user if there are any problems during booting. If a problem or error is found, the LED associated a certain hardware will stay lit to let the user know where the problem is. Right behind the MOSFET cooler, the 8-pin CPU (EATX12V) power connector is located. This is a great placement. On previous motherboards like the P7P55, the 8-pin power connector was oddly placed right above the top VRM.
If we take a closer look at the cooling solution of the motherboard, it is clearly visible that the Digi+ VRM chip is not fully covered by the top heatsink. We will have a closer look at this below.
Click Image To Enlarge
Here is the motherboard without the heatsink installed over the VRM. We can see a total of 16 Phase Power design and lots of RDS MOSFETS to provide clean and reliable power to the CPU. The DIGI+ VRM chip is located right above the CPU socket. Now we can clearly see that the full chip was not completely covered with the thermal adhesive that ASUS used on this motherboard.
Click Image To Enlarge
On the following pictures we can see a closer look at the P67 and NF200 chipsets. If we take a closer look at the thermal adhesives for the cooler we can see that there should have been an additional screw in the middle of the longest heatsink to provide beter contact for the MOSFETS. There is an area that has very little contact with the cooler at all. At the same time, it is bad to have the heatsink screwed too tightly on the motherboard, because that could hinder the cooling performance of the cooler. Hopefully future cooling solutions will not have this problem.
BIOS
EZ Mode
Click Image To Enlarge
ASUS P8P67 WS Revolution motherboard comes with the EFI BIOS, just like the rest of the P8P67 lineup. Though EFI BIOS has been in existence for a while now, it has not gained widespread use. The benefit of the EFI BIOS is that its interface is much easier to navigate (and prettier). Instead of being restricted to the keyboard, users can now also use their mouse to navigate. Also, the menu option is no longer based on dull text. Instead, the EFI BIOS uses a pleasing GUI like Windows. Traditionalists may find the new interface a bit strange initially, but it is very easy to get used to, and even easier to use.
By default, when users enter the board's BIOS, they will see the EZ Mode. The EZ mode shows very basic information about the system. The page is very much like the "Standard CMOS" page on the old text-based BIOS. Here you get to select the boot device priority, power saving mode, and the language.
Clicking on "Exit/Advanced Mode" in the upper right hand corner will bring up more options for advanced users. This is also where users can find overclocking tools. To navigate in the advanced mode, users can click on a tab on the top to display the settings below. Alternatively, users can use the keyboard to navigate through the BIOS. To go back to the previous page, click the back button or use the ESC key like the older BIOS. Navigating around the BIOS can be done with the keyboard's arrow keys or the mouse.
The overall layout on the new EFI BIOS is pretty nice and clean. When a given setting's selection is limited, ASUS provides a drop down menu for users to choose an option. Clicking on an option will bring up the menu, where users can just choose the desired setting. However, not every single field can be adjusted with a click of a mouse. For many advanced overclocking settings, there is a huge range of adjustments, so ASUS still requires the use of the keyboard's -/+ keys for incremental adjustment. Alternatively, users can manually enter a value like the older BIOS. Something we found to be very useful is the "F2: Previous Values" feature, which will return settings to the previously entered value.
Main
Click Image To Enlarge
Just like the EZ Mode in the EFI BIOS, the Advanced BIOS has a very similar Main section where the user can change basic settings including Language, Date, Time and Security options.
Ai Tweaker
Click Image To Enlarge
AI Tweaker is where overclockers will spend most of the time. ASUS offers a very extensive list of settings for overclockers. Intel has changed how users overclock their system, and as a result, there are less adjusments needed when overclocking the CPU. This makes the BIOS less cluttered with strange names. We feel that even a beginner overclocker can use this tool to overclock without much of an issue.
ASUS's OC Tuner will automatically detect the most stable overclocking setting available for the system. After enabling the option, the system will take a minute or so to achieve a decent overclocking result. When we tried it, we were able to overclock our Core i5 2600K to 4.3 GHz in a matter of seconds. This was however a limitation in our memory and by switching out the memory modules, we were able to archive a whooping 4.6 GHz. This is a very nice and handy tool to have.
Turning the AI OC Tuner to Manual mode will let users adjust the BCLK/PEG frequency from 80 MHz to 300MHz. Since Intel locked the BCLK on the Sandy Bridge processor, it is highly recommended for overclockers to adjust the multiplier rather than the BCLK. However, ASUS boards do allow a bit adjustment to the BCLK speed. The reason why adjusting the BCLK might not lead to higher overclocks is because on the P67 chipset, the BCLK controls the PCI-E slots in addition to the CPU and memory, so cards that don't like changes in frequency can make the overclock unstable.
ASUS allows users to adjust the Turbo ratio for each core either independently, or all together. This allows users to overclock each core separately, giving greater versatility.
The manual and press information we received from ASUS states that the board will support memory up to 2133MHz, but with the latest BIOS, the board actually supports DDR3 up to 2400MHz.
In the DRAM Timing panel, users can adjust their memory timings. ASUS groups the timings into three categories: primary, secondary, and third. The higher the level means more the advanced the setting, and for most people, primary and secondary timing adjustments are more than enough to achieve a good result.
Memory Adjustments
Primary Timing
 
CAS
Auto, 3-15
RAS to CAS
Auto, 4-15
RAS Pre Time
Auto, 4-15
RAS ACT Time

Auto, 4-40

DRAM Command Mode
Auto, 1-3
Secondary Timing
 
RAS to RAS Delay
Auto, 4-15
REF Cycle Time
Auto, 48-511
Refresh Interval
Auto, 3120-9999
WRITE Recovery Time
Auto, 5-16
READ to PRE Time
Auto, 4-15
Four ACT WIN Time
Auto, 16-63
WRITE to READ Delay
Auto, 4-8
CKE Minimum pulse width
Auto, 3-15
CAS Write Latency
Auto, 5-15
RTL
Auto, 16-63
Third Timings
 
tWDR (DD)
Auto, 1-6
tRWDR (DD)
Auto, 1-6
tRWSR
Auto, 1-6
tRR (DD)
Auto, 1-6
tTTSR
Auto, 1-7
tWW (DD)
Auto, 1-6
tWW (DR)
Auto, 1-6
tWWSR
Auto, 4-6
CPU Power Management offers fine-tuning of the processor's Turbo power, adding stability and better overclocking.
CPU Power Management
Long Duration Power Limit
Auto, 1-255
Long Duration Maintained
Auto, 1-32
Short Duration Power Limit
Auto, 4-255
Additional Turbo Voltage

Auto, 0.004-1.000 in 0.004v increments

Primary Plane Current Limit
Auto, 0.125-1023.875 in 0.125 increments
DIGI VRM Adjustments
 
 
Load Line Calibration
Auto, Regular, Medium, High, Ultra High, Extreme
VRM Frequency
Auto, Manual
VRM Spread Spectrum
Auto, 300KHz-500KHz in 10 kHz increments
Phase Control

Auto, Optimized, Extreme, Manual

Manual Phase Control
Ultra Fast, Fast, Medium, and Regular
Duty Control
T. Probe, Extreme
CPU Current Capability
100%-140%
Adjusting the DIGI+ VRM will provide different amount of response time and current to the Digital power phase for the motherboard. It often will increase overclocking stability and potential.
Load Line Calibration: provides higher voltage to the CPU for better overclocking
VRM Spread Spectrum: will affect the VRM transient response and component thermal. Higher frequency gets quicker transient response.
Phase control: faster phase control will have a faster response.
Duty Control: adjusts the current and thermal for the every VRM phase. The T probe will maintain a thermal balance while the Extreme will maintain the VRM current balance.
CPU current capability: a higher value will bring a wider total power range and extend the overclocking frequency range.
The last set of adjustments for overclocking is the voltage adjustments. Below is the list of ranges allowed on the board. As mentioned earlier, since Sandy Bridge overclocking is different, less settings are needed, so we perform fewer voltage adjustments. In addition, the memory controller is built into the processor, so we do not need to perform many voltage adjustments to get a stable system.
Voltage Adjustments
CPU VOLTAGE
Manual, Offset
CPU Manual Voltage
Auto, 0.800V – 1.990V in 0.05V
DRAM Voltage
Auto, 1.20V – 2.20V in 0.00625V increments
VCCSA Voltage
Auto, 0.8000V – 1.7000V in 0.00625V increments
VCCIO Voltage

Auto, 0.8000V – 1.7000V in 0.00625V increments

CPU PLL Voltage
Auto, 1.2000V-2.2000 in 0.00625V increments
PCH Voltage
Auto, 0.8000V – 1.7000V in 0.00625V increments
DRAM DATA REF Voltage
Auto, 0.3950x – 0.6300x in 0.0050x increments
DRAM CTRL REF Voltage
Auto, 0.3950x – 0.6300x in 0.0050x increments
CPU Spread Spectrum
Auto, Enable, Disable
Advanced
Click Image To Enlarge
The Advanced menu is where users get to adjust the different components on the motherboard. The CPU Configuration is where users can adjust the number of active cores, virtualizations, thermal throttling, and power management of the processor. The SATA Configuration needs no introduction. We liked that ASUS set AHCI as the default setting, and let the user choose for which hard drive to enable "Hot Plug". The Onboard Devices Configuration Menu is where users can adjust the various devices such as FireWire, HD Audio, eSATA, and Network for the board. It may be hard to recognize, but APM stands for Advanced Power Management, which allows users to adjust the power on setting.
Monitor, Boot, Tool & Exit
Click Image To Enlarge
The system monitor menu shows the various vital statistics of the hardware. The Boot Menu is where the boot devices can be selected and configured. In the Tools menu, users will find ASUS Drive Xpert, which allows users to adjust the two SATA ports on the board as regular SATA, RAID 0/1. The EZ flash utility is a very nice feature that allows users to flash the BIOS without needing a floppy drive or any additional software. Users must simply copy the latest BIOS onto a USB flash drive and select EZ Flash in the BIOS, where they can choose the BIOS file to flash. In the tools section, this is also where users can save OC Profiles. Finally in the last section, the user can go back to the EZ Mode if needed.
Overclocking
Overclocking on the ASUS P8P67 WS Revolution motherboard was very fun. This motherboard has been very easy to overclock, especially with its OC Tuner function in the BIOS, or the Auto Tune option in AI Suite II. With Manual control, we went ahead and overclocked the processor as far as we could, and we were able to reach 100% stable frequency of 5.1GHz with 51x Multiplier and 100.1 BCLK. We could have slightly adjusted the BCLK, however, this can make the system less stable with certain hardware.
It seems the voltages reported by CPU-Z are not quite on part with what we had it set up as. The voltages were around 1.3-1.32V during these tests.

Click Image To Enlarge
Temperatures

The temperatures were recorded with CoreTemp while running LinX for a few hours during stability tests and double checking the results with OCCT for 20 minutes right after LinX finished its stress test. The processor was fully overclocked. The results were recorded carefully. After the results were recorded, we waited for 30 minutes before taking Idle temperature measurements. The results were as follows:
| Motherboard | Temperature (Idle / Load) |
| --- | --- |
| ASUS P8P67 WS Revolution B3 Rev | 39C/ 40C |
| ASUS P8P67 Pro | 37C / 38C |
| ASUS P8P67 Deluxe | 38C / 39C |
| GIGABYTE P67A-UD4 B3 | 38C / 40C |
| GIGABYTE P67A-UD7 B3 | 41C / 43C |
The ASUS P8P67 WS Revolution motherboard ran a bit warm compared to previous ASUS boards like the ASUS P8P67 Pro and Deluxe. On the other hand it still ran cooler than the GIGABYTE P67A-UD7, which is GIGABYTE's top of the line P67 motherboard. Considering that the P8P67 WS Revolution is extremely similar to the UD7 performance-wise, and that it has some better features that we talked about on the previous pages, the motherboard still ran cooler. This will really only come down to the components that each manufacturer uses and their cooling solution.
Power Consumption

The power consumption was tested while running LinX for a few minutes at stock settings. The results were recorded carefully with a Kill-A-Watt power consumption measuring tool at the wall. After the results were recorded, we waited for yet another few minutes minutes before taking Idle power consumption measurements.
| Motherboard | Power Consumption (Idle / Load) |
| --- | --- |
| ASUS P8P67 WS Revolution B3 Rev | 236W / 354W |
| GIGABYTE P67A-UD4-B3 | 239W / 345W |
| GIGABYTE P67A-UD7-B3 | 245W / 355W |
One very nice feature of ASUS motherboards is high efficiency in power consumption. We can clearly see that even with same hardware, the P8P67 WS Revolution motherboard is still 9W lower in power consumption than the P67A-UD7-B3 motherboard. While the UD4-B3 is close to the P8P67 WS Revolution, the UD4 is a mainstream motherboard and does not utilize the NF200 chip along with other high end features.
Testing & Methodology
(Water Cooling setup provided by AcousticPC.com)
We've expanded our testing suite considerably for the P67 chipset, and will continue to use the same methods for most of the motherboards and CPU's we test. In the interests of thoroughness and accurate results, we run each test at least three times, and some tests more than that. We average the total of all the tests from each benchmark then report the average here.
The OS we use is Windows 7 Pro 64bit with all patches and updates applied. We also use the latest drivers available for the motherboard and any devices attached to the computer. We do not disable background tasks or tweak the OS or system in any way. We turn off drive indexing and daily defragging. We also turn off Prefetch and Superfetch. This is not an attempt to produce bigger benchmark numbers. Drive indexing and defragging can interfere with testing and produce confusing numbers. If a test were to be run while a drive was being indexed or defragged, and then the same test was later run when these processes were off, the two results would be contradictory and erroneous. As we cannot control when defragging and indexing occur precisely enough to guarantee that they won't interfere with testing, we opt to disable the features entirely.
Prefetch tries to predict what users will load the next time they boot the machine by caching the relevant files and storing them for later use. We want to learn how the program runs without any of the files being cached, and we disable it so that each test run we do not have to clear pre-fetch to get accurate numbers. Lastly we disable Superfetch. Superfetch loads often-used programs into the memory. It is one of the reasons that Windows occupies so much memory. Vista fills the memory in an attempt to predict what users will load. Having one test run with files cached, and another test run with the files un-cached would result in inaccurate numbers. Again, since we can't control its timings so precisely, it we turn it off. Because these four features can potentially interfere with benchmarking, and and are out of our control, we disable them. We do not disable anything else.
Test Rig
Test Rig
Case
Silverstone Temjin TJ10
CPU

Intel Core i7 2600K @ 4.8 GHz

Motherboard

Intel DP67BG LGA 1155 Motherboard

GIGABYTE P67A-UD4

GIGABYTE P67A-UD7

ASUS P8P67 WS Revolution Motherboard

Ram

Patriot Gamer 2 16GB (4x4GB) DDR3-12800 1600MHz 9-9-9-24 Memory

CPU Cooler

Heatblocker Rev 3.0 LGA 1156 CPU Waterblock

Thermochill 240 Radiator

Black Ice Extreme 120 Radiator

Hard Drives

4x Seagate Cheetah 600GB 10K 6Gb/s Hard Drives

2x Western Digital RE3 1TB 7200RPM 3Gb/s Hard Drives

SSD
1x Zalman SSD0128N1 128GB SandForce SSD
Optical
ASUS DVD-Burner
GPU

2x ASUS ENGTX580 Voltage Tweak Video Cards

Case Fans

1x Quiet Zalman Shark's Fin ZM-SF3 120mm Fan – Top

1x Silverstone 120mm fan – Front

1x Quiet Zalman ZM-F3 FDB 120mm Fan – Hard Drive Compartment

Additional Cards

LSI 3ware SATA + SAS 9750-8i 6Gb/s RAID Card
PSU

Sapphire PURE 1250W Modular Power Supply

Mouse
Razer Mamba
Keyboard
Logitech G15
Test Suite
We will use the following applications to test the performance of the Motherboard. Benchmarks
Benchmarks
PcMark Vantage
SiSoft Sandra 2011
Cinebench R10
Cinebench R11.5
3DMark 11
3DMark Vantage
Unigine Heaven Benchmark
Crysis Warhead
Just Cause 2
Sisoft Sandra 2011b

"SiSoftware Sandra (the System Analyzer, Diagnostic and Reporting Assistant) is an information & diagnostic utility. It should provide most of the information (including undocumented) you need to know about your hardware, software and other devices whether hardware or software. It works along the lines of other Windows utilities, however it tries to go beyond them and show you more of what's really going on. Giving the user the ability to draw comparisons at both a high and low-level. You can get information about the CPU, chipset, video adapter, ports, printers, sound card, memory, network, Windows internals, AGP, PCI, PCI-X, PCIe (PCI Express), database, USB, USB2, 1394/Firewire, etc."
Performance in CPU intensive applications does show a bit of improvement on the ASUS P8P67 WS Revolution motherboard over GIGABYTE's top P67 models, but with the slight differences, we doubt users would notice a huge performance difference in most applications.
PCMark Vantage
PCMark Vantage is the latest system benchmark tool from Futuremark. The benchmark consists of tests such as application launches, file searches, web browsing, video playback, photo editing, and gaming.
PCMark Vantage showed a slight performance increase in overall tests on the WS Revolution board while we were running an overclocked system, but it seems that the ASUS board fell a bit behind under stock settings. Once again these numbers are so slightly apart that most users will never notice a performance difference between each motherboard.
Cinebench R10 and R11.5
"CINEBENCH is a real-world test suite that assesses your computer's performance capabilities. MAXON CINEBENCH is based on MAXON's award-winning animation software, CINEMA 4D, which is used extensively by studios and production houses worldwide for 3D content creation. MAXON software has been used in blockbuster movies such as Spider-Man, Star Wars, The Chronicles of Narnia and many more. MAXON CINEBENCH runs several tests on your computer to measure the performance of the main processor and the graphics card under real world circumstances. The benchmark application makes use of up to 16 CPUs or CPU cores and is available for Windows (32-bit and 64-Bit) and Macintosh (PPC and Intel-based). The resulting values among different operating systems are 100% comparable and therefore very useful with regard to purchasing decision-making. It can also be used as a marketing tool for hardware vendors or simply to compare hardware among colleagues or friends."
There is a slight performance decrease in Cinebench R10 on the CPU benchmarks as we can see from the following results. This performance difference is not too major, unless the user needs to render thousands of frames in Cinema 4D. In that case, the time difference in rendering would show drastically.
The ASUS P8P67 WS Revolution motherboard did show some performance increase in the OpenGL graphics test, where Cinebench simulates real-time 3D rendering that the user would experience during the modeling and animation process. Since most 3D users will be working mainly on modeling and animation with the ASUS P8P67 WS Revolution motherboard, this is definitely a plus.
Here comes the interesting part. Just as we saw a performance decrease in Cinebench R10 on the WS Revolution motherboard, we noticed the same performance decrease in Cinebench R11.5. It seems that in order to achieve the same performance as the GIGABYTE P67A motherboards did at 4.8GHz, we had to overclock the CPU to 4.9GHz. We are not quite sure why this motherboard fell behind in Multi-Threaded 3D rendering applications.
3DMark Vantage
For complete information on 3DMark Vantage Please follow this Link:
www.futuremark.com/benchmarks/3dmarkvantage/features/
The newest video benchmark from the gang at Futuremark. This utility is still a synthetic benchmark, but one that more closely reflects real world gaming performance. While it is not a perfect replacement for actual game benchmarks, it has its uses. We tested our cards at the 'Performance' setting.
3DMark Vanatage is the previous generation 3D gaming synthetic benchmark, but it still provides excellent performance analysis for video card performance. In these results we can see that the overall score for the motherboard under overclocked settings shines due to great PCI-Express scaling on this motherboard.
3DMark 11 
The same results are visible in the newer version of 3DMark, which is completely DirectX 11 based. The two GTX 580s just jump straight ahead with the ASUS P8P67 WS Revolution motherboard, not just in overclocked settings but under stock settings as well.
Crysis warhead
Crysis Warhead is the much anticipated standalone expansion to Crysis, featuring an updated CryENGINE™ 2 with better optimization. It was one of the most anticipated titles of 2008.
We ran Warhead using gamer's setting at resolution of 1280×1024 and DirectX 10. We tested both no AA an 2x AA.
When benchmarking video games at lower settings to make sure there are no video card bottlenecks during our testing, we can see a nice jump in gaming performance from stock to overclocked settings. The performance difference between each motherboard on the other hand is not much different.
Just Cause 2
In Just Cause 2 we decided to take a different testing path. In these tests we have upped the graphics to the maximum settings and run each test at higher resolutions. With that in mind, we can see that the difference in performance between each motherboard is minimal even when comparing stock and overclocked settings. This will differ depending on the game that we are testing, but in most cases a processor running at 3.4GHz at stock would not have much difference in performance over 4.8GHz. The performance difference would be much higher if the processor were running at 2GHz, because at that point the processor might be the bottleneck and not the video cards.
Unigine Heaven 2.1
Unigine Heaven is a benchmark program based on Unigine Corp's latest engine, Unigine. The engine features DirectX 11, Hardware tessellation, DirectCompute, and Shader Model 5.0. All of these new technologies combined with the ability to run each card through the same exact test means this benchmark should be in our arsenal for a long time.
Unigine Heaven is a benchmark that gives us consistent results all the time. We can re-bench each motherboard several times and we will get exactly the same results as our previous tests have shown. Because of consistent results in each run, having different scores in these tests just shows how nicely some motherboards scale in graphics performance. In this case, the ASUS P8P67 WS Revolution showed a big jump over the GIGABYTE motherboards in stock settings, but visually, the performance was exactly the same.
Conclusion

While the ASUS P8P67 WS Revolution motherboard has some very nice features, a great motherboard layout, excellent PCI-Express spacing for up to four Multi-GPU configuration, EFI BIOS with EZ Mode and the powerful AI Suite II software to maintain and control all aspects of the system, there were a few drawbacks that need to be mentioned. While the P8P67 WS Revolution motherboard was designed for 3D/CAD users in mind, or perhaps for people using the system as a small server, the Quick Gate USB 2.0 ports on the motherboard should have been USB 3.0 using the Renesas USB3.0 controller. At the moment these ports serve a great purpose for users that want to keep devices in the system that they don't want others to have access to; however, these ports could have been slightly better utilized: users with front panel USB 3.0 connectors could plug in their USB 3.0 cables straight inside the chassis instead of having to loop back at the rear of their chassis.
Another small issue that we encountered during our testing was that the G.P. Diagnosis card did not fit completely. The G.P. Dignosis card helps users with debugging boot errors and also provides the user with a power on/off and reset switch. Unfortunately, for us, the placement was not in the best place, because our power supply and other components would get in the way. It would have been nice if ASUS could have included a cable or some sort of attachment that would allow the user to place the G.P. Diagnosis card somewhere else in the system, perhaps attach it to one of the extra motherboard holes that are reserved for Extended ATX motherboards. As far as we know though this is not the main feature of the P8P67 WS Revolution motherboard, so it is not that big of a deal.
Moving on to the software side of the motherboard, the Ai Suite II had some excellent features that we were not expecting to work very well, but it ended up being the main way we configured our system. Till this point, we were hesitant to use Windows based software to rely on overclocking the processor and other components in our  system. However with the introduction of Digi+ VRM and the incorporation of all the overclocking and Digi+ VRM settings in the AI Suite II application, overclocking the Intel i7 2600K processor became extremely simple. Within 2-3 minutes, we were up and running at 5.1GHz and our stress tests proved that the system can run completely stable for over 10 hours at around 1.3-1.32V. To stay on the safe side though, we used ASUS' built in OC Tuner, which set us at 4.3GHz at first, but after switching out the memory and going with a higher performance memory kit, we were able to reach 4.6GHz without needing to mess with anything in the system. The OC Tuner also made sure that none of the voltages were outside Intel's specifications and that the system would not be damaged during this process. Unfortunately, there are a few little bugs that we noticed, but ASUS has been notified and they are working on the problem. One of the problems we noticed was that if the user has a dual-monitor setup, there is a little black box shown on the 2nd monitor that the user cannot get rid of until either Ai Suite II is turned off, or until the user opens up the software from the taskbar. It is possible to disable Ai Suite II during start-up, which would prevent this problem from happening. There was another slight problem were even after resetting the software to its stock settings, the OC profile would still load during start-up. We had to uninstall and reinstall AI Suite II to fix this problem. On the other hand, to finalize the AI Suite II application, the user also gets full control over fan profiles, has a clear overview of the system voltages and temperatures, and also has easy BIOS update tools for their system.
Finally, some of the main points that we enjoyed on the ASUS P8P67 WS Revolution motherboard were the Dual Intel Gigabit LAN support, four SATA III ports for double RAID support, PWM fan headers, 2/3-way SLI or 4-way CrossFireX support on a standard ATX motherboard, and excellent component spacing around the CPU socket. With good spacing for the components, we were able to easily install our HeatKiller water block without damaging components. Unfortunately, GIGABYTE motherboards have this problem, so we would recommend ASUS motherboards for those looking into doing high-end cooling or perhaps using large water blocks for their CPUs. The VRM design was also very nice, however the cooling was not perfect as we have shown on the Closer Look page of this review.
The price tag of $259.99 at Newegg.com is not too bad considering what the motherboard comes with feature wise. It definitely has aspects that only high-end motherboards would have in the $300 range, and even server based features. However, those not looking to use four PCI-Express slots all at once, or if the Intel based LAN is not a necessity, we would recommend looking at the the ASUS P8P67 Pro motherboard. That motherboard does not come with the NF200 chipset, but should have just as good performance in most non-3D based applications.
OUR VERDICT: ASUS P8P67 WS Revolution Motherboard
| | |
| --- | --- |
| Performance | 9 |
| Value | 9 |
| Quality | 9 |
| Features | 9 |
| Innovation | 8.5 |

We are using a new addition to our scoring system to provide additional feedback beyond a flat score. Please note that the final score isn't an aggregate average of the new rating system.

Pros
Cons

Great Motherboard design and layout (Excellent PCI-Express spacing – providing support for up to 4 video cards at the same time on an ATX motherboard)

Excellent Overclocker with the help of Digi+ VRM and AI Suite II for instant OS based overclocking and Auto Tuning.

Excellent Stability

Dual Intel Gigabit LAN

Plenty of spacing around CPU socket to utilize even large CPU Water Blocks.

Great Performance

Lower power consumption compared to competitor.

4-pin PWM Fan Connectors

Bundled Accessories

EFI BIOS with EZ-Mode

AI Suite II minor software bug

G.P Diagnosis Card connector poor location (would have been nice to see a cable or some sort of dongle)

No USB 3.0 support on Quick Gate ports.
Summary: Overall, the ASUS P8P67 WS Revolution motherboard has so many nice features, and great motherboard design especially on the PCI-Express slots and other components, that it has earned its way into our main system. We would definitely recommend this motherboard to anyone and it became my personal choice if anybody needs a very powerful, feature full motherboard. Despite a few smaller issues, the ASUS P8P67 WS Revolution motherboard still deserves a 9 out of 10 points and the Bjorn3D Golden Bear Award.