The Gigabyte GA-E350N-USB3 is the first motherboard from Gigabyte using the new AMD Fusion APU's. We have posted a first look at it with images and some specifications while we are working on the full review.
INTRODUCTION
At CES2011, GIGABYTE announced their first AMD Fusion Mini-ITX motherboard, the GA-E350N-USB. This little mini-ITX motherboard comes with one of the first AMD Fusion APU's (Accelerated Processing Unit): the Dual-Core E-350 with a Radeon HD6410 graphics core. It also comes with 4 SATA 6Gbps ports and 2 USB3.0 ports, making it a very attractive little motherboard for users who value a power efficient system that still has teeth enough to show 1080p video and play the occasional lighter game.
We received one of these motherboards a few days ago from AMD and we wanted to whet our readers' appetites while we're doing a proper review.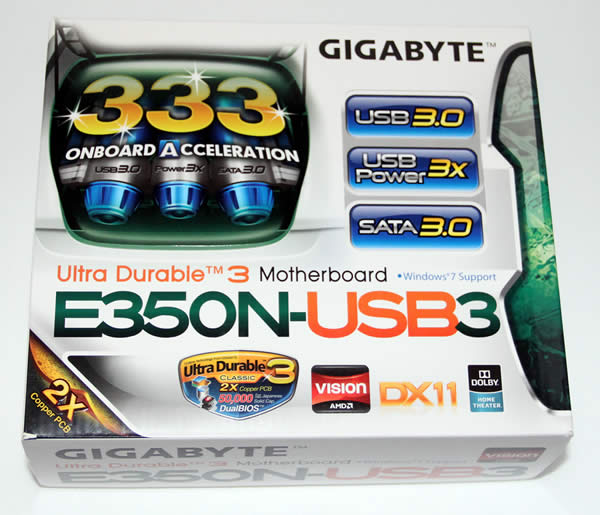 The motherboard comes in a small but familiar box. GIGABYTE loves to advertise all the cool specifications and features of their products, and the fact that this isn't a high-end motherboard makes no difference. This is an Ultra Durable 3 Classic motherboard. This means that GIGABYTE has used 2 ounces of copper for both the power and ground layers of the motherboard. It also has Japanese Solid Capacitors and GIGABYTE's DualBIOS technology.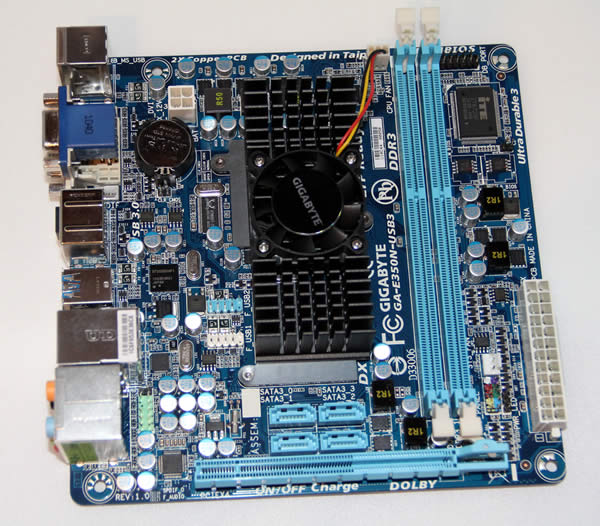 As mentioned earlier, this is a mini-ITX motherboard, meaning it measures just 17x17cm (6.7×6.7 inches). GIGABYTE still managed to put a x16 PCI-E-slot and space for 2 DDR3-memory sticks on the motherboard.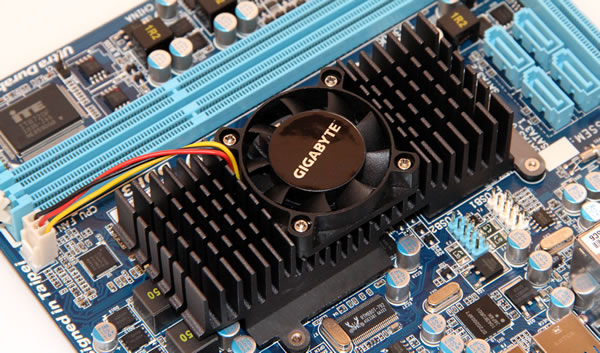 The main feature on the motherboard is the big heatsink/fan. This cooler keeps both the APU and the AMD Hudson-M1 FCH (Fusion Controller Hub) cool.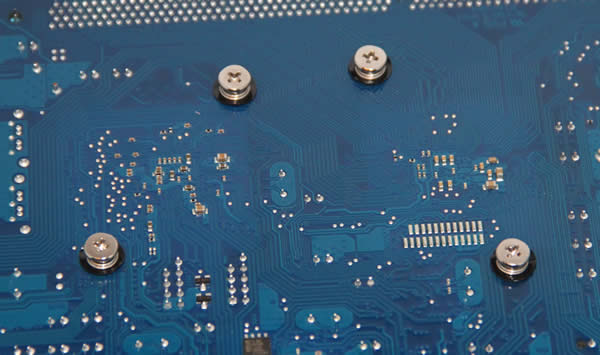 The cooler is properly fastened to the motherboard with screws making it much more secure, and easier to remove.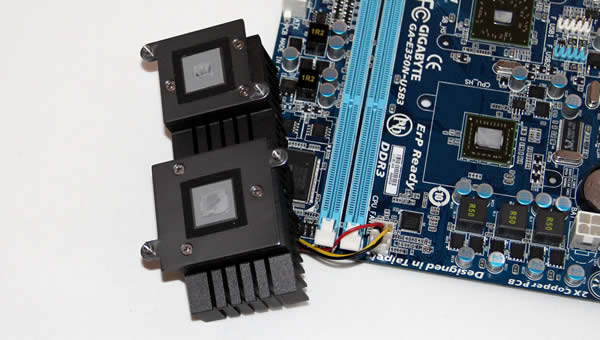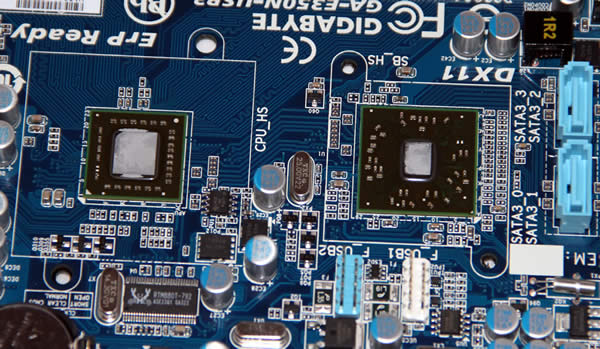 As we remove the cooler we see the two chips, the AMD E350 APU to the left and the Hudson-M1 FCH to the right. Isn't it amazing that we now can get a CPU and a GPU in such a small package? The FCH is responsible for 8 USB2.0 ports (4 on the back panels and 4 via the internal USB headers) and the 4 SATA 6 Gbps connectors.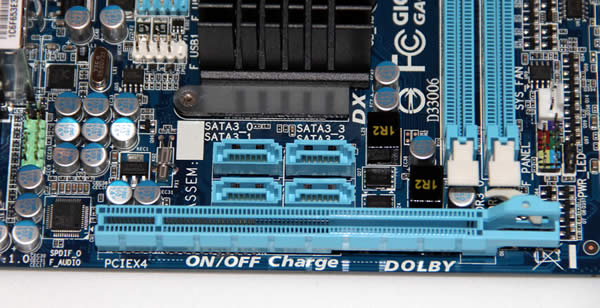 Here we see the 4 SATA 6 Gbps ports. We also get a PCI-E x16 slot that runs at x4 speed.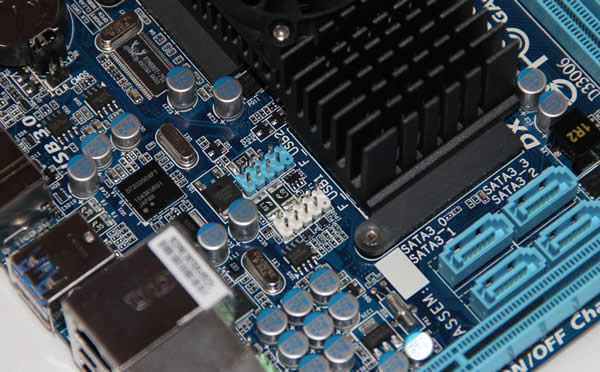 Both USB-headers are USB2.0/1.1. At first we thought the blue one was USB3.0, but unfortunately not.

On the back panel we find:
• 1 x PS/2 keyboard/ mouse port
• 1 x VGA port
• 1 x DVI-D port
• 1 x HDMI port
• 1 x optical S/PDIF Out connector
• 4 x USB 2.0/1.1 ports
• 2 x USB 3.0/2.0 ports
• 1 x RJ-45 port
• 6 x audio jacks (Center/Subwoofer Speaker Out/Rear Speaker Out/Side Speaker Out/Line In/Line Out/Microphone)
The motherboard also comes with features like HDMI 1.3, Dolby Home Theather Support, and On/Off Charge, which allows users to quickly charge an iPad/iPod/iPhone — and other USB-charged devices — even if the computer is sleeping or off.
We test this motherboard rigorously, but we're giving you the chance to tell us what kind of tests you want to see. Do you want to see more HTPC-oriented tests (testing the video playback capability) or are you more interested in  the gaming performance? Let us know in our comments!!