The ASUS RT-N56U is a nice looking router that comes with support for both the 2.4 GHz and 5 GHz bands, a lot of useful features, and an excellent user interface.
INTRODUCTION
A router is probably one of the most important components in today's home. Not only does it provide a first hurdle for any hackers that try to get into a home network, it also allows users to connect a lot of computers while sharing a single IP to the outside world. Users can now utilize advanced routers like printer-, file- and upnp-servers, and if they have support for storage, they also can work as bittorrent clients. In other words, a solid router is a good investment for any home with many computers.
ASUS has products in most areas including computers, laptops, mobile phones and computer components. It is therefore not surprising that they also have network products. In today's review we test their flagship network product, the ASUS RT-N56U. As expected from a flagship product ASUS has gone all-out with the N56U, giving it impressive specifications including support for both 2.4GHz and 5 GHz with a theoretical speed of 300 Mbps on each frequency at the same time, support for external hard drives and printers, support for up to 300,000 sessions at once and true Gigabit-speeds over both the WAN- and the LAN-ports. All these features come in a very stylish package. But is it all too good to be true? We've seen high spec'ed routers that fail to live up to the hype. Read on to find out if the ASUS RT-N56U falls in that category or if ASUS has a winner on their hands.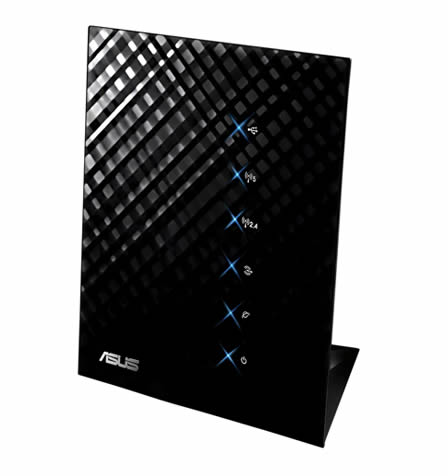 IMPRESSIVE SPECIFICATIONS AND FEATURES
The ASUS RT-N56U is a router that has some very impressive specifications and features.
True gigabit WAN/LAN through a Hardware NAT-engine
Many routers come with gigabit Ethernet ports but that does not mean that they have 1 gigabit through put from internet to the internal network. In fact, many have far less than that. The N56U comes with a hardware NAT acceleration engine that makes its WAN ("internet") to LAN ("internal network") throughput up to 2-5 times faster than that of a traditional software-based NAT engine.
Dual-band
The N56U supports both the 2.4GHz and the 5GHz frequency-bands with theoretical speeds up to 300 Mbps on each band concurringly. The 5 GHz band is usually thought as a good band for video and other high-bandwidth traffic while the 2.4GHz band handles the "regular" web-traffic. By making sure you can use both bands concurringly one person can stream video through the router without affecting the performance of any other users.
Ai Radar
Ai Radar is an interesting feature that helps the router to give the best signal possible to each connected unit. It intelligently adapts beam patterns to local conditions to enable higher-gain directional signal emulation. It shapes the signal and transforms what may be a weak omnidirectional signal to a stronger unidirectional one. In addition to make the signal stronger for a connected unit it also can improve the throughput at the same time.
Online multitasking at up to 300000 data sessions
Even if you load the router with lots of data transfer jobs the N56U should not buckle as it comes with a "massive" pipeline. We are not sure how Asus defines a session since we are skeptic it can handle 300000 downloads at the same time but it still promises around 20 times the network capacity of other high session routers.
Two USB-ports
You can connect both printers and storage units to the USB-ports on the router. Inside we find a printer-server as well as support for FTP, SAMBA and UPnP for sharing. The router even has a bittorrent client and a regular download client built in that can keep working even if the computer is turned off.
AiServer – share easy with family and friends
AiServer helps you share data from your attached storage units to people outside your network. It works similar to how DynDNS does and you can set up permissions for users and groups.
If there is one feature we see missing here, it's the ability to set up a wireless guest network that has its own SSID and that can connect to the internet but not access any of the other computers on the LAN.
Pictures & Impressions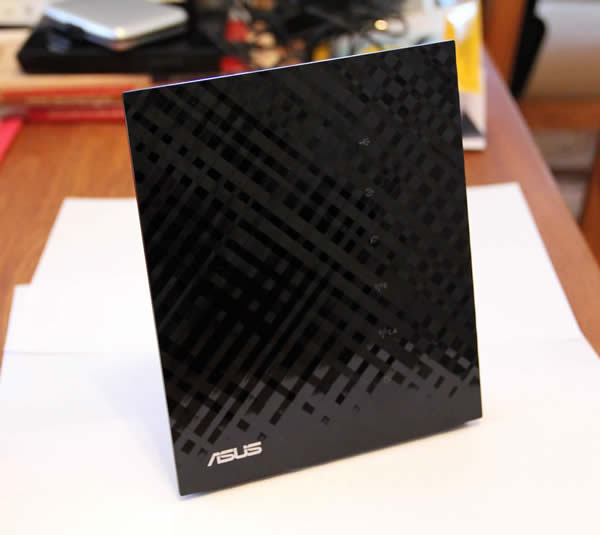 What strikes us first is how small the router is, especially considering the features and specifications. It is also a very nice looking router. The router is black and has a diamond shaped pattern on the front. There are a bunch of lights on the front that show the status for the various ports.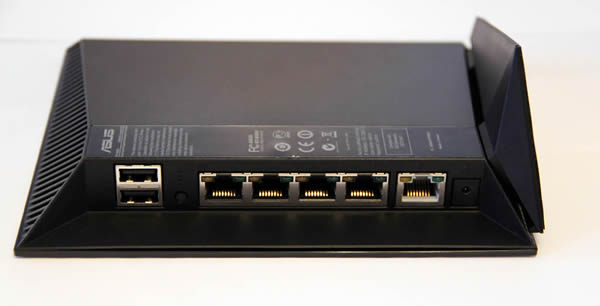 The router comes with the following ports:
WAN (internet), gigabit ethernet
4xLAN (internal network), gigabit ethernet
2x USB2.0
One thing that surprises us is that there is no way we can hang this router on the wall. Instead buyers must use the included stand. This is a router that would look good on the wall so why there are no holes included for wall-mounting is a mystery.
USER INTERFACE
Too many routers hide their features behind a clumsy user interface, but this is one area where ASUS excels. The user interface of the RT N56U (and the N15 we are comparing it to later) is quite frankly excellent. It is very easy to get a good overview of all settings and still be able to get access to the more advanced features.
Instead of trying to go through each and every screen, we've include screenshots of the user interface below so readers can get a feel for it.
With one glance, it is possible to get a very good overview of who/what is connected to the network and also to change some of the settings. Even when we move away from the front page we are surprised at how much nicer the user interface feels than the one from Netgear or Dlink.
PERFORMANCE – SETUP
To test the performance of the routers we used these two systems:
Computer 1:
Stationary computer with Phenom II X6 1090T, ASUS Crosshair IV Formula med Gigabit-ethernet, 4 GB Kingston DDR3, Seagate 500GB HDD, Windows 7 Pro
Computer 2:
Acer Aspire TimelineX laptop, Intel Core i5 , 450M , 13.3″ WXGA CB , 2GB+2GB RAM, 500GB(5.4k) HDD , ATI Mobility Radeon™ HD 5650 , 1024MB/2816MB , 802.11bg_Draft n (Broadcom) , BT 3.0, Gigabit-ethernet (Atheros AR8151)
WAN => LAN and LAN => WAN
We tested the throughput from Internet (WAN-port) to the internal network (LAN) and vice versa by connecting computer 1 to the wan-port and computer 2 to one of the lan-ports.
LAN => LAN
We tested the throughput between to internal computers by connecting each of our computers to a lan-port. 
Wireless performance
The 2.4 GHz band was tested with the internal wireless card (Broadcom) in our laptop. The 5 GHz band was tested with a Linksys WUSB600N USB-adapter. For all the tests, we used WPA2-encryption.
We tested the wireless performance in two places in our lab: 3 m from the router without any objects blocking the signal (here we tested WAN=>LAN and LAN=>WAN) and 10 m from the router behind a thick stone wall (here we tested LAN=>LAN).
We made sure there were no major 2.4GHz or 5 GHz networks around to cause interference, though we did see some faint 2.4GHz networks from surrounding houses.
The routers included in this test were:
Dlink Dir-600: 150 Mbps-router with 100 Mbps ethernet
Netgear WNDR3700: 300 Mbps-router with Gigabit-ethernet and support for both 2.4GHz and 5 GHz
Asus N15: 300 Mbps-router with Gigabit-ethernet
Asus RT-N56U: 300 Mbps-router with Gigabit-ethernet and support for both 2.4GHz and 5 GHz
Passmark PerformanceTest 64-bit v7
http://www.passmark.com/products/pt.htm
The software was installed on both machines, and depending on which direction we tested set in client- or server-mode. TCP-traffic was measured. Each test was run 5 times and the average result was plotted in the chart.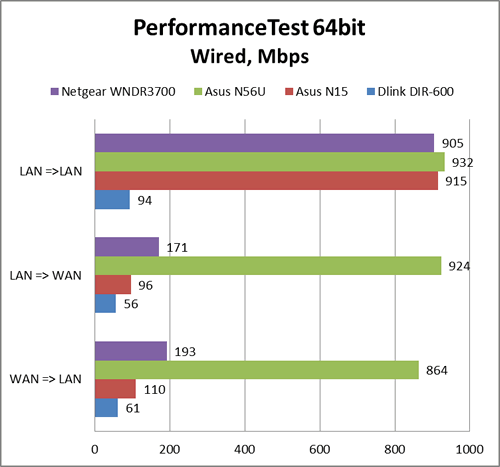 Except for the Dlink DIR-600, all the routers we tested are so-called Gigabit-routers, meaning they have a Gigabit switch in them. As expected, all of them also perform around that speed when we transfer data between the computers attached to two LAN-ports (LAN=>LAN). This means that when users are transferring a file from one computer to another in a home network, the router will not bottleneck speeds.
However, things change when we test the speed over the WAN-port, meaning we simulate the speed users get to and from the internet through the router (throughput). While the ASUS RT-N56U still pumps out Gigabit- or near-Gigabit speeds, the performance of the rest of the routers drops a lot. For example, the Netgear WNDR3700, a router that directly competes with the ASUS RT-N56U, only manages about 170-190 Mbps. ASUS' claim that their hardware NAT-engine is 2-5 times as fast does indeed seem true.
So how does this affect us? Most users won't notice anything as they have broadband that is far slower than even 100 Mbps, but here in Sweden, there are a few providers that offer Gigabit fiber-broadband, and we can only see this increasing in the future. Regardless, it is nice to know that we do not have to worry about losing performance because of the hardware.
Note: LAN=>LAN was measured at the second spot in our lab (10 meters from the router behind a stone wall) while WAN=>WAN and LAN=>WAN was measured 5 meters from the router with no objects blocking the signal.
It is obvious we never will hit the theoretical 300 Mbps top speed of 802.11n. This is not unique to the ASUS router but it is worth remembering when deciding if users need to go wired or can live with wireless.
In the 2.4 GHz band, there are not that many differences between the ASUS N15, ASUS RT-N56U and the Netgear WNDR3700, at least as long as we do not have anything blocking the signal. The theoretical top speed for the Dlink DIR-600 is half that of the others (150 Mbps versus 300 Mbps), and this is mirrored in our performance tests, where it manages half the speed of the others. As we move to behind the thick stone wall something happens with the Netgear WNDR3700. The speed drops a lot, and even the Dlink performs better.
As we switch to the 5 GHz band it is obvious why this band is recommended for high bandwidth data streaming. Both the Netgear and the ASUS RT-N56U perform very well with the RT-N65U spiking at 129 Mbps when transferring data from inside the network to a computer outside the WAN-port. As we move behind the stone wall, the performance of the ASUS RT-N56U drops quite a bit but we still get an impressive 51 Mbps. The Netgear router again cannot keep up and stops at 31 Mbps.
Jperf 2.00 med iPerf 2.0.5
http://sourceforge.net/projects/iperf/
The software was installed on both machines, and depending on which direction we tested set in client- or server-mode. TCP-traffic was measured. Each test was run 5 times and the average result was plotted in the chart.The software allows us to decide how many connections/transfers we want to test, at the same time allowing us to emulate downloading a file over bittorrent (peer2peer transfer) or an ftp on a server which allows more than one connection/IP.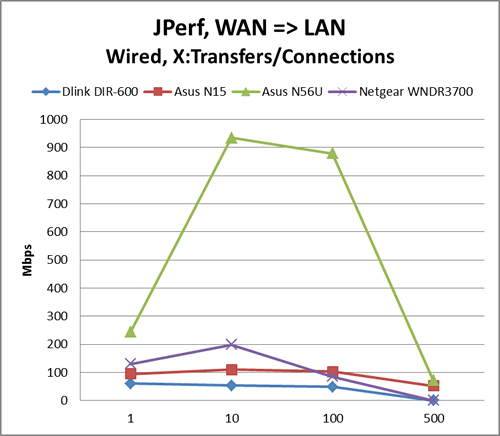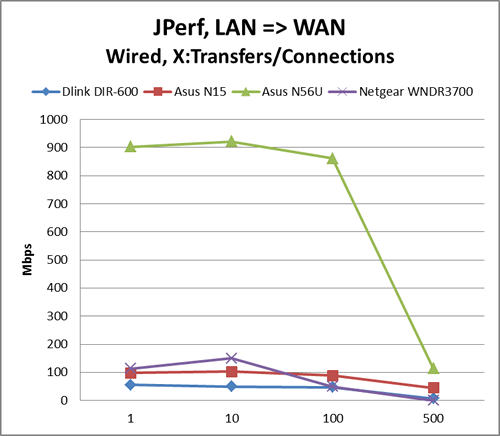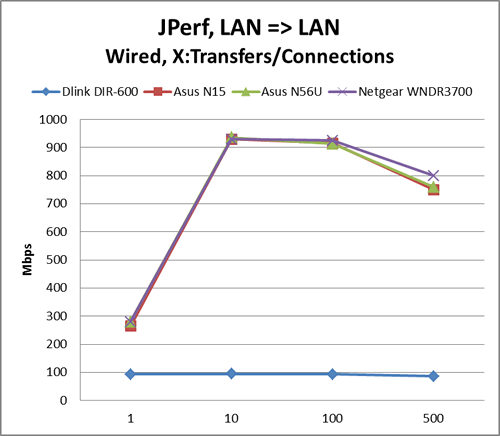 The ASUS RT-N56U is supposed to be able to handle up to "300,000 data sessions". We are not sure how they define a data session. If a download were to count as a data session, it would mean that at 300,000 sessions, each download only runs at 0.003 Mbps, so we are not really sure if that is how they are defining it. What we notice is that none of the routers can handle 1000 connections/transfers in JPerf. The 1000 transfers start and then stall. At 500 transfers, only the ASUS routers get results when looking at traffic through the WAN-port. The other routers stall even there. We might get a result once every 10 runs, but clearly they have big issues with that many transfers.
It might look odd that when testing LAN=>LAN transfer, we get around 300 Mbps with one transfer, which then goes up to the expected Gigabit-speeds with more connections. However, we could verify that this is an issue with our laptop. When we use JPerf and transfer from the stationary computer to the laptop (either as LAN=>LAN or WAN=>LAN), we see this behavior. However, if we turn the transfer around (laptop to stationary computer) the Asus RT-N56U gets around 900 Mbps with 1 transfer, which is what we expect.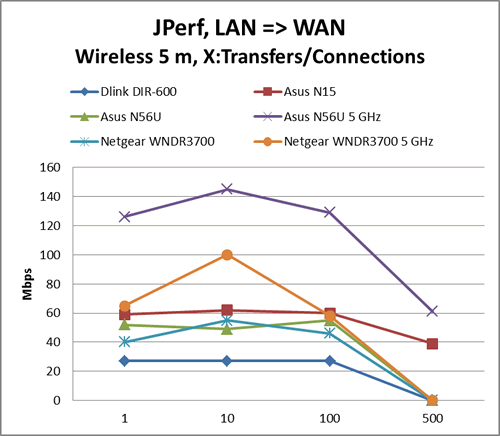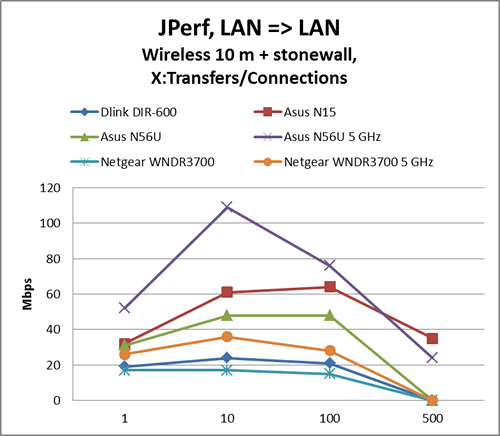 In the 5 GHz band, the ASUS RT-N56U performs superbly, and easily beats the Netgear WNDR3700 running in the same band. However, at 2.4 GHz, the ASUS RT-N56U actually performs just like the others and even falls behind the ASUS N15 at some points. The ASUS routers dominate all the tests compared to the other two routers.
CONCLUSION
When we received the ASUS RT-N56U we suspected that ASUS had hidden a mediocre router behind a pretty facade. The truth, however, is that this product lives up to its promises. The performance is very good, it comes packed with features, and it has a great user interface. The only think we really think could make this better would be a way to hang it on the wall and the option to set up a separate wireless guest network.
The price for the Asus RT-N56U lies around 120-140$ which is actually a bit cheaper than the Netgear WNDR3700 or Dlink DIR-825.
Asus RT-N56U Dual band Router
| | |
| --- | --- |
| Performance | 8.5 |
| Value | 9 |
| Quality | 8 |
| Features | 9 |
| Innovation | 8 |

We are using a new addition to our scoring system to provide additional feedback beyond a flat score. Please note that the final score isn't an aggregate average of the new rating system.

Pro

Cons

Great performance

Excellent user interface

Dual band

Lots of features (upnp, printer server, bittorrent client, storage server)

True gigabit performance on wan-port

Can handle a lot of simultaneously transfers

Nice looking

No way to fasten router to the wall

Would have been nice with the ability for a wireless guest network

Still far away from the theoretical 300 Mbps speed on wireless

 

  
Summary:   The Asus RT-56U is a router that not only looks good but that comes with lots of useful features, great performance and a decent price. It earns the Bjorn3D Golden Bear Award.