A final post-CES 2011 overview of the show floor and some of the latest products showcased this year.
CES 2011: My Experience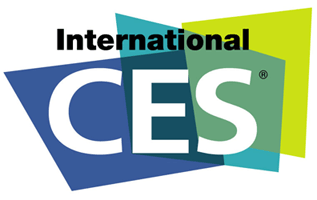 CES 2011 started off just like any other trade show for us. Months before the show, we had already started planning on what we would like to see and what vendors we would like to meet up with. But one thing that is hard to plan for is getting sick during the show. I flew in on the 5th and my schedule was already filled even before the actual show started. During the Intel and Nvidia meetings, the first thing I started feeling was extreme pain in my throat as the day progressed. As I went from one meeting to another and the show started heating up, so did my body temperature. By the end of the day, I was feeling weak and knew I had a fever.
At that moment I know something was really wrong, and I was just hoping that I wouldn't miss out on the show. Well it seems I was out of luck throughout the whole show. I couldn't check into my room till my partner Bjorn arrived in Las Vegas, as the room was under his name, so I was stuck outside the cold weather, or inside the smoke filled casinos. I was lucky to have a special friend who could help me out and lend me her room for the night, not knowing that the next day in the morning when I went to check into my hotel with Bjorn, that our reservation would be cancelled. Once again I was out of luck and stuck outside in the cold. Thankfully, Bjorn had another reservation at another hotel, however, with a high fever and very weak body, it was not so pleasent waiting outside in the cold by the Paris hotel for nearly an hour for a taxi to finally pick me up and take me to the other hotel room so I could finally get in bed and rest.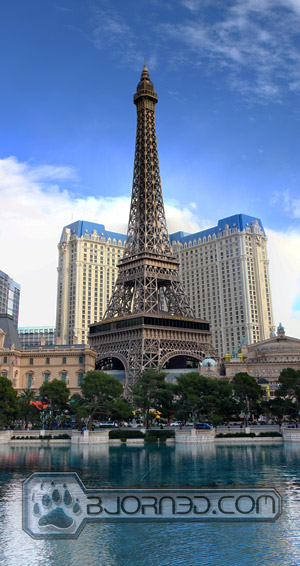 After taking vitamins and hoping that I would feel better after two days staying home in bed, my condition worsened. I ended up having a very high fever on Friday the 7th, and I ended up going to the emergency room. After waiting and filling up tons of paper work, the nurse finally called me in. After the nurse and doctor took a closer look at me, I finally got a diagnosis: bronchitis. They gave me the option to take pills or a shot (I took the shot). They also gave me a shot of corticosteroids to give me extra strength and reduce the pain, especially in the throat. When the nurse arrived with the shots, she had a lovely sentence to add: "Alright… this one is going to hurt! Take off your pants."  I got very excited… not. It was a very unpleasant feeling. After coming home at 4AM in the morning from the Emergency room, I stopped by Walgreens to pick up some Tylenol and Motrin to help with my fever and pain. Nicely enough, a day after, I felt good enough to go outside and finally have some one-on-one meetings with some vendors about their products. Despite what you may think, this article is not just me whining about my illness. It will take cover presentations by some companies I was able to talk to during the show, though there are not that many.
I never got to the convention center or at the show. I barely had a day and a half to meet up with a few vendors and that's it. Bjorn's article will cover the Show Floor as well as some other exciting products.
If you happen to end up going to CES next year, make sure to get some extra rest during the holiday season, and take lots of vitamins so you can have a pleasant stay in Las Vegas during the show.
ASUS – New Motherboards for the new Year!

ASUS had quite a few new products up their sleeves this year at CES 2011. We have reviewed most of their latest motherboards, including all the Rampage III series motherboards as well as some of their standard line-up — mainstream and high-end motherboards. This year at CES, they showed off their latest Zacate E-350 APU and Hudson M1 chipset motherboards. Among them was the passively cooled ASUS E35M1-M Pro Motherboard which is running AMD's fastest Fusion chip to date. The dual Bobcat cores on the E-350 are running at 1.6GHz while there is also an integrated Radeon HD 6310 GPU packed with 80 stream processors. This is quite a bit of power considering that each stream processor has a clock speed of 500MHz. While we have not covered the AMD APU Fusion chips yet, they do support DirectX 11 and have an on-die graphics core which is able to provide phenomenal hardware acceleration for 1080p content. This leaves more headroom for the CPU to take care of other tasks.
The interesting part comes when we take a look at the motherboard's overall design. While it is a mini-ATX form factor motherboard, it provides up to 4 expansion slots. One of them is a PCI-E 2.0 x16 (x4 electronically) slot, another is a smaller PCI-E x1 slot, and the board also has two PCI slots. Taking a look at what current users need, sometimes a mini-ITX form factor PC might not be enough if it only provides one PCI-E x16 slot but no other expansion slots. With this mini-ATX form factor, the user has expanded possibilities with the rest of the slots for extra TV-Tuner options, or perhaps a powerful sound card for ultimate audio experience.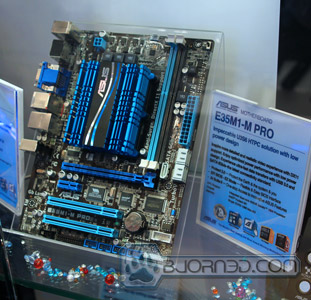 The motherboard also supports five internal SATA III 6.0 Gbps ports and an external SATA 6.0 Gb/s port. The system also comes with two USB 3.0 ports and DDR3 support. The sound on this motherboard is a Realtek ALC887-VD2 chip, which is very similar to what we see on current mainstream motherboards.
As always, ASUS gives the overclocking option to the user, so if the user needs extra performance, the option for overclocking is possible. The motherboard's overall power design is excellent for the 18W E-350 APU processor, because it runs on a 3+1 power phase design.
This should be an excellent, compact, all together passively cooled motherboard for those looking into nice Home Theater PCs. The AMD's Brazos platform should have no problem playing back the latest 1080P videos that the user might want to watch, especially with the E-350.
Also, we got some word about some other excellent products being released this year by ASUS, including the ASUS Rampage III Black Editon motherboard, which will support the latest EFI BIOS. The EFI BIOS will provide the user with the option to save screenshots of the BIOS by just having a flash drive plugged into one of the USB ports. It will also allow for full mouse and keyboard control. This motherboard will have some of its features redesigned, but we do not have specific information about what exactly will change. We'll have more on this later.
ASUS will also be releasing some special headsets for the gamers. These headsets will have noise cancelling possibilities, however as all noise-canceling headphones, they are not 100% perfect, and there might be slight distortion in audio. However, the user can have a very nice and quiet experience even with loud background noise while gaming. We'll also have more on this later on.
Click Image To Enlarge
More Coverage on CES 2011
Nvidia @ CES 2011: The Tegra 2
Patriot @ CES 2011: Javelin S4 Media Server
GIGABYTE @ CES 2011: G1 Killer Series Motherboards
Thermaltake's Level 10 GT
The "Ultimate" chassis for quarter of the price

Do you remember Thermaltake's well known, and overly overpriced Level 10 chassis? Originally designed by BMW Designworks, the Level 10 had some very nice features and overall look that we had never seen before. Unfortunately, most of us were not able to even consider this case, as it was priced at around $800 at most stores.

Well Thermaltake is back again, but now with a much improved Level 10 chassis. The new chassis has been fully redesigned by Thermaltake to have all the features that current gamers and computer enthusiasts need. This chassis is now called the Level 10 GT.

Click Image To Enlarge
Not only does it have fantastic features, and a very similar design to the original Level 10, it is also around 3.5-4 times cheaper, with an MSRP of $250.
So what's special about this case? The Thermaltake Level 10 GT case is designed for extreme gamers. It comes with massive fans on the side and top of the case. There is another 120mm fan also installed in the rear of the case for extra air exhaust. The top compartment now also has a nice clear plexiglass window for users to show off their hardware when they go to LAN parties or other events. It's also just a nice way to silently gloat to yourself for having such a nice system.
Click Image To Enlarge

The front curved bottom is actually a hot-swappable area for hard drives. There can be a maximum of 5 hard drives or SSDs installed in the front hot-swappable compartments. Above that we can see and area for a single 3.5″ floppy drive bay, and 4x 5.25″ drive bays. Thermaltake kept the cable management compartment on the right side of the PC, and the front USB ports and speaker/microphone jacks. On the front we can also see the Power and Reset Switches.

On the top of the system, there is a button provided for switching the colors of the LEDs in the system. Users can just press the button on the top and the colors will cycle throughout several options.
There are also optional USB 3.0 front ports which need to be plugged into one of the rear USB 3.0 ports on the motherboard. Thermaltake included a long USB 3.0 cable for this which can be routed outside the back of the system through one of the provided water cooling holes on the rear. There is also a fan controller button on the top of the chassis, providing the user with fan speed control.
Click Image To Enlarge
Kingston's new Sandy Bridge memory Modules

We have heard a tiny bit about Kingston's new HyperX Genesis Special Editon Grey memory modules. These memory modules are designed for the new P67 Sandy Bridge platform, and guaranteed to work even on the older P55-based systems. The HyperX Genesis Special Edition memory modules are designed to run at extremely high frequencies, including 2133MHz at a CL9-11-9-27 timings. The MSRP for the 4GB (2x2GB) 2133MHz HyperX Genesis Special Edition Grey memory modules is $149.99, while the lower-end 1600MHz model will have a stunningly low MSRP of $69.99.

The same memory kit also comes with a blue heatsink, and is also designed for the P67 Sandy Bridge platform, however the Special Gray Edition will blend nicely with similar hardware, such as GIGABYTE's lineup of P67 boards.
Additional Sandy Bridge P67 Platform memory modules were also released at CES 2011, such as the Kingston HyperX T1 2133MHz XMP certified memory modules. These memory modules are the world's first 8GB memory kits that gained Intel's validation for the P67 Sandy Bridge platform with a 4x2GB  design. Recently we have noticed that sometimes 4x2GB  will not be fully compatible with the P67 platform, especially when the system is overclocked. With this kit, the user is able to run all 8GBs and all four DIMMs at 2133MHz without running into instability.
| | |
| --- | --- |
| | It is very nice for Kingston to think about those looking into using higher capacity memory modules while also maintaining high performance. The HyperX T1 Kits come with a special blue heatsink design, which is about twice as tall as a standard memory module. This could be a problem with larger tower coolers that some users use on their CPUs, but for users using water cooling, this heatsink design should not be a problem. |
While the HyperX T1 2133MHz memory modules were rigorously tested on the ASUS P8P67 Pro and GIGABYTE GA-P67A-UD4 motherboard with the XMP profiles, the price of the memory might scare some away from buying this kit. The MSRP price for the HyperX T1 2133MHz KHX2133C9AD3T1FK4/8GX memory module is $299.99. Its timings are exactly the same as the Genesis series 2133MHz memory modules were: CL9-11-9-27.
Kingston's New SDHC cards with High-Performance
| | |
| --- | --- |
| We recently reviewed Kingston's latest 64GB SDXC memory card on our Canon T2i camera. It proved to be a very fast card, reaching read and write speeds in the 30-40MB/s range. Now Kingston just announced their latest SDHC UHS-I UltimateXX memory cards. The UltimateXX reaches performance standards that we have not yet seen in current SDHC memory cards. The Kingston SDHC UHS-I UltimateXX memory cards have speeds up to 60MB/sec. read and 35MB/sec. write. At this performance, photographers can enjoy taking sequential shots that were once a challenge to take due to the lower performance cards we had in the past. The SDHC UHS-I memory cards are able to reach three times as fast write speeds as the current SDHC Class 10 cards. | |
Kingston SDHC UHS-1 UltimateXX Features and Specifications:
• Performance: 233x – up to 60MB/sec. read, and 35MB/sec. write
• Fast: ultra high-speed bus I (UHS-I)
• Compliant: with the SD Card Association specification version 3.01
• Secure: built-in write-protect switch prevents accidental data loss
• Compatible: with SDHC and SDXC host devices, not compatible with standard SD-enabled devices/readers
• Reliable: lifetime warranty
• Simple: as easy as plug-and-play
• Capacities*: 8GB, 16GB, 32GB
• Dimensions: 0.94″ x 1.25″ x 0.08″ (24mm x 32mm x 2.1mm)
• Weight: 0.09oz (2.5g)
• Storage Temperatures: -40° F to 185° F (-40° C to 85° C)
• Operating Temperatures: -13° F to 185° F (-25° C to 85° C)
• Voltage: 3.3V
• File Format: FAT32
Once again, just like with the HyperX T1 Memory Kit, the SDHC UHS-I UltimateXX memory flash cards might be out of range in price for an average user. There will be three models, including an 8GB, 16GB and 32GB memory cards, and the MSRP will be $69.99, $179.99, and $349.99 respectively.
Kingston HyperX SSDs in Quarter 2
Finally, we heard that Kingston is working closely with SandForce on next-generation controller technologies. These new controllers will deliver even higher performance in Kingston's next generation HyperX SSDs. These drives should be coming in Q2 2011. Kingston did not let us know about exact specifications or specific information about features and performance numbers just yet. We'll update on that later.
Zalman's New 3D Monitor

Recently we have written an article regarding some of the products Zalman introduced during CES 2011. The link to the article can be found here. We have gotten a chance to meet up with Zalman and also take a look at their latest 3D Monitor designed for 3D Animators and Gamers. This new monitor is called the ZM-M240WPS (Pro-Line Studio) monitor. Check out the specs listed below: 

Items
Description
Spec.
Panel
Screen Size
24.1"(61.13cm)
Aspect Ratio
16:10
Panel Type
IPS

TFT color LCD

3D Type
Circular Polarized Filter & Glasses
Resolution
2D : 1920 X 1200
3D : 1920 X 600 x 2(Eyes)
Viewing Angle
2D : 178°/178°(Left /Right and Up/Down) @CR 10
3D : 10°  (Up/Down), @70cm
Screen Surface
  Matte Film attached (Anti-Glare)
Brightness
2D : 400 cd/㎡
3D : 200 cd/㎡
High Bright Panel
Display Color
1.07 Billion  (10bit)
Color Gamut
NTSC 90%
Contrast Rate
1000 : 1
Responding Speed
Display Area
518.4 (H) x 324.0 (V) mm
Video/Aideo
1 x D-SUB15pin

1 x HDMI

HDMI1.3  input
1

x DVI(D)

DVI(D) input(with/ HDCP)

1 x Component

1 x PhoneJack
Line-in Audio
1 x PhoneJack
Head Phone Output

Input Signal

Analog-

RGB/HDMI

3D input Format

Line Interlaced
HDMI, DVI, RGB
Side-by-Side
HDMI, DVI, RGB
Remote Control
IR Remocon

Power

  DC 24V
4Pin   DC24V/5A
Adapter in
AC 100~240V (50~60Hz)
Mechanical &
Dimension
Environment
     Main
577x382x70 mm [WxHxD)
     with/Stand
577x438x240 mm [WxHxD)

Weight

7.7Kg( Main only), 9Kg (with/Stand)
Stand
Tilt/Swivel/Pivot/ Elevation
Wall Mount hole
Operating Temp.
Storage Temp.
20°C ~ 60°C ( 4°F ~ 140°F)
With the ZM-M240WPS, Zalman introduced a 10-bit color monitor design over the standard 8-bit design that most of today's LCD monitors come with. With 10-bit colors, the user can experience a much higher amount of color count, especially in the brighter and darker colors, which is essential for 3D animators. The 3D function of the monitor follows Zalman's older 3D monitor designs, which use the polarization filters to create the illusion of 3D with the special Polarized glasses that Zalman includes with their LCDs. The only downside to this design is that if the user sits close to the LCD, there are slight visible horizontal lines of pixels visible which are reserved for each eye, so there is a slight degradation in image quality. Overall the 3D performance is excellent and these monitors do not cause any eye strain or headaches over longer periods of use. This is perfect for those using the 3D feature of the monitor for longer periods of time. Adding to do the downside of this monitor is its very low vertical viewing angle, though it has a fantastic 178 degree horizontal viewing angle, which makes it perfect for users that might be sharing the monitor with others. Another improvement over past Zalman 3D monitors is that this monitor is using 120Hz over the standard 60Hz that most non-3D monitors have. The higher refresh rate provides for an even better 3D experience than before.
Click Image For a Larger One
Overall the picture quality and 3D capabilities of this monitor are fantastic! Here are some pictures of Zalman's latest products shown at CES 2011.
Zotac's New Small Form Factor Home Theater PCs

ZOTAC had a very exciting launch at CES 2011 this year, as they put several new platforms out onto the market. There are some products we cannot really talk about or show pictures of just yet, but the most exciting product that ZOTAC launched was their AMD APU Fusion E-350 platform motherboard. As explained on the ASUS page, the E-350 is AMD's fastest CPU integrated with a Radeon HD 6310 graphics processor with 80 stream processors running at 500MHz. The CPU runs at a stock speed of 1.6GHz, but as we have seen on previous Zotac systems, perhaps overclocking will be possible.
Another motherboard Zotac announced at CES 2011 was their LGA1155 socket H67-ITX WiFi mini-ITX form factor motherboard. This motherboard is ready for Intel's 2000 series Intel Core i3, i5 or i7 processors. With the high performance Sandy Bridge processors that we recently reviewed, it is just insane to think about having one of those in a home theater PC running on one of these H67-ITX WiFi boards. This motherboard comes with some great specs, like up to 16GB DDR3-1333 support, 2x SATA 6.0 Gb/s and 4x SATA 3.0 Gb/s ports, as well as 4x USB 3.0 and 8 USB 2.0 ports.
Click Image For a Larger One
ZOTAC also announced their first 3D capable ZBOX Blu-Ray Home Theater PC, or as they call it the Mini-PC. We will be taking a look at the standard non-3D version in a couple of days, so stay tuned for a full review on one of these mini ZBOX PCs. To cover some of the specs, it's using Intel's Dual-Core Atom D525 processor running at 1.8GHz. These systems also use Nvidia's Next-Generation ION graphics w/512MB DDR3 video memory. These ION processors come with 12 cores, and are really important for smooth 1080p content playback. Finally the system comes with a high speed 300 Mb/s 802.11n series WiFi and a 4x Blu-Ray player. For those looking into transferring large amounts of files quickly, the ZBox Blu-Ray 3D system comes with SuperSpeed USB 3.0 connectors for faster transfer speeds when used with USB 3.0 storage devices. More specs included below:
ZOTAC Announces Blu-ray 3D Capable Mini-PC
ZBOX Blu-ray 3D ID36

2 x DDR3-800 SO-DIMM slots
Support 1 x 2.5-inch SATA 3.0 Gb/s HDD/SSD

ZBOX Blu-ray 3D ID36 Plus

2GB DDR3
250GB 5400RPM HDD

Intel Atom D525 processor (1.8 GHz, dual-core)
Intel NM10 Express chipset
Next-Generation NVIDIA ION graphics processor w/512MB DDR3
NVIDIA CUDA & PureVideo HD technologies
SuperSpeed USB 3.0 technology
1 Mini-PCI Express expansion slot
Slot-load Blu-ray drive

4x Blu-ray read
8x DVD / 24x CD read/write

Cyberlink PowerDVD w/ Blu-ray 3D playback
Onboard 802.11n WiFi (300Mb/s)
Very similar motherboards will also be available from ZOTAC which will be called the IONITX series motherboards. These motherboards will come in three models, the IONITX-R S and T series.

Click Image For a Larger One
We'll have more overviews of some of the latest products from CES 2011 in the following days and weeks!